As millennial brides depart from the tried and true classics of wedding traditions in favor of a new spin on old ideas, everything seems to be reinventing itself in the world of weddings. Notwithstanding, the bachelorette party is the slice of fun in between the engagement soiree, wedding shower and the mighty wedding day. Bachelorette parties are the quintessential "last hurrah" before the bride supposedly settles in for life with her new spouse, but that doesn't mean that it has to be a don't ask, don't tell mash-up of bad decisions and last-minute regrets. Not every bride wants or needs to flirt with infidelity before tying the knot, and brides are more autonomous these days and consequently more authentically happy with their chosen life partner; the one-night stands and bar crawls may be less appealing to brides who don't feel they are sacrificing to get married and have nothing to escape. Thus, so many new ways to celebrate!
A bachelorette party can simply be a time of decompressing and enjoyment as you bid single life farewell – wild night out not necessary. If you don't want your bachelorette festivities to include pole dancing or anatomically correct lollipops, here are a few non-traditional ideas to simmer down the bachelorette party scene to a slow burn.
Yoga Retreat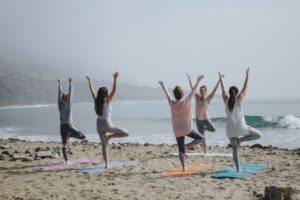 What better way to combat wedding stress than to set time aside for some R&R? After the engagement party, engagement photos, bridal shower, and months of planning and decision making, why add one more finicky party to plan? Take the opportunity to create a different kind of bond through self-care with your girlfriends.
Take your bride tribe to an early morning private yoga session at the beach, in a park, near the mountains or in any outdoor setting if weather allows, and then go to a hearty brunch afterwards. If outdoor yoga is not an option due to the time of year of your wedding, reserve a studio for a special session. Nothing says wedded bliss like skipping the hangover and nurturing your mind, body and soul through dedicated yoga and meditation. Find a great instructor who can create a practice especially for you (like this Bridal Yoga Routine) and your bridesmaids to center yourselves in preparation for an incredible wedding day!
Glamping Trip
Why not preclude the adventure of marriage with a little road trip with the girls? Go for a counter-cultural move and skip the nightlife in favor of a road trip to somewhere lush and green. Leave the spas and golden-lit nightclub bars for birthday parties; nothing sparks joy like conquering a [semi-rugged, moderately high] peak near a tranquil lake and catching the view from the top!
Nature is majestic and peaceful. Give yourself over to the awe, inspiration and grounding that comes from soaking in the scenery of the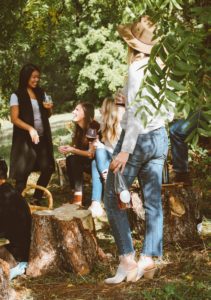 mountains, lakes and ocean abundantly available in Virginia. You don't have to be willing to rough it to escape to a rural setting; lots of champagne and some plush bohemian décor will turn any city girl into a gypsy nomad for a weekend. Getting away from the local scene can give you and your girls some much needed bonding time, and let's be honest, there are no memories like forgetting a wine key and having to improvise or figuring out how to cut down small trees with a steak knife because that's all you had handy for firewood. Glam camping will wake up your brain and get your problem-solving juices going, which is a good survival skill in life and marriage. Take your wedding party glamping and get a little "boujee" in the "wilderness" of your choice.
Volunteering Together
There is a lot of excess that comes with weddings. As the topic of sustainability orbits into the forefront of our cultural perspective, it presents an opportunity to find ways to invest in our environment and our communities during the big events of life just as much as our daily habits.  
Make a statement with your crew and don the sash and crown while doing something to give back. Skip the giant bar tabs and donate what you would have spent on blackout drunkenness to a cause you love, or wear the veil and tutu's proudly as you and your ladies-in-waiting clean up a beach, serve soup or snuggle animals in a shelter! Servitude is not a sacrifice, and marriage requires a lot of both. What better way to prepare your heart for your commitment than to make a gesture of selflessness while making memories with your best friends? Giving is fun; there are lots of ways to make your bachelorette party glimmer with meaningful delight as you reflect on it for years to come.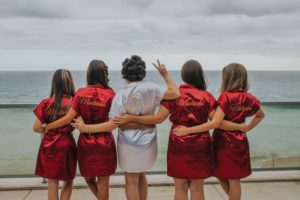 Whatever you choose to do for your last hurrah, make it unequivocally true to yourself. This post has some additional ideas as well! If you love tequila, by all means, go for margaritas after that yoga sesh. These are some wholesome suggestions but they can be retrofitted to whatever your level of spiciness requires! Have the stripper come to the glamping location, do your yoga session in bikinis, feed the homeless with all the anatomically correct party favors and foods imaginable… just make your bachelorette party as unique and unforgettable as possible and you will always have fond memories of your last days of single life.