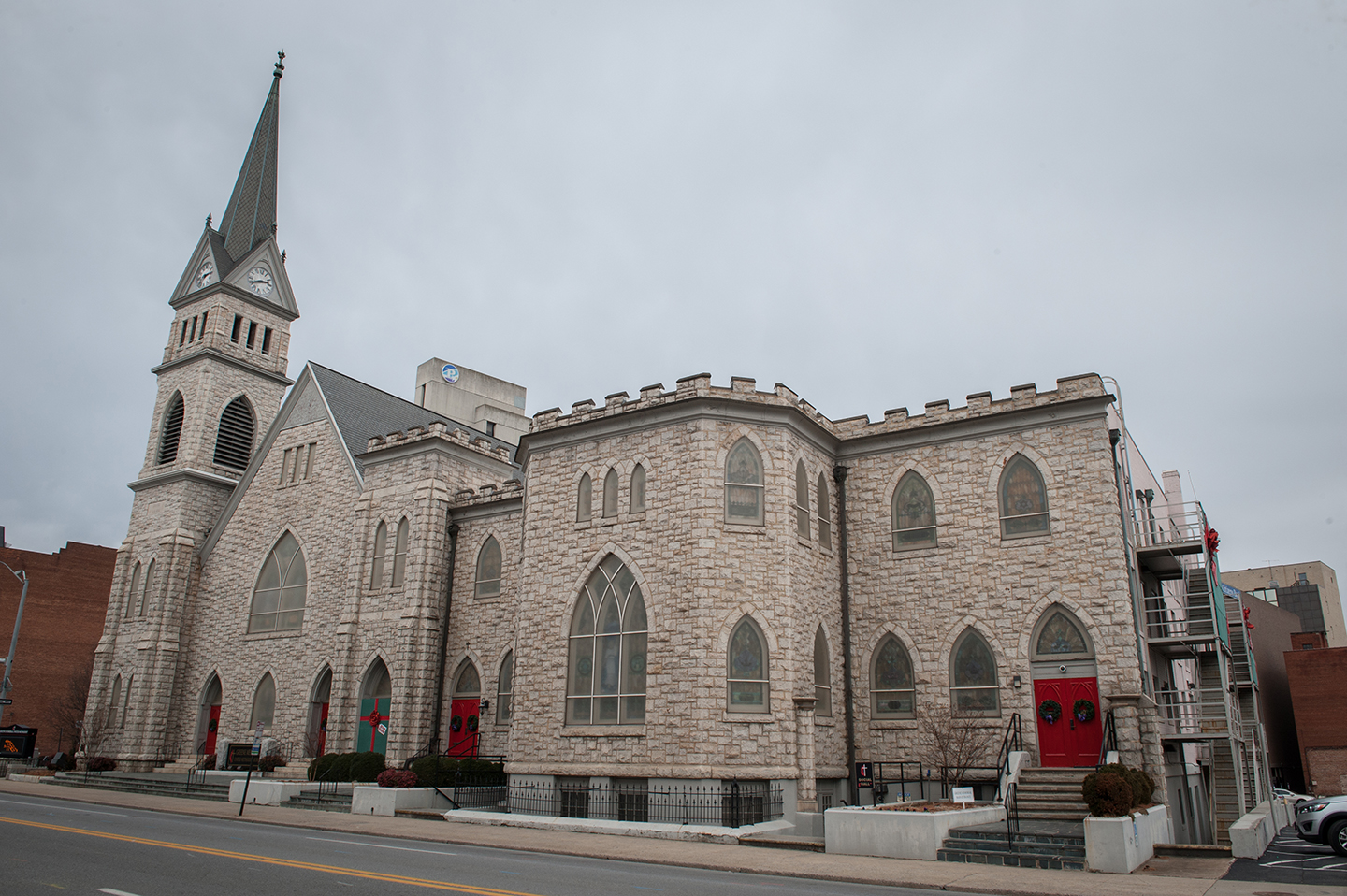 Two weeks into November and I, Tilley (your wedding obsessed blogger), am already dreaming about the holidays. After you see this New Years Eve wedding, you will be too!
The day began at the Greene Memorial United Methodist Church in Roanoke, VA.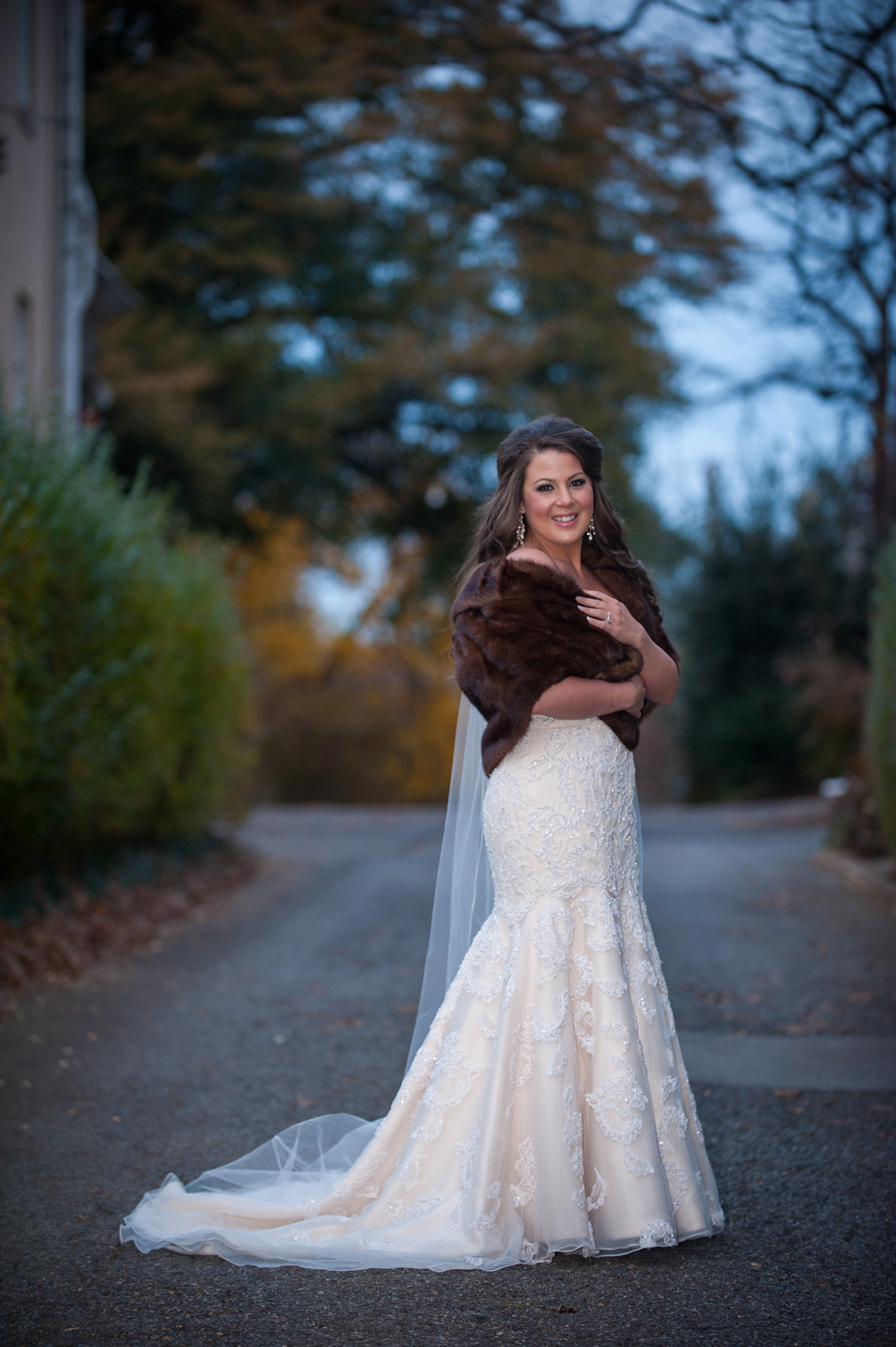 Elizabeth looked beyond gorgeous in her strapless, beaded gown and fur wrap. I am obsessed with the ivory satin under the sheer white overlay…so original and stunning.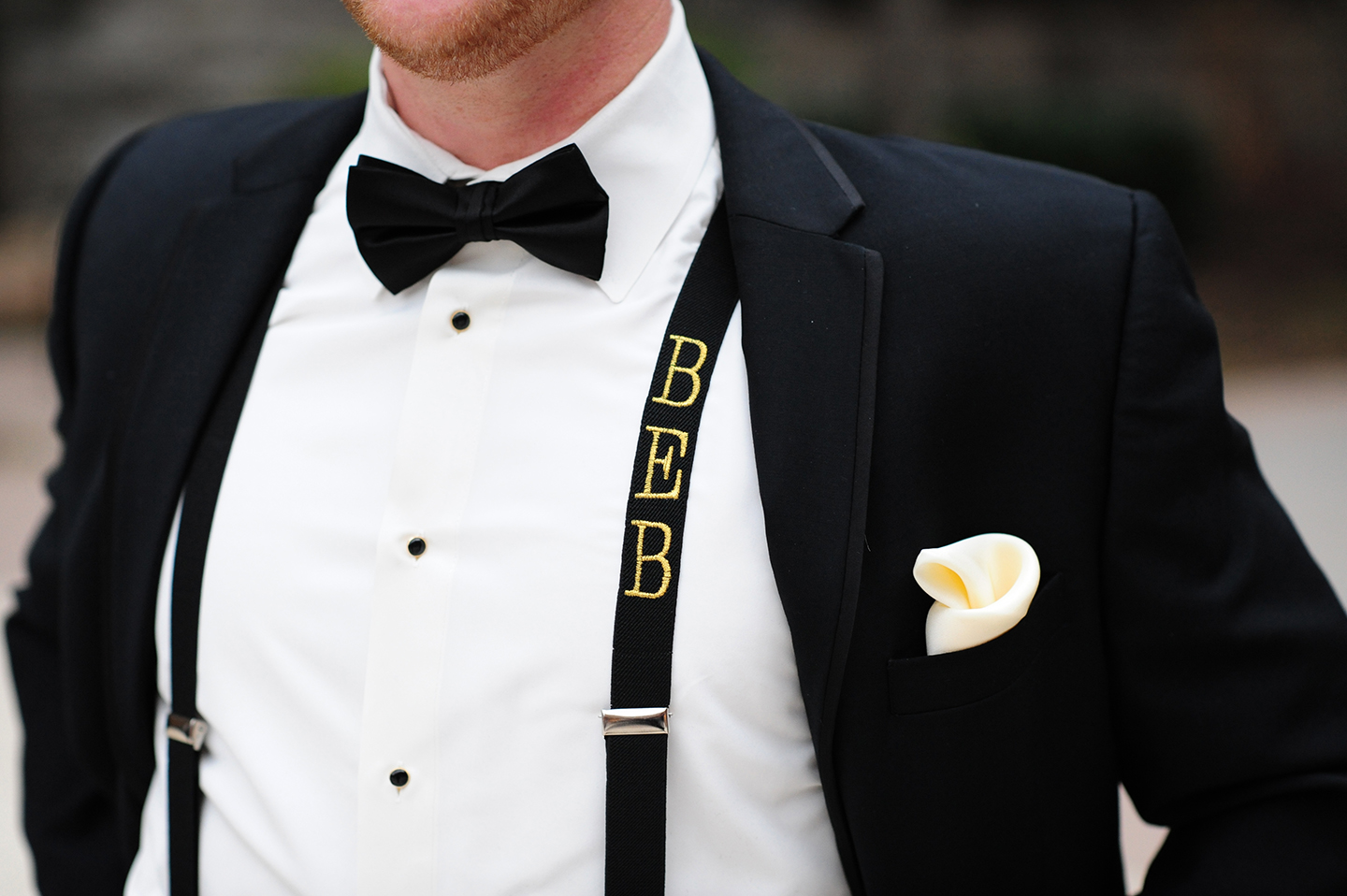 She met Brandon during a Cinco De Mayo festival. They both had gone into a bar to rest and Elizabeth noticed him immediately! After a brief introduction they realized they had a lot in common and spent the afternoon watching the Kentucky Derby and sipping on cocktails. The rest was history!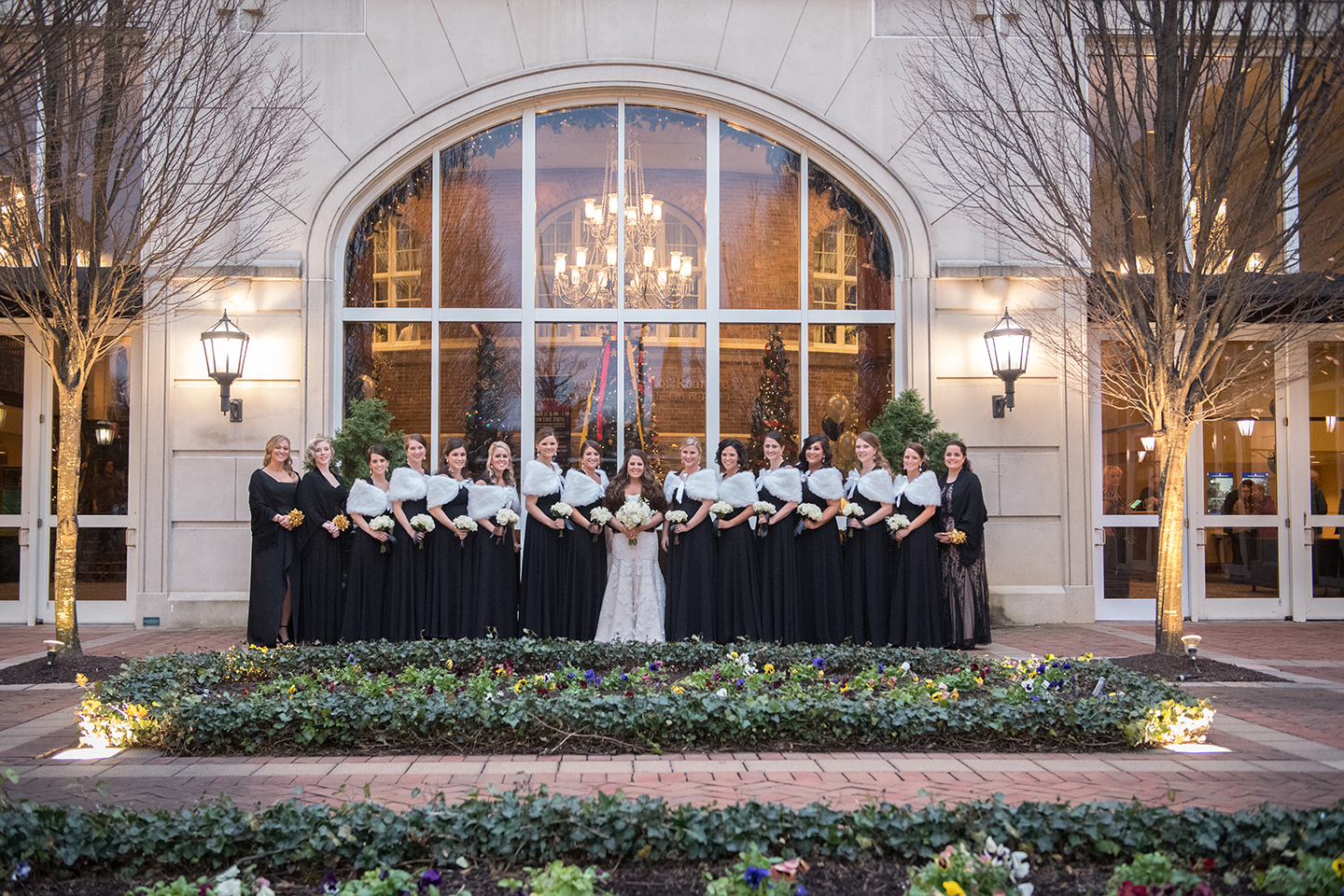 Their black tie wedding color pallet was black, gold, and cream which one can see echoed in the bridal attire perfectly!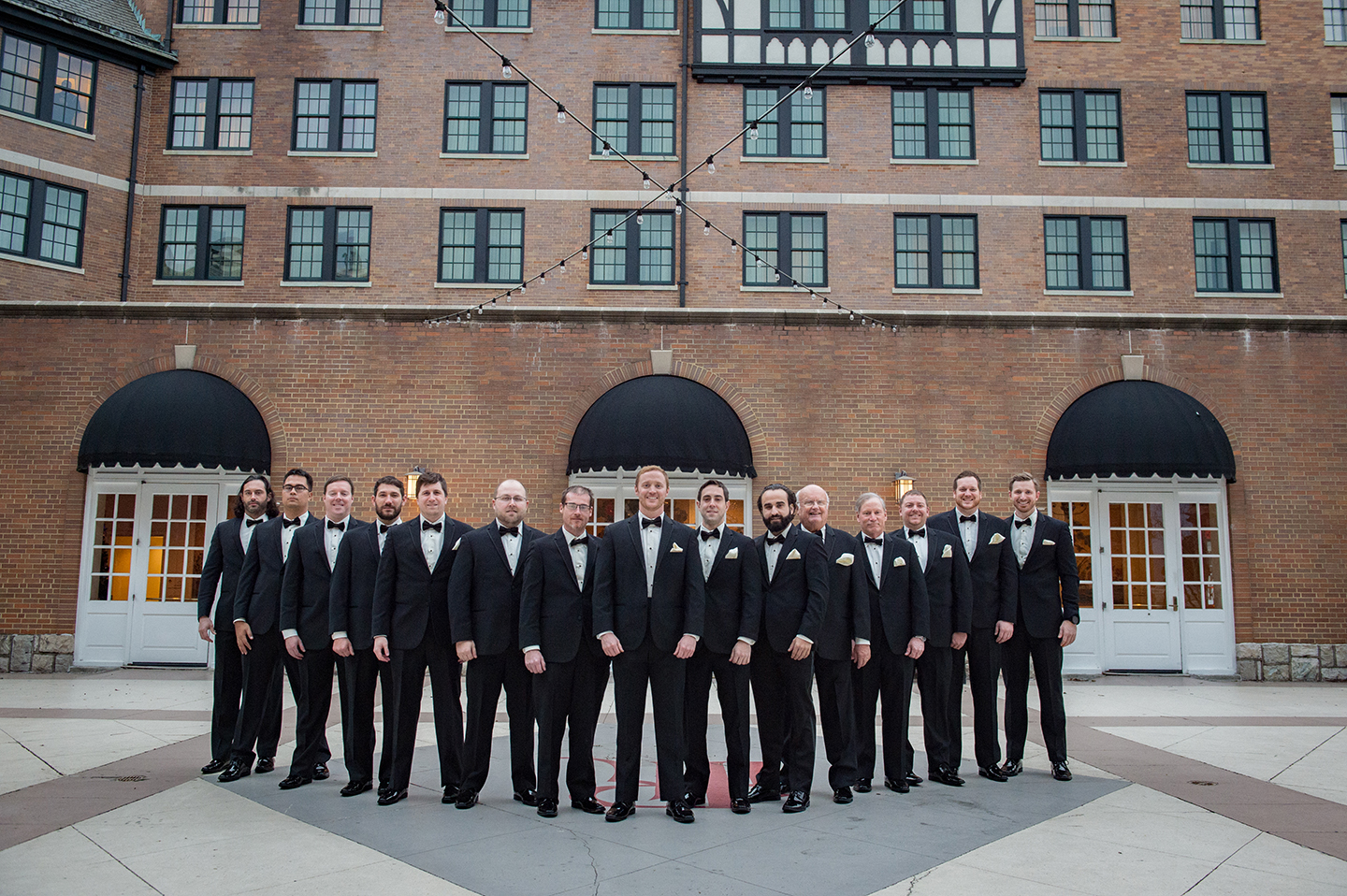 Brandon and his groomsmen looked pretty darn sharp as well!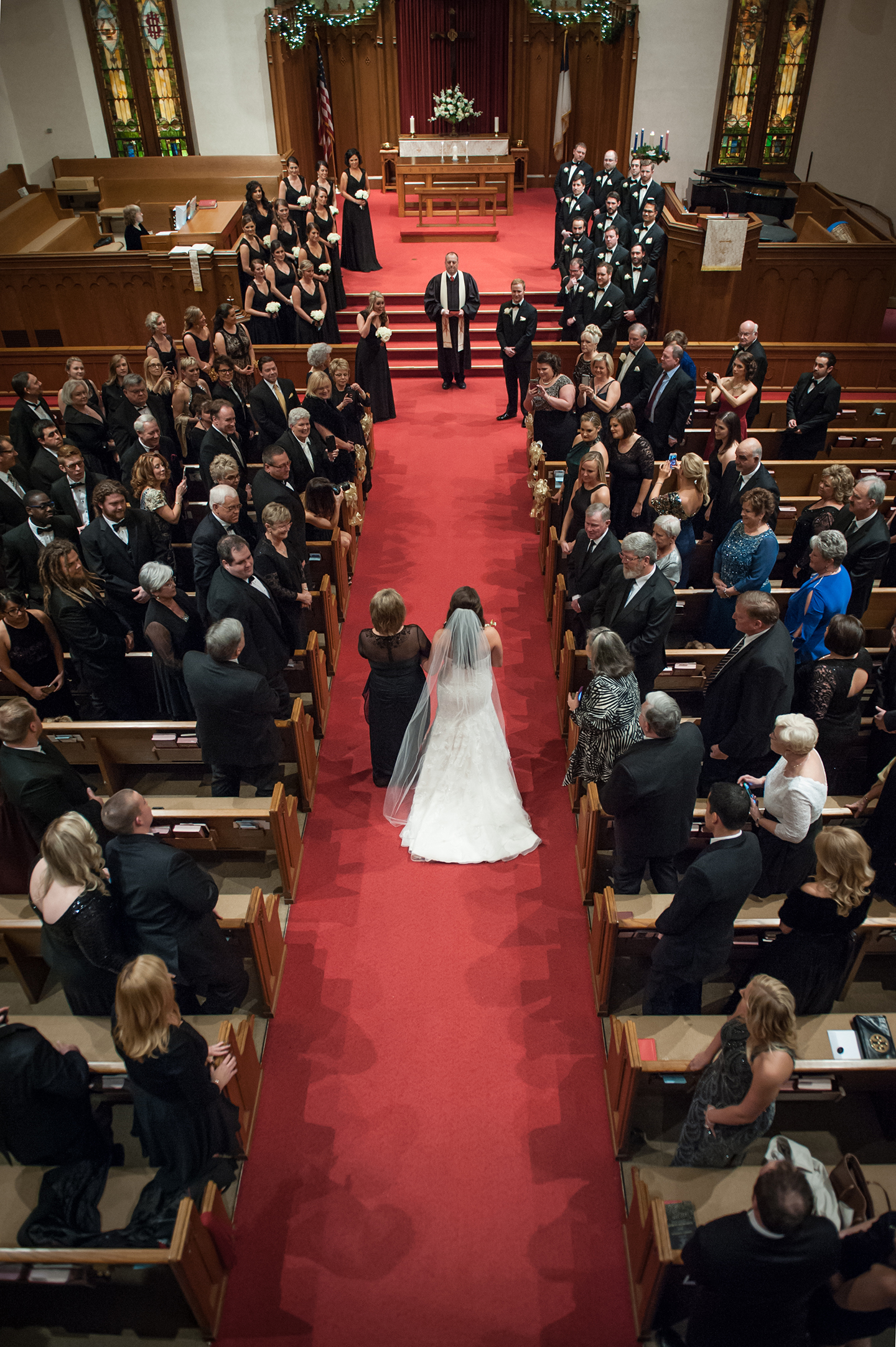 When the time came for the ceremony, Elizabeth's mother escorted her down the aisle.
I love how Elizabeth describes the moment…"It was one of the most special moments of my life. I was not prepared for how big that moment would be for our relationship. I was blown away at not only how handsome he looked, but how pure and adoring his face was. I have often told others that I felt like he stared into my soul the whole time we stood on that altar. It didn't appear there was anyone else in the room but me. I truly believe that true love is defined in moments like that."
Goosebumps, right?!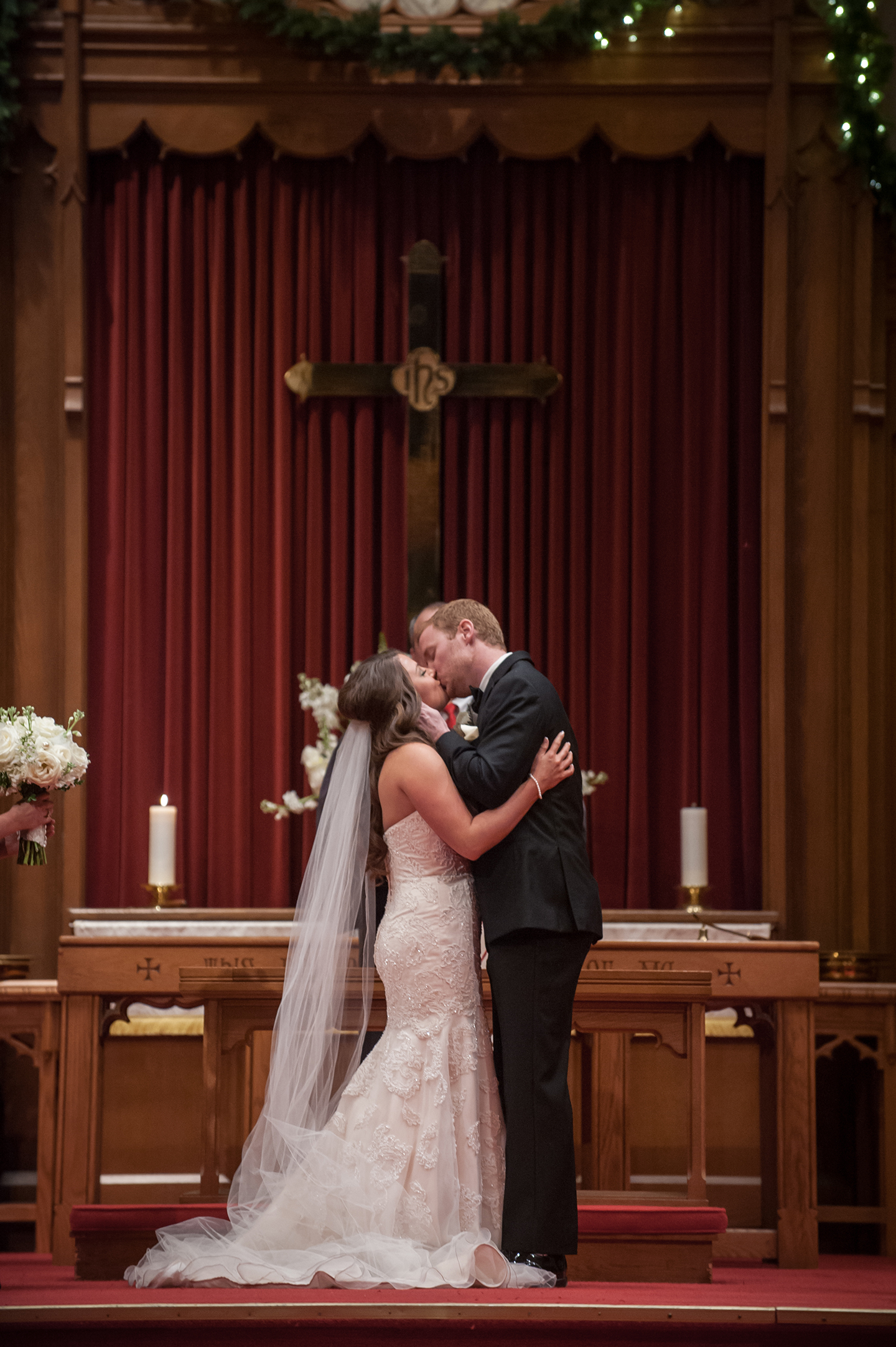 The kiss that sealed the deal!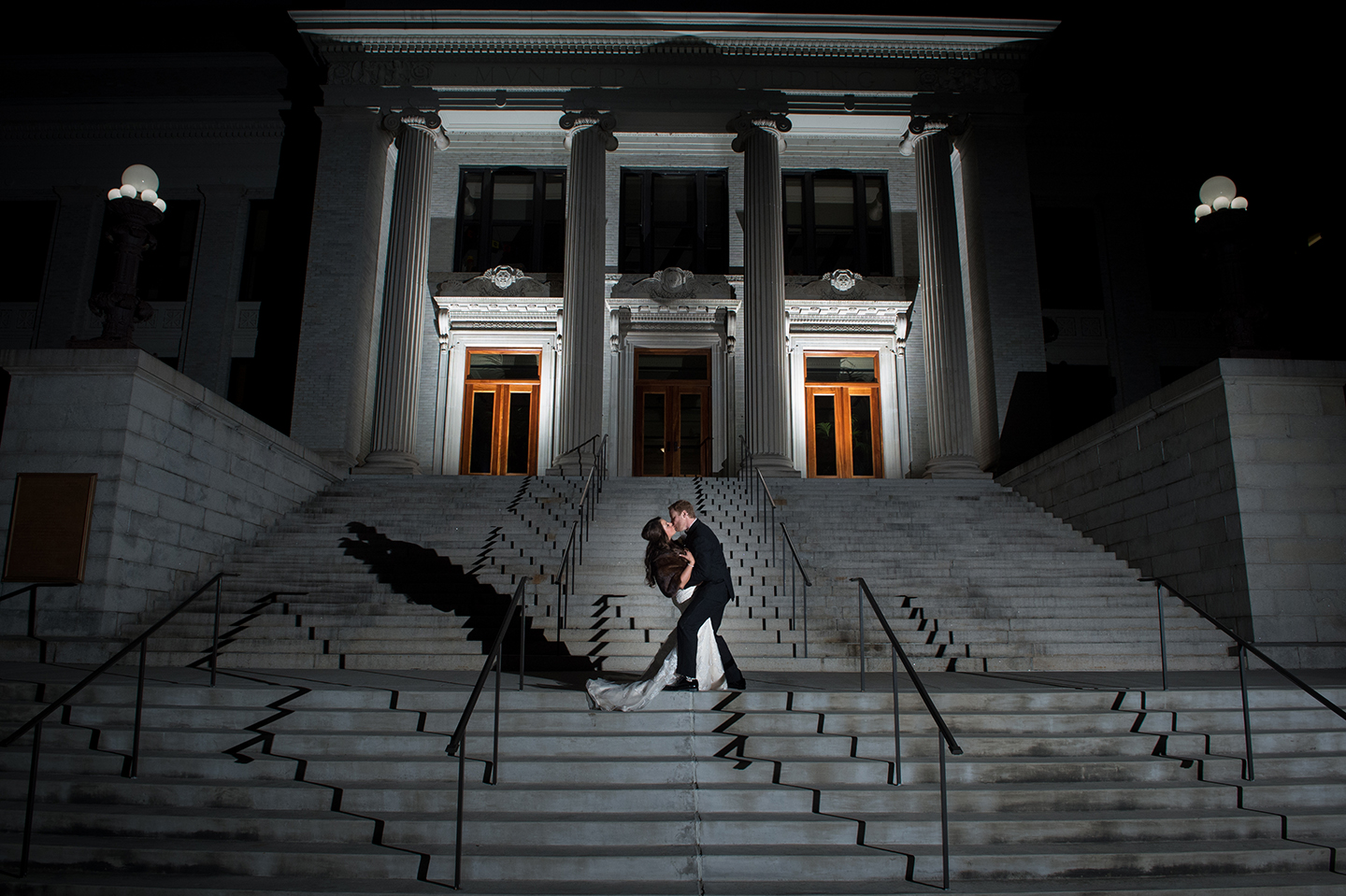 And…the kiss that kicked off the reception at the The Patrick Henry Ballroom!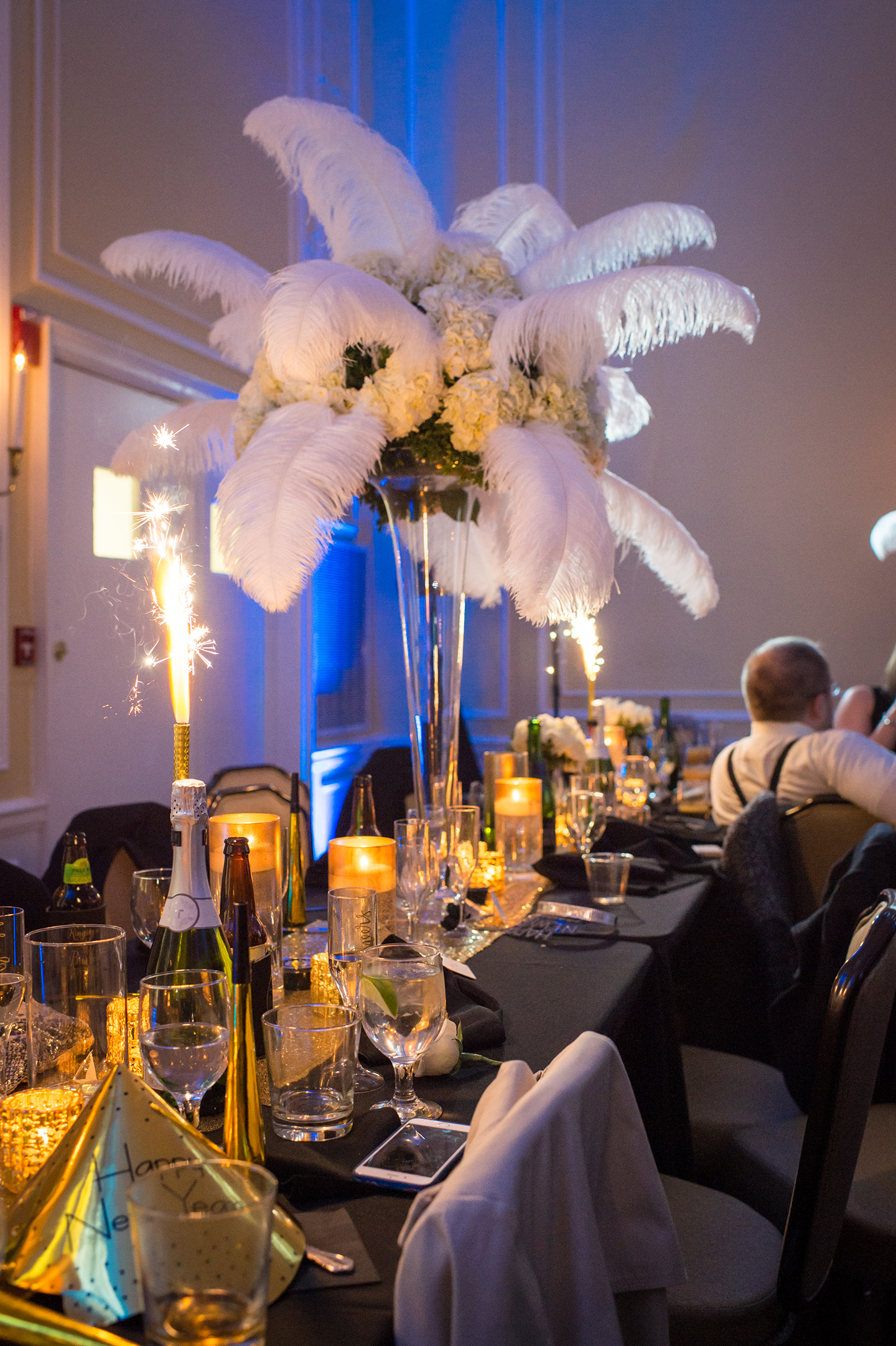 Inside, the venue was decked out like a spectacular NYE party!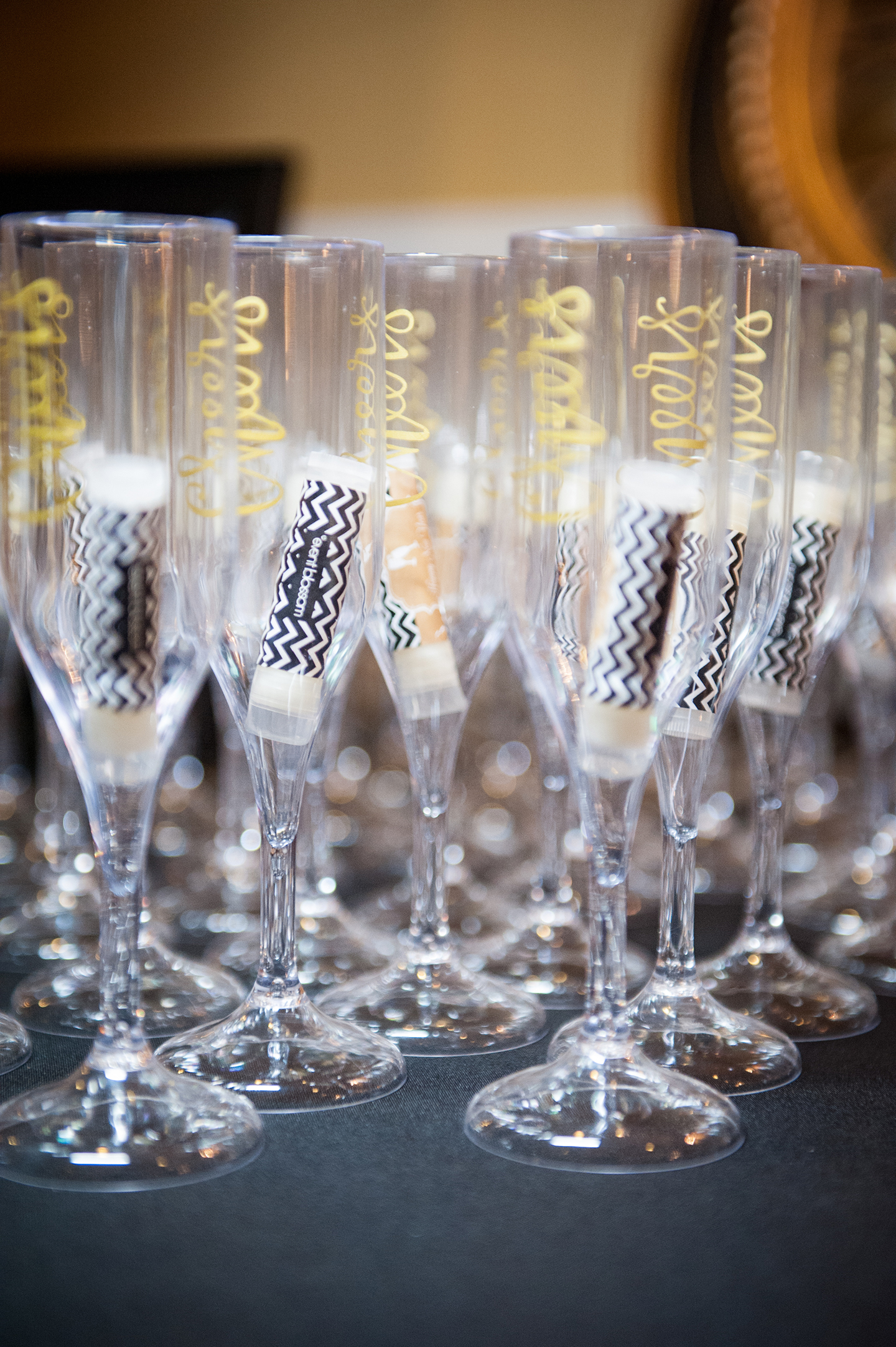 Complete with champagne glasses…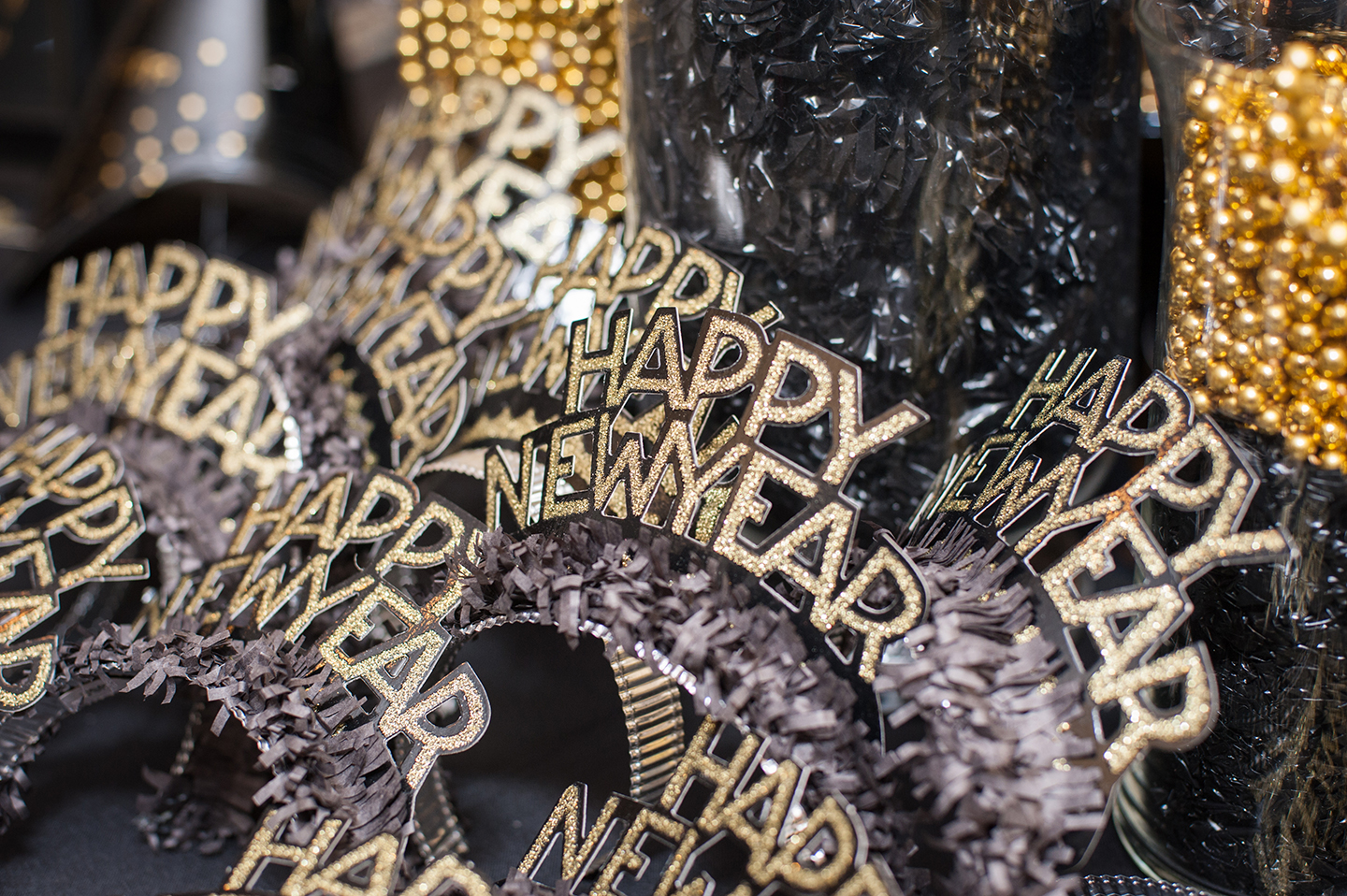 And of course, party hats!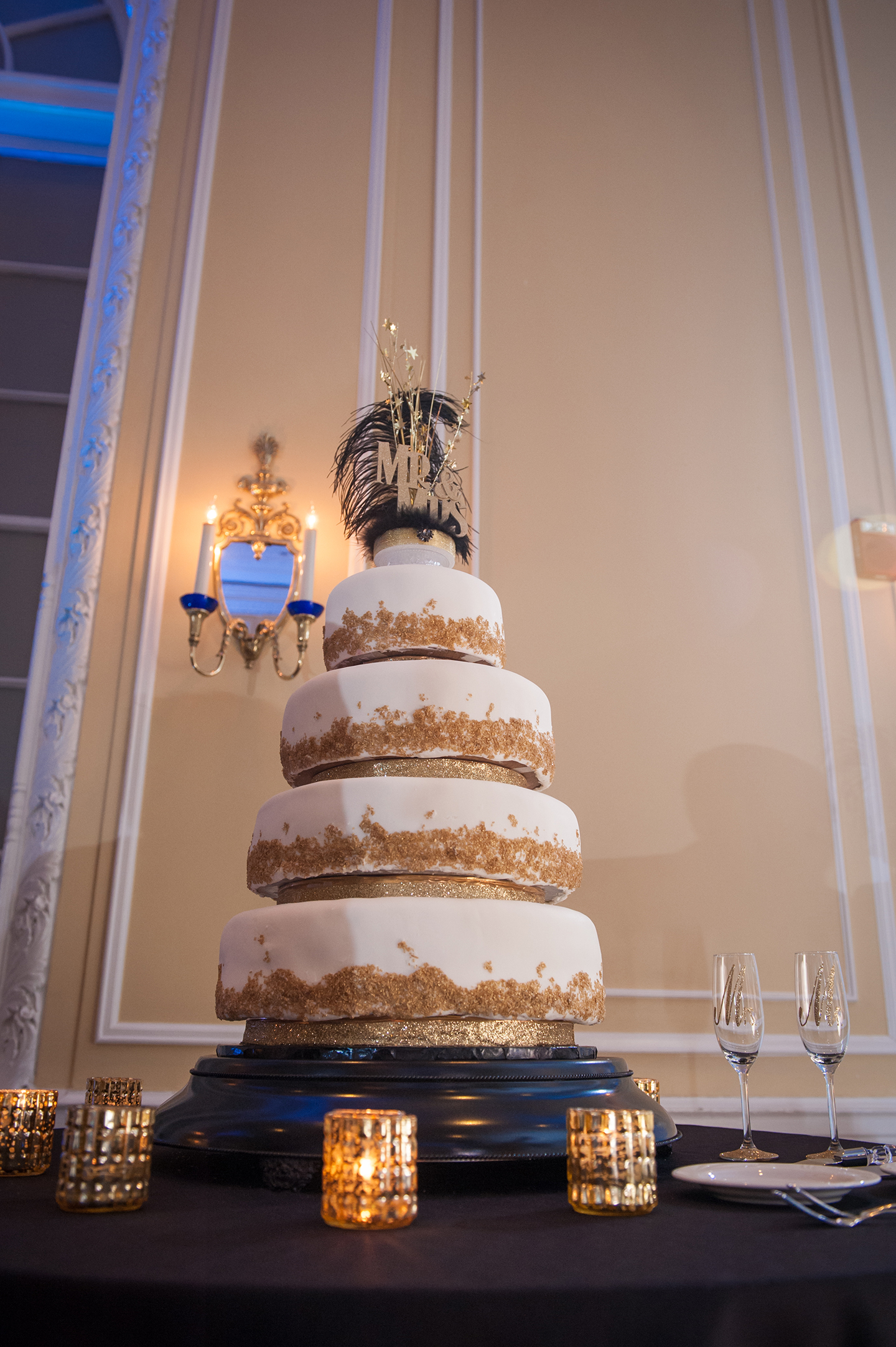 And would you look at this cake ??! AMAZING!
At 10:30 PM the DJ changed the lighting in the room and he started his "club wed" set of live DJ master music mixing to get the crowd pumped up!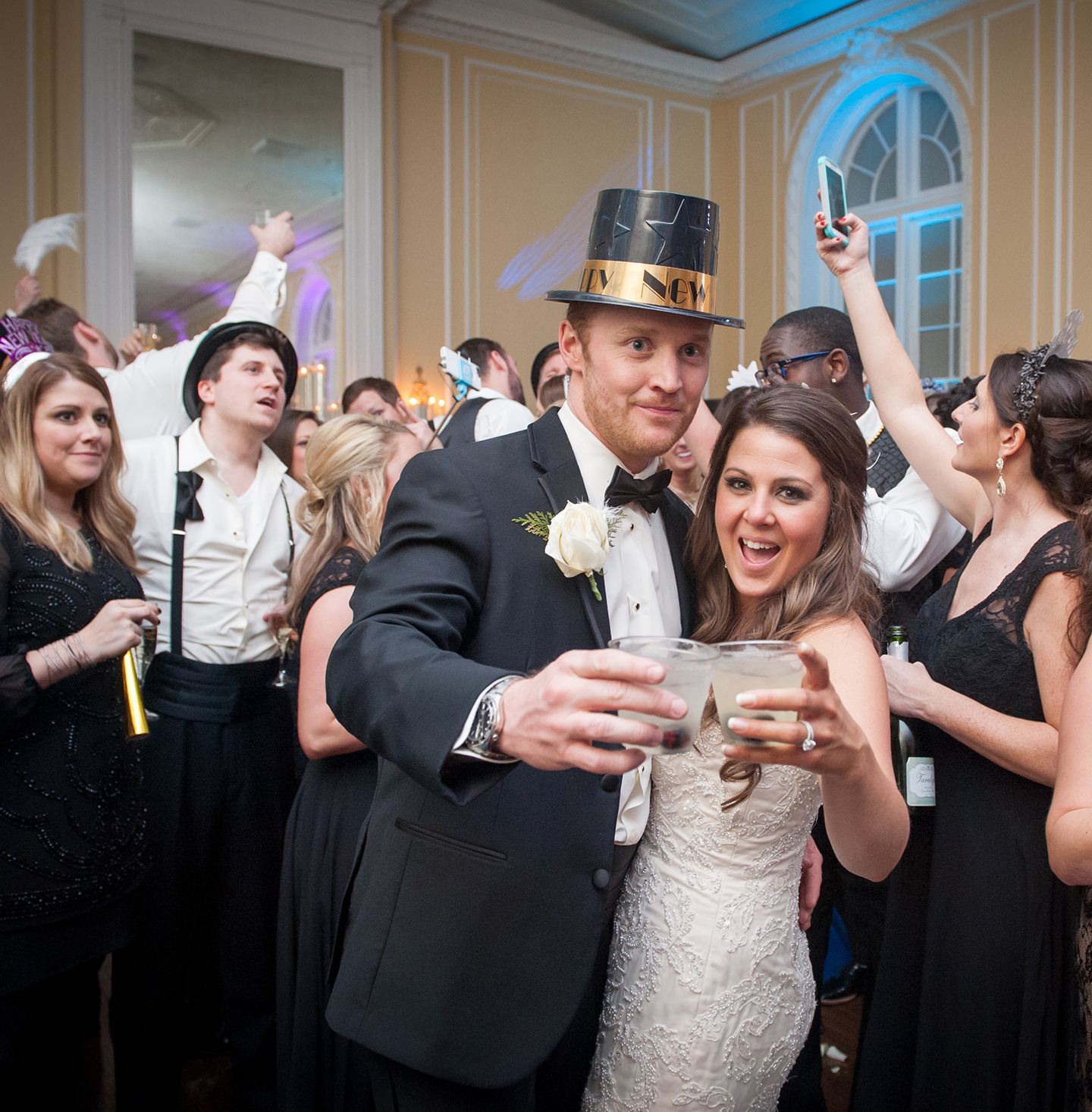 At midnight, the ball dropped and the newlyweds rang in the new year with 25 bottles of champagne and their friends and family! Congrats Brandon and Elizabeth!
From the Bride:
What was your favorite detail of the day? "This is such a hard one!!!! My favorite detail or moment of the wedding was during the reception! Instead of a "father/daughter dance" I did a "3 Amigo's Dance" with my Mother, Sister, and myself. We have always been a family that danced in the kitchen together singing our favorite oldies at the top of our lungs. Our DJ, David Verde, asked for "The 3 Amigos" to head to the dance floor and before I knew it our song was playing. My mother, sister, and I each danced around the dance floor with forks and spoons signifying microphones dancing to Marvin Gay's "Ain't no mountain high enough." A few minutes into the song we pulled the Groom into the dance signifying that we would now become "The 4 Amigos." The whole reception quickly joined us on the floor including our almost 90 year old grandparents. Seeing the entire room up and dancing to this special song was without a doubt one of the most special moments of the reception."
What advice would you give to a bride to be? "Don't be afraid to plan your own wedding and trust your vendors to pull it off for you. Knowing what you want and asking for it is actually a good thing! Vendors can do so much more for you when they know without question you desires and needs. I had a vision, a planning spirit, and I knew what I wanted, but none of it would have been possible without the amazing vendor team we built. For our wedding, the Patrick Henry Ballroom was set up in a way they had never done it before. I also used a different set up at the church for the wedding party on the altar that had never been done. I was often worried about all the small details and if they would truly understand what I wanted. Every single vendor I worked with was not only a absolute pleasure, but bent over backwards to make our experience easy and fun. Special thank you to The Patrick Henry Ballroom, Pumpernickel Pickle, Creative Occasions, Tracie Hoprich Photography, DV Entertainment, Aztec Rental, Roanoke Star line Trolley, and Copper Hill Cakes for allowing us to have the day of our dreams!"
Photos by Tracie Hoprich Photography