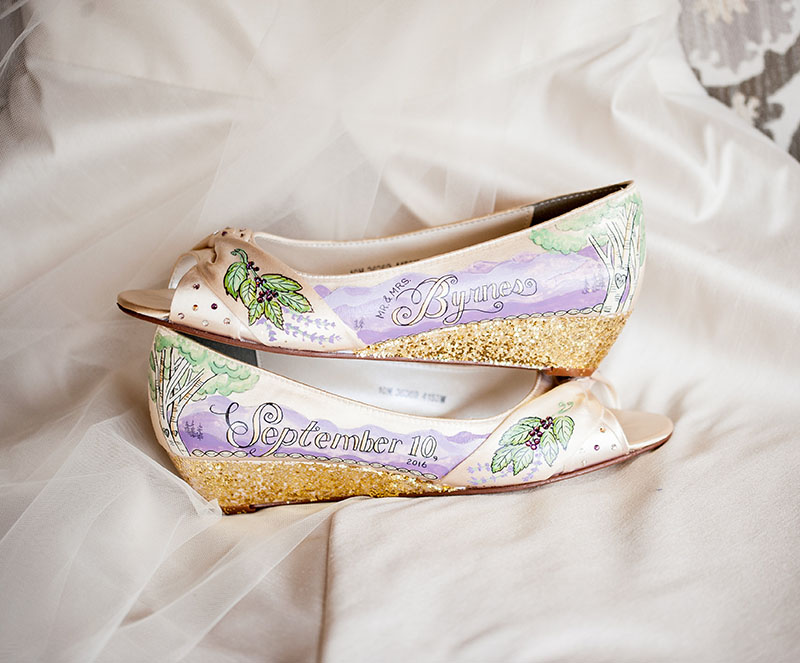 Lately, I have really been in love with the mountains, so when I saw Hilary and Kevin's wedding that took place at Hilary's family's home in the Blue Ridge mountains, I knew I had to share it with y'all!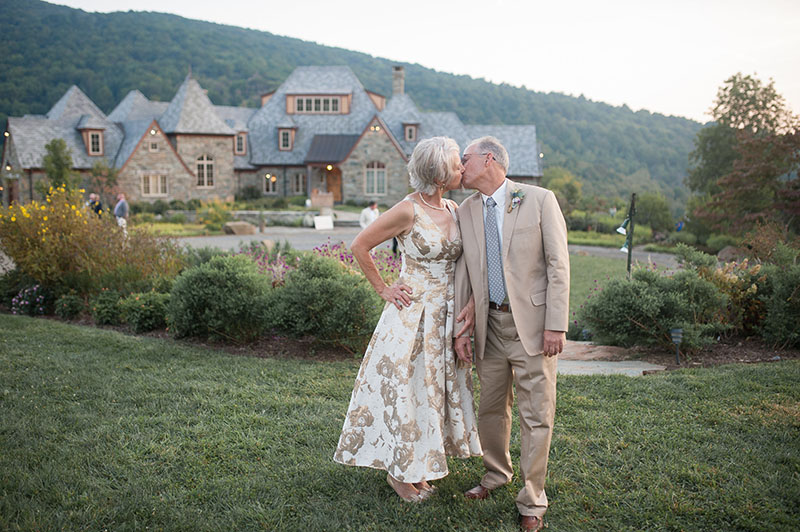 How cute are her parents out in front of their home?!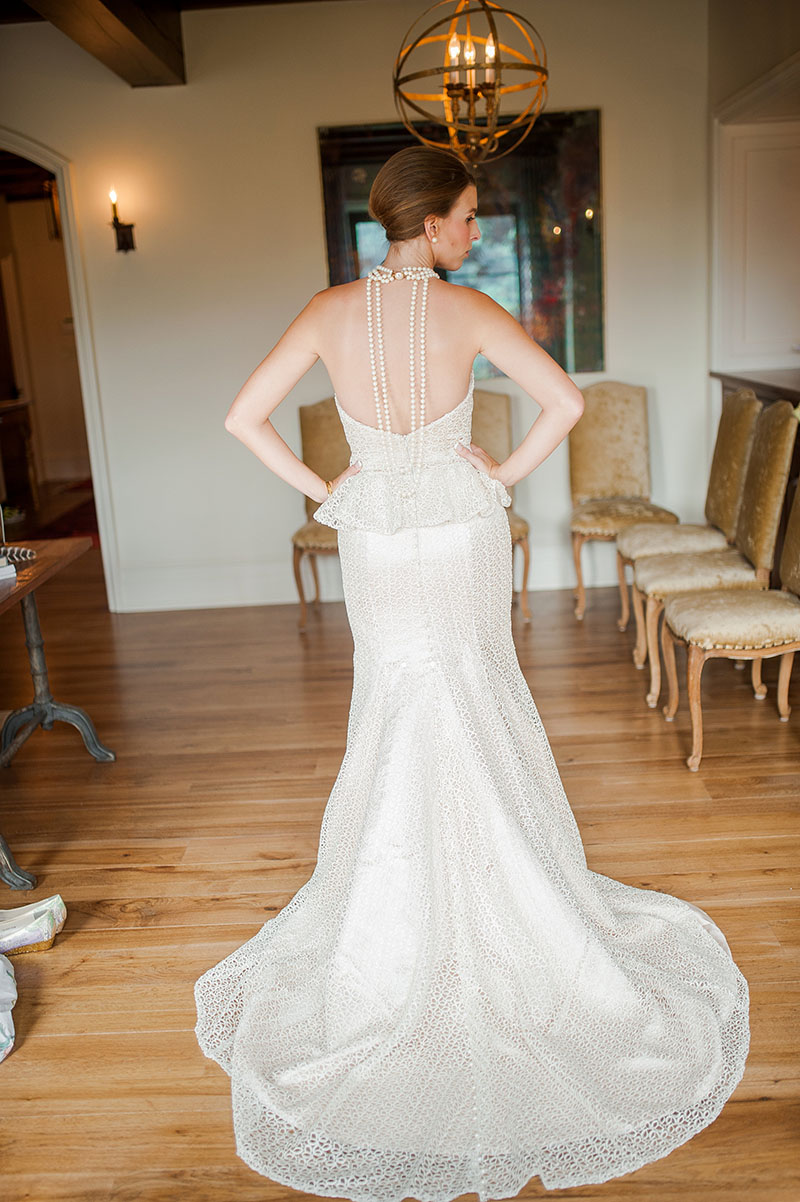 Hilary wore this stunning peplum lace gown and fashioned her mother's pearls as a choker in the front and cascading down her back. Such a unique and stunning bridal look!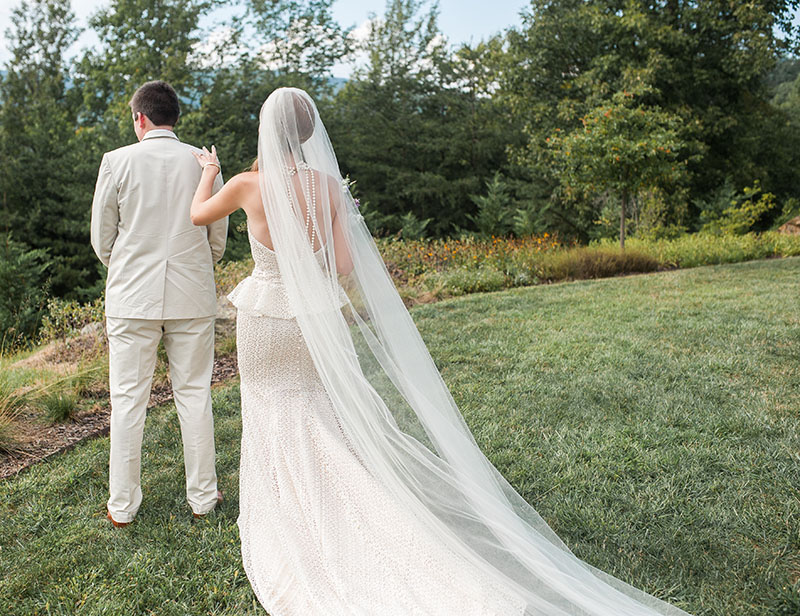 Hilary met Kevin by happenstance when they were both living in Chicago. Her friends were out at a new bar and she had FOMO (fear of missing out) and rushed over. Kevin was there for a going away party. They met and talked all night.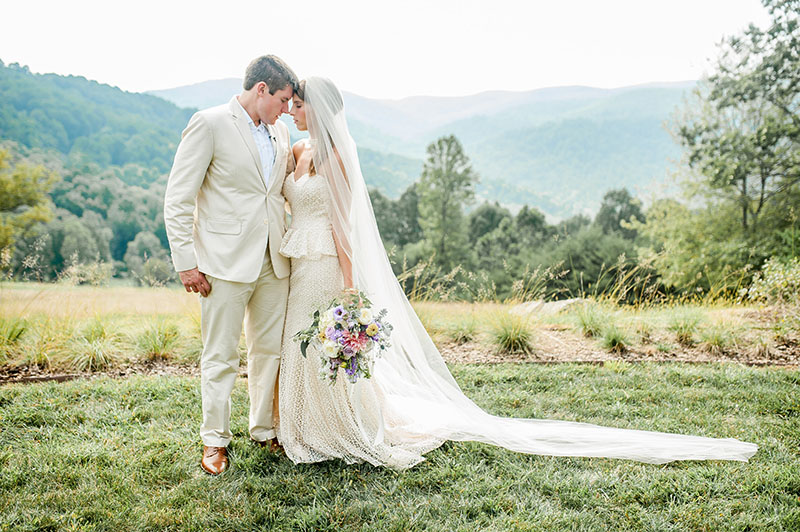 I know they are thankful for that night and let me tell you, I AM TOO! THIS PHOTO IS GORGEOUS.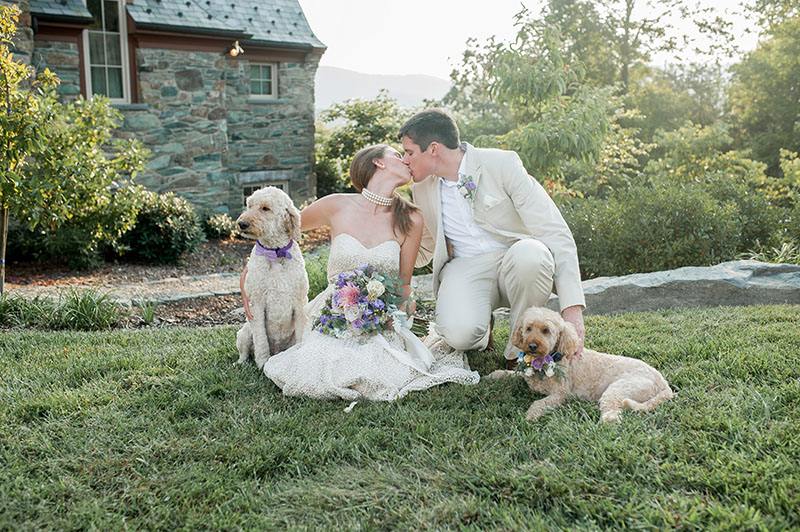 Cuteness overload.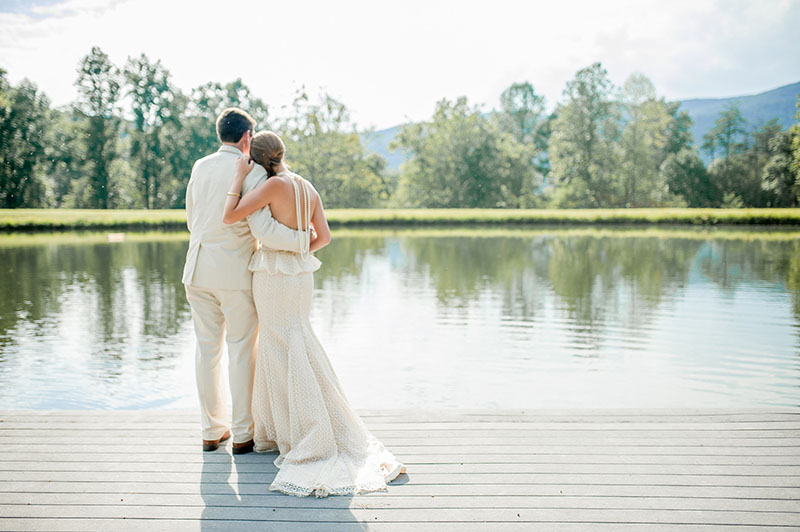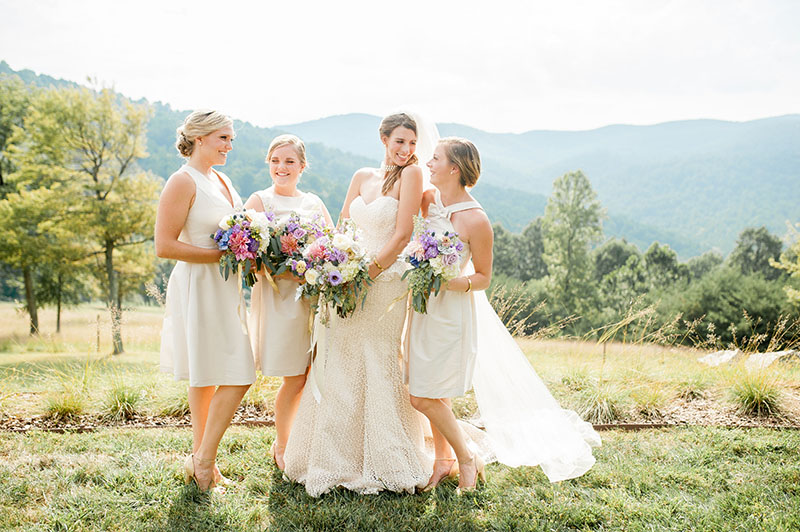 Hilary and her maids also looked super cute posing before the ceremony. Love their neutral dresses and colorful bouquets.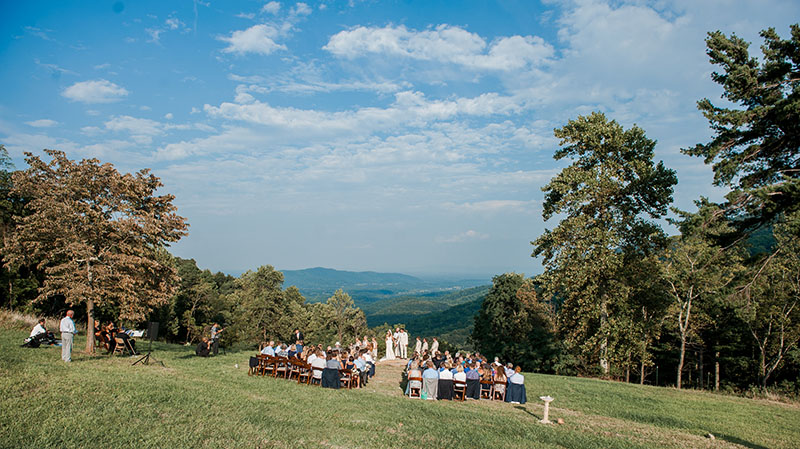 Hilary's father walked her down the aisle to this amazingly epic ceremony in her family's backyard.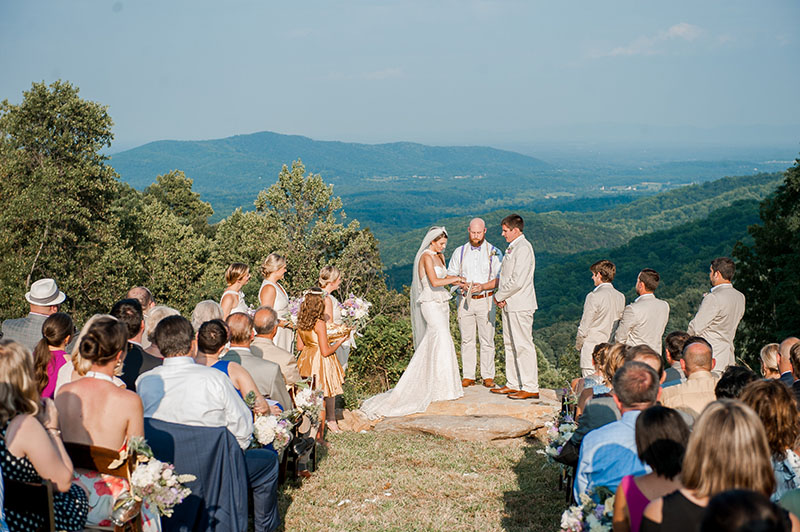 What a memorable moment.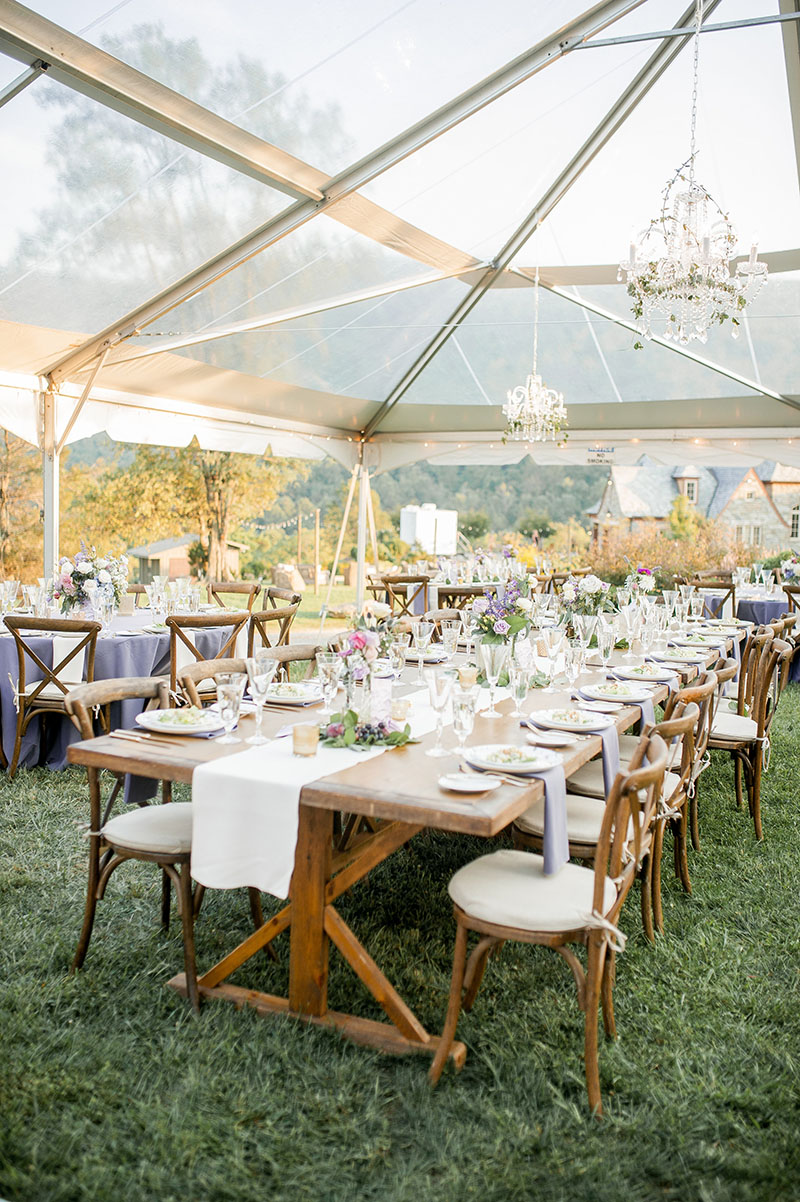 The party continued outside underneath this awesome transparent tent. From the chandeliers to the rustic tables, every detail came together beautifully!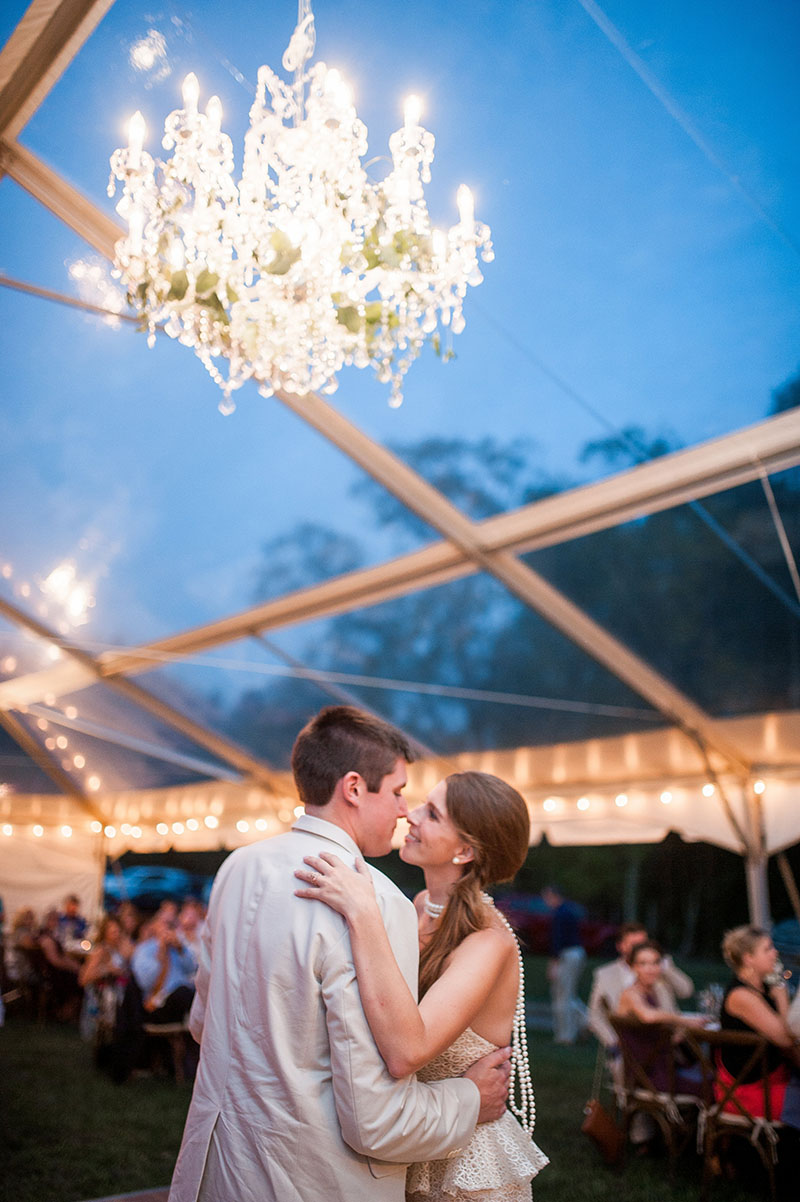 Congrats Kevin and Hilary! Your wedding is my favorite of 2017 so far!!!! -Tilley
From the Bride:
What was your favorite detail of the day? This is such a hard question!!! The big picture answer is the location.  We've had the farm since I was eight years old and although I protested as a child that I would never be married there, it was the only option I would consider when faced with the venue question.  We are lucky to have such a beautiful place to call home and we loved being able to share it with our friends and family.  The small picture answer is actually the necklace that I wore.  It was originally my mother's single long string of pearls, but I had my cousin Karen Hollis of K. Hollis Jewelers (she also did all our rings) reimagine the necklace to be a choker with cascading strings down the back.  It was perfect for the look I was imagining, and meaningful for the ties to my mother.  
What advice would 

you

 give to a 

bride

 to be? 

I have two pronged advice. 1. If you're going to be involved in the planning of your wedding, even if you have a planner (like we did), make sure you personally talk to each of your vendors.  This not only makes it more personal for both of you, but I believe it holds them more accountable for delivering their services the way you have envisioned it.  But then it is also on you to clearly share what you want from them on your day. 2. When, not if, but when something goes wrong…relax.  This is literally the hardest thing to do. I am sure all your friends and family will do their best to protect you from whatever is going down, but when something does happen, just let it.  The best thing to do is to just let the day rush over you and remember why you are there. Releasing yourself from the stress of the big day actually made my day feel long (in a good way!) and just pure happiness.  At the end of the day what is important is that you marry the person you love.
Virginia Bride Magazine features the best Virginia Weddings and Virginia Bridal Shows. Find it all in one place. Check our blog posts regularly for the latest show information.