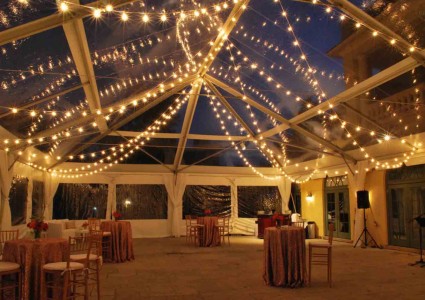 Nothing puts the finishing touch on a beautifully planned and crafted event like proper lighting. It brings all the elements of the event to life: The color and texture of floral arrangements, the splendid display of food and beverage, the fun and flair of the band and the dance floor, and the elegance and enchantment of the décor.
So maybe the question should be "why NOT lighting?" Most of the time we hear reasons like these:
"My event begins/takes place during the daytime, and ends only an hour after dark."
"We're not doing any elaborate décor, so we don't really need lighting."
"We just don't have the budget for it."
While it is true that not every event needs or requires lighting, consider for a moment how much is spent on the food or on the flowers and how long those elements last. When you look at the following photographs of events or those on our website, notice how simple highlighting of the flowers brings their colors to life, and makes the event feel warm and vibrant.
Note also how much a tented event, even during the daytime, is transformed from a monochromatic, gray palette into a rich, colorful scene.
A simple event lighting design plan that includes spotlighting table centerpieces coupled with a color wash over the band and dance floor doesn't break the budget, and can make all the difference in enhancing the ambiance.
Our services are not limited to beautiful lighting. Usually (when we're contracted to light a tented event, for example) our services range far beyond just ambiance lighting. They include premium level audio/visual services (from a simple ceremony audio package to a full scale conference production) staging, fabric décor (such as ceiling draping treatments), power coordination with other vendors (providing for the caterer's power needs, the band's, power for tent heaters or fans, etc.); electrical distribution (usually from an event-quality electrical generator that we bring in for the set-up, and for the event); service lighting and safety lighting in the guest and staff access areas, and often architectural and/or landscape lighting to highlight the buildings and grounds surrounding the tented event.
We offer a turn-key solution for both the aesthetic needs, as well as for the technical/logistical needs of an event, at an unsurpassed level of quality.
So when you're planning your next event, whether simple and elegant or full-scale elaborate, make your first choice Blue Ridge AV & Lighting…….
Artistic Elegance, Unequaled Quality, Superior Reputation – why look anywhere else?