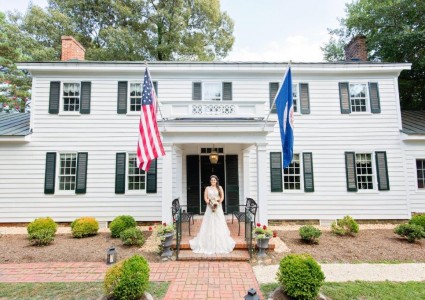 Historic Leafwood is a charming manor home exuding southern hospitality, situated in the heart of "Rivah" Country. Leafwood is located in the triangle of Saluda, Urbanna and Deltaville, 23 miles from Williamsburg, one hour from Richmond and 2 hours from Washington DC.
Imagine strolling across beautifully landscaped lawns where others have walked for hundreds of years among boxwoods, magnolias, and a lush variety of other plantings. Dance the night away under the stars. Start a new southern custom or celebrate age old traditions such as burying a bottle of bourbon exactly one month before the wedding at the ceremony site.
Experience: A country retreat right in the village of Saluda with easy access for your guests.
Leafwood's experienced staff has over 25 years in the event and wedding business.
Weddings are customized to fit your needs.
• Only one wedding is held per weekend, so there are no worries that your event will be rushed for another event
• Accommodating weddings of up to 125 guests
If you are looking for an intimate and totally private wedding venue to treat your guests to the experience of a lifetime, book your tour to visit Leafwood.
(Photo credits: IYQ Photography)