Ramulose Ridge Vineyards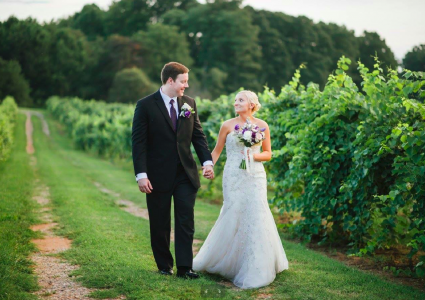 Vendor Deal
       Ramulose Ridge Vineyards is proud to offer brides a 25% discount on our wine. All bridal parties receive complimentary wine in the Bridal and Groom's suites, as well as cigars.
Vows Among the Vines
Ramulose Ridge Vineyards is the premier wedding venue of Bedford County. Our vineyard features a 2,200 square-foot event space with large, picturesque windows offering a stunning view of the Blue Ridge Mountains. Since we are an Estate Vineyard, your guests will have the pleasure of drinking our boutique wines while roaming among the vines on which they grew. Our year-round pristine landscape guarantees that your photos will be gorgeous and unique. No matter where you look, Ramulose Ridge is surrounded by beauty.
The Venue
The 1,100 sure-foot indoor event space includes a full, open-concept kitchen, stone fireplace, 50-inch television, one full bath and one half-bath. We provide enough tables, chairs, chair covers and linens to accommodate 180 guests. While you prepare to say "I do," your guests are free to mingle on our 1,100 square-foot patio that includes two fans, a pergola and gorgeous views. Our 600 square-foot pavilion is perfect for your ceremony, as well as bands or a DJ. 
The Bridal Experience 
Our newly renovated Bridal Suite features a full bathroom and plenty of space for doing hair and makeup. Warm hues and classic decor make this space a perfect spot for photos of you and your bridal party before the ceremony. The Bridal Suite also is stocked with complimentary wine from our vineyard. Down the hall, the Groom's Suite has a view of our grapevines and plenty of seating for the man of the hour. In addition to complimentary wine, the groom and groomsmen can enjoy our fine cigars from the Dominican Republic. 
The Ramulose Ridge Difference
We at Ramulose Ridge Vineyards promise you that our family and staff will be dedicated to providing the personable quality service you deserve for your wedding. We are proud and grateful to share this extraordinary experience with you.