The Barn at Timber Creek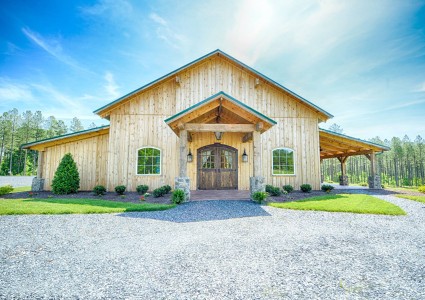 Vendor Deal
       10% off all weddings booked for the months of January through March.
You've found the person you want to spend the rest of your life with. At The Barn at Timber
Creek, we offer everything you need to make your wedding the day-to- remember that you
deserve.
Our 5000 square foot facility was designed specifically as a wedding venue and offers countless
touches that will make you glad to be a "Timber Creek Bride". From our massive floor-to- ceiling
stone fireplace, to hand-crafted tables and matching chairs, to a complete sound system, to a
beautiful lake down a gentle slope from the barn, we've provided everything you need to start
your new life together.
The Barn at Timber Creek offers the choice of an indoor or outdoor ceremony, giving you
greater flexibility in planning your special day. Our outdoor amenities include a stone fire pit
ring, custom corn hole boards, and whiskey barrels and other rustic decorations for outdoor
food service all overlooking our beautiful lake.
Our seasonally manicured landscaping welcomes your guests to the venue. With ample parking
adjacent to the barn, wedding-goers are only a short walk from the main entrance. With central
heat and air conditioning, The Barn at Timber Creek is a perfect location for your wedding,
regardless of the time of year. With seven restrooms (including one that meets all ADA
requirements), we've placed a premium on the comfort of your guests.
Pamper yourself on your special day in our Bridal Suite, located on the first floor of the main
house at Timber Creek. You'll have two bathrooms, a full kitchen, a living room with stone
fireplace and flat screen TV, and a large bedroom. Fruit and cheese platters with non-alcoholic
drinks will be provided for the bridal party.