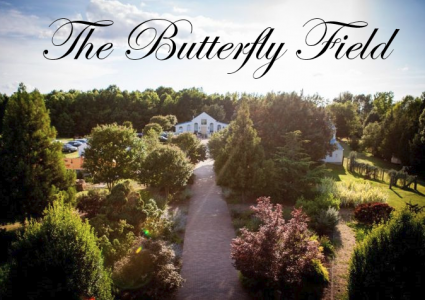 The Butterfly Field started as a dream in the early 1990's. The design of several large unique buildings consisting of an open concept home that many have said resembles a church and for a very good reason. A 2 story Belvedere with a viewing platform at the top looks out over the gardens facing the Dovecote a 1000 feet away for a most tranquil view. The builder envisioned many coming to walk in the perfectly designed flower gardens that attract many species of birds and butterflies . The 'Church' has become the perfect place to host wedding ceremonies for small gatherings, while surrounded by antiques and works of art for a memorable occasion. We offer you a day of beauty inside and outside to enjoy the newest addition of an Italian Fountain surrounded by Walls Metal Gates and Plants for a soothing sound of the water to relax you and your guests. This is a perfect gathering place before a ceremony, cocktail party, meeting or reception. The Belvedere is also another choice for a larger reception which seats 125 guests.
Our location is just minutes from I 95, in Thornburg, Virginia between Washington D.C. and Richmond. You will find yourself in a country setting on 54 acres with hundreds of evergreens, shrubbery and many flowering plants that will decorate your day naturally. We are committed to guiding you and your family through a common sense plan for your event and help you stay within your budget. Our services include the overall design and plan for each step through your ceremony along with all the details of your reception. Planning and coordinating with all of the vendors you choose is done for you. Our extensive list of photographers, caterers, floral design, and music is on hand for your choosing.
Included on the property is a catering kitchen to prepare for serving and an apartment for the groom and his party to use for dressing. In the main house is an elegant suite for the bride and her party. A champagne light brunch can be ordered for both bride and groom and an overnight stay may be reserved for the apartment after your reception.
The Butterfly Field is a unique alternative to much larger facilities and our mission is to help keep your wedding affordable and perfect for you on your most special day.