Written by: Elisa Yu-Shan Lion and Lauren Duhaime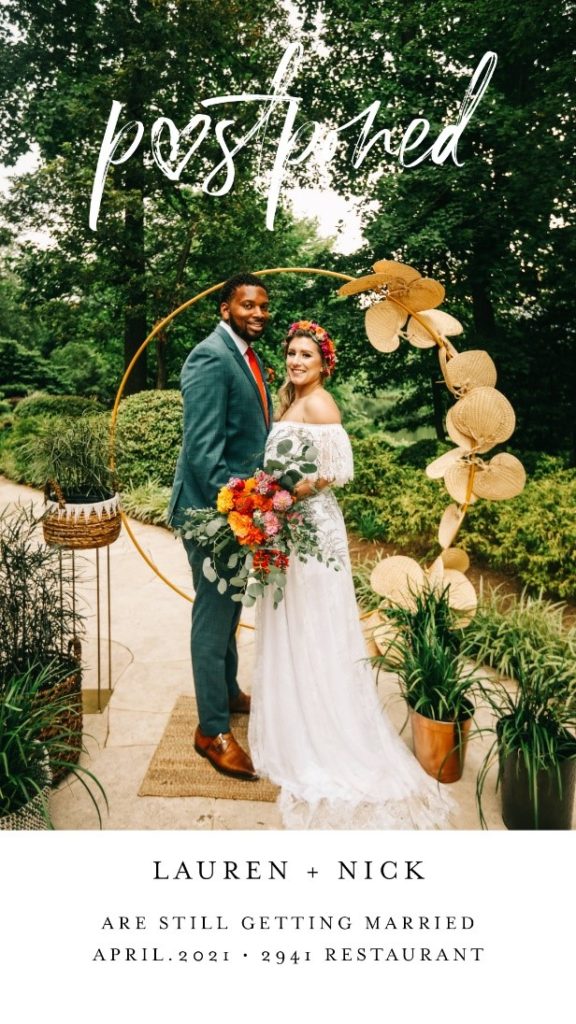 We started working with one of our Brides-To-Be Lauren and her beloved Nick eight months ago. This couple is one of many that has felt the hands-on effects of COVID on their wedding, as they have had to reschedule for a second time. We have been in constant contact with them throughout the entire rescheduling process to ensure that we support her and Nick in every way possible. We had the privilege of an interview with Lauren where she offers personal insight for brides and how as a couple, they were able to navigate through difficult decisions.
Lauren and Nick plan to celebrate their special day April of 2021 at one of our partner venues 2941 restaurant. Nestled in the heart of Falls Church VA, 2941 is surrounded by lush landscaping, koi ponds, waterfalls, world-class artwork, and a lakeside view – we are so excited for their special day!
DISCLAIMER: In an effort to keep Lauren's responses true to her, NO edits of any kind have been made to her responses and contributions.
EEE: How did you and Nick meet?
LD:  Nick and I met through mutual friends in 2014. He went to high school with people I met in college. We knew each other for about 6 months before we started dating!
EEE: What is your wedding vision? Which determining factors did you prioritize when selecting your wedding pro team to bring your wedding vision to life?
LD: Our wedding vision is simple and elegant. Originally, we thought we wanted a full black-tie wedding. But thought that ultimately it didn't totally fit our personality. We used our vision and our story to connect with wedding pros. There are so many to choose from, so it was overwhelming to try to narrow it down. So, we used some recommendations from our venue but then we found a few that really felt like they would be a good match for us.
EEE: What factors did you and Nick take into consideration when you both decided to reschedule your wedding this past April?
LD: Our wedding was originally scheduled for the end of April 2020. The virus was pretty bad in all areas. At the end of April, our baby would have only been 6 months old so that was a HUGE factor. We also have a lot of out of town guests that have to travel, mostly by air. We wanted to make sure we could have a great wedding, with all our important people, and no stress of anyone getting sick.
EEE: What was the hardest part of rescheduling your wedding?
LD: The hardest part about rescheduling the wedding was honestly just that we were SO close. It was about 35ish days from our original date, and we had just returned from our out-of-town wedding shower. So, we were all totally ready, and had that crazy anticipation of finally having our wedding be SO close after so much planning. Having to experience that disappointment, that was really totally out of our control, was just deflating.
EEE: Did you lose any of your wedding pros?
LD: No! Everyone we had contracts with were SUPER flexible and understanding, and everyone was willing to work with us to accommodate a new date. We know we are very lucky for that, because we have heard some pretty bad stories.
EEE: How has working with a wedding planner helped navigate these unchartered waters?
LD: Oh, it has helped so much! Our planner has been so proactive about reaching out with any details they have, and potential plans based on what phase of reopening that Virginia was in. Our wedding planner updates us regularly and makes sure we have what we need to make the best decision about new dates, and details.
EEE: Have you had to adjust your wedding vision and guest list?
LD: At this point, no. We originally rescheduled from April 2020 to August 2020. When it started to get closer to the August date, we did feel like we would be sacrificing our overall hopes for the day because we just knew that some people wouldn't be able to make it. That was the driving force between deciding to postpone again, to April 2021, we didn't want to compromise on our vision or our guests so we felt the best thing to do to ensure the wedding would be what we hoped for on our original date was to move it back again.
EEE: How are you managing the reschedule?
LD: Because we were SO close to the original date, there is not much we need to manage right now. The bulk of our planning is complete. It still feels like it's so far away, but hopefully by early 2021 we will get that excitement back.
EEE: Have your guests been understanding?
LD: Yep! Most of them are very disappointed for us, but I think they're still excited for next year!
EEE: You rescheduled your wedding twice. Was rescheduling a second time harder than rescheduling the first time? How was it different? 
LD:  The hardest part of rescheduling multiple times is just the anticipation leading up to a wedding that gets deflated over and over again. We are so ready to have our day, and celebrate. We did go through a phase when we both wanted to completely cancel the wedding because we thought it was so lame to push everything back, and then we had to push it again! It's kind of become one of those things that we joke and say "if it ever happens"…. I think we would definitely be disappointed if we ended up canceling it.
EEE: Would you reschedule a third time if the Governor of Virginia set stricter restrictions? If yes, how would you adapt your vision to the current restrictions?
LD: Oh man, I don't know about that. At this point we have rescheduled for a year past our original date. It's just so much planning and anticipation but I think maybe at one point we will have to reassess how long we can push it off while moving our life forward. We are just really hoping that things will clear up by April 2021.
EEE: What advice would you give other brides regarding rescheduling? 
LD: Definitely just do what is best for YOU. It's super hard to postpone something you've been looking forward to. I know a few brides who have gone forward with a smaller, family-only ceremony, or some who have done a virtual ceremony. Each couple is different- we couldn't see ourselves being truly happy with those decisions so we knew that rescheduling was our best option.
EEE: What advice would you give future brides with selecting wedding pros?
LD: Work with people who are familiar with your venue! Who have done weddings there before! It makes planning and coordinating so much easier, and it added a layer of trust for us. We knew that we were in good hands! AND!! Research and pick people whose work fits your vision!
Note from Virginia Bride Magazine– we recommend all couples planning a wedding to invest in wedding insurance!
Wedding insurance covers you in the event your wedding is cancelled due to reasons just like pandemics, hurricanes, unforeseen circumstances, etc. you will get all of your money back that you paid to your vendors. It is a MUST!
If you are planning a wedding in Roanoke Virginia, Richmond Virginia, Fredericksburg/Northern Virginia, The  Shenandoah Valley, Coastal Virginia or in Charlottesville/ Lynchburg Va, we can help with your wedding planning and ideas.