How to Hire a Vendor:
The Top Questions You Must Ask
by: Ashley Rose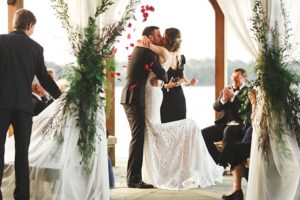 Planning your wedding is truly an exciting time, but it can quickly become overwhelming as you assemble a team of vendors to bring your dream to life. Saying "I do" is surrounded by a world of business transactions to make the day a success. Congratulations, you're the new CEO!
It's important to know the right questions to ask before you hire your team. Start the process by deciding on your budget, estimated guest count, overall vision and date.
Your vendor list can be quite extensive, depending on your vision. Book your perfect venue, then move on to a caterer, cake, DJ, florist, photographer, videographer, entertainment, rentals/décor and so on. Before you commit to any of these, you should understand what they provide and what you can expect.
We're often asked how to bring vendors together seamlessly to make the day a success. Part of our job is making these decisions for our clients. Hiring a planner will take the stress out of the vendor search and allow for flawless day-of collaboration, but this guide will help you get started.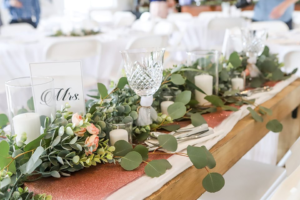 The following must-ask questions will make each interview organized and efficient, allowing you to quickly make decisions to piece together your big day.
Is my date available? You may be flexible, and if so, check all options on the initial call. If your date is firm, this may be the deciding factor. Don't be afraid to ask how many bookings the vendor accepts on a given day. You deserve the majority of their focus.
How long have you been operating, and what's your average number of weddings each year? While time in business doesn't always mean the best service, it is a factor. You can request 3-5 testimonials for a good overview of client interaction. Request a portfolio or other samples if you cannot easily identify their style via the website or social media.
3. What is the cost, and what is included? Once you've provided the necessary information, it's appropriate to get an estimate. Be honest if it truly doesn't fit your budget. It's also important to know what your contract covers, so ask to see a sample list of services or a general contract if you are still on the fence. If you've hired a coordinator, they should negotiate and review all of this on your behalf.
4. Do you have a refund or cancellation option? Sometimes even the best plans encounter a glitch. You need to know how each vendor will handle a cancellation or change of date. Be sure to get this in writing.
5. How do you work around weather conditions? Don't let a storm ruin your day. Ask up front for weather options and how the vendor plans to handle rain or other factors. This is especially important with your venue. You'll need to know how they accommodate guests moving in and out of the space during poor weather. If you are choosing an outdoor location, walk through the backup options and be sure you love those almost as much, just in case.
6. What are your communication policies and preferences? If you aren't getting the vibe that the vendor will prioritize prompt communication, you may want to reconsider. It's hard to plan the big day if everyone is not privy to timely replies. You'll also want to continue communication based on their preferred preference.
What if you get sick or have an emergency? Your vendors are human, and things can happen. If they don't have a team member for back up, most reputable vendors will have connections to other vendors in their field.
Are there additional fees for time and/or travel? No one likes a surprise bill on their big day, especially when you are trying to focus on important moments. Clarify all possible charges so you don't get stuck with last-minute fees.
What time will you arrive, and what can we expect from you? Timing is key in making the day come together. You want everything set before your first guest arrives. Ask your venue for a copy of their rules and pass the list to each vendor. This will set everyone up for success.
Have you worked at my venue? Once you choose your location, it helps to have vendors who know the space. This is not a make-or-break question. It just means you need to coordinate solid communication between your venue and the vendors to ensure nothing is overlooked.
How can you help me get the most from my budget? Most vendors are armed with tips and tricks that work with every budget. Ask them to share their knowledge! Save this question for a vendor you are more certain you want to book with.
12. What are your thoughts and ideas for my wedding? This helps to see if the vendor was paying attention to the details you provided. It also allows you to see if your personalities and visions are aligned enough to make the day successful. You don't have to become best friends, but you do need to be able to navigate some major decisions without frustration.
Remember, your top choice may be booked on your date, so it's good to keep a few notes from all interviews. Keep important information in writing, and be sure all of your questions are covered before you commit. Be timely and respectful with your decision after your interviews. Feel free to reach out if we can help you navigate your planning process.
XO, The Ashley Rose Events Team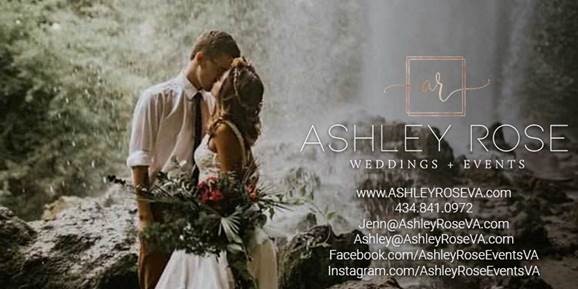 If you are planning a wedding in Roanoke Virginia, Richmond Virginia, Fredericksburg/Northern Virginia, The  Shenandoah Valley, Coastal Virginia or in Charlottesville/ Lynchburg Va, we can help with your wedding planning and ideas.