There are so many amazing places, times, and ways you can plan for your engagement shoot. So, how do you narrow down the choices to the ideal setting for your engagement pics?
Here are some ways to do just that, using broad ideas to help you figure out the perfect shots for you and your partner as you prepare to say 'I do' at your someday-soon Virginia wedding.
Choose the Location
Choosing the perfect location for your engagement shoot could be one of the trickiest aspects, much like finding the right venue could be challenging. But if you think about these things, you might find the perfect spot in no time.
Where did you meet? Is the setting someplace you could shoot some photos? Is there someplace similar that is reminiscent if the exact doesn't suit? Such as, did you meet at a coffee shop that closed? You can find another coffee shop that you love to visit together now.
Or did you meet online? Consider doing some "solo" shots to "bring you together" at your respective homes, workplaces, or others to create a motif of "before and now" for the photos.
Where was your first date? Head on over to that pizza spot, park, or beach where you first held hands, made eyes at each other, or even had that terrible first date that should have ended the whole thing.
Maybe your favorite vacation spot is an option? Plan a trip and celebrate your love as you re-explore your favorite holidaying spot. Hire a local photographer to capture your time together.
Let a Theme Inspire You
If location isn't as much your focus, consider instead what kinds of props or a theme you'd love to have in your engagement photos – your forever memories before you say "I do."
What hobbies do you share? Both into surfing? Snag shots at the beach doing what you love! More into going to the movies? Choose a location, add some props, and have fun emulating your favorite rainy day activity.
Have a fandom in common? Maybe you love Doctor Who or the Marvel Cinematic Universe. Grab props and settings that make sense for showcasing your favorite fandom in your special photos.
If you're into travel, consider getting things set up with fun props for the shoot. Rent out an old caboose or take photos at the local train station. Bring along your vintage suitcases, favorite travel gear, or travel duds.
Love hiking? Take to the woods and explore nature while you take photos together along the trail.
Go All In On Colors
If you love more than one set of colors and can't decide between which theme to use for the big day, use the other for your engagement photo shoot. Let the colors help you choose a location, props, attire, and more as you go all-in on the color scheme that better suits just the two of you versus the big celebration.
Poses to Consider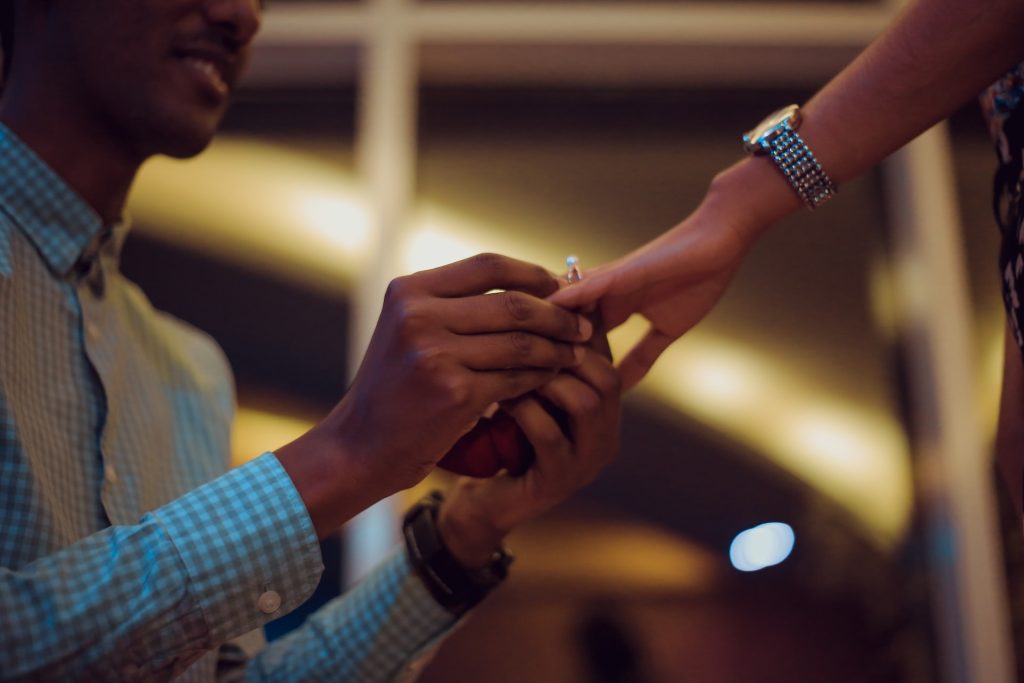 Of course, the perfect shoot means having the right poses in mind as you enjoy your special moments together.
Think about your wedding invitation – are there are particular poses or ideas that make sense for your wedding theme? Make sure this is a top priority for the day.
Get romantic! Enjoy some kissing shots, of course, but be sure to snag some shots of subtle poses that playfully use PDA without being so obvious. The chemistry between you will say more than even a kiss when you look back on the photos later.
Be candid – and get some unposed shots. You definitely want some posed shots, but you also want to make sure your photographer snaps candid shots along the way. Often, those candids as you goof off together wind up being some of the most romantic and memorable shots of the whole day.
Log into Pinterest. You'll find thousands (millions?) of ideas for specific poses and angles that you'll love. Get creative with them, of course, inserting your own prop ideas and special touches as you do the shoot.
Scroll photographer sites. You'll find even more phenomenal engagement shots as you wind your way through their portfolios. Particularly do this with the photographer you're aiming to work with, as they'll know exactly how to style and pose the photo.
Don't forget the spectacular ring shots! You'll want to capture those images of the ring for sharing on social media, at the wedding, and more.