By Lauren Davis
You've picked a dress, a wedding venue, and the song for your first dance. What's next on that "To Do" list? Wedding favors. Decorations. Food. Rather than go with the tried and true, a custom treat really makes your day stand apart from other weddings you may have attended. This is your day! Make all aspects of your event as special as you are.
Wedding Favors
Little "Thank You" gifts are a sweet gesture that lets your guests know that you are glad they can be part of your special day.  Chestnuts would make a beautiful addition to any wedding guest table. You can put the name of the happy couple and wedding date on a rustic bag with a delicate bow in the color of the wedding party's formal attire. Place each bag at the place settings. If you want to get very fancy, chestnuts, when still in their hard shell, can be engraved.
Seasonal Decor
Not only are chestnuts delicious roasted, or paired with other savory ingredients, they are also beautiful. When considering your flower budget for table centerpieces, think about how gorgeous a rustic basket of chestnuts would be. Chestnuts with candles could warm up a space for a romantic evening setting. Wreaths made out of greenery, pine cones, and chestnuts could be hung in the venue of an autumn wedding or reception.
Tasting Menu
Another idea is to incorporate chestnuts into your menu. Roasted brussel sprouts with bacon would make for a unique side dish. Serving a creamy chestnut soup would warm up guests on a brisk fall or winter wedding day. For dessert? Candied chestnuts, or marrons glacé, in french, are a seasonal favorite for people around the world.
Wedding planning can be a fun expression of your unique personality! Let your originality shine through and have fun.
Read more about chestnuts at http://virginiachestnuts.com/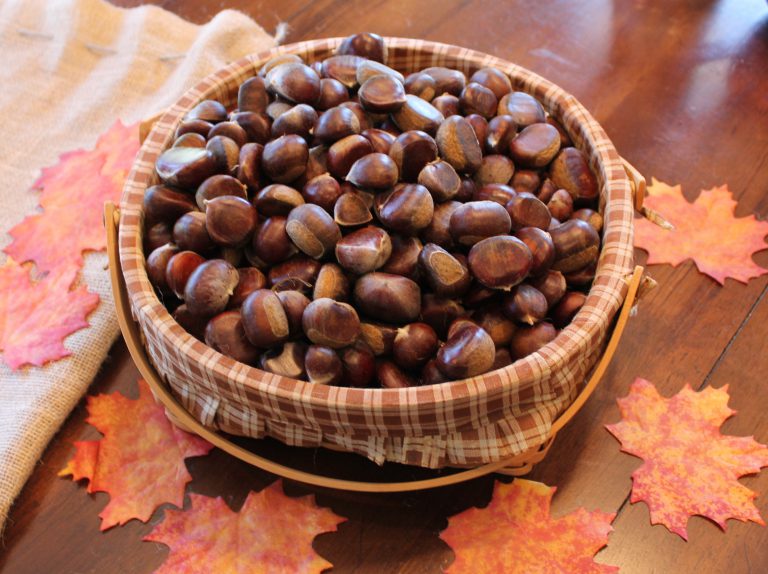 If you are planning a wedding in Roanoke Virginia, Richmond Virginia, Fredericksburg/Northern Virginia, The  Shenandoah Valley, Coastal Virginia or in Charlottesville Va, we can help with your wedding planning and ideas. 
Virginia Bride Magazine features the best Virginia Weddings and Virginia Bridal Shows. Get  it all in one place. Check our blog posts regularly for the latest bridal shows in Richmond VA, Roanoke, Va. The Shenandoah Valley, Fredericksburg Va, and in Charlottesville.