BRIDE: Ashley Laurin Vice, 31, Occupational Therapist
GROOM: James Waylon Kenney Jr, 28, Operations Coordinator
DATE: August 31, 2019
LOCATION: Virginia Crossing Tapestry, a Collection by Hilton
NUMBER OF GUESTS: 183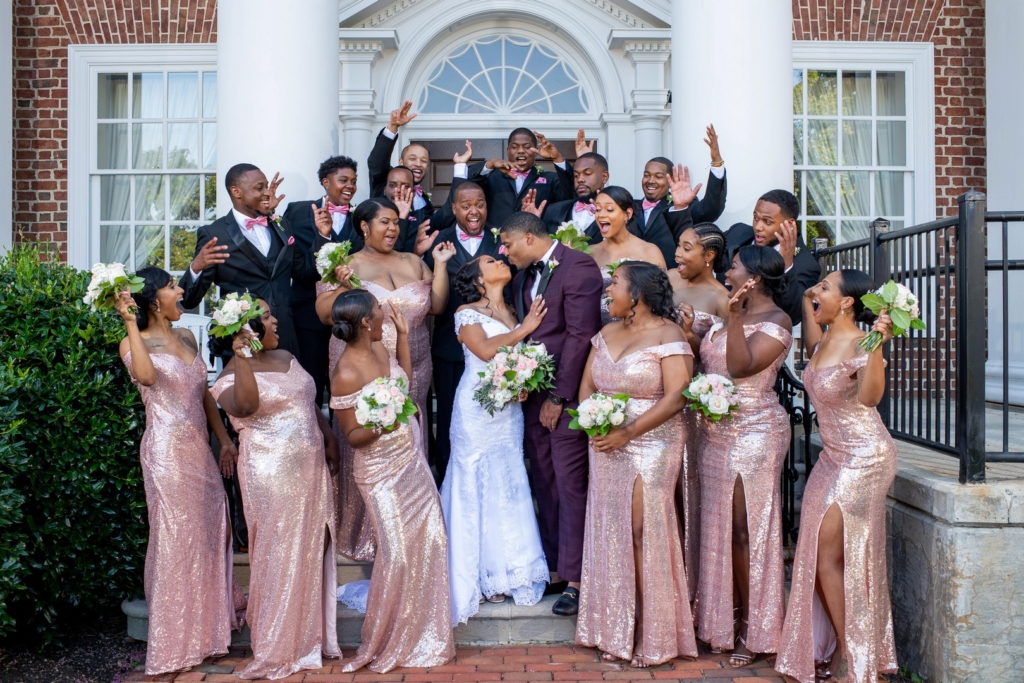 The darling story of Ashley & James begins back when they were just kids – and he didn't care for his sister's friends. Ashley, however, always thought James was cute, even if he was a couple of years younger than her.
When social media emerged in their adult years, the pair connected because, well, it's what you do. James reached out, but now it was Ashley's turn to ignore him. Eventually, though, Ashley gave him a chance and asked him out. He was open to trying and ever since that first date, they've been inseparable.
Their incredible wedding day was as beautiful as Ashley could have hoped for. "I wanted a soft look with a pop of color." The colors included a warm ivory, blush, gold, and rose-gold accents showing off their personalities. Topping it off was some sparkly rose gold, the favorite color of Ashley and her daughter.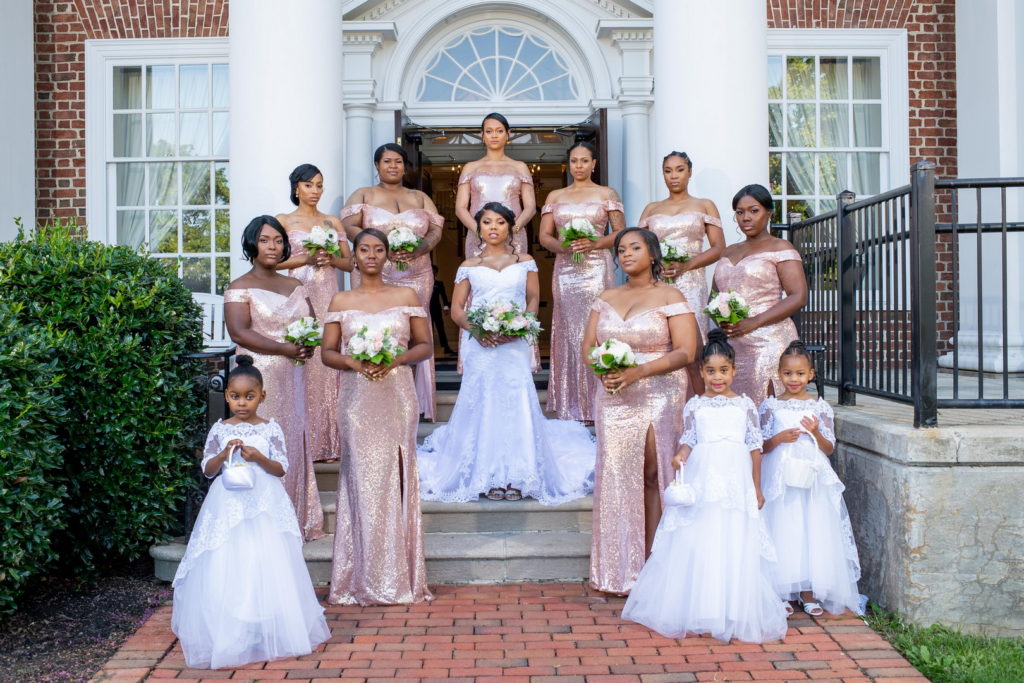 The couple opted to make the ceremony all their own, using details that specially fit their personality as a family. Ashley chose to design the day herself, down to selecting a custom-fit gown from China, via eBay. She knew what she wanted: an off-the-shoulder gown. So, searching online, she found the gown of her dreams.
"Nothing else could compare. I never went to any bridal boutique to try on dresses because I knew this is what I wanted. My mother and I one day decided to take my measurements in her kitchen because after I showed her the dress, she was sold on it, too!"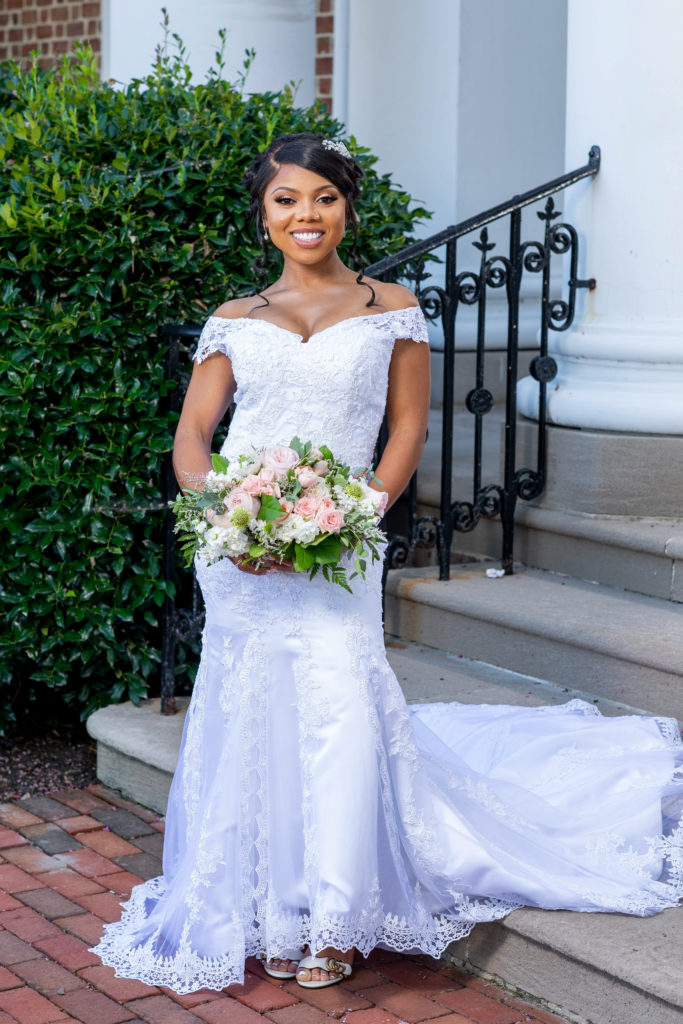 The dress didn't work out quite as planned, though, so she had to take it in for fittings multiple times with a local seamstress. The result is splendid – Ashley was in love.
James decided to surprise Ashley by choosing his own suit from Harrell's Menswear, opting not to let Ashley see him first. "He felt as though he couldn't see me in my dress, therefore he wanted to give me the anticipation and surprise me with his suit. The owner of Harrell's Menswear is actually a very close friend of ours, and on a regular basis I was trying to probe to attempt to figure out what color my future husband was going to wear standing at the altar waiting for me!"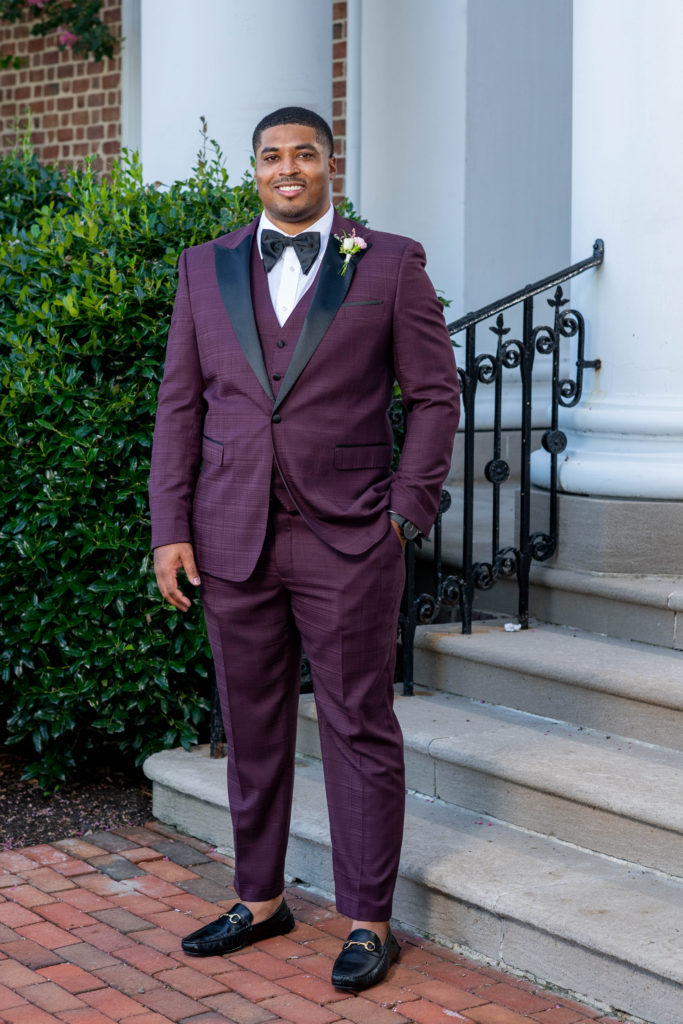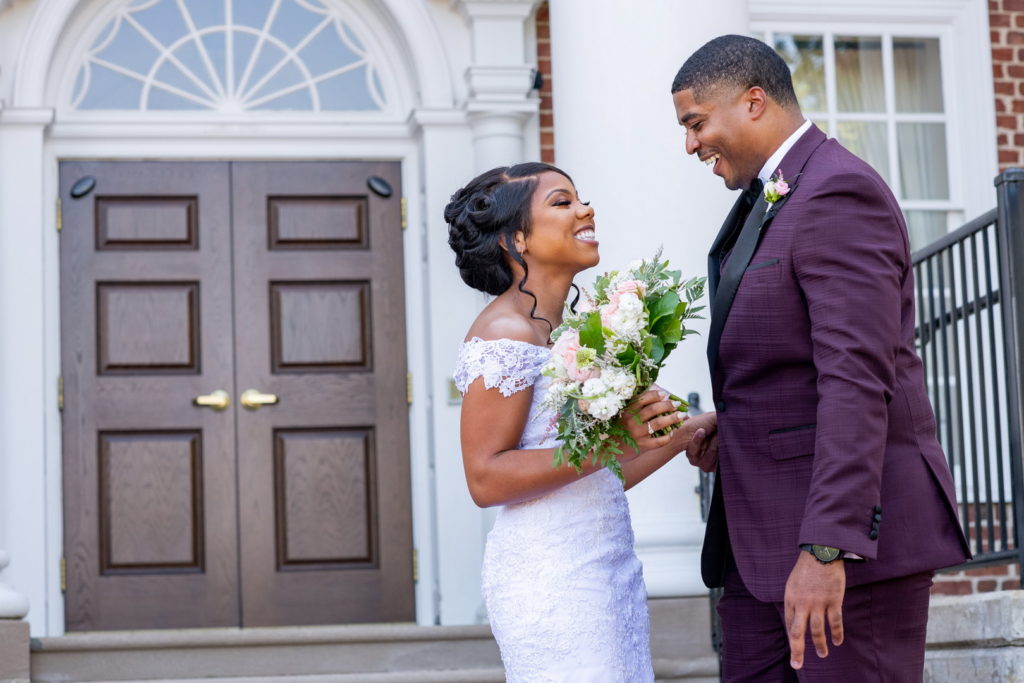 The décor featured a half-moon arc over a riser so that everyone could easily see the happy couple as they vowed their forever love. The reception featured simple, elegant décor with gold table numbers, ivory cloths, blush napkins, and votive candles for a touch of glamour.
Ashley & James had a dream wedding. Traditional, beautiful, and perfectly suited to them as a family.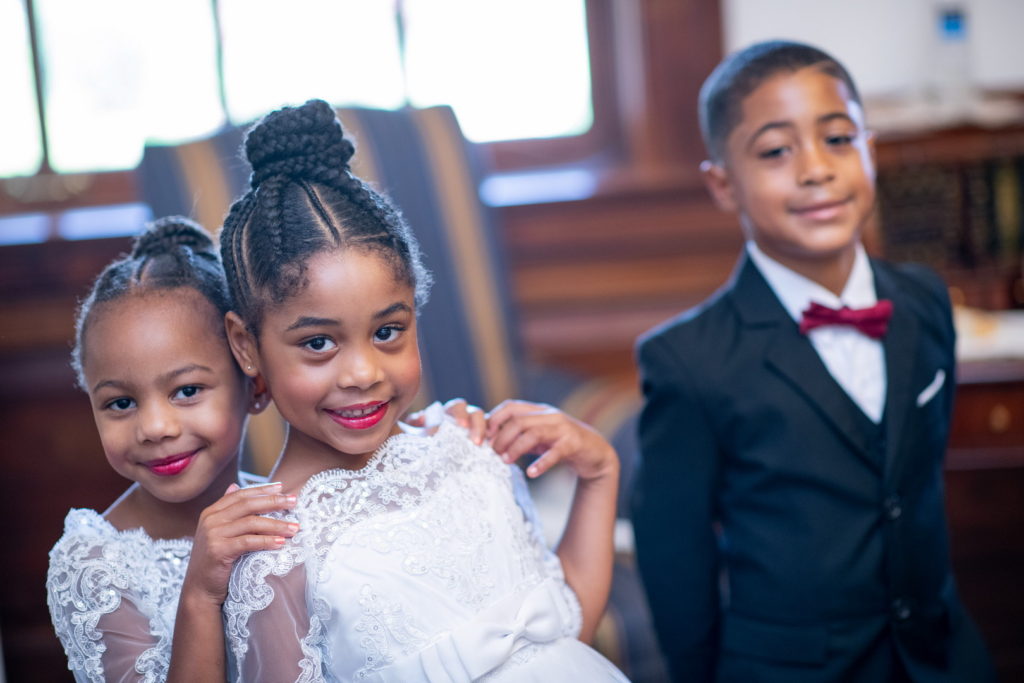 Ashley's advice to future brides is simple: "Enjoy every minute! Don't worry about the little stuff, it is true that you find out a lot about different people that you are close with but take this as a positive thing. Just remember everything happens for a reason. Always keep a positive mindset and everything else will fall into place!"
After a sparkler exit, the couple honeymooned in St. Lucia at the Sandals Resort. The private hut with private pool and jacuzzi made for the perfect first vacation as a married couple together, full of boating, hiking, jet-skiing, tours, authentic local food, and loads of relaxation.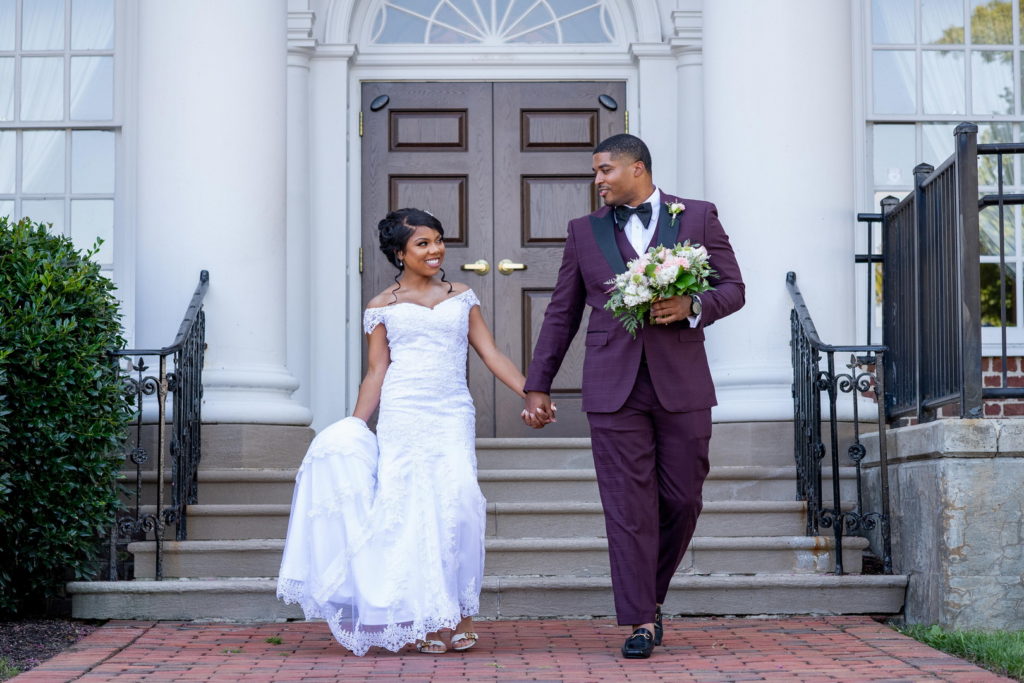 CEREMONY SITE – Virginia Crossing Hotel's Conference Center a Tapestry by Hilton 1000 Virginia
Center Parkway, Glen Allen VA 23059 804-727-1400
RECEPTION SITE – Virginia Crossing Hotel's Conference Center a Tapestry by Hilton 1000 Virginia
Center Parkway, Glen Allen VA 23059 804-727-1400
PHOTOGRAPHY – Orrie Gaines Photography LLC- Orrie Gaines 19 East 3rd Street Studio 40 Richmond,
VBA 23224 267-322-8077
VIDEOGRAPHY – Nowadayz Productions – Terrell Thompson Richmond VA 804-986-0437
OFFICIANT – John Kenney Richmond VA 804-840-2877
GOWN – eBay. There is no special designer, but the seamstress who assisted in revamping the dress is Rosalind Canada Richmond VA 804-339-2383
VEIL – David's Bridal Richmond VA, W. Broad Street
SHOES – Gucci
HAIR- Hair – Wigalicious Alonzo Arnold Atlanta GA (no phone number given)
Hair Installed by – Lace Perfectionist – Lameisha Richmond VA 804-605-2693
Hair Styled by – Destiny Levere Richmond VA 540-940-3174
MAKEUP – Nicole Gore Artistry- Nicole Gore Richmond, VA 240-504-3895
BRIDESMAID DRESSES – Amazon.com
FORMALWEAR – Harrell's Menswear, Richmond VA 804-665-6504
INVITATIONS – By Invitation Only, Richmond VA 804-364-8474
FLOWERS – Starry Night Events RVA – Tanya McGann Cornwell 804-513-2347
CATERING – provided through the venue at Virginia Crossings
MUSIC Ceremony – Danyelle Elder Violinist- Richmond VA 804-503-4776
MUSIC Reception – D'Andre Hunter- Richmond VA 804-528-7552
CAKE – Baker's Kitchen by Alvina-Richmond VA 804-745-0441
FAVORS – Etsy
ACCOMMODATIONS – Hotel accommodations provided by venue Virginia Crossings
HONEYMOON – Sandals Resort- Kathy Dunn – VA Beach, VA 757-788-4988
MONOGRAM & SPARKLER EXIT – Signature DJ's Brandon Frazier VA Beach, VA 757-707-4340
DRAPERY – The Master's Touch Floral Event Design LLC – S. Armwood Richmond VA 804-575-
5537