Virginia Bride features weddings weekly here on the blog. Being featured in the blog does not necessarily mean they are featured in the print magazine.
INTRODUCTION
Bride's Maiden Name: Rebecca Lamb, 23, Master's Student – Speech Language Pathologist Student, PennWest University
 Groom: Colton Lucas, 25, Sales Technician, NewTerra 
 Date: May 5, 2023
 Location: Big Spring Farm, Lexington, VA
Guests: 115
Hometown: Pittsburgh, PA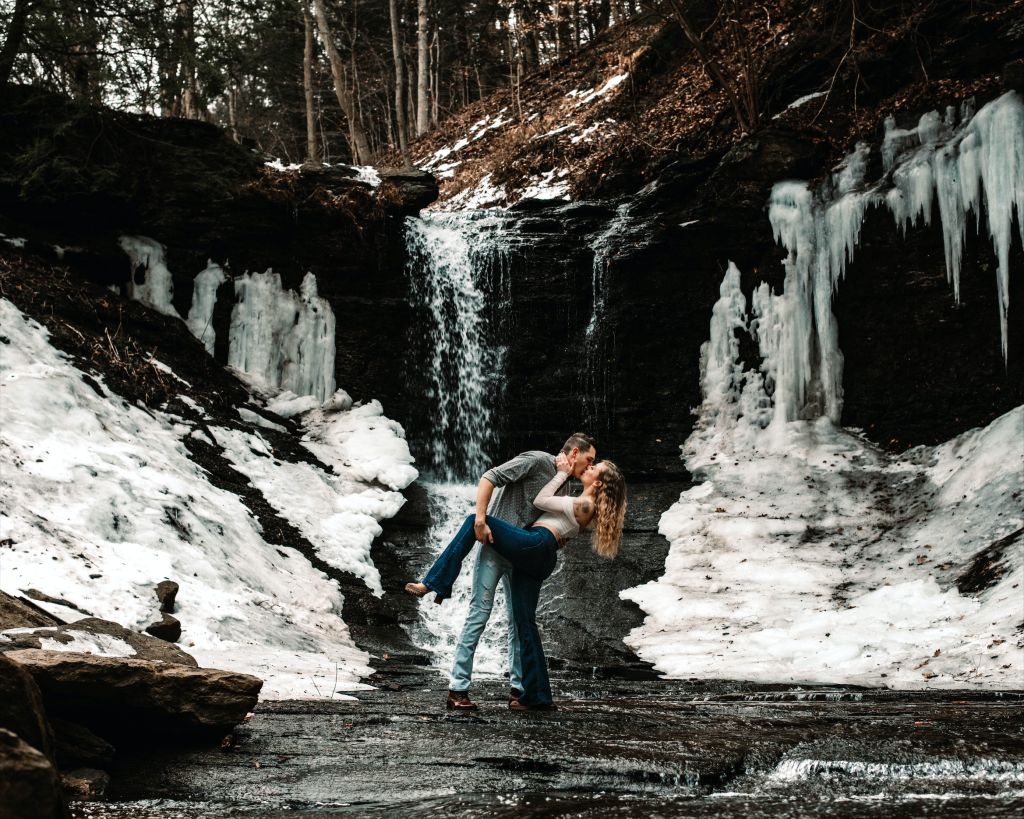 LOVE STORY
Online Connection
On January 10, 2019, Colton and Rebecca connected through Tinder and were immediately matched. At the time, she was 18 and he was 20. Colton messaged Rebecca through the Tinder app for a while before Colton asked to Snapchat with Rebecca. Colton was anxious to meet and hang out, but Rebecca was hesitant because she was preparing to return to college 1.5 hours away.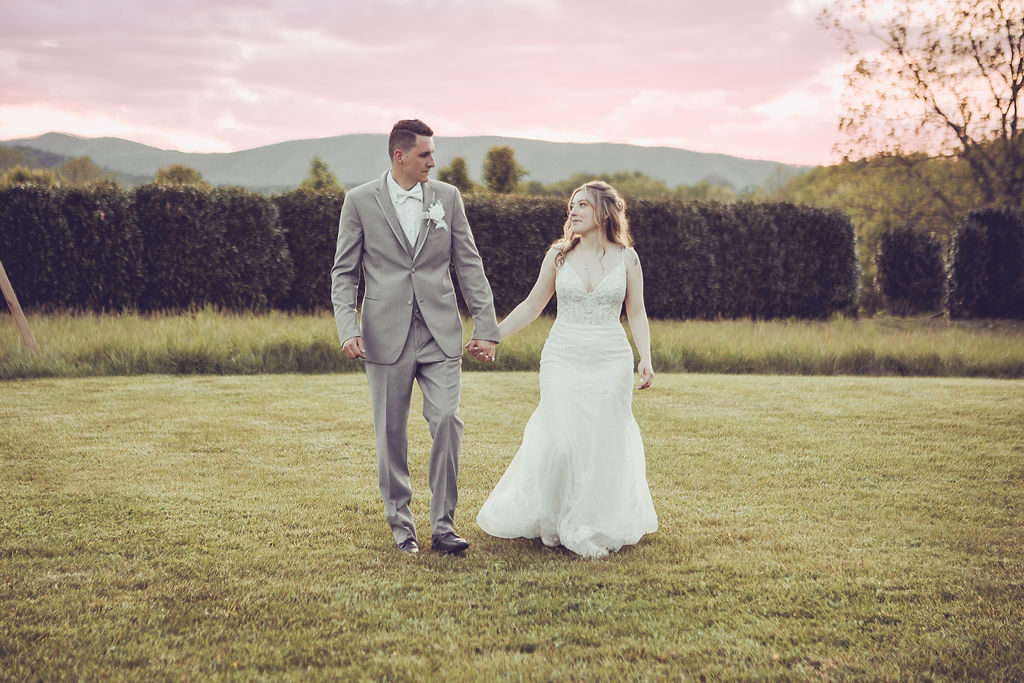 First Date
When Colton and Rebecca finally met, they felt very comfortable together. Colton recalls that he messaged Rebecca on a Wednesday night, asking to meet for lunch the next day. They decided on a Chinese restaurant, New Dragon Express because it was halfway between where they lived. Over their first meal, Colton and Rebecca discussed everything important to them, and the first date ended with Colton and Rebecca planning a second.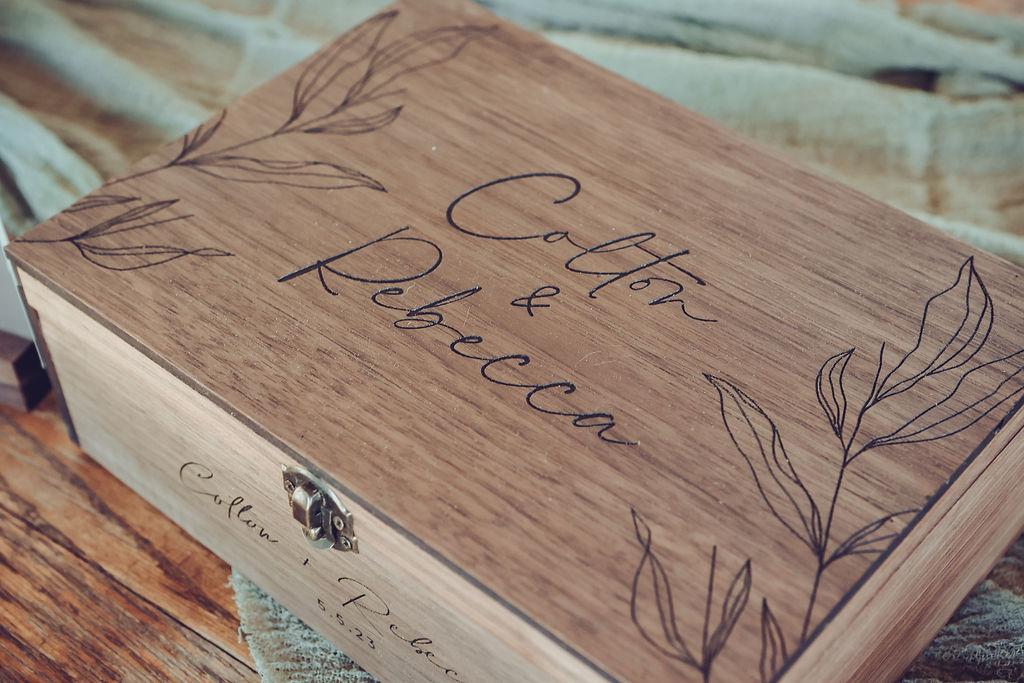 After the first date, while still in the restaurant parking lot, they both turned on Snapchat, and by the time they reached the first stoplight, Colton messaged Rebecca, "Is it bad that I miss you already?" Well, the rest is history.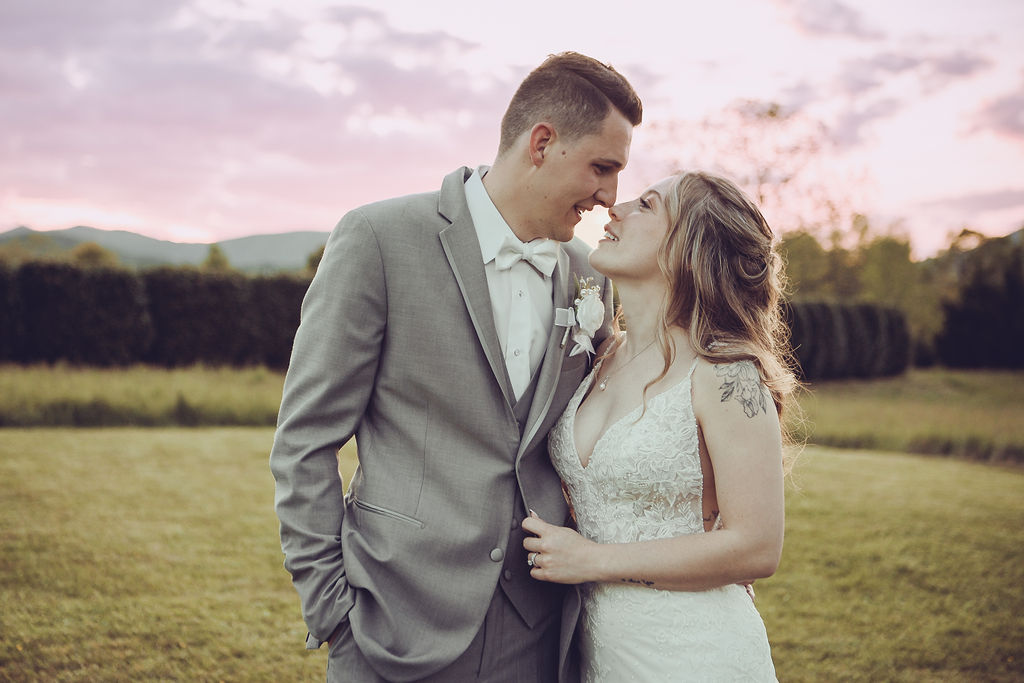 PROPOSAL/ENGAGEMENT
Colton said, "I Love You" first. He proposed to Rebecca on January 7, 2022, close to their anniversary date of being matched on Tinder. Colton popped the question to Rebecca at the top of his grandparent's property. The proposal location was extra special to them because Colton had bought that property to build a home for them. Rebecca said YES!!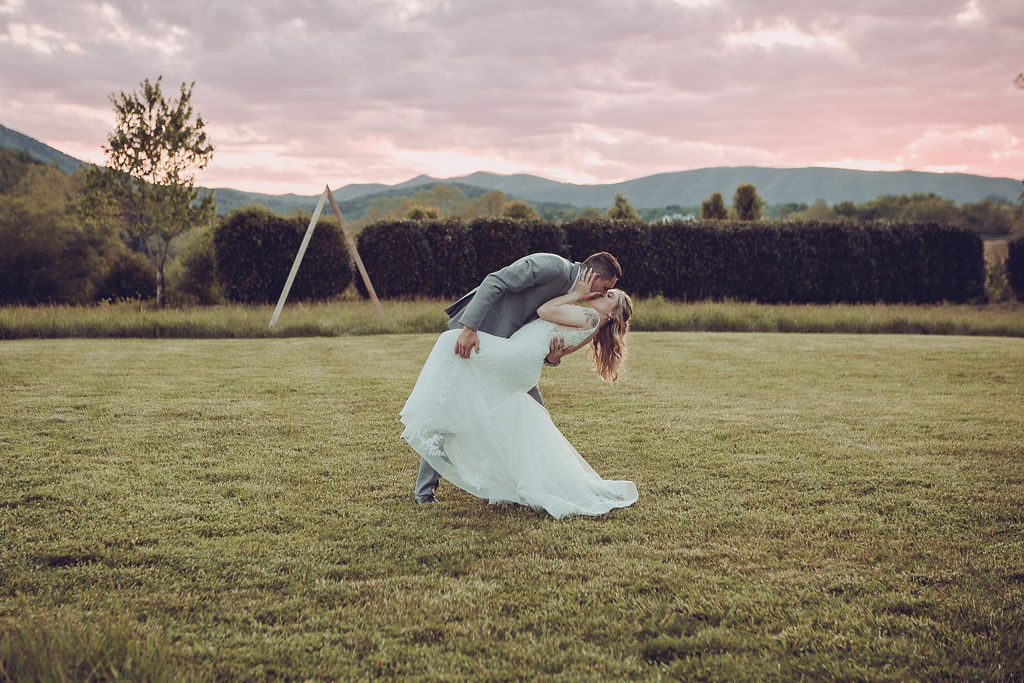 THEME AND COLOR PALETTE
Colton and Rebecca's wedding décor was rustic with a farm feel. Their colors were sage green and white. The couple wanted something that would accent the venue but not be overpowering.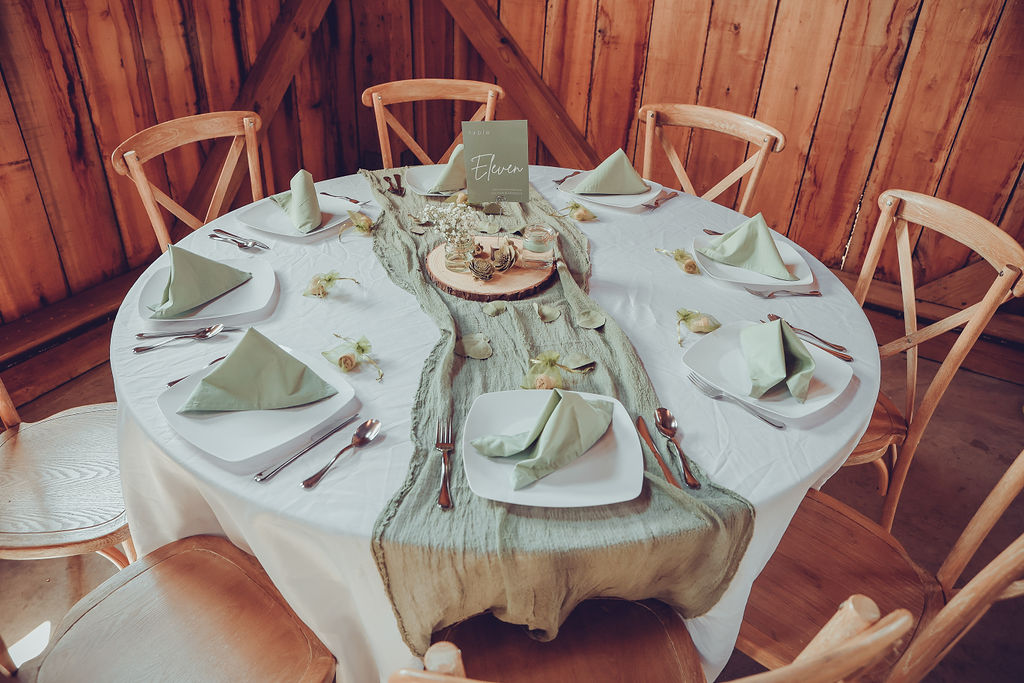 WEDDING ATTIRE DETAILS
Bride
Rebeca wore a wedding gown by Justin Alexander. The gown was a sequin tulle fit and flare dress with low keyhole back detail. The ivory color had lace and tulle with little sparkle dots throughout the train. It gathered at the hips and had buttons going down to the back to the hips.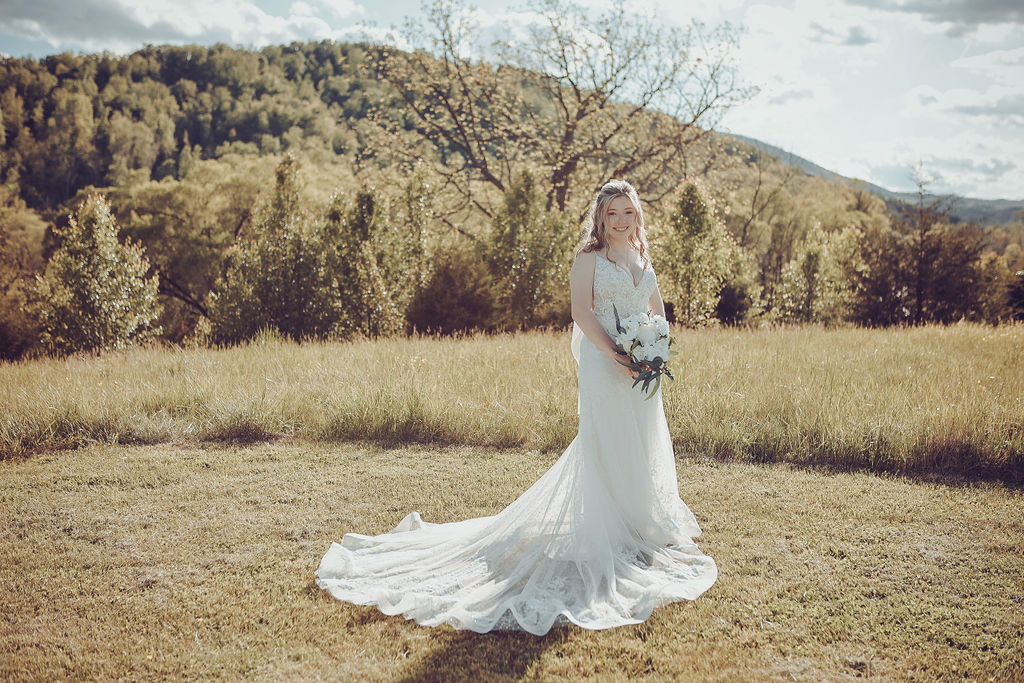 Rebecca's jewelry was extra special. On her right ring finger, Rebecca wore her grandmother's ring. They share the same birthday. The ring symbolized Rebecca's, something old and something borrowed.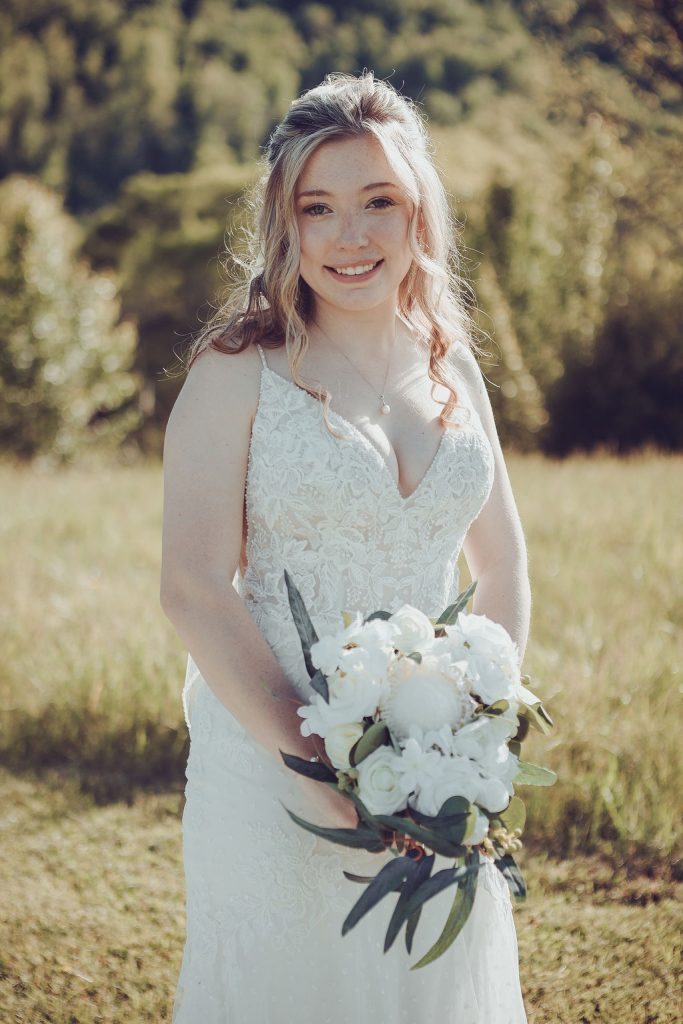 Bridesmaids
Rebecca chose dusty sage satin as the color of the bridesmaids' dresses. The spaghetti-strapped dresses were purchased from David's Bridal.
Bouquets and Boutonnieres
The silk bouquets and boutonnieres were created by Ling's Moment.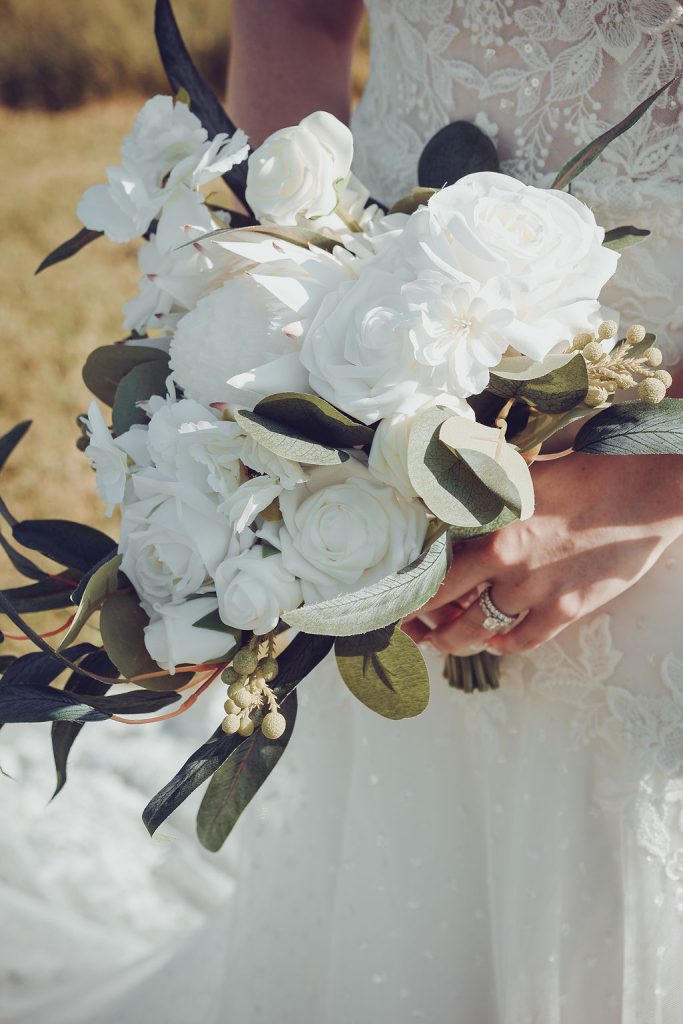 Groom
Colton wore a pin on his lapel inscribed, "The ones that love us never really leave us." The pin was designed using a photo of Colton's grandfather.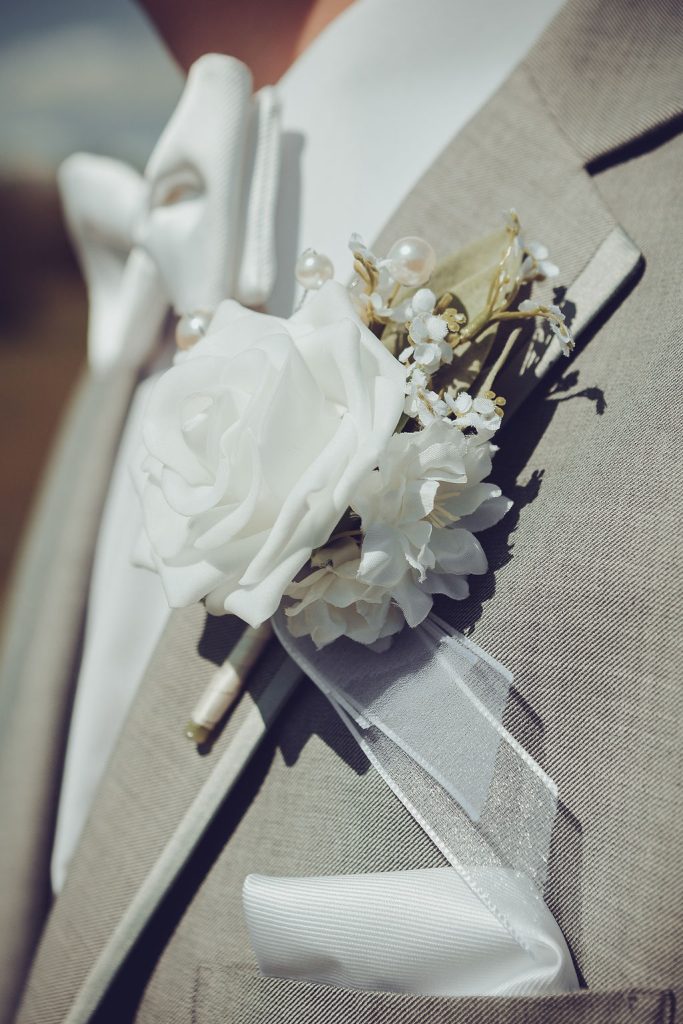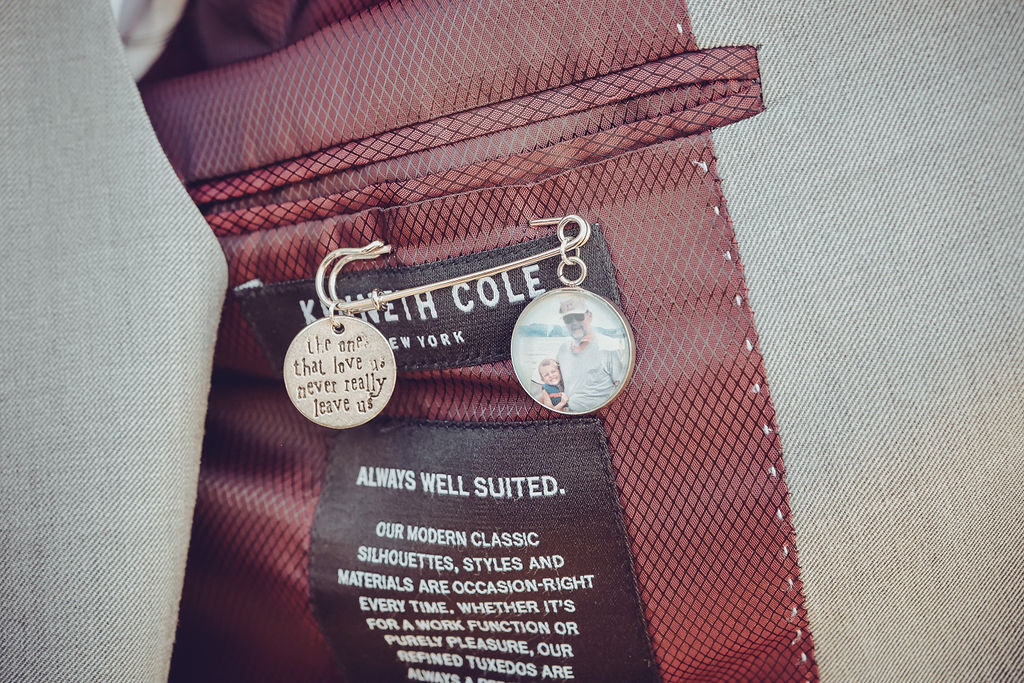 The groom wore a gray tuxedo with a white bow tie.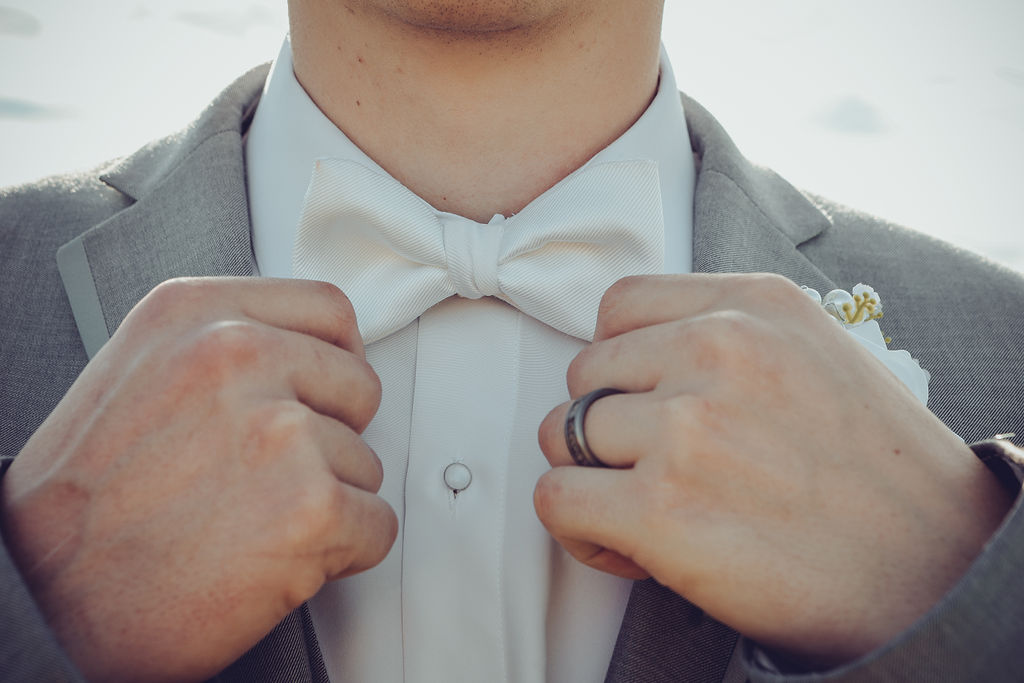 Groomsmen
The groomsmen wore gray tuxedos with sage green bow ties.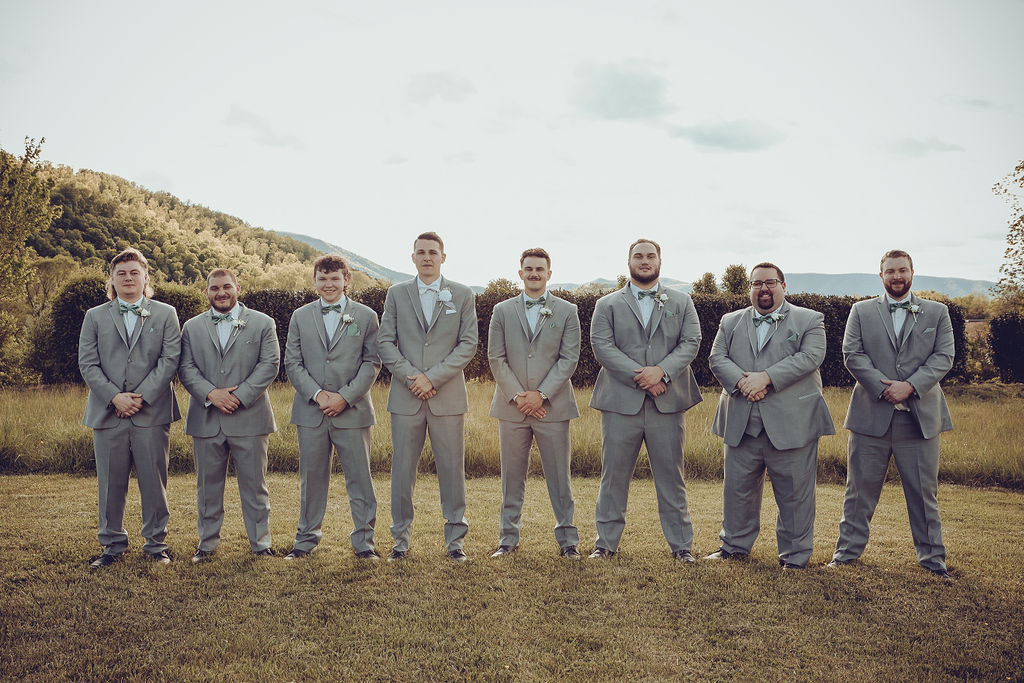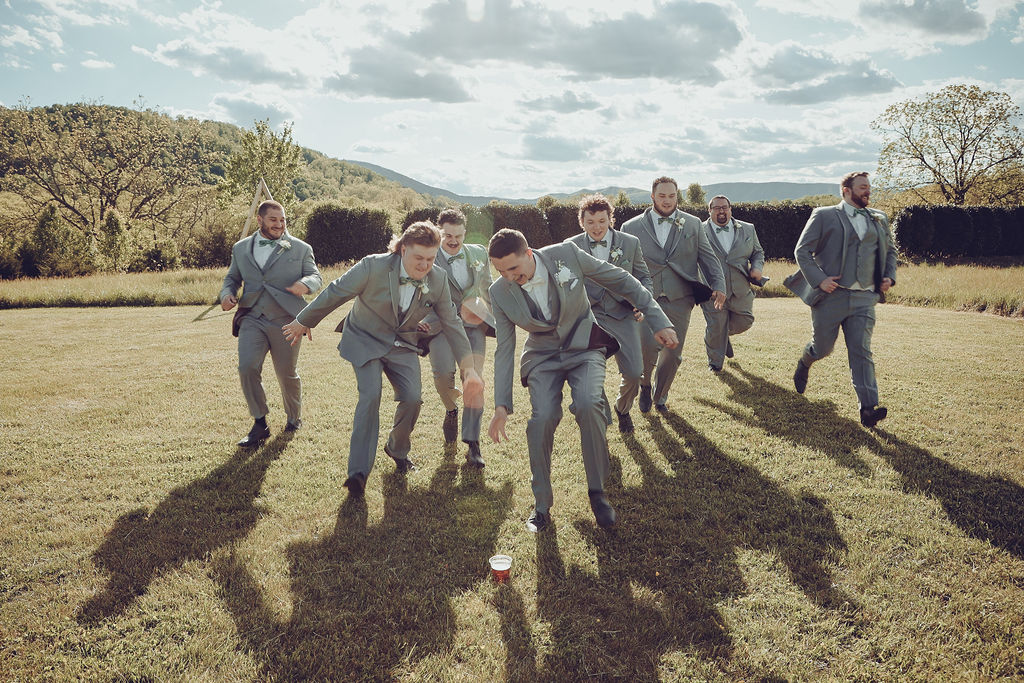 Month-Off-Coordination
Colton and Rebecca selected A&J Event Planning and Coordination, based in Lynchburg, Virginia, to help them curate their wedding day. A&J created a detailed timeline and gained a complete understanding of the couple's vision to ensure a seamlessly executed day.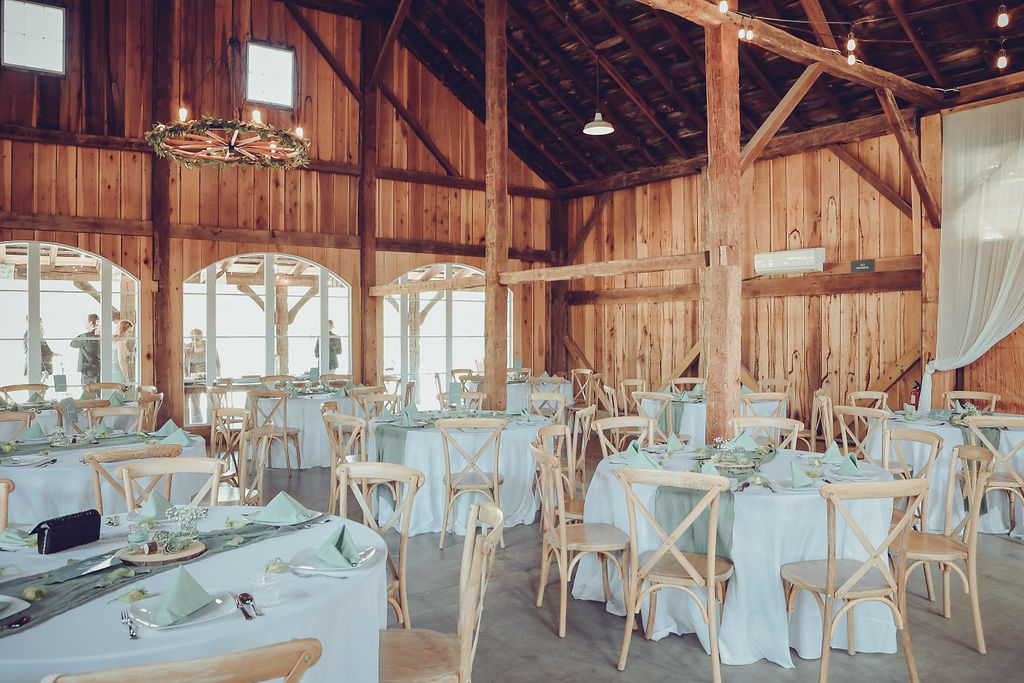 Colton and Rebecca commented: "We cannot thank A&J enough for everything"!! "They have a very smooth system and care for all the little things you haven't even thought about"! "When our linens showed up the night before wrinkled, they found a way to fix the situation so we didn't have to worry about it."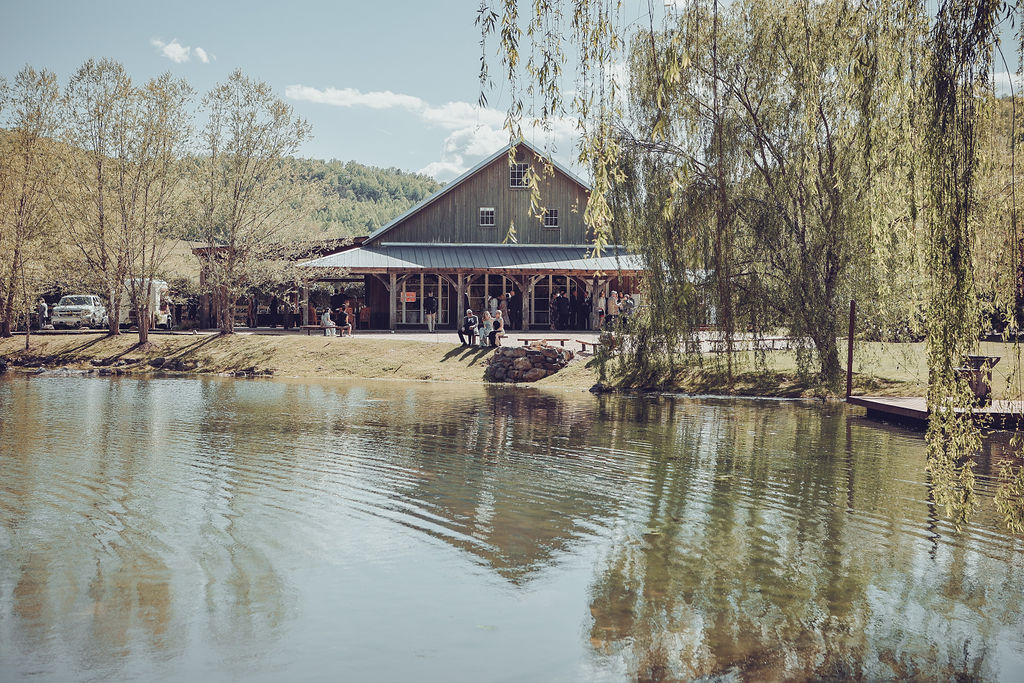 VENUE
Why Virginia
Colton and Rebecca are from Pittsburgh, PA. After their engagement, the couple had many opportunities to visit Colton's sister, living in Virginia. With every visit, they fell increasingly in love with Virginia. The couple found that Virginia mountains, weather, and atmosphere could not compare to Pennsylvania venue options.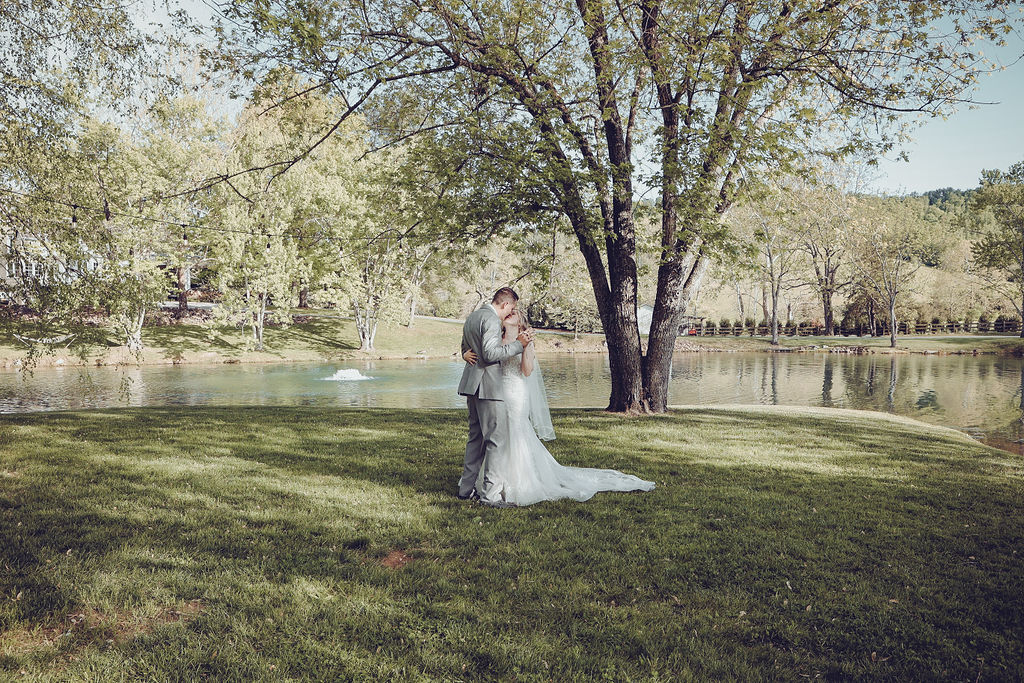 Venue Choice
Colton and Rebecca chose Big Spring Farm as their wedding venue because it specialized in personalized barn weddings and offered accommodations for both the couple and their guests. The venue is renowned for its historic waterfront barn, surrounded by picturesque meadows and stunning mountain views on nearly 500 acres of land.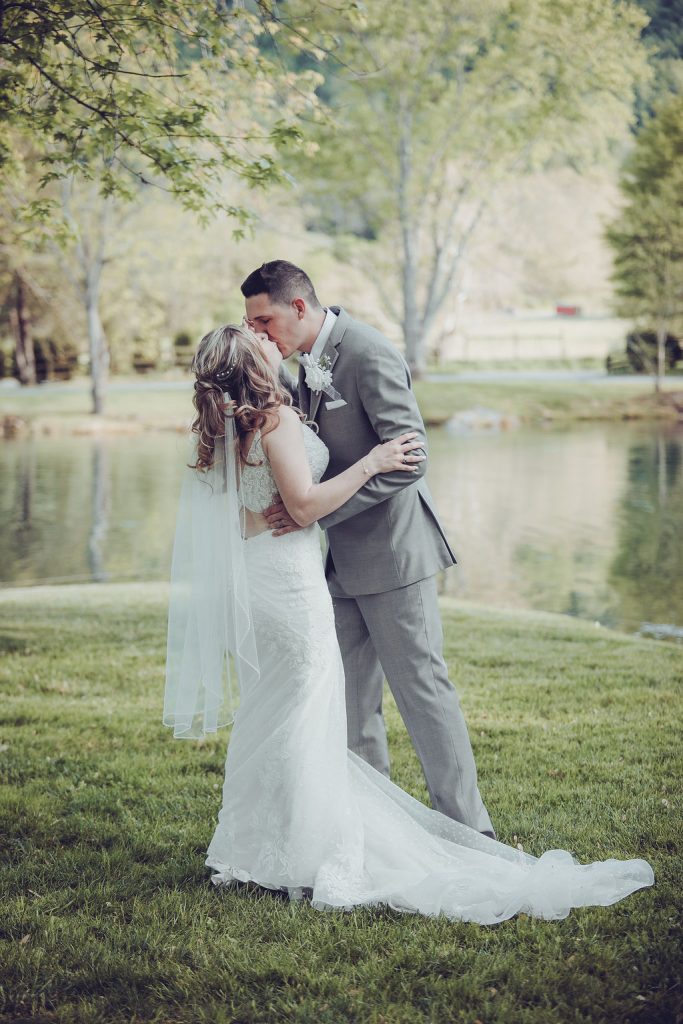 Colton and Rebecca commented: "The venue is a running farm as well." "We loved this aspect because we have our livestock, so we felt at home." "The natural spring is amazing." "The willow trees, the peninsula, the barn – we could not ask for more."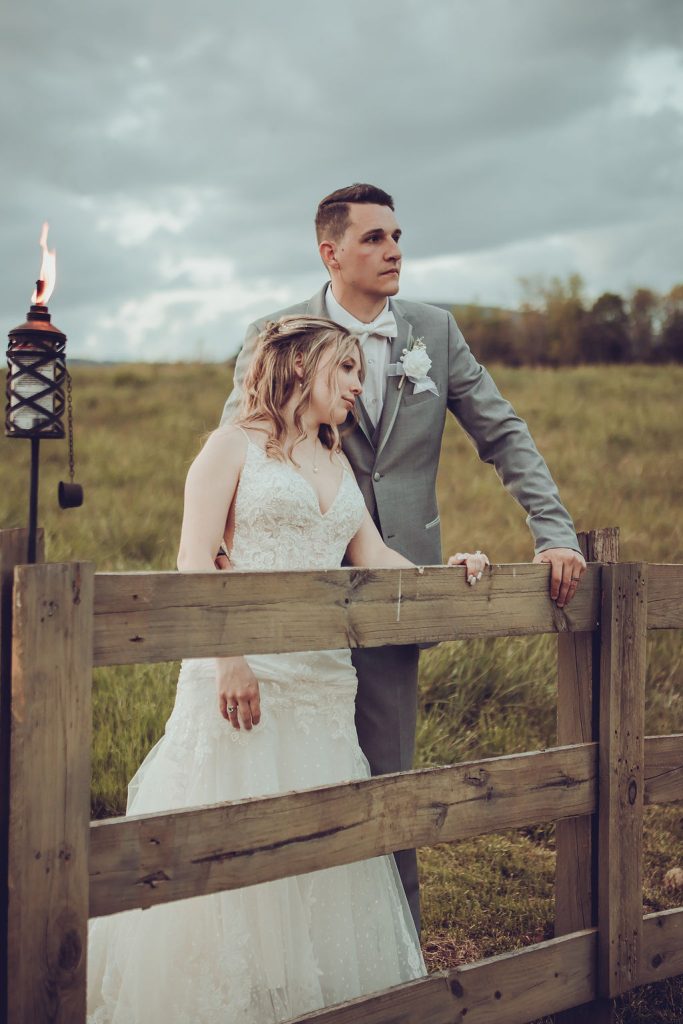 FIRST LOOKS
Rebecca opted to have a first look with all the remarkable men in her life. The first looks took place at the Farm's hilltop, which provided a backdrop of lush meadow and breathtaking mountain views.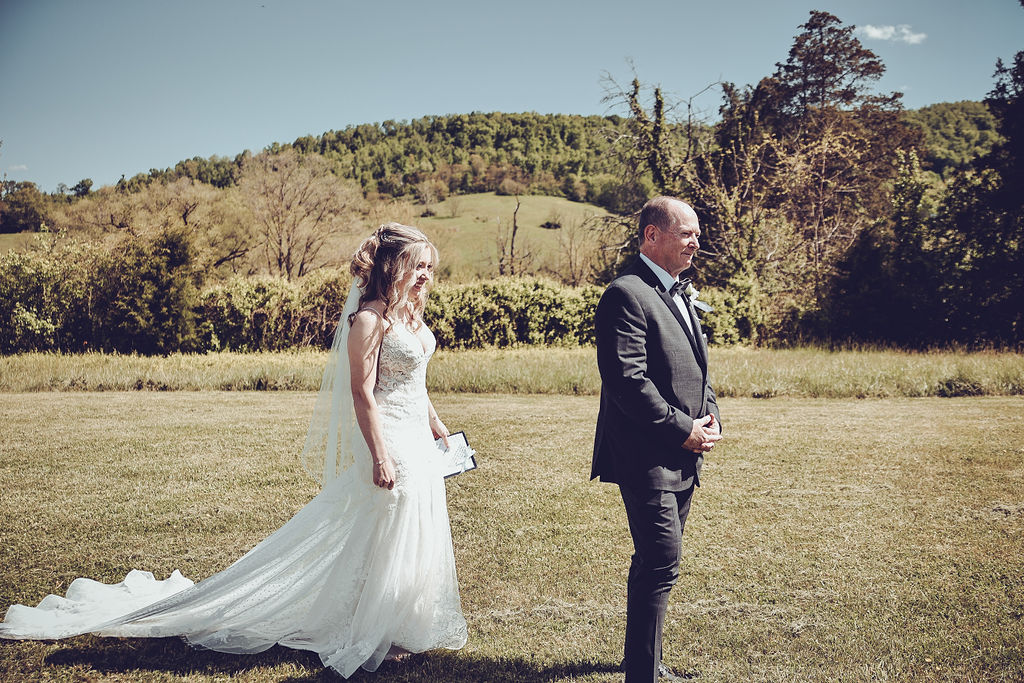 During Rebecca's first look with her Dad, she gave him a personalized handkerchief.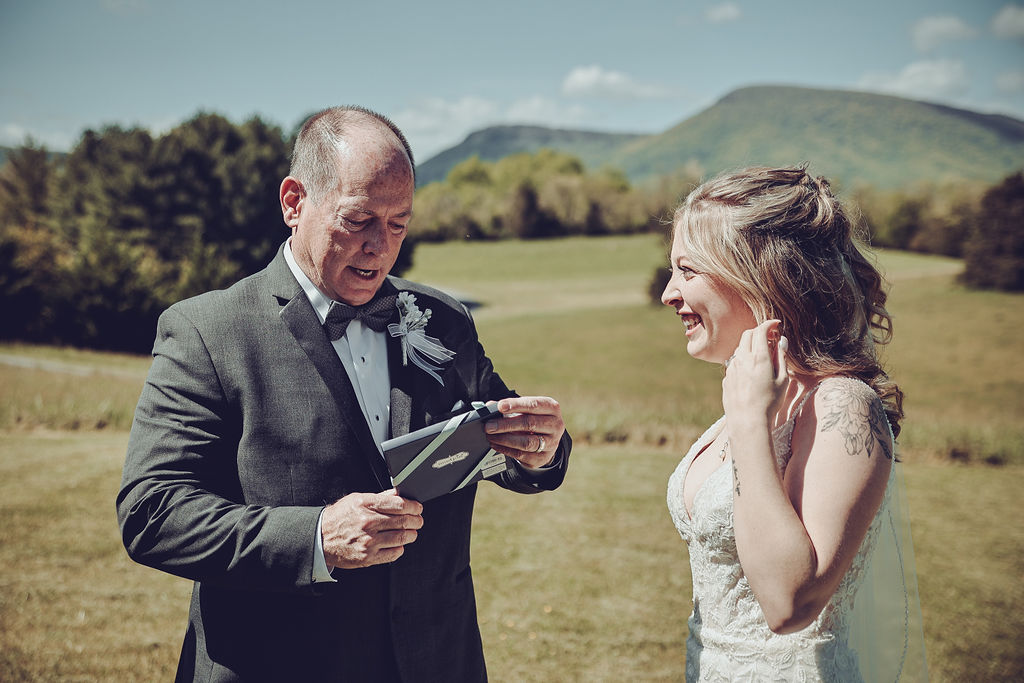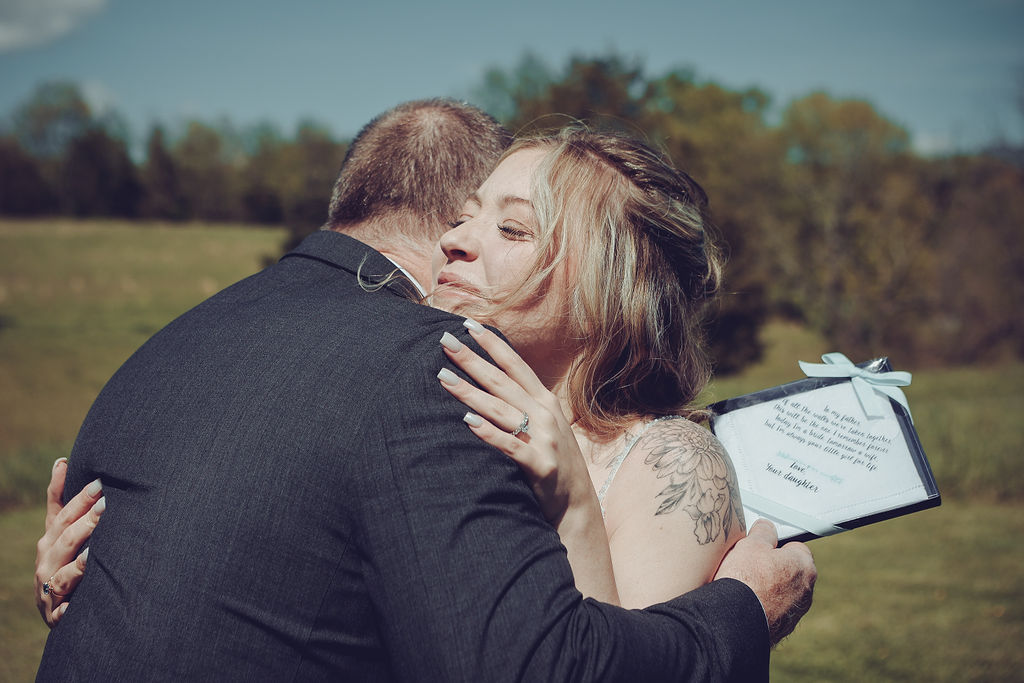 She also enjoyed a first look with the groom's Dad.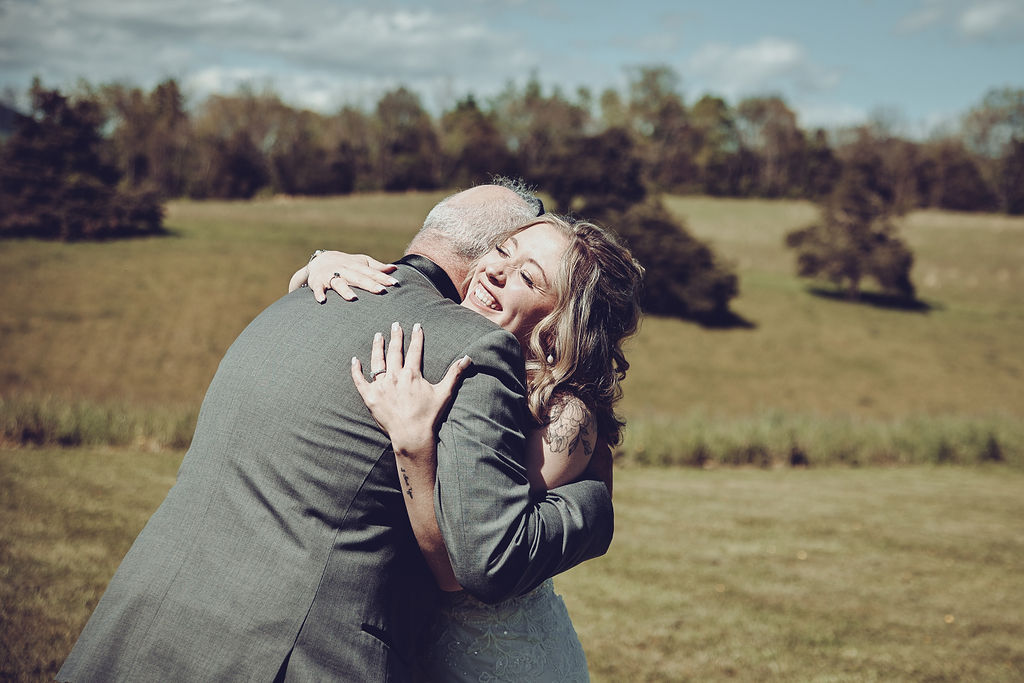 The first look with Colton gave the couple private time before the ceremony, enabling them to complete their couple portraits and enjoy most of the cocktail hour with their guests.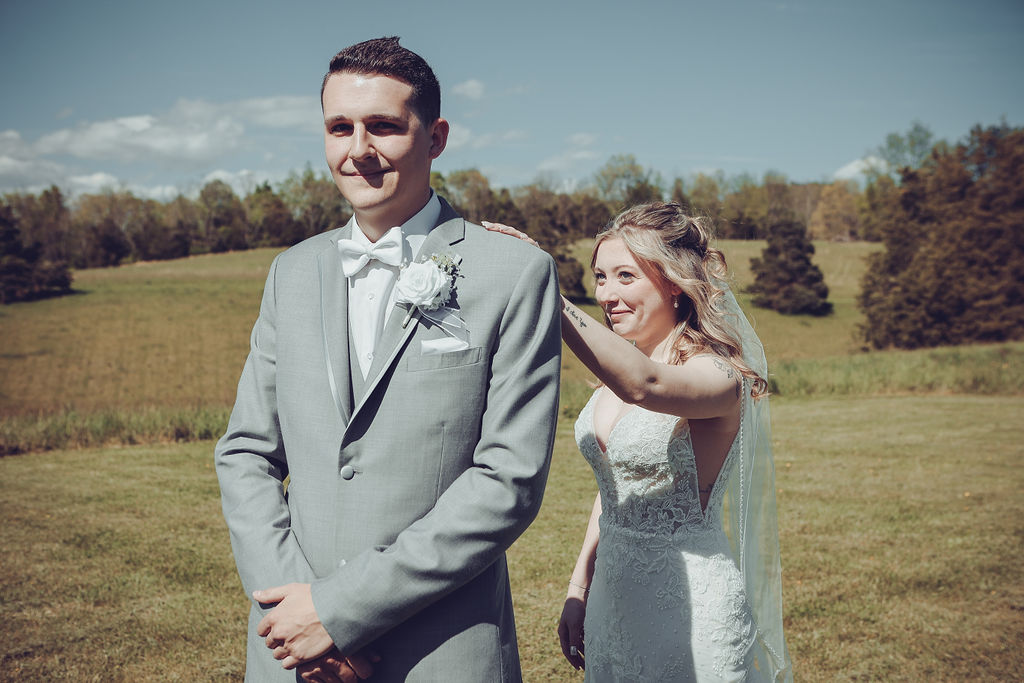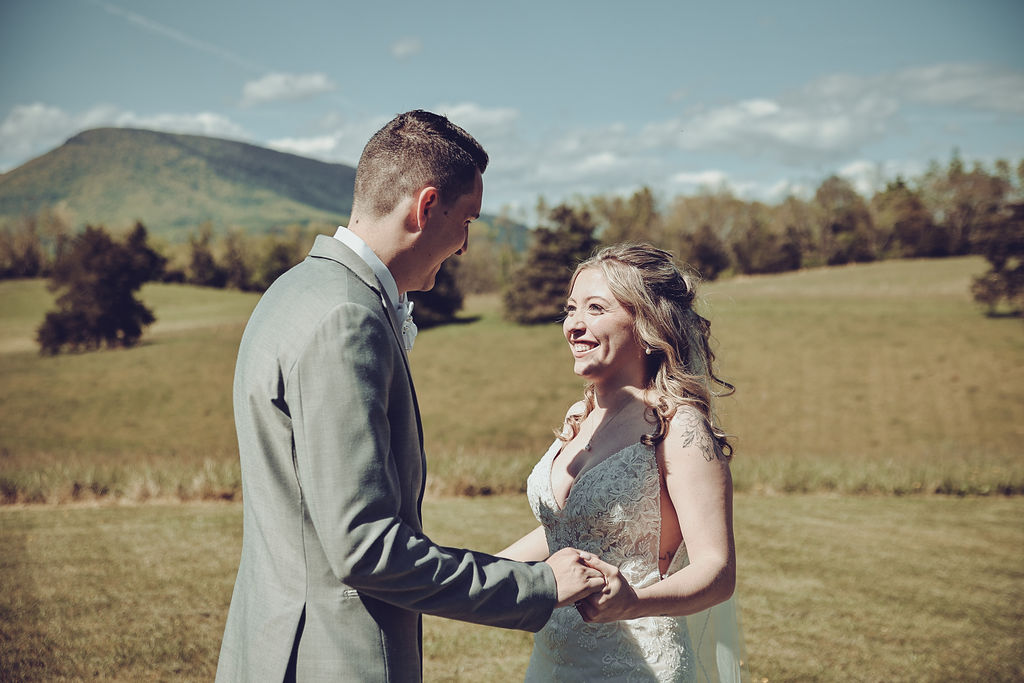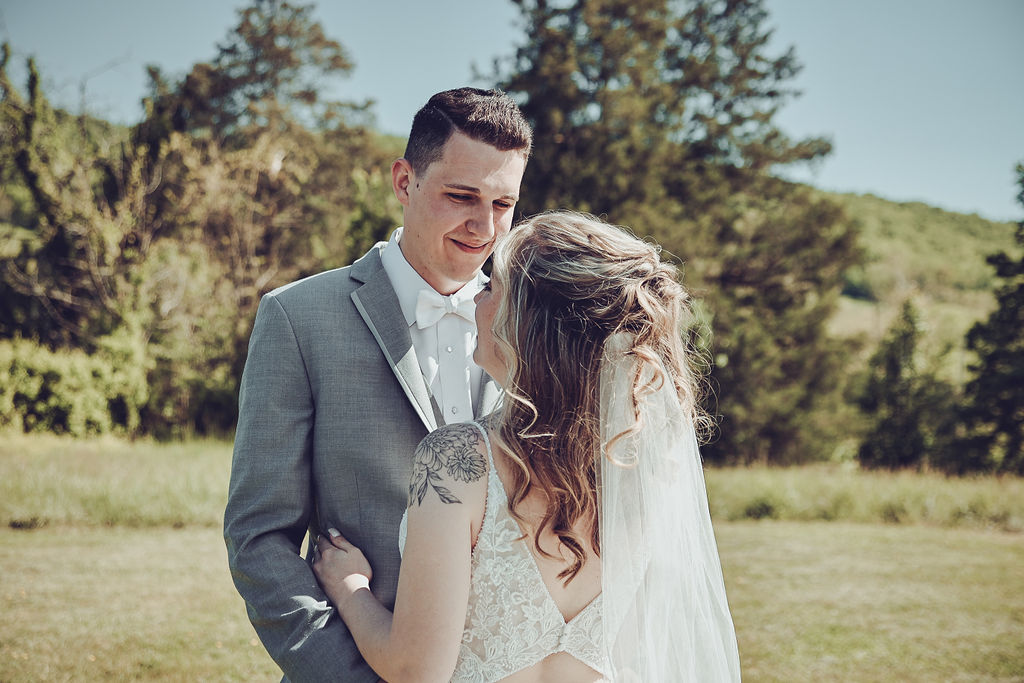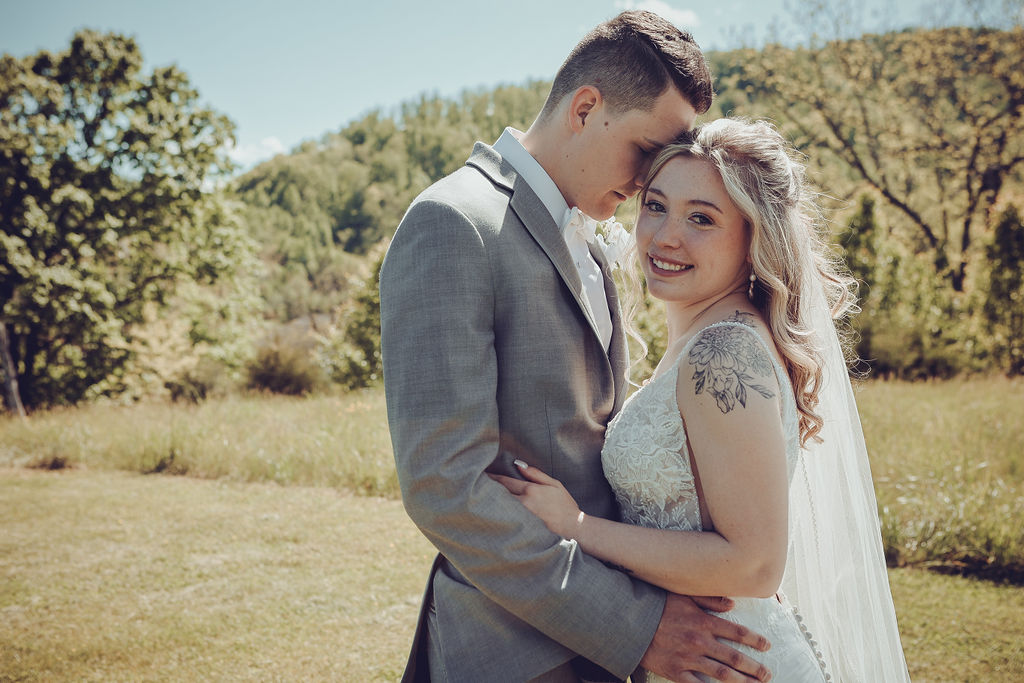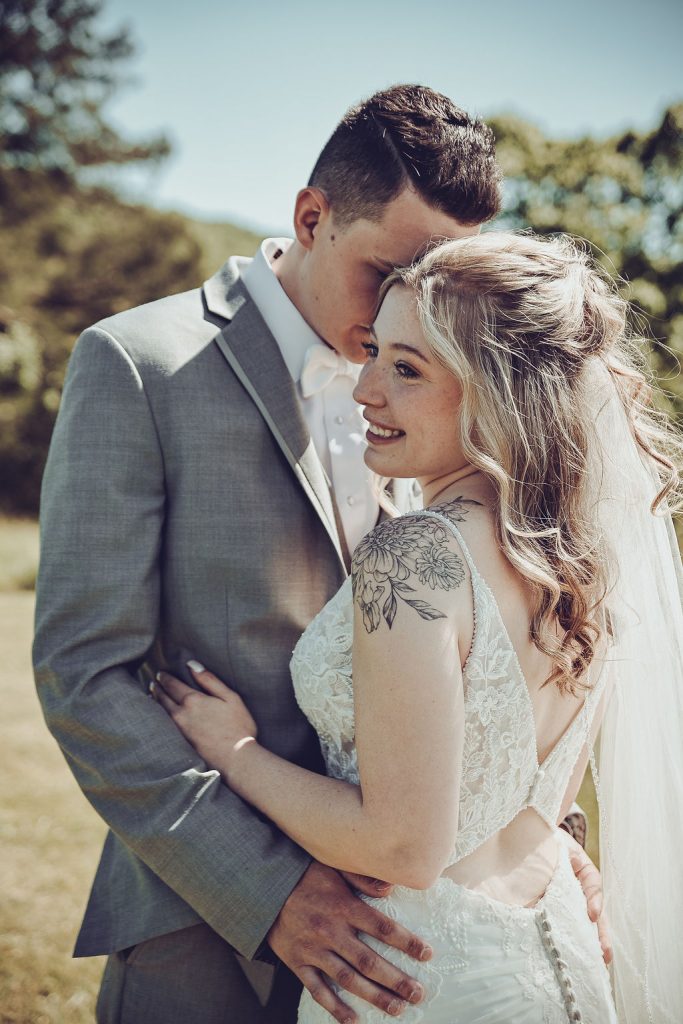 WEDDING INVITATIONS
The bride created and designed the wedding invitations and wedding day program using Etsy – EverLastingPaperieCo.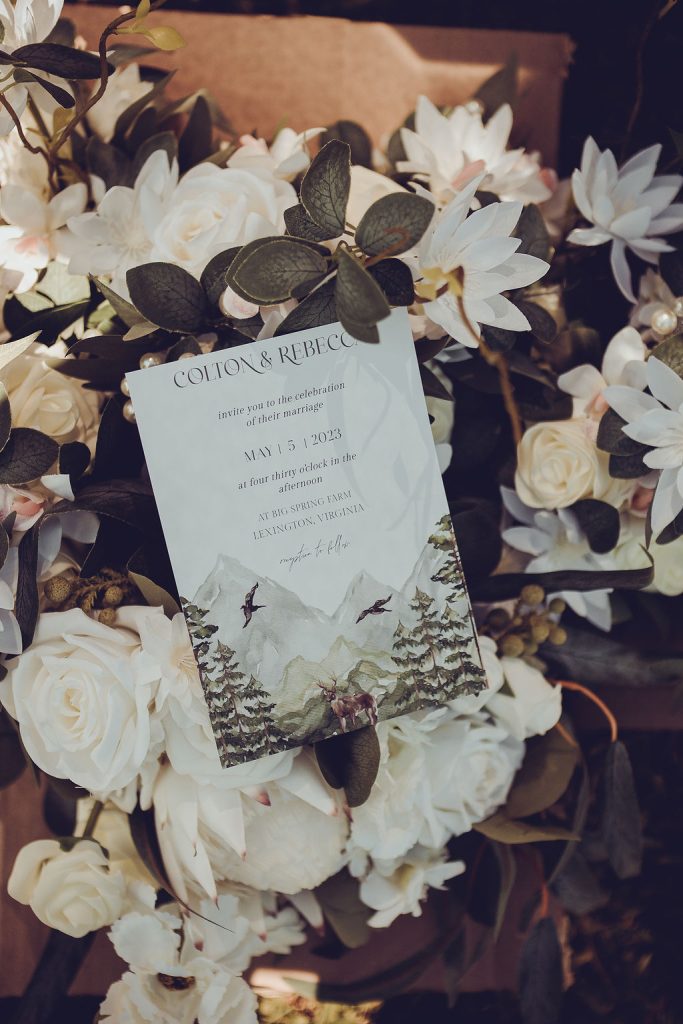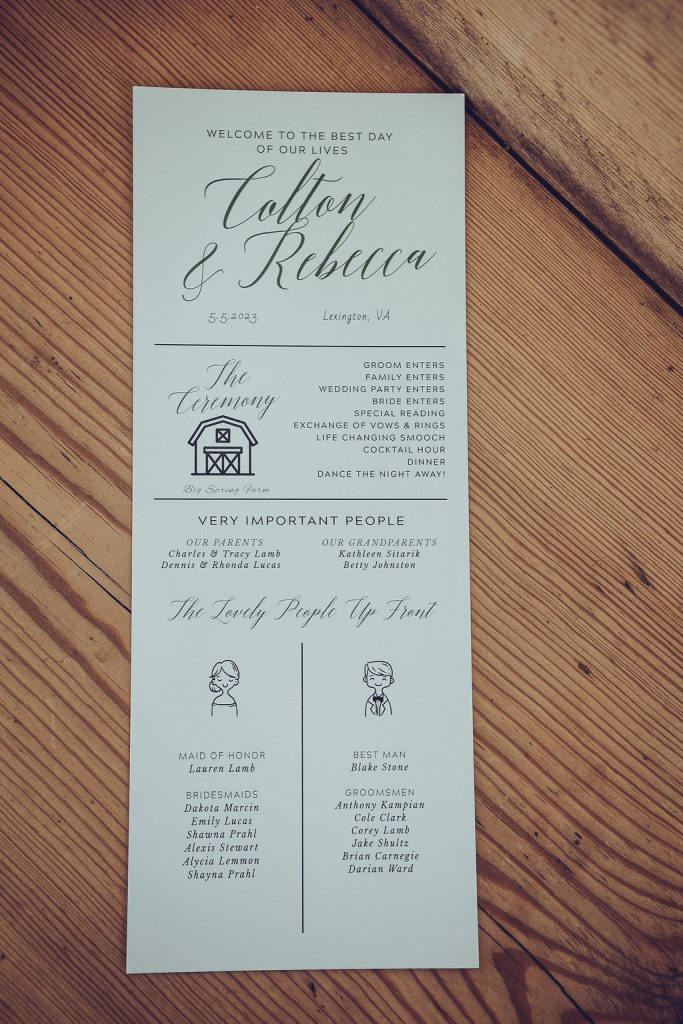 CEREMONY 
The ceremony was held on the Farm's peninsula, overlooking the lake and nature spring. The guest chairs were a mix of brown church pews and wooden chairs. The couple chose a wooden arch to complete their ceremony backdrop. The arch was adorned with ivory sheer draperies and silk florals that matched the bride's bouquet.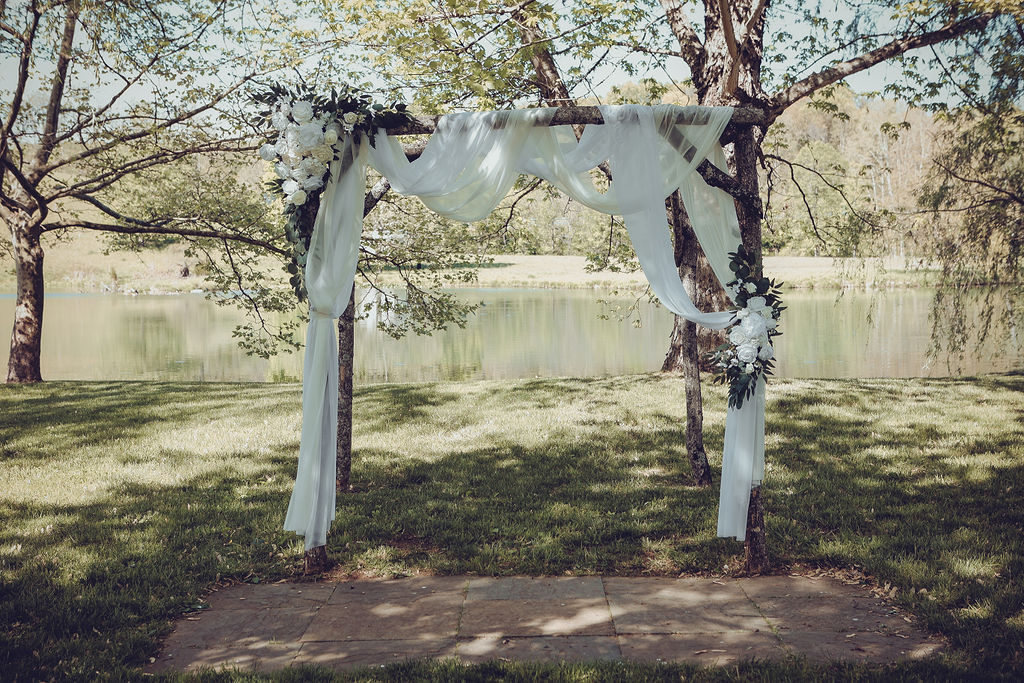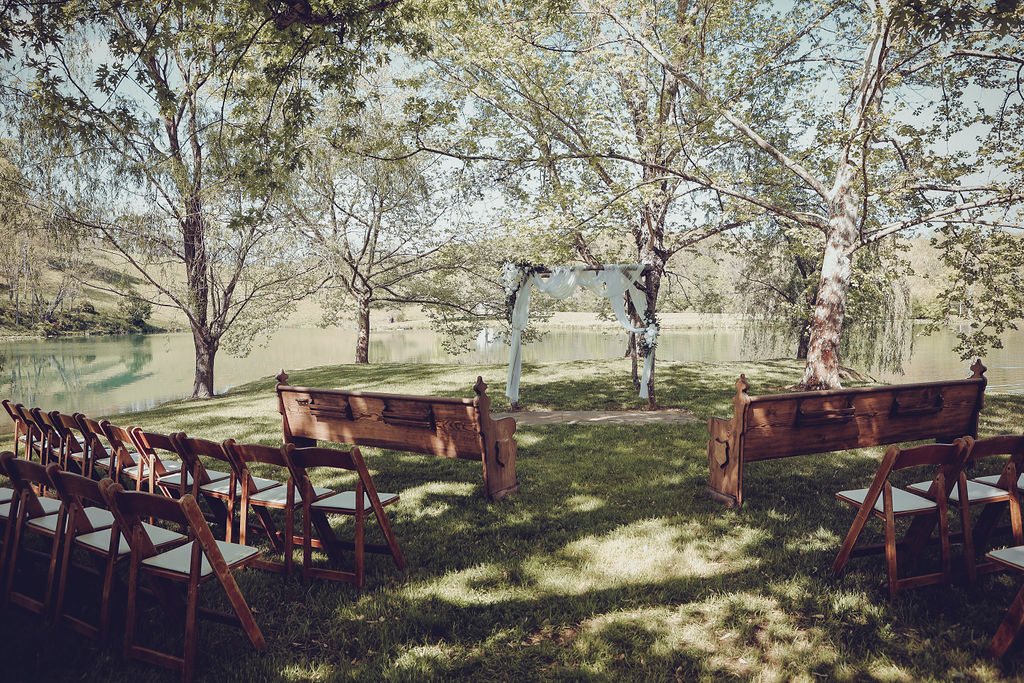 The bride provided a special touch for their guests: small tissue packages with the caption, "For your happy tears."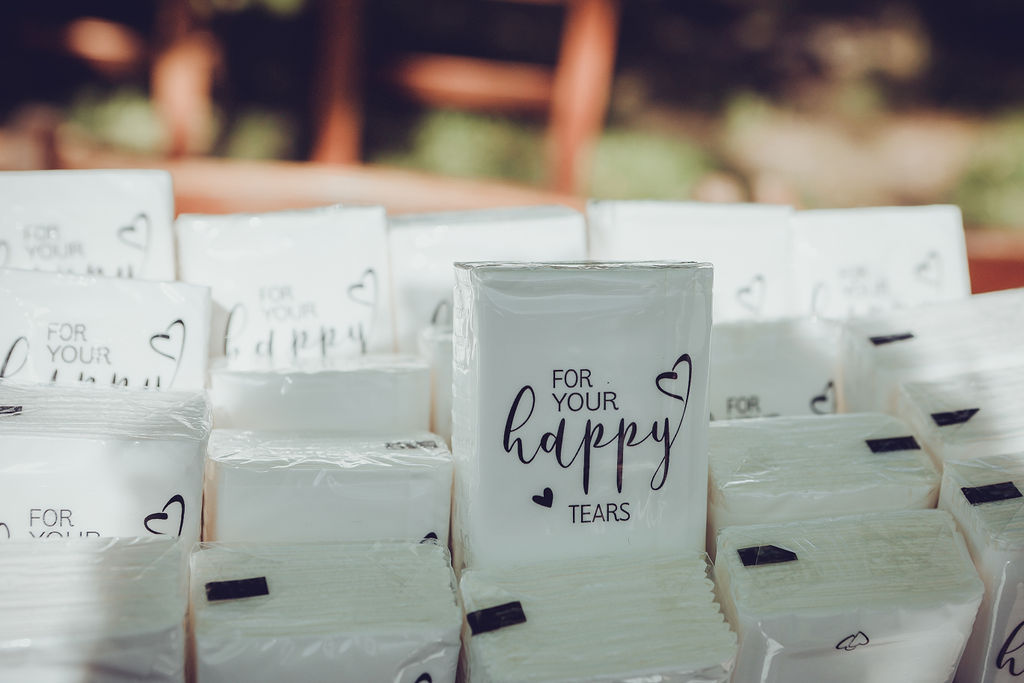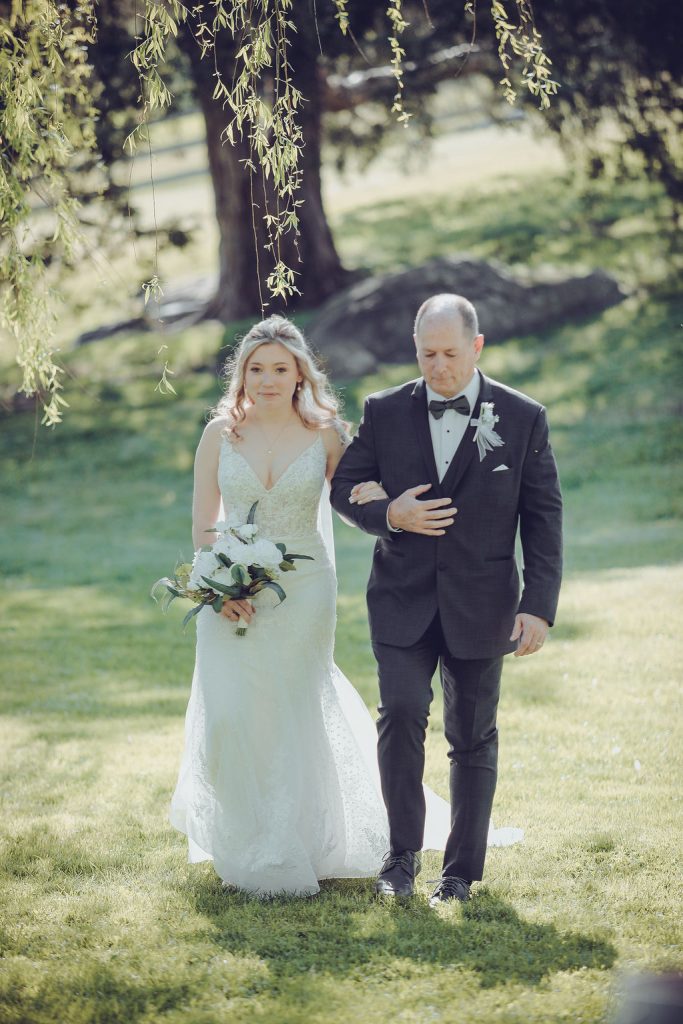 When asked who would give the bride in marriage, Rebecca's father said, "Her mother and I."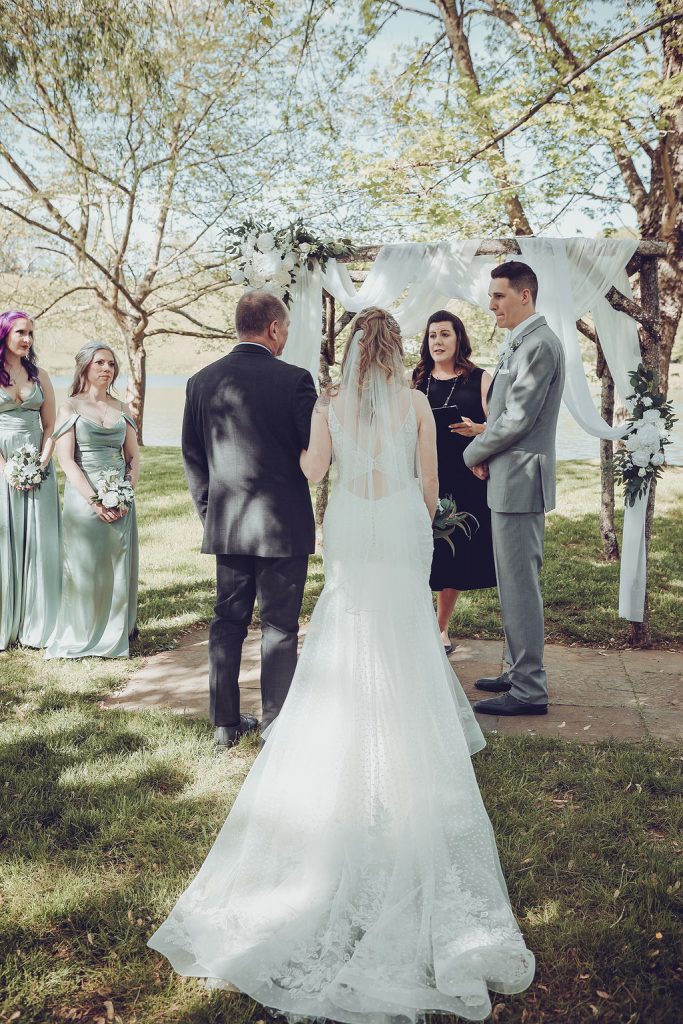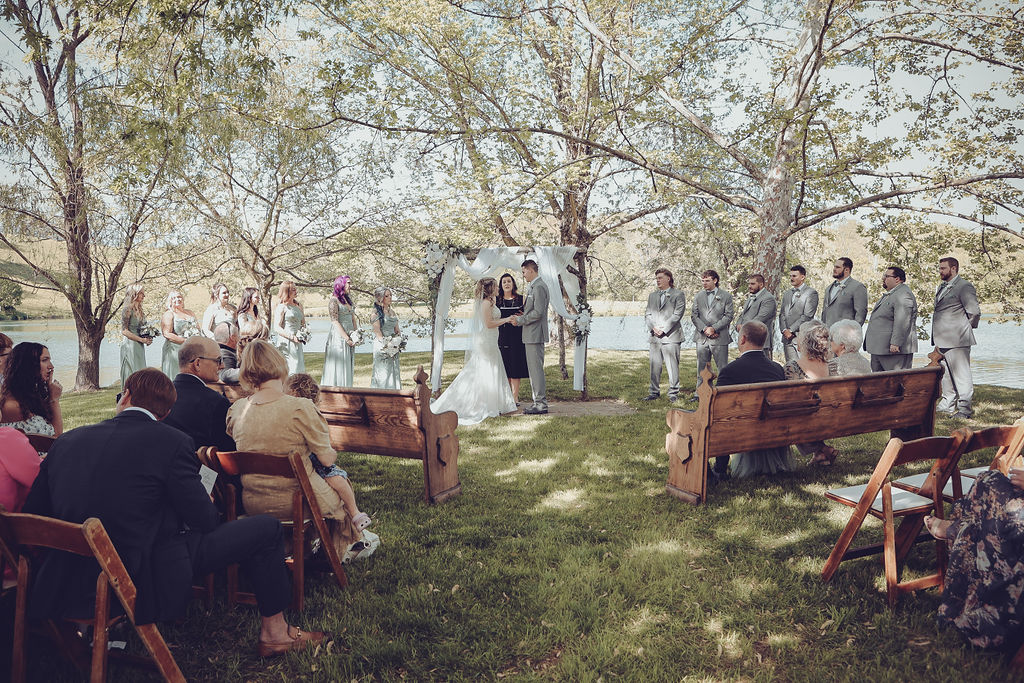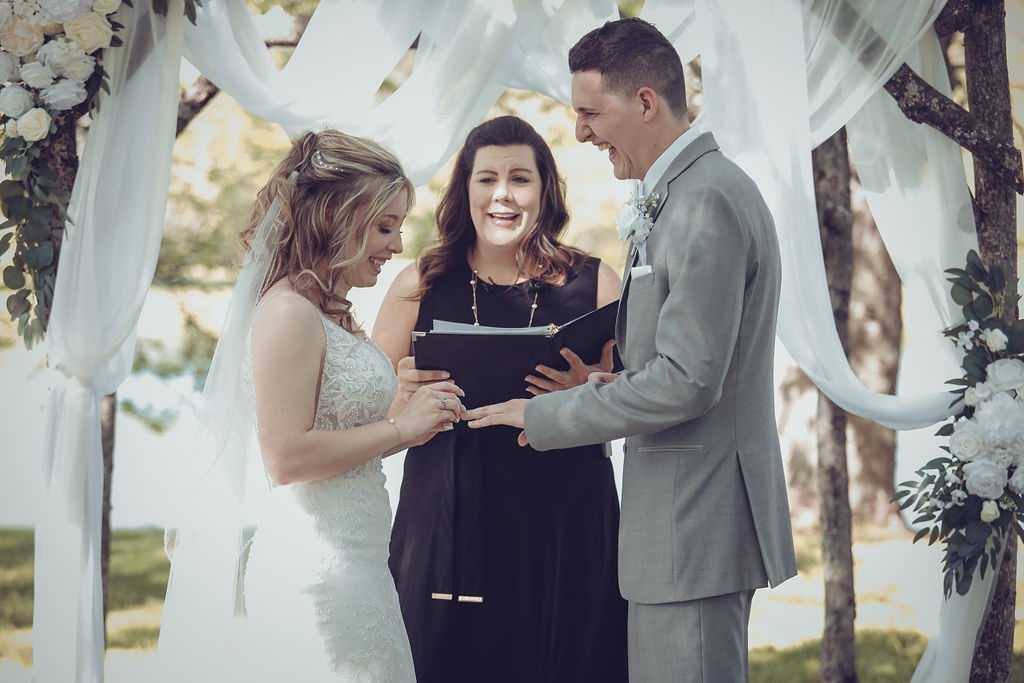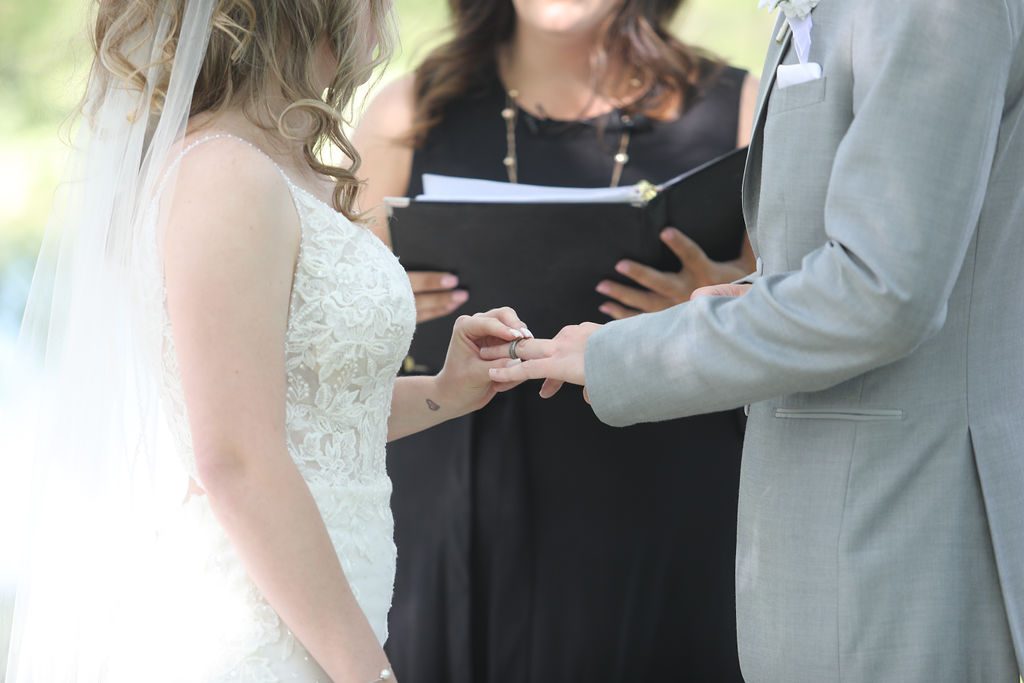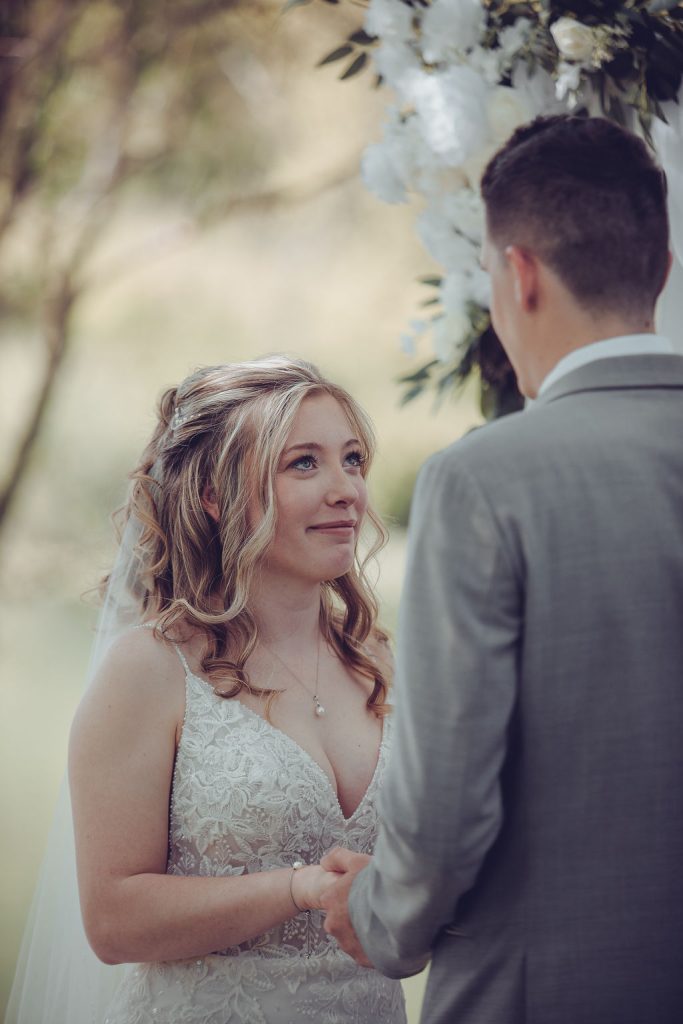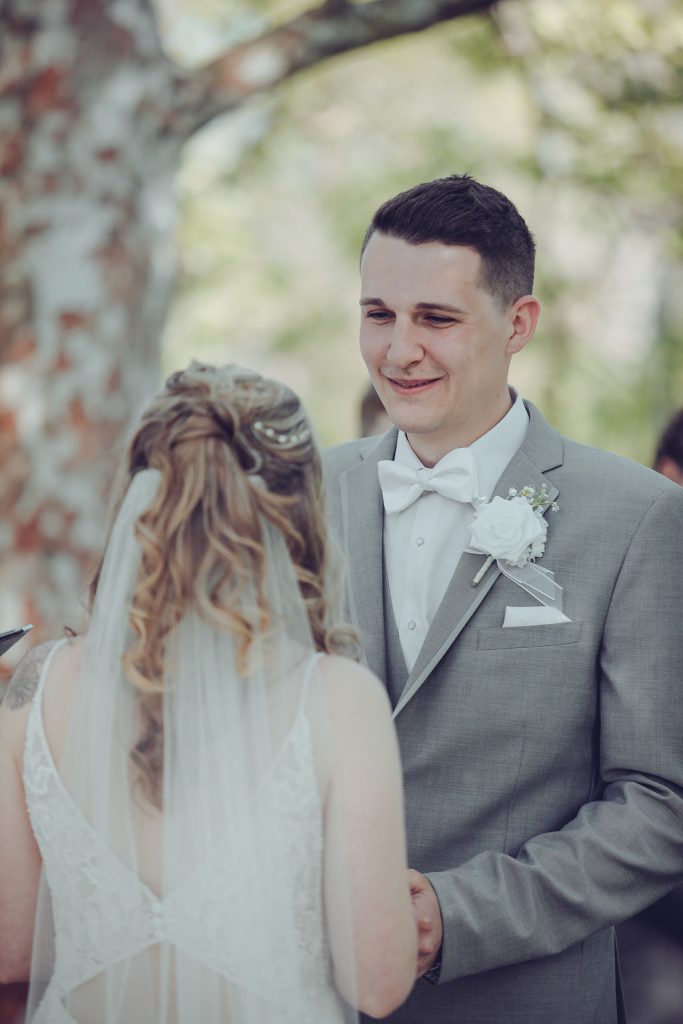 Colton and Rebecca exchanged traditional wedding vows and rings before enjoying their life-changing smooch.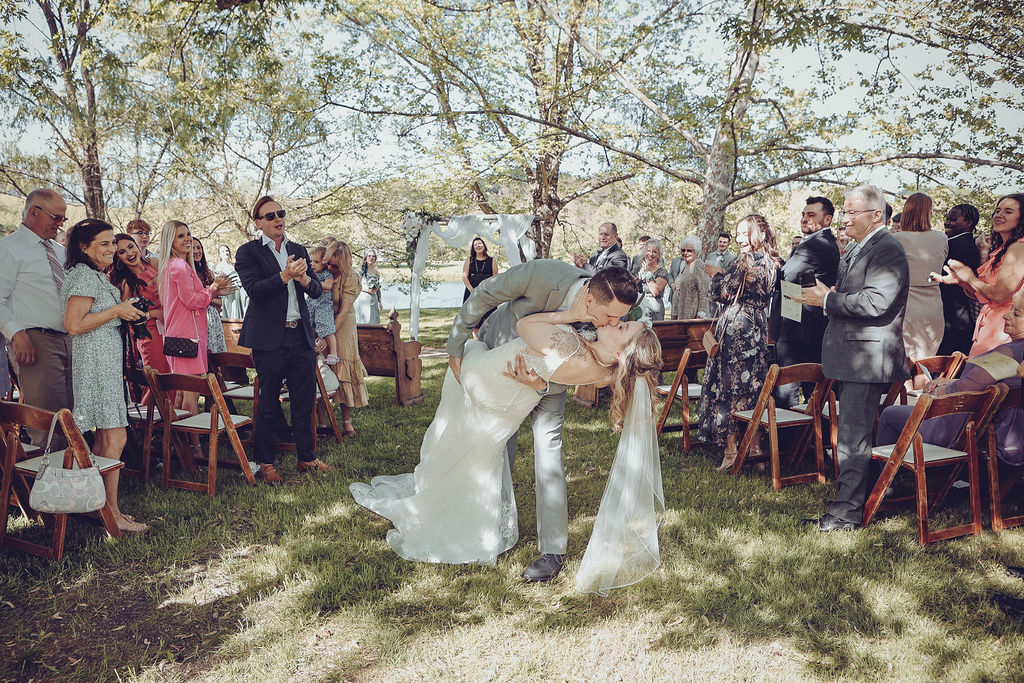 COCKTAIL HOUR
The cocktail hour was held on the veranda outside the reception barn.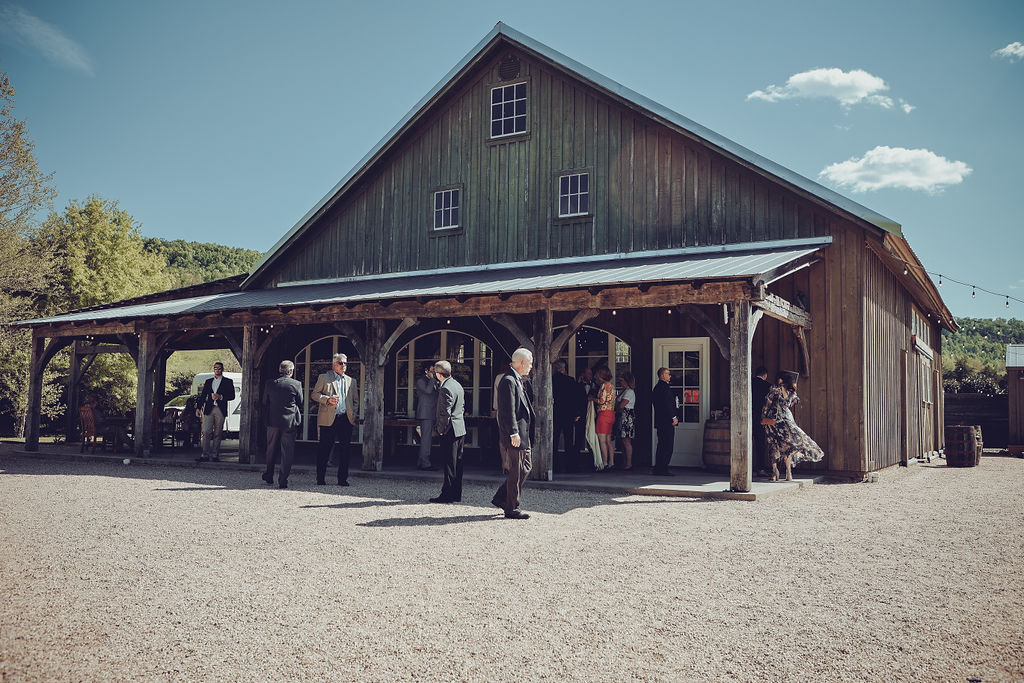 Guests enjoyed adult beverages and the couple's signature drink from an outdoor vintage mobile bar.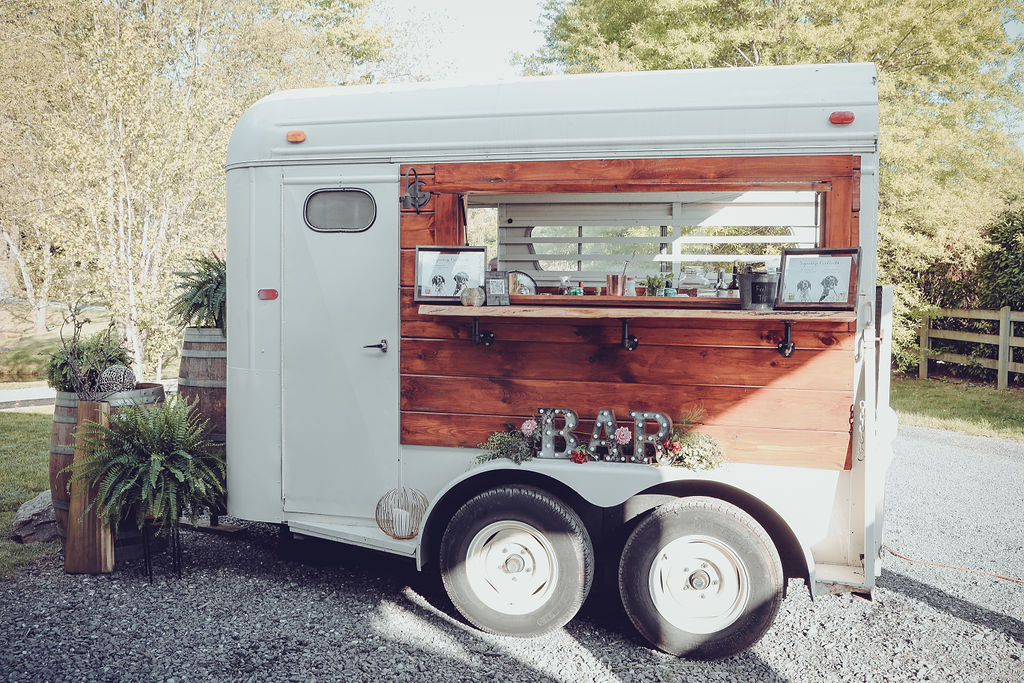 Colton and Rebecca's signature drink, Scout-mule, was named after their German Shorthaired Pointers.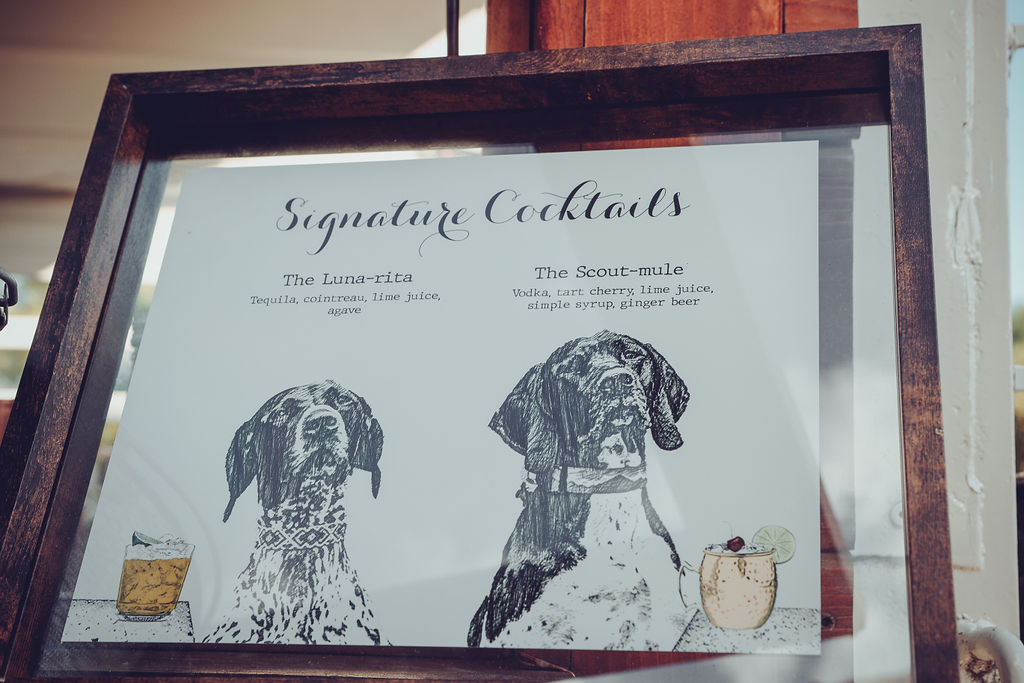 On the opposite side of the veranda, the couple's caterer, JJ's Meat Shak, set up a grazing table for the guests to enjoy while waiting for the reception to begin.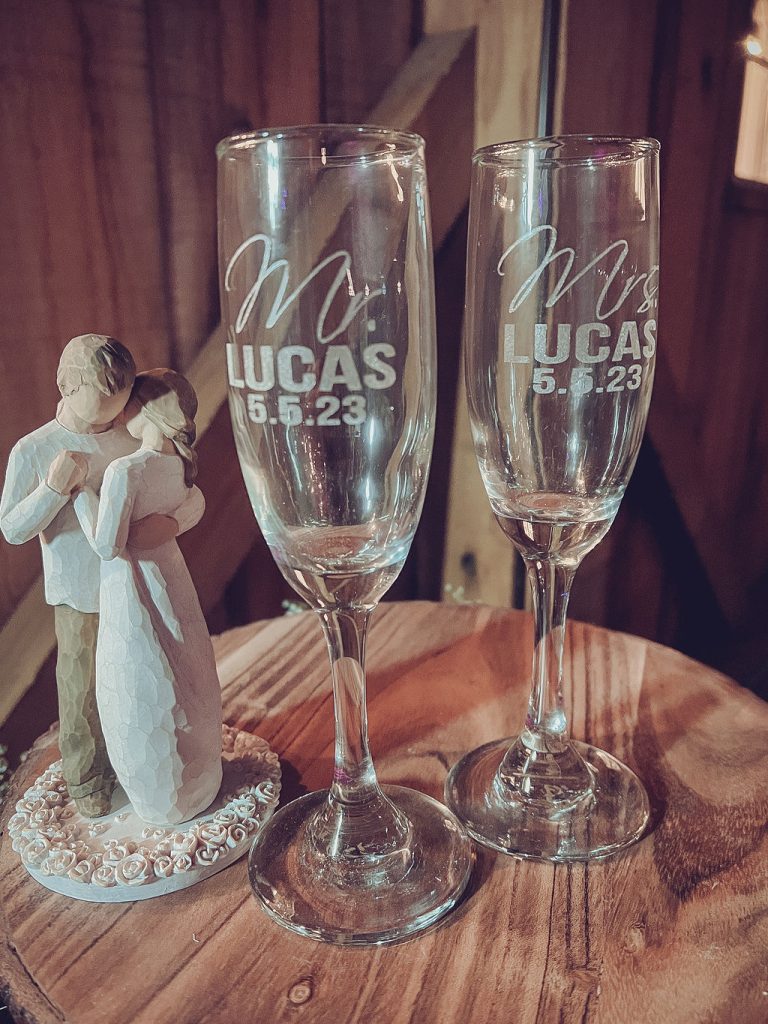 RECEPTION
The reception was held in the Big Spring Farm barn.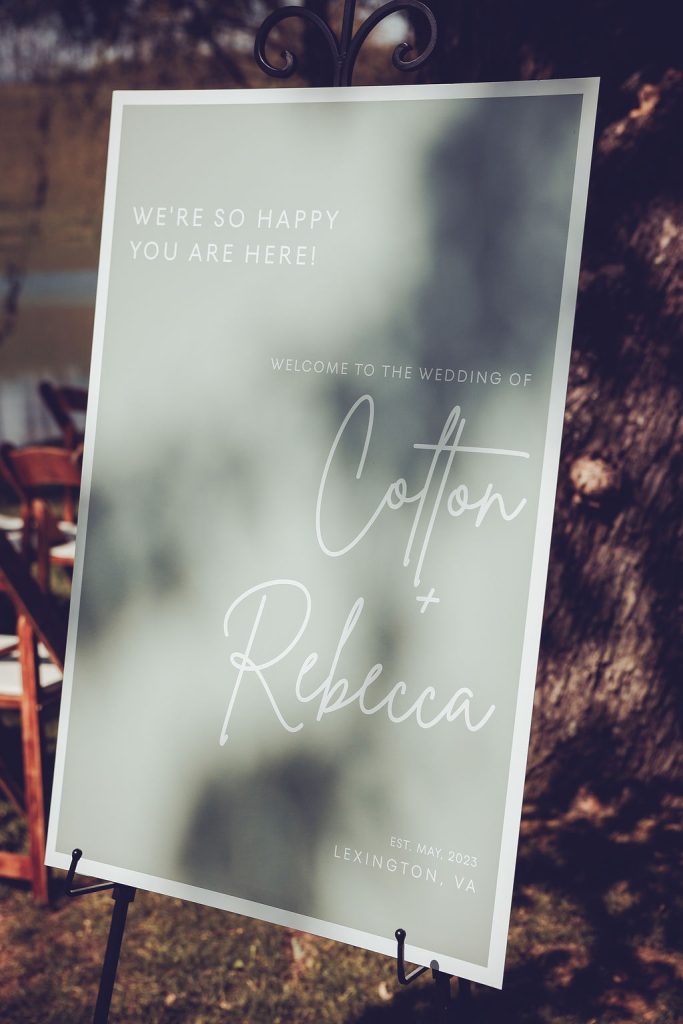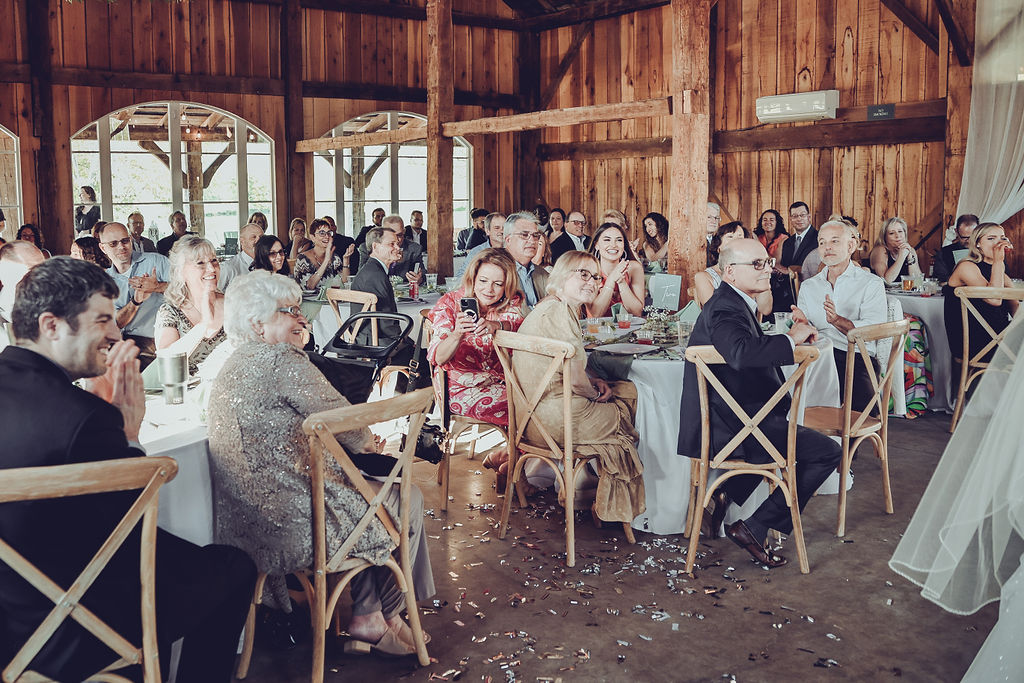 Reception Entrance
As they entered the reception, the bridesmaids, groomsmen, and parents demonstrated a particular dance move or uniqueness. Some tossed confetti, wore USA flags, or drank a toast.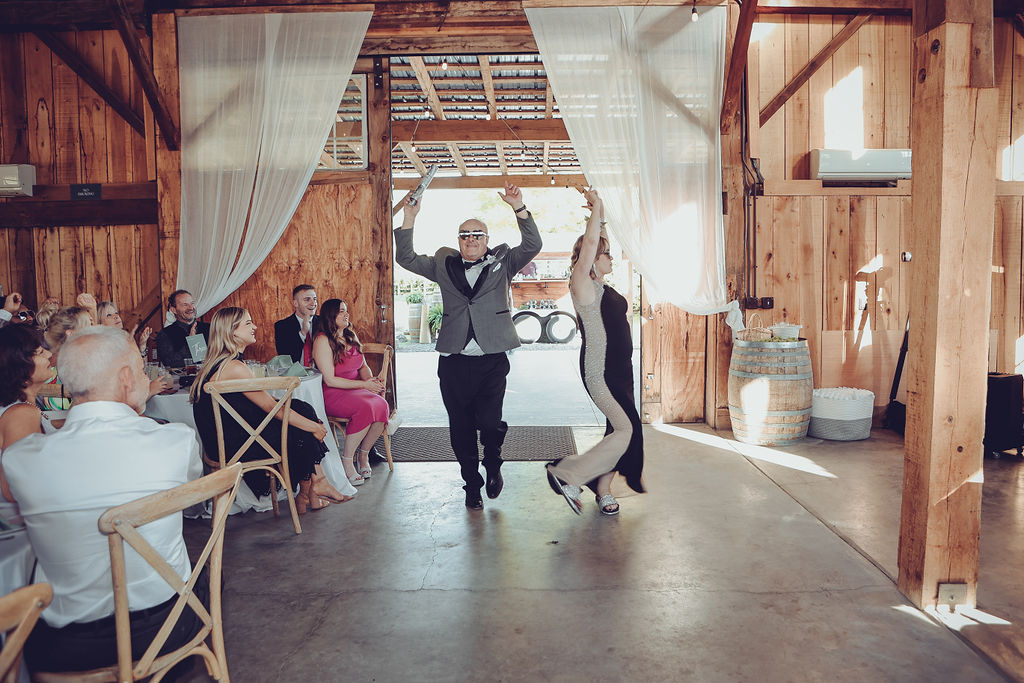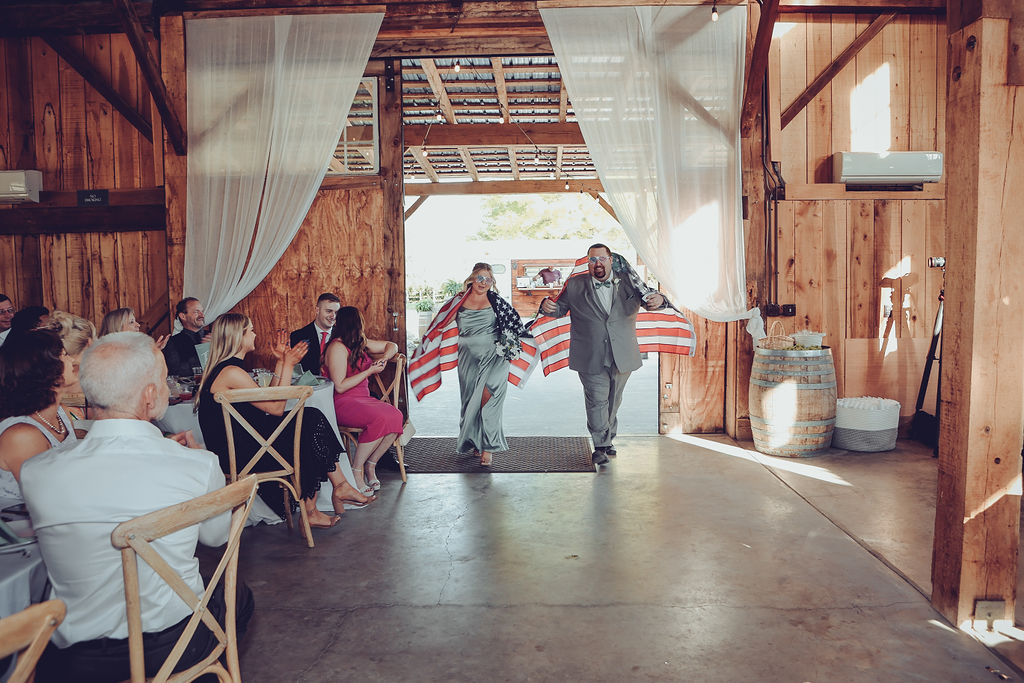 First Dances and Songs
The song played during the couple's first dance was Lifetime by Justin Bieber.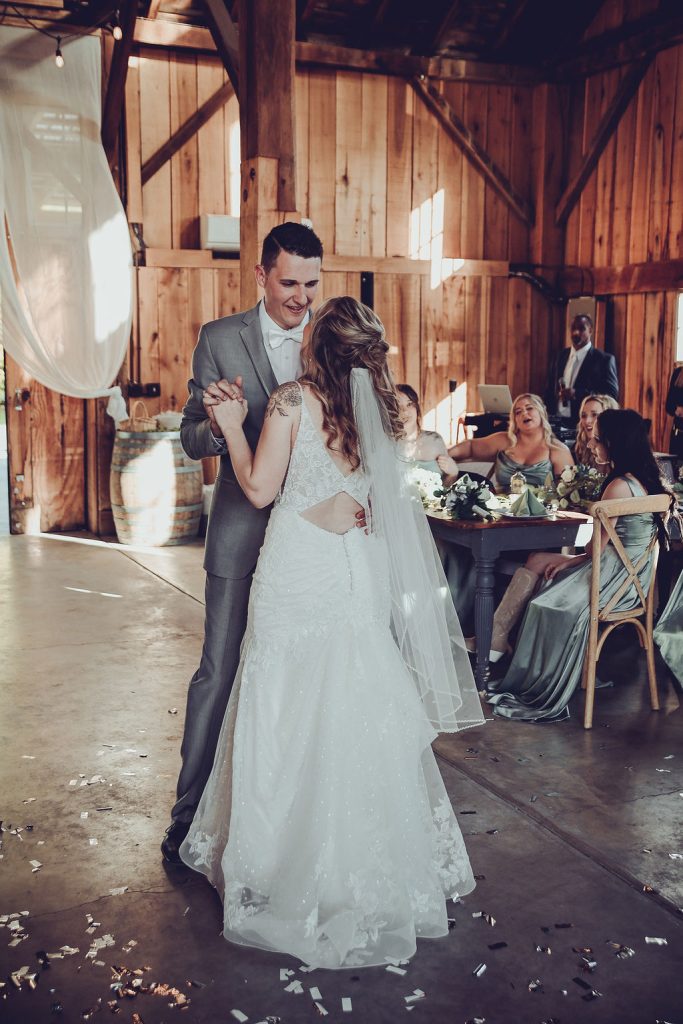 First Man by Camila Cabello was the lyrics for the Father and Daughter Dance.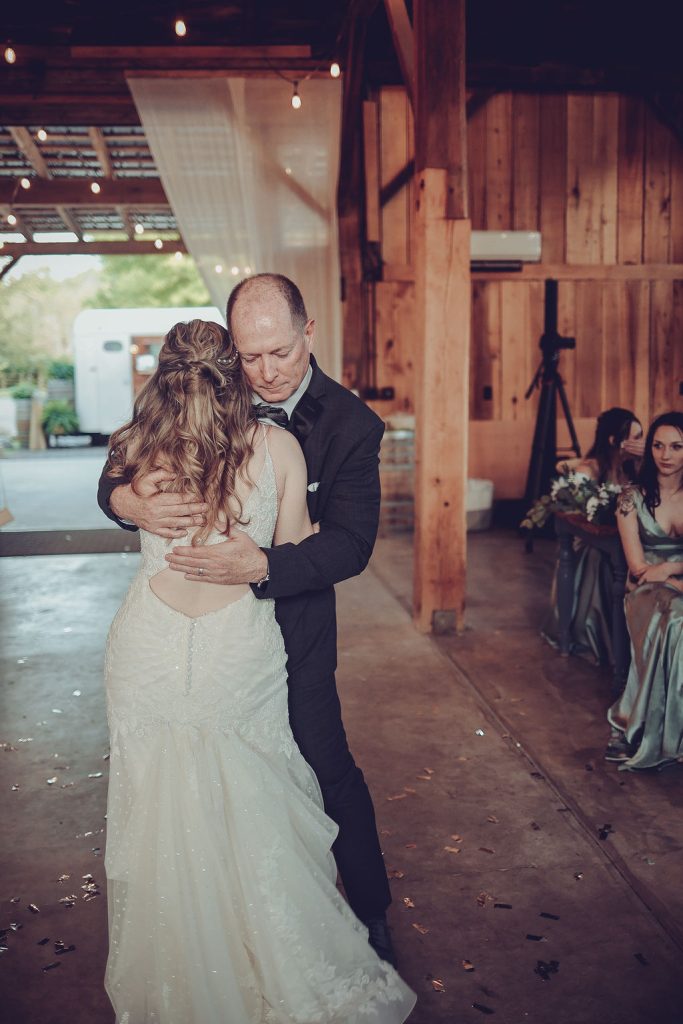 The Mother and Son Dance was very sentimental, and the song played was A Mother Like You by JJ Heller.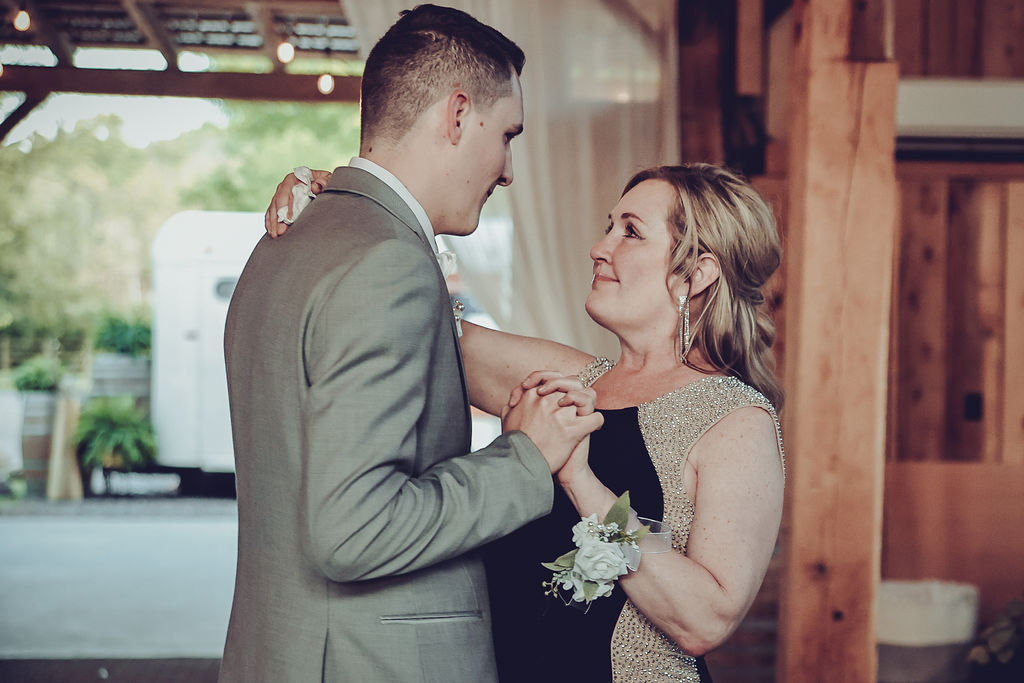 Food
JJ's Meat Shak served barbecue as the main entrée and various pasta dishes.
Fun and Games
Colton and Rebecca said, "The venue has a beautiful outdoor entertainment area." "We especially valued the designed cornhole area." "We are in a cornhole league, so we were so excited to include that in our big day." 
Colton and Rebecca's guests spent most of the night dancing with glow sticks and having a great time.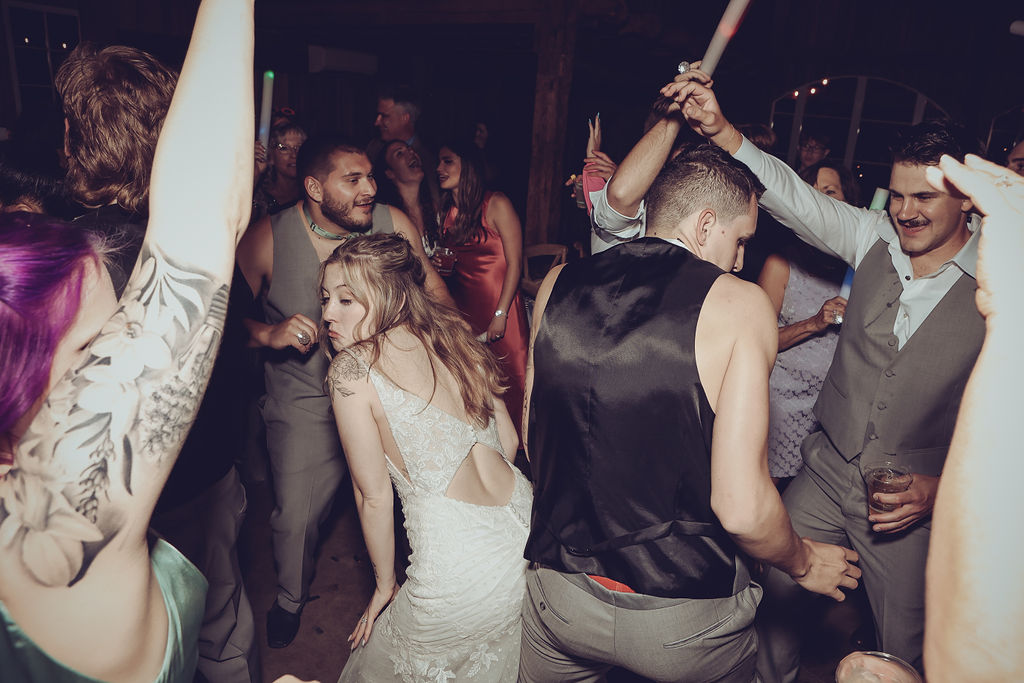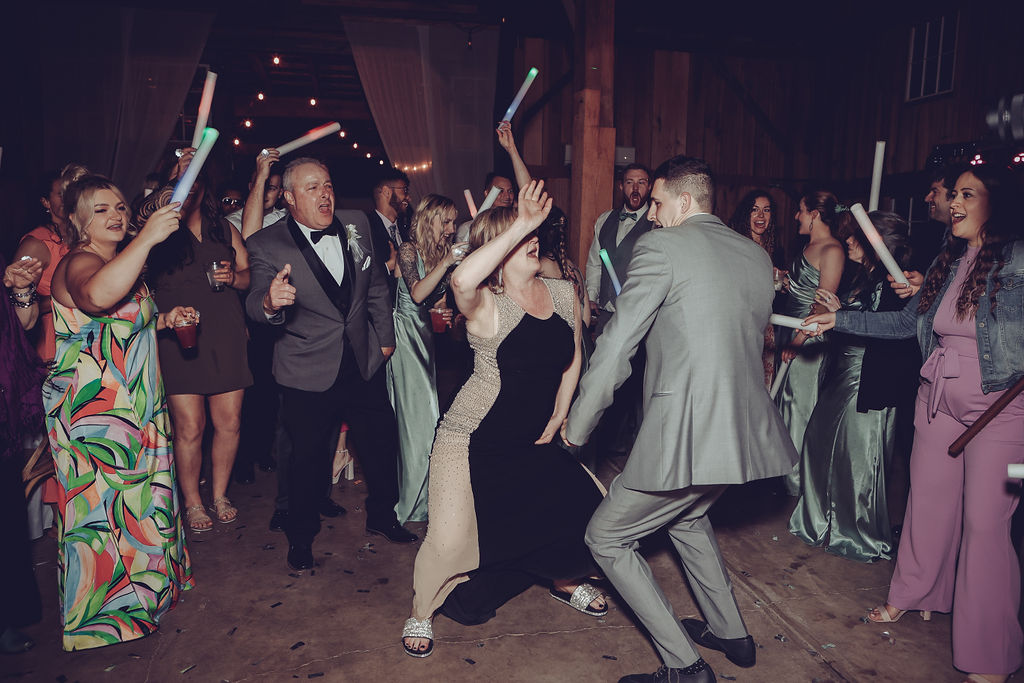 As the couple prepared for their exit, they enjoyed two traditional activities: bouquet and garter toss.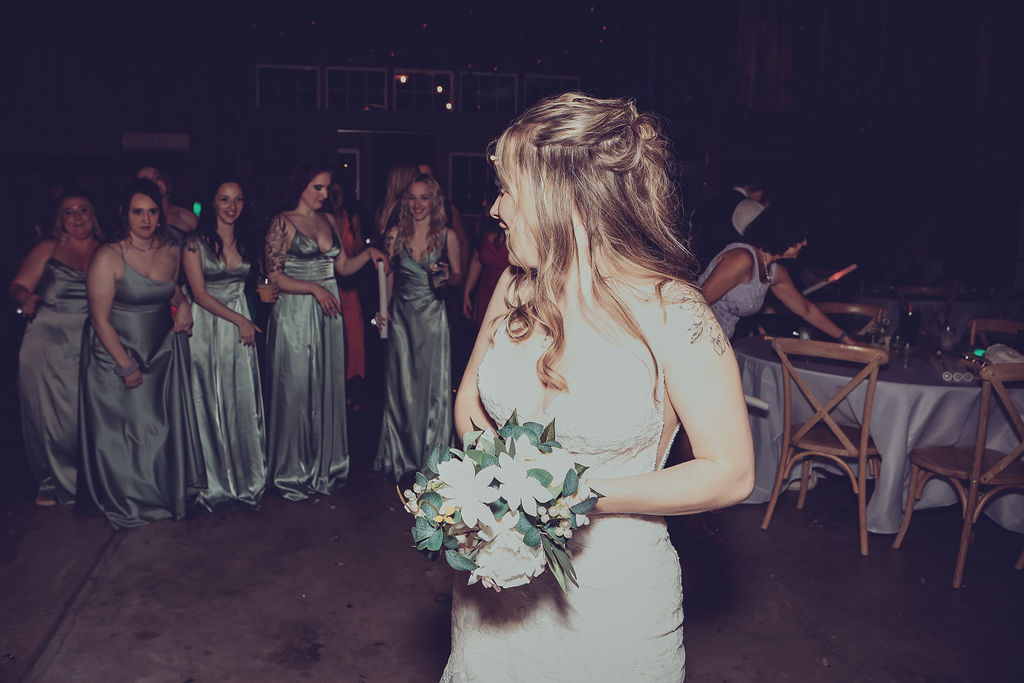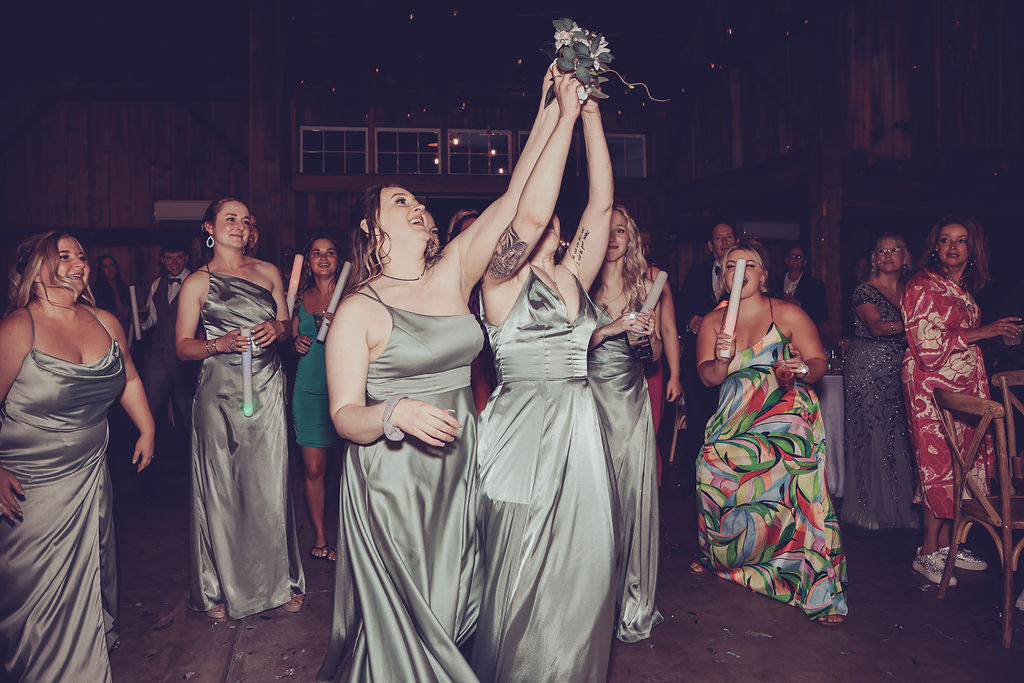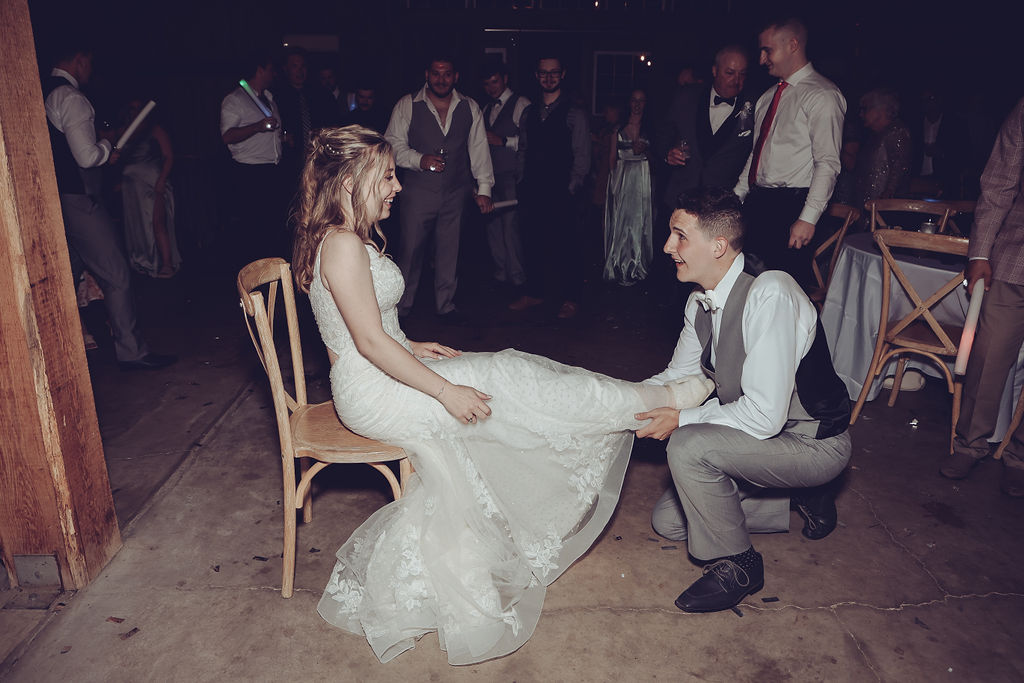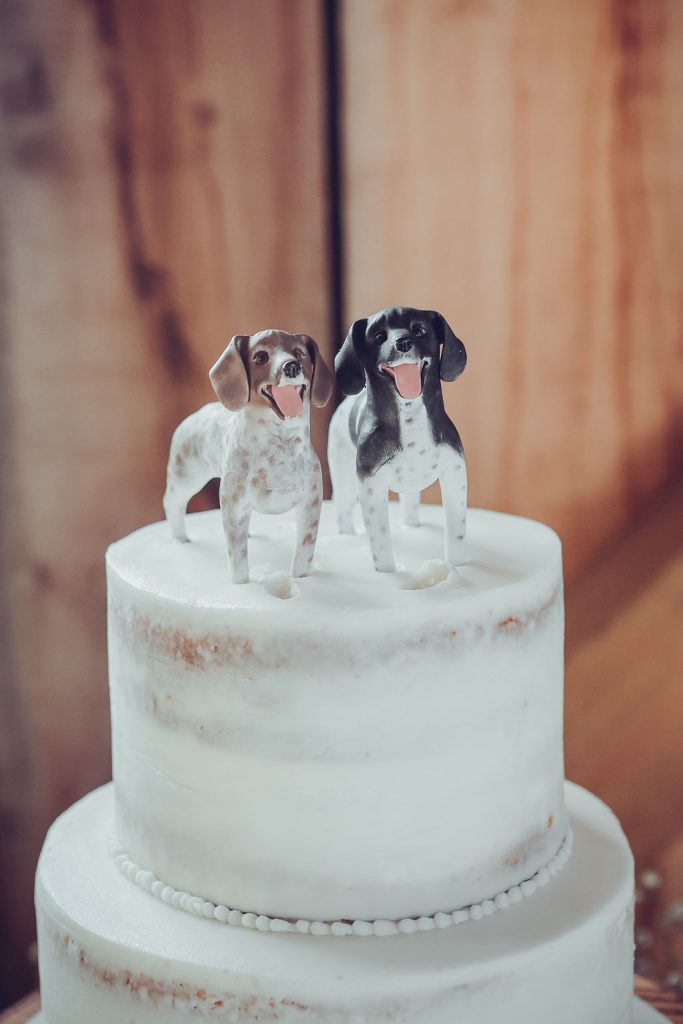 Cake and Dessert Bar
Colton and Rebecca topped their wedding cake with two miniature dog statues. The cake was a simple white cake. The dog sculptures were made of almonds and resembled their two beloved pets.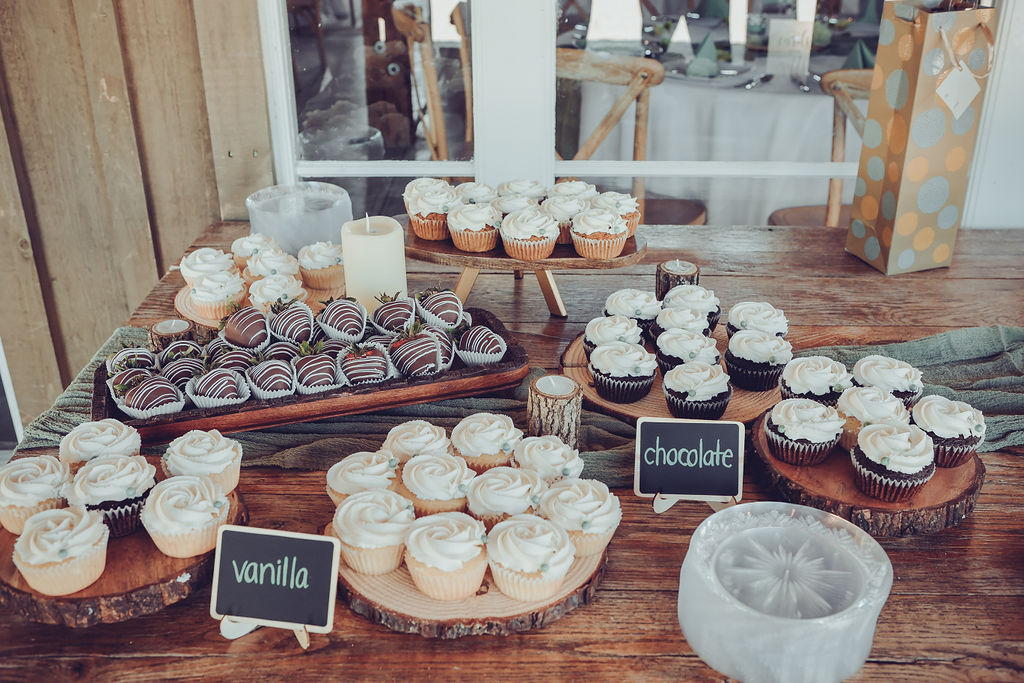 The couple's guests enjoyed a variety of cupcakes.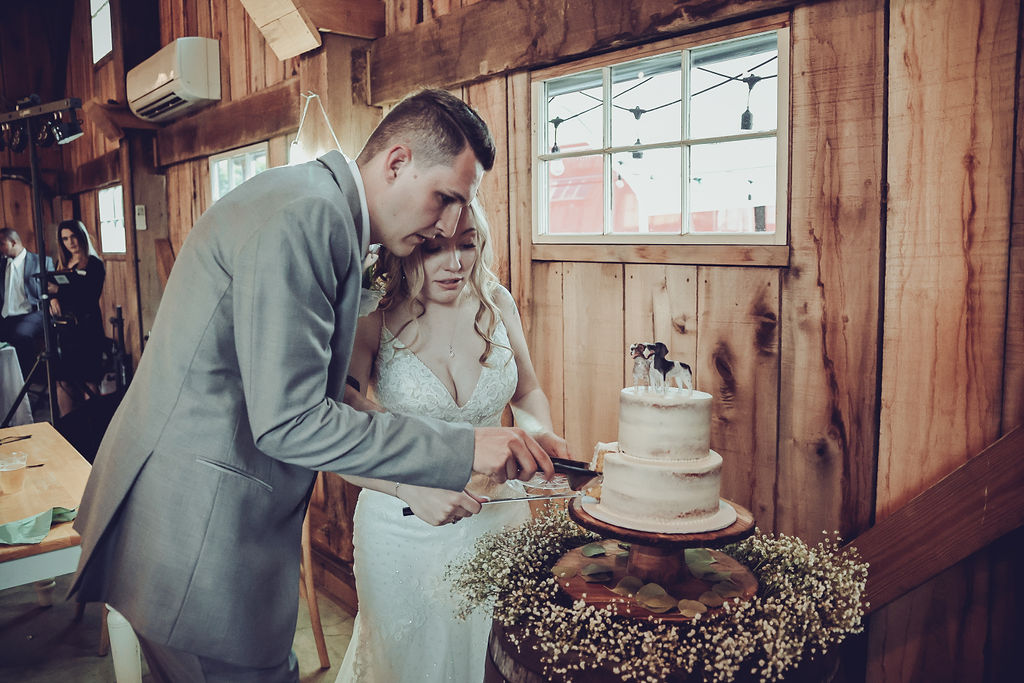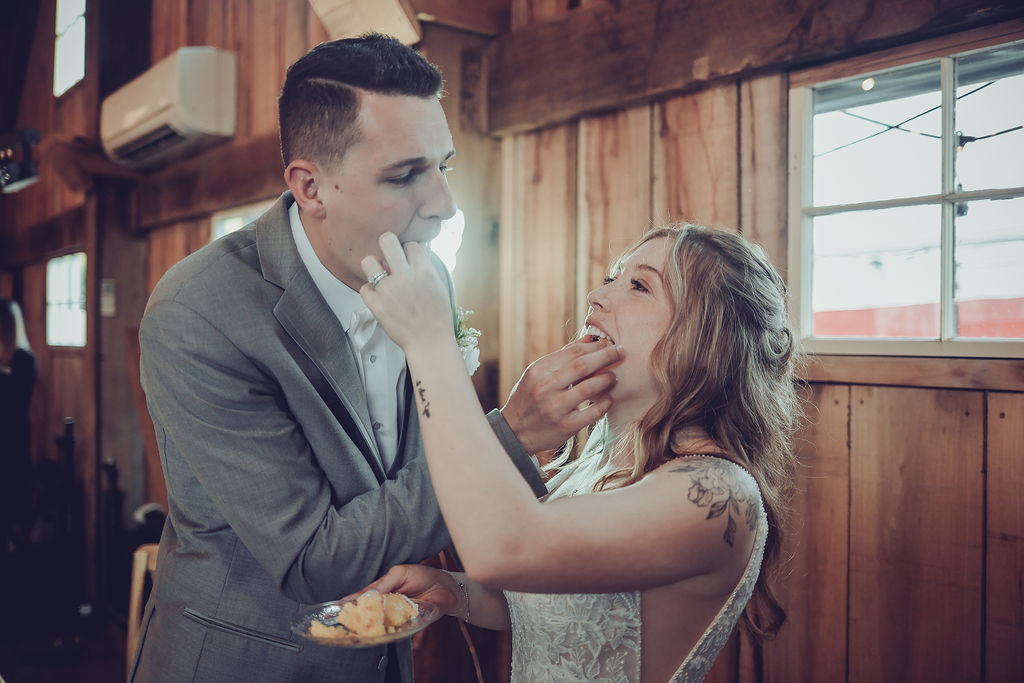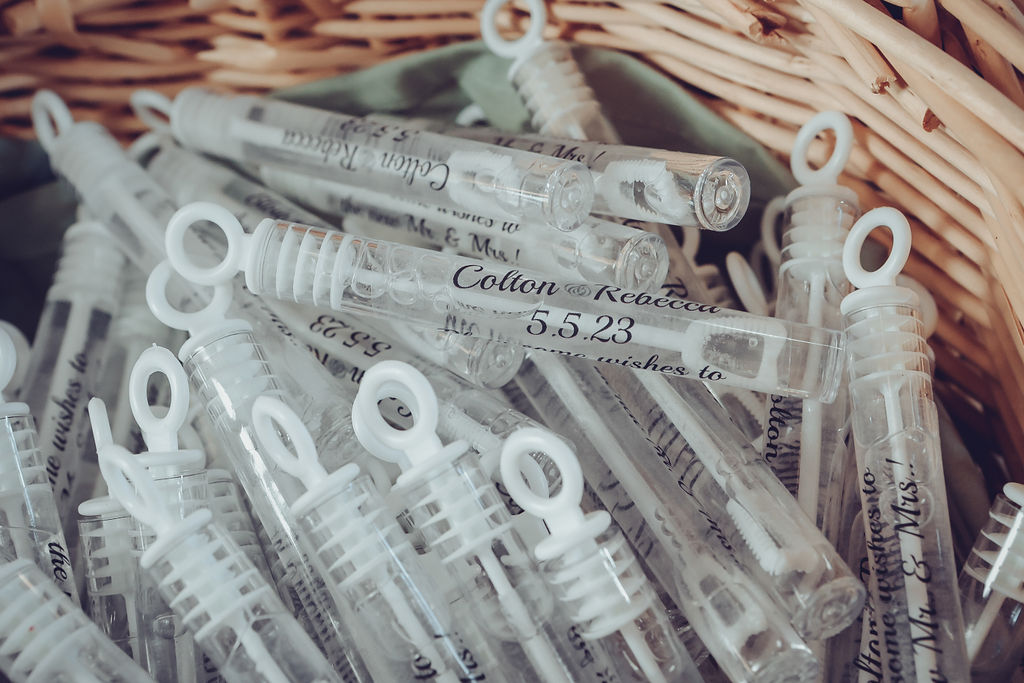 EXIT
Colton and Rebecca shared a private last dance to the song: Here I Am by Bryan Adams.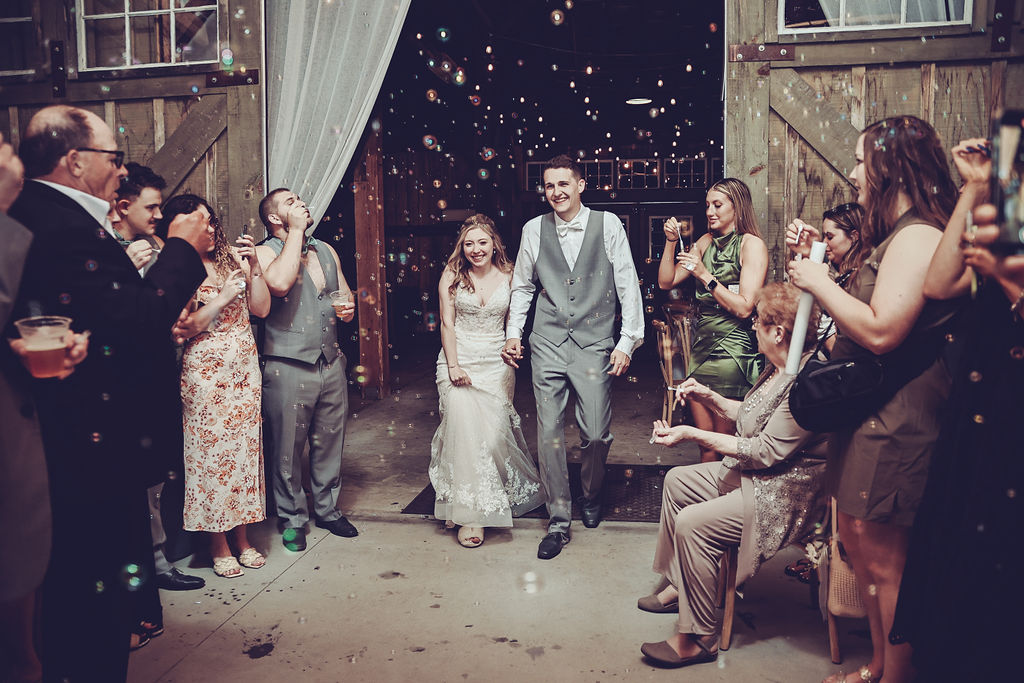 Once their dance ended, Colton and Rebecca opened the barn doors and exited while everyone blew bubbles.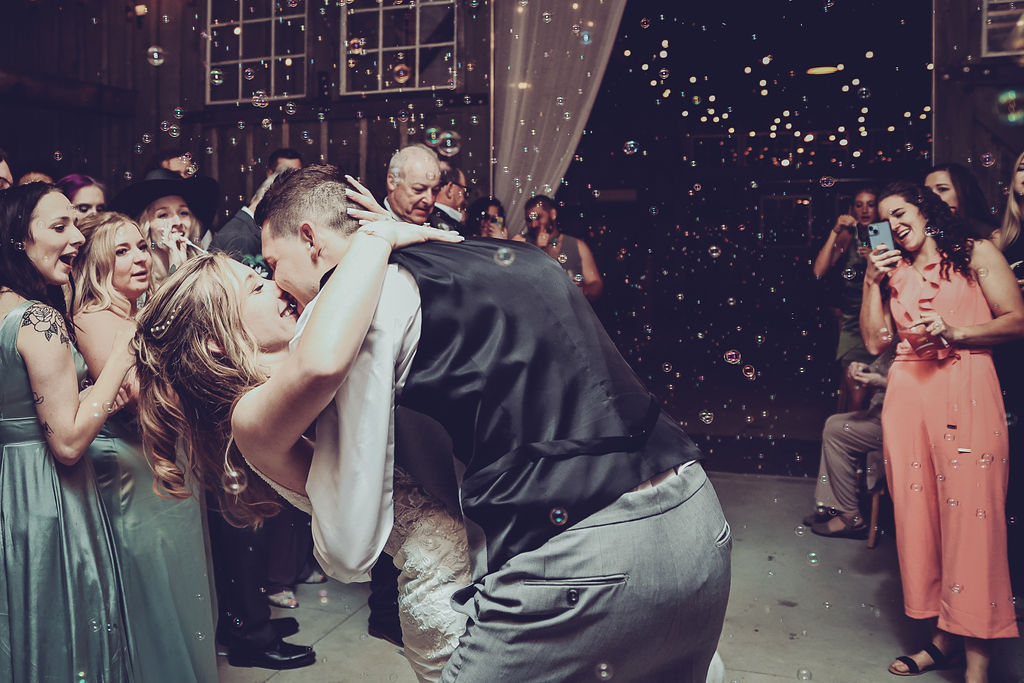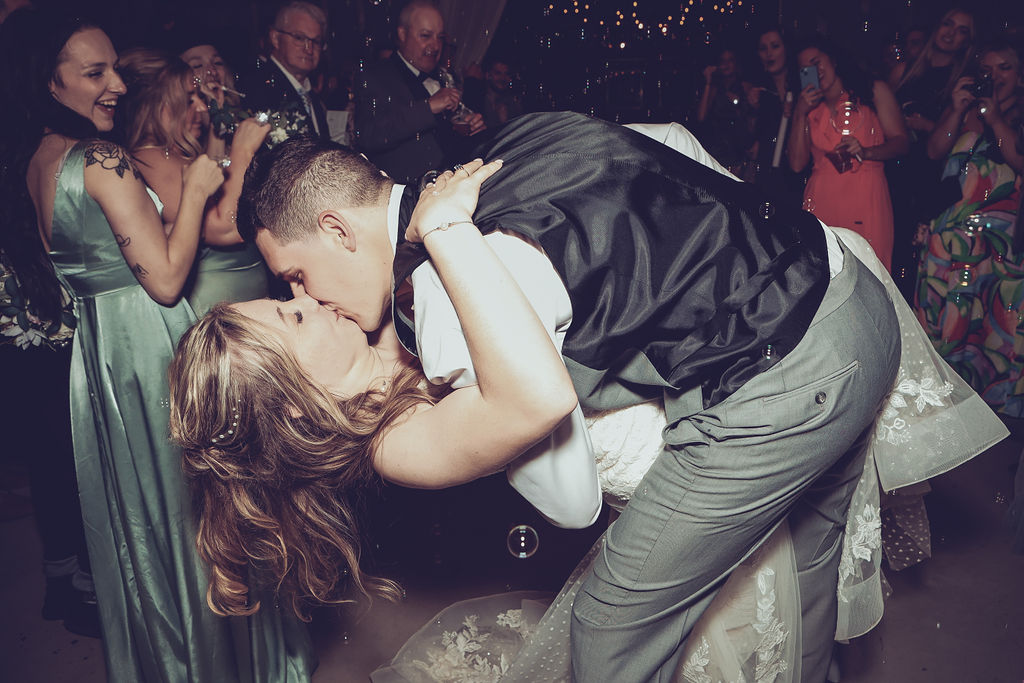 WEDDING NIGHT LODGING
The couple and their family spent the night at an Airbnb owned by the venue.
FAVORS
Colton and Rebecca created wine stoppers with their last name and wedding date inscribed as favors for their guests.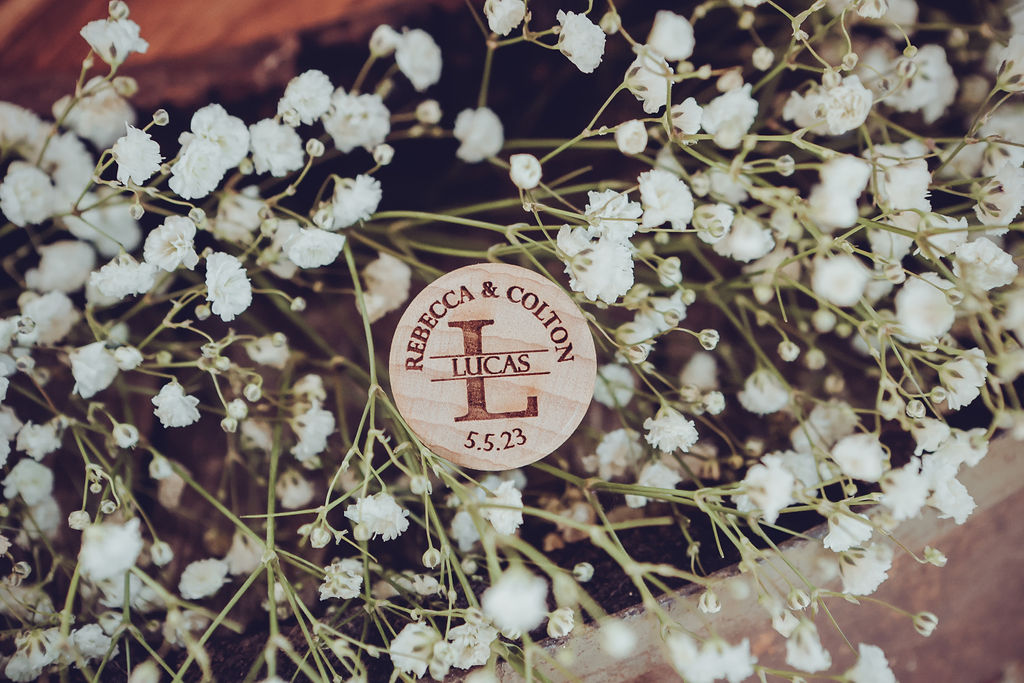 HONEYMOON
Cabo San Lucas, Mexico  
ADVICE TO ENGAGED COUPLES
Colton and Rebecca found that wedding planning can be stressful; at the end of the day, they recommend that each couple make wedding decisions based on what they want! "If you try to think of everyone else, it'll only become more stressful"! "Also – enjoy the day; it goes by too fast." "Make sure you soak it all in."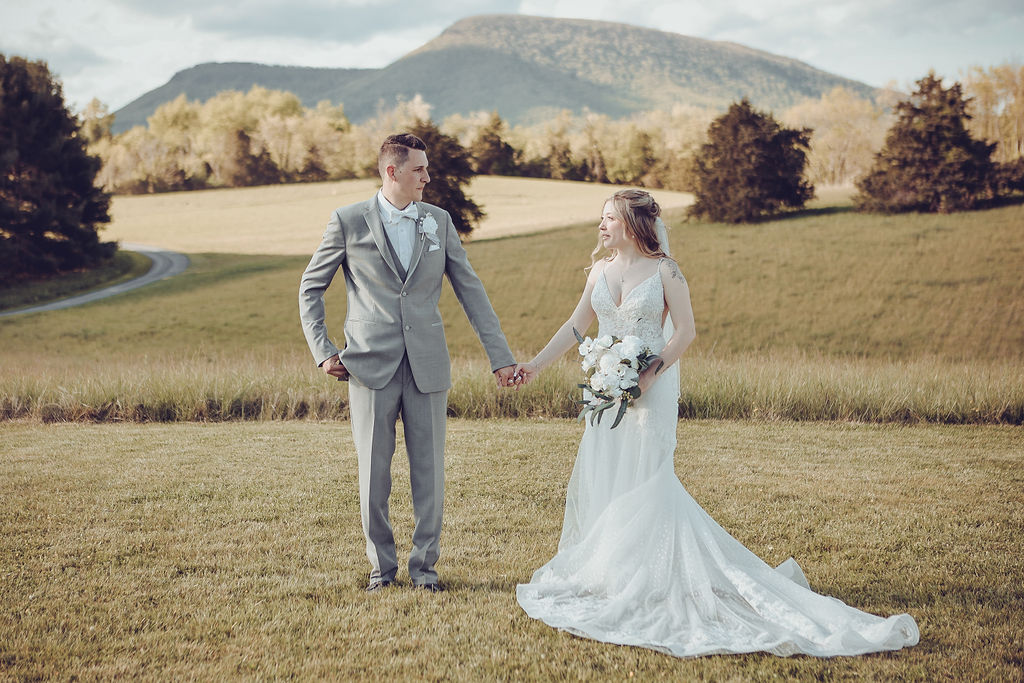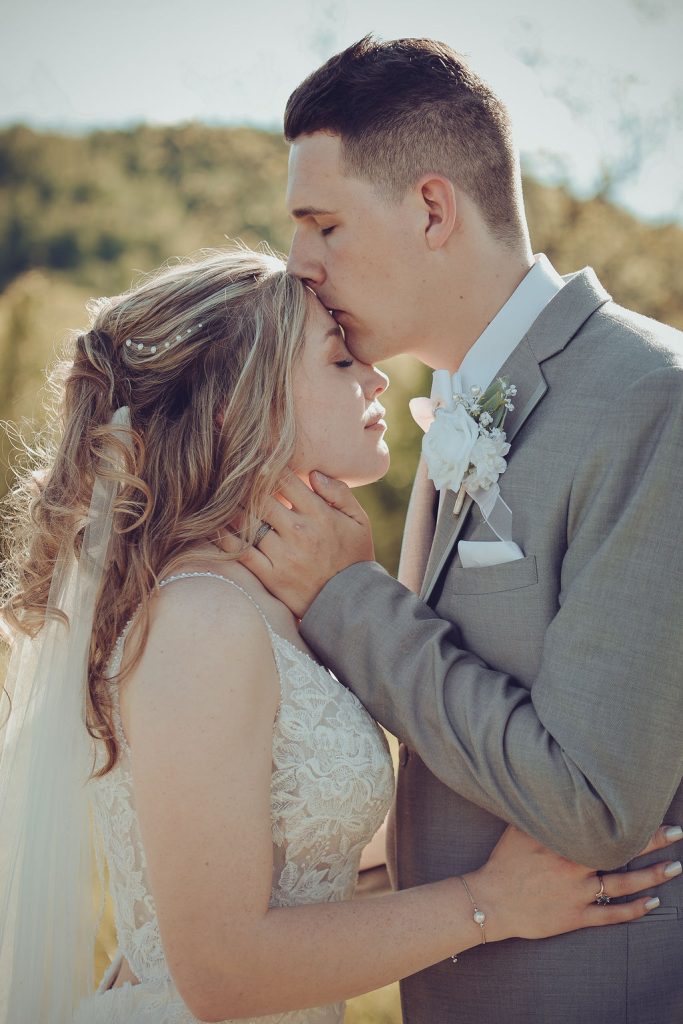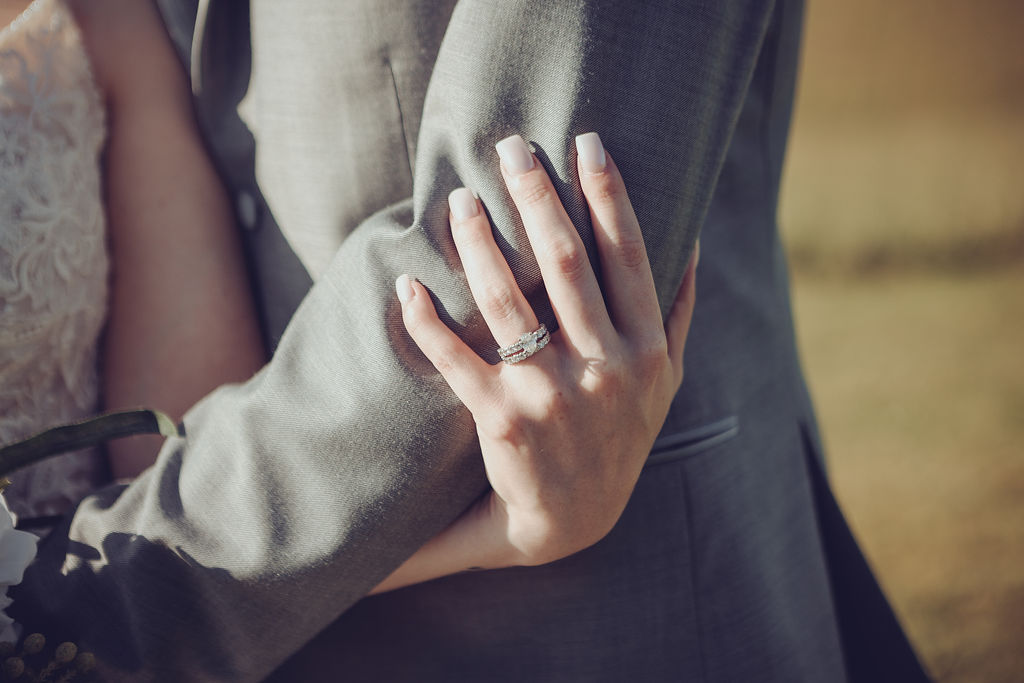 VENDORS
Venue: Big Spring Farm – @bigspringva
Wedding Photographer: Crystal Image Photography – @crystalimagephoto
Month of Coordinator: A&J Event Planning and Coordination – @aandj_eventcoordination
Officiant: The Vow Gal, Danielle Krumholz
Gown: Justin Alexander – @ JustinAlexandersignature
Hair & Makeup: Lou Stevens – @_loustevens_
Bridesmaids' Dresses: David's Bridal
Invitations: Etsy – EverLastingPaperieCo
Flowers: Ling's Moment
Catering: JJ's Meat Shak – @jjsmeatshak
Mobile Go Bar: @mobilegobar
Music: DJ Y Not – @djynot
Cake: Sweet Treats Bakery – @sweettreatslex
Favors: Wine Corks – Amazon
Engagement Photographer: Sydney Lynn Photography – @ sydneylynnphotography
If you are planning a wedding in Roanoke Virginia, Richmond Virginia, Fredericksburg/Northern Virginia, The Shenandoah Valley, Coastal Virginia or in Charlottesville/ Lynchburg Va. we can help with your wedding planning and ideas.