BRIDE: Megan Vlasho, 32, Sales Operations for a Real Estate technology firm
GROOM: Anthony Caddell, 32, Business Development for a software company
DATE: July 21, 2018
LOCATION: Pippin Hill Farm & Vineyards, Charlottesville, VA
NUMBER OF GUESTS: 140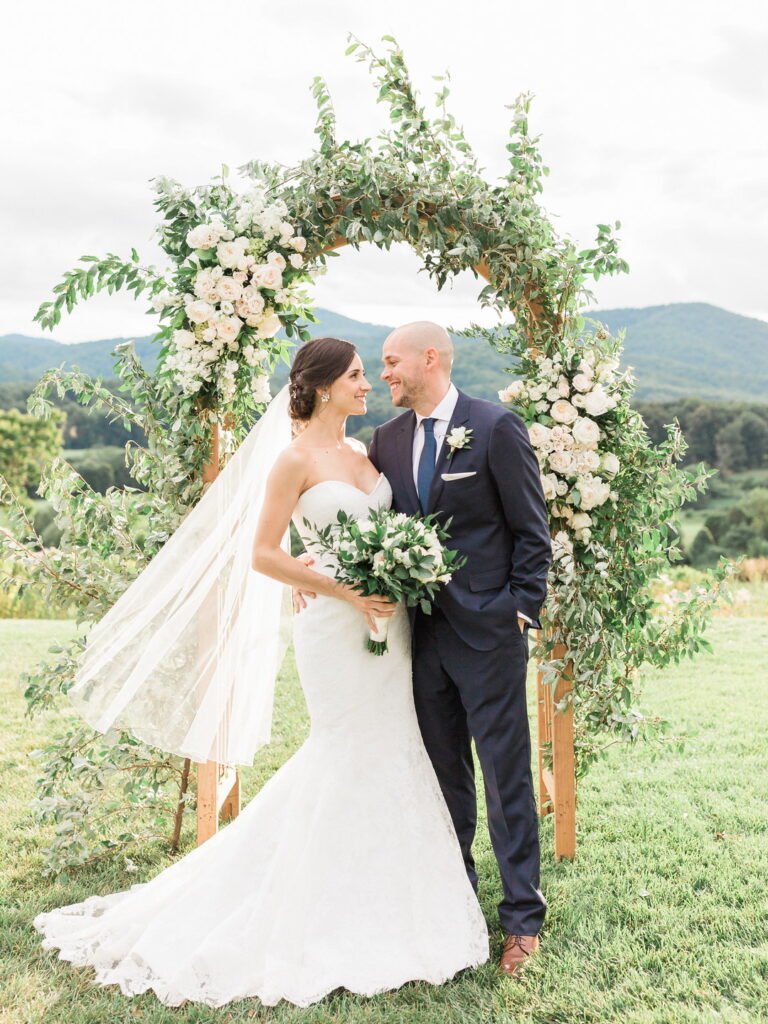 In early 2012, Megan & Anthony discovered that their work lives overlapped a lot while working for the professional basketball team/teams in Washington, D.C. Megan worked in client retention, while Anthony worked in sales – which meant they had long workdays that often encouraged lunch dates and happy hours. They started seeing each other personally and never looked back.
The happy couple took a trip to California where they made several stops along the road trip route through the state, enjoying the lush scenery, crashing waves of Santa Barbara, and the incredible wine at Santa Ynez. Anthony knew this was the spot to propose, so he snuck off to arrange for a special bottle and someone to photograph the big question.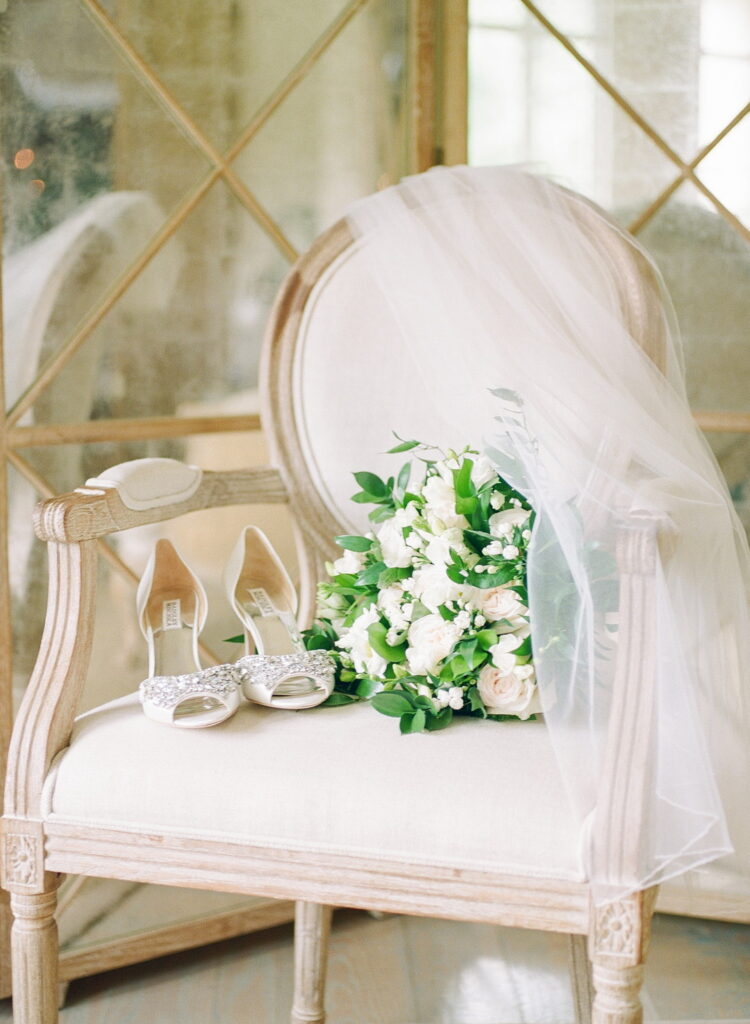 And even though Megan is a planner, they decided to hire Cody (Burke) Smith of Pippin Hill to maximize the event. Her eye for design and creative ideas helped bring to life every inch of the venue. The result was the delicate glow of off-white, greenery, blush shades, and touches of gold, fulfilling Megan's dream of the perfect look for her wedding day.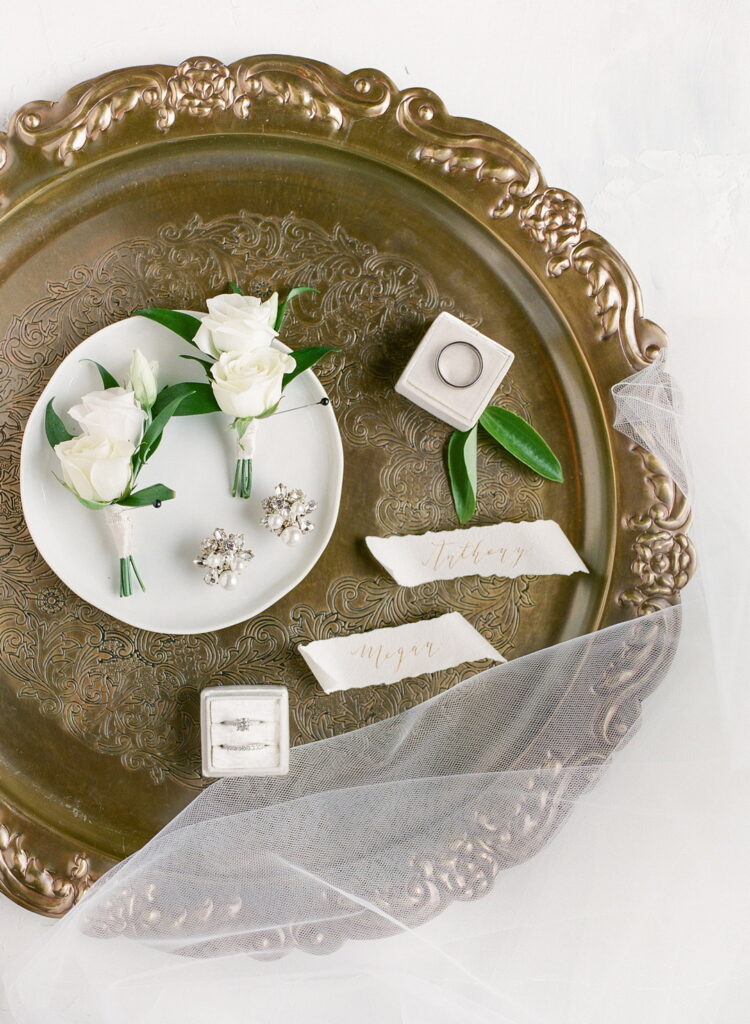 The big emphasis for the day was décor and florals that would highlight and compliment the already beautiful setting of the wedding. Garlands of greenery, candles, and soft, flowing fabric accents with metallic vases and tea lights perfected the theme. "We could never really put a name to our design vision, but the words organic, elegant, and minimal were used."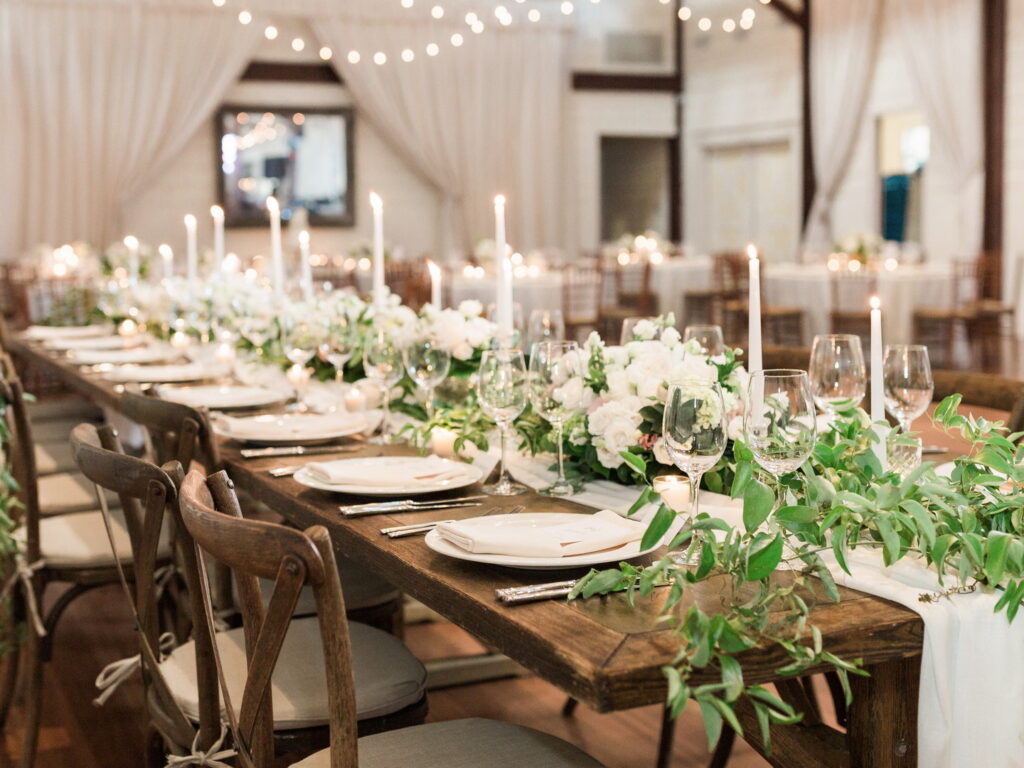 Megan wore a stunning strapless, sweetheart gown with a fluted skirt in ivory with French hand sewn laces, Chantilly lace, and "La Vie En Rose," from Romona Keveža. Her fingertip-length veil with a pencil edge, ivory, open-toed shoes from Badgley Mischka, and elegant J.Crew and David Yurman jewelry completed the beautiful style of the glowing bride.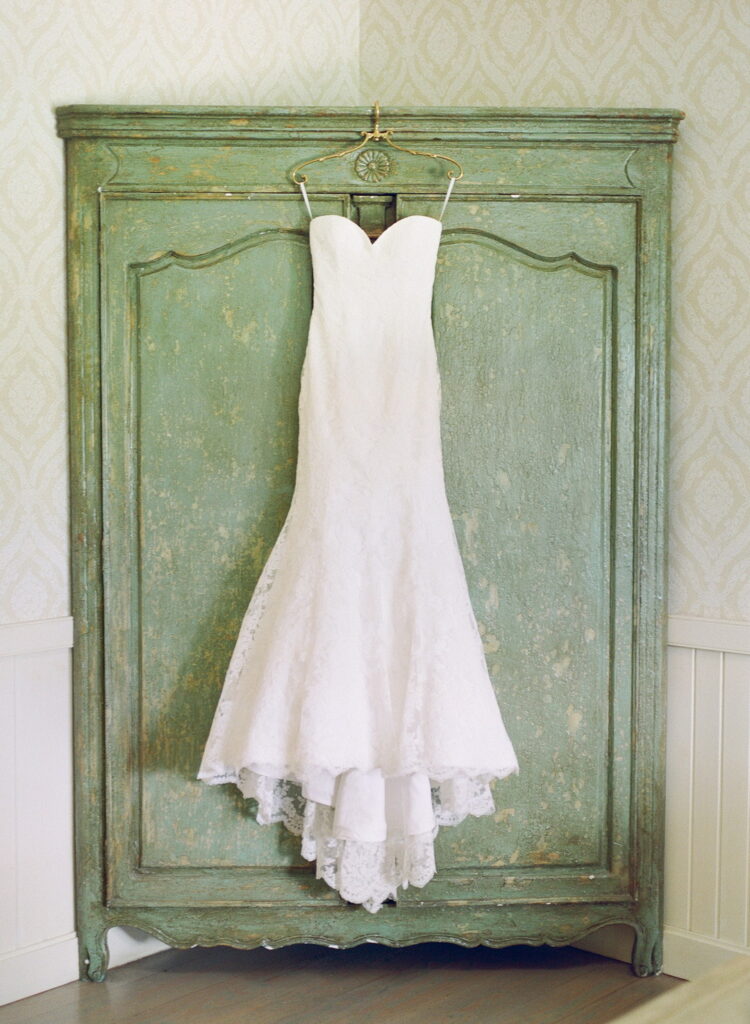 "We opted for a first look (which was a great idea) and took most of our couple's photos and bridal party photos before guests arrived. After the ceremony, we took a few more while our guests were enjoying our cocktail hour. Alicia grabbed us to take a few photos right as the sun was setting over the mountains which made for some of the most incredible photos of the day."
Ultimately, the day was everything Megan & Anthony could have asked for. Their guests, vendors, and the venue itself were amazing. "Our ceremony took place on-site at Pippin Hill. Guests walked down the gravel path lined with Pippin Hill's famous hydrangeas, where we had a welcome sign decorated with smilax greenery. It was a perfect 72 degrees, but we were prepared for a July scorcher and had lemonade and iced tea for our guests to enjoy before the ceremony began."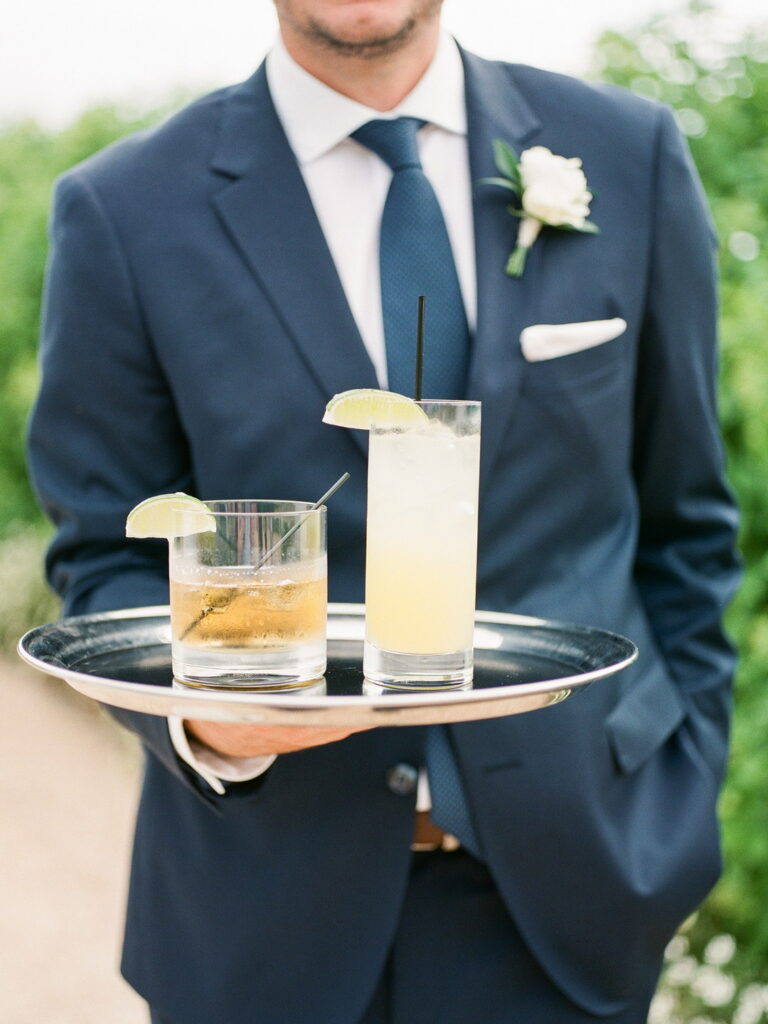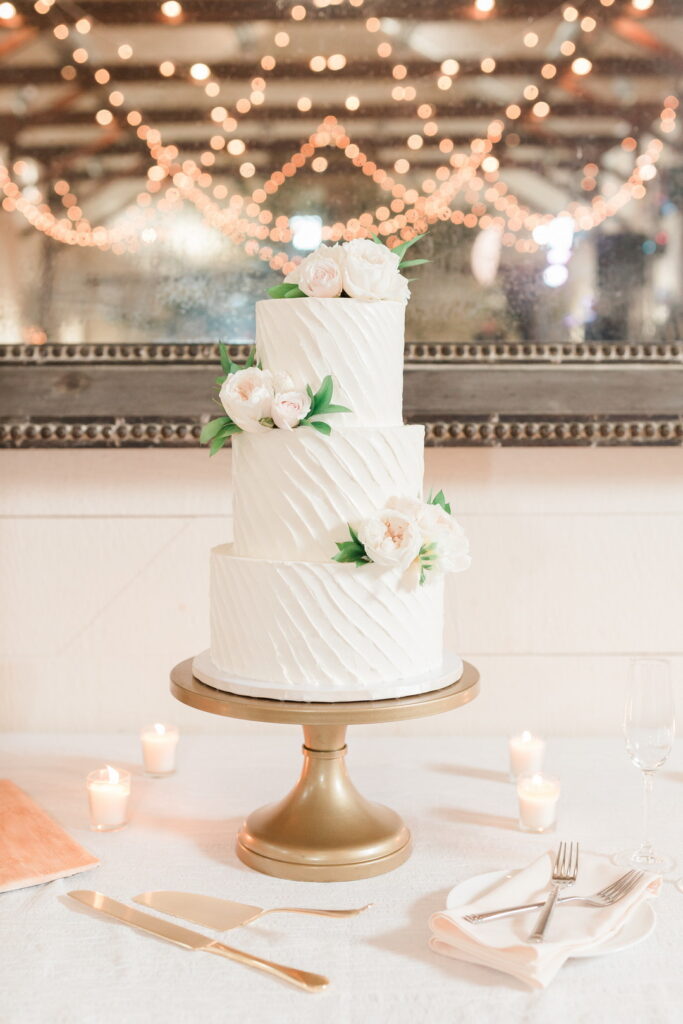 They overlooked the Blue Ridge Mountains for the ceremony and reception, enjoying the celebrations and dancing to the music provided by Anthony's dad's wedding band, Big Ray and the Kool Kats. "Anthony grew up around many of the band members, so it was really special to have the Kool Kats there to celebrate with us. A few of the members even came out of band 'retirement' to perform and share in it with us."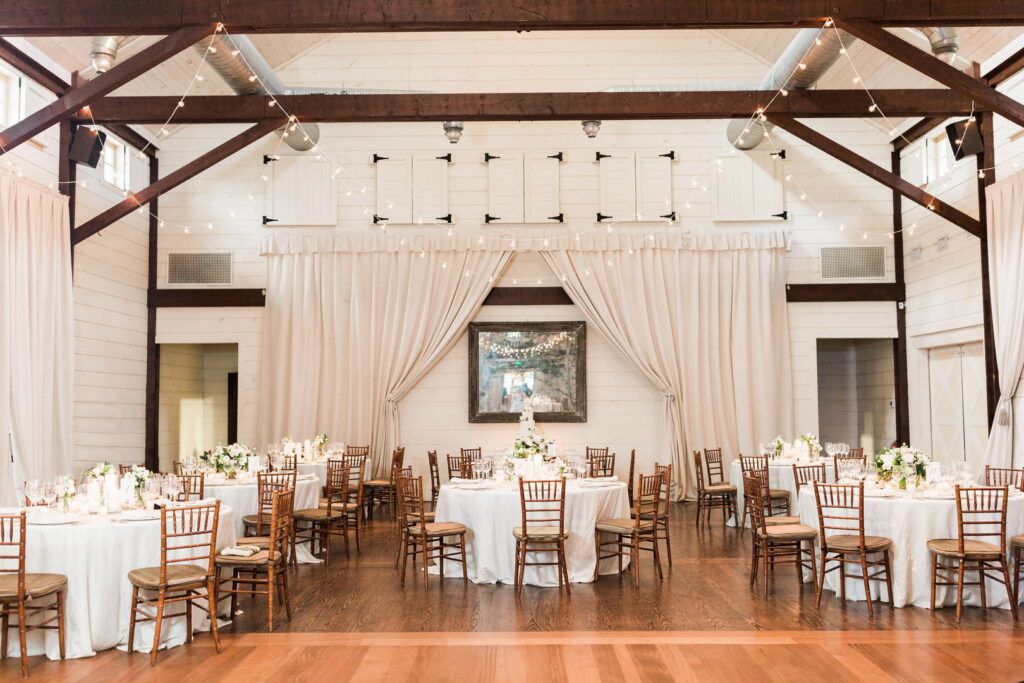 What an absolutely wonderful celebration! Congratulations to you both, and all of life's happiness.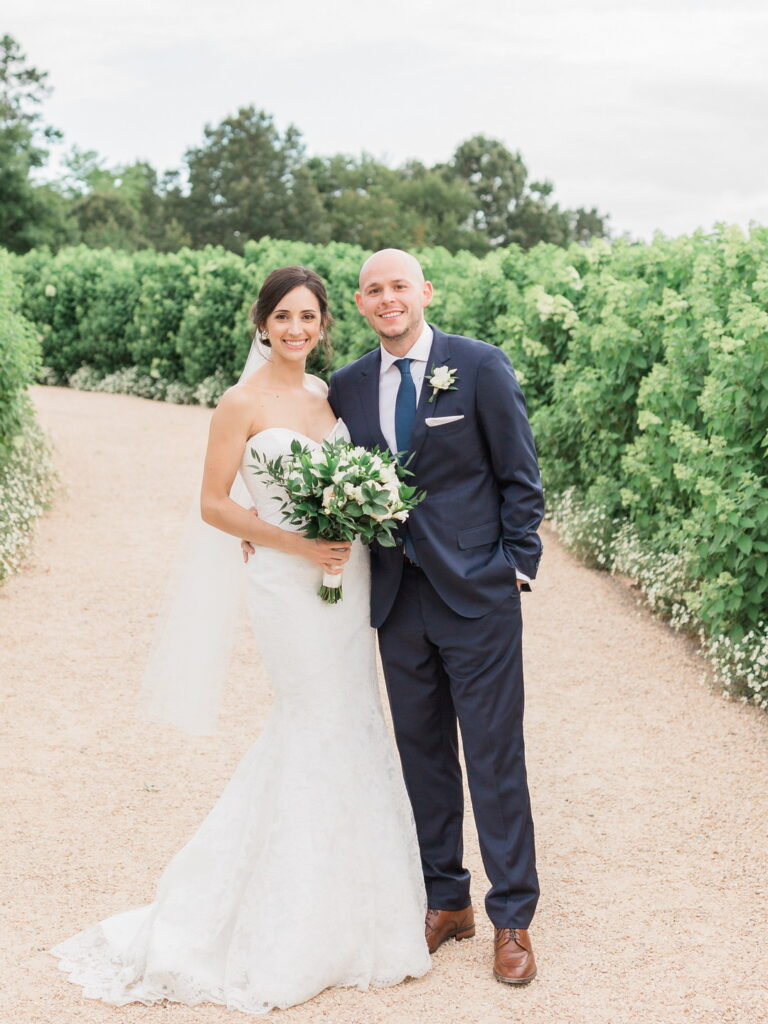 CEREMONY+RECEPTION SITE+CATERING: Pippin Hill Farm & Vineyards, North Garden, VA, (434) 202-8063
PHOTOGRAPHY: Alicia Lacey, Washington, DC area, https://alicialaceyphotography.com
VIDEOGRAPHY: Paperboys, Washington, DC area, https://alicialaceyphotography.com
CONSULTANT: Cody Smith, formerly of Amore Events by Cody
OFFICIANT: Megan's Grandfather, Lou Vlasho, and Anthony's best friend's Father, Rodney Kibler
GOWN: Romona Keveža at Carine's Bridal Atelier, Washington, DC, (202) 965-4696
VEIL: Carine's Bridal Atelier, Washington, DC, (202) 965-4696
SHOES: Badgley Mischka
HAIR+MAKEUP: Avenue 42, Richmond, VA, (804) 303-3139
BRIDESMAID DRESSES: Brideside, online
FORMALWEAR: The Groomsman Suit, online
INVITATIONS: Minted, online
FLOWERS: Blue Ridge Floral Design, Afton, VA, (434) 361-9218
RENTAL EQUIPMENT: MS Events, Charlottesville, VA, (434) 984-1155
MARQUEE LIGHTS: Brightly Ever After, Washington, DC, http://photoboothcharlottesville.com
MUSIC: Big Ray & the Kool Kats, From Charlottesville, VA but they travel everywhere
DANCE LESSONS: Self-taught, thanks to Youtube!
CAKE: Cakes by Rachel, Crozet, VA, (434) 823-1447
GROOM'S CAKE: Kraken Cakes, Charlottesville, VA, (434) 465-6779
FAVORS: Photo Booth of Charlottesville, Charlottesville, VA, http://photoboothcharlottesville.com
TRANSPORTATION: A & A Limousine, Charlottesville, VA, (434) 975-5466
ACCOMMODATIONS: Omni Hotel, Charlottesville, VA, (434) 971-5500
HONEYMOON: Mini-moon in Asheville, VA right after our wedding, and full Honeymoon the following summer in the Greek Islands.
If you are planning a wedding in Roanoke Virginia, Richmond Virginia, Fredericksburg/Northern Virginia, The  Shenandoah Valley, Coastal Virginia or in Charlottesville/ Lynchburg Va, we can help with your wedding planning and ideas.