Virginia Bride features weddings weekly here on the blog. Being featured in the blog does not necessarily mean they are featured in the print magazine.
Bride: Natalie Wheeler, 22, Housewife
Groom: John Riley Ross (Riley), 22, Air Force, Hawaii
Civil Service Wedding Date: May 15, 2023
Venue Wedding Date: September 16, 2023
Venue: Rockwood Manor, Dublin, VA
Guests: 110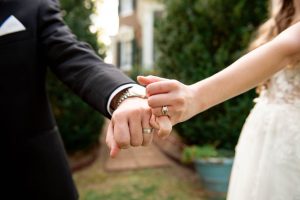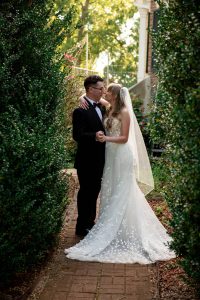 Love Story
How the Couple Met
Riley and Natalie initially met on April 3rd, 2020, through one of Natalie's friends at college. Riley and Natalie got to know each other through Snapchat, text, and video calls for months before they connected again in August 2020, when Riley offered to help move Natalie into her sophomore college dorm room.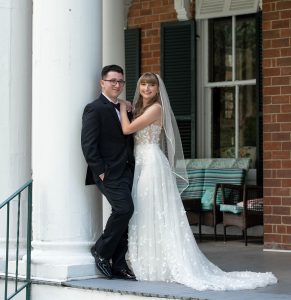 First Date and Forward
Riley and Natalie's first date was on August 24, 2020. The couple went to Outback Steakhouse, and Riley tried one of Natalie's favorite foods, rare steak.
From the beginning, Riley and Natalie's relationship was long distance because they lived in different parts of Virginia. In 2021, Riley joined the Air Force, and the couple could only chat once every few weeks while Riley was in basic military training.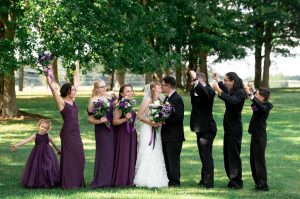 Riley visited Natalie for a few weeks before heading to his first station in Hawaii. While Natalie studied at Christopher Newport University and Riley worked in Hawaii, the couple often video-chatted and watched shows and movies together.
Riley and Natalie were legally married on May 15, 2023, at her parent's home. Before the wedding ceremony and reception held on September 16, 2023, at Rockwood Manor, the couple had only seen each other in person on nine occasions.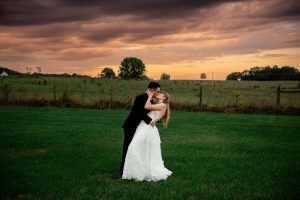 Engagement
On September 3, 2022, Riley proposed to Natalie. Riley popped the question to Natalie at her parent's home under the pagoda. She said Yes! It was a planned proposal because the couple wanted to share the experience with family. Even though it was planned, Natalie did not know precisely when and how Riley would propose. After watching a movie with the family, Riley asked Natalie to go for a walk. Their walk led them down the street and then to Natalie's backyard, where Riley convinced her to look away for a few seconds before getting down on one knee with the ring in his hand.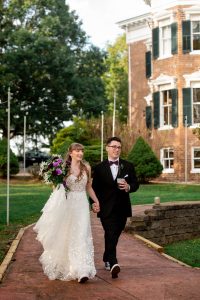 THEME
Riley and Natalie's wedding theme was a mixture of elegance with a touch of rustic. The couple selected a color palette of black and plum and added up lighting and candles around the patio and reception area to enhance the theme.
COORDINATION
Natalie said, "We hired Dream Designer Events to set up everything from the ceremony to decorating the reception and cocktail hour areas." "They corresponded with the caterers, "They made the floral arrangements for the wedding for an extra fee, which was worth it." "This team is the perfect one-stop shop for your wedding."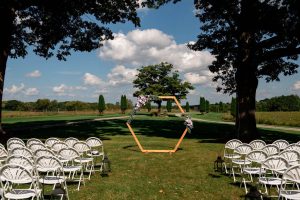 ATTIRE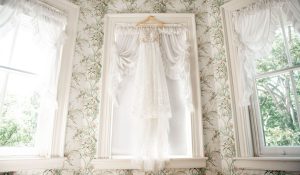 Bride
Natalie's wedding gown was an A-line silhouette with a sweetheart neckline and spaghetti straps. The torso was a corset with a zipper and buttons down the back. It featured 3D fabric leaves and flowers with sparkles that continued down the entire dress and train.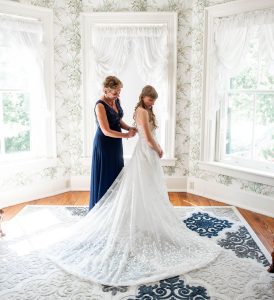 Natalie's Something Borrowed were 75 glass drop crystals taken from her mother's wedding dress and added to her gown. The bride's Something Old was a necklace given to her by her grandmother that looked like vines with leaves and earrings similar to the necklace. Natalie wore a silver faux crystal headpiece that looked like vines. Her Something Blue was her great-grandmother's handkerchief.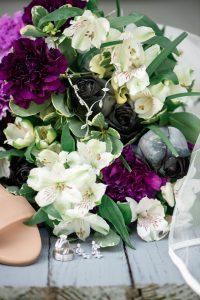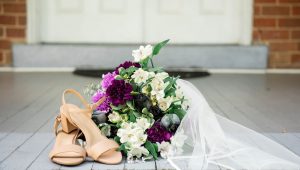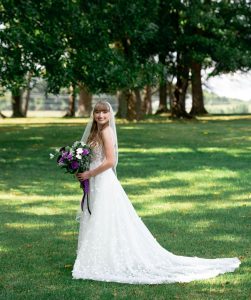 Natalie wore tan block heels for the ceremony and pictures before changing into white Chuck Taylor All-Star Converse Move Platform shoes with black floral patches sewn into the sides.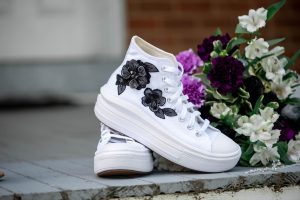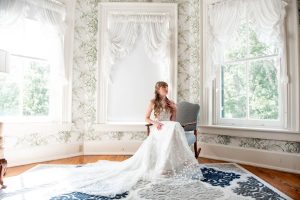 Bridesmaids
The bridesmaids wore long plum dresses from David's Bridal.
Bouquets
The bouquets featured shadowy black roses, a mixture of purple carnations, white alstroemerias, and an assortment of greenery. The carnations were used for part of the centerpieces and the bride's bouquet for the head table.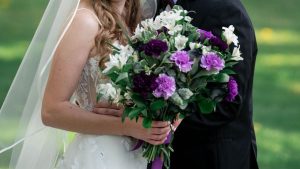 Groom
Riley was dressed in a rented black tuxedo from Men's Wearhouse with a plum bowtie. He wore a watch borrowed from the bride's father. The watch was sentimental because it had belonged to the bride's grandfather (her dad's father).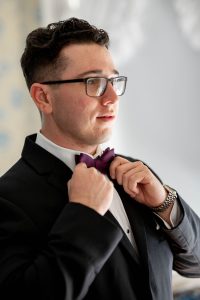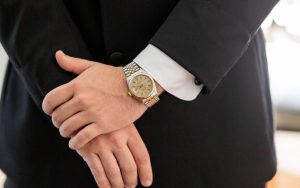 Groomsmen
The groomsmen wore rented black tuxes from Men's Wearhouse with plum ties.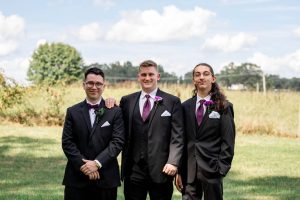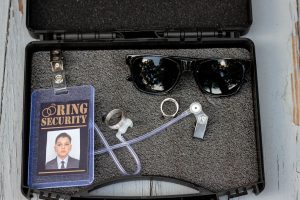 Boutonnieres
The groom wore a black rose boutonniere with greenery, while the groomsmen wore purple carnations.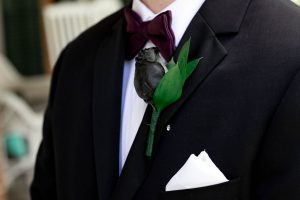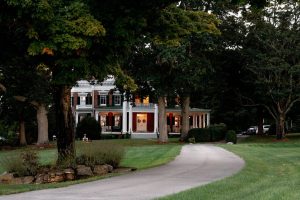 VENUE
The couple were initially interested in Rockwood Manor because Natalie had attended a wedding there a few years prior and thought the venue was beautiful. When they toured the Manor, they were delighted to learn that the historic house could accommodate lodging for their wedding party and offered multiple ceremony sites and reception locations; thus, the deal was sealed with a kiss.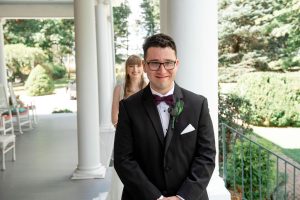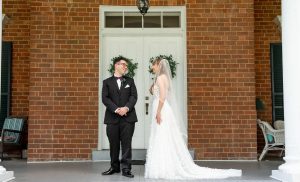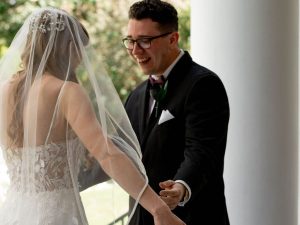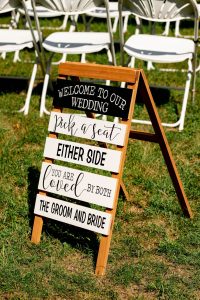 CEREMONY
Riley and Natalie's ceremony was held on the front lawn of the Manor House with the Blue Ridge Mountains in the background.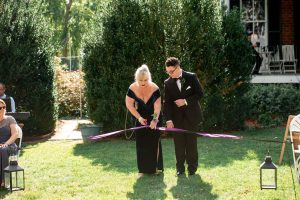 Black lanterns lined the aisle. Their hexagon arbor was wooden, adorned with faux greenery and white and light purple flowers.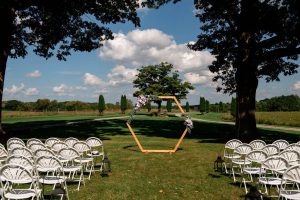 The pianist played "Marry Me" by Bruno Mars while the wedding party walked down.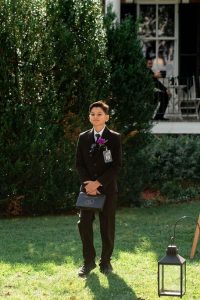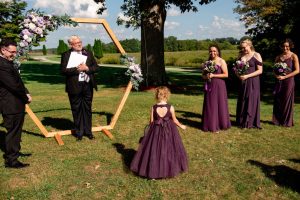 Natalie walked down the aisle to Tim Burton's "Corpse Bride: The Wedding Song," played on the piano by the pianist from her church.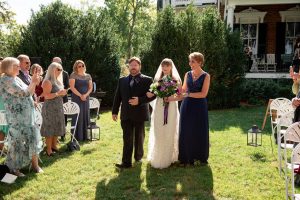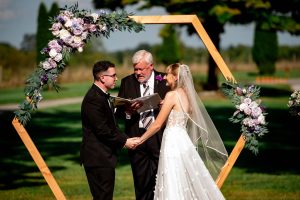 Since the couple had already been married in a civil ceremony, a close family friend officiated at the Manor House.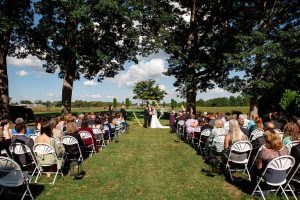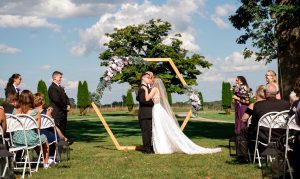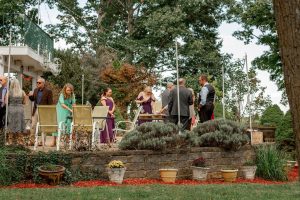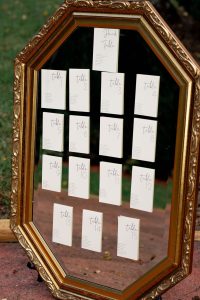 COCKTAIL HOUR
The groom's signature drink was "Ball and Chain," It was a homebrewed, brown ale. The bride's father brewed the groom's beer. The bride's signature drink was a twist off of a gin and tonic. It was called "Gin-uinely in love."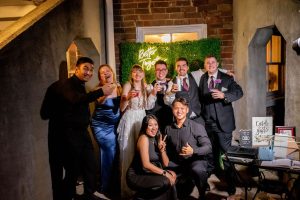 During the cocktail hour and reception, guests took pictures using a Polaroid camera. The couple rented a rotary phone so that guests could leave messages for the couple to listen to later.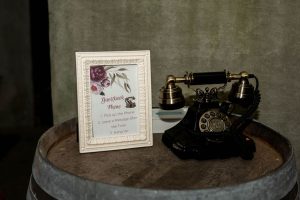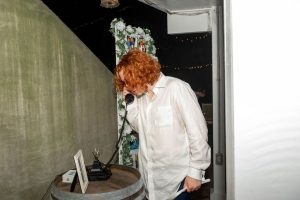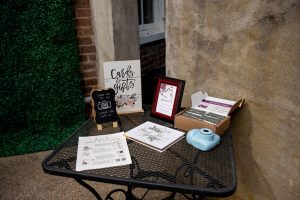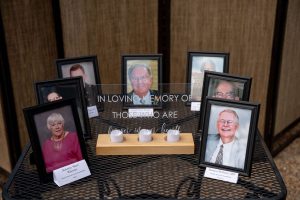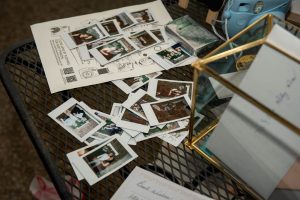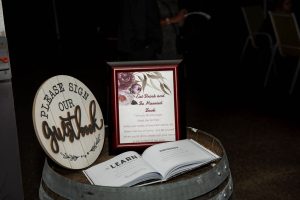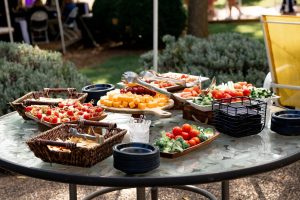 RECEPTION
Natalie and Riley's reception was held beside the Manor's patio under the white tent. Special touches included white window shutters used to display pictures of the couple, including each year of their life. A remembrance table held pictures of all the loved ones that had passed.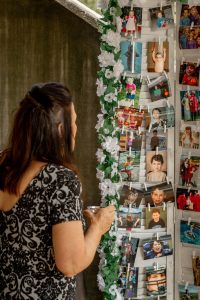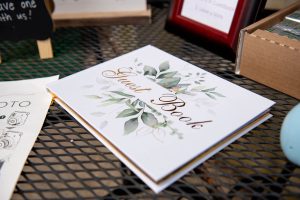 First Dance
Riley and Natalie's first dance song was "Lucky" by Jason Mraz and Colbie Caillat.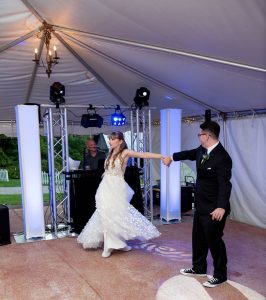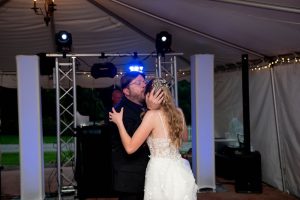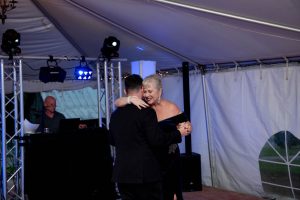 Food
Mission BBQ served pulled pork and chicken, brisket, green beans, baked beans, scallop potatoes, sliders, and cornbread.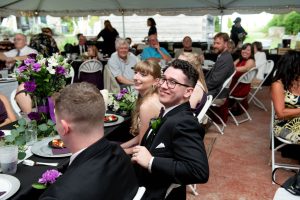 Music
During dinner, the couple's DJ played Rat Pack music, and later, for dancing, the DJ picked songs from the groom and bride's playlist.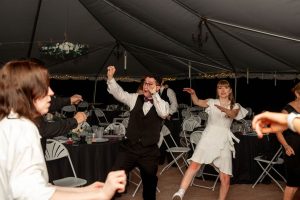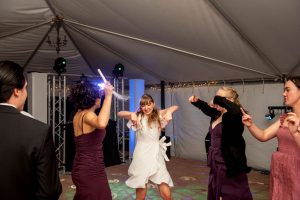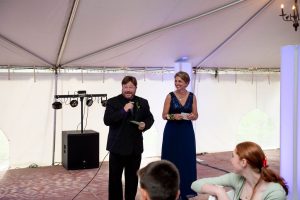 Toast
The bride's parents toasted Riley and Natalie, along with two maids of honor and the best man.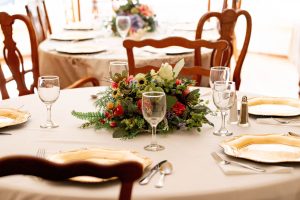 The Longest Married Couple Game
The couple hosted an oldie but goodie game called "The Longest Married Couple Game," where couples danced until the longest married couple, and the newlyweds were the last ones standing. The longest-married couple had been married for 41 years. The couple was given a small bouquet as a prize.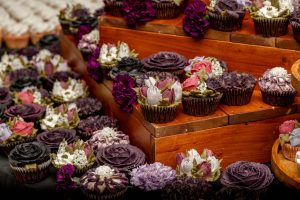 Cake/Dessert Bar
The couple had a small cake for just the two of them while the guests had cupcakes. The couple's cake was Belgian chocolate with white buttercream frosting, a raspberry filling, and chocolate ganache dripping down the sides. The two flavors of cupcakes were chocolate and champagne, decorated with beautiful buttercream flowers.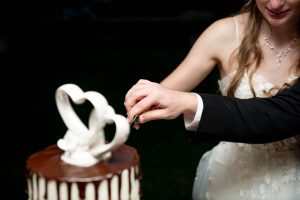 Favors
The favors were plastic cups with the couple's names and wedding dates inscribed, which the guests drank from during dinner.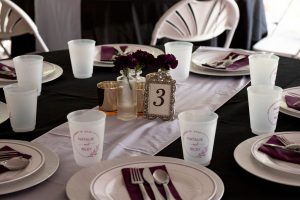 Exit
The couple had a fake exit with electric sparklers.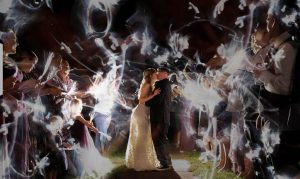 WEDDING NIGHT LODGING
Rockwood Manor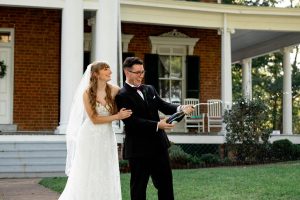 HONEYMOON
Natalie has moved to Hawaii, where her husband is stationed. Over the next year, they plan to take mini-moons to the different islands.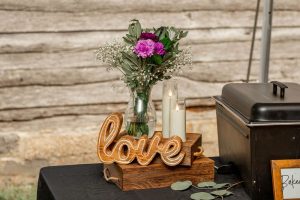 ADVICE TO ENGAGED COUPLES
The most important thing when planning a wedding is communication with your partner, even with the small details. Verbally communicate what you want rather than assume or leave details unspoken.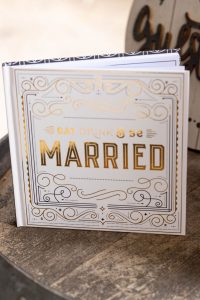 WHAT THE GROOM LIKED MOST ABOUT THE WEDDING
"The beer that the bride's father made for me." "Having everyone—both sides of the family—together." "It was just beautiful and made the day even more special."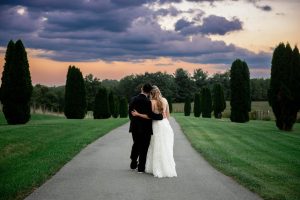 VENDORS
Wedding Venue: Rockwood Manor – @rockwood.manor.bb
Wedding Photographer: Kassie Reese – @kreese_photography
Day of Planner: Dream Designer Events
Officiant (Family Friend): Wesley Young
Legal Officiant: Rocky Goad
Gown: Studio I Do! Roanoke – @studioidobridals
Veil: Studio I Do! Roanoke – @studioidobridals
Hair: Salon 1124
Makeup: Jordan Owens
Bridesmaids' Dresses: David's Bridal
Groom's Attire: Men's Wearhouse
Groomsmen Attire: Men's Wearhouse
Invitations: Zola – @zola
Flowers: Dream Designer Event
Rental Equipment: Dream Designer Events
Catering: Mission BBQ – @missionbbq
Music: Dream Designer Events
Cake: Coco-nuts LLC – Bakery in Radford, VA
Favors: Etsy
Bride & Groom Wedding Night Lodging: Rockwood Manor – @rockwood.manor.bb
Nails: Nailology – @nailology_christiansburg
Dress Alterations: La Di Design – @ LaDiDesign
If you are planning a wedding in Roanoke Virginia, Richmond Virginia, Fredericksburg/Northern Virginia, The Shenandoah Valley, Coastal Virginia or in Charlottesville/ Lynchburg Va. we can help with your wedding planning and ideas.