Virginia Bride features weddings weekly here on the blog. Being featured in the blog does not necessarily mean they are featured in the print magazine.
Bride: Jessica Radford, Age: 29, Aerospace and Defense
Groom: William Momsen, Age: 31, Public Works, Town of Christiansburg
Wedding Date: July 1, 2023
Venue: Diamond V Farm, Blue Ridge, VA
Guests: 90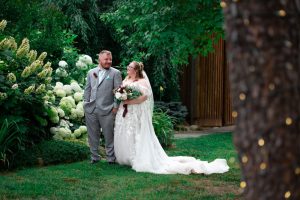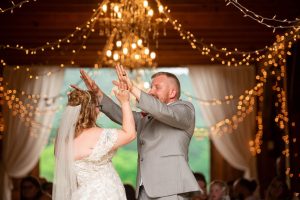 LOVE STORY
How the Couple Met
William and Jessica met on the online dating app Tinder. They both swiped right and began a friendship that developed into a relationship.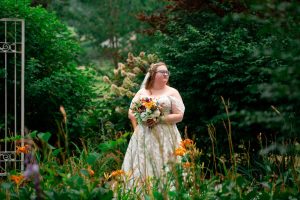 First Date
For their first date, William and Jessica met at a local bar in downtown Roanoke. Some of Jessica's friends joined them. After having a couple of drinks and a few dances, they continued to talk. The romance kindled, and the rest is history!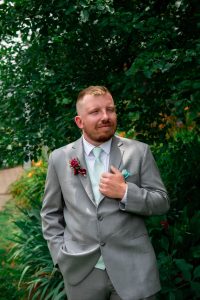 Proposal
In July 2022, William planned a surprise proposal while the couple visited family in Fairbanks, Alaska. With the ring hidden in his pocket, William asked Jessica to go hiking. Unfortunately, during the hike, Jessica fell and had to walk back up the mountain with a broken ankle. Later that evening, William proposed to Jessica at his aunt and uncle's house. Jessica said, "I ruined my engagement by doing this"! "It is a funny story we laugh about now."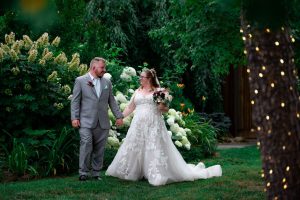 When I asked Jessica what she loved most about the groom, she said, "William makes me laugh even on my tough days, and he loves me unconditionally."
William said, "I love Jessica's fierce loyalty and unrelenting love and kindness, even on our worst days."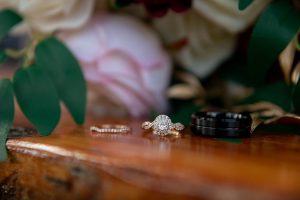 THEME
Their colors were mint green, berry, and lavender. The bride said, "We had a summer wedding and thought those colors fit perfectly."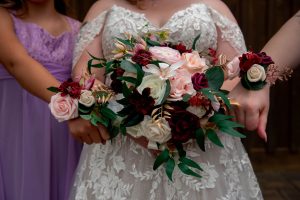 ATTIRE
Bride
Jessica's gown was ivory with sleeves draped over her arms; it was a corset floor-length dress with a long train. Jessica wore a blue ring, a simple diamond necklace, a tiara with a veil, and cowboy boots.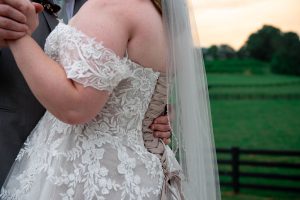 Jessica said, "Something old and borrowed was my mother's necklace, something blue, my mother's ring, something new, my wedding gown, and a penny in my shoe from my father."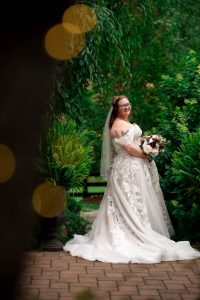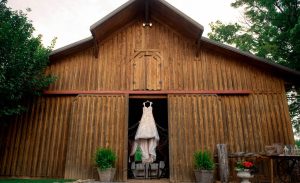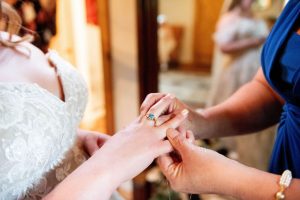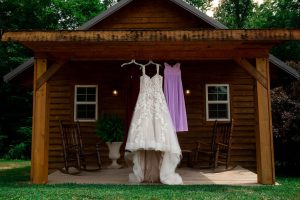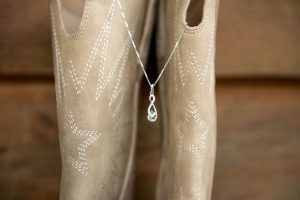 Maid-of-Honor/Flower Girl
Jessica's maid of honor wore a burgundy color dress, and her flower girl wore a lavender.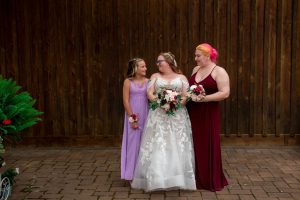 Bouquets
Because it was a summer wedding, the bride selected faux bouquets for her and the maid-of-honor. The colors were burgundy, blush pink, and white, with some greenery.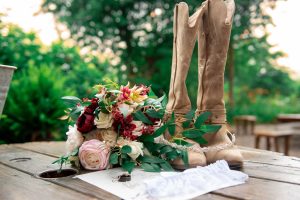 Groom
William wore a light gray suit with a white shirt, mint green vest, and tie. He wore traditional dress socks and shoes.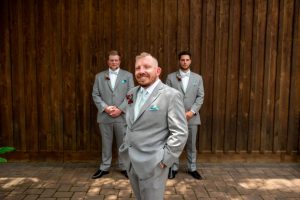 Best Man
The best man wore a light gray suit with a white shirt, mint green vest, and bowtie.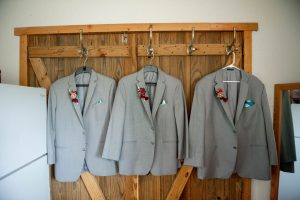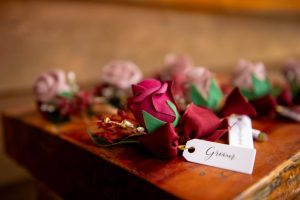 Boutonnieres
The groom and best man wore burgundy, blush pink, and white boutonnieres.
The groom, best man, and ring bearer socialized before the wedding and shared a cold adult beverage.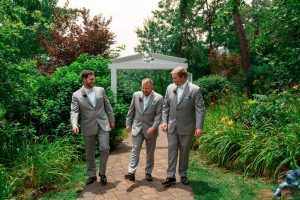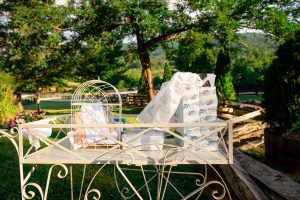 VENUE
William and Jessica said, "We knew as soon as we laid eyes on the venue it was the place for us to get married." "The venue was stunning!" "It was everything we could have imagined." "It had a beautiful mountain setting, with a massive barn for the reception." "It had terrific twinkling lights all around the property; the owners were wonderful." "They worked so incredibly hard."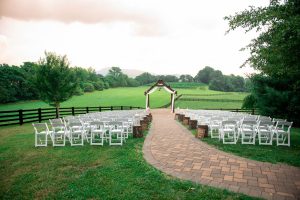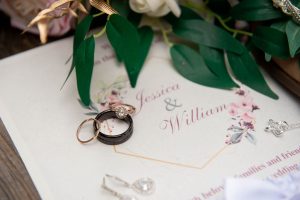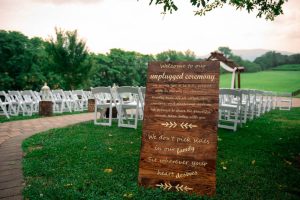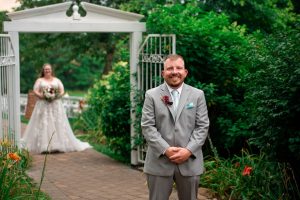 CEREMONY
The couple's wedding arch was draped with sheer white linens. A bird cage with two birds inside representing two love birds was the centerpiece of the arch. The arch was adorned with faux flowers of burgundy, white, blush pink, and greenery. William and Jessica's wedding backdrop was the beautiful Blue Ridge mountains.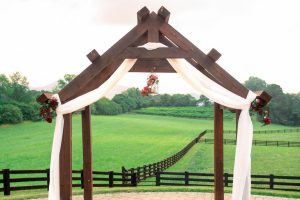 Jessica's dad escorted her down the aisle to a traditional wedding song.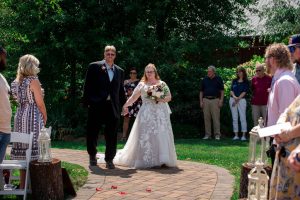 The adult ring bearer walked down the aisle to The Cop's theme song, and the guests laughed hilariously!!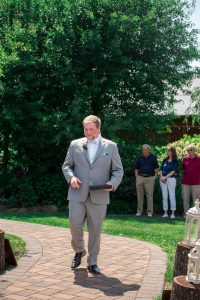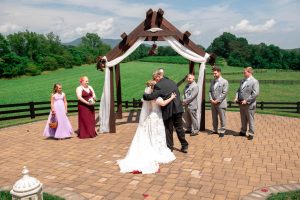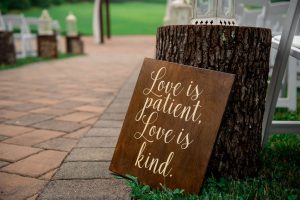 The bride's uncle officiated the wedding. William and Jessica exchanged traditional vows and rings before sealing their marriage with a kiss.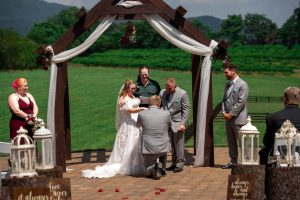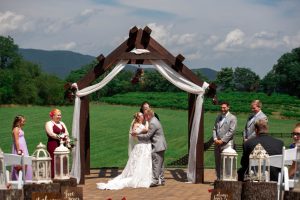 SPECIAL GUESTS
William and Jessica said, "We had guests from Fairbanks, Alaska, and Montana." "The groom had two uncles travel from New Jersey for the wedding." "They came to Virginia to help us celebrate."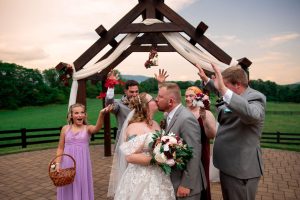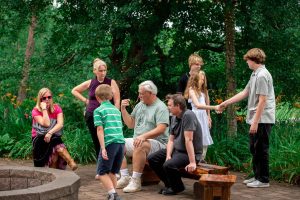 COCKTAIL HOUR
While William's and Jessica's photographer captured their family and couple portraits, their guest enjoyed a cocktail hour before the reception. The cocktail hour was held around the venue's firepit.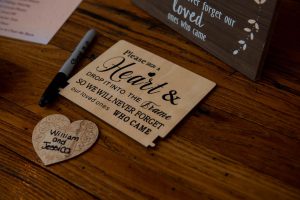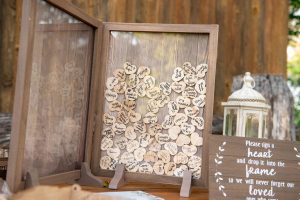 RECEPTION
William and Jessica's reception was held in the venue's barn. Crucial for the couple was the table set up to remember the groom's parents, who passed away two years before the wedding.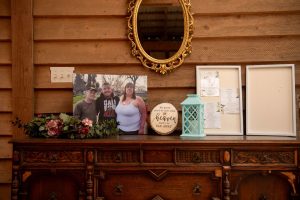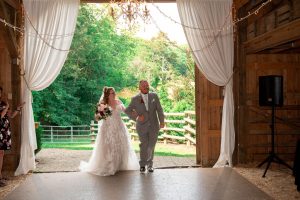 DJ Mike Hinkley, cousin of the bride, emceed the couple's entrance to the song "Beautiful Crazy" by Luke Combs. William and Jessica's first dance was to the lyrics: "Lady May" by Tyler Childers.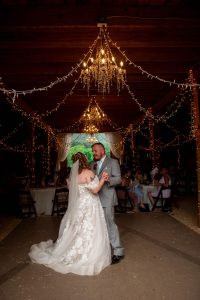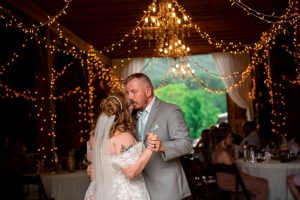 Cracker Barrel catered the couple's wedding and served homestyle chicken, mac and cheese, green beans, mashed potatoes, and ham.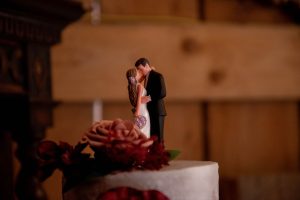 CAKE/DESSERT BAR
Jessica said: "Keri's Kreations provided our cake and cupcake bar." "The cake was a simple vanilla cake with flowers." "The cupcakes were fruit-themed and filled with just a bit of whiskey." "They were so delicious and were a big hit with guests."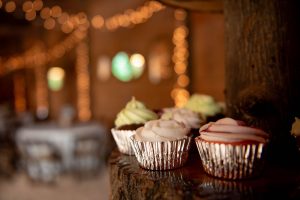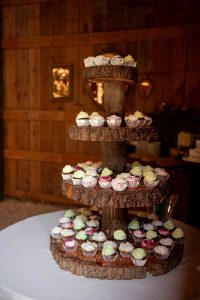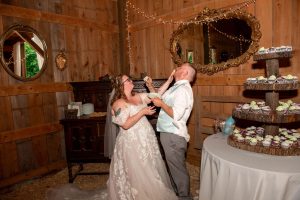 FAVORS
The favors were homemade soaps by Samantha Sluss, created by the owner of Faithful Hobby Acers. Jessica said. "They were made of oat milk and honey and smelled amazing." "Everyone loved the wedding favors and took multiple soaps home."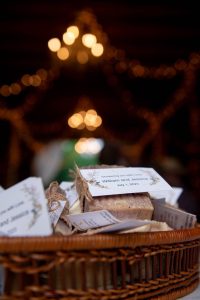 WEDDING NIGHT LODGING
The couple left their reception immediately after their sparkler send-off and headed to Baltimore, Maryland; they found lodging for the night along the way. The following day, they boarded their Carnival Cruise ship.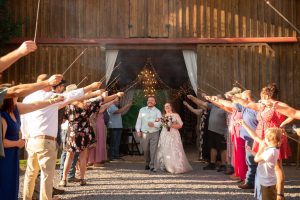 HONEYMOON
The couple enjoyed a honeymoon onboard a Carnival Cruise to the Bahamas.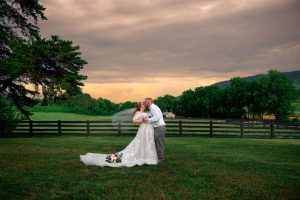 ADVICE TO ENGAGED COUPLES
"Make sure you communicate with your partner." "Communication is vital in every relationship". "If you love each other and fight for each other, you can always work things out." Talk, DON'T yell."
"Outdoor weddings in July are sweltering, hot"!!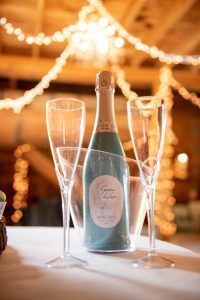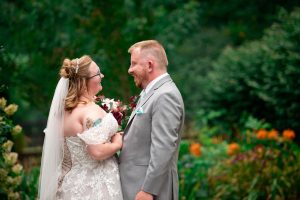 WHAT THE GROOM LIKE MOST ABOUT THE WEDDING
William said, "I married the love of my life in front of our family and friends at a gorgeous venue."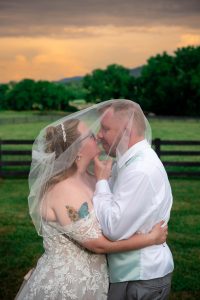 VENDORS
Venue: Diamond V Farms – @DiamondVFarm
Photographer: Kassie Reese – @Kreese_Photography
Officiant: Michael Dennis
Gown: New Fangled Bride, Salem, VA – @NewFangledBride
Veil: New Fangled Bride, Salem, VA – @NewFangledBride
Shoes: Marshalls
Hair: Ultimate Touch Salon – @Ultimatetouchsalon
Maid-of-Honor Dress: David's Bridal, Roanoke, VA
Groom's Attire: Men's Wearhouse, Roanoke, VA
Best Man Attire: Men's Wearhouse, Roanoke, VA
Invitations: Canva
Flowers: Amazon and Hobby Lobby
Catering: Cracker Barrel
Music/DJ: Mike Hinkley
Cake: Kerri Kreations
Favors: Faithful Hobby Acres
Honeymoon: Carnival Cruise
If you are planning a wedding in Roanoke Virginia, Richmond Virginia, Fredericksburg/Northern Virginia, The Shenandoah Valley, Coastal Virginia or in Charlottesville/ Lynchburg Va. we can help with your wedding planning and ideas.