Virginia Bride features weddings weekly here on the blog. Being featured in the blog does not necessarily mean they are featured in the print magazine.
THE FACTS:
This wedding is currently featured in the fall 2023 issue of Virginia Bride.
THE BRIDE: Katherine Farley McWane, goes by Katherine, Current age: 28, Occupation: Director of Major Gifts for Virginia Episcopal School
THE GROOM: Rodney Carson Pitts, goes by Carson, Current age: 29, Occupation: Director of Admissions & Outreach for Momentum Recovery
THE DATE: May 14, 2022
THE LOCATION: Lynchburg, Virginia – St. John's Episcopal Church & Boonsboro Country Club
THE NUMBER OF GUESTS: 400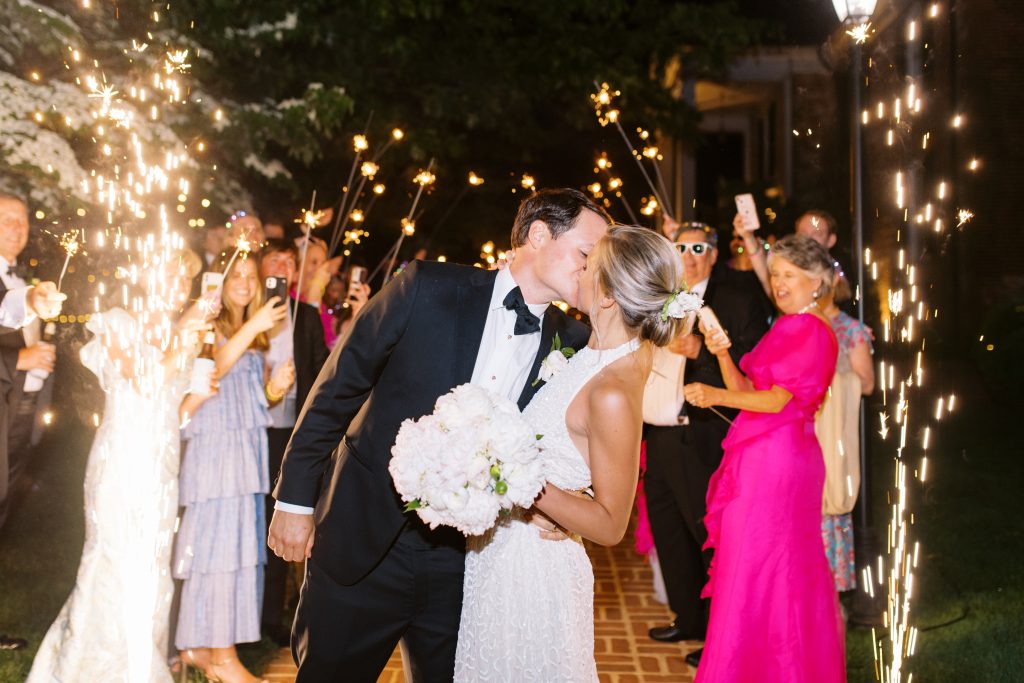 When Katherine and Carson were ready to say their "I dos," they hired Schuyler Somers at A Little Party Events. Katherine said, "I cannot recommend Schuyler and her team enough. Schuyler planned both our rehearsal dinner and wedding. Her incredible team executed the beautiful weekend perfectly, always anticipating our needs, thinking ahead, and making it as stress-free as possible. Schuyler's planning, experience, organization, relationships with vendors, and creativity were instrumental in making our wedding weekend as special as it was. Throughout the planning process, she was constantly coming up with great ideas to create a unique wedding weekend that felt very personal to us. We truly could not have done it without her."
The couple chose a unique approach to their invitations. Katherine said, "Meredith Owens, a local Wilmington artist and owner of Design A La Mere, created a beautiful envelope liner for our wedding invitation that served as inspiration throughout the planning process. We loved the idea of intentionally tying wedding elements to the envelope liner, which provided guests with a sneak peek of what to expect during the wedding weekend."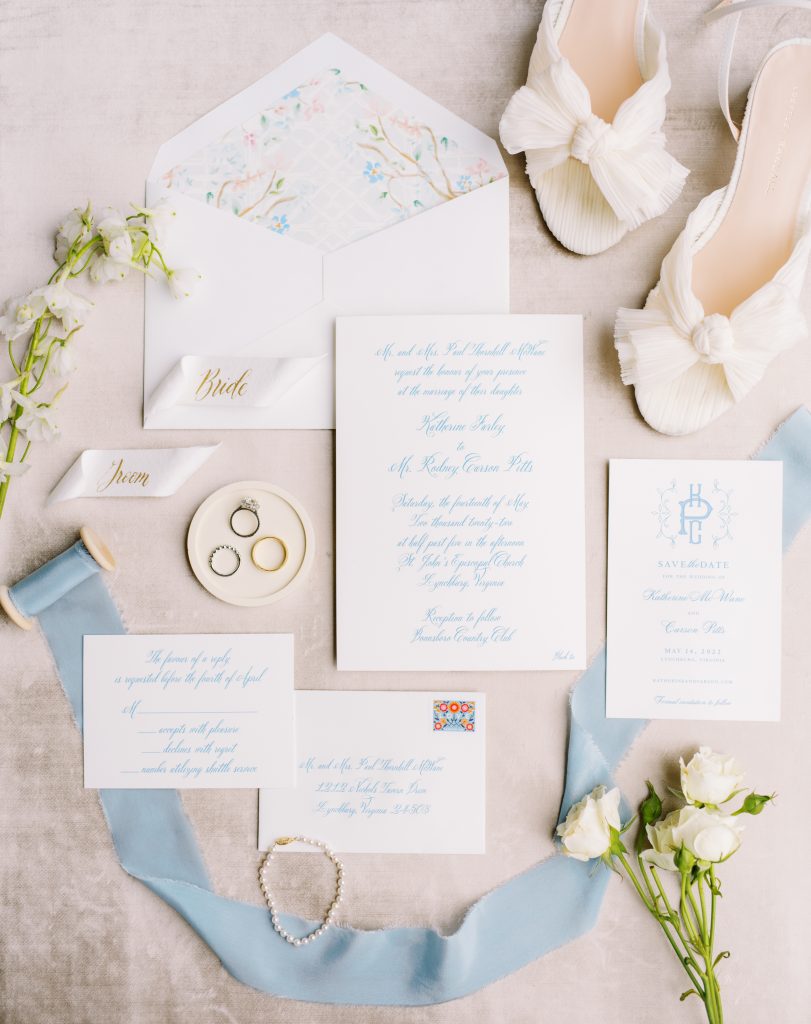 The envelope liner used a light blue background with a white trellis detail and a variety of blush, white, blue, and light green flowers. The couple used this color scheme as a guide for the flowers, bouquets, paper products, reception decor, and wedding cake. Katherine noted, "Since Carson and I call the North Carolina coast home, and it is so close to our hearts, Schuyler helped us intentionally incorporate subtle coastal elements throughout the weekend, including rattan lanterns throughout the reception space, light, linen, soft seating, and Wilmington-themed cocktails and food stations."
Katherine and Carson loved their wedding planning team. Katherine said, "I loved working with Meredith, owner of Design A La Mere, and Tess Craddock at The Farm Basket in Lynchburg to create our paper products for the wedding. Tess was incredibly helpful in planning both the save the date and wedding invitations, which were designed and printed by Crane. For the save the dates, we used a painting of Boonsboro Country Club that has been in my family's home for over 20 years as the envelope liner.
Additionally, the couple chose a small, rectangular card with a light blue engraved script and included their wedding crest at the top. For the wedding invitation, they used the envelope liner designed by Meredith and paired it with a formal invitation with a light blue engraved script. Katherine said, "Our goal was to incorporate both traditional and modern elements into the paper products, which aligned well with our entire wedding weekend."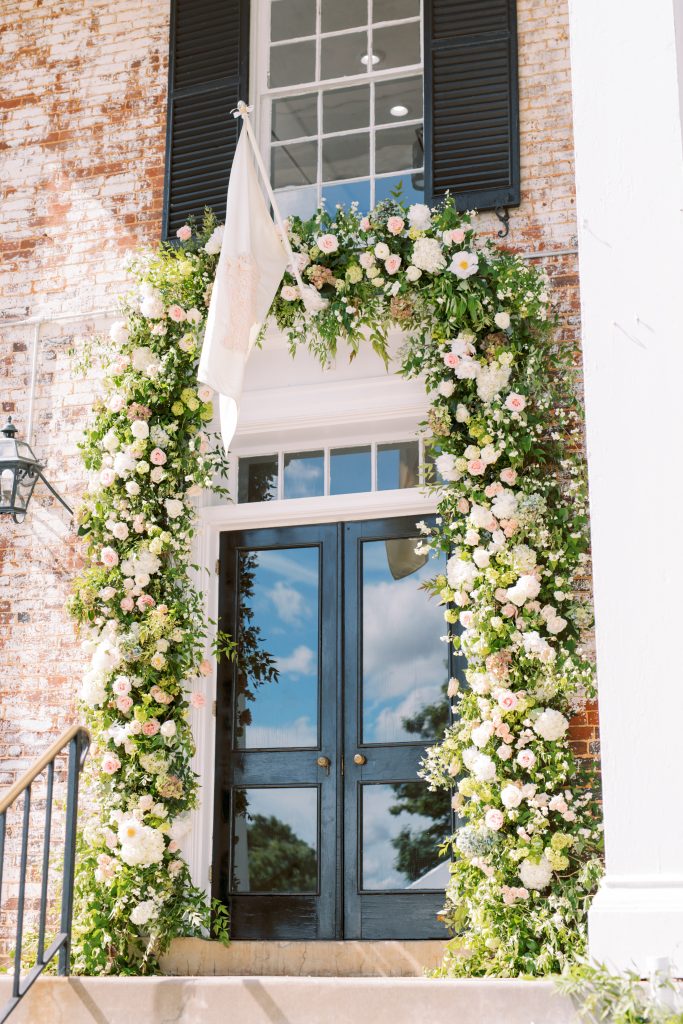 Katherine wore a Maggie Sottero classic Mikado ballgown, which she found at Ashley Grace Bridal in her hometown. Katherine wrote, "After picking up my dress, I met with Carissa at the Gilded Thimble. Carissa is incredibly talented, working with me over the course of five fittings and making custom alterations to bring my dream dress to life. I cannot recommend her enough."
Regarding her gown for this most important occasion, Katherine said, "Due to the modern bow and button detail to the hemline and long train on my gown, I chose a plain tulle, cathedral-length veil. For my shoes, I wore the Loeffler Randall Dahlia heel in ivory." Her mom helped her choose the jewelry for the day from the family collection.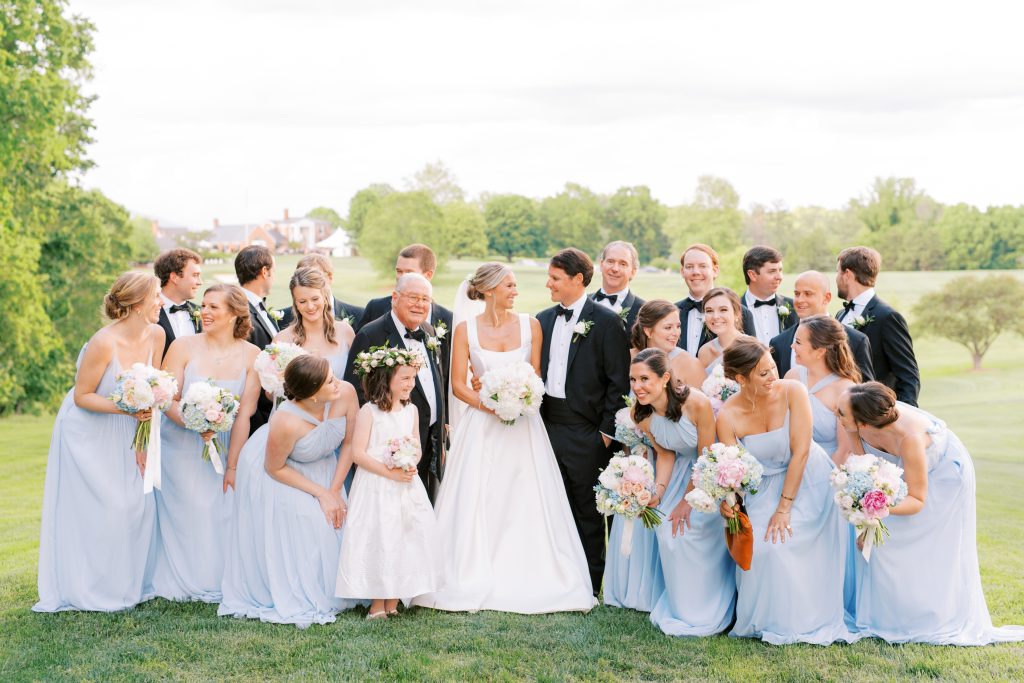 Katherine said, "I wore a pearl bracelet from my paternal grandfather and my maternal grandmother's sapphire wedding band. On my wedding day, my dad also gave me a beautiful pair of diamond earrings in the shape of flower buds to wear."
The ceremony took place at St. John's Episcopal Church. Katherine had dreamed of this for her wedding from a young age. Her parents and grandparents both married here, as well as multiple other family members. Katherine was baptized and confirmed here as well. She said, "It is a church that has meant so much to my family and me. I couldn't have imagined a better place for us to say, 'I do.'"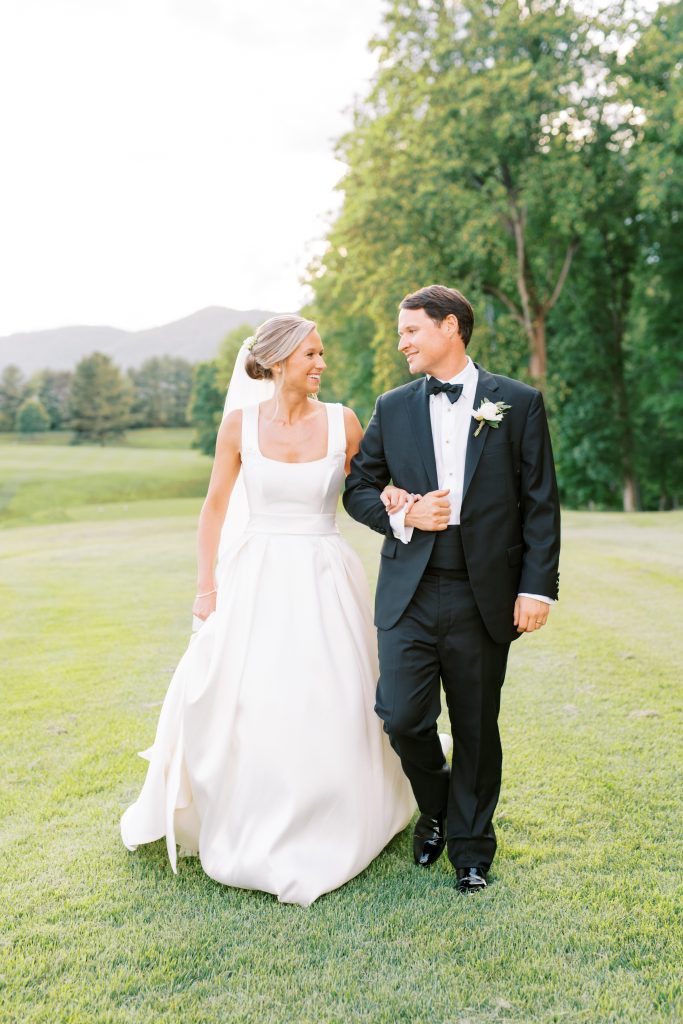 A special photo moment from the day included the couple's exit from the church. Katherine said, "As Carson and I were leaving the church, Anna captured a photo of us smiling and walking down the back steps, which turned out to be almost an exact replica of a photo taken of my grandparents leaving the church on their wedding day over 60 years earlier. This photo is one of our favorites from the wedding and so special to us."
Katherine and Carson chose the Boonsboro Country Club for their reception venue. The place holds special meaning for Katherine's family, as this is where her parents held their wedding reception. Consultant Schuyler laid out the reception space, utilizing the entire club and creating an indoor/outdoor reception where guests could enjoy the beautiful scenery and location.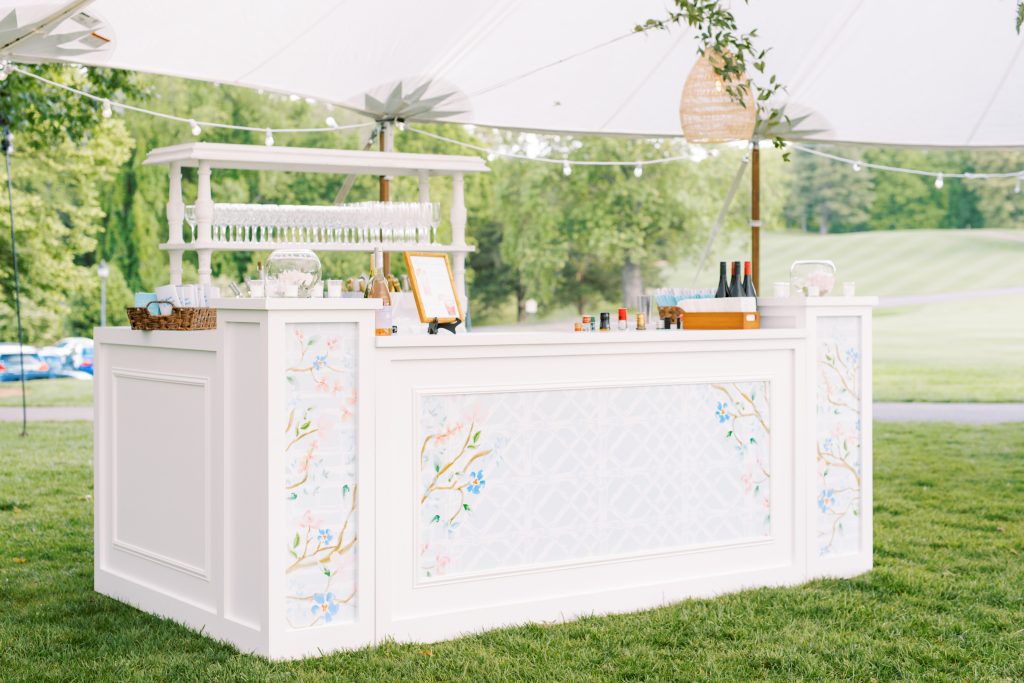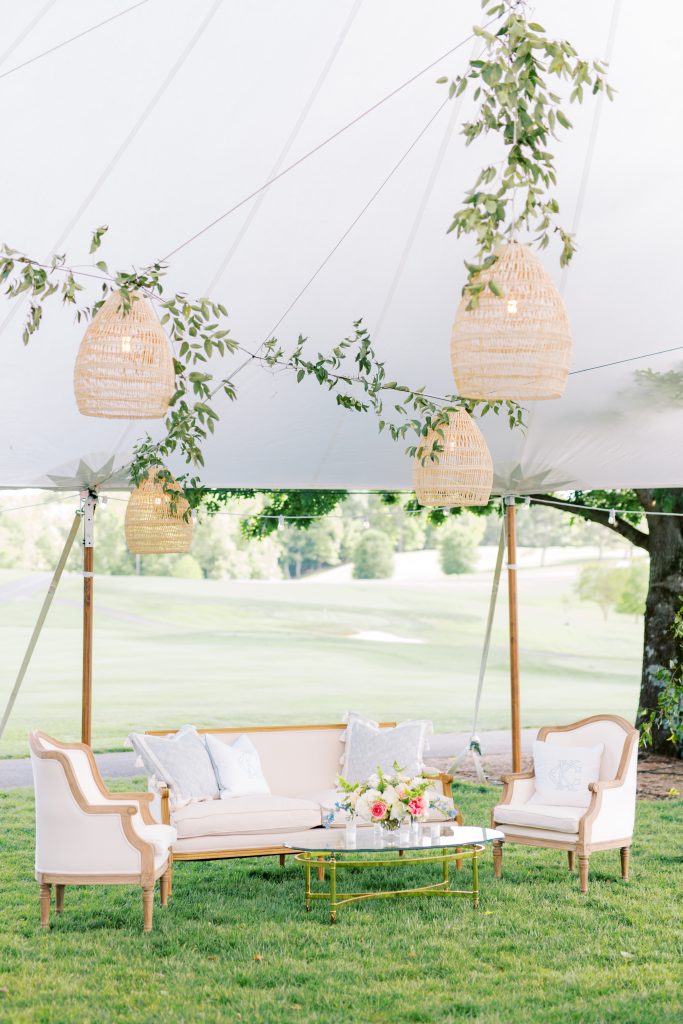 A particularly special touch for their wedding included a unique painting. Katherine says, "My mother-in-law had one of our engagement photos turned into a watercolor painting that was used as the envelope liner for our rehearsal dinner invitation. At the beginning of our wedding weekend, she and my father-in-law gave us the framed original watercolor. We hung it in our family room and look at it every day as a special reminder of our wedding weekend and wonderful family."
Katherine offers these thoughts for fellow brides planning their big day. "Take time throughout the weekend to pause and enjoy the moment. Carson and I made a point of doing this, and some of my favorite memories from the weekend came from the short moments where we took a moment to pause and take it all in. There is truly nothing like looking out during your reception and seeing the people you love the most all in one room and all there to celebrate with you. We will never forget those moments and the overwhelming feeling of gratitude."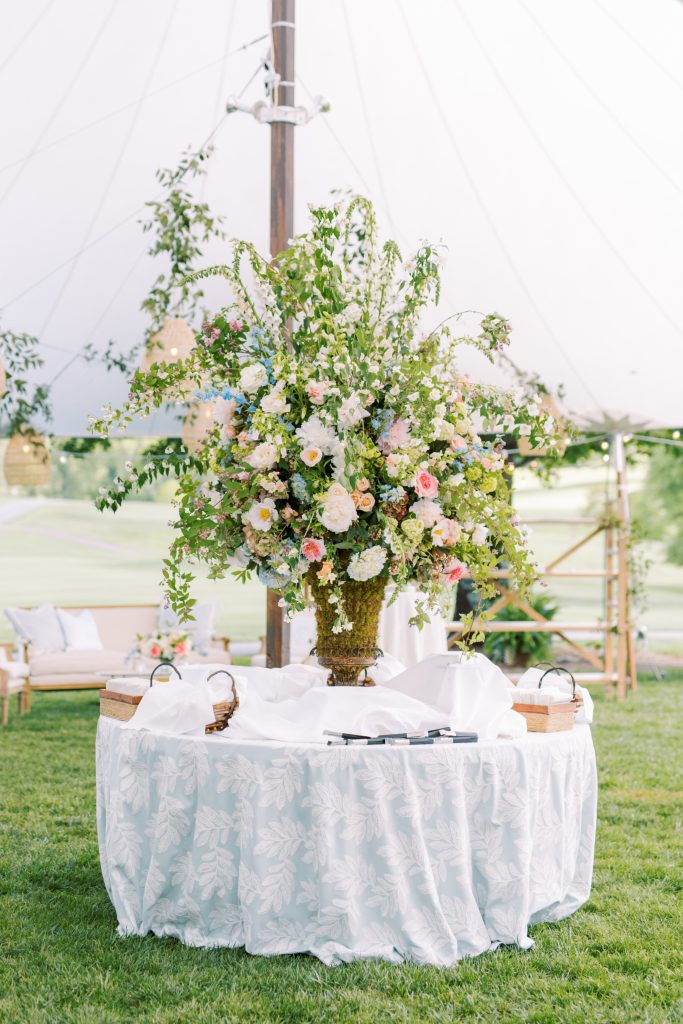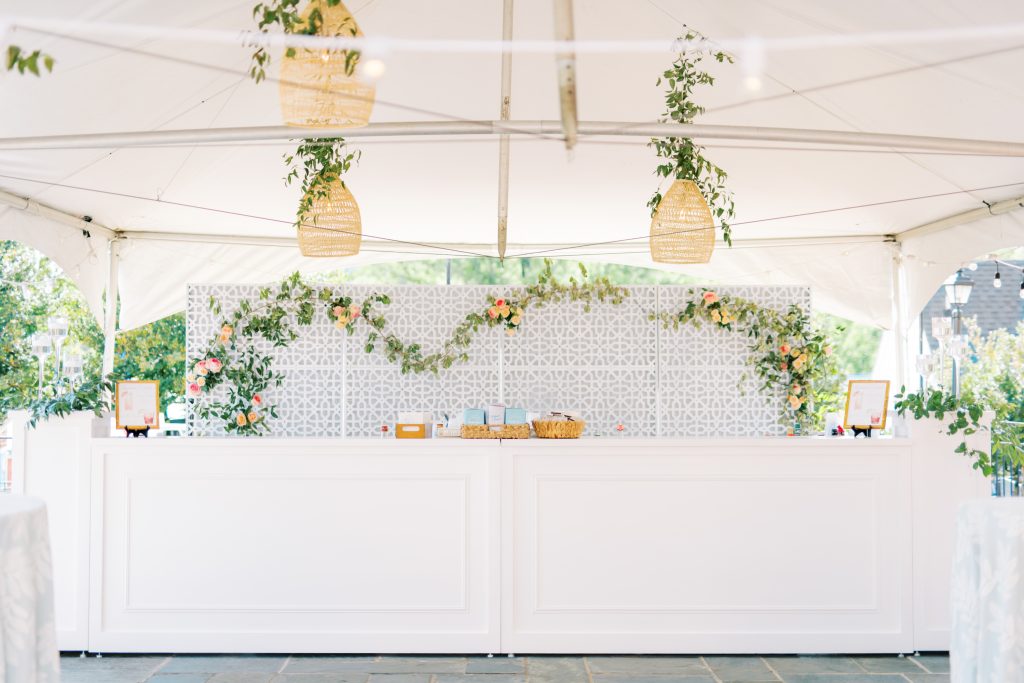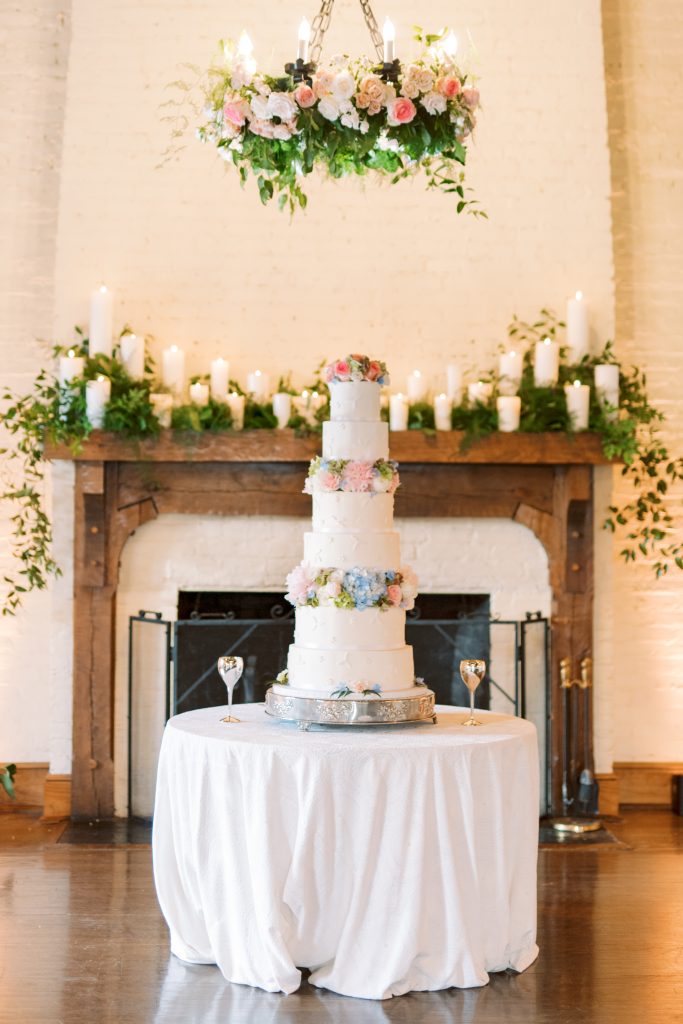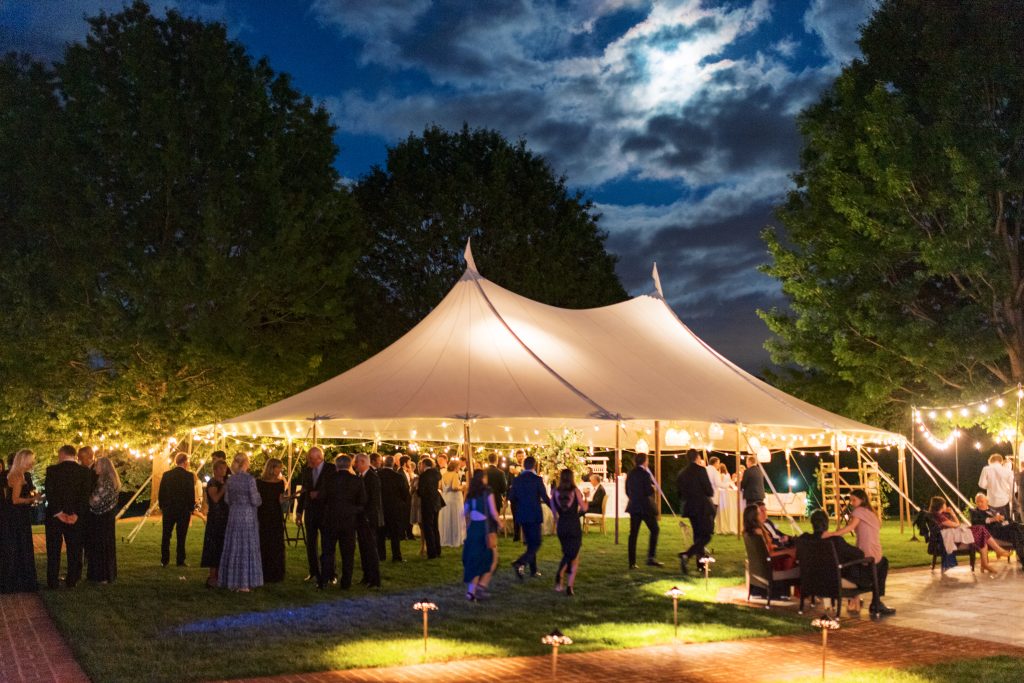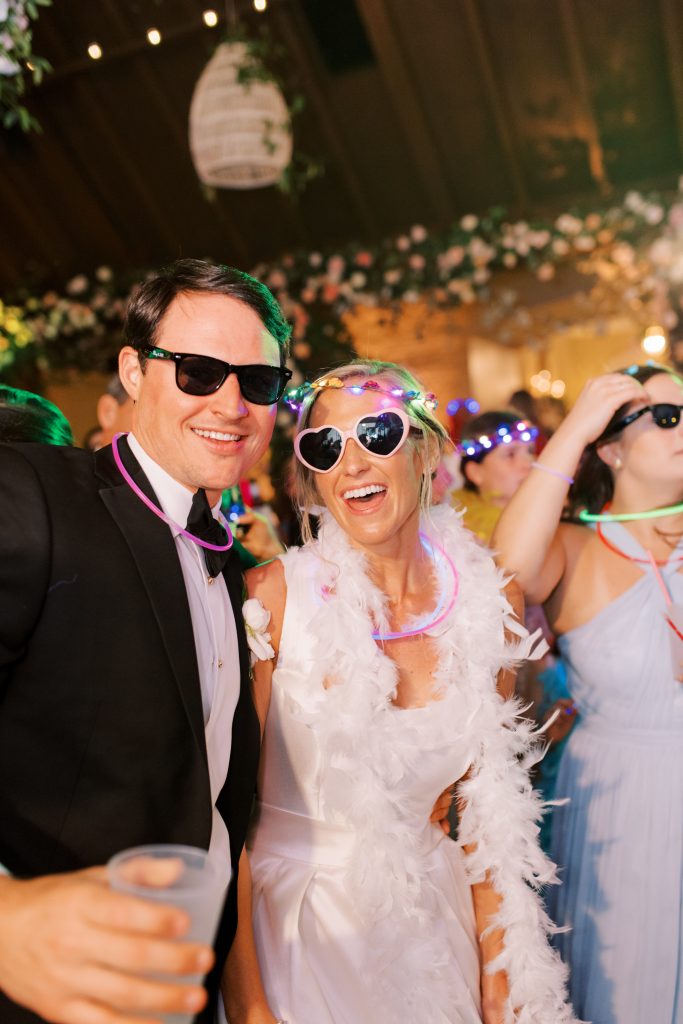 INGREDIENTS LIST:
CEREMONY SITE – St. John's Episcopal Church, Lynchburg, Virginia
RECEPTION SITE – Boonsboro Country Club, Lynchburg, Virginia
PHOTOGRAPHY – Anna Kardos, Richmond, Virginia
VIDEOGRAPHY – Brandi Hall, Iron & Ivy Films, Forest, Virginia
CONSULTANT – Schuyler Somers, A Little Party Events, (434) 907-3294, Lynchburg, Virginia
OFFICIANT – Reverend Chris Rousell and Reverend Bill Watson
GOWN— Maggie Sottero, Ashley Grace Bridal, Forest, Virginia
VEIL – Ashley Grace Bridal, (434) 534-3490, Forest, Virginia
SHOES – Loeffler Randall
HAIR – Jessica Comiskey, (714) 394-3089, Forest, Virginia
MAKEUP – Summer Hubbard, (434) 221-8957, Lynchburg, Virginia
BRIDESMAID DRESSES – Adrianna Papell
FORMALWEAR – Fairclough & Co., (704) 331-0001, Charlotte, North Carolina
INVITATIONS – The Farm Basket, (434) 528-1107, Lynchburg, Virginia
FLOWERS – Meg and Beverley Laughon
RENTAL EQUIPMENT – Happily Ever After Event Rental, Overstreet Rentals, BBJ & La Tavola, and Carolina LaRocca Events
CATERING – Boonsboro Country Club and Avenue Foods, Lynchburg, Virginia
MUSIC Ceremony and Reception –
Ceremony: Peggy Howell, Organist, and Mary Dalton, Cello Soloist
Reception: Sleeping Booty, East Coast Entertainment, (804) 419-6704, Raleigh, North Carolina
ENTERTAINMENT – Level Up Entertainment
CAKE – Angela Hudson, Cakes by Angela, (434) 473-3348, Lynchburg, Virginia
FAVORS – Peakland Catering, Lynchburg, Virginia, Ledgewood Fine Stationary, Design a la Mere, Etsy
TRANSPORTATION – A Goff Limo & Charter Bus, (434) 953-1393, Lynchburg, Virginia
ACCOMMODATIONS – The Virginian Hotel, The Craddock Terry Hotel, and The Lynchburg Grand
HONEYMOON – The Abaco Club at Winding Bay
If you are planning a wedding in Roanoke Virginia, Richmond Virginia, Fredericksburg/Northern Virginia, The Shenandoah Valley, Coastal Virginia or in Charlottesville/ Lynchburg Va. we can help with your wedding planning and ideas.