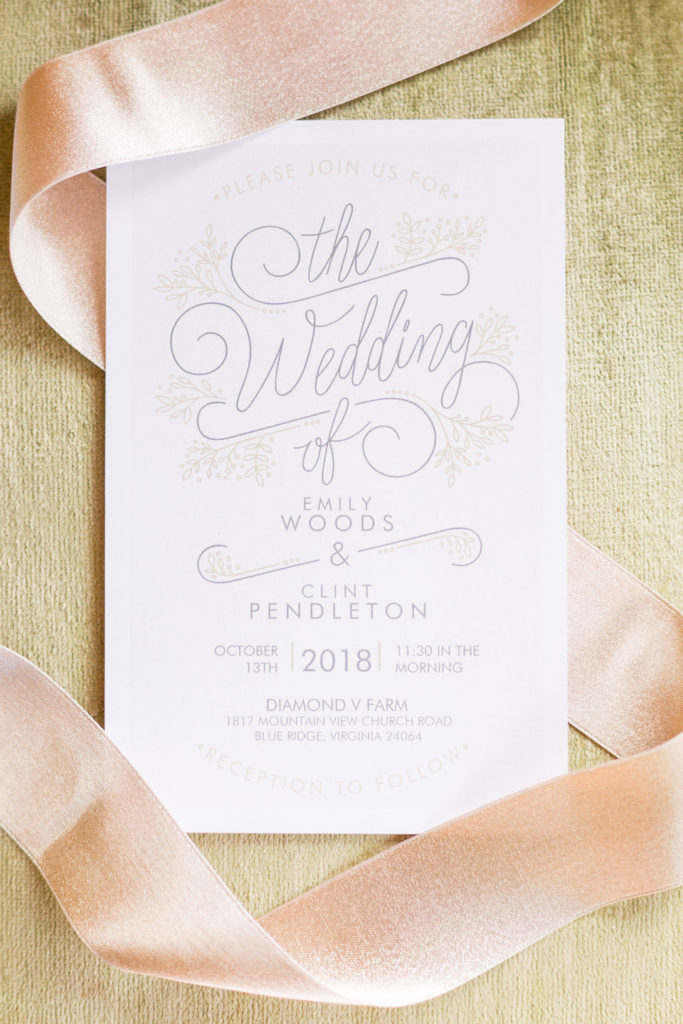 In October of last year, Emily was set to marry Clint at the Diamond V Farm in Blue Ridge, VA.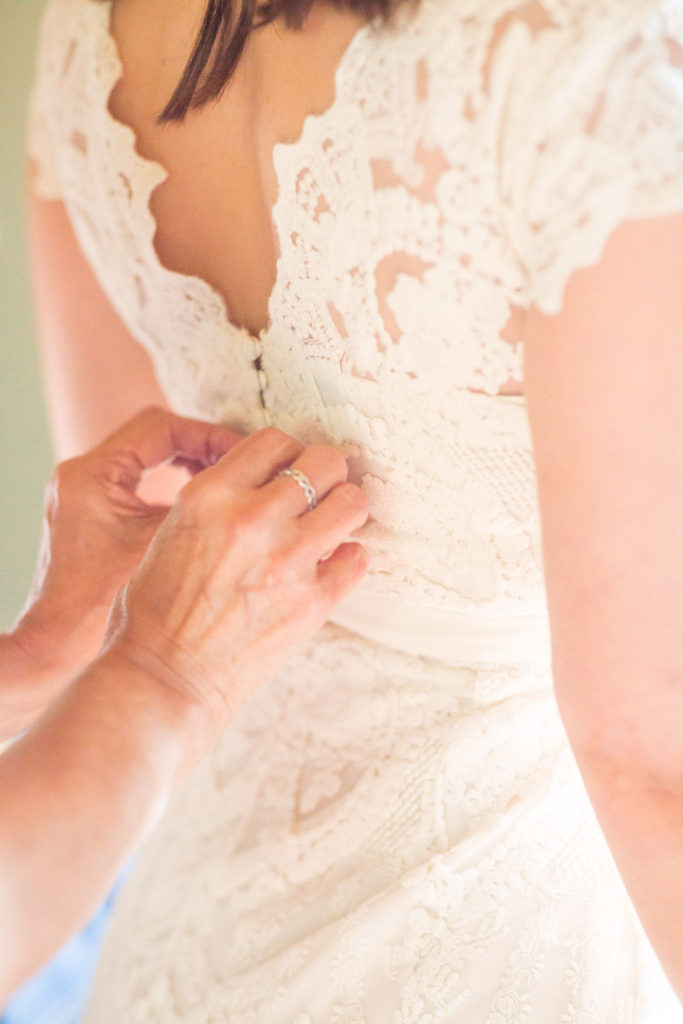 The pair met on a dating site and were one another's "top matches." They dated for 4 years before Clint popped the question a 12-mile day hike during a mid-summer camping trip.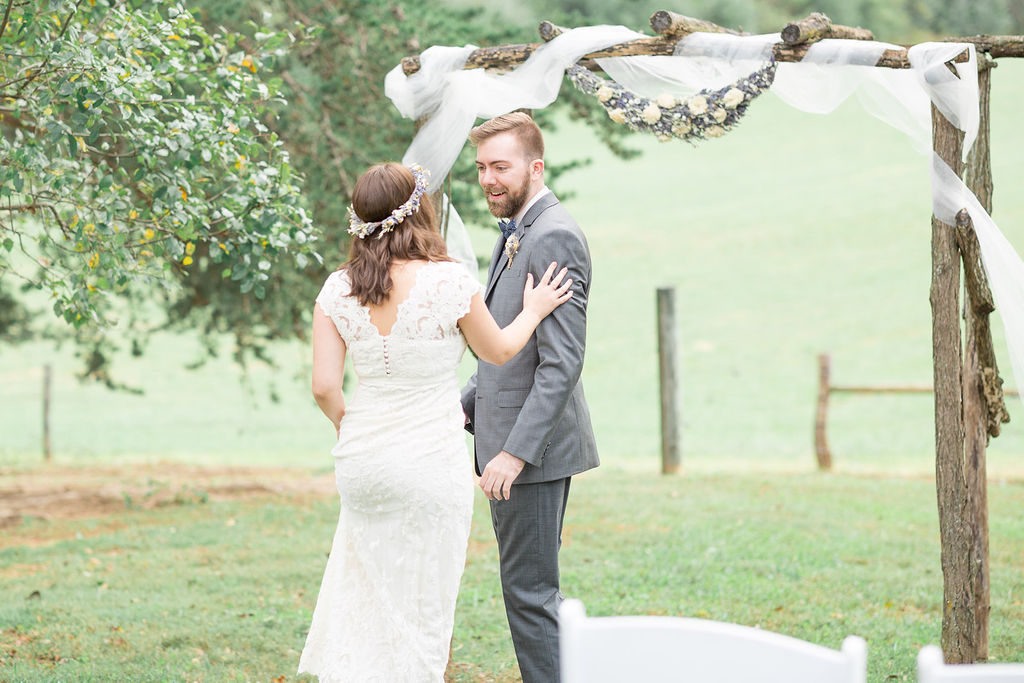 They began their big day with a first look out on the farm. "I am so glad that we made that decision," Emily recalled. "When I saw Clint I felt much calmer, and he says that it helped him get rid of his jitters as well. It gave us a private moment to be mindful of the significance the day held for us and to take each other in before we had the ceremony."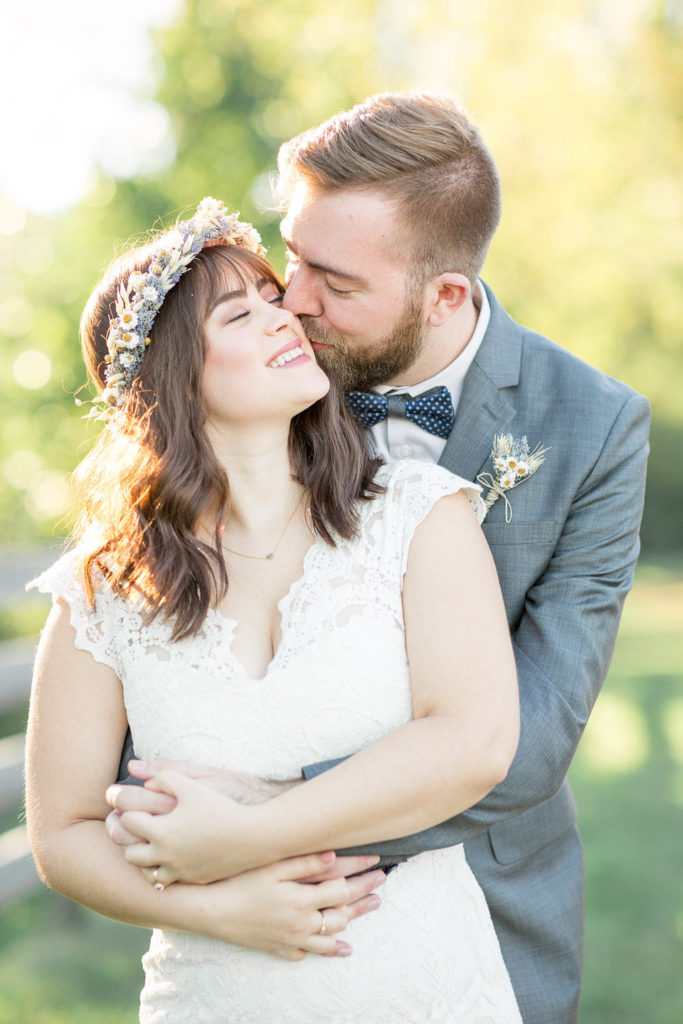 Emily looked gorgeous in her lace dress from Modcloth which was a perfect fit and needed no alterations (lucky lady!). We also love her flower crown!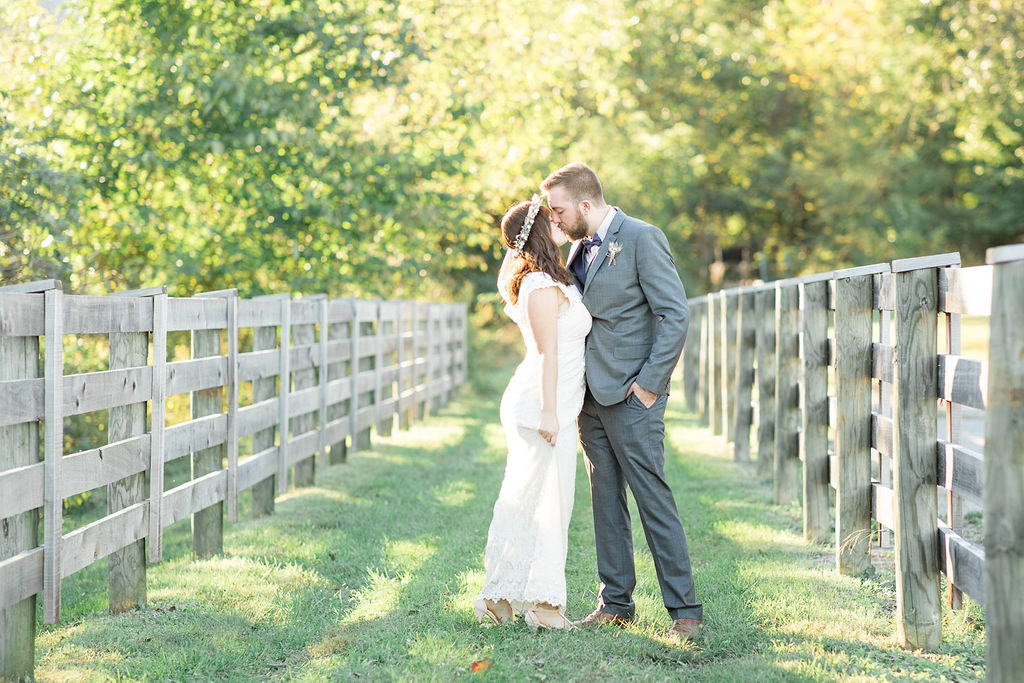 Up next, it was time for the ceremony!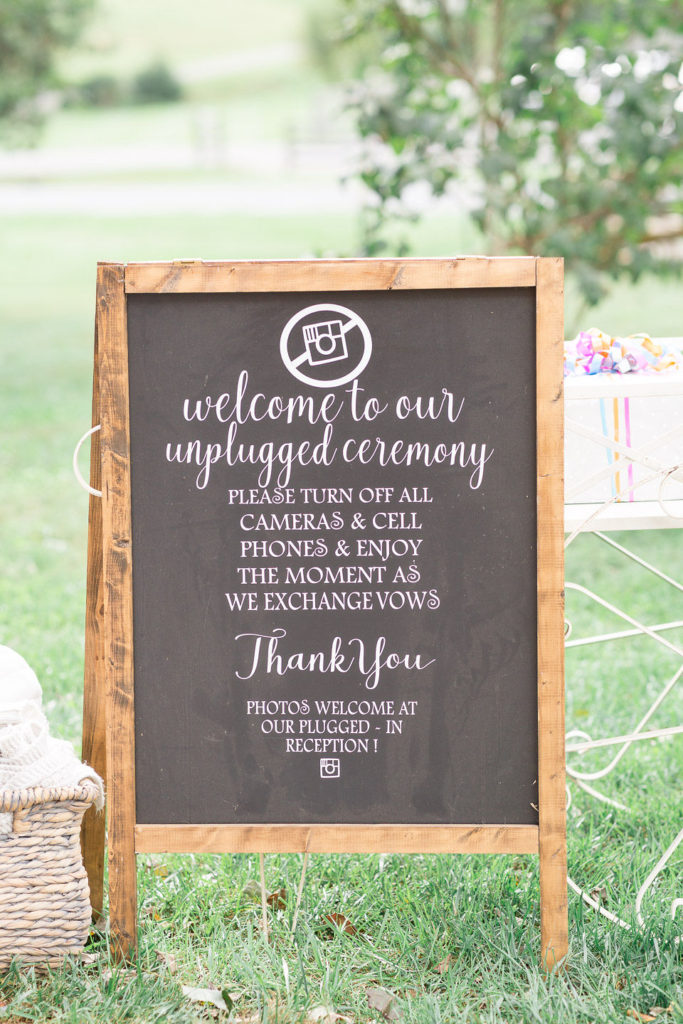 The decor combined vintage romance with Emily's love for nature.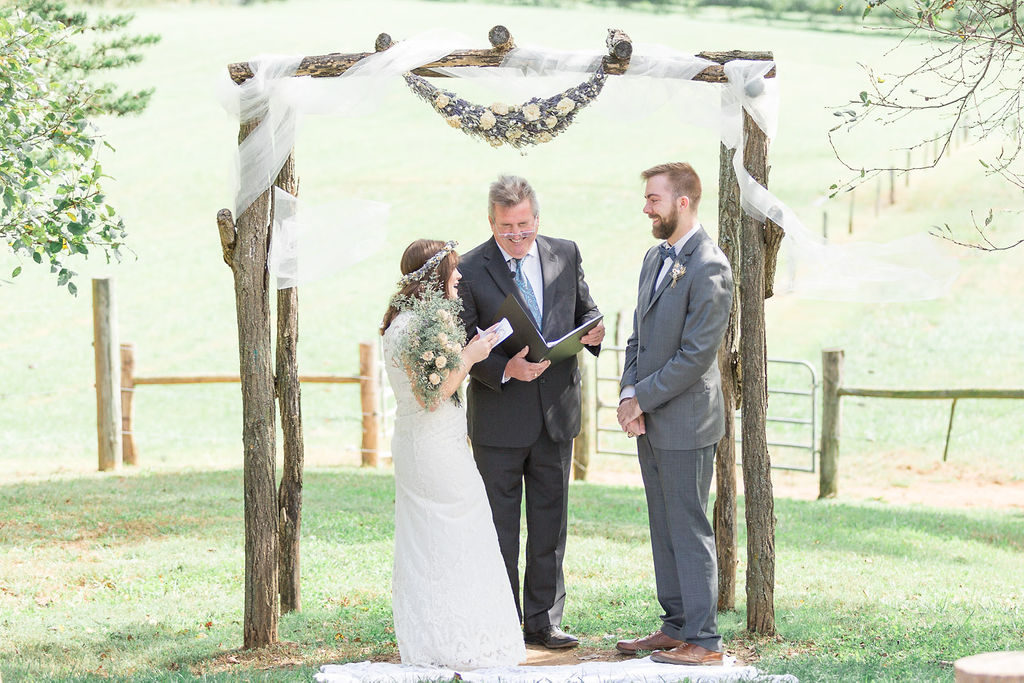 They said their vows and were pronounced man and wife!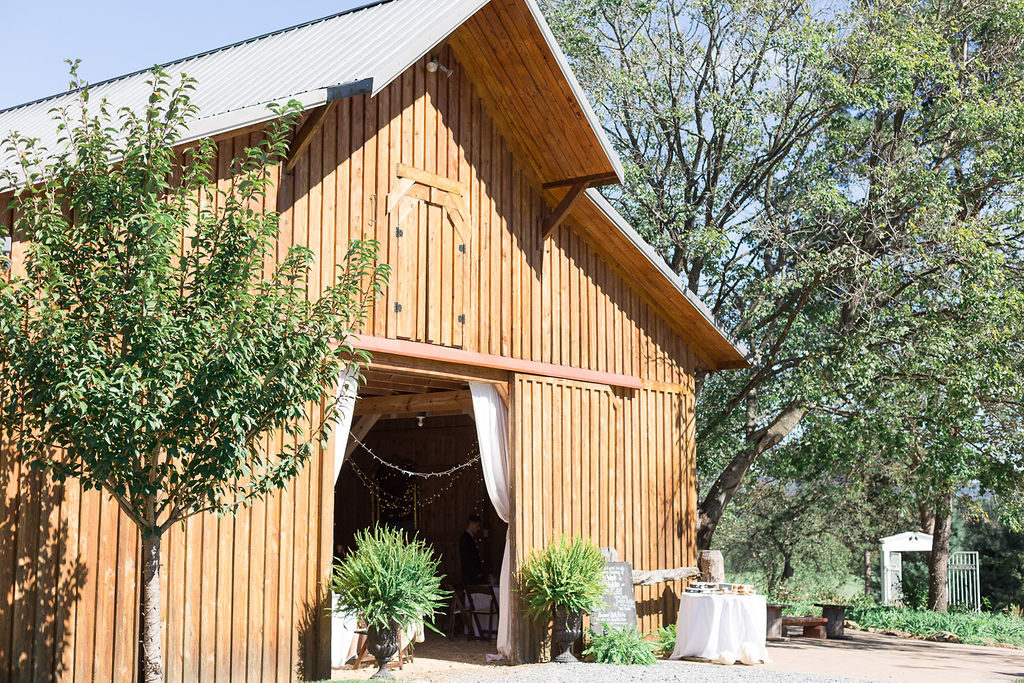 The reception took place inside of the properties barn.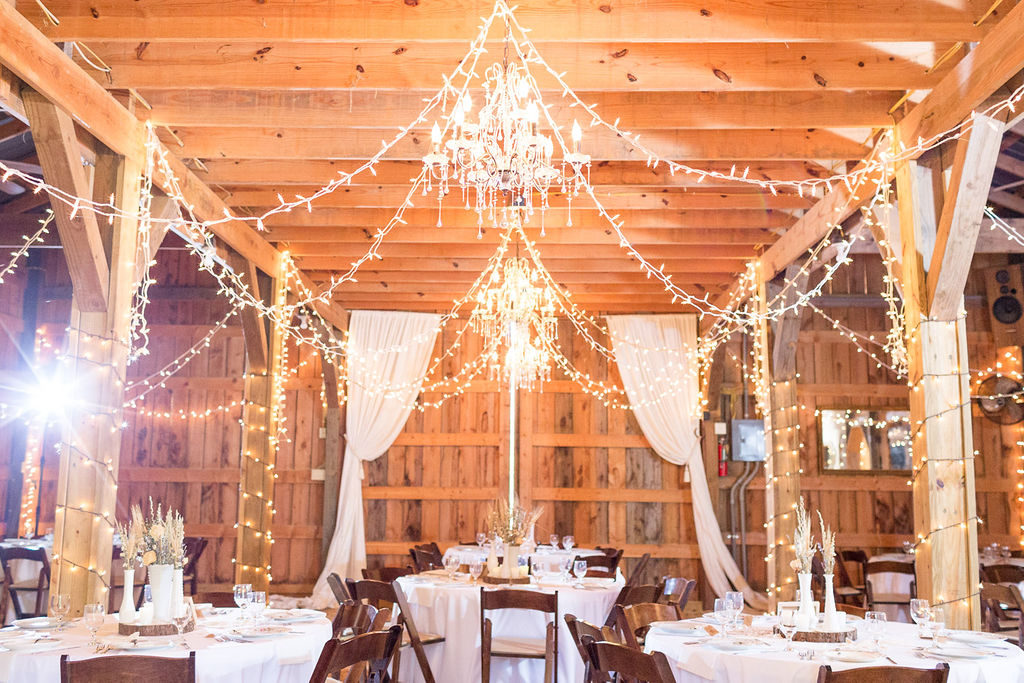 How stunning?!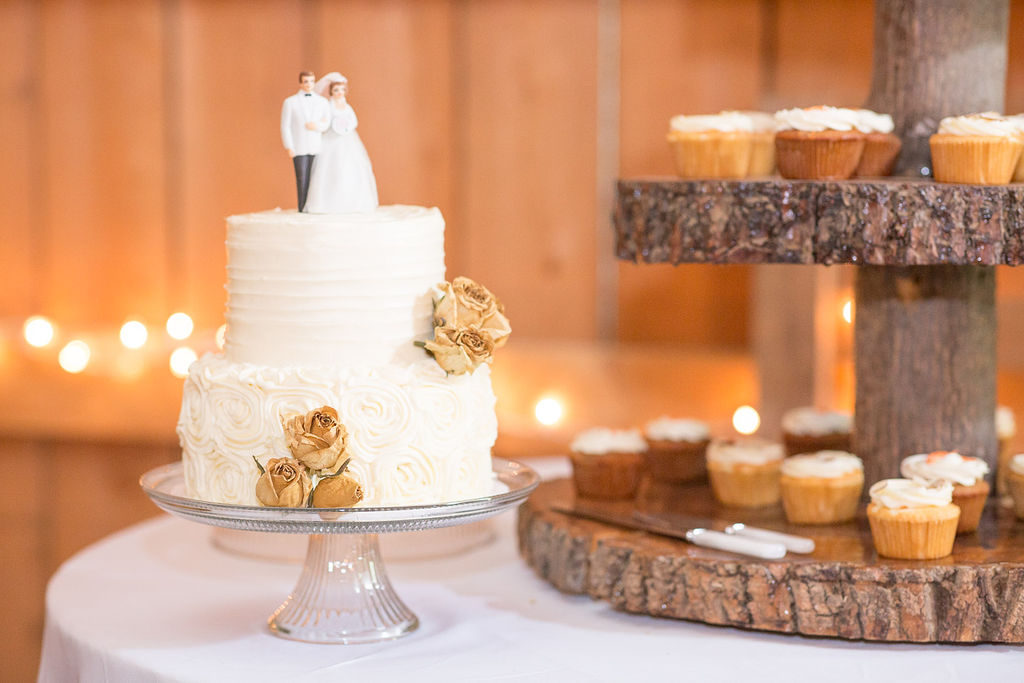 Congratulations Emily and Clint!
From the Bride:
What was your favorite detail from the day? "When I think of my favorite detail from the day, what comes to mind is the intimacy we had. We tried to keep our wedding as small as possible, and ended up with around 65 of our immediate family members and closest friends in attendance. One of my grandmas made the favors and some desserts. Lots of family and friends pitched in to help us set up and take down supplies the day before and the day of the wedding. Our best friend read a poem at the wedding. We wrote our own vows. The pastor who married us was my best friend's dad who I have known since I was thirteen. Otis was in attendance. I made "family trees" with wedding photographs of our parents and grandparents pinned to branches. We had a morning ceremony and afternoon reception, so a lot of our close family and friends came out for dinner and drinks that evening. Another thing I loved was the opportunity to support so many local businesses. Local photographer, venue, catering company, wedding cake bakery, violinist, antiques from local businesses, our entire beer and wine list was from local breweries/wineries, and even some of the florals I purchased on Etsy came from Blacksburg (https://etsy.me/2tCRA6P) and my bouquet came from Surry. It was very important to us to showcase our home!"
What advice would you give to a bride to be? "As for advice, it would be to slow down and breathe. Take the time to enjoy and appreciate all the steps of the process because it's all so special. Understand things may go wrong and there may be some stress and anxiety, but everything will come together in the end. My husband went from saying "I don't know how we're going to pull this off" to "I can't believe we planned this perfect day." All of your hard work will pay off!"
Photos by Lindsey Rickards Photography
Florals by Paula Jean's Garden
Catering by Hazelbea Catering
Cake by Willow Pond Bakery
Dress by Mod Cloth
Music by Avans music
Want to be featured on this weekly online blog? Just email us! Want to be featured in our printed magazine? Just email us! **Being on this online blog does not hinder or guarantee a wedding will be in the printed magazine, both are up to the discretion of the publisher, Angeline Frame. If your wedding has been chosen for print, she will reach out to you directly.** Thank you for following Virginia Bride Magazine! Stay tuned for more weddings and the best Bridal Shows in Virginia!