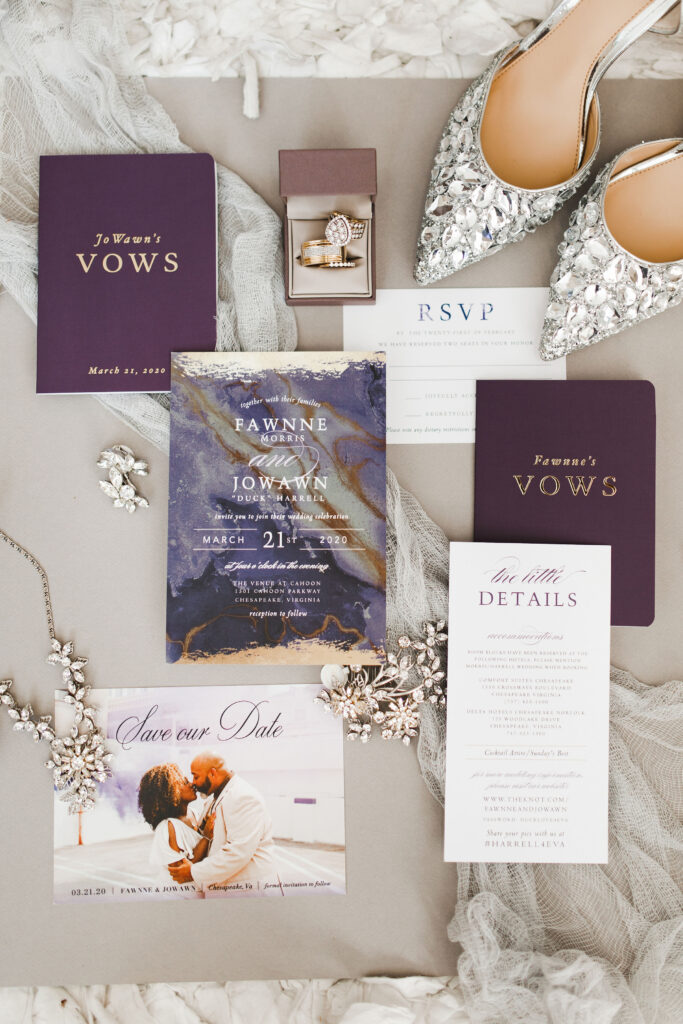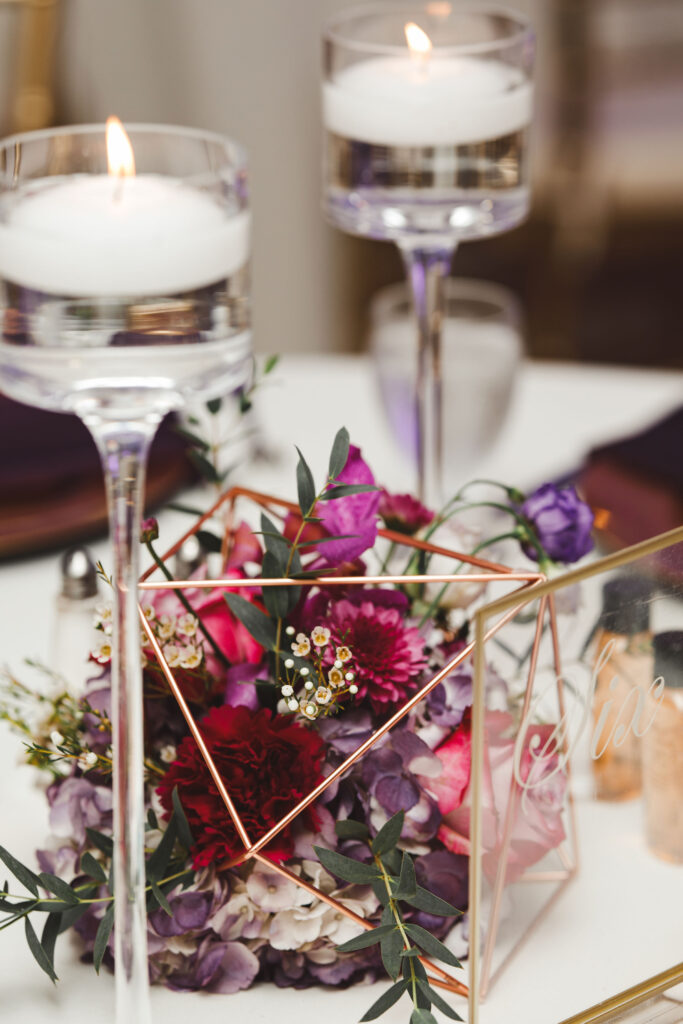 Our beautiful Virginia weddings story this week comes from Fawnne and JoWawn of Virginia Beach, VA.
"On our 1st date we decided to meet for drinks at a bar in downtown Norfolk on a Friday night, our connection and great conversation lead to a 2nd date the next night at the same location. This was the start of our good times together."
"We are a funny, loving, hardworking motivated couple whose love story began online but really sparked when we met at a party. Fawnne was at the party with a friend who confirmed that JoWann was a 'good guy'. Sometimes just having someone you 'trust' confirms what you were feeling all along is all it takes for you to open your heart. When Fawnne's friend sealed the deal and with that stamp of approval, we began our romance. We have been together for 6 years now and enjoy everything from going out to eat, watching action movies, bowling and any adventure we can share together."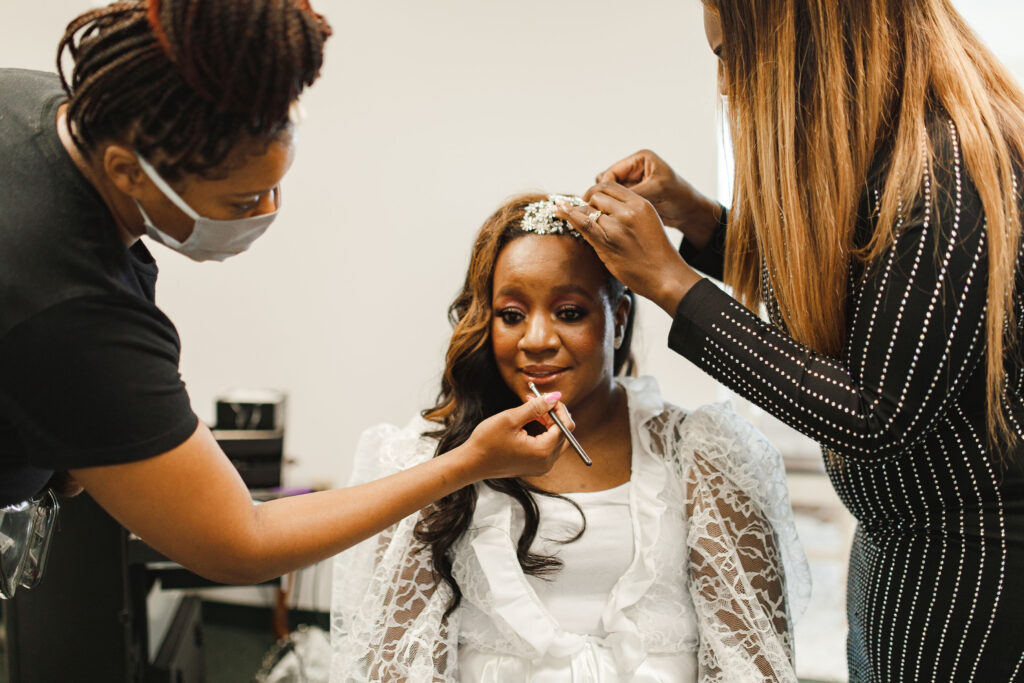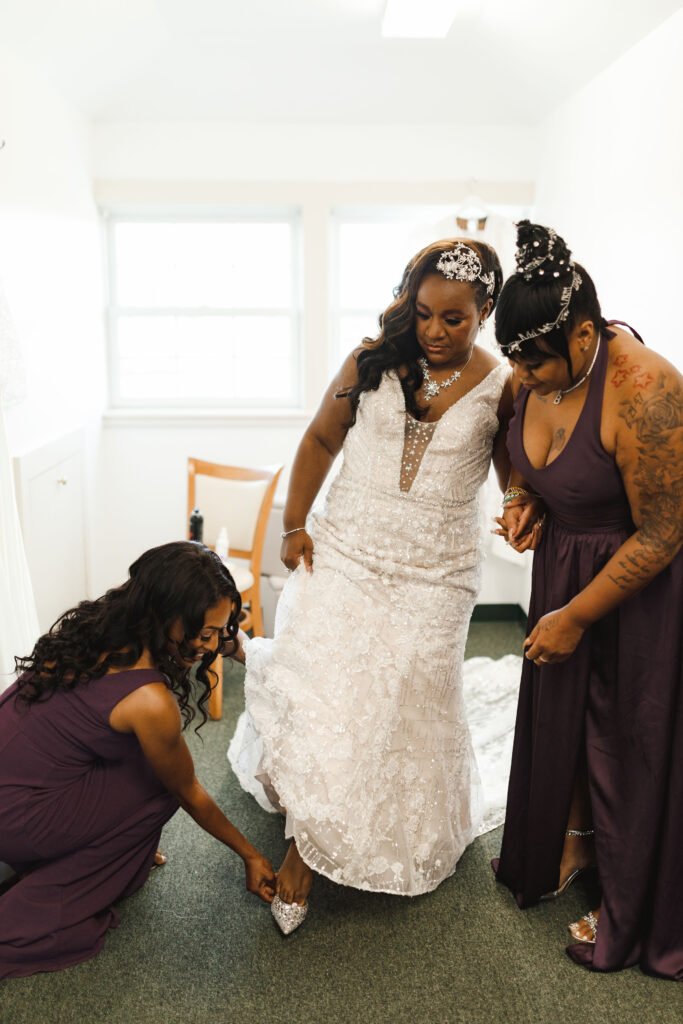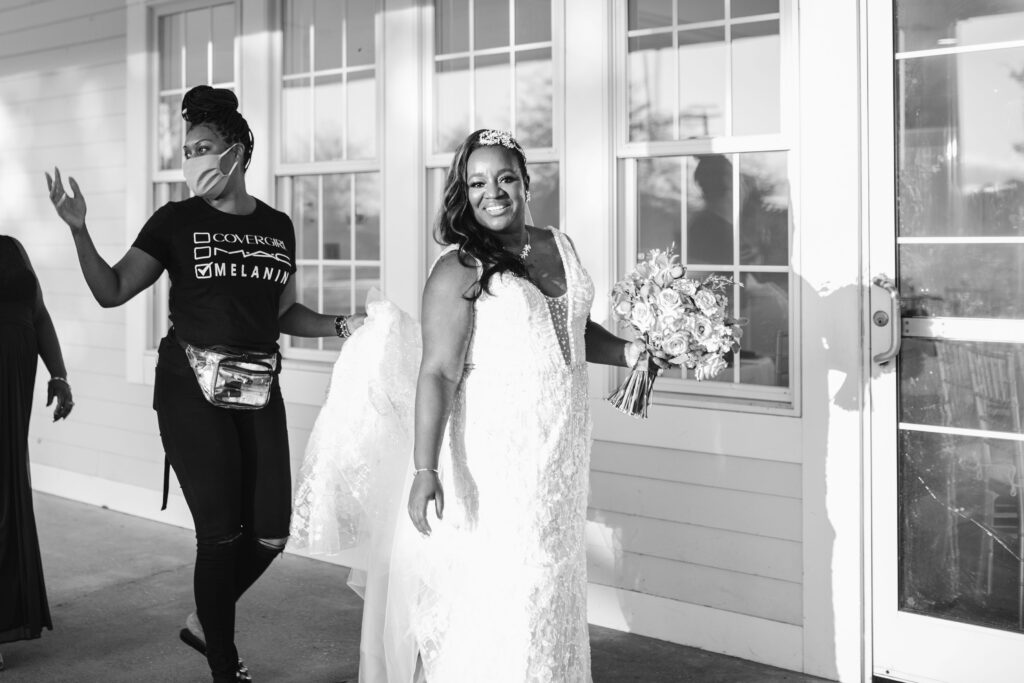 The Scoop
Bride: Fawnne, 45, Owner/Master Stylist at Salon Noa Inc. Virginia Beach, VA
Groom: JoWawn Harrell, 43, Heavy equipment operator at Insurance Auto Auction
First date: March 21, 2020 (postponed)
Second date: Nov. 07, 2020
Number of Wedding guests:  70 people
"Our wedding was unique due to the fact that we had to postpone our wedding date 48 hrs before our big day. The governor had issued a shutdown/stay-at-home order due to the pandemic. It was a very difficult time, knowing the one day you have dreamed of as a little girl, will now be put on hold. It was a difficult decision, but it was the right thing to do. Once the governor lessened the restrictions we selected our new date in Nov and it was a beautiful day and our dreams now became a reality. We had to add custom masks for our guests and set out santizer stations."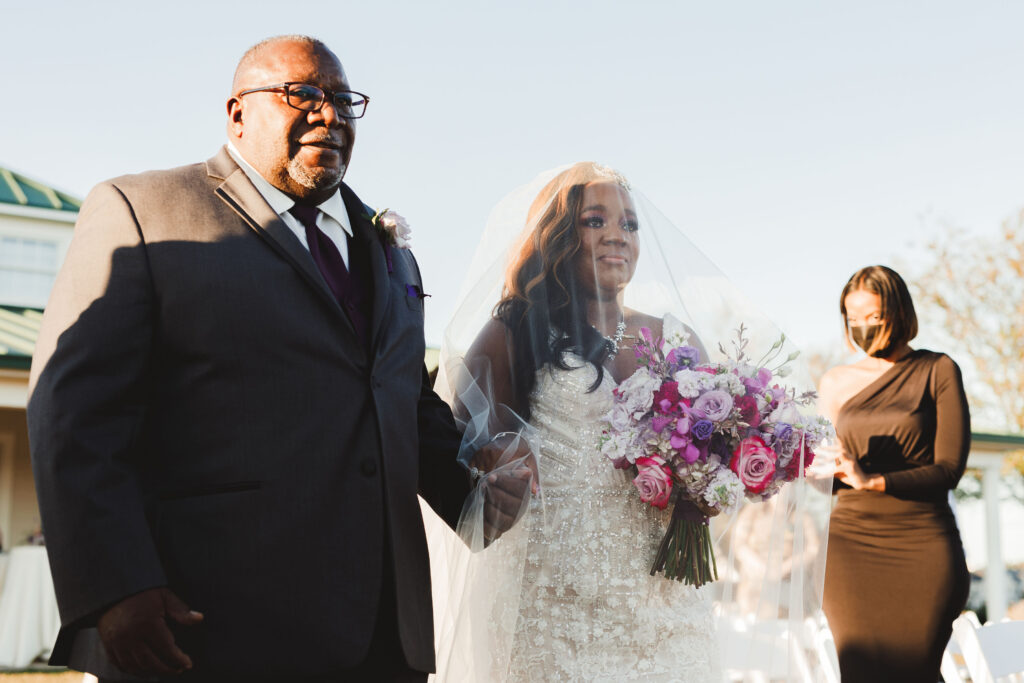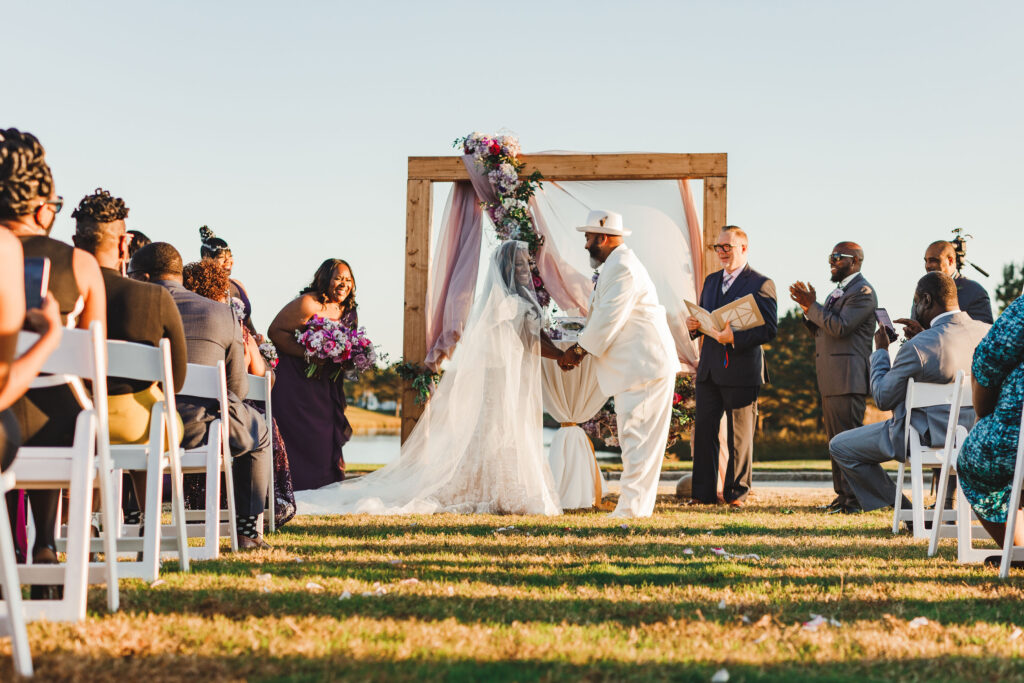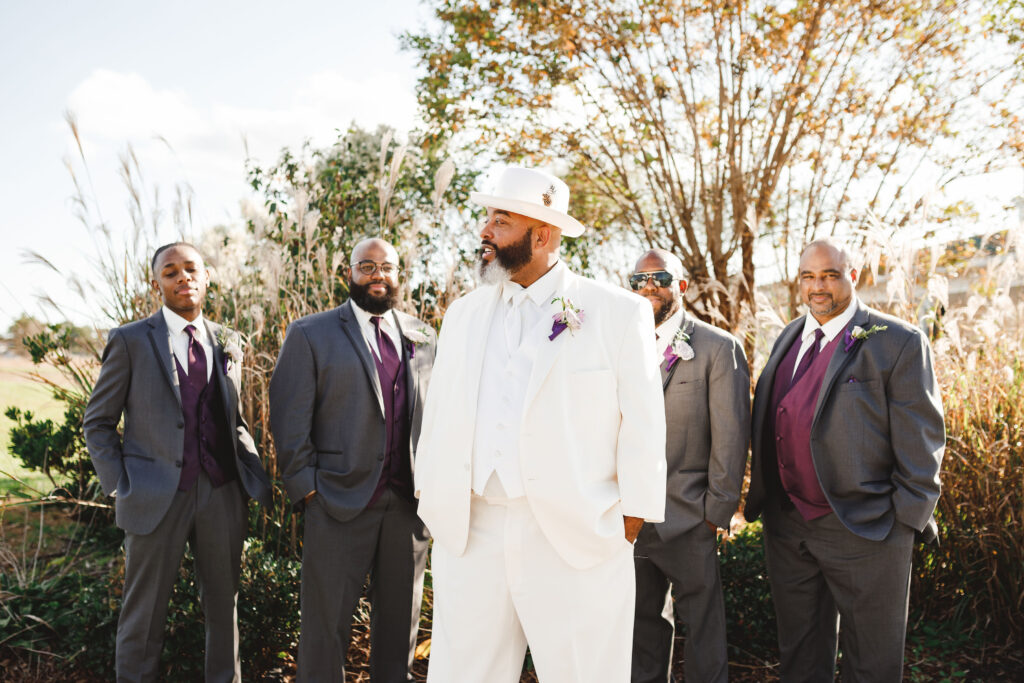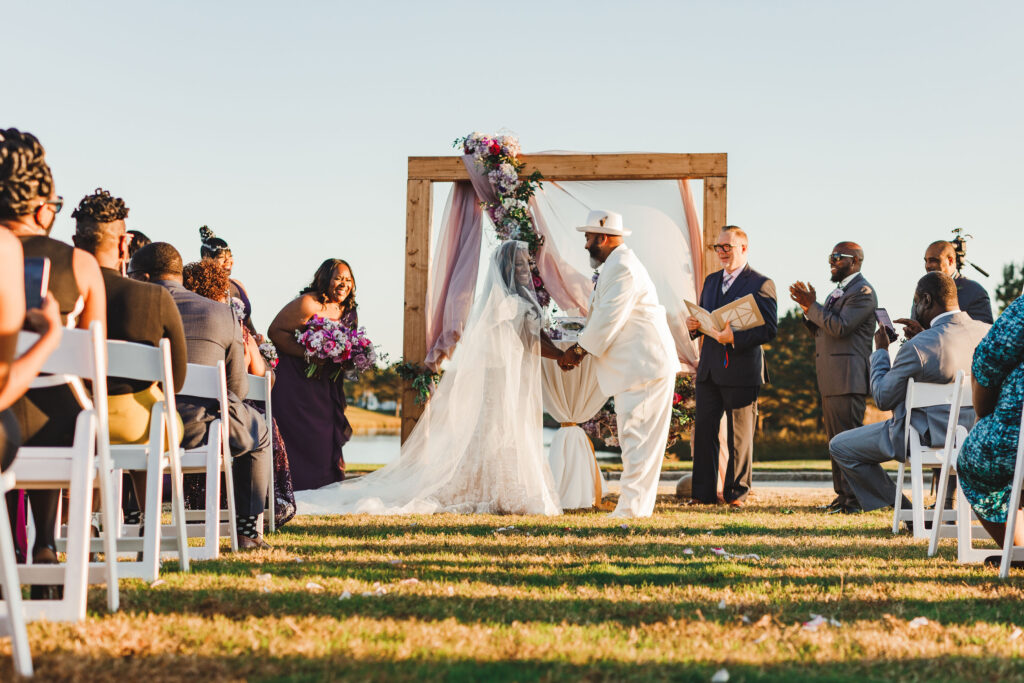 For their wedding, Fawnne and JoWawn chose a palette with plum, charcoal grey and a touch of silver and gold. The dress theme was "Sunday's Best". They chose a golf course for their venue, for an outdoor wedding, with a covered area for cocktail hour and an indoor reception.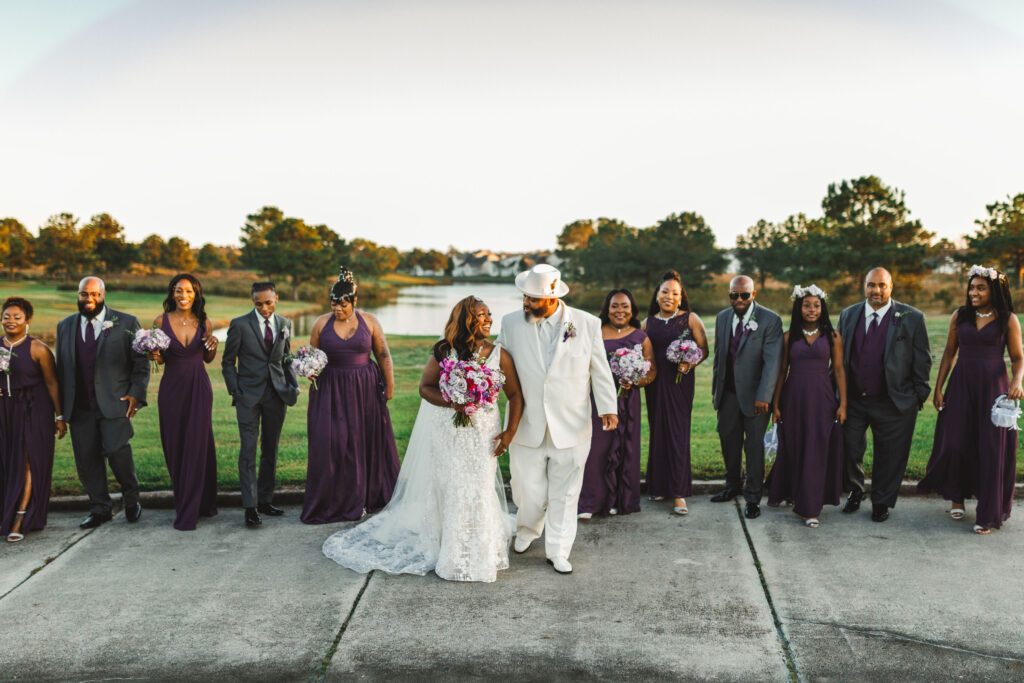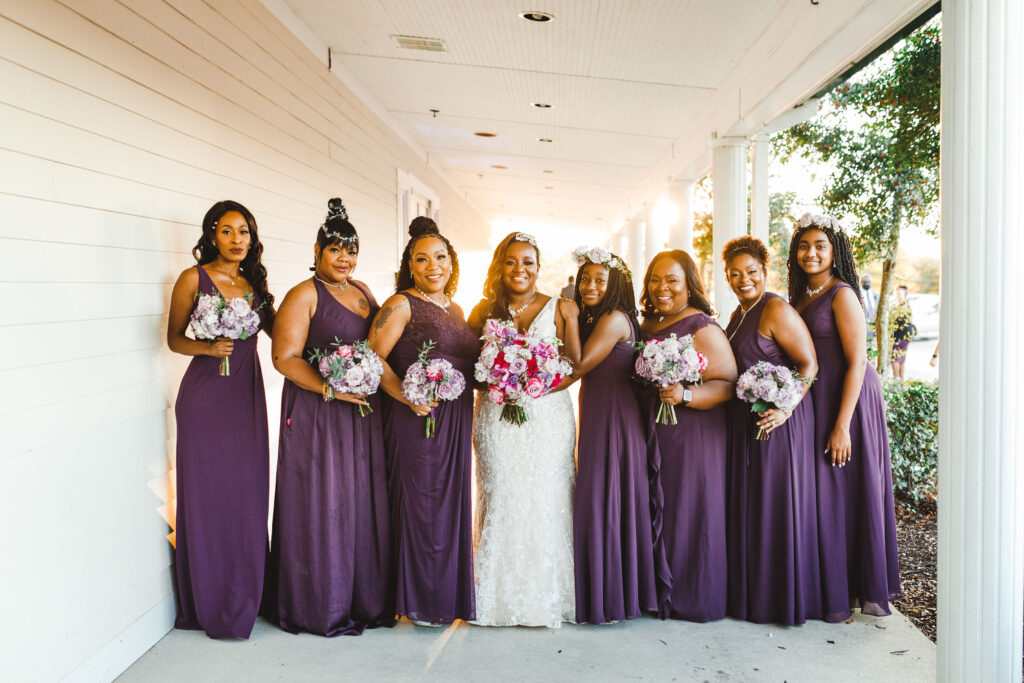 "We chose a modern decor incorporating our plum color theme throughout the venue, using a variety of floral designs with geometric shapes with lighting to highlight our reception area for all night dancing and good times."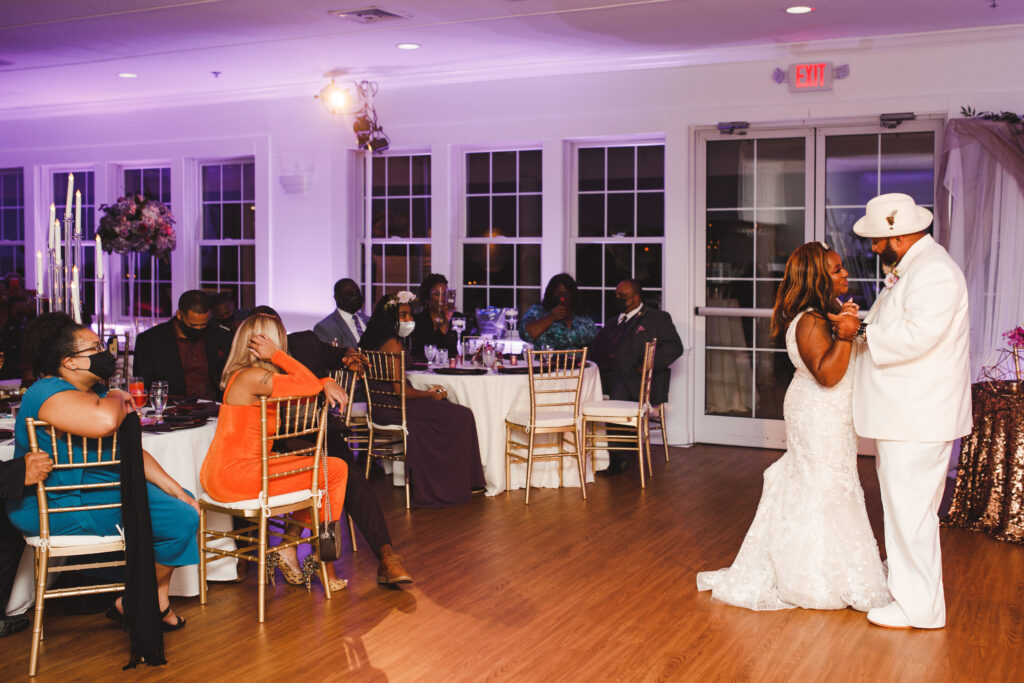 Fawnne offers this advice to fellow brides planning their special day during these unique times: "For any bride who may be having a difficult time with the idea of possibly having to postpone your wedding date due to the uncertain times of the panademic. Stay strong, seek family and friends for support and use the time to make your big day better than you planned. Your day will be AMAZING. Our new date was more than we dreamed of."
Congratulations to you both!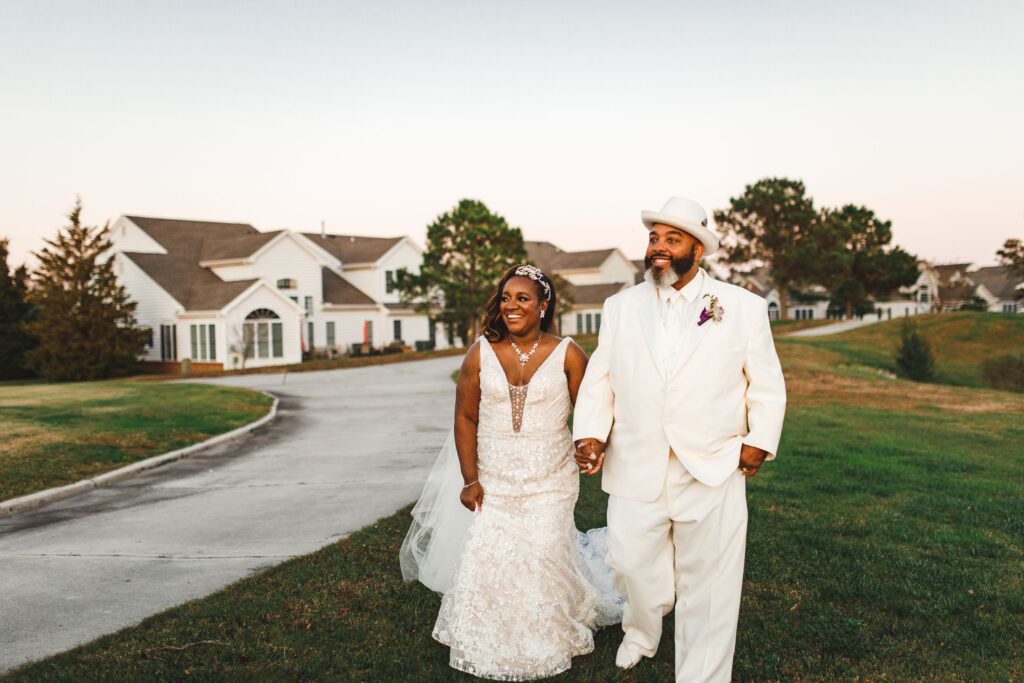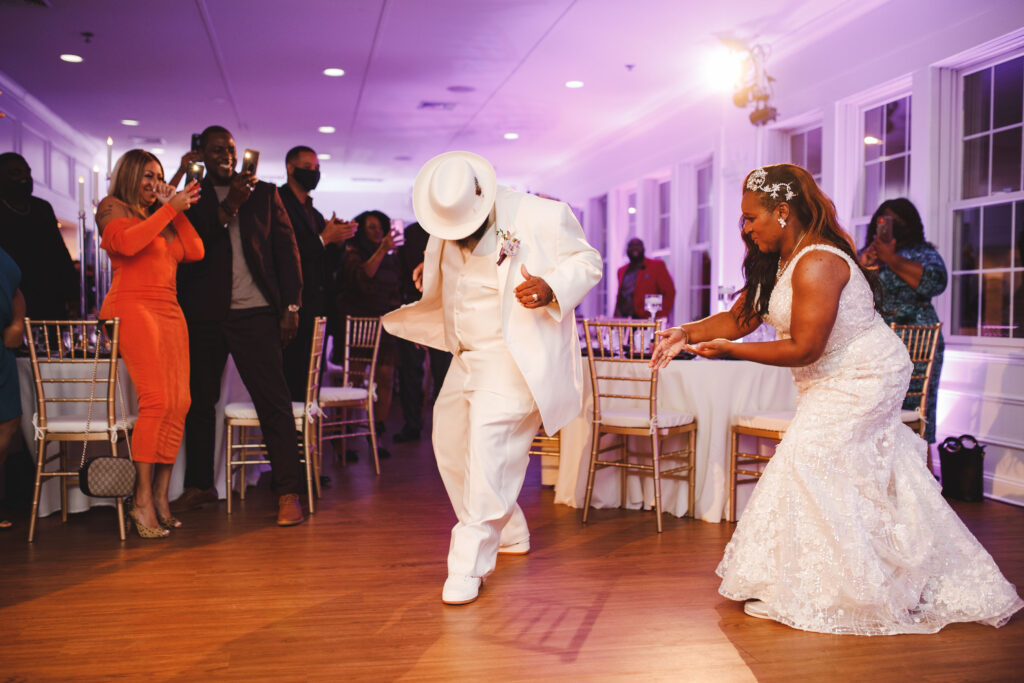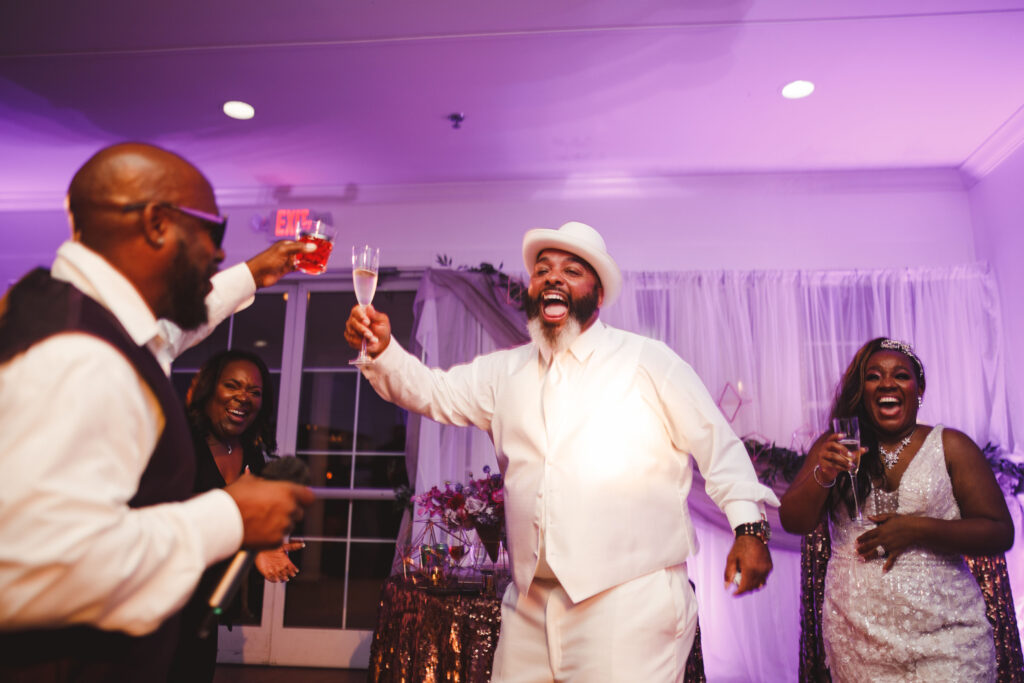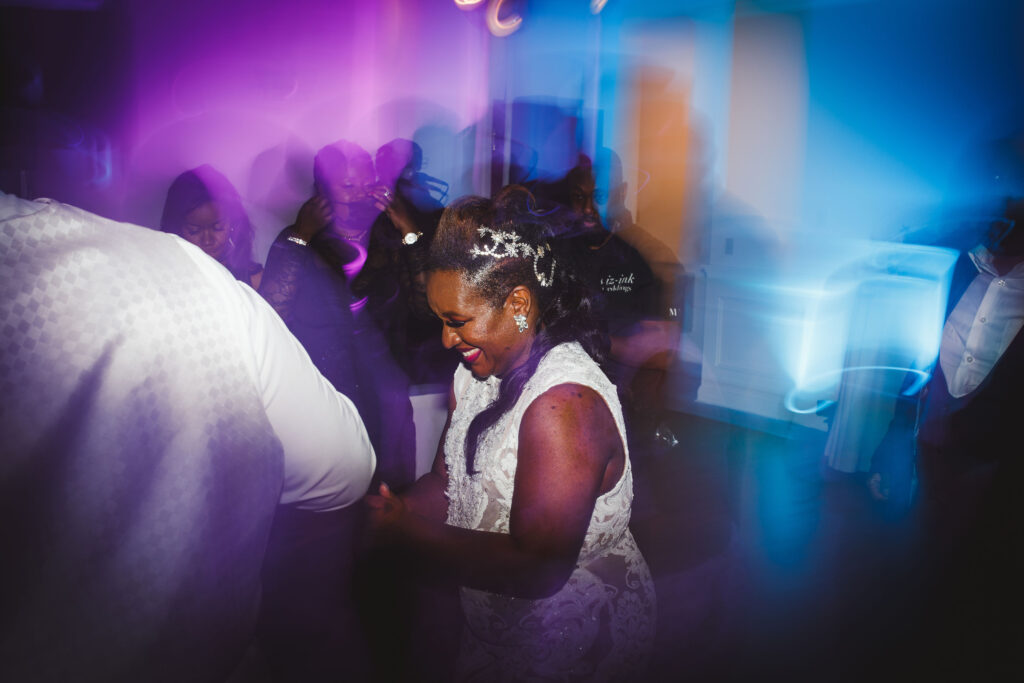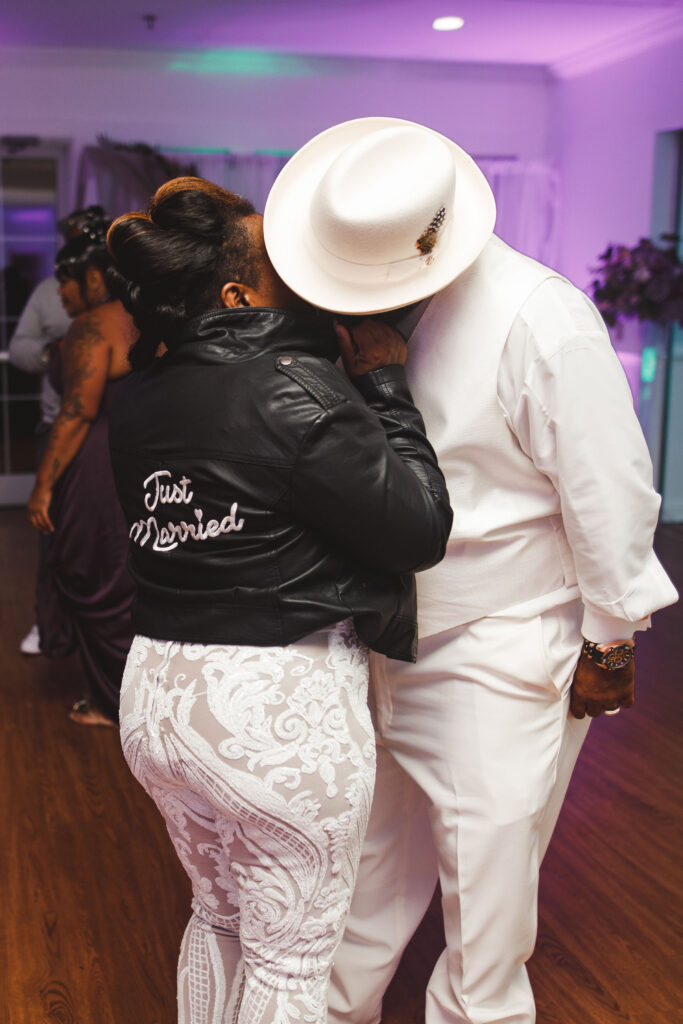 Vendor Credits:
Venue: The Venue at Cahoon 757-227-5747 Chesapeake, VA
Photographer: Valerie Demo, Virginia/DC
Wedding Planner: Michele Carrizales at Morlina Events, Virginia Beach, VA
Officiant: Rev. Tony Hash, Hampton Roads area
Gown: Milk and Honey Bride, Virginia Beach, VA
Reception Attire: Traviann Vann Bridal, Hampton, VA, 757-655-5739
Veil and Head Piece: Paris by Debra Moreland
Heels: Jewel | Badgley Mischka
Custom Converse: Poshed Designs, Atlanta
Hair: Edrika Sealey atCSE Salon, Hampton, VA 757-224-8194 & Shalleen Jones at Style Queen Beauty, Chesapeake, VA 757-335-4145 & ADI by Nicole Jernigan, Virginia Beach, VA 757-563-3316
Makeup: Rated Pretty Girl Makeup Artistry, Norfolk, VA 1-864-774-2227 
Bridesmaids' Hair: Sherika Henderson at The Hair Speaks, Hampton, VA, 757-358-5056
Bridesmaids' Dresses: David's Bridal
Groom's Formalwear: Miguel's Formal Wear, Virginia Beach, VA 757-461-5466
Groomsmen: Men's Wearhouse, Virginia Beach, VA 757-518-8277
Flowers/Decor: Vivid Expressions, Norfolk, VA 757-802-3199
March Invitations: PaperDolls Design 
November Invitations: Invitation Soiree
Cake: Claire Martinez at Silver Spoon Bakery, Portsmouth, VA, 7576738431
DJ:  Don Taylor, Hampton Roads Area, 757-615-0175
Dance Lessons: 757 Dance Studio, Virginia Beach, VA
Mirror Photobooth: Astro Entertainment
MC:  Nina C. Brewton
Special Lighting: Blue Steel Lightening Design
Favors: Nerissa Rhodes at Unique Sweets, 757-917-9099
Videographer: Viz-Ink Weddings
Catering: Creative Catering of Virginia, Chesapeake, VA 757-499-2002