Happy Wedding Wednesday friends! Today I have brought a wedding to share with y'all that had entirely too many perfect moments and photos…not a bad problem to have though ?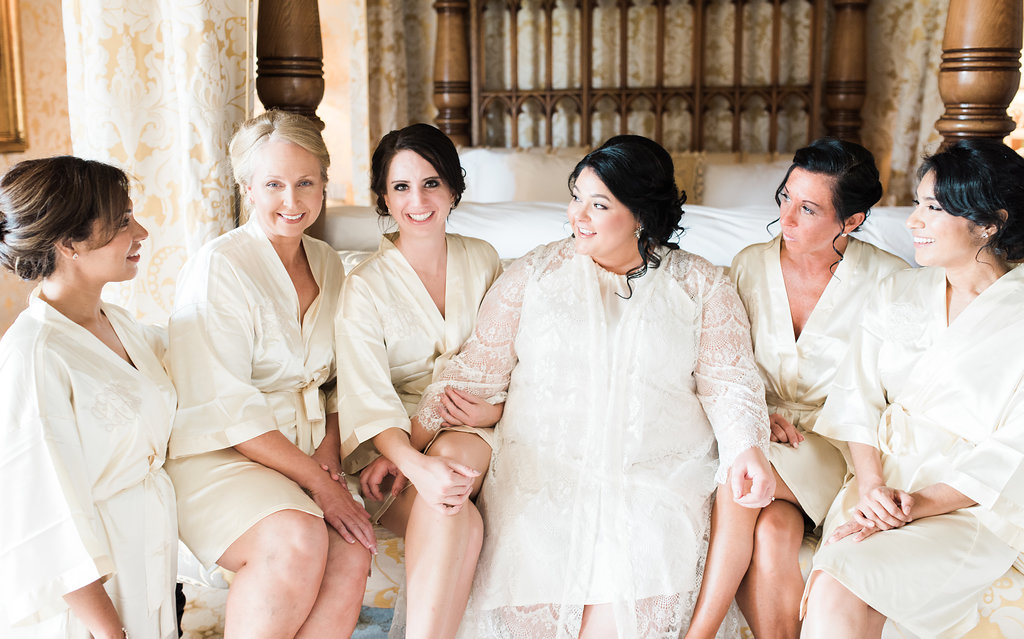 This is Katie and she and her bridesmaids got ready in one of the luxurious bridal suite at the Dover Hall Estate.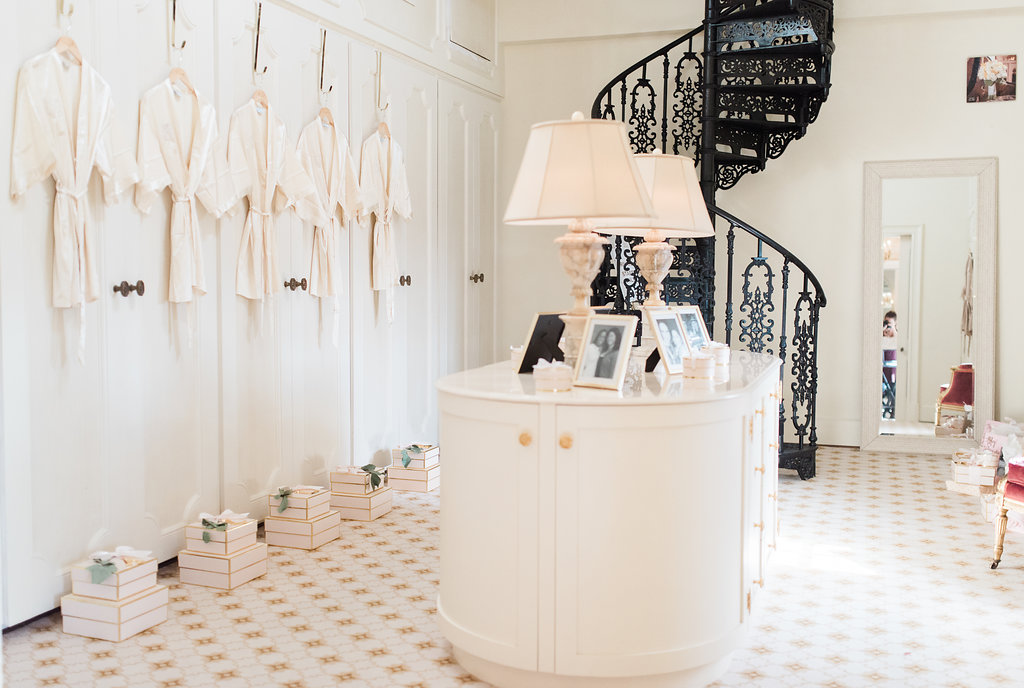 Katie had really thought of everything! Once arriving to the suite, her maids were surprised with matching robes and gifts galore.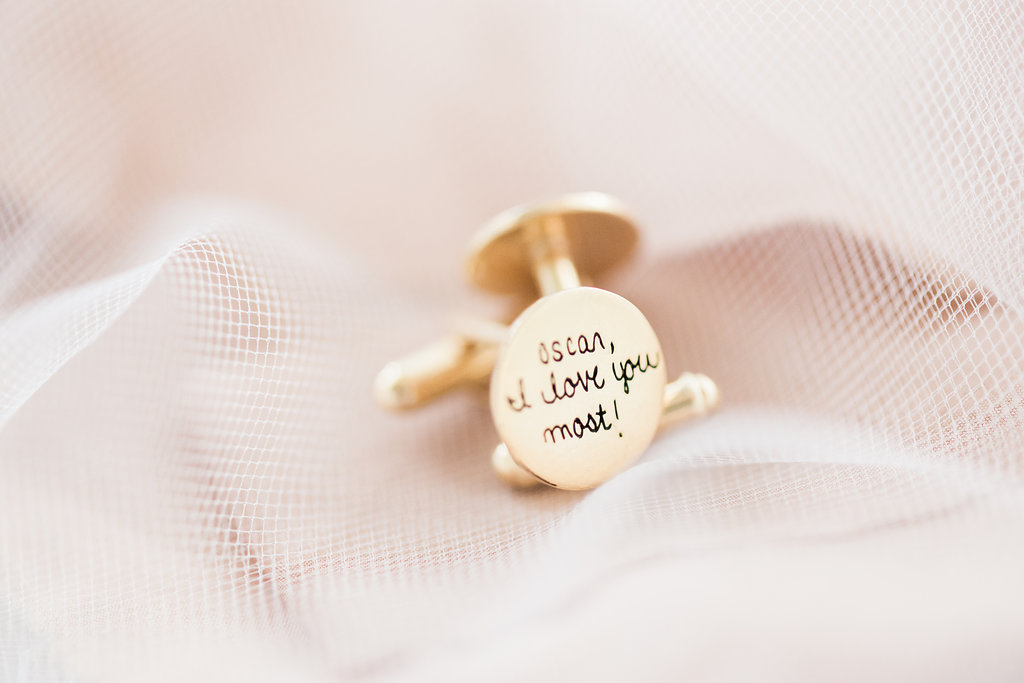 And most importantly, this adorable cufflinks for her groom, Oscar! Ladies, pin this to your Pinterest because it is SO CUTE!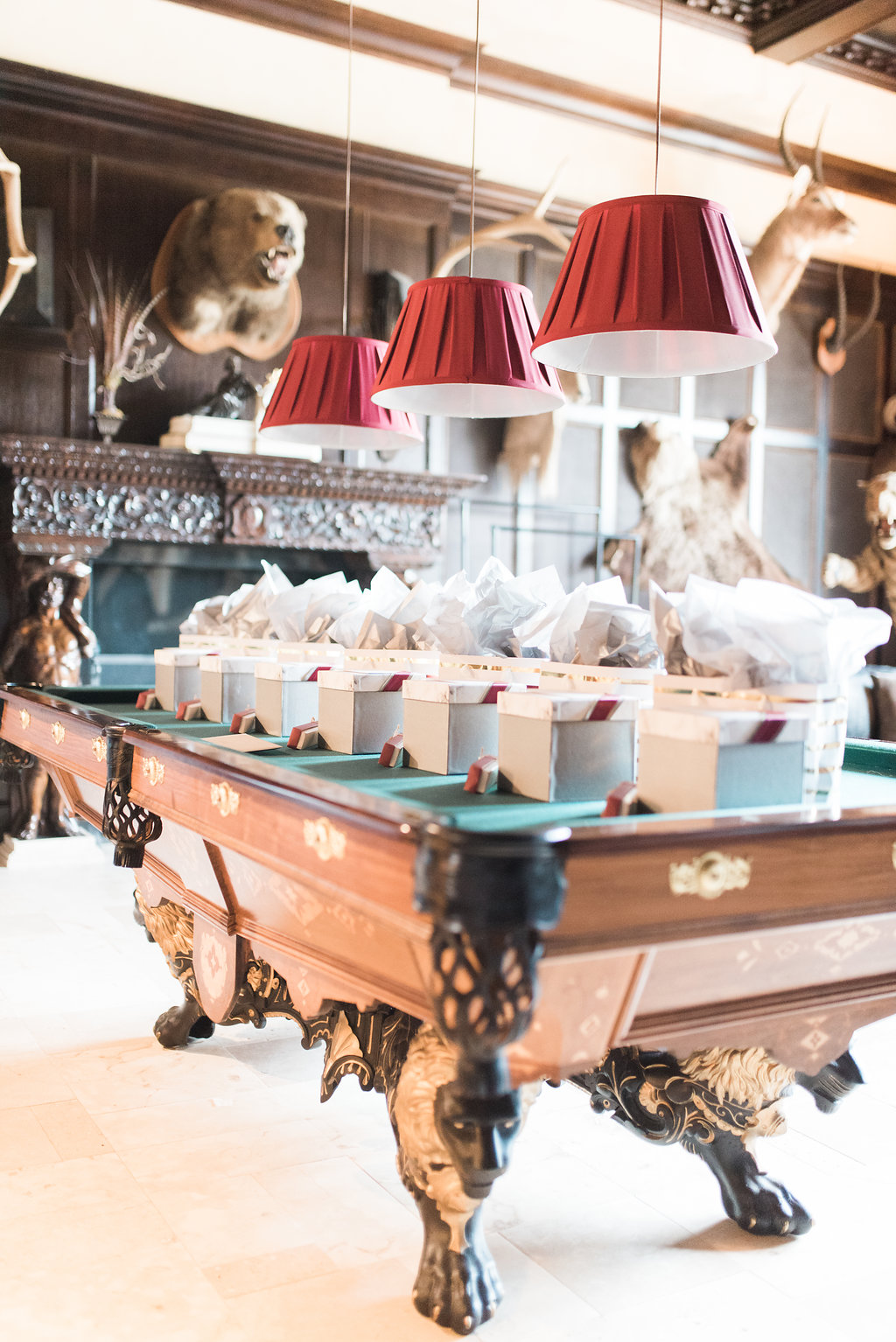 Oscar and his men also got ready in style ?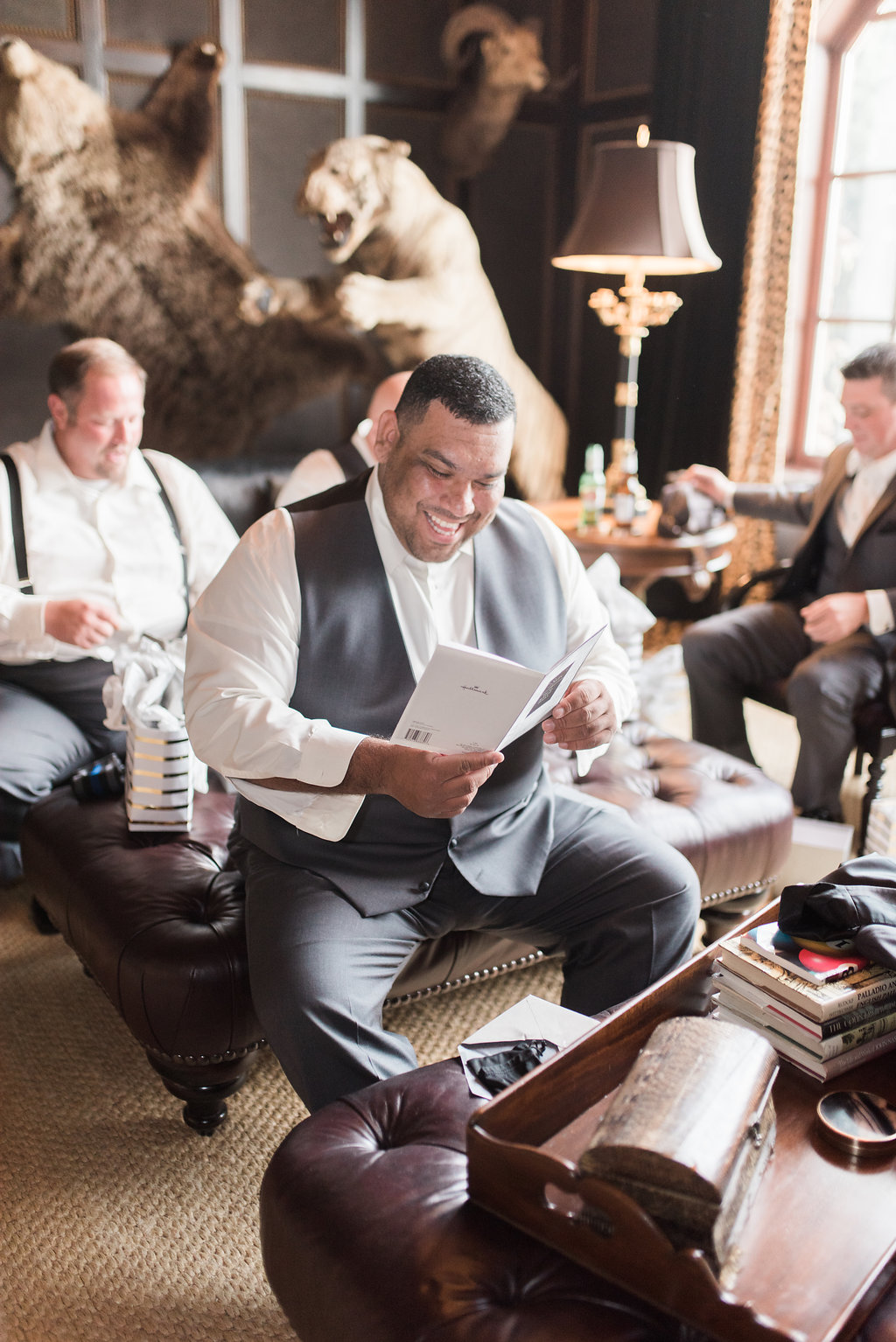 He beamed from ear to ear as he read the words written to him from his sweet bride.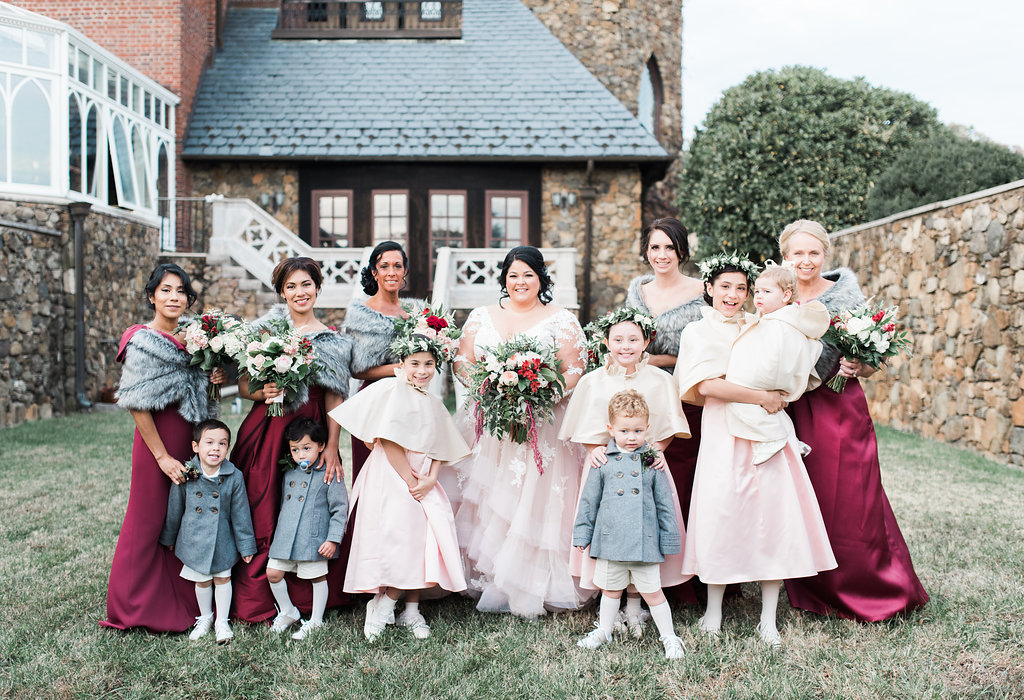 Once everyone was dressed, it was time for the ceremony. I can't even get over this wedding party! First off, Katie's gown is STUNNING! And I love the bridesmaids' fur wraps and the junior bridesmaids' silk capes!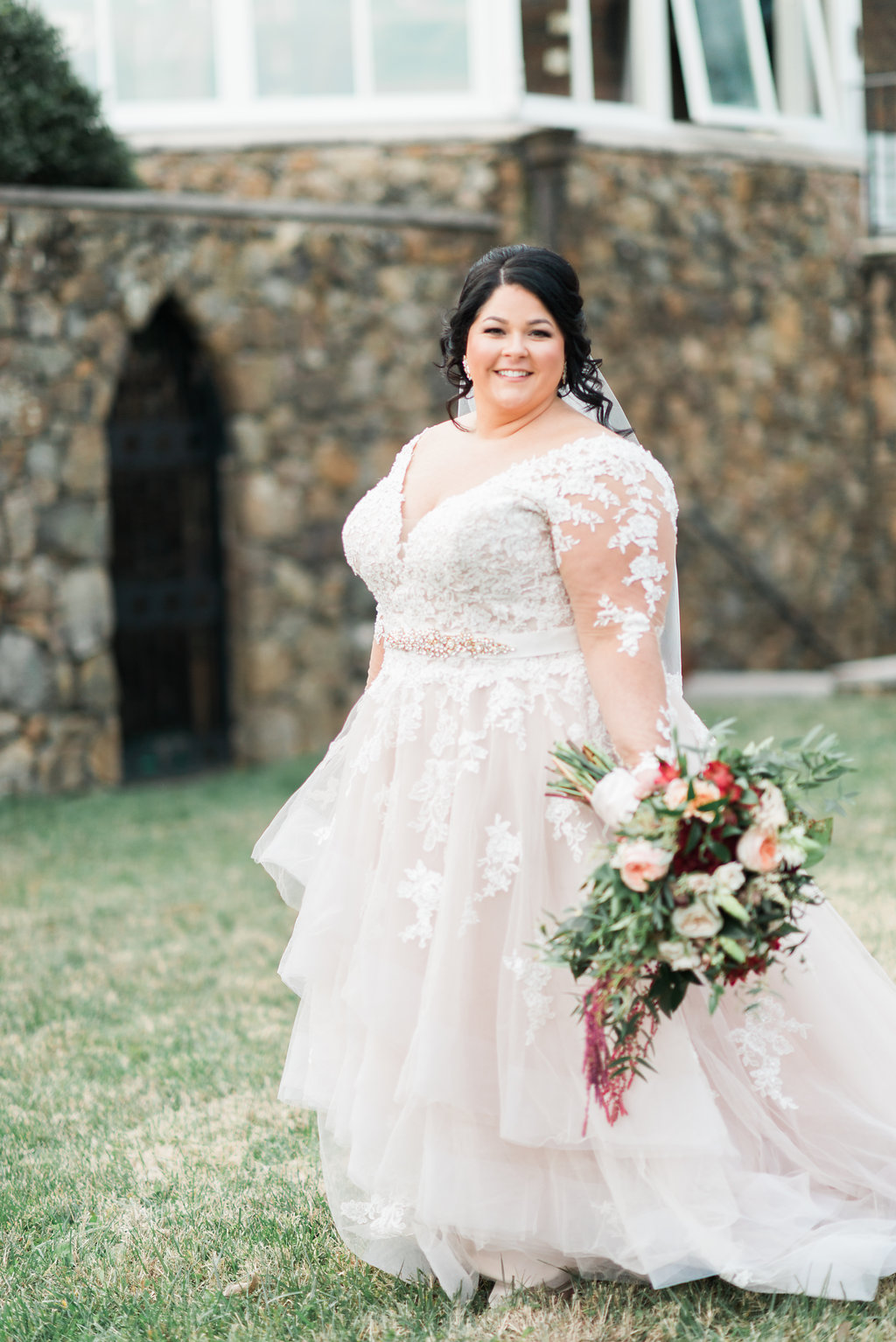 From the layers of tulle, to the bejeweled belt, to the lace bodice, to the perfect updo, Katie made the prettiest bride!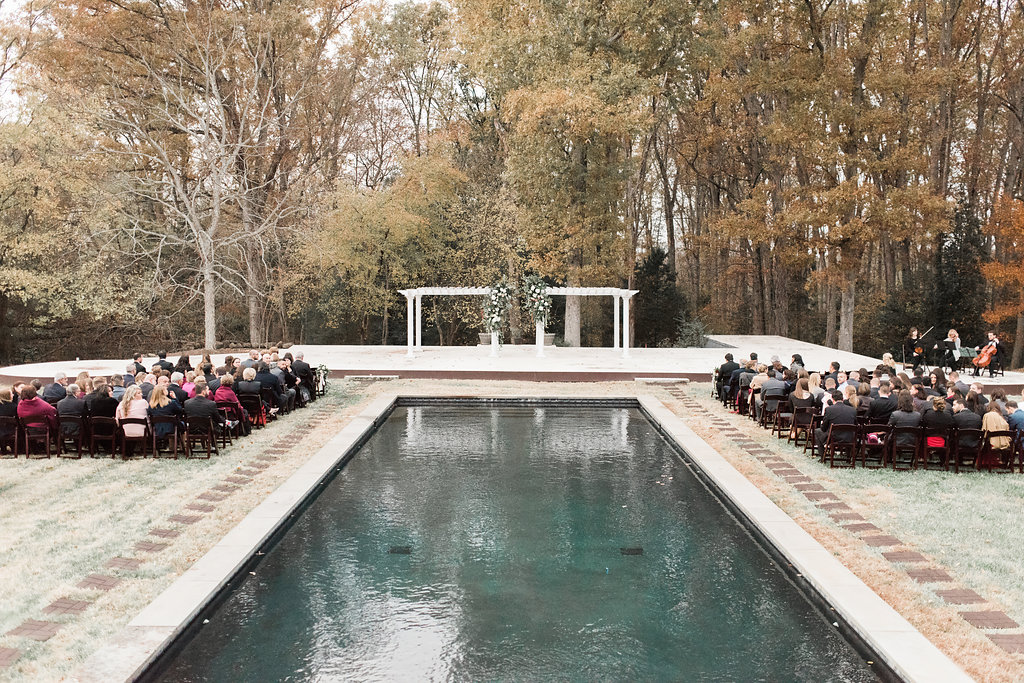 The ceremony took place outside by the reflecting pool.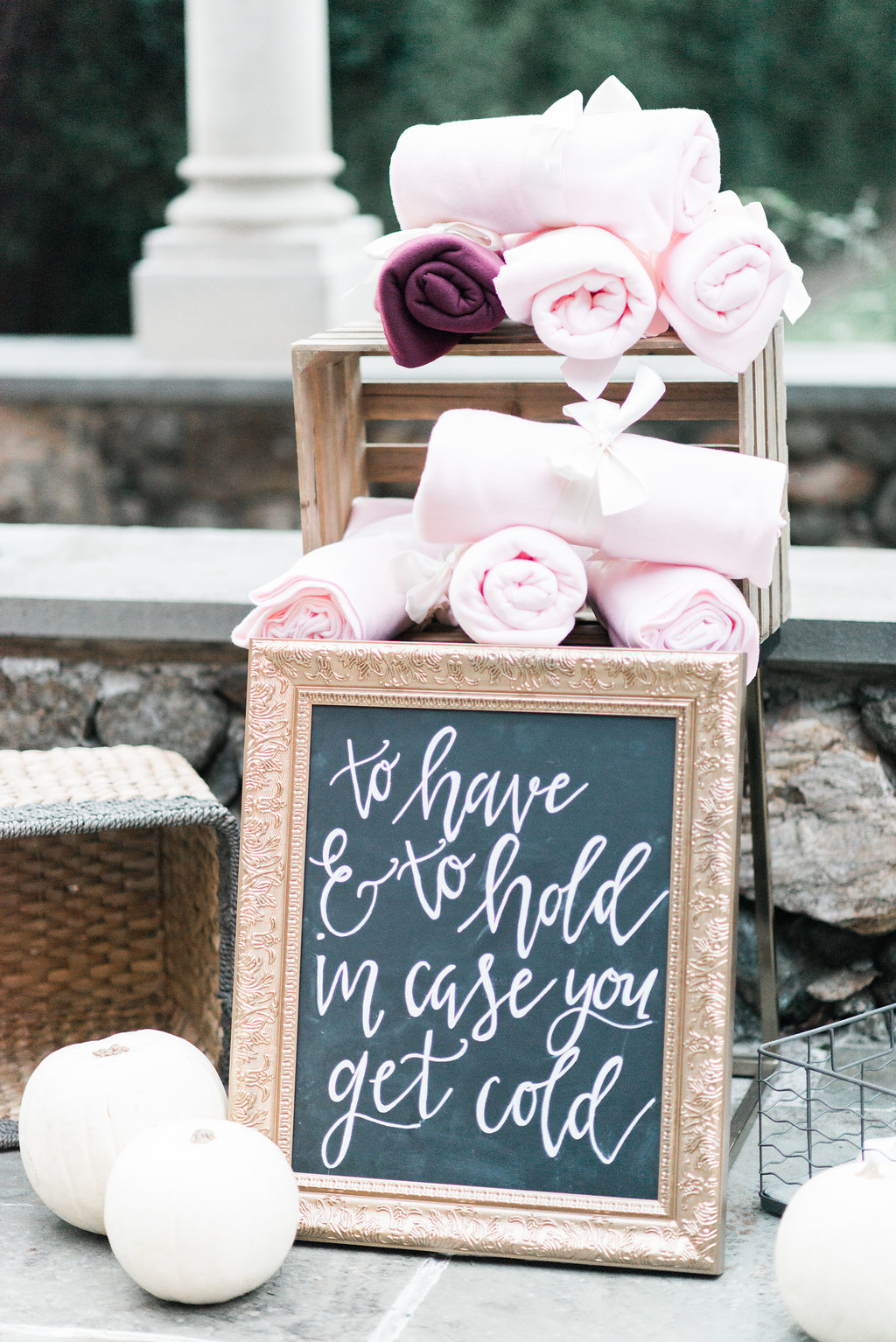 Since it was a November wedding, Katie made sure to leave blankets out for the guests to grab.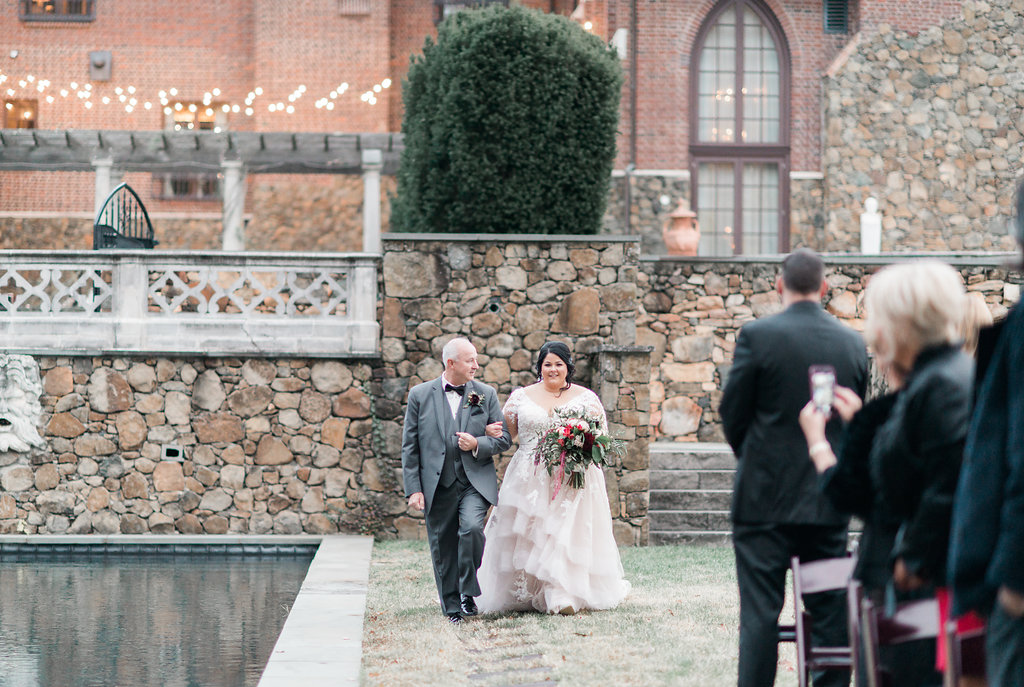 Katie's father walked her down the aisle. "It was magical seeing Oscar standing there waiting for me," she said.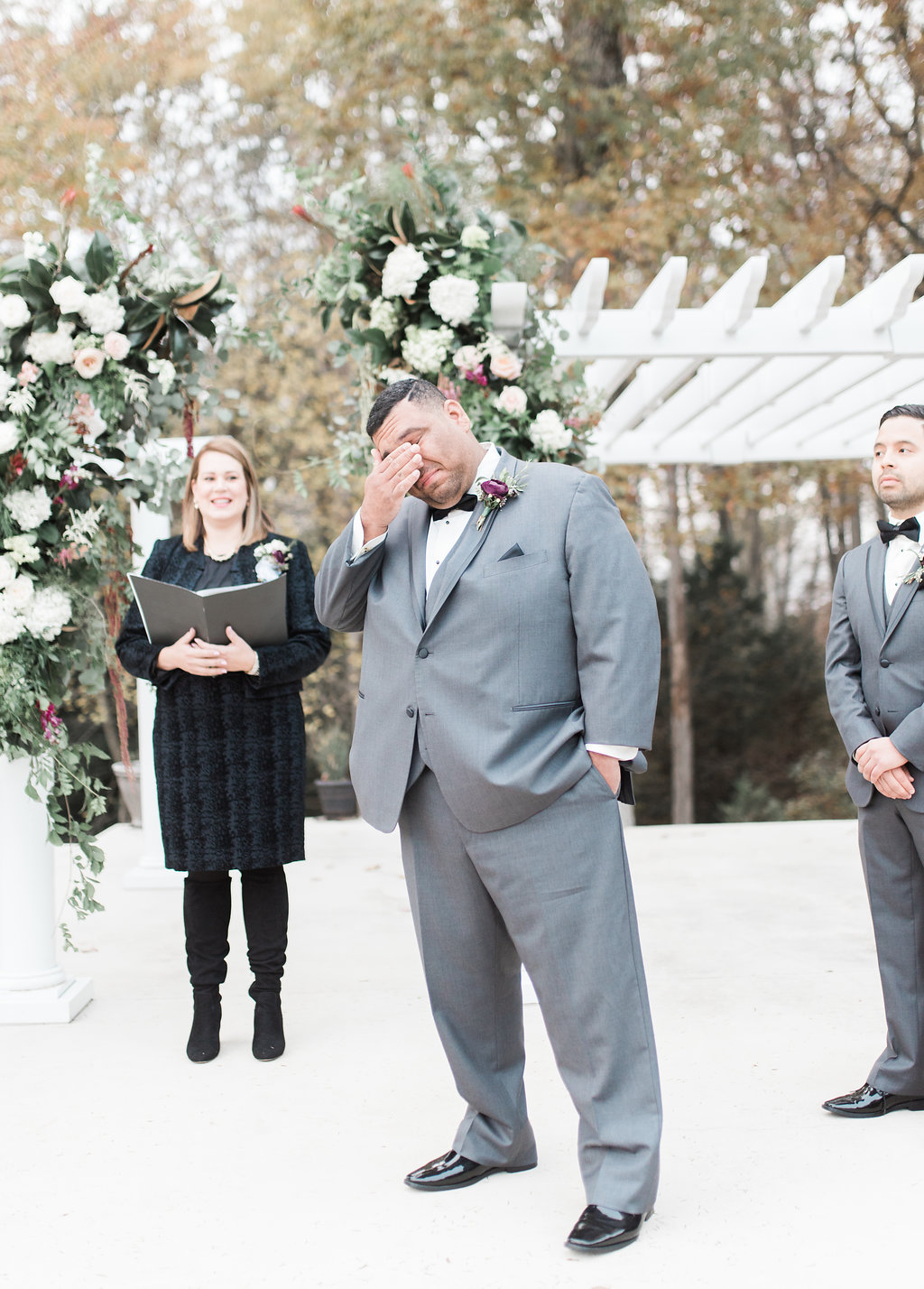 How cute is Oscar's reaction?! I can't even ??…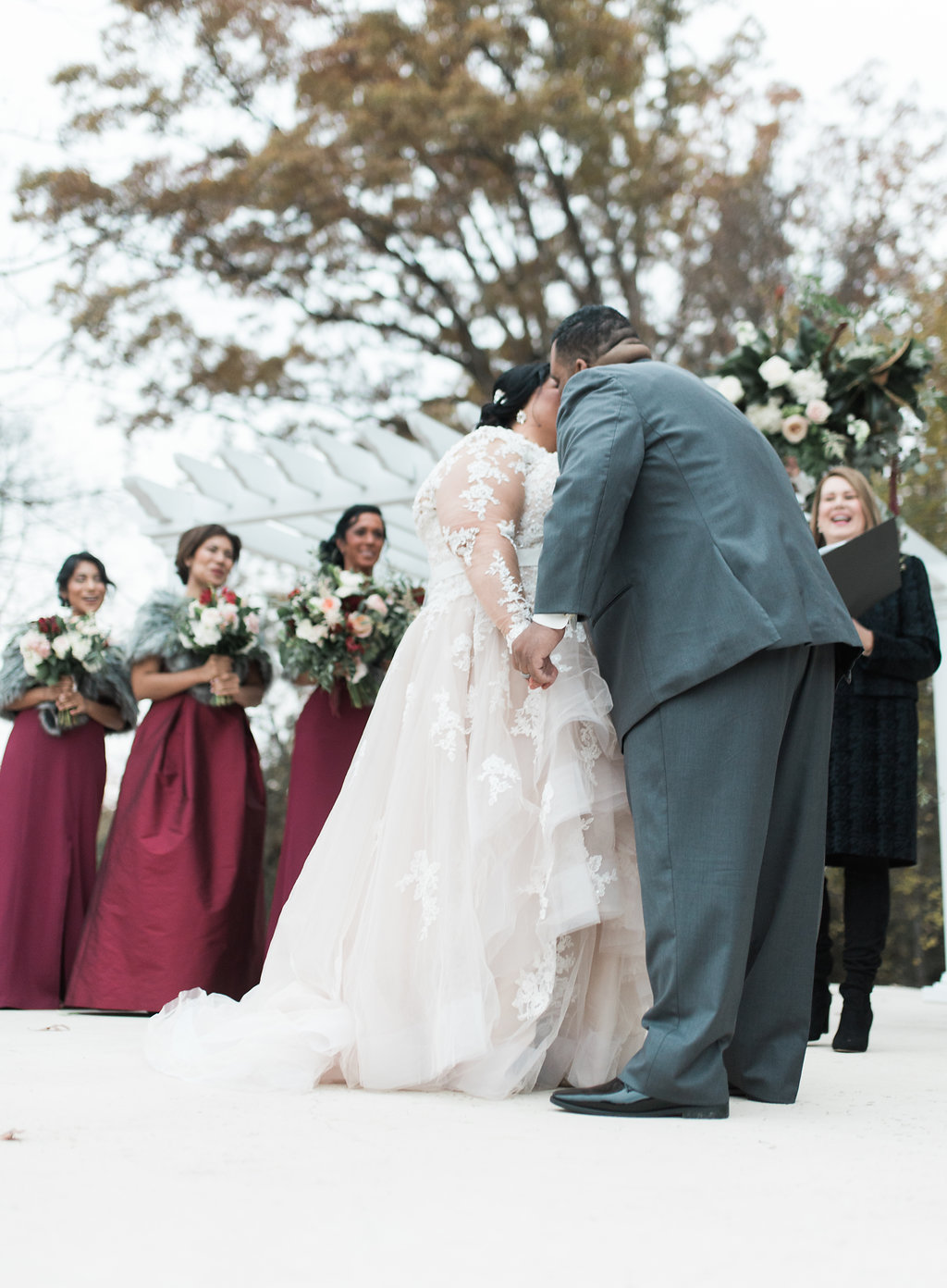 With a kiss, they were wed!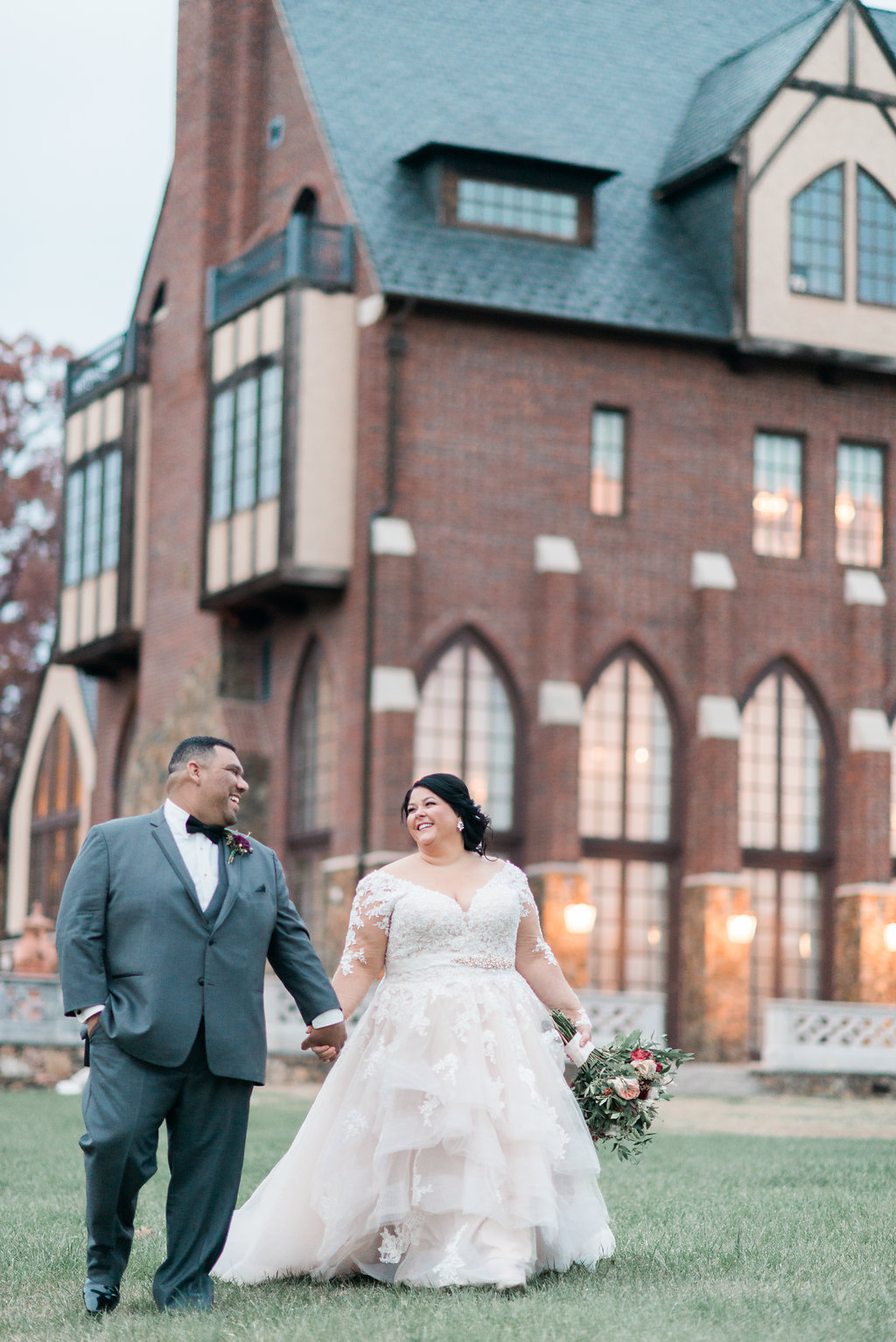 The pair actually met through mutual friends… "A friend I took classes with at the gym told me that her husband had someone they wanted me to meet. Her husband and Oscar both worked as police officers in Chesterfield County. They set us up on a date, and the rest is history!" Katie exclaimed.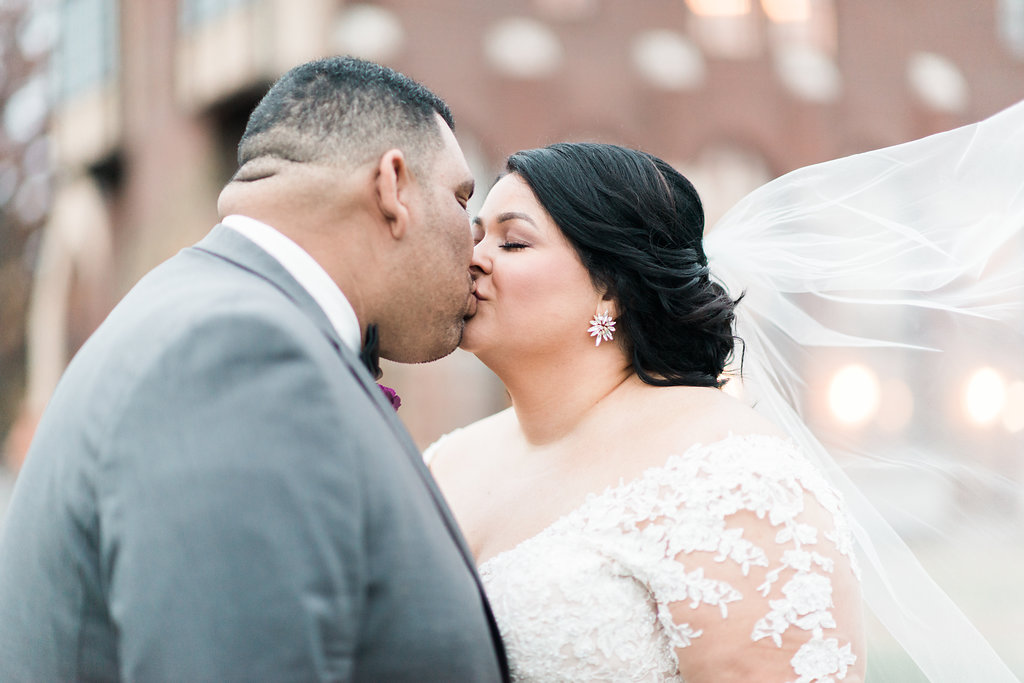 A perfect match!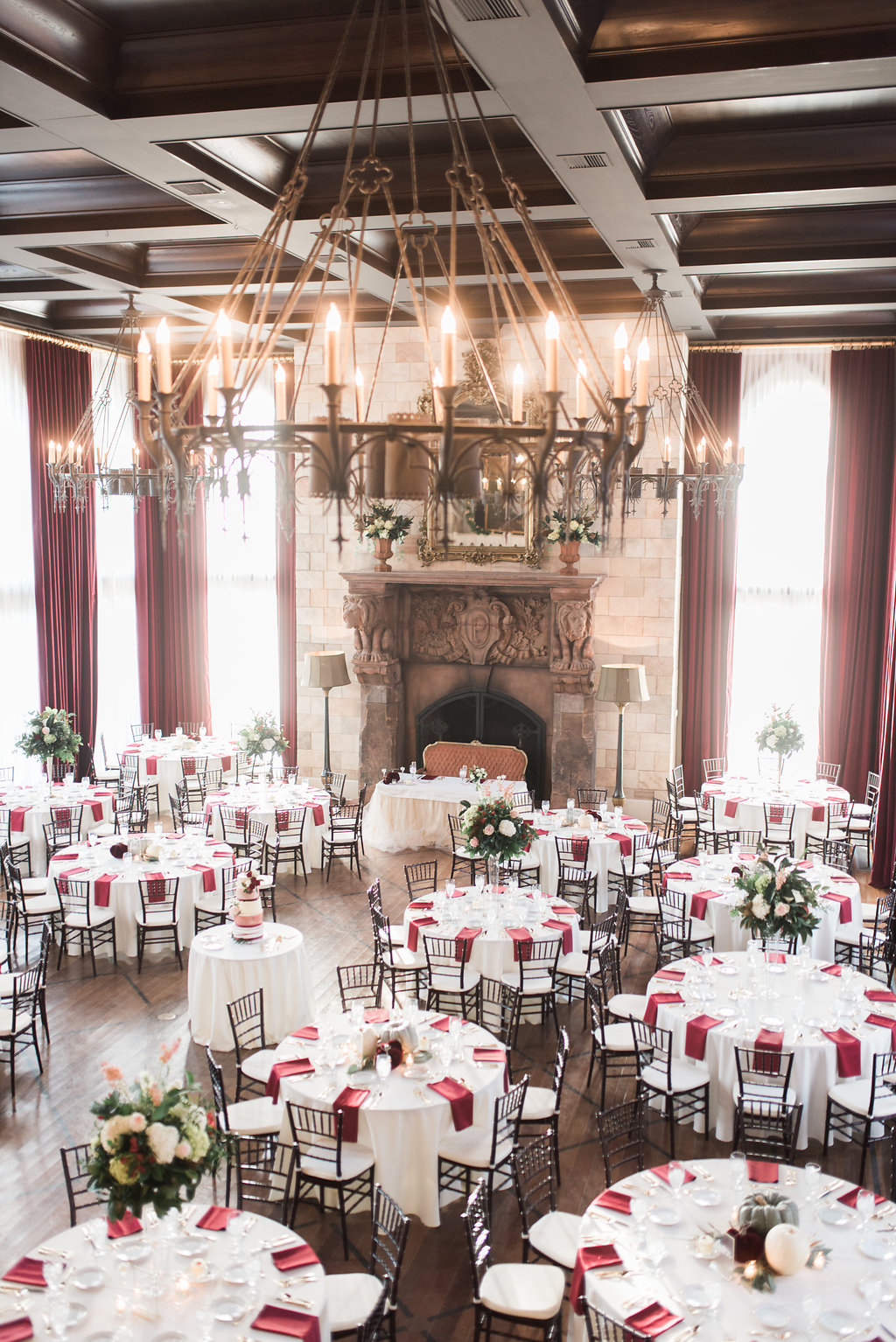 The Dover Hall's ballroom set the stage for their reception with an Old English feel.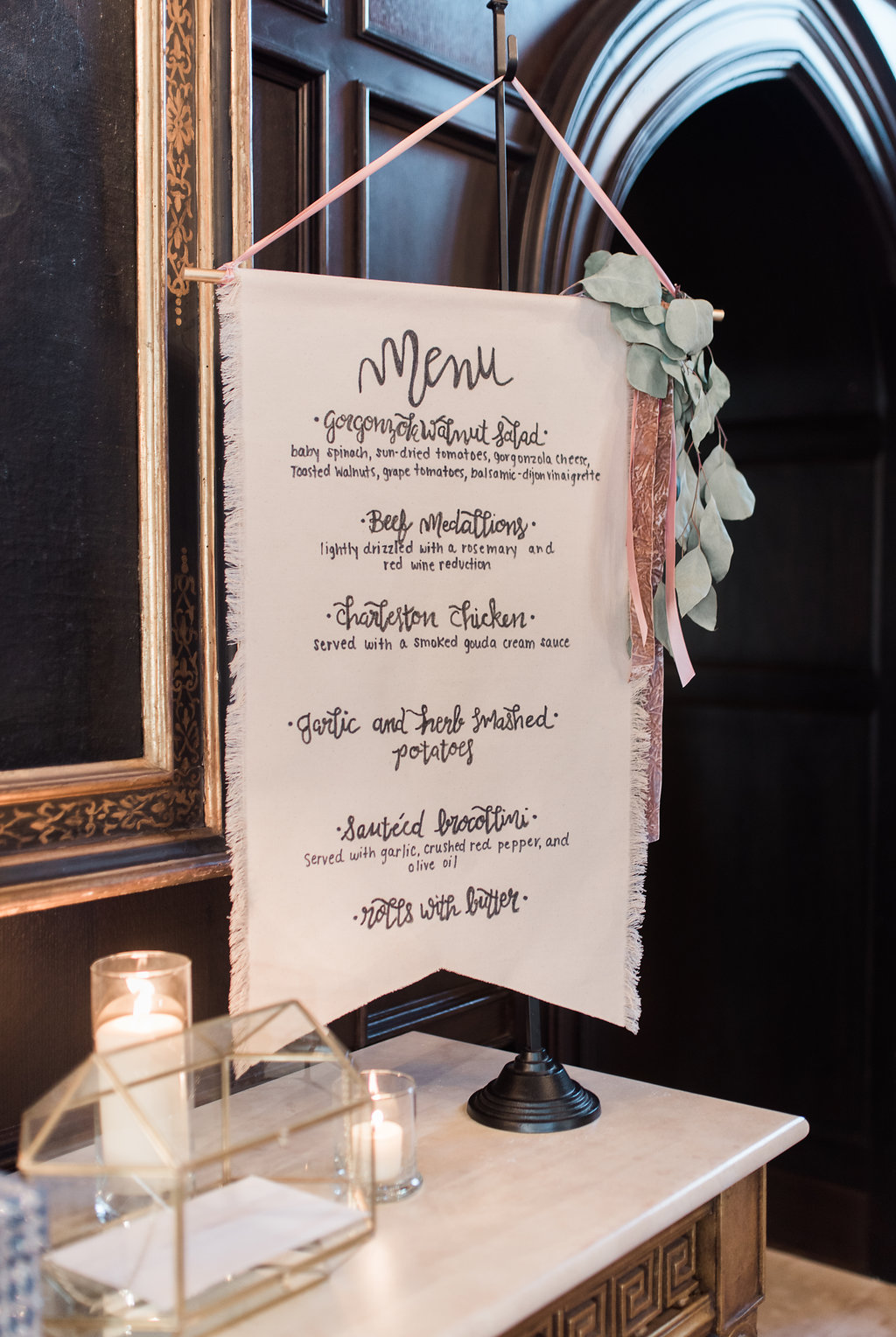 Again, every detail was perfect!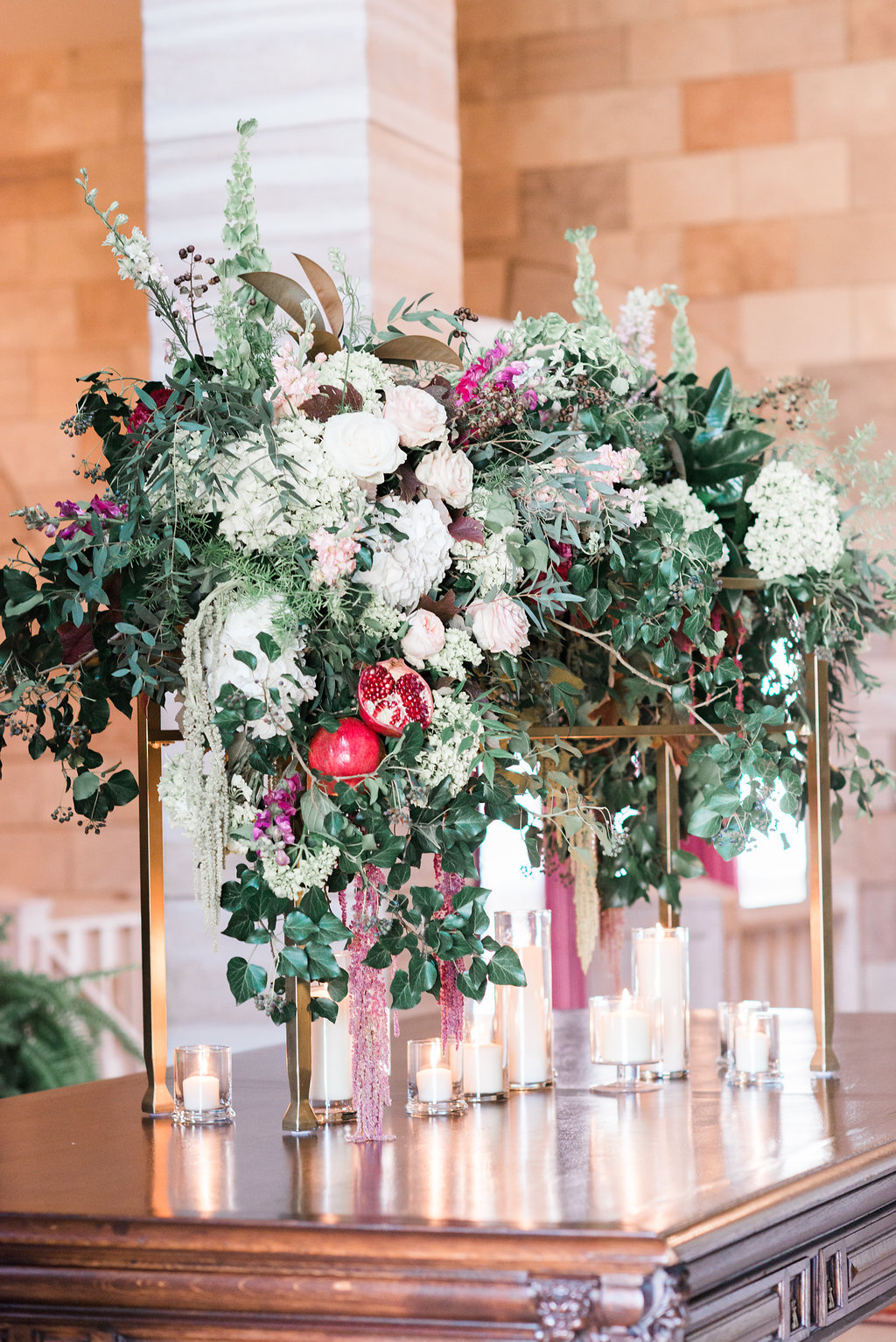 What an epic arrangement! Love the pomegranate in it!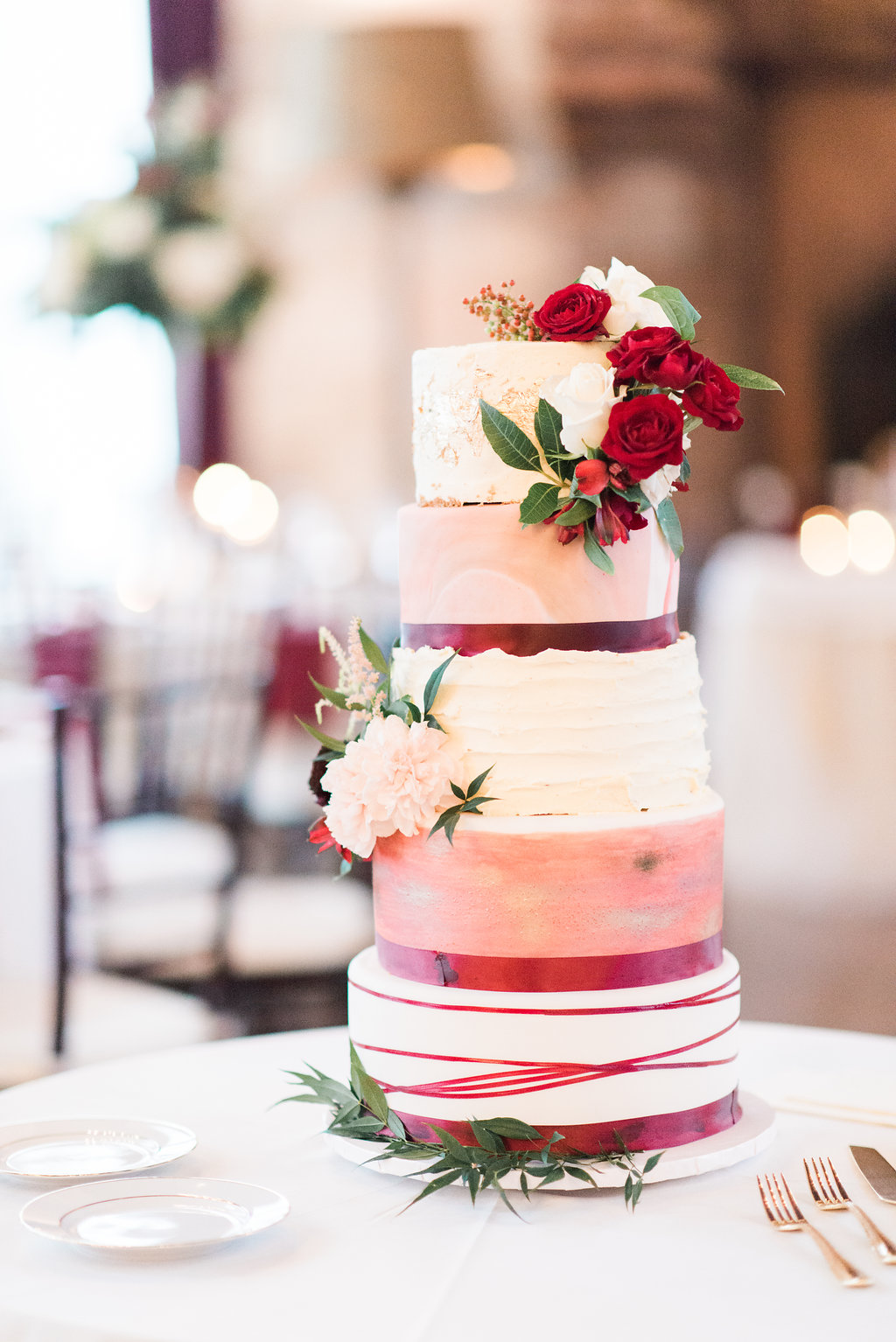 And lets not forget, the beautiful cake!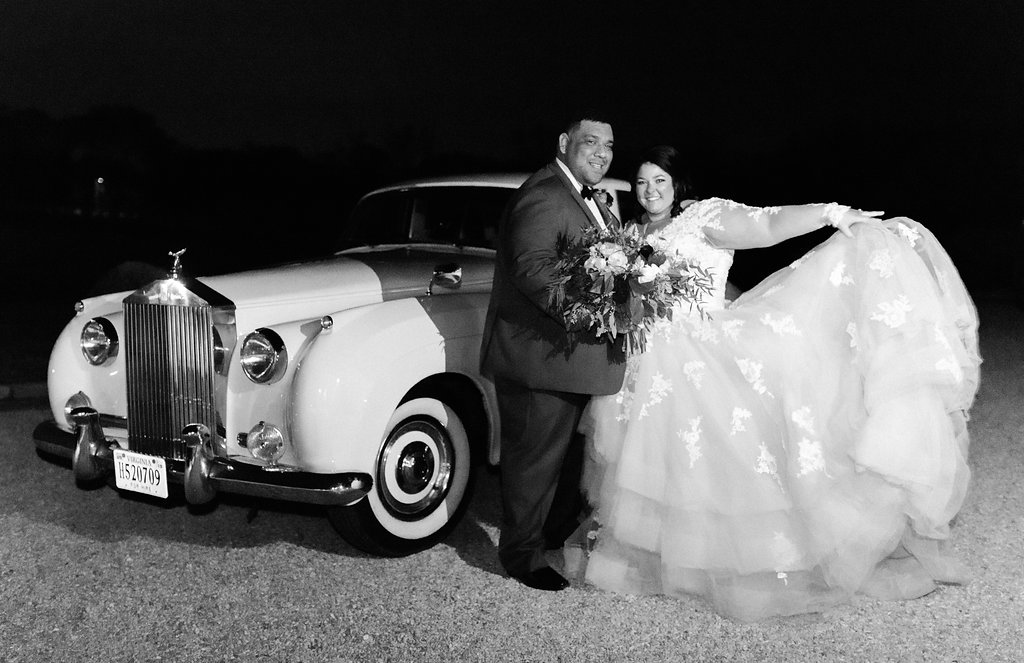 Congratulations Oscar and Katie! And thank you for inspiring us with you beautiful big day!
From the Bride:
What was your favorite detail from the day? "Oh my gosh!  Can I pick 3? My favorite detail would probably be the step and repeat that had our names and vows written on it.  Our florist did an amazing garland that adorned it.  We used it as a photo backdrop for our guests to take photos.  We also had a Polaroid camera and our guests made us a scrapbook.  For Christmas, my parents actually had the step and repeat cut down and framed for us to keep forever!  I also LOVED the centerpiece my florist created using a console table as the base!  It was the perfect statement when our guests walked in!  I felt that centerpiece of amazingness set the tone for our evening. There were even fresh pomegranates in the arrangement!  It was to die for!"
What advice would you give to a bride to be? "Enjoy the journey of wedding planning, and try not to get too caught up in the stress. Be willing to relinquish control because one way or another, you'll get there and your day will be perfect! I spent countless days and months (ok, a full year lol) planning and worrying over every detail. Now when I look back, it isn't the details I remember, it is the overwhelming sense of love we felt that day. To stand there and see all of your closest friends and family in the same place, and knowing they came to celebrate you, is a feeling like no other.
I would also say to surround yourself with good vendors. Not just talented vendors, I mean vendors that are good people. We got sooooo lucky. Having the BEST photographer, DJ, cake baker, and florist. I feel like that can easily make or break your day. It totally MADE ours."
Photos by Morgan Renee Photography 
Florals by Over the Top Flower Shop
Virginia Bride Magazine features the best Virginia Weddings and Virginia Bridal Shows. Find it  all in one place. Check our blog posts regularly for the latest show information.