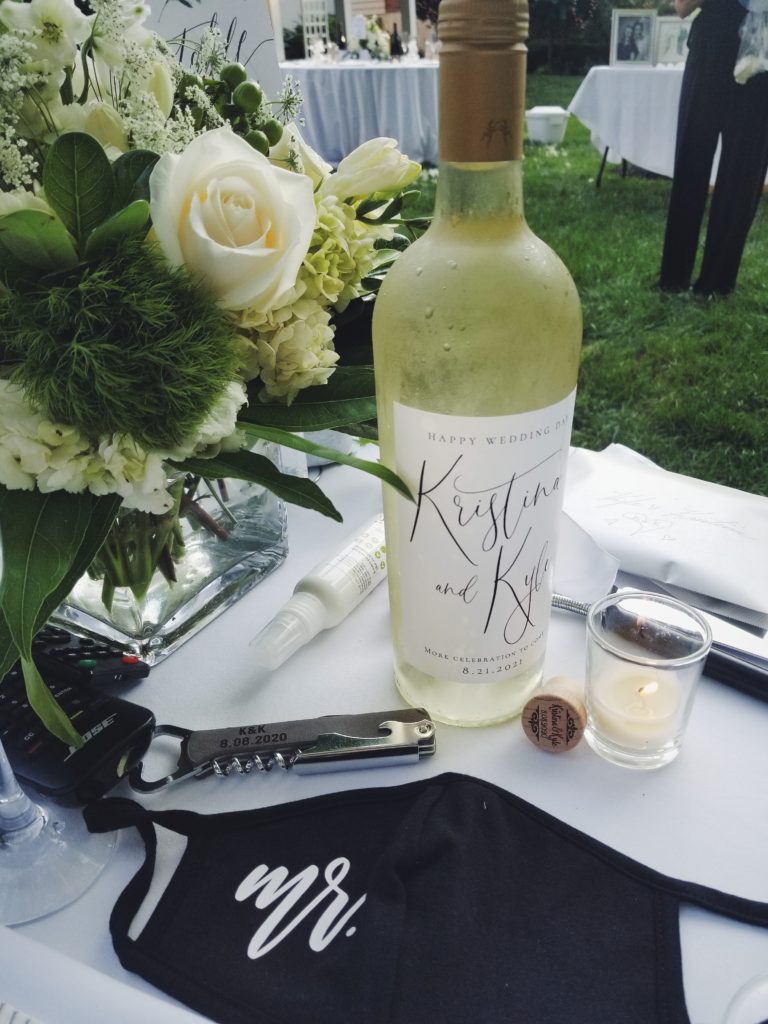 This week's Virginia weddings story comes from a long-lasting relationship.
Eight years ago, Kristina met Kyle through mutual friends at an apartment party in Arlington. The pair began chatting before the crowd headed out to local bars but thought nothing of it at the time. "When the group was ready to head out to the Metro, I must have looked chilly because Kyle then offered me his shirt… (YES! He quite literally offered me the shirt off his back to wear). He unbuttoned his shirt and let me wear it as we made our way to the Metro. We ended up spending the entire night and early morning immersed in conversation getting to know each other. We exchanged numbers that night and the rest was history."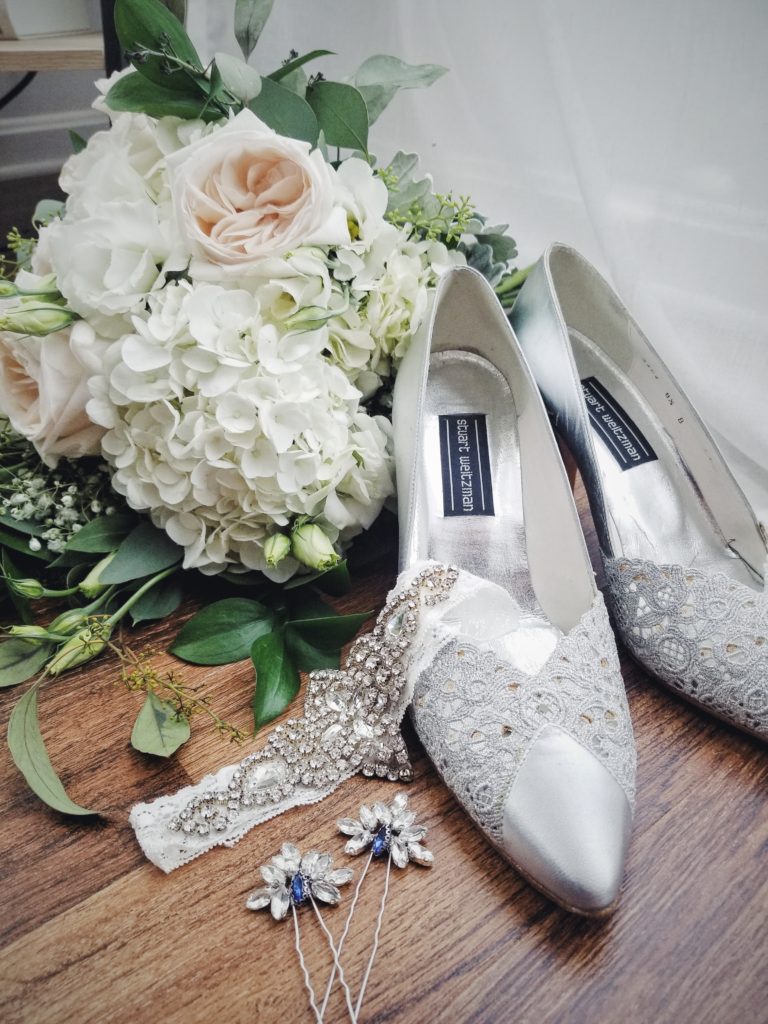 Though the pair texted back and forth nonstop since meeting, they didn't have their first official date until Valentine's Day that year. Kyle sent Kristina a poem, asking her out:
"Roses aren't always red
The sky is sometimes blue
Can't believe it's only been 31 days
Since I happened to meet you
We've shared dozens of texts
And cheesy one-lines
This year will be like no other
As long as you're My Valentine."
"How could I resist? Knowing that I liked seafood, Kyle surprised me by booking reservations at a fancy seafood restaurant with an adventurous menu. This came as a shock because a few weeks prior he had admitted he wasn't the biggest fan of seafood. Secretly I think he was hoping to order a steak but the meal ended up being a pre-fixe, 100% seafood menu. He was such a good sport and as luck would have it, he ended up loving every dish! Happy to report, Kyle's been a much more venturesome eater ever since!"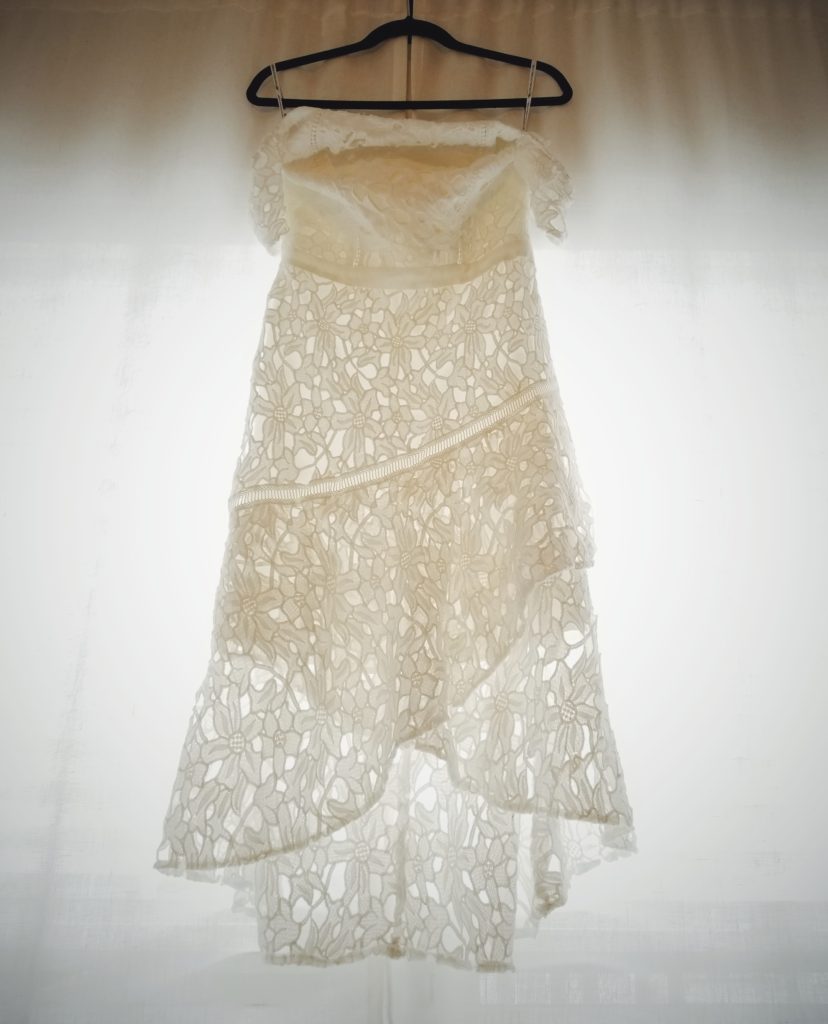 The Scoop:
Bride: Kristina, 31, Pharmacist, National Capital Poison Center
Groom: Kyle, 33, Project Manager, Mobomo
Wedding Date: August 8, 2020
Number of Guests: 10 guests (parents, siblings, siblings-in-law, Kyle's nieces)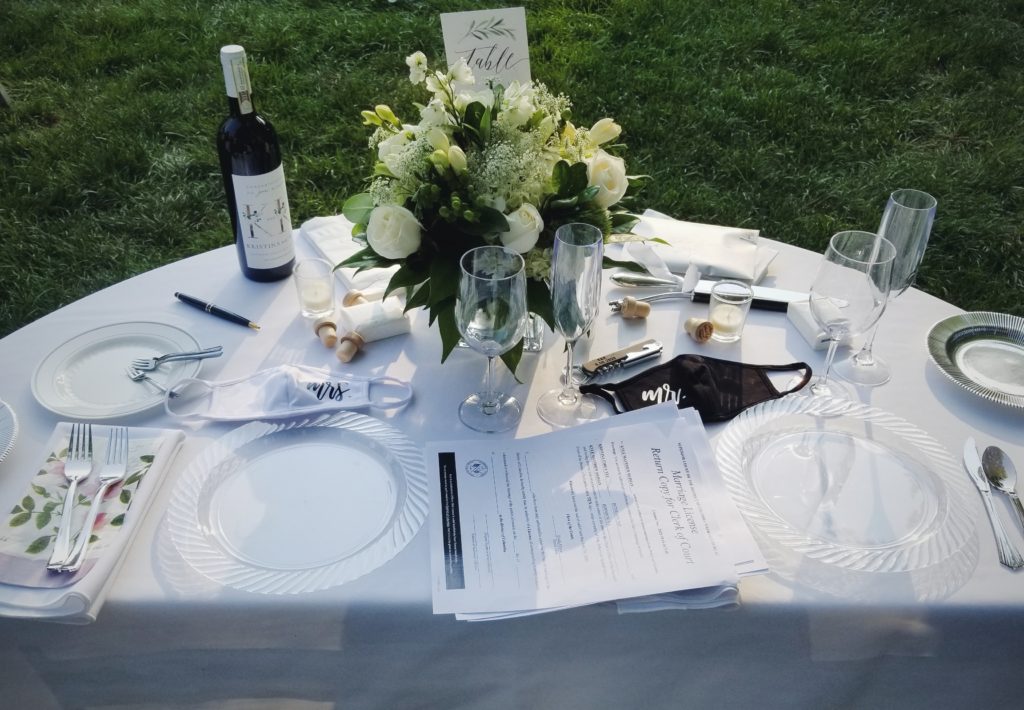 Kristina and Kyle had a beautifully unique wedding this August. They'd originally planned that big wedding for the same date, but with the pandemic fouling up plans, they had to change. They've decided to postpone the large celebration to next year, when hopefully all their loved ones and friends will be able to join in on the celebration.
"We knew we wanted to commemorate our original date for sentimental reasons. [Kristina's] parents got married on that same day 44 years ago and Kyle's maternal grandparents, 73 years ago! I'm also of Chinese descent and the number "8" signifies "Luck" in our culture, so having our wedding on 8/8 was also something we were looking forward to. Instead of our original guest list of 200, we decided to keep our celebration very intimate with just our immediate families present."
"Graciously, Kyle's parents offered to host it in their backyard (also Kyle's childhood home)! We were elated because his mom (Beth) has the most beautiful home garden, and the thought of being able to celebrate where he grew up truly felt right. Orchestrating a wedding in the middle of a pandemic presents some logistical challenges, and although both Kyle and I were unsure of how it would all pan out, our moms (Beth & Dorothy), were instrumental in making it all come together via texts and phone chats amongst themselves. Through all our doubts, the two of them remained steadfast and reassured us that the day would be absolutely perfect, and they were right."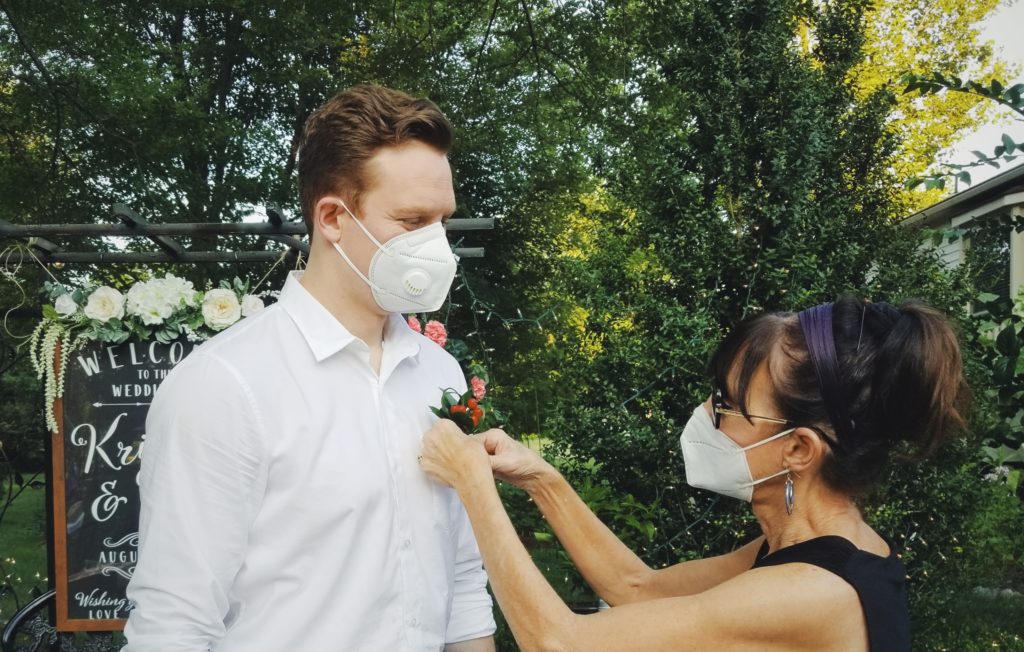 Some unique details they were able to include in their intimate ceremony included: custom bride and groom face masks and personalized bottles of wine, along with wine works and bottle openers at each table.
Kristina and Kyle planted a lemon tree as a symbol of the beginning of their marriage and the growth to come. There was a special video with clips from Kyle proposing to Kristina in Venice, photos from their relationship and passed loved ones, and friends who couldn't join because of the pandemic.
An extra special touch, since they were safely at Kyle's parents' home, was a fireworks display from Kyle and his dad.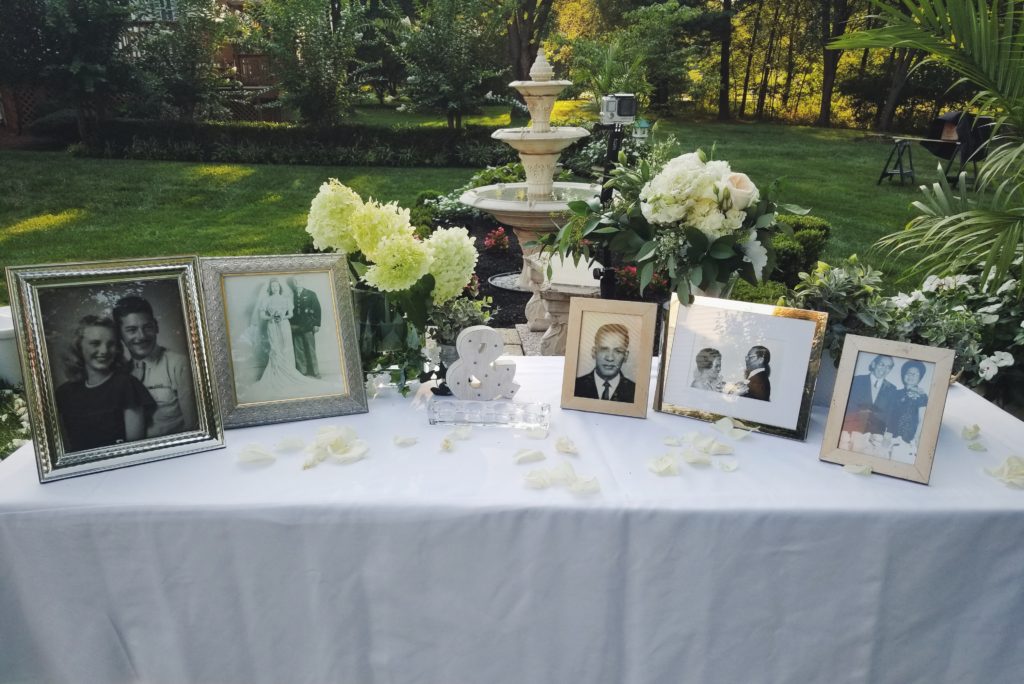 The couple chose easy to manage food options, including personal pizzas for each guest from their local favorite pizza place from Reston, VA. They collected everyone's orders ahead of time and had them delivered to the house the day of the celebration.
They also created their own special playlist full of classics and oldies, including many love songs from the 60s through the early 2000s. They included their parents' and siblings' wedding songs, which they danced to.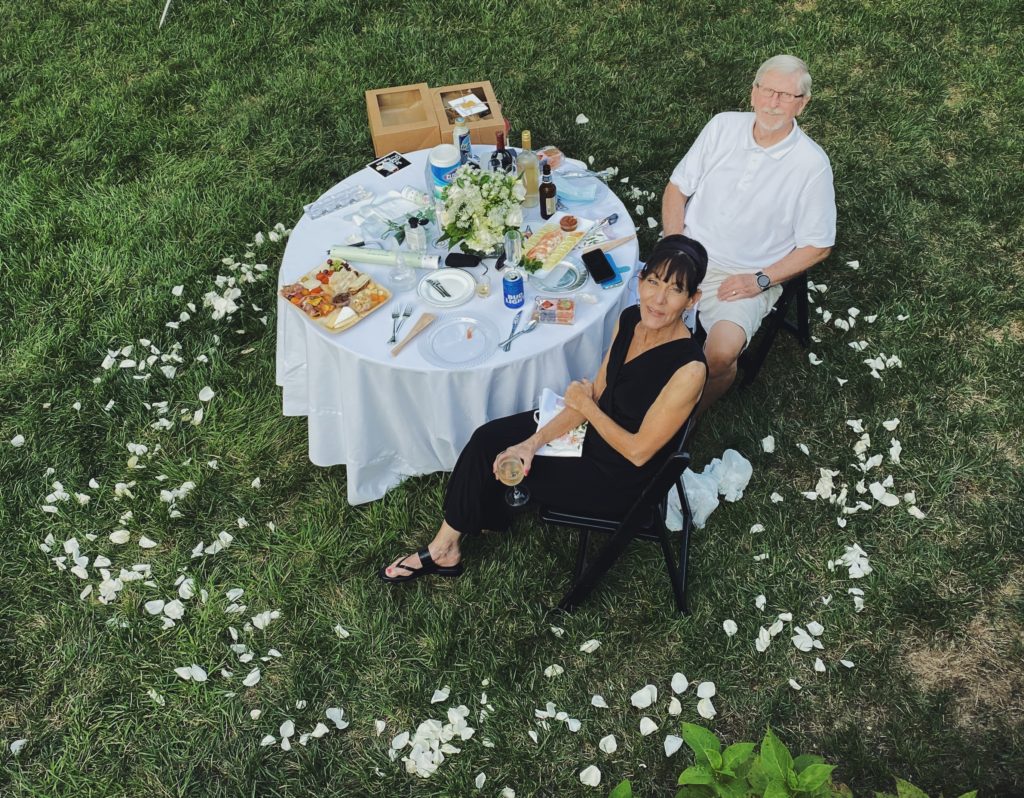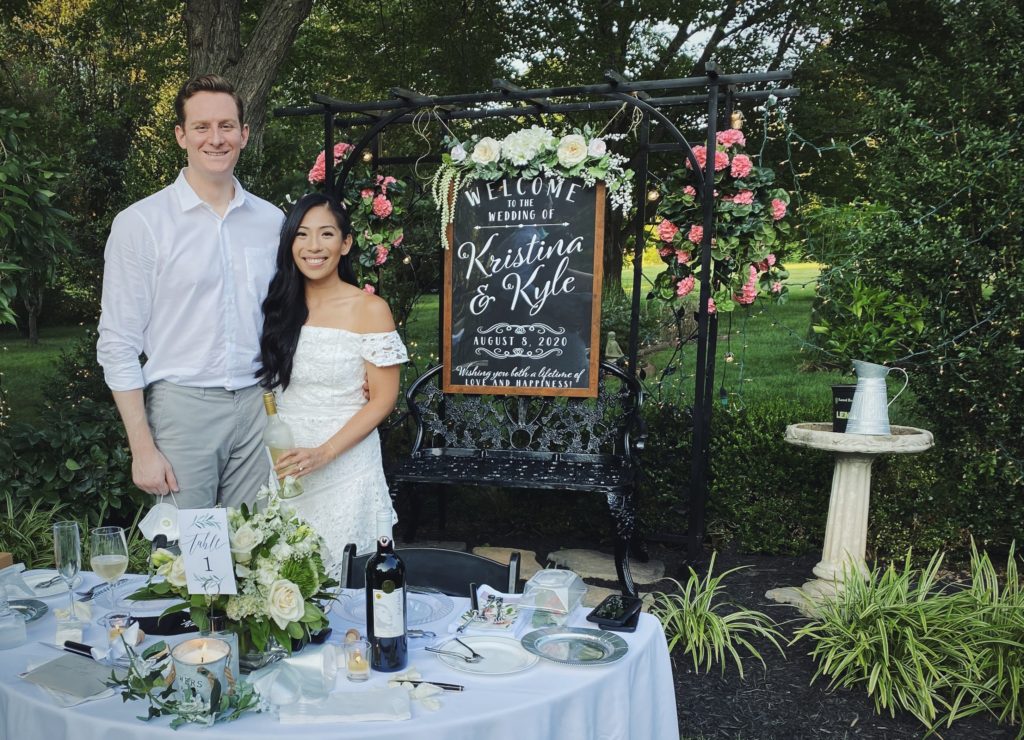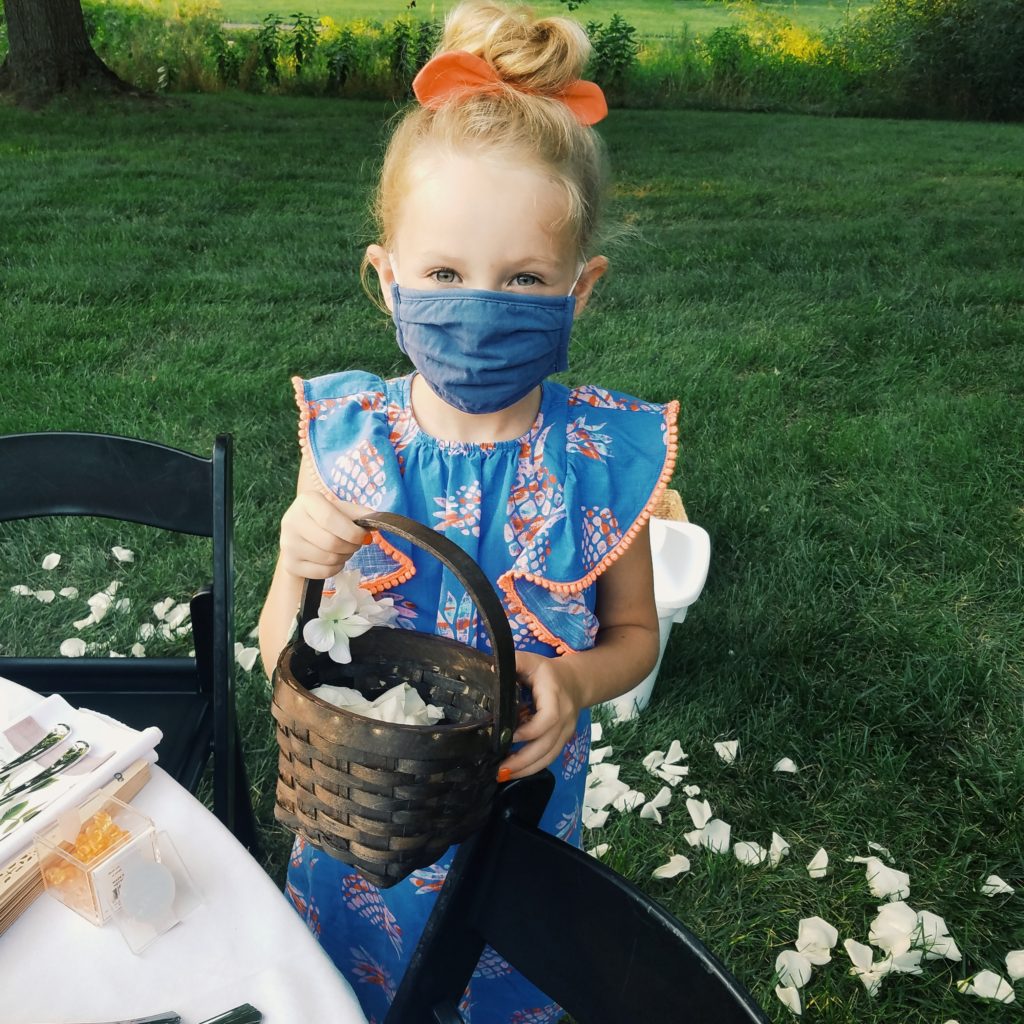 Kristina wore a white, off-the-shoulder eyelet dress from ASOS, with a borrowed jeweled lace wedding garter from the intended bridesmaid. She also wore her something blue – some rhinestone hair barrettes – after her intended blue earrings from Etsy were stolen in the mail!
Perhaps most unique and special of all, Kristina wore her mother's vintage Stuart Weitzman silver pumps from her wedding in 1976.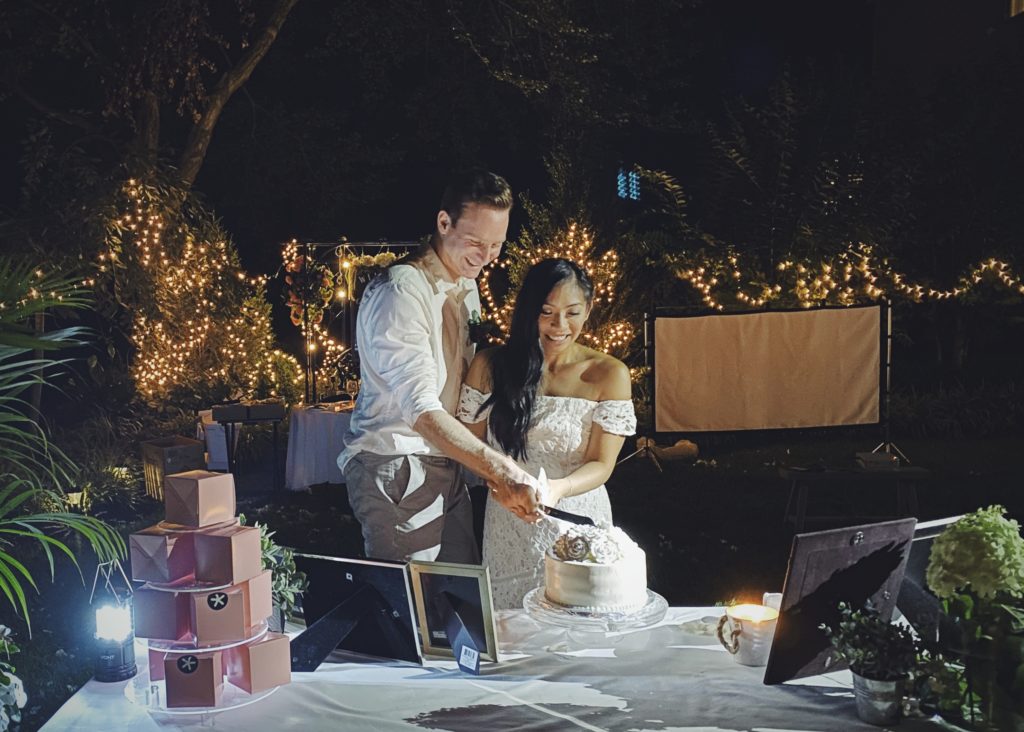 Their casual, DIY backyard relaxed wedding was a truly beautiful, unique affair with surrounding them with love as them embark on this journey together.
Thank you so much for sharing your story with us. Congratulations to you both!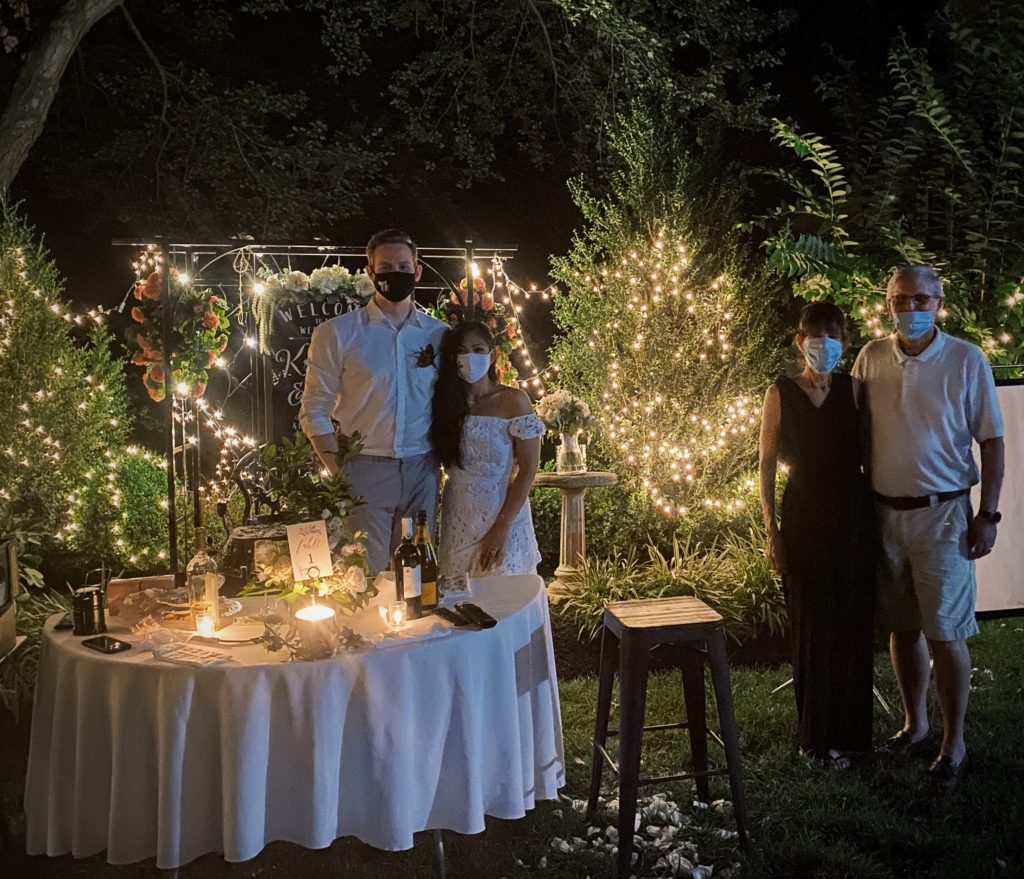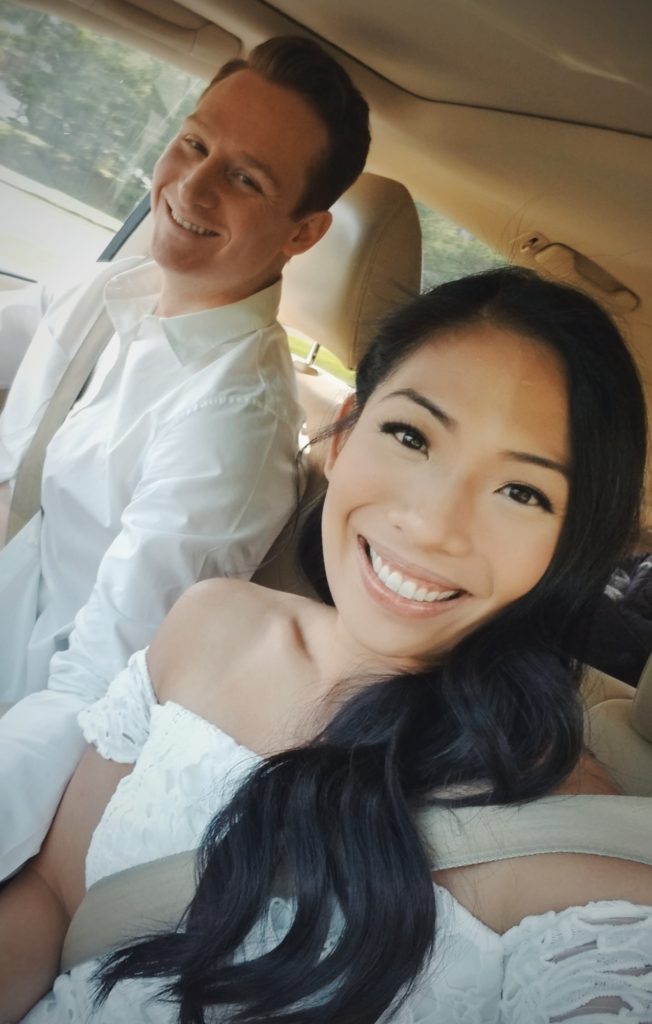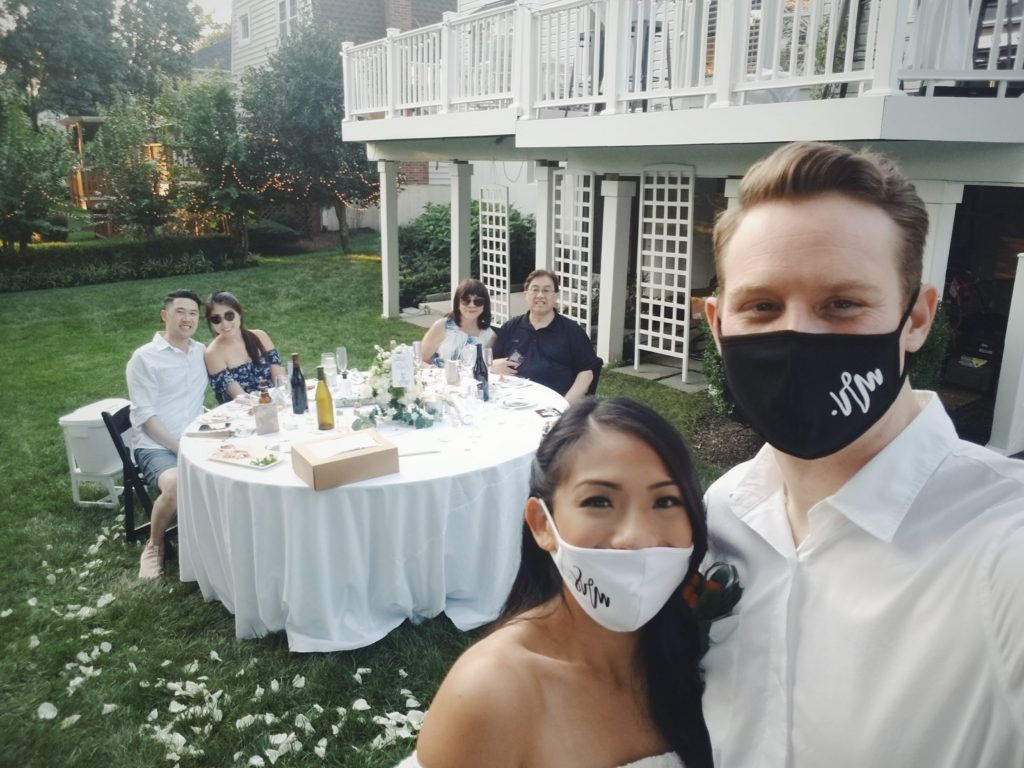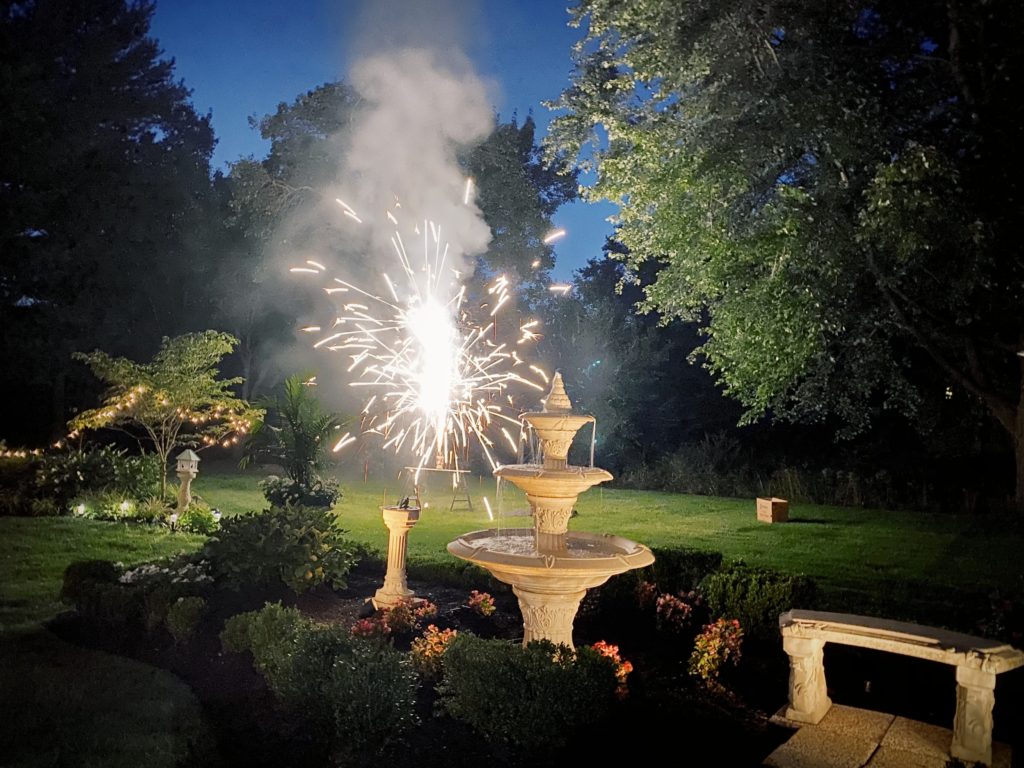 Vendor Credits:
Venue: Kyle's childhood/parent's backyard in Oak Hill, VA
Photographer: Due to COVID/safety, we opted to not have a professional photographer, so all photos were taken by our family or by us.
Consultant: Our mom's (Beth & Dorothy) were absolutely paramount in getting the ball rolling with everything, so we credit them for their wonderful planning!
Gown: ASOS
Shoes: Kristina wore her mom's wedding shoes from 44 years ago! They were vintage Stuart Weitzman silver pumps.
Hair & makeup: Bride
Rental equipment: Sammy's Rental, Manassas, VA, 703-361-6216
Catering/Food: Chick Fil A  & AndPizza
Music: Spotify playlist
Cake: Balducci's, Bethesda, MD, 301-564-3100
Cupcakes: Georgetown Cupcakes, Bethesda, MD, 301-907-8900
Favors: We put together our own wedding favors which included personalized bottles of hand sanitizer, Starbucks gift cards, and candy cubes from Sugarfina.
Honeymoon: We are still planning on having our originally planned hotel wedding celebration next year August 2021. Not sure where the honeymoon will be!