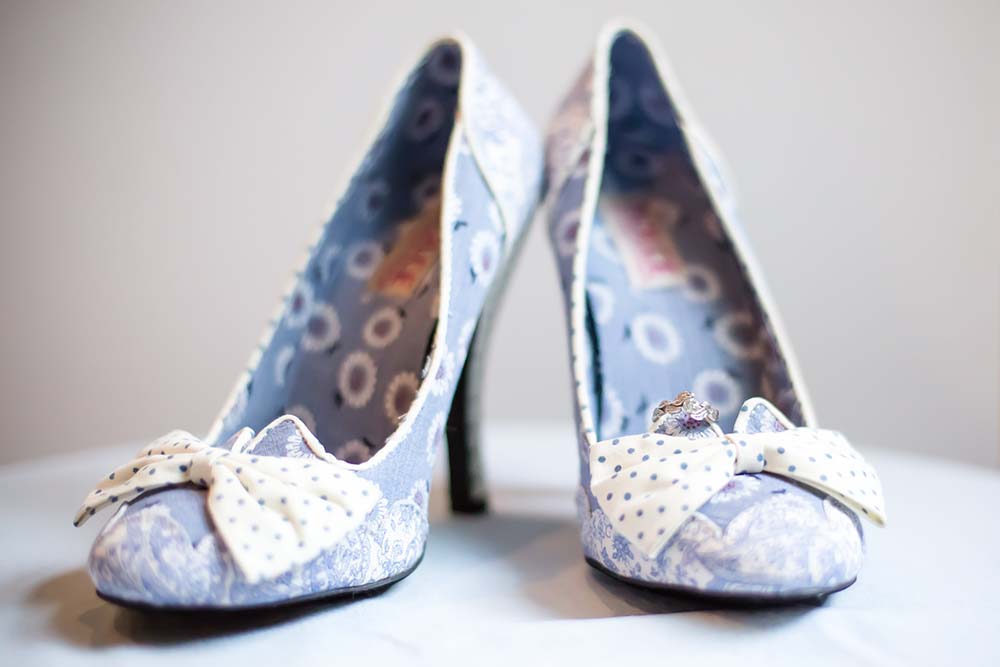 These sweet blue pumps belong to today's bride who was married last November in Virginia Beach, Virginia.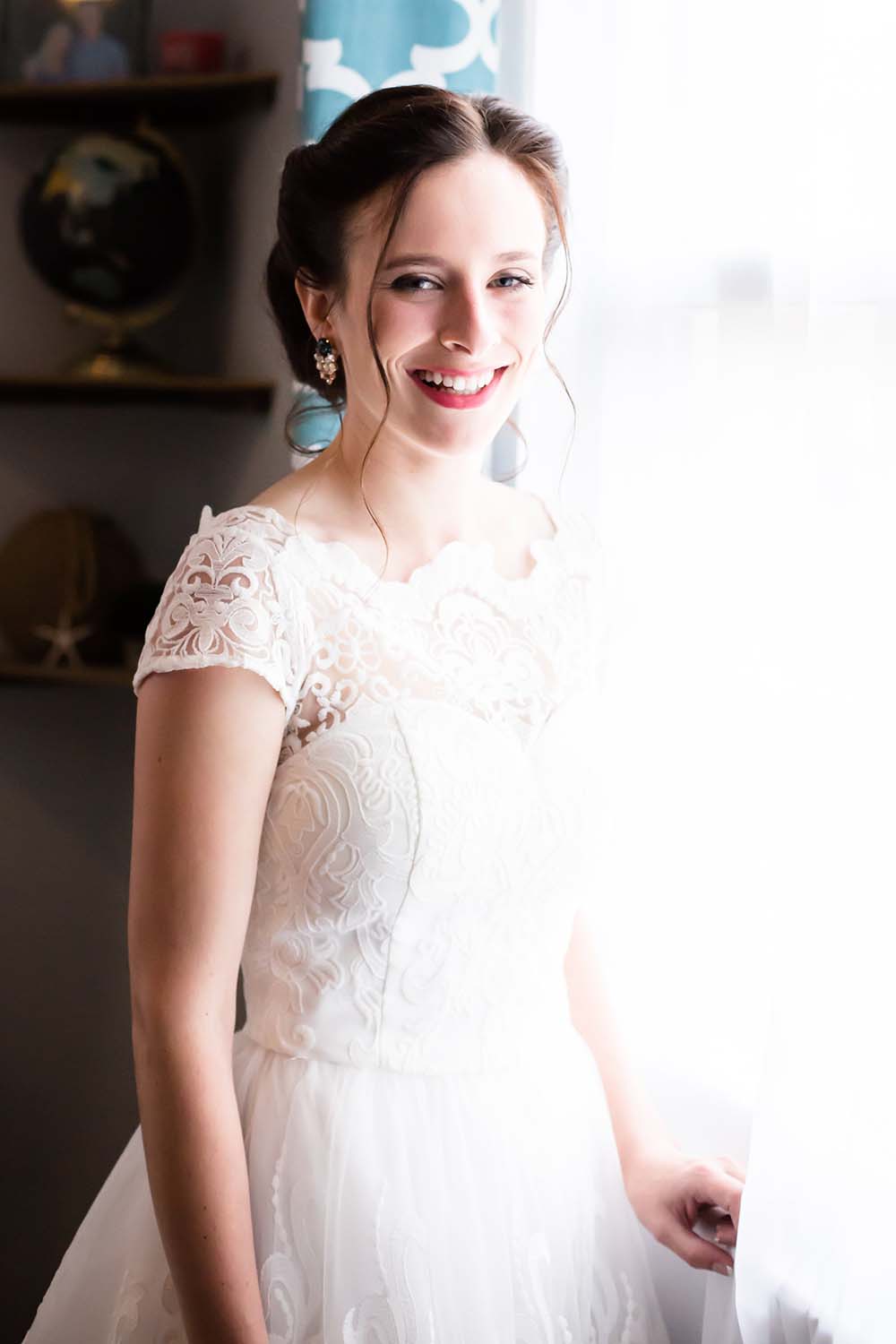 Lauren actually met her groom, Levi, at a family thanksgiving. One of her cousins' husband had invited his own cousin, Levi, to join her family for the holiday weekend as he was stationed in Virginia away from his own family.
"So long story short Levi and I were set up by our cousins who are married. Not quite kissing cousins but close!" Lauren joked.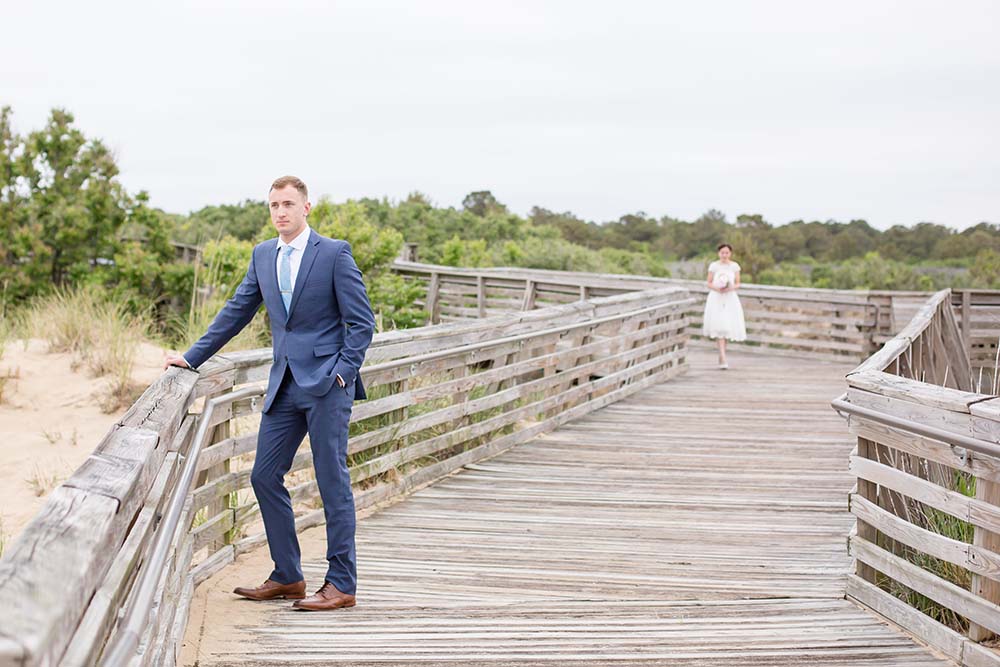 They had their first look on the beach. Levi wore a blue suit that complimented Lauren's blue heels perfectly.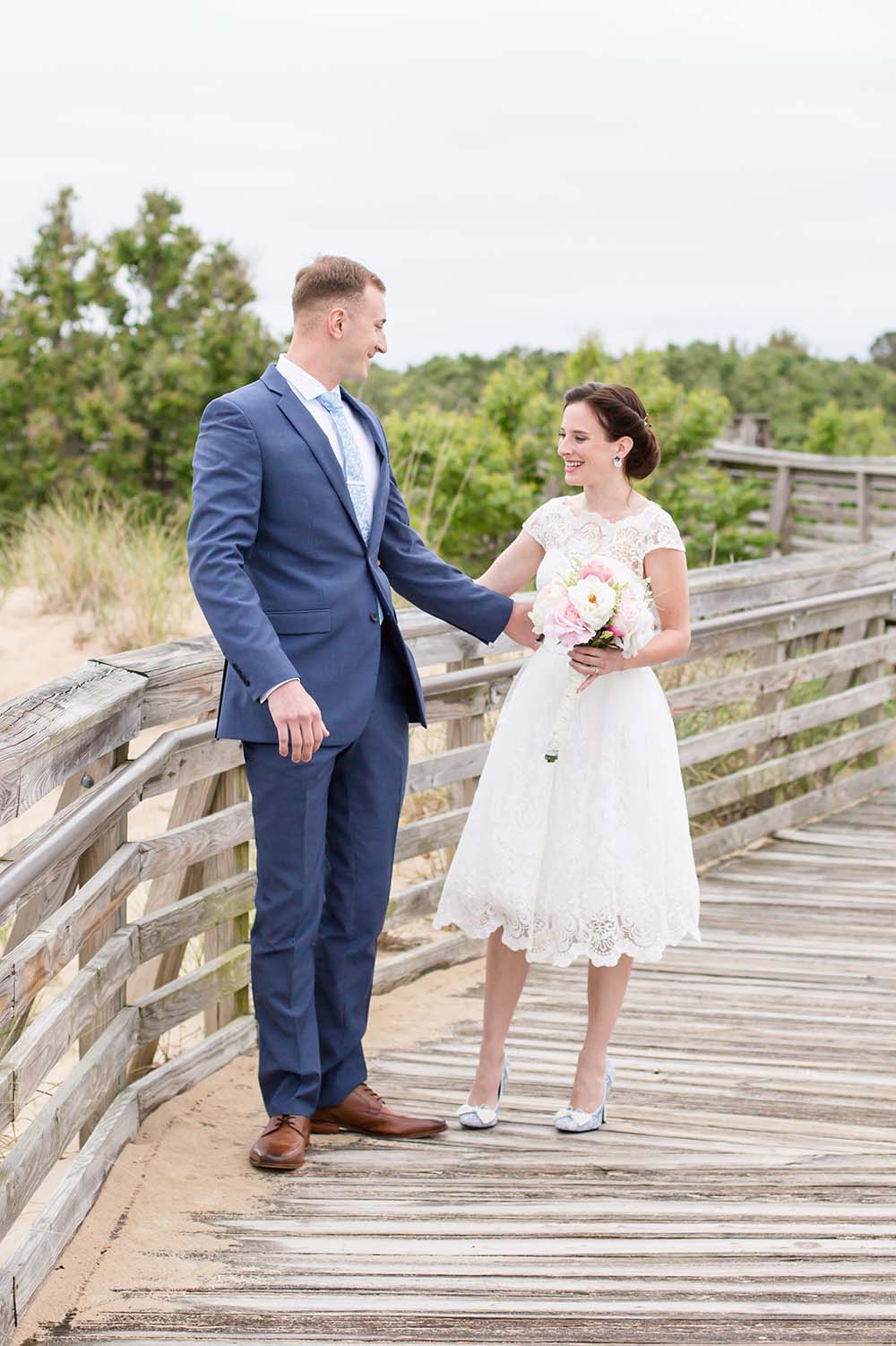 Lauren said a first look was important to her to have a first look so the pair chose cherish time together in a private setting.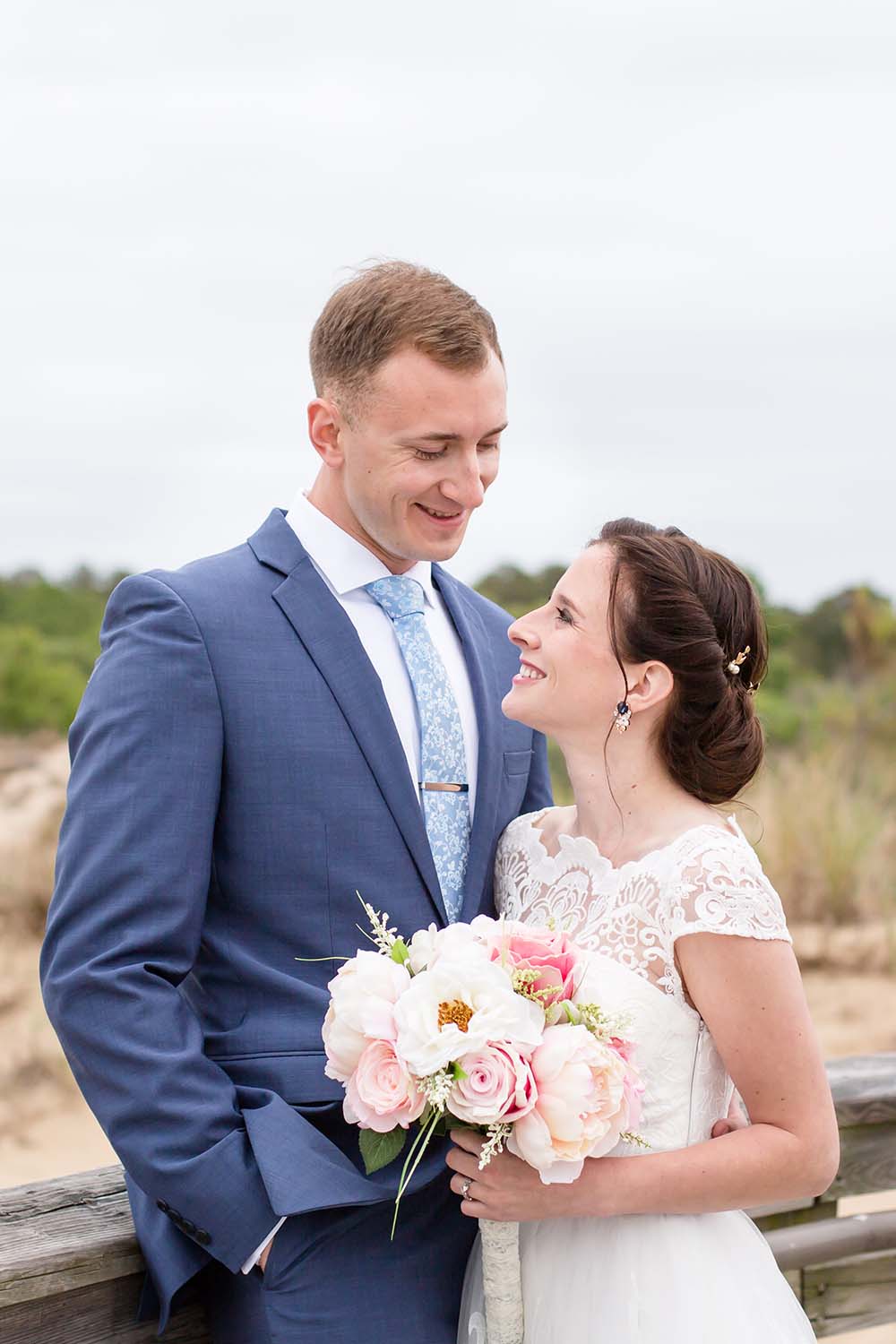 Don't they make a beautiful couple?!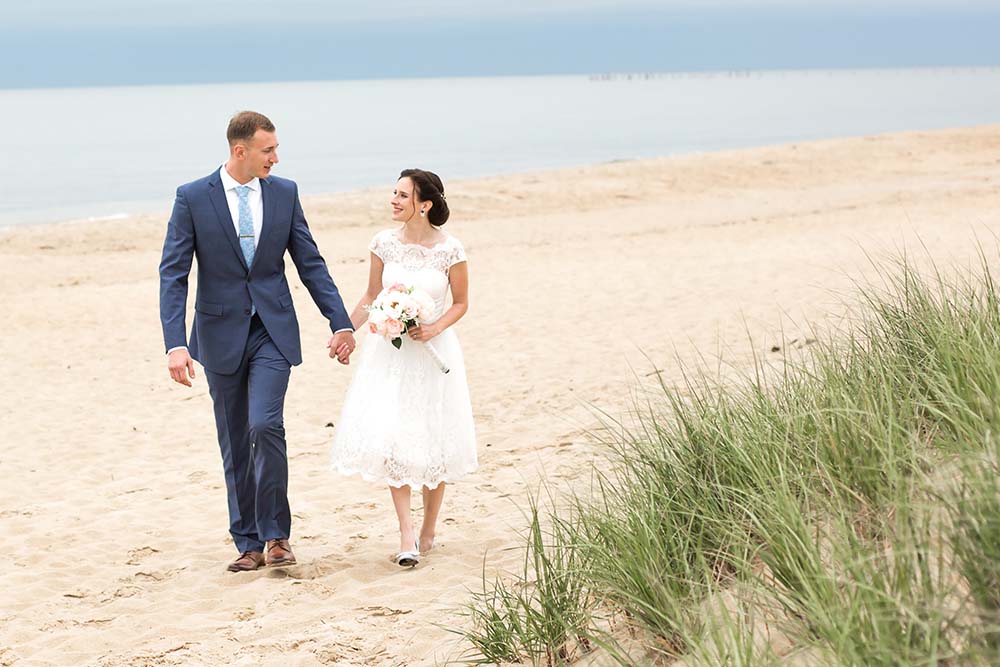 And how perfect is this beach?! Lauren, you are a CHAMP walking in the sand in heels! Also, lets take a moment to appreciate her knee length dress…it is PERFECTION ? would you look at that lace trim?!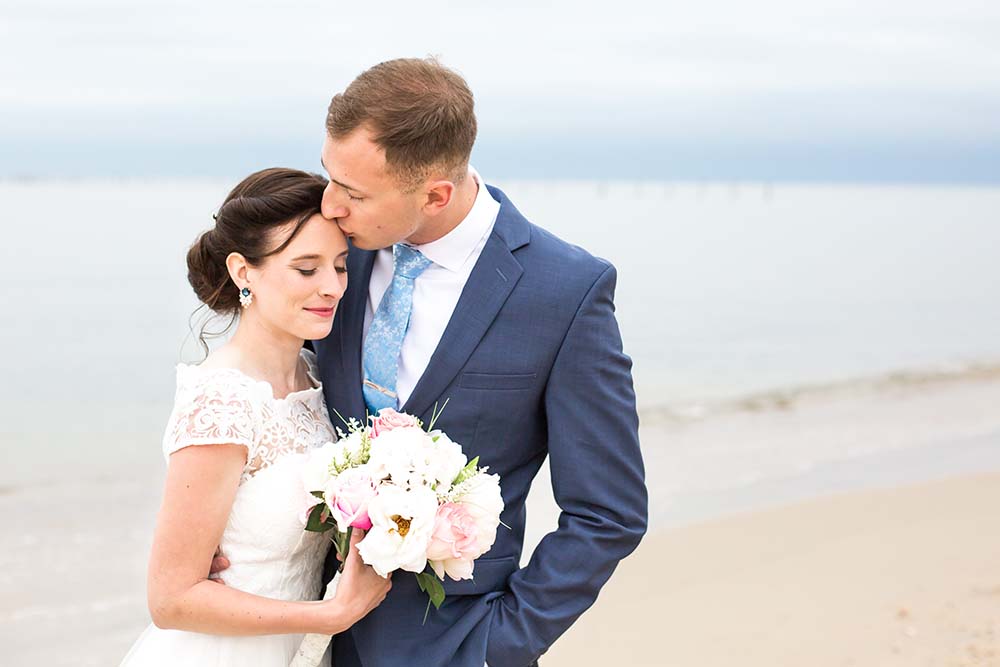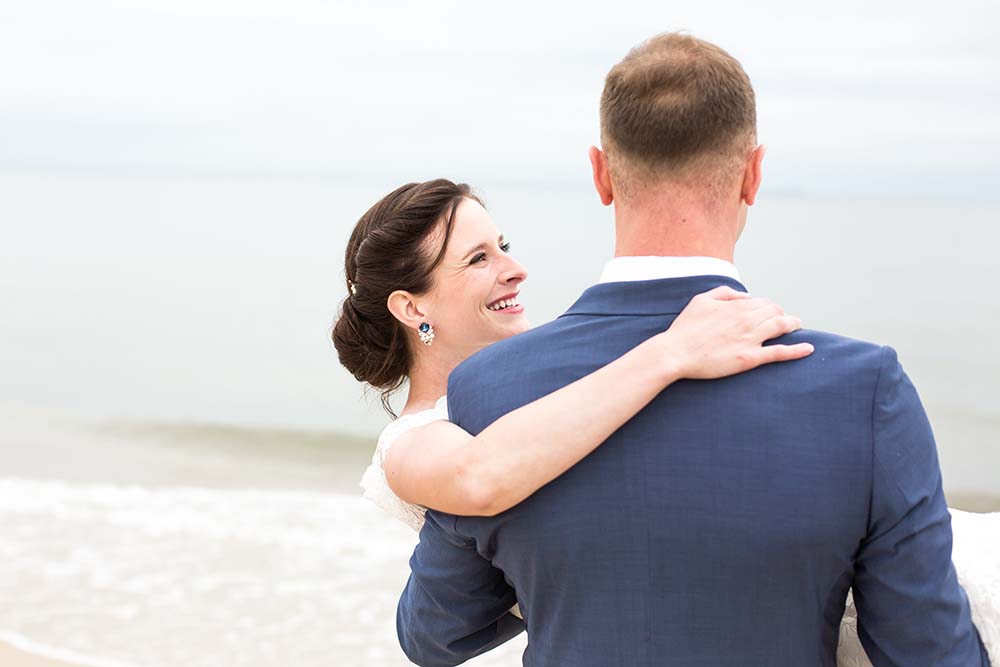 But of course her man scooped her up for the rest of the walk. So much cuteness.
Soon after, it was time for the ceremony which took place in Great Neck Park on the gazebo.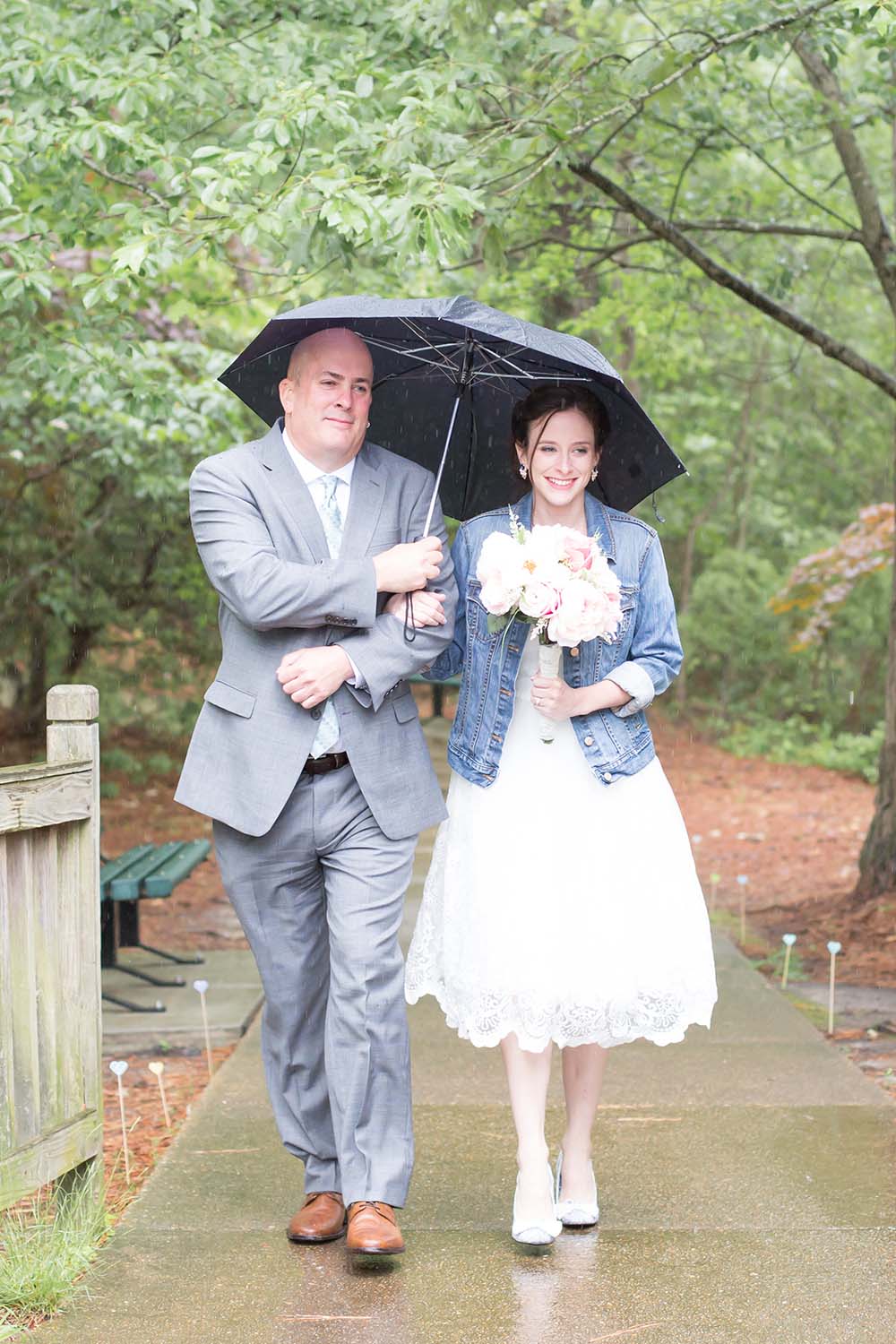 Rain began to fall but Lauren's smile never did. She came prepared with an umbrella and rain jacket for her walk down the aisle.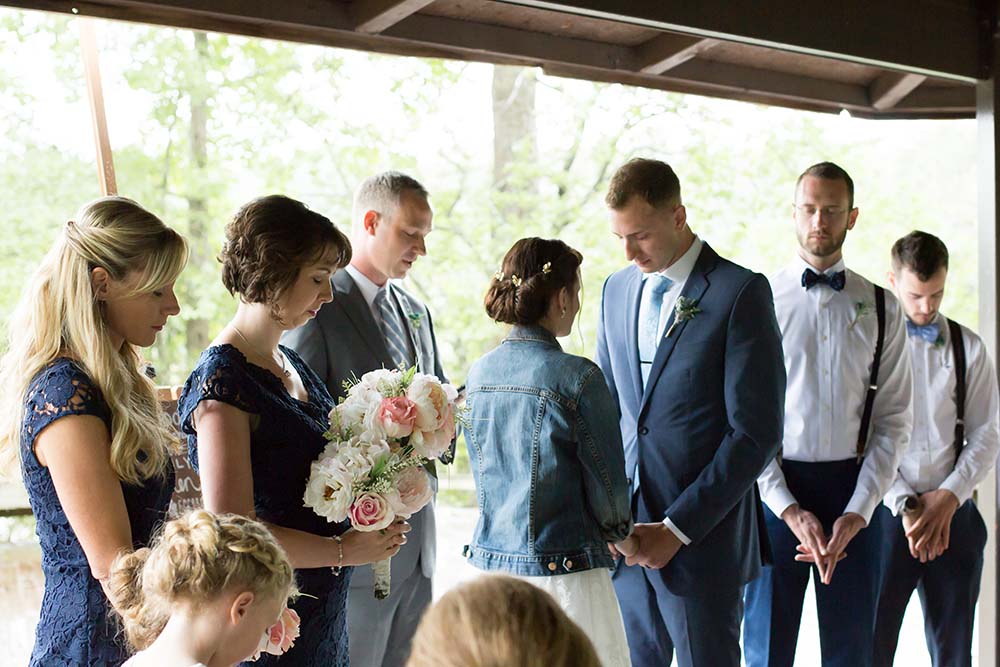 Luckily the gazebo was covered and made the perfect setting for their vows with water in the background.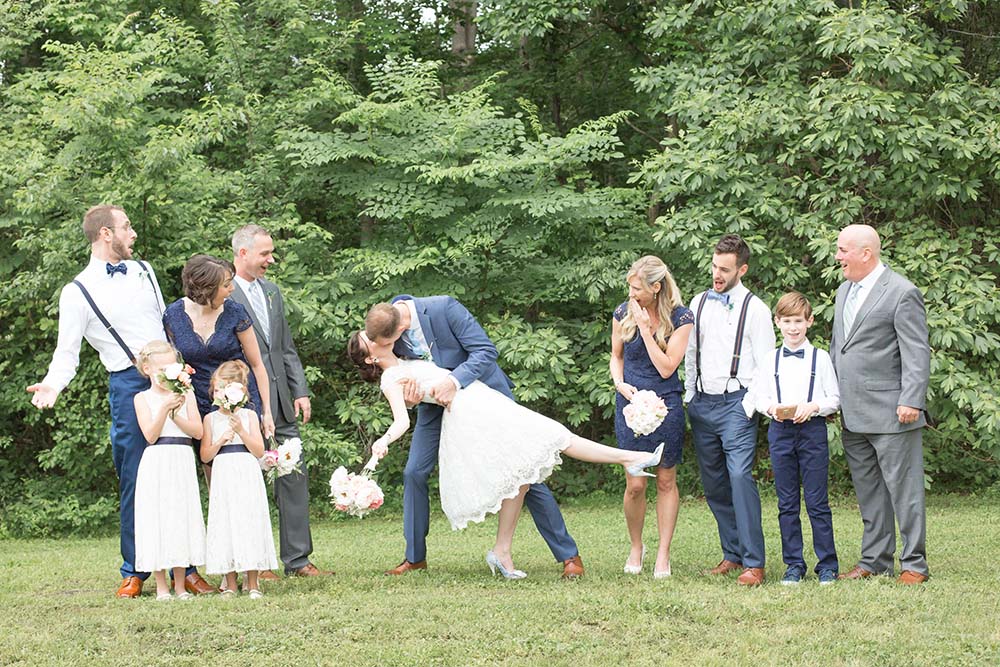 After, they took family and bridal party photos! I love the animation in everyone's faces in this photo!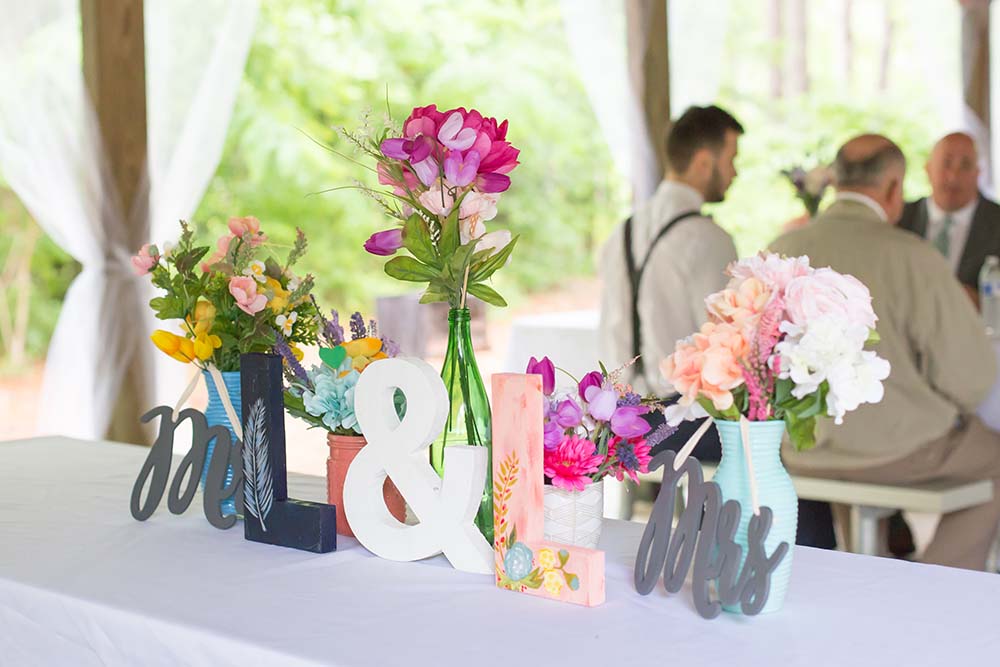 The reception was decorated colorfully with fun DIY decorations that Lauren said the pair were working on until late the night before.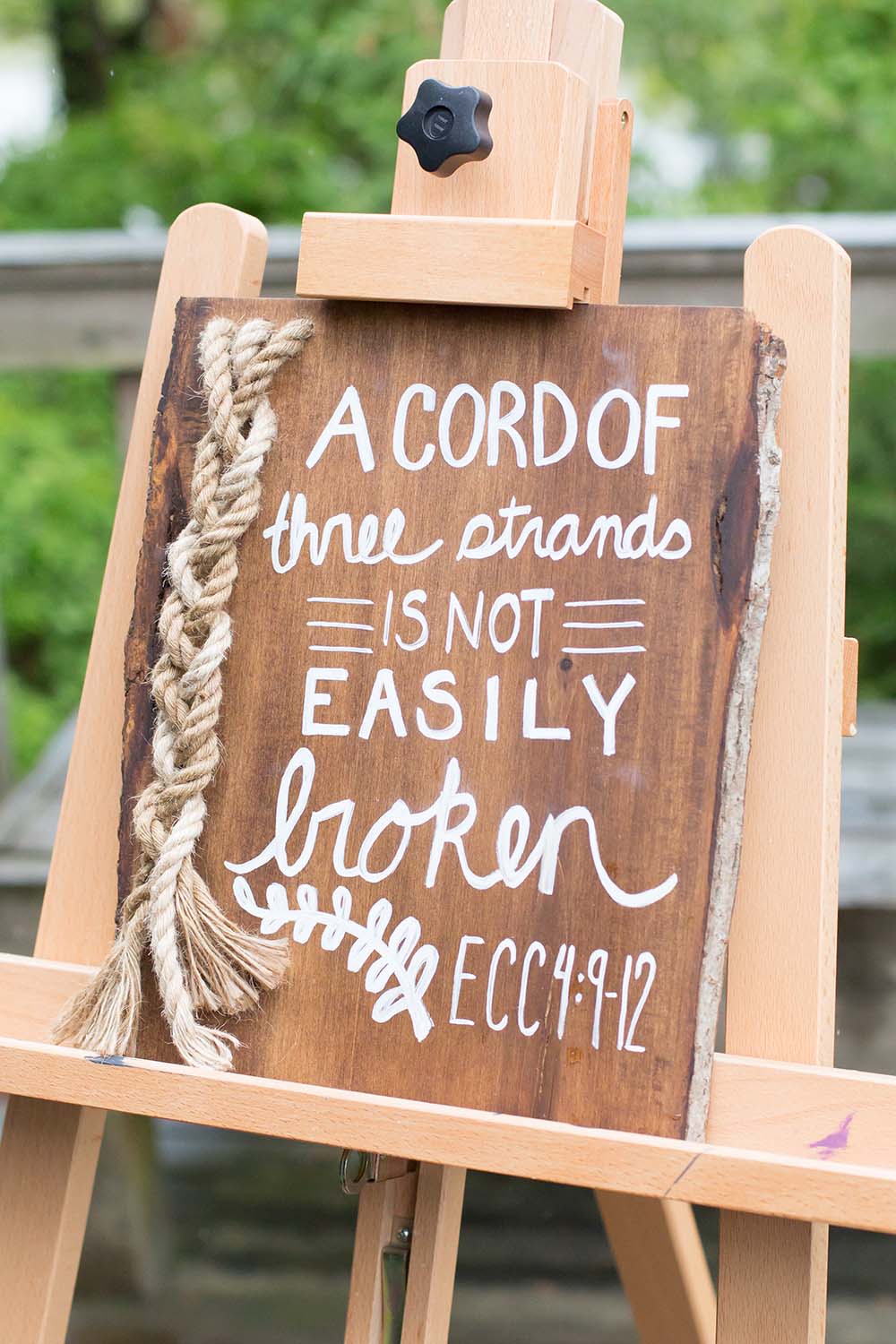 Lauren, I wouldn't have known unless you told me! Everything looks beautiful and I love this Bible verse sign.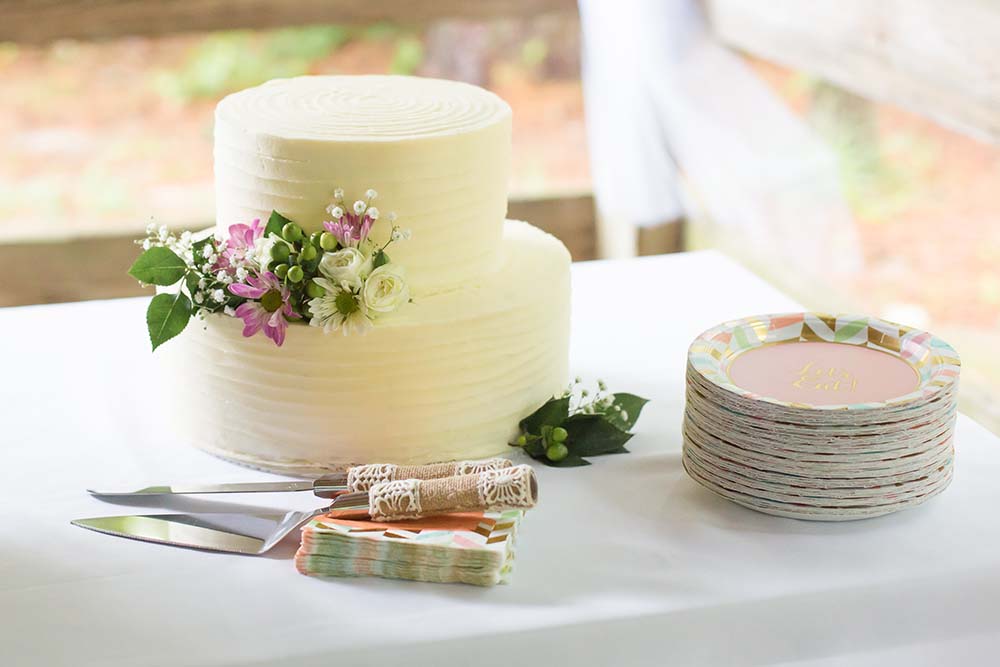 Congrats to Levi and Lauren!
From the Bride:
What was your favorite detail of the day? "One of my favorite details of the day is that it rained. Most brides live in fear of it raining on their outdoor wedding however I thought it added an element of surprise and unpredictability which can be really fun. We were prepared the night before with black umbrellas. The ceremony was on the covered part of the gazebo as was the reception so the wedding party simply needed umbrellas for half of the isle. The umbrellas made for some unique photos and my denim jean jacket just added to the fun and colorful ceremony we had created! They say rain on your wedding day is good luck and the gray clouds make for amazing outdoor lighting!"
What advice would you give to a bride to be? "My advice for any bride to be is that at the end of day you will have married your best friend that is the goal, the rest is to celebrate that that goal. There is always a chance that something will go wrong, by not worrying over those things make these whole day much more enjoyable and fun. You can worry all the way up to the night before and then after that your only job is to rock that dresses, get married, and have fun."
Photos by Meridith Bright Photography