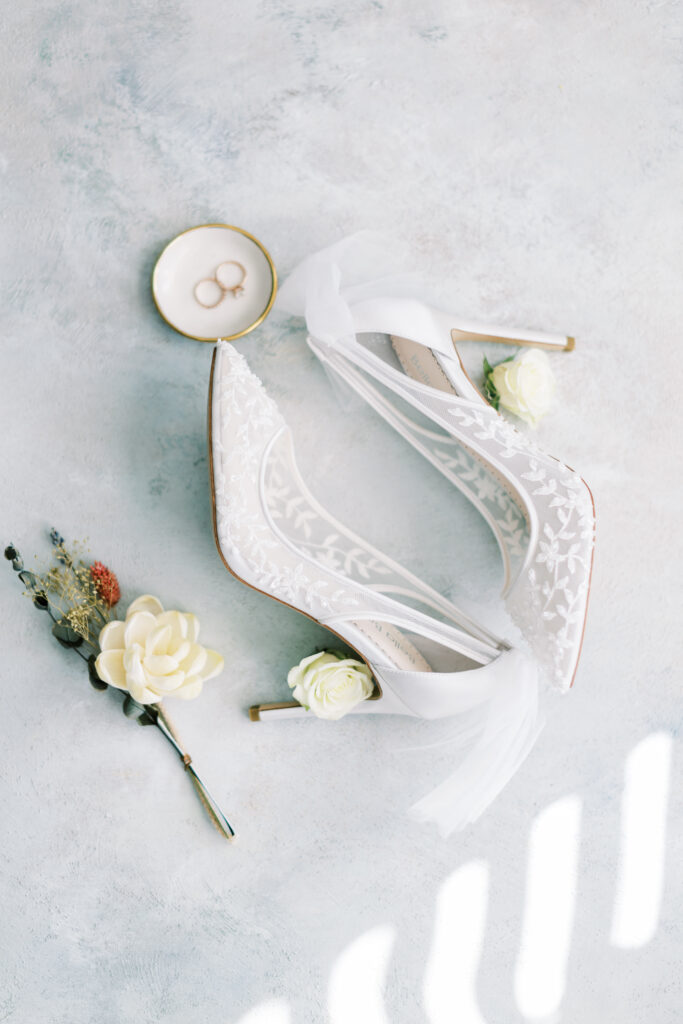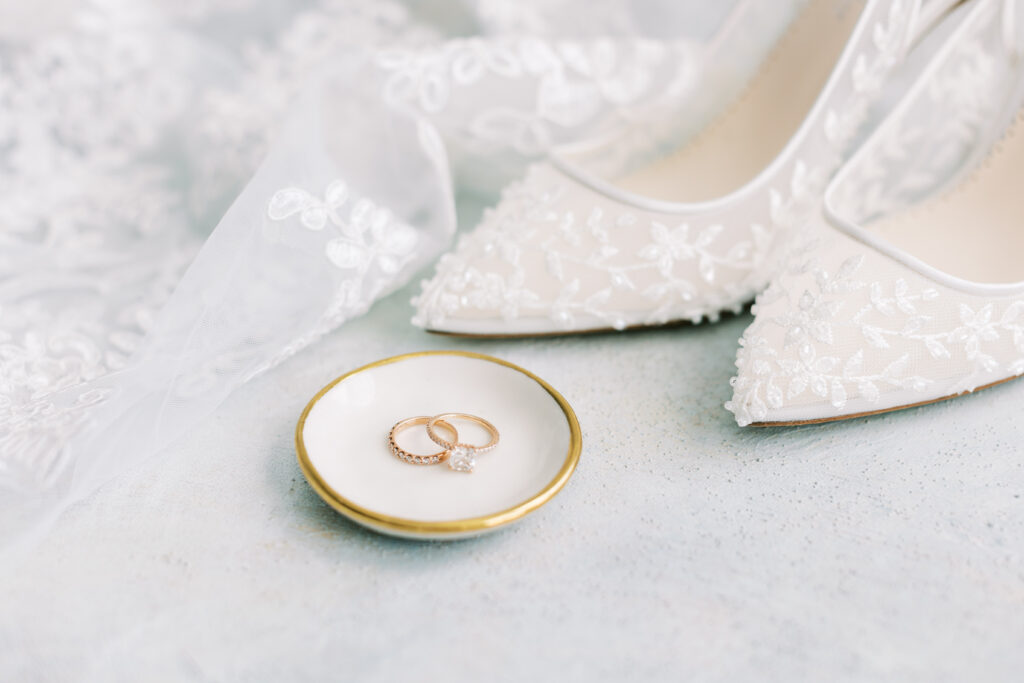 Megan and Sean first met in Florida while Sean was in flight school. They were "at a friend's house playing Mario Cart and eating pizza. We made eye contact and it was butterflies immediately."
"We were long distance for the first year of our relationship, so our first date, he came to visit me in DC. I was so nervous picking him up from the airport because this was the first time seeing each other since we had met in Florida. He had never been to DC, so we spent the day touring the monuments and museums, riding the metro, (and of course having pizza for dinner). I remember looking at him sitting next to me on the metro and knowing I loved him. He also agrees that that was the day he knew he loved me too."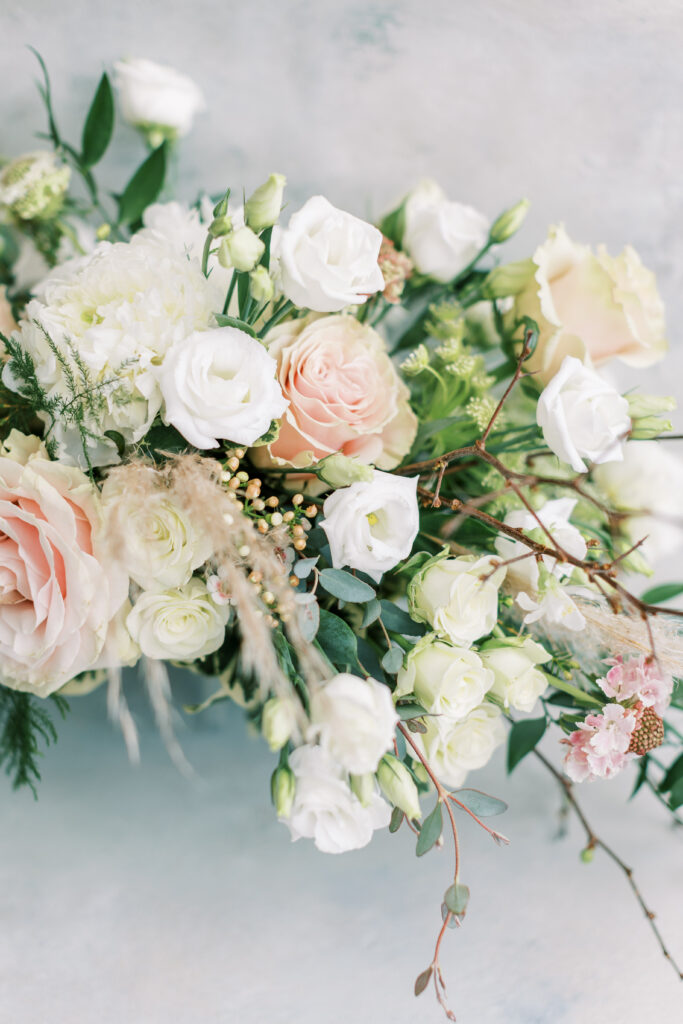 Megan remembers fondly about the first time they said those all important three little words. "The first time we said 'I love you' he said it first and thought I hadn't heard him! I said it back, but he swears to this day that I hadn't responded. So when I got back to DC, I called him and said I love you at the end of the conversation and he said 'finally! I was so nervous you didn't feel the same way.'"
Megan and Sean dated for two and half years before the big day when they planned a romantic getaway to Charlottesville, VA. "We stayed in a beautiful AirBnB that was a little white cottage in the countryside right outside of Charlottesville. On the day he proposed, we went on a morning hike up Humpback Mountain.
"The whole hike I was kicking his butt (which is not typical) and I kept teasing him that he was walking so slowly. We got to the top and climbed to a secluded ledge. We were staring out at the incredible view when he turned to me and said 'You are the love of my life. I want to spend the rest of my life with you. Will you marry me?'
"I was stunned. He pulled out of his pocket the most gorgeous ring that he had completely picked out himself. As soon as he put it on my finger, he laid back on the rock and said 'I'm so glad it's on your hand and safe! I was worried the whole hike that it would fall out of my pocket!' He had had it loose in his pocket the entire hike because he didn't want me seeing the ring box and know what was coming.
"That evening we drank champagne and ate a fancy dinner at C&O's (one of my all-time favorite restaurants). I called my parents the next morning to tell them and found out that he had specifically called my dad to ask for permission that week, so they knew it was coming and were so happy. I found that very special because I love traditions and the symbolism of my family accepting him as my husband."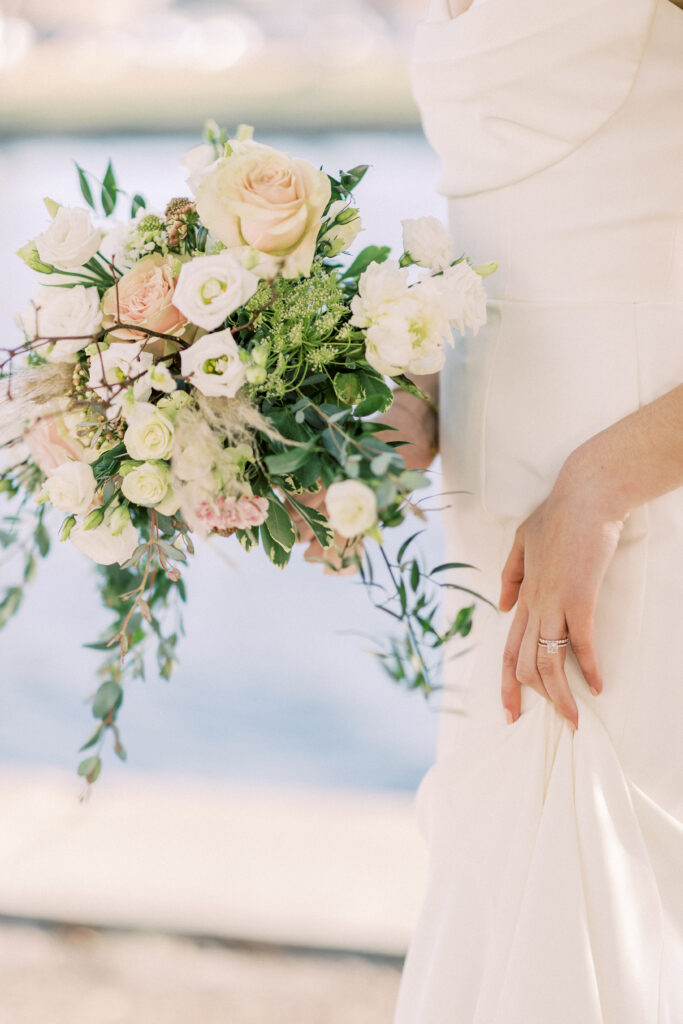 The Scoop
Bride: Megan, 26, pediatric nurse, U.S. Navy
Groom: Sean, 30, helicopter pilot, U.S. Navy
Elopement Date: August 1, 2020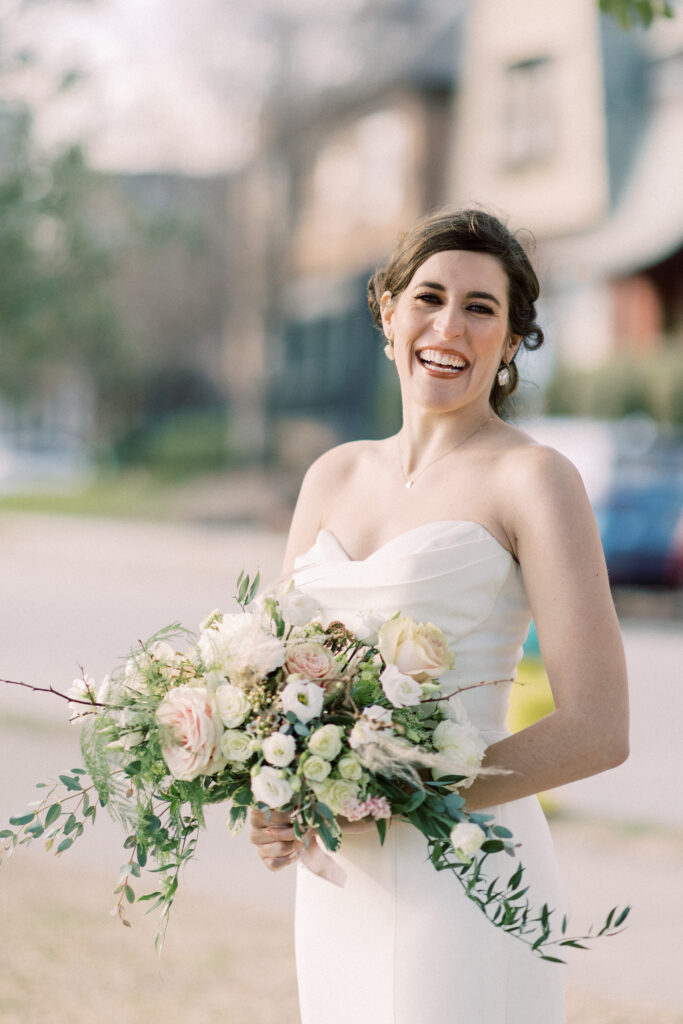 Since Megan and Sean weren't able to keep their big wedding day plans, they forged ahead with an elopement. They have big plans for a "re-do I-do" though!
"We will hopefully have a wedding sometime this year (or next) when he returns from deployment. We consider ourselves married, but since our family wasn't there, we want our wedding date to be the day that we are married in front of our loved ones at a church. We don't have concrete plans yet because of COVID and his family is out-of-state and are still nervous to fly at this time. We hope to have a ceremony at my hometown church in Lexington, VA with our families and close family friends and then a reception at my parents' house with a live band and a buffet!"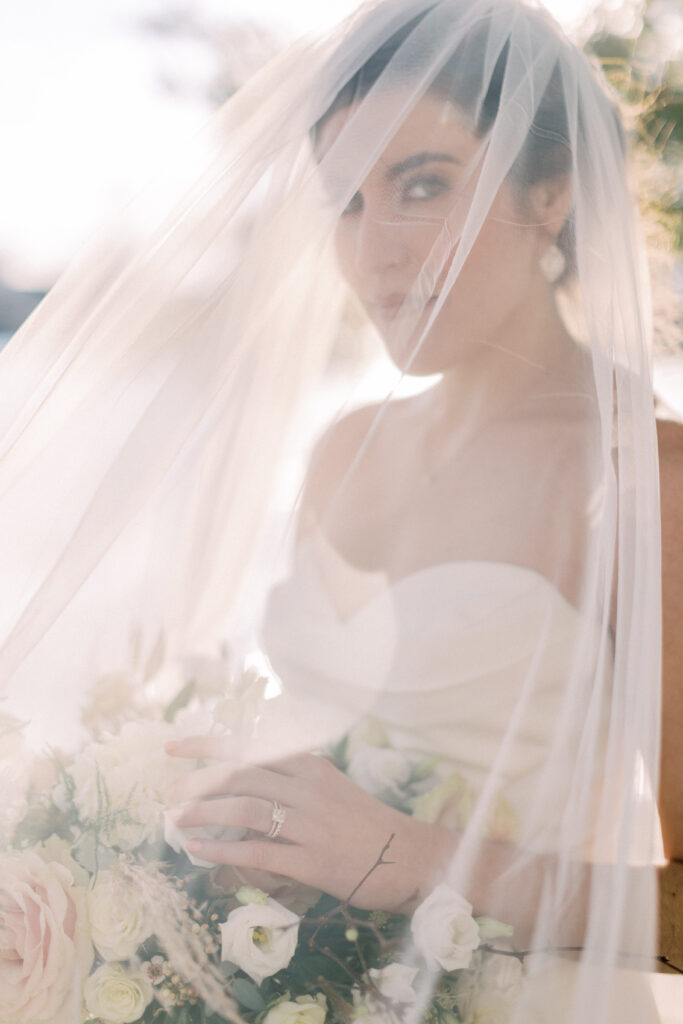 Not wanting to miss out on her special photos from their day, Megan opted to have some bridal portraits done. "Brigitte is one of my closest friends from college and is an incredible photographer. I have never worn my wedding dress before and wanted to have special photos in my dress in case our wedding does not happen, as well as to capture the joy I feel in having married the love of my life this past year."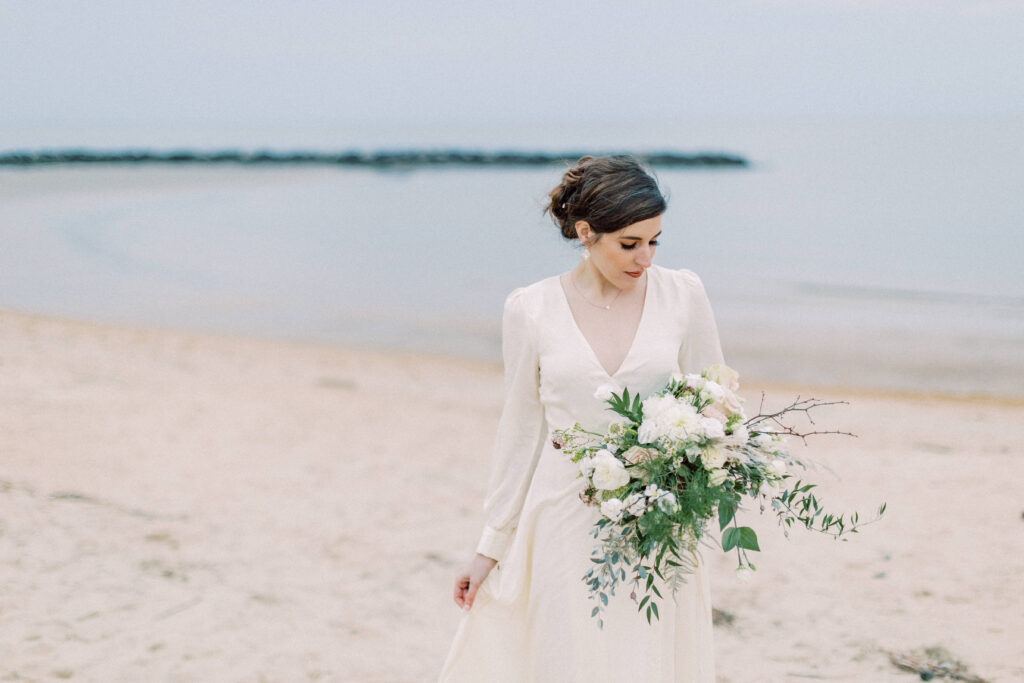 There were special moments that day, capturing the joy of marrying the love of her life: "The most special moment was probably putting on my wedding dress for the first time since my initial fitting. Also, wearing jewelry and holding flowers that I had planned to have on my real wedding day. It felt surreal and I could imagine myself clearly walking down the aisle to my husband."
"Our elopement was special because we had it on the day we had planned to get married. Brigitte took those photos as well and it was just a romantic moment to stand there, just the two of us, and have that private time to be in-love and married. We now have a large printout of that day hanging in our bedroom as a reminder of our marriage and the obstacles we've gone through to be together."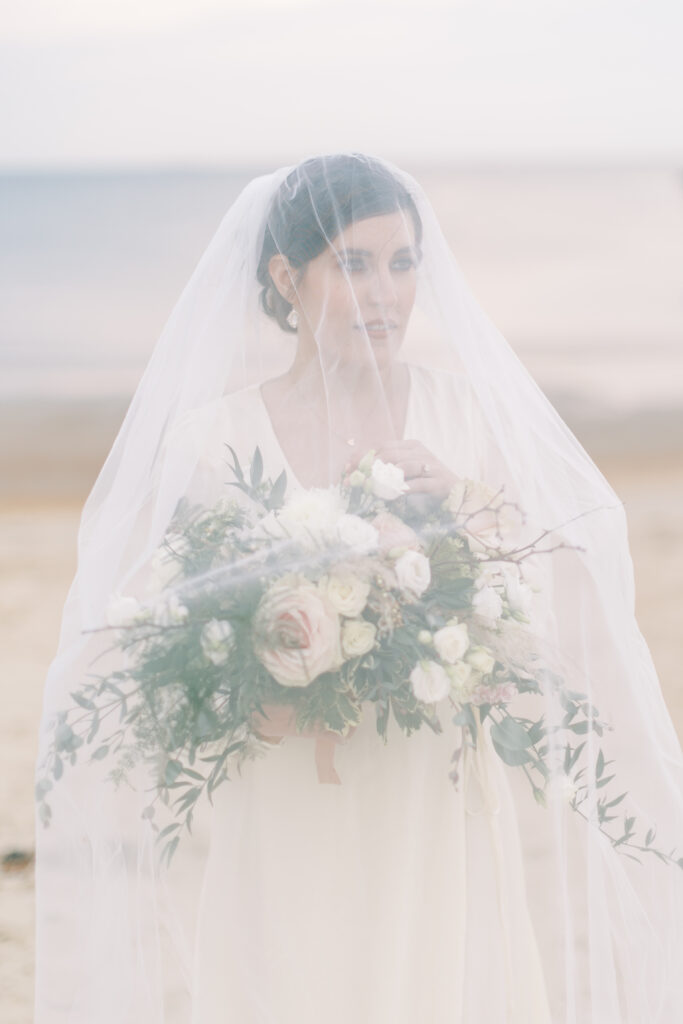 Megan chose two different dresses for her bridal shoot.
"The first dress is my actual wedding gown, so it is extremely special to me because I have never worn it and never been seen in it by my family or friends. My husband still hasn't seen it! He's deployed right now so I'm planning to still keep it a secret until we can have our wedding day. The second dress is the dress I was planning to wear for our reception and specifically the first dance. It is soft and flowy and the beach was the perfect place to capture the vibe of the dress. The jewelry is the jewelry I had picked out for my wedding. The necklace, I never take off, it is a heart with the letter M stamped on it for my new last name. Also I have a rose gold dainty bracelet on that I never take off, also a heart, but the letter S stamped on it for my husband, so that he is always close to me."
"Another romantic story is when COVID-19 hit, my husband was deployed. I am a Navy nurse officer and was assigned to go on the USNS Comfort to relieve NYC. When I found out I was deploying, I was devastated to not be able to see my husband (we were told the deployment could last anywhere from 2 months to 9 months), but I was ready to do my part for this pandemic. I was told about the deployment on Monday and had to leave for the ship that Wednesday. I called my husband immediately to say goodbye. That night, he called me back to say he was given special permission from his command to come see me. He was on the road, drove 14 hours to be able to spend less than 24 hours with me before I left. It was very romantic and so special to me to be able to spend those moments with my husband and have him drop me off on my deployment and say a real goodbye."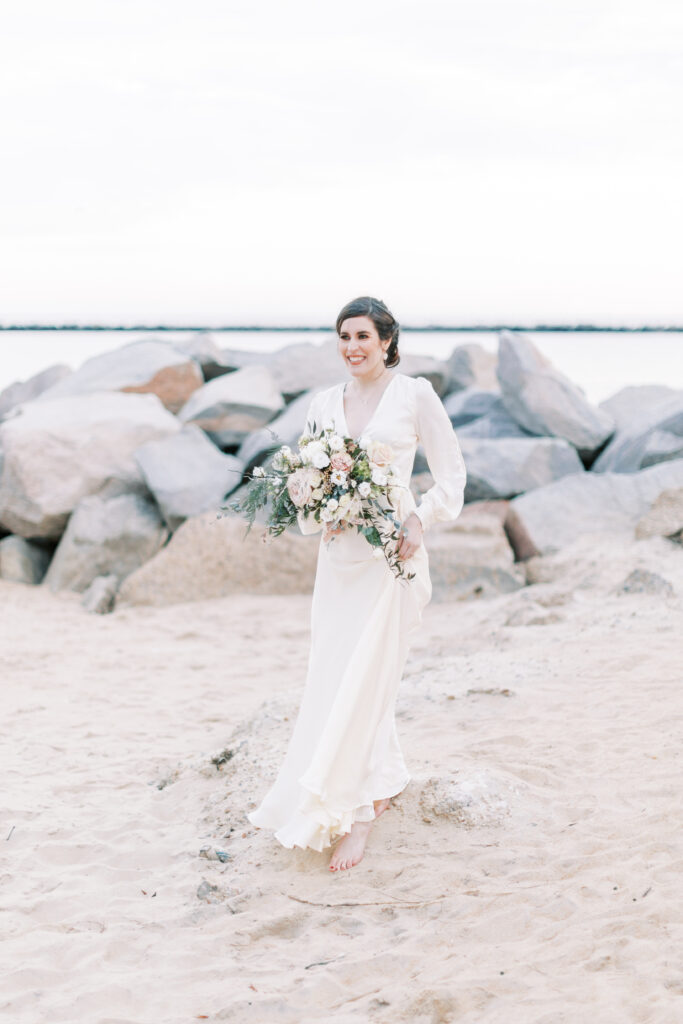 Megan wants to offer these thoughts for other brides facing the decision about elopement, wedding planning, and other complications during these times of COVID. "As much as I wish I had a traditional wedding, I am also so thankful that I didn't. It made me really focus on what matters, which is marrying the love of my life and officially being united. I was able to take a step back from the stress of wedding planning and the constant pressure from family and friends to do the wedding a certain way. Now I have the opportunity to have a second wedding and have it exactly the way I want, with my loved ones there in a private intimate ceremony. I recommend to fellow brides-to-be to breathe, release control, and know that however your wedding turns out, even if it's not what you had imagined, it will be perfect because at the end of it you will be with your person and no one else will understand how that feels or what that means to you."
Vendor Credits
Photographer: Brigitte Renee Photography, 703-899-9403
Rings: Diamonds Direct. Virginia Beach
Hair and makeup: Xena
Flowers: New Leaf, www.newleafghent.com, 757-268-6028
Wedding Dress 1: Amanda's Touch Bridal 540-221-4748
Wedding Dress 2: Lulus
Earrings: Kendra Scott
Bracelet: Miranda Frye
Necklace: GLDN
Shoes: Bella Belle