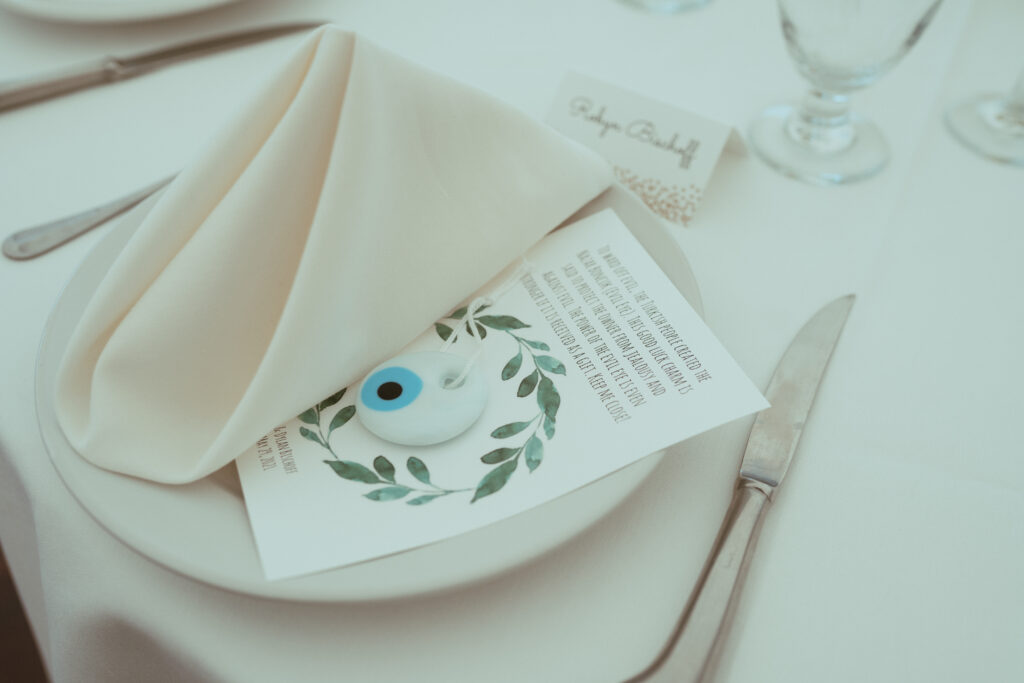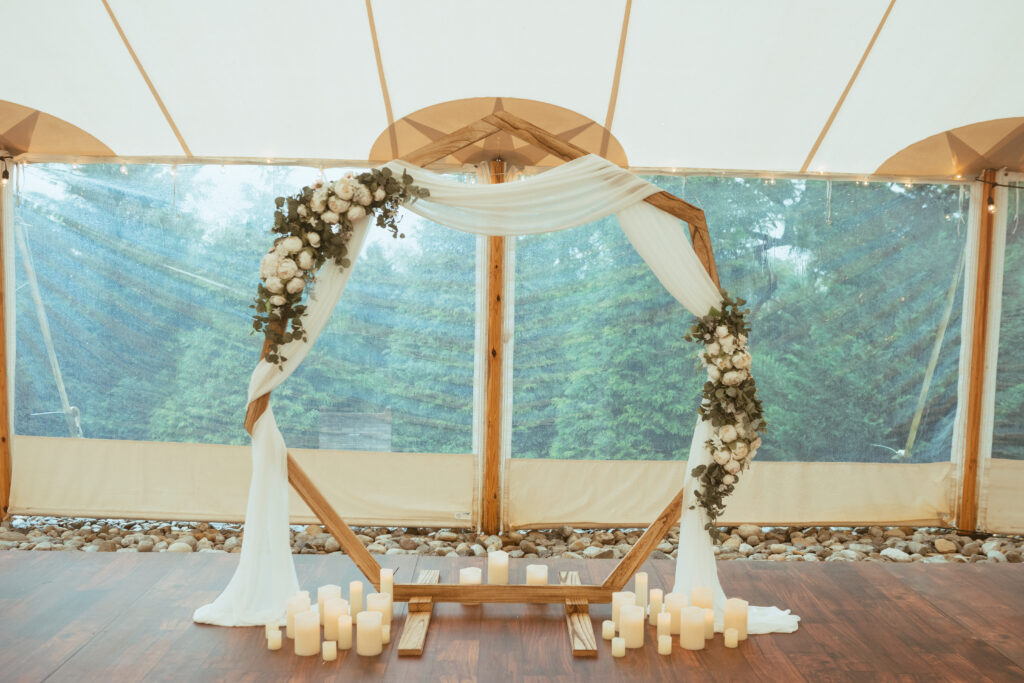 This week's Virginia weddings story comes from Nesli and Dylan, married on May 29, 2021. The pair met while Nesli was on winter break during her senior year of college. "I was planning on going to DC that night, though last-minute changed plans to meet friends in Arlington. One of my closest friends in college, Lindsay, was out there with friends from high school and Dylan caught my eye as I was saying hi to her. It was right after we stopped hugging that Dylan approached me and we danced and hung out the rest of the night before exchanging phone numbers. We spoke every day after that. Essentially, Dylan and I met at a bar through our mutual friend."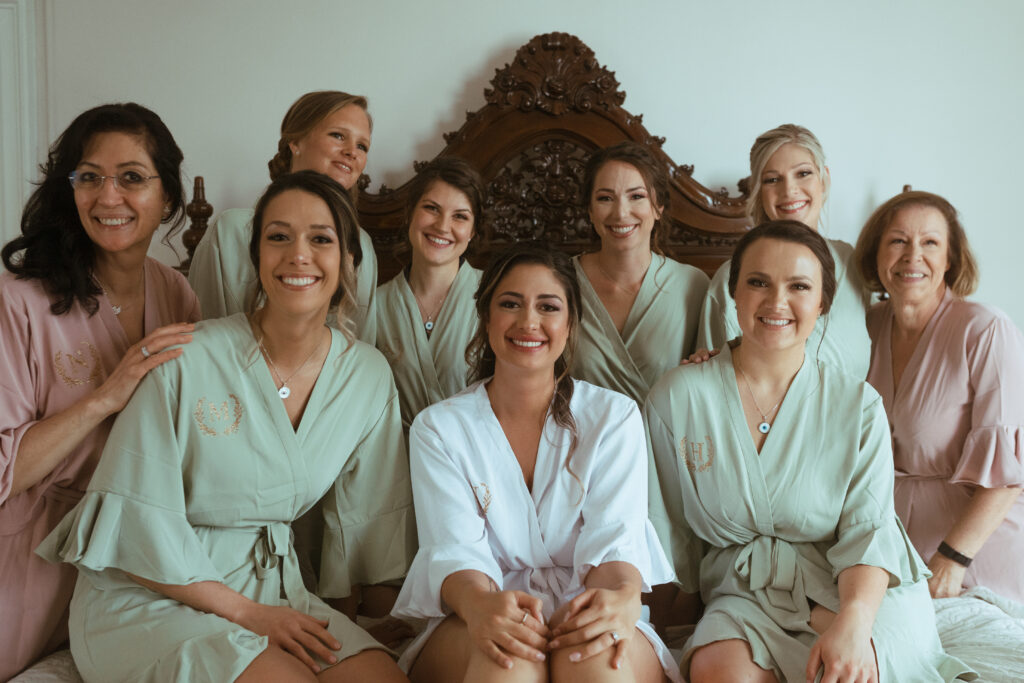 "I'm not sure if this counts as a first date, but Dylan drove down to CNU to visit me in February. I was nervous, so I invited my roommates and their significant others to dinner with us at Mellow Mushroom. Dylan got along really well with my friends, and he made me feel so comfortable. We spent the weekend together watching movies and ordering delivery from Jimmy Johns."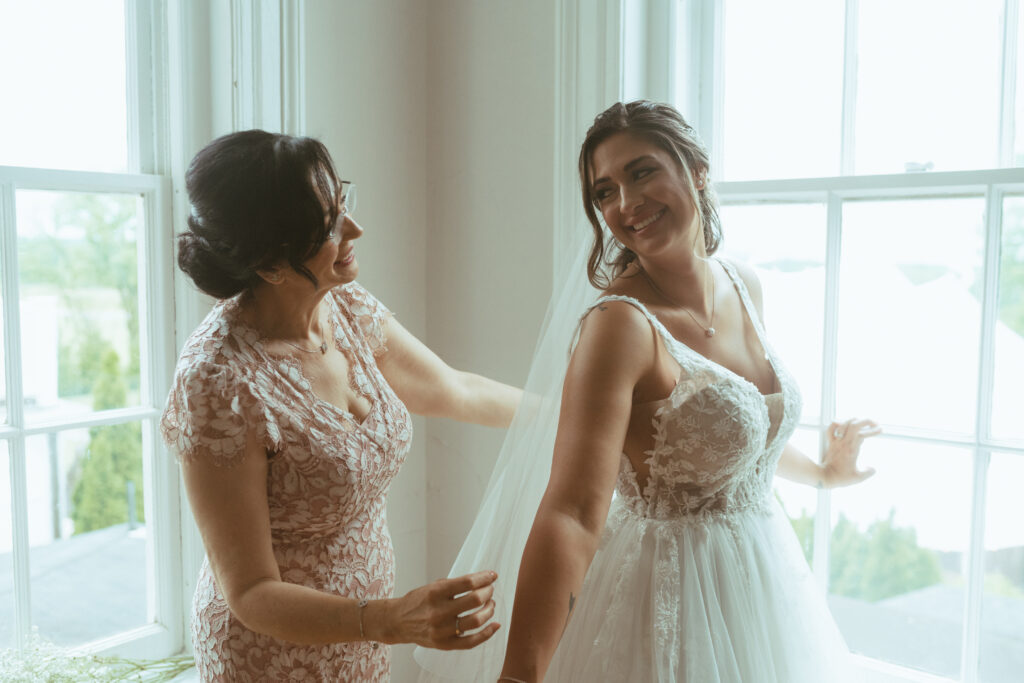 The Scoop:
Bride: Nesli, 27, Account Manager, Enterprise Solutions at Cvent
Groom: Dylan, 29, Web Developer at Geico & Boat U.S.
Wedding date: May 29, 2021
Number of guests: 123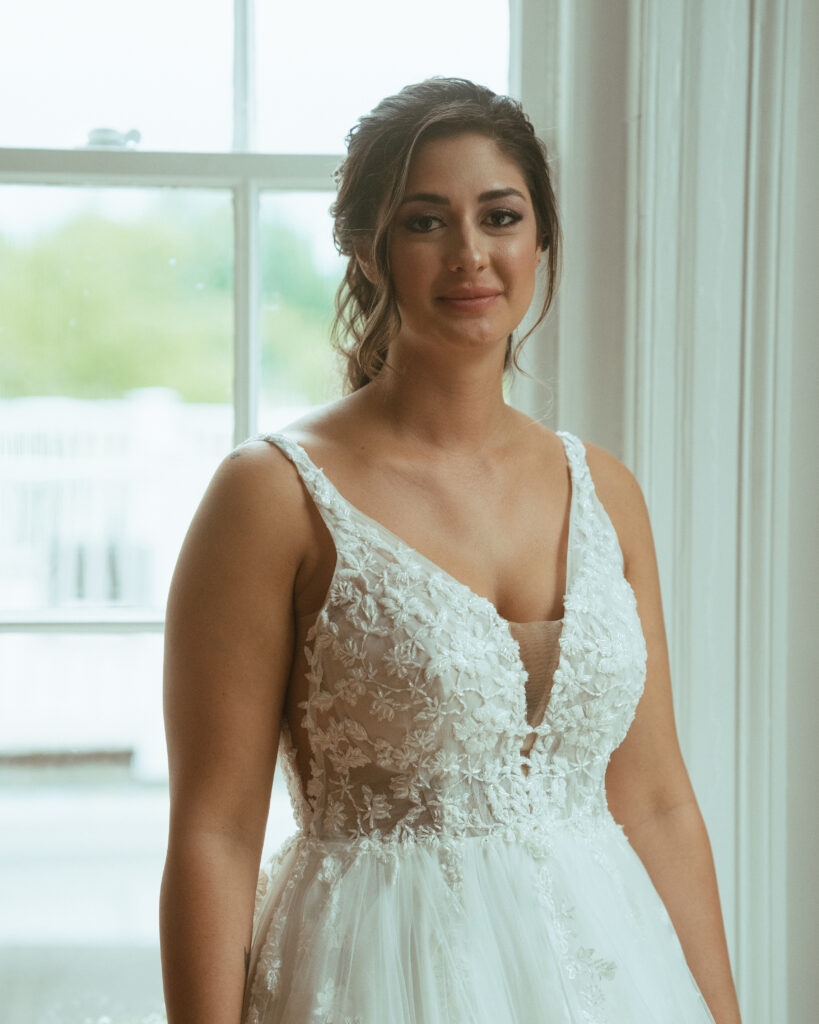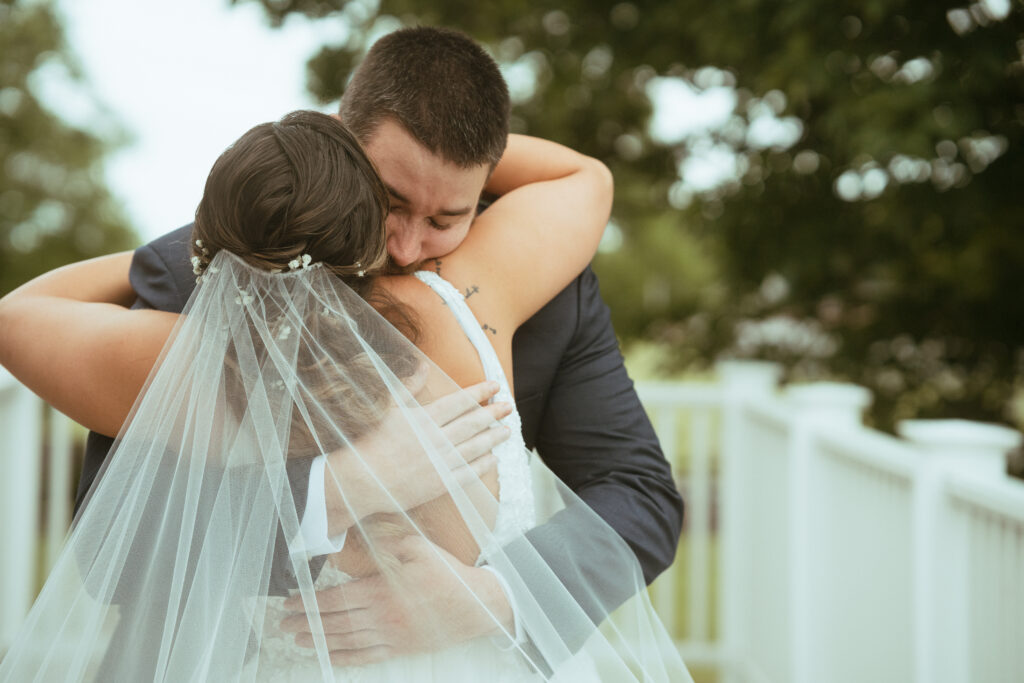 Neslie and Dylan chose to incorporate elements from Nesli's Turkish culture on their big day. "We had a surprise Turkish dance for our guests, which ended with all of our guests joining us on the dance floor. This kicked off dancing for the rest of the night and we barely took breaks from dancing. My friends, Kayla and Corinne, performed for all of us via karaoke. My sister and two close family friends, Denise and Sibel, showed everyone the dance moves to a Turkish song that we performed when we were 7-9 years old."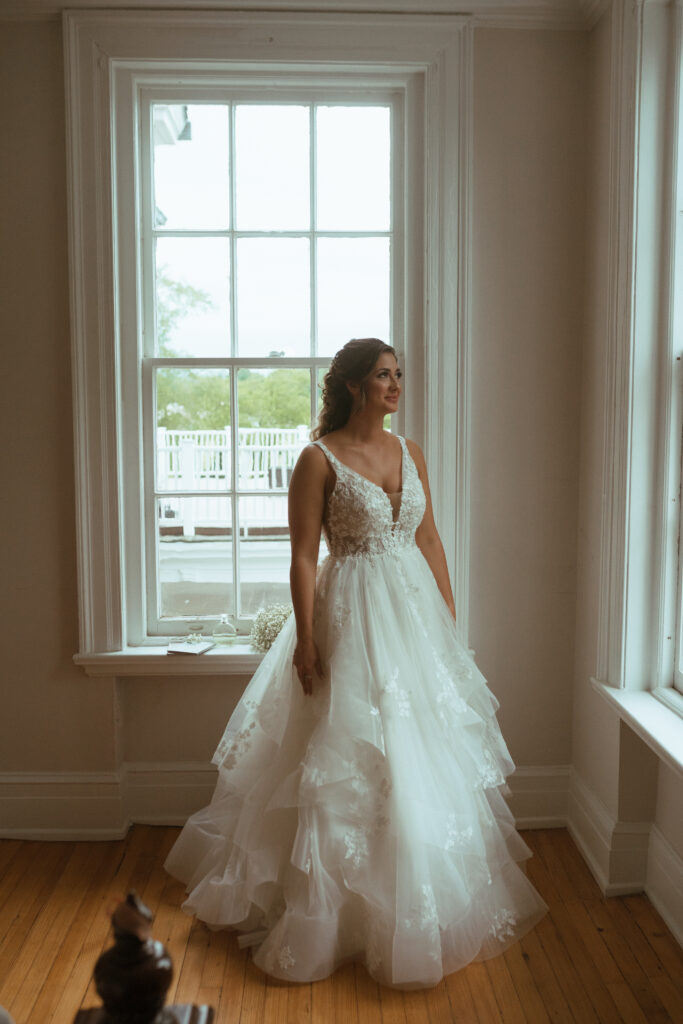 Nesli says, "My mom and sister contributed so much to our wedding with homemade decorations and desserts. My mom spent the past year converting her dining room to a craft room, putting together the bouquets, boutonnieres, arch, boxwood backdrop, etc. My sister baked our wedding cake, which was so beautiful. My mom and my aunt-in-law baked the best sweets for our dessert table. More specifically, my mom baked baklava (amongst other sweets), and my Aunt Theresa made cookies for us (she is from Pittsburgh and they are famous for the 'Pittsburgh Cookie Table')."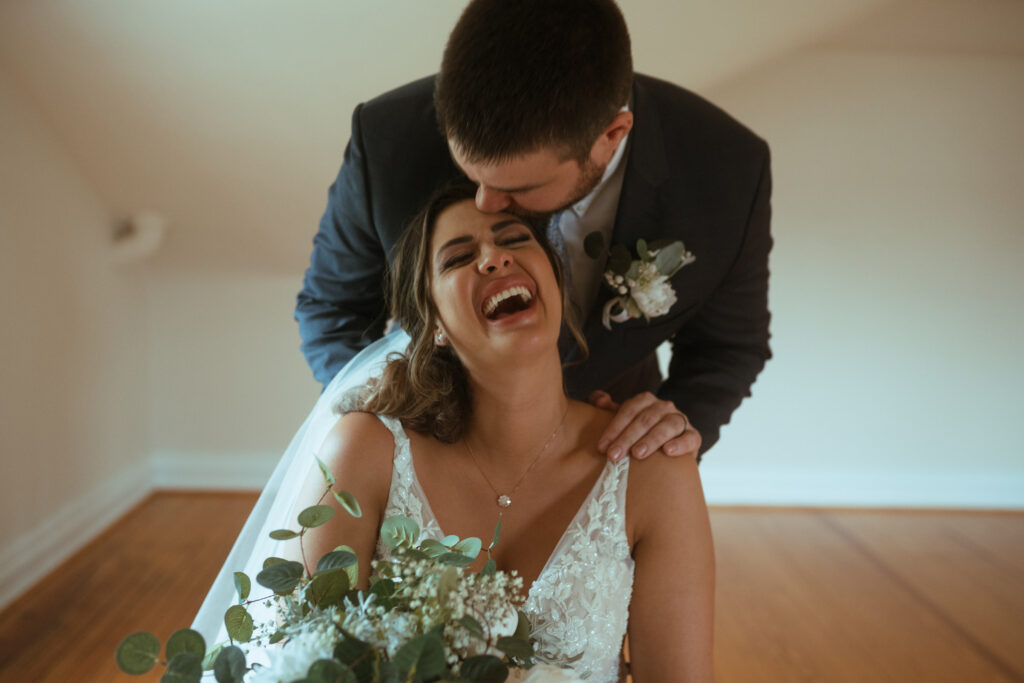 As to the dress, Nesli thought she wanted a mermaid style. "But after trying on the Martina Liana ball gown I was in love. The skirt of the dress is layered with scattered flower applique, and the top of the dress is a deep "V" with a transparent boning structure near the waist. Cathy Ebrada really helped put together my dress, including creating my veil from scratch. She matched the horsehair and flower applique from my skirt to the veil, including adding a blusher (as is tradition in Turkey to have a blusher). The straps of the dress were very uncomfortable at first because the dress was so heavy, so she added silicone and transparent straps to help hold the dress up. I was so comfortable the day of the wedding!"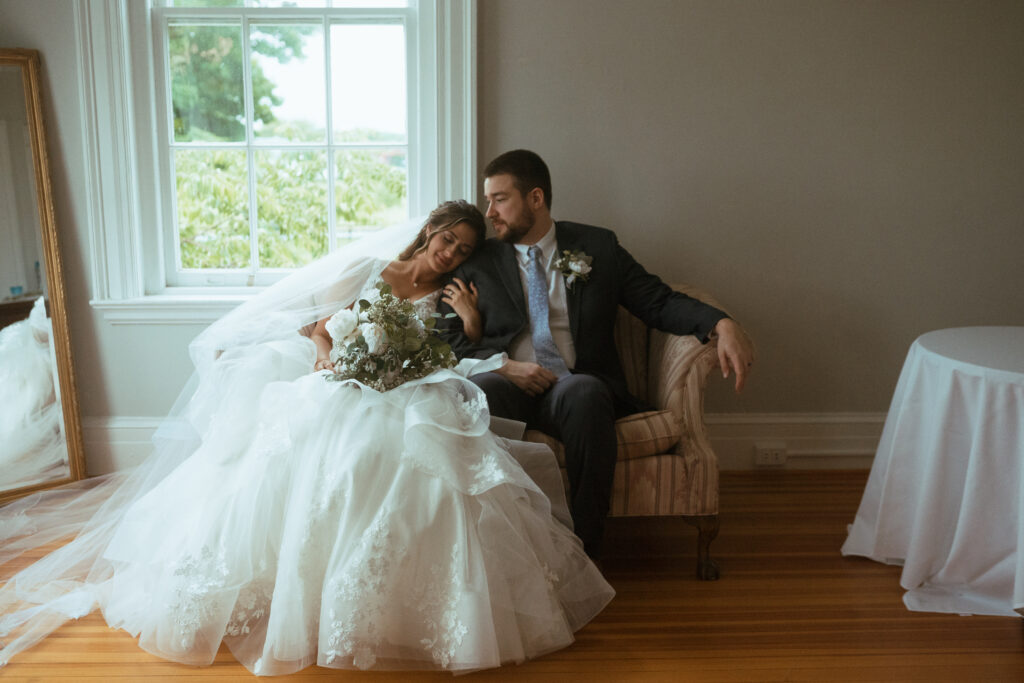 On the big day, Nesli's mom and sister helped her get ready with her Swarovski jewelry (something new, her shoes – a pair of Betsey Johnsons with sparkly blue soles for her something blue – her engagement ring, (something old), and a ring leant from Nesli's best friend, Hayley for her something borrowed.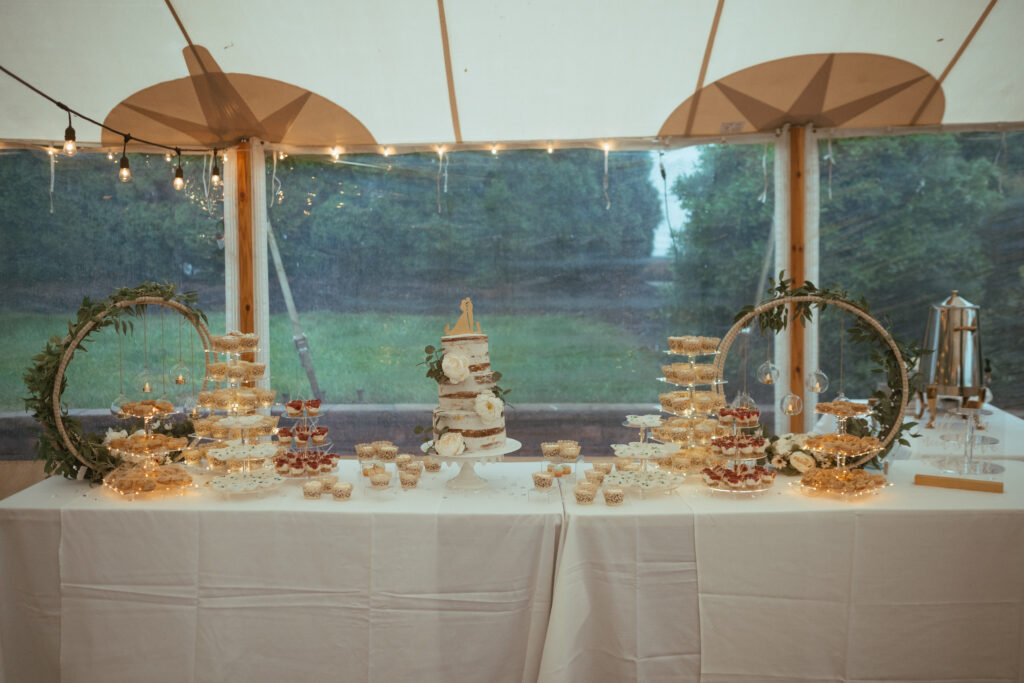 "I could not decide on one color, so three of my bridesmaids wore Dusty Blue and three wore Sage Green from Azazie. I loved the sage green and I thought Dusty Blue would look so nice next to it. I love that the colors complemented one another."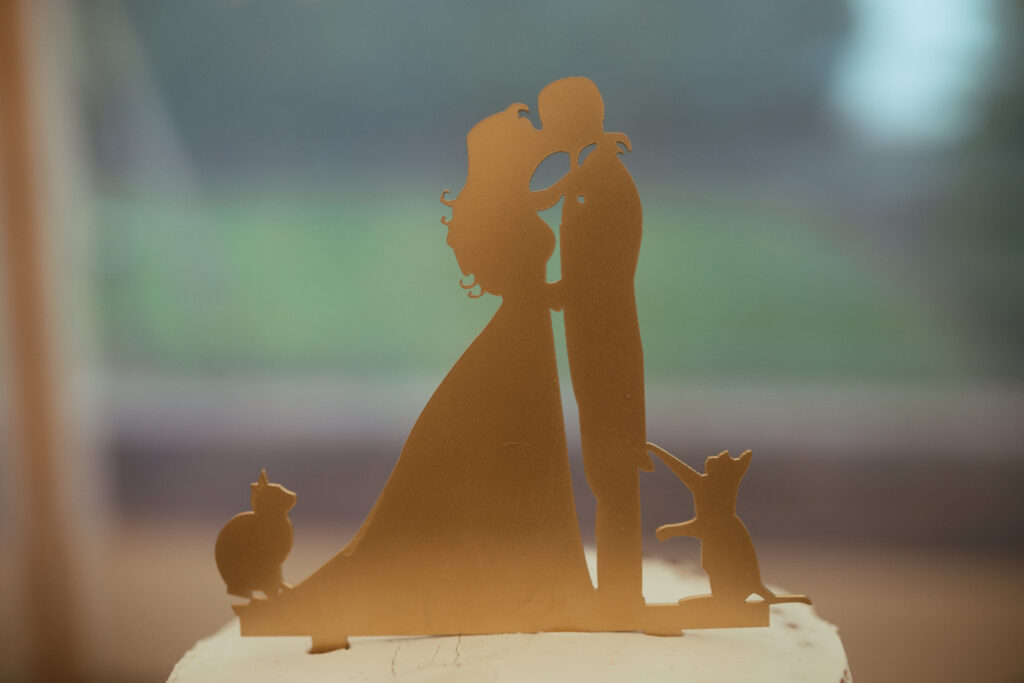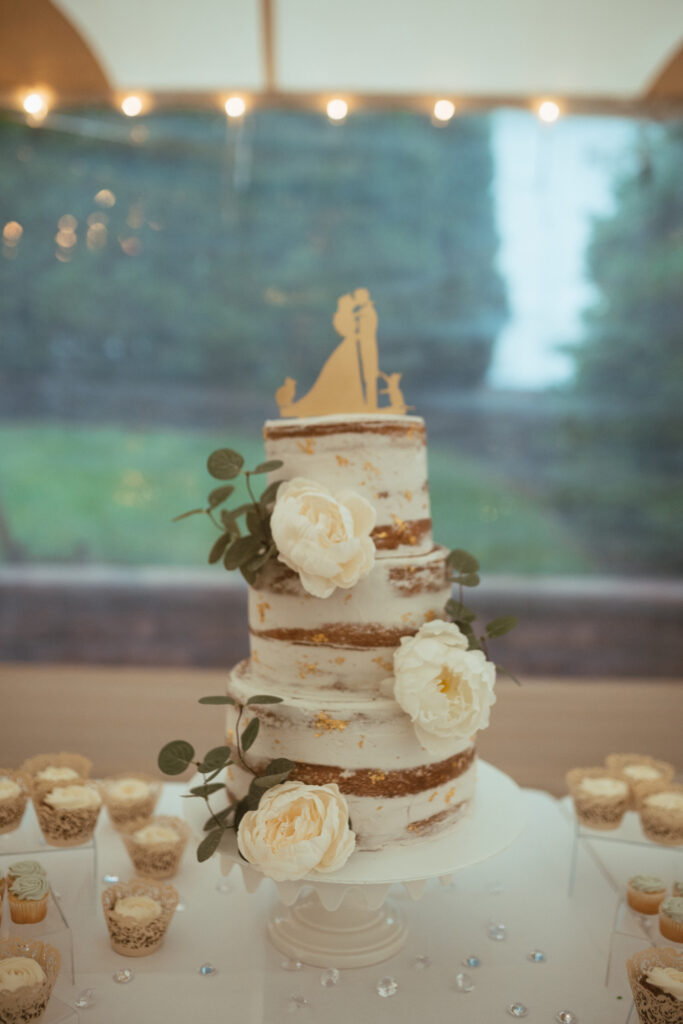 When it came time to choose their venue, Nesli saw the venue and knew it was the one for them. "I saw pictures of the tent at the Inn at Vint Hill, but we had not seen it in person until after we booked the venue in 2020 as it was in the off season for the tent. The tent is absolutely beautiful and unique, and I loved that we had access to the outdoor area, inside the Inn, and the tent. Dawn and Scott at the Inn were absolutely amazing and very flexible with everything, letting Melisa do our cake and my mom have free rein on the decorations. It was a very positive vibe."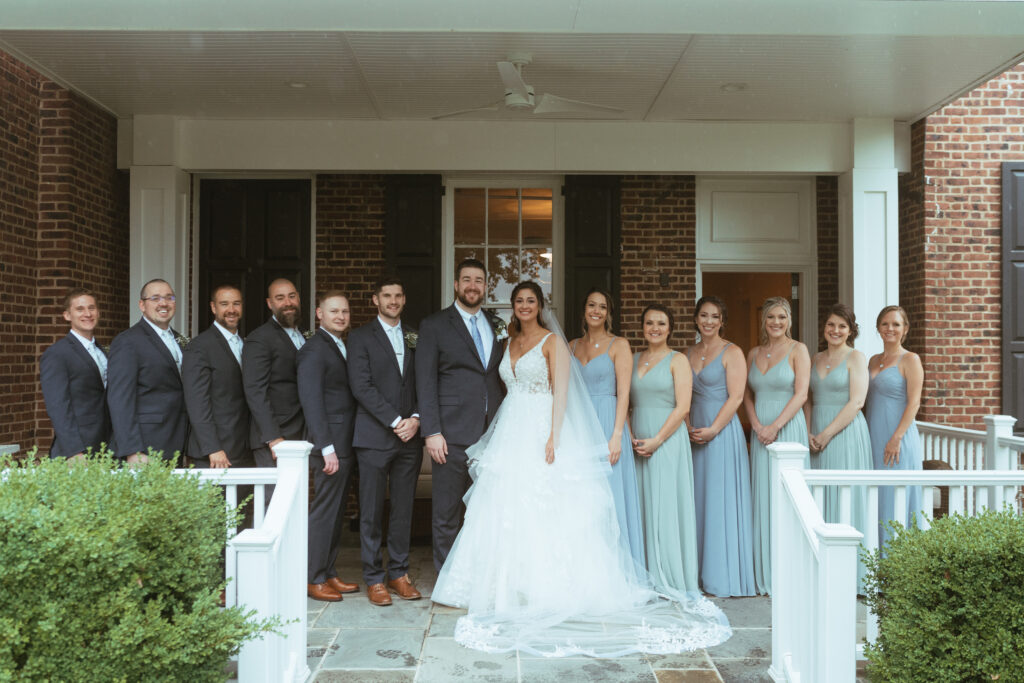 "One special guest for the day included our officiant and very close family friend, Brian Schreffler. He graciously got ordained to help us get married. We are so grateful for having someone close to us marry us as we know him, he knows us, and it made it more special. We are very thankful for Brian and Sevtap!"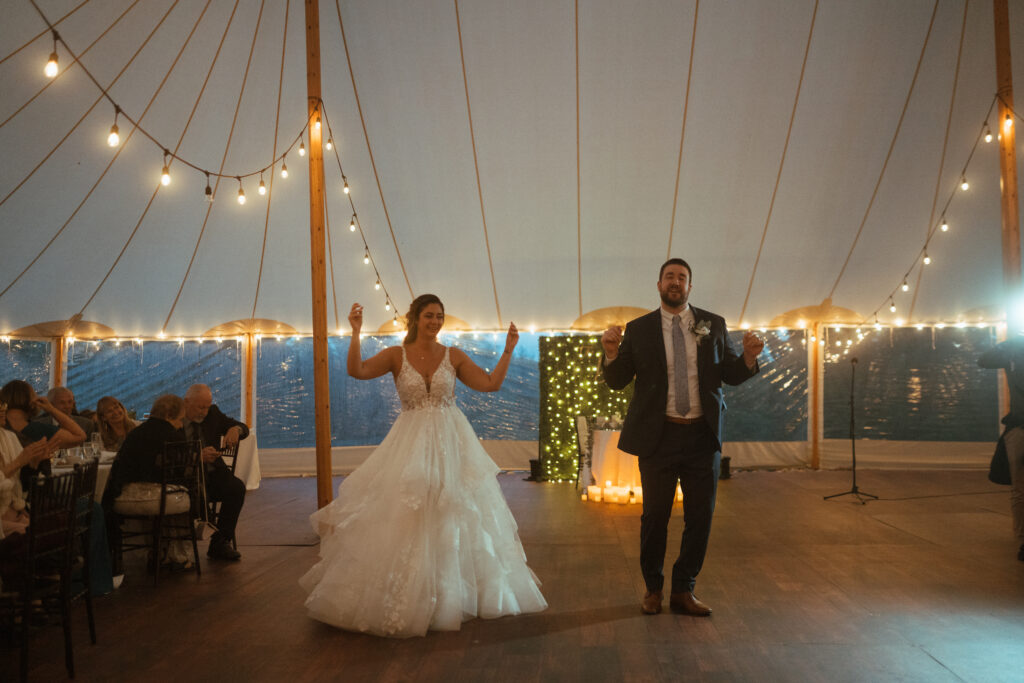 "My mother-in-law, Diane, has a lot of cousins and they don't get to see each other very often. They are so fun and I'm so happy I was able to spend time with them! We also had a lot of our Turkish family friends in attendance, including some who I had not seen in so long. I have known them since I was a little girl, so being able to celebrate such a big moment was so special. It was nice to come full circle with our close family friends, especially because my parents' relatives are all in Turkey. We are hoping to have a second wedding in Turkey to celebrate with all of them."
Their wedding was an elegant, modern affair, with any ideas found on Pinterest and shared by friends and family. "I knew I wanted a specific look for hair and makeup, though Vera (hair) and Kayla (makeup) really made me feel so beautiful. Kayla is actually one of my close friends who just happens to be amazing at makeup. I am so grateful to have had her when our original makeup person fell through."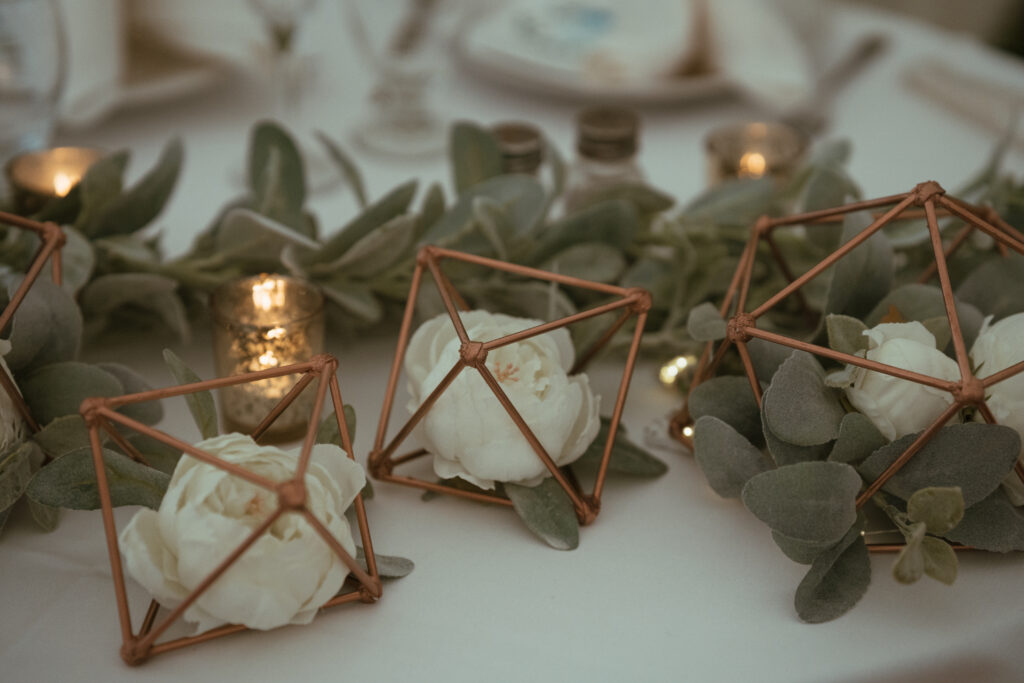 "My mom created geometrical shapes for the center pieces that she spray painted bronze, adding peonies, eucalyptus, and baby's breath. It was a lot of greenery and eucalyptus, and that is what I mainly wanted everything to be covered in. That, and a lot of candles. My bridesmaids were so helpful with decorations as well – Ashley, Madey, Hayley, Amy, Lindsay, and my maid of honor Melisa."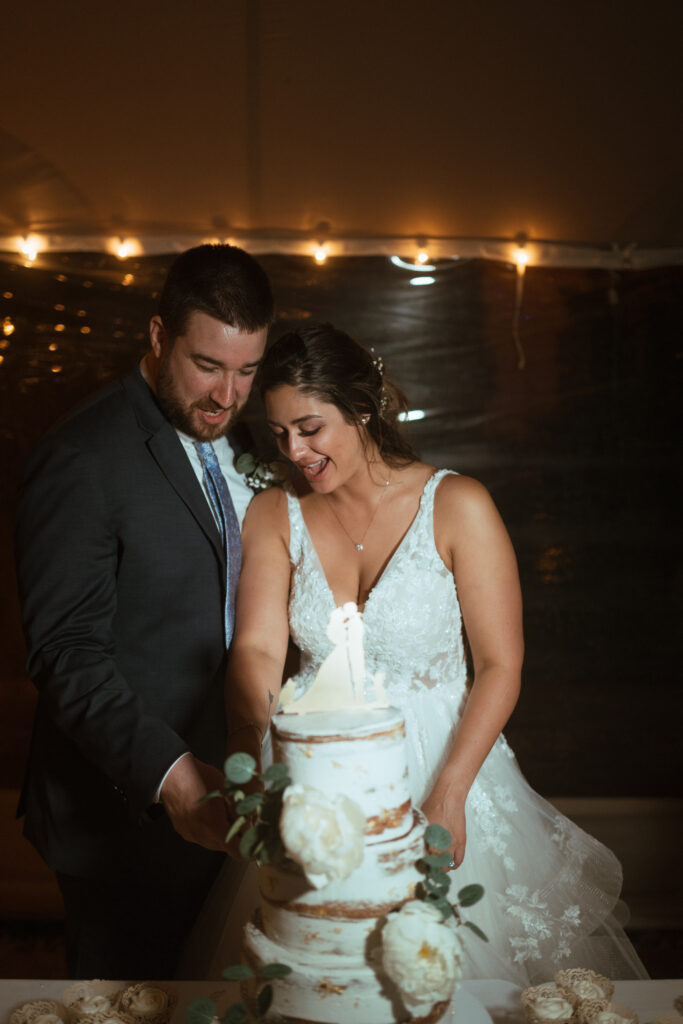 Nesli leaves her fellow brides with these thoughts as you plan your special day: "Take some time to be with your significant other, just you two. I recommend doing this after your ceremony and before the reception. That way you can catch up from the day, because you get so busy once the reception starts. We did a first look and pictures before the ceremony and we got to enjoy cocktail hour, which is my favorite part of weddings. We got to say 'hi' to everyone at cocktail hour and not worry about going around to tables during the reception. One big piece of advice is to just go with the flow. It might be easier said than done, but at the end of the day no one cares about anything other than if they had fun at your wedding or not. If you are out there having fun, they will be too. Don't stress! It all works out in the end."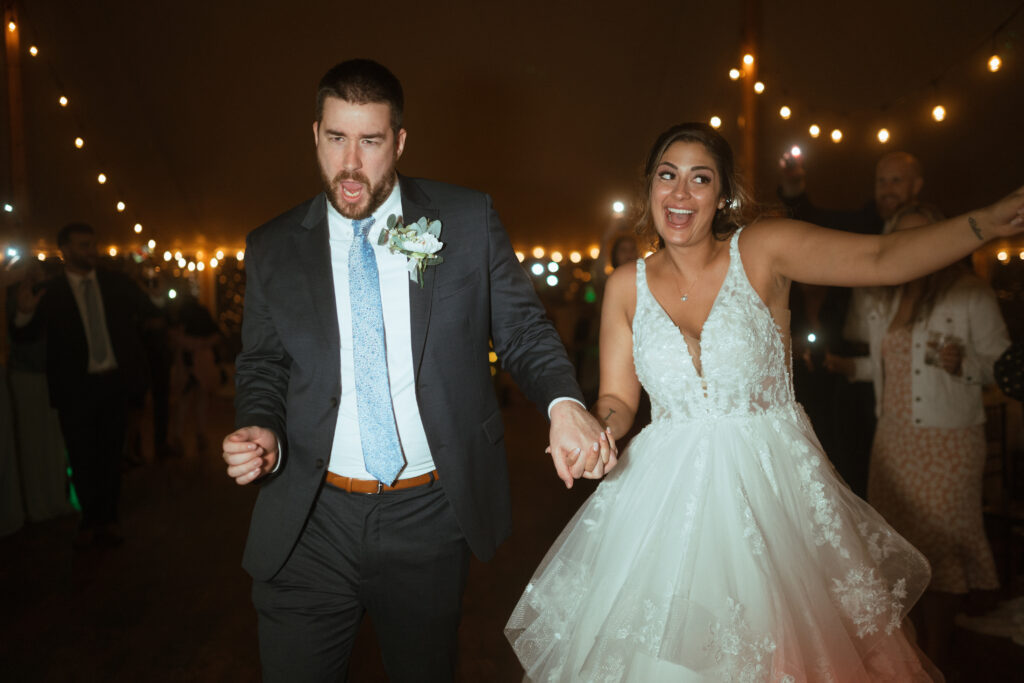 Vendor Credits:
Venue: Inn at Vint Hill
Photographer: Jay Collier, 443-220-9774
Videographer: Corey Gray, 703-727-1498
Consultant & Day Of Planner: Elisa Yu-Shan Lion, 703-725-2650
Officiant: Brian Schreffler, close family friend
Gown: Martina Liana, whimsical tiered ball gown
Veil: Cathy Ebrada, 703-717-1808
Shoes: Betsy Johnson, Mari Block Heel Dress Sandal
Hair: Vera Koumbiadis
Makeup: Kayla Marsh, close friend
Bridesmaids' dresses: Azazie
Jewelry: Swarovski Jewelry
Invitations: Zola
Flowers: Nukhet Ozcan (My mom) purchased the greenery and artificial flowers from Amazon, Hobby Lobby, Michaels, with Designs by Lara
Catering: Dawn and Scott Donaldson at Inn at Vint Hill
Music: Steve O'Toole at Capital Deejays
Cake: Melisa Ozcan, my sister
Favors: Turkey – white evil eyes
Transportation: RSTQ Transportation
Honeymoon: Excellence Resorts at Playa Mujeres in Cancun, Mexico