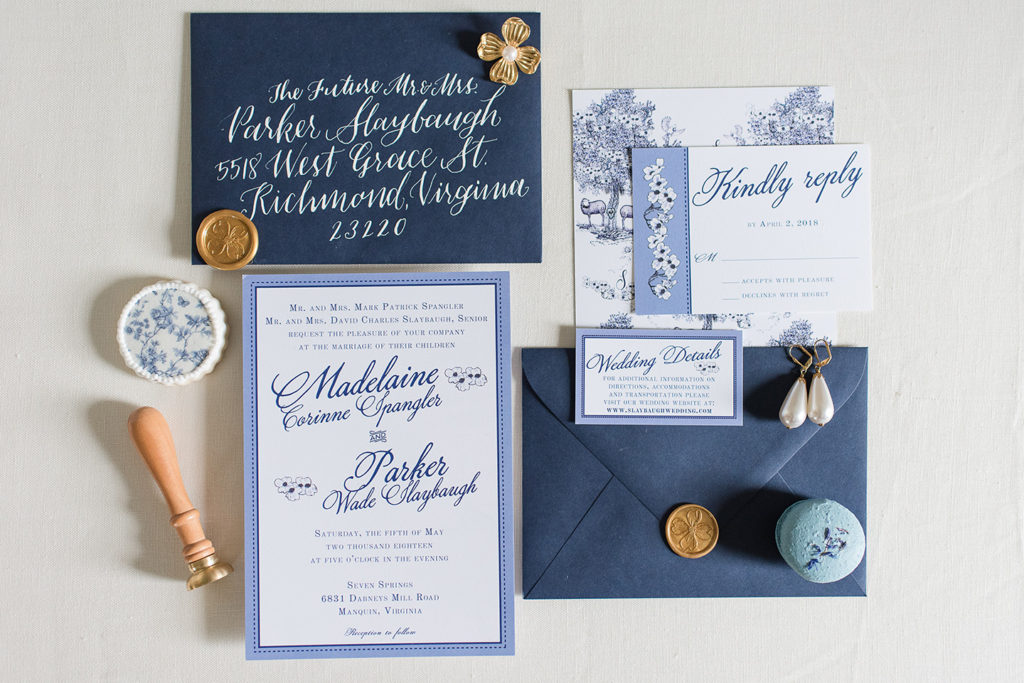 Sometimes at Virginia Bride Magazine, we have weddings that are so gorgeous that we not only put them in print but also feel the need to showcase them online! That was the case with Parker and Madelaine 's wedding that Caiti Garter photographed in May of 2018 at the historic Seven Springs in Manquin, Virginia.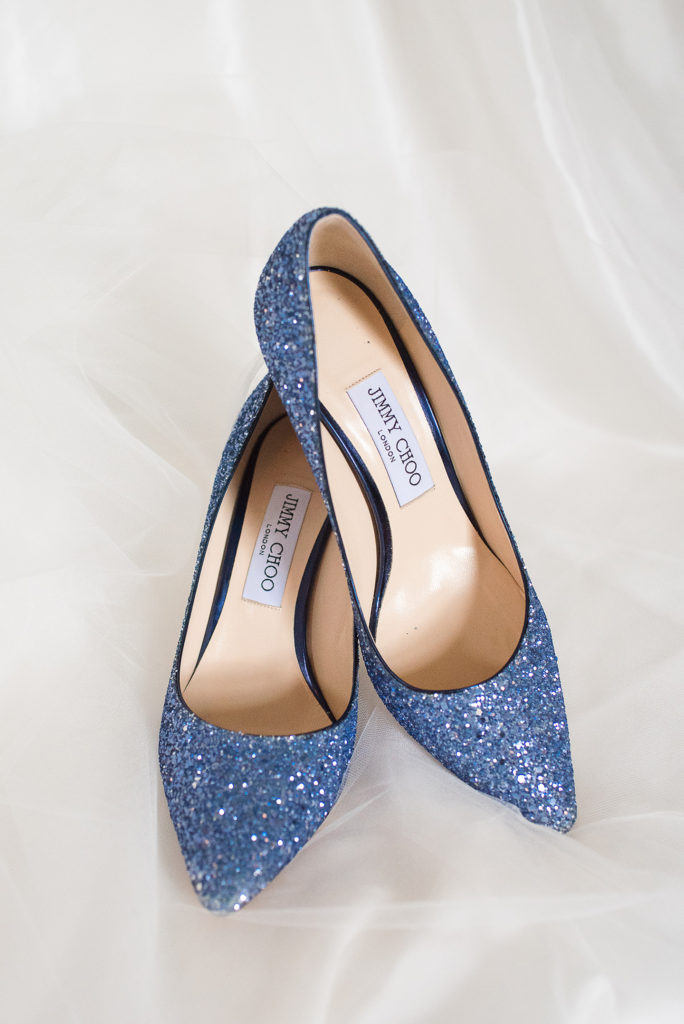 Madelaine began the day by getting ready with her bridesmaids.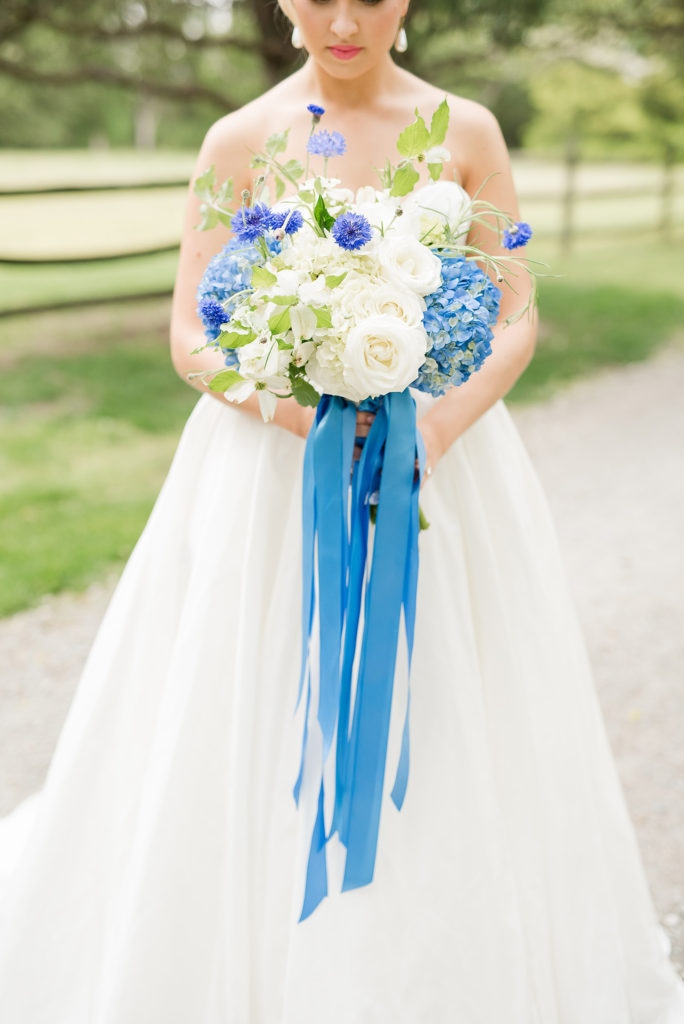 Her unforgettable ensemble started with her classic silk taffeta gown and was completed with a bouquet of hydrangeas, dogwoods, and cornflowers. Cascading cornflower blue ribbon really made the bouquet pop!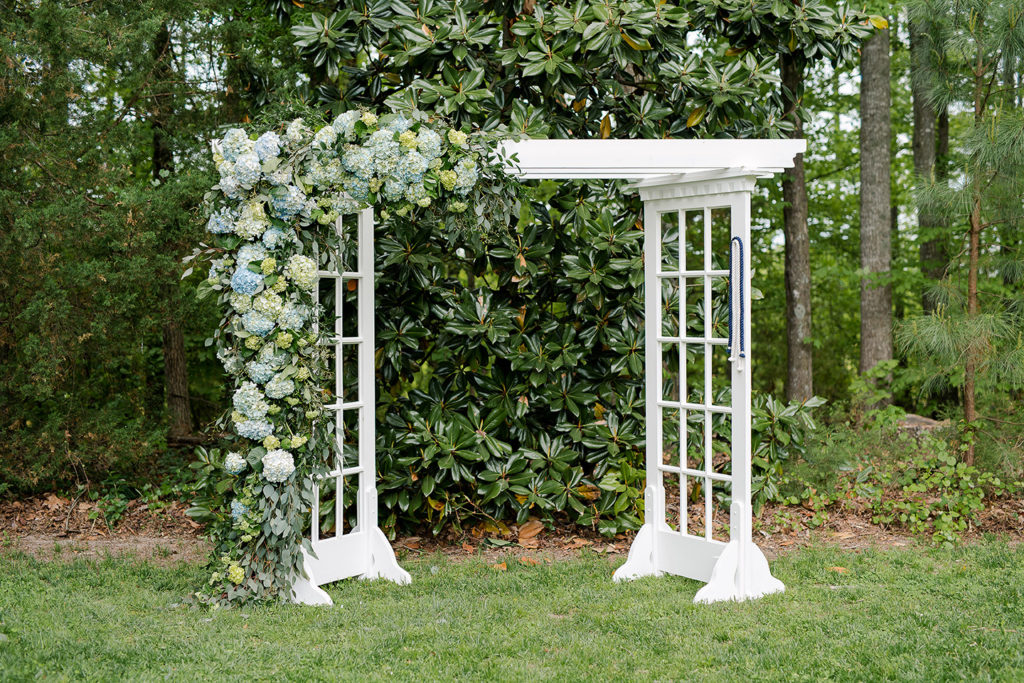 Madelaine's father walked her down the aisle and after saying their "I do's" under a beautiful white arbor adorned in hydrangeas, the couple made their way back down the aisle as Mr. and Mrs. to Old Dominion's "No Such Thing as a Broken Heart."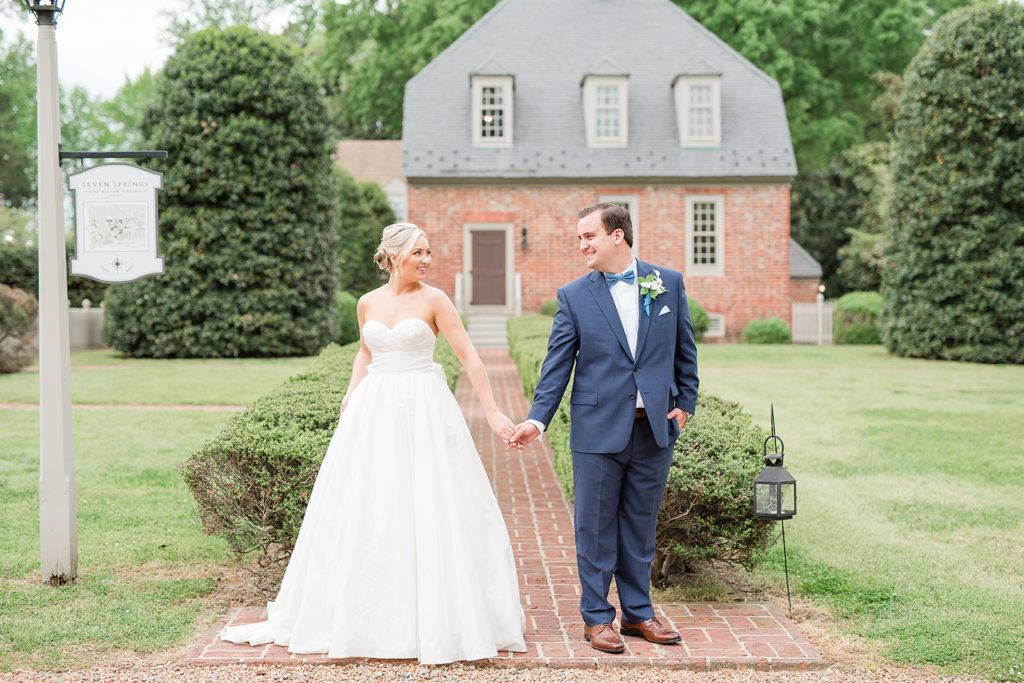 The pair met when Parker, then news reporter, interviewed Madelaine for a new story! He later reached out to her on Facebook to make sure she had seen her TV debut and asked her out!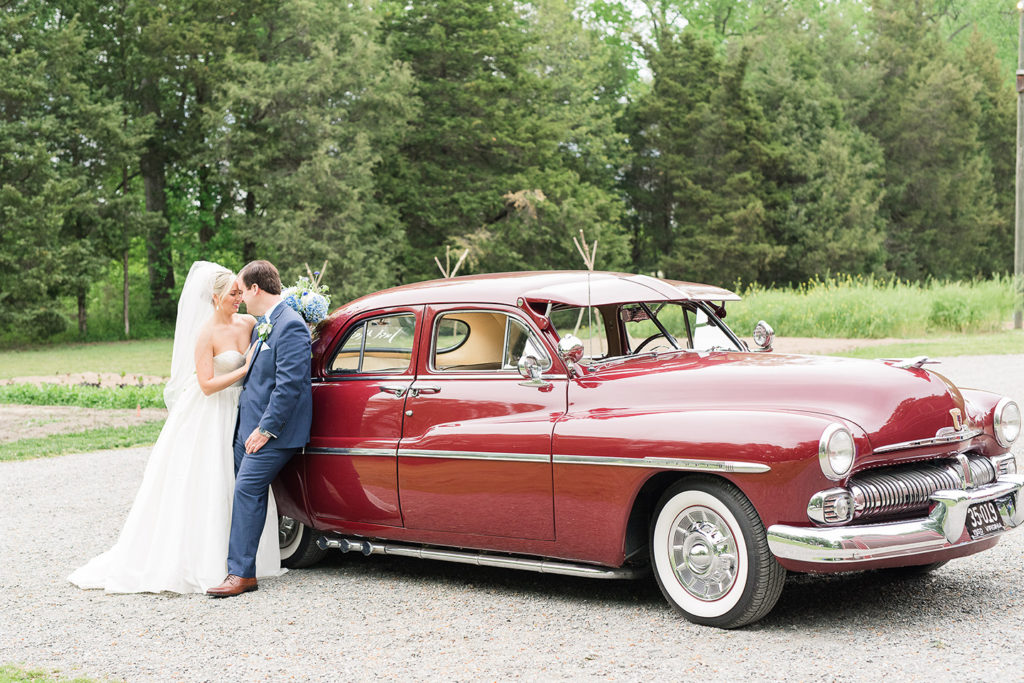 Don't you love fate?!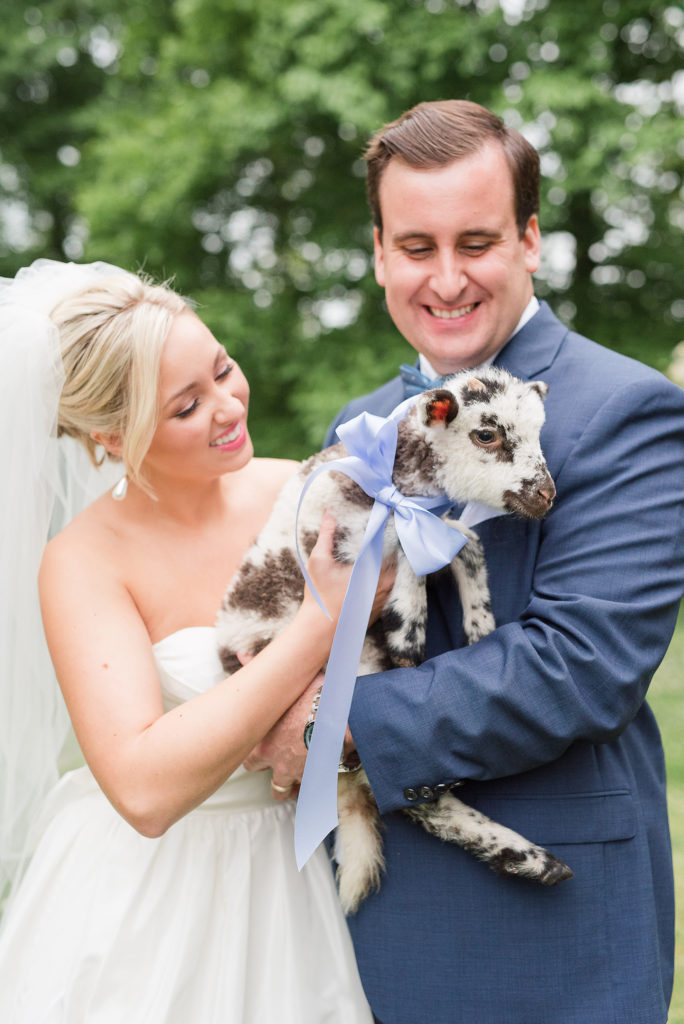 After sneaking in some pictures with the Seven Springs Hog Island lamb, Parker and Madelaine made their way to the reception.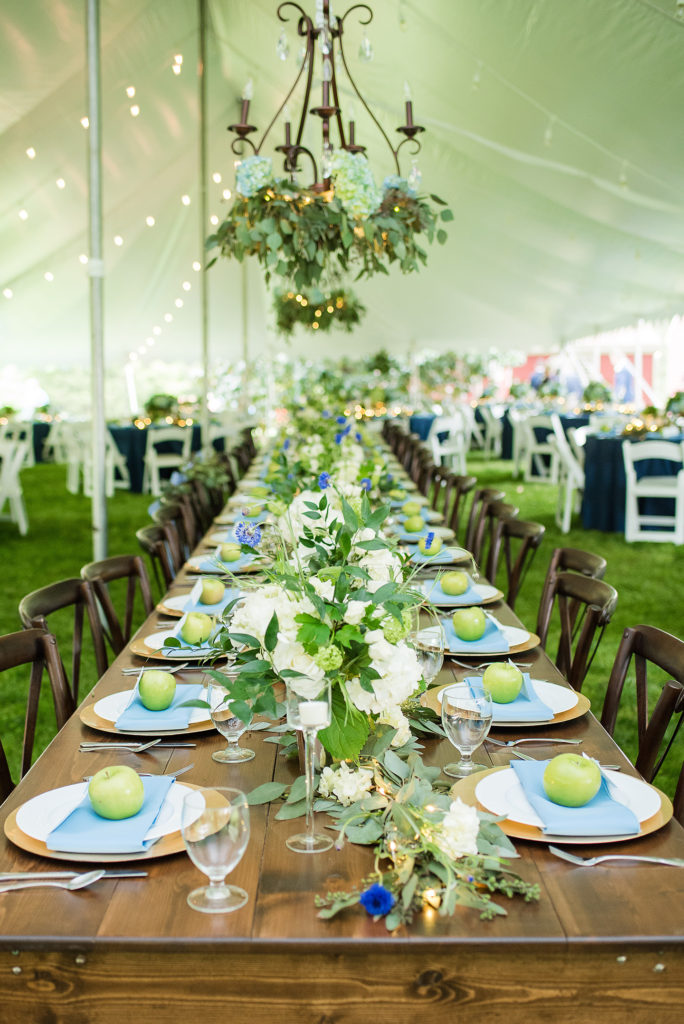 The tables were draped in navy linens and numbered with a toile patterned dessert plate. Each place setting was marked with a cornflower blue napkin and a Granny Smith apple as a nod to Virginia.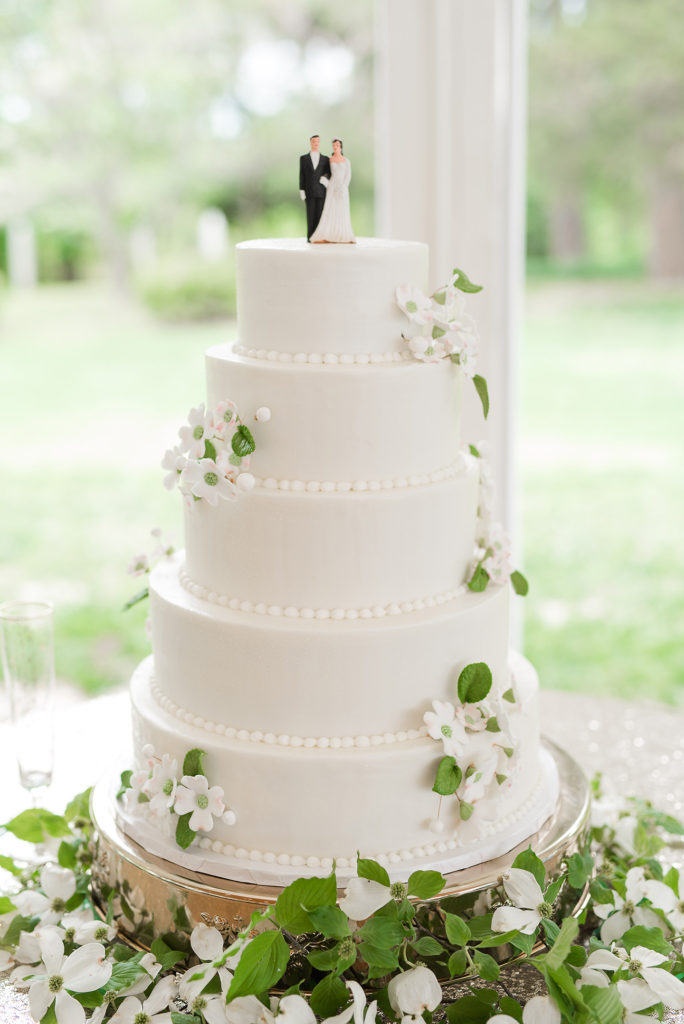 The Virginia theme even made an appearance on their cake with fondant dogwood flowers!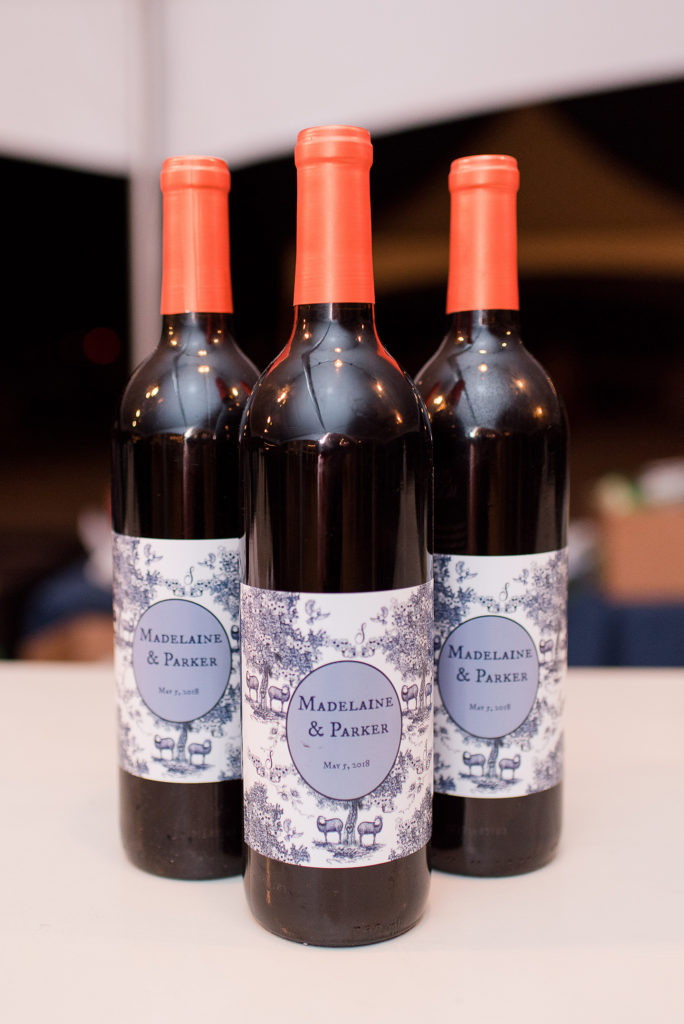 Parker and Madelaine danced the night away and drove off into married life in a 1950 Ford Mercury. Cheers to a lifetime of love and happiness!
From the Bride:
What advice would you give to a bride to be? "Don't be afraid to be up-front about your budget! I am a Type-A planner who mapped out everything in detail and I sometimes felt I had to be extra assertive when trying to keep everyone to the budget we'd laid out. Hire a planner! Even though I am extremely organized and loved planning my wedding, my planner Lisa was absolutely incredible on knowing the details only an expert in the industry would think of and in helping me style the big day. It wouldn't have been near as fun to plan without her and my wedding was a million times more buttoned-up and beautiful because of her suggestions!"
PHOTOGRAPHER: Caiti Garter Photography 
RENTALS: Topside Tent & Party Rentals, 804-751-0202, Colonial Heights, Virginia
VENUE: Seven Springs, 804-769-2358, Manquin, Virginia
WEDDING PLANNER: Engagements, Lisa Cauthorne, 804-678-8142, Ashland, Virgina
LIGHTING: The Lighting & Sound Co., 804-893-5066, Richmond, Virginia
FLOWERS: BellaBucci Designs, 757-813-1877, Poquoson, Virginia
SIGNAGE: Loria Letters Calligraphy, 703-897-9740, Richmond, Virginia
CAKE: Incredible Edibles Bakery, 804-729-7555, Richmond, Virginia
RENTALS: Mad Hatter Vintage Rentals & Styling, 757-620-5806, Norfolk, Virginia
CUPS: Tee's & Moore, Inc., 804-690-6620, Chester, Virginia
DESSERTS: Done & Sugardusted Confections, 713-702-8524, Katy, Texas
ICE CREAM: Gelati Celesti Ice Cream, 804-525-5596, Richmond, Virginia
INVITATIONS: Invitation to Party, 804-897-1903, Midlothian, Virginia
PAPER: James River Printing LLC, 804-520-1000, Colonial Heights, Virginia
HAIR: Kristie Adwell and Whitney Beegle from Beyond The Fringe Hair MAKEUP: BRIDEface Richmond, 804-822-0511, Richmond, Virginia
DJ: Black Tie Entertainment, 804-788-4603 ext. 310, Richmond, Virginia
DRESS: Lasting Bridal Couture, Designer: Wtoo by Watters, 972-960-1800, Addison, Texas
SHOES: Jimmy Choo
ARBOR: Market 406, 804-804-8843, Petersburg, Virginia
BRIDESMAID DRESSES: The Dessy Group
DANCE LESSONS: Simply Ballroom VA, 804-276-3343, Chesterfield, Virginia
OFFICIANT: Buddy Hamm, The Heights Baptist Church, 804-728-5800, Midlothian Virginia
FORMALWARE: Ralph Lauren, Adolph's, Colonial Heights, Virginia
HONEYMOON: Black Pearl Luxury Services
Want to be featured on this weekly online blog? Just email us! Want to be featured in our printed magazine? Just email us! **Being on this online blog does not hinder or guarantee a wedding will be in the printed magazine, both are up to the discretion of the publisher, Angeline Frame. If your wedding has been chosen for print, she will reach out to you directly.** Thank you for following Virginia Bride Magazine! Stay tuned for more weddings and the best Bridal Shows in Virginia!