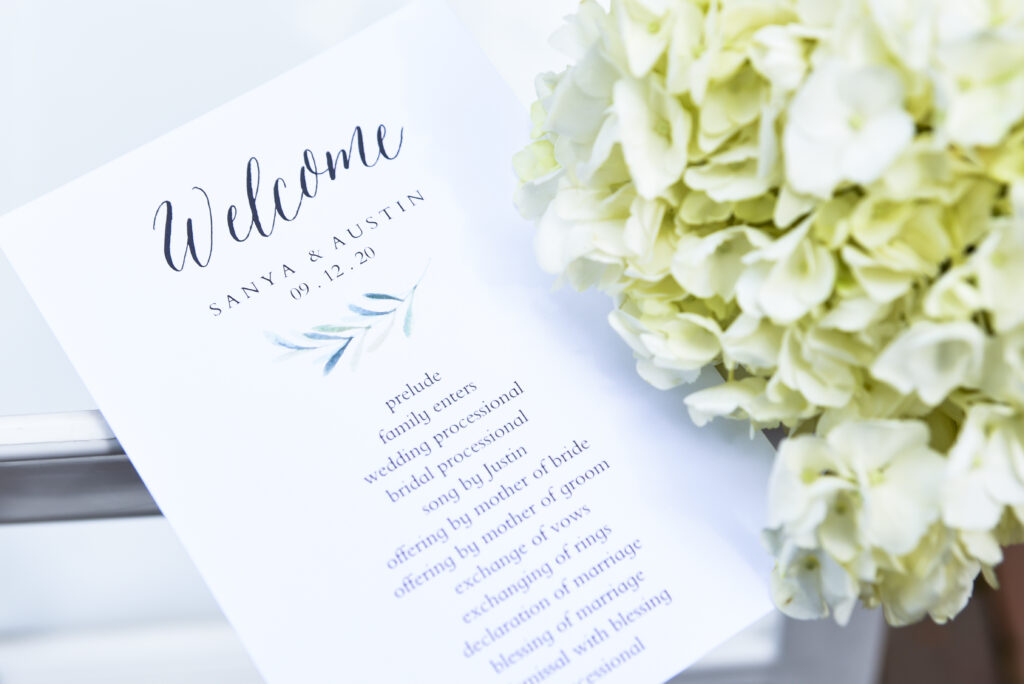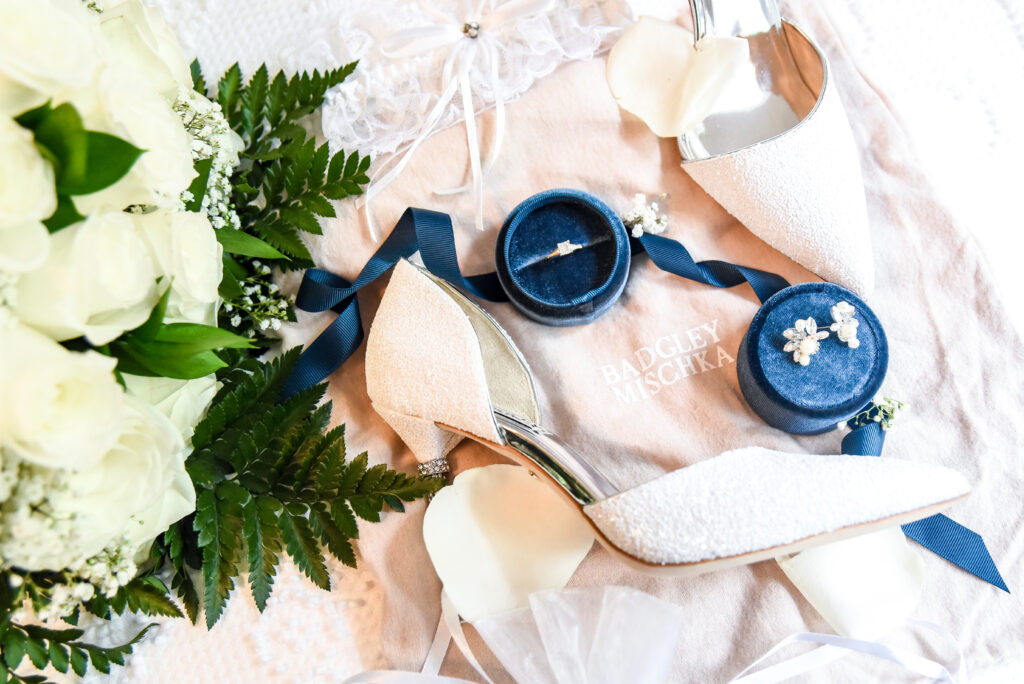 Our weekly Virginia weddings story comes from this past Autumn when Sanya and Austin tied the knot in Mechanicsville, VA. We asked Sanya and Austin about their love story, and this is what they shared.
"We met on day one of the MBA program for the University of Richmond – Robins School of Business. The program starts with a two-week consultancy called Opening Residency. Austin, the always extrovert, struck up a conversation with me in the coffee line on the first day and moments later we found out that we were going to be on the same team for this project. Little did we know in those initial moments that we had met our partner for life.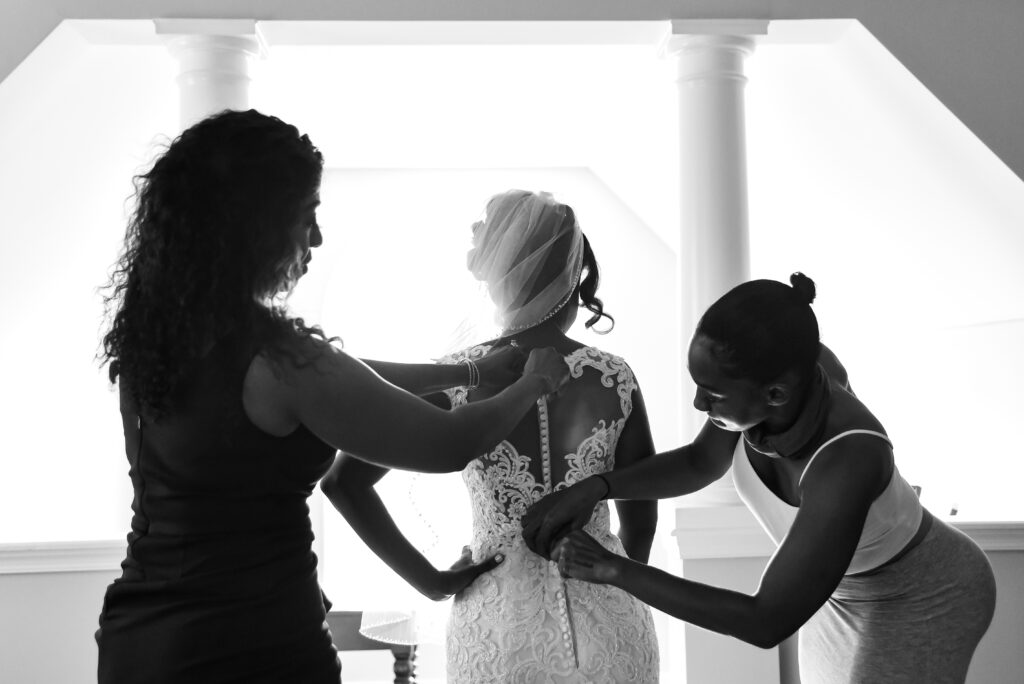 For their first date, Austin and Sanya went to a law school event at a local brewery. "It wasn't until the day before, when he invited me for dinner before that I realized he was interested as more than a friendship. We had a great dinner filled with laughter and enjoyed the event as well, and the next day we went to church together. It was so great to have such big moments within the early days of dating."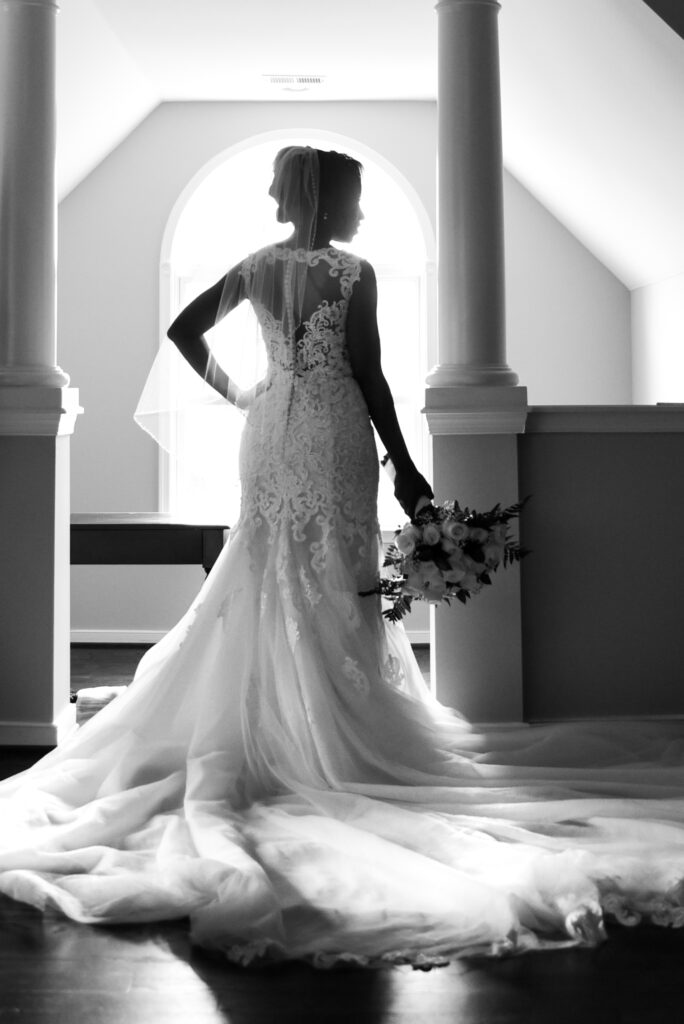 Sanya faced the same issues so many other women are facing right now as wedding plans are adjusting in light of the pandemic.
"Having a wedding in a pandemic, our big day looked a lot different than anticipated. When we first found out about the lockdown, I had just begun shopping for my wedding dress the weekend before. In the months that followed we continued monitoring the updates to see if we would be able to have our wedding as planned. We decided to keep our date of 9/12 (the day we started dating) at a much lower guest count (from a wedding of 150 to 50 to 15, including us) and formed a planning committee with our mothers after initial wedding plans changed. They both provided great advice and support during this stressful time."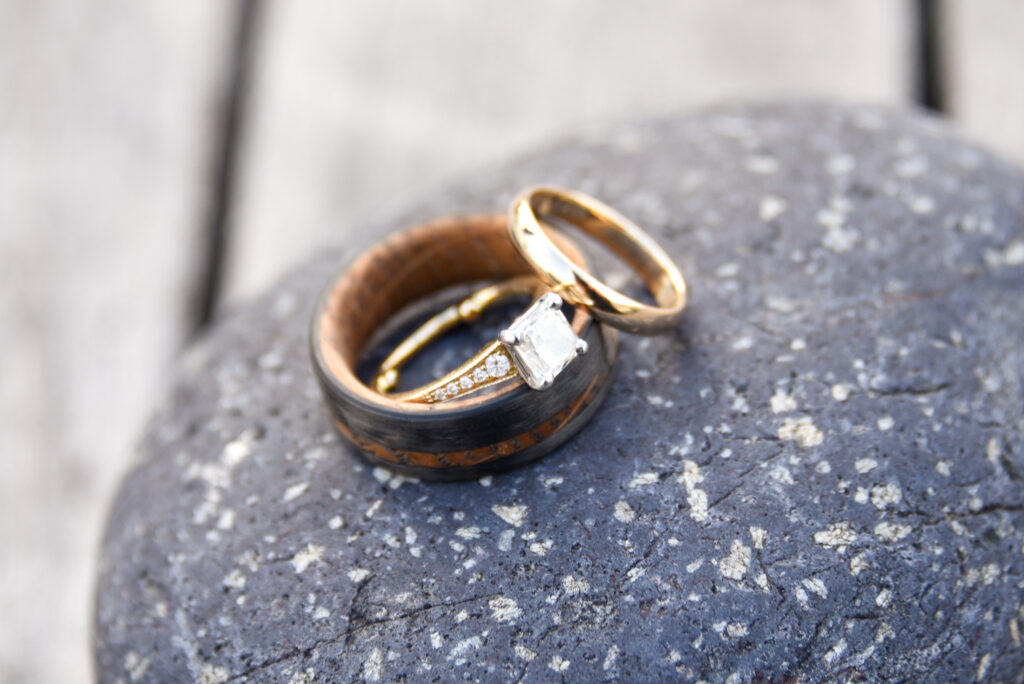 Due to the times, however, venue plans changed as well. "Initially our ceremony was planned for the University of Richmond Cannon Memorial Chapel with a reception at the Virginia Museum of Fine Arts. For our reception venue, we wanted a location that was unique and fun. After touring a few venues around the city, landed on VMFA because of the art, atmosphere and energy of the Marble Hall. For our ceremony, we met at the University of Richmond and thought it would be perfect to get married at this place we loved so much.
"We were excited to exchange vows at the place that brought us together and then move to a Richmond landmark, the VMFA, for the reception. That was all pre-pandemic. COVID led to many stressful nights, long phone calls and tough decisions but we were extremely grateful to both venues for being so accommodating and understanding of our cancellation request."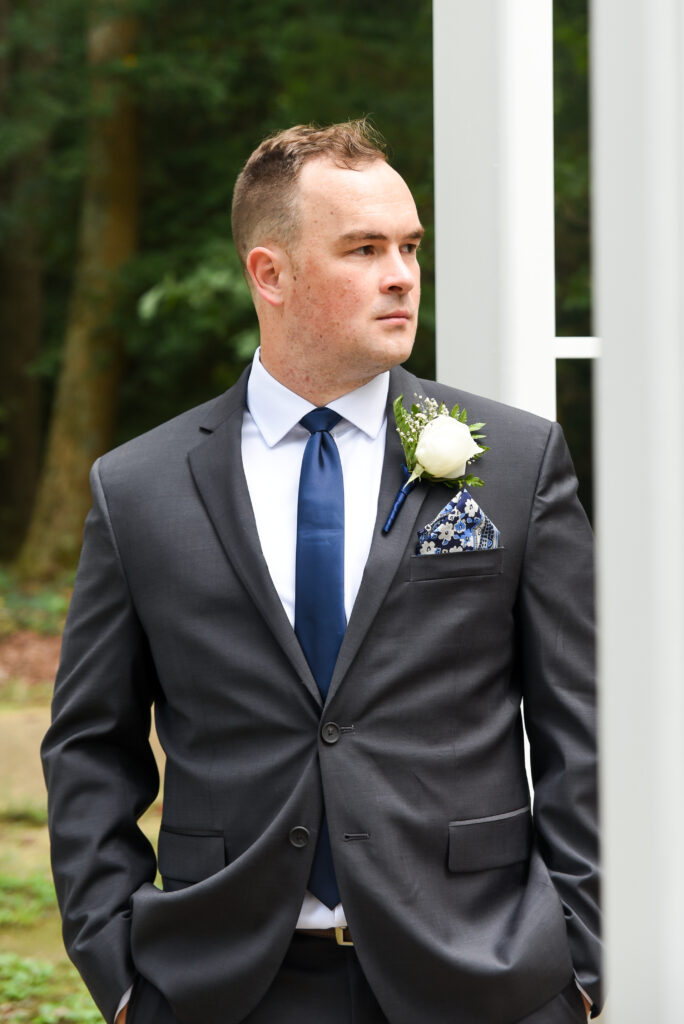 "As we started to think about our downsized wedding, we came across the Historic Polegreen Church. It was a location a friend had mentioned and we hadn't made it to in our initial search. Polegreen checked all the boxes. It was an outdoor venue with a unique vibe and we loved the beauty and simplicity of its frames. Polegreen would enable us all to socially distance and still capture the magic of our love. We still wanted to continue the celebration so we booked the rooftop of the Quirk Hotel a couple of weeks out. They did a great job accommodating our last minute booking. We were able to sit outdoors and see all of the city from the stunning rooftop while celebrating with our closest loved ones. The pandemic shifted everything for us, but we are super grateful that everyone could come together to make it happen!"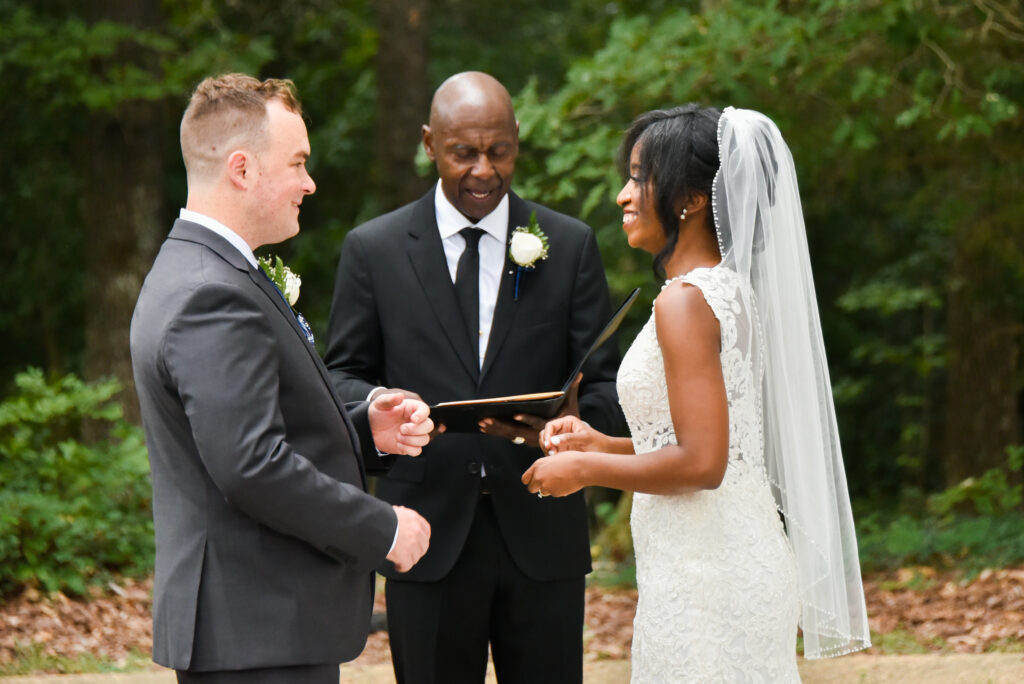 "My mother, Catherine, supported with overall styling and design of our ceremony venue, Historic Polegreen Church, and set up a videographer, limo, and my hair and makeup to ensure we could capture the memories and still feel special despite the times. Austin's mother and grandmother, Ginger and Ann, created the bouquets and boutonnieres for the event and brought our vision to life at Polegreen. My stepfather Justin acted as the officiant and musician, singing a beautiful song after pronouncing us man and wife. Savannah, Austin's sister, acted as a day-of coordinator. This was not initially part of the plan, but she stepped up and helped things flow smoothly. Of course, this isn't everyone that contributed to our day, but they all played a role in making our day happen and ensured it was unforgettable."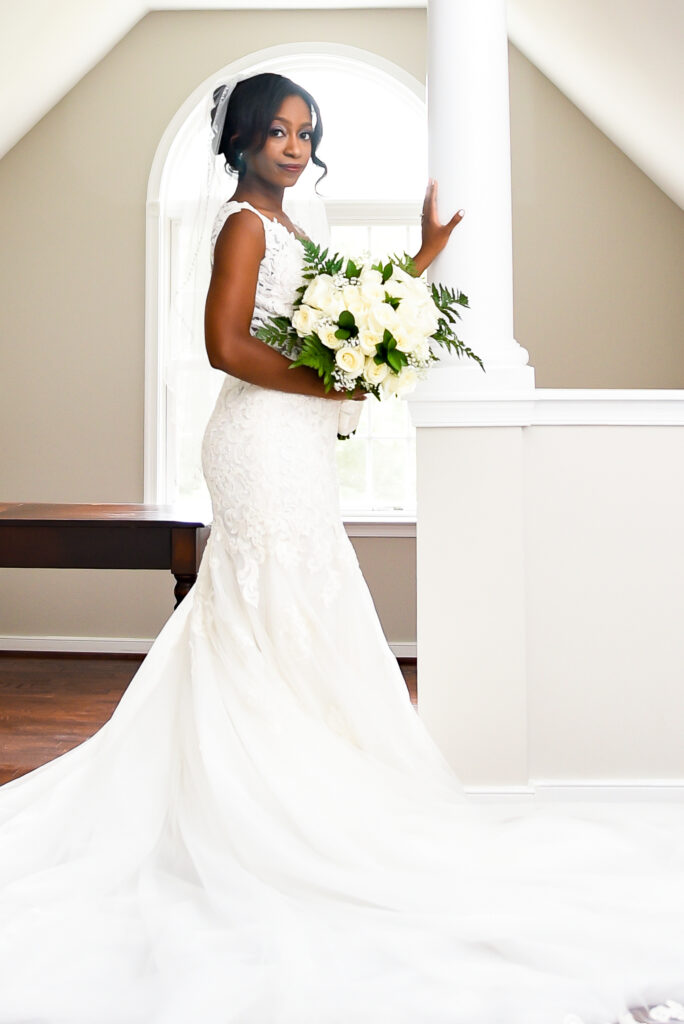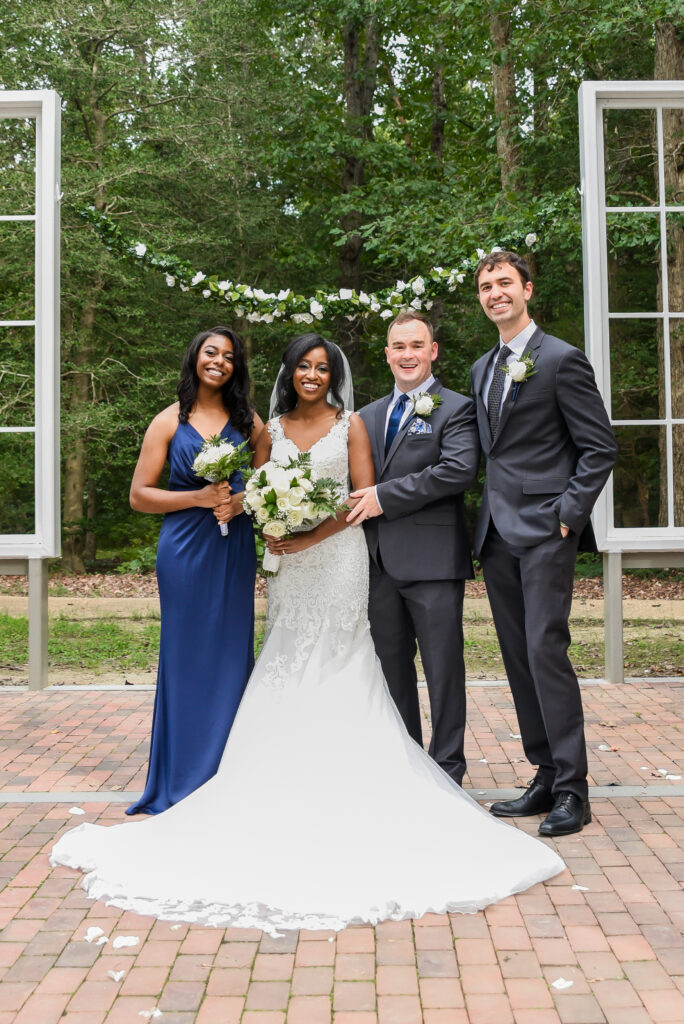 The Scoop
Bride: Sanya, Project Manager
Groom: Austin, Director of Data and Analytics
Wedding Date: 9-12-20
Number of Guests: 13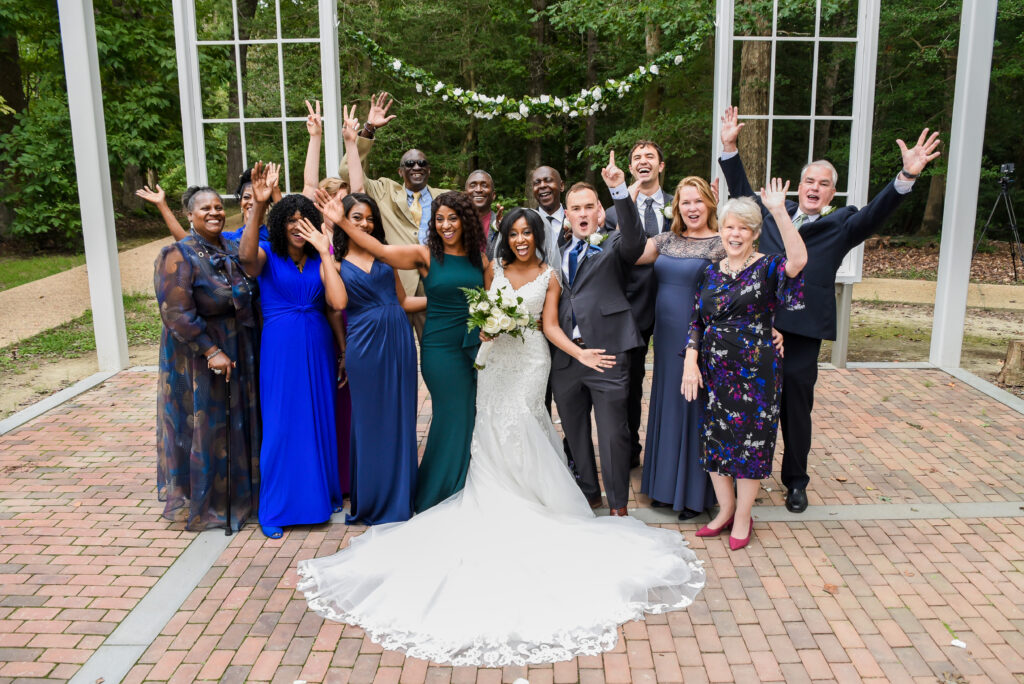 For their special day, Sanya wore a romantic fitted gown with flare skirt and V-neck. With the tighter timelines for planning, she wasn't sure she'd find the dress she loved. "After calling around to various shops, I ended up finding 'the one'. I debated between two dresses but after seeing the reaction from my family, opted for one that became 'my dress'. I was initially on the fence about it but after seeing myself in it with my hair and makeup done, I couldn't have imagined myself in anything else."
Sanya and Austin chose a clean, fresh color palette. "With a love of classic styles, we chose navy, green, and ivory. The green came through in our flowers and accents and really brought together the crisp clean classic vibe."
Sanya's bridesmaids wore navy dresses from David's Bridal.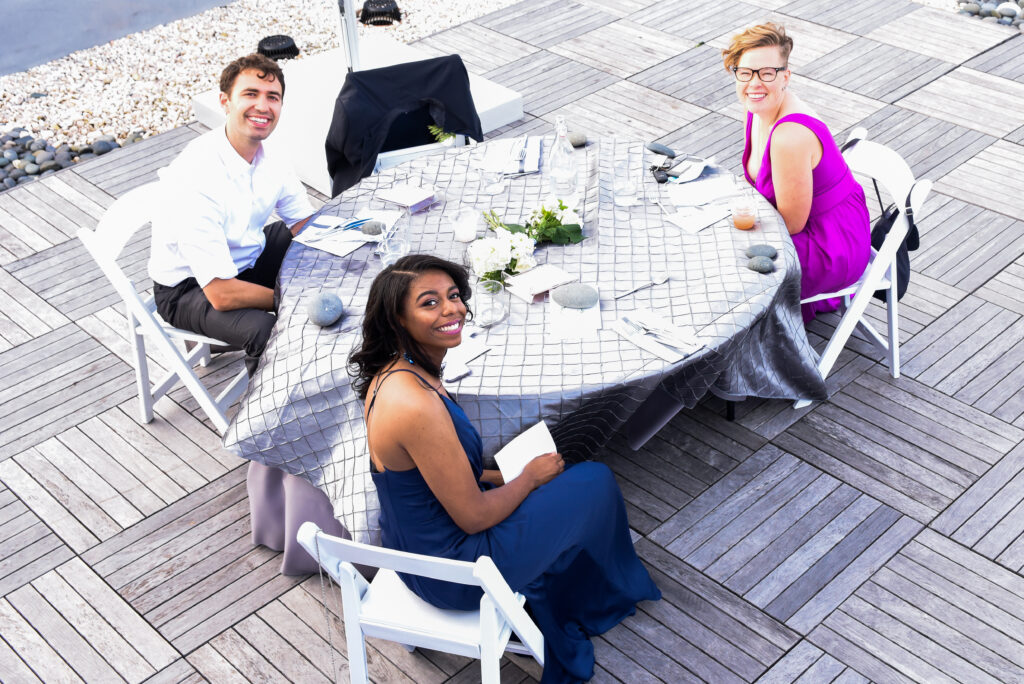 Sanya and Austin faced the touch decision of who to invite for the much smaller ceremony and reception. "We opted to limit attendees to those closest to us. And while a few family members were in town, others did make the trek from out of state, coming in from Tennessee, New York, and California to support us in tying the knot.
"Given that we couldn't have our larger wedding, we wanted the ceremony we were going to have be as intimate and as special as possible, with our immediate family members present. We also wanted there to be an overwhelming feeling of love all throughout the day and believe we achieved just that."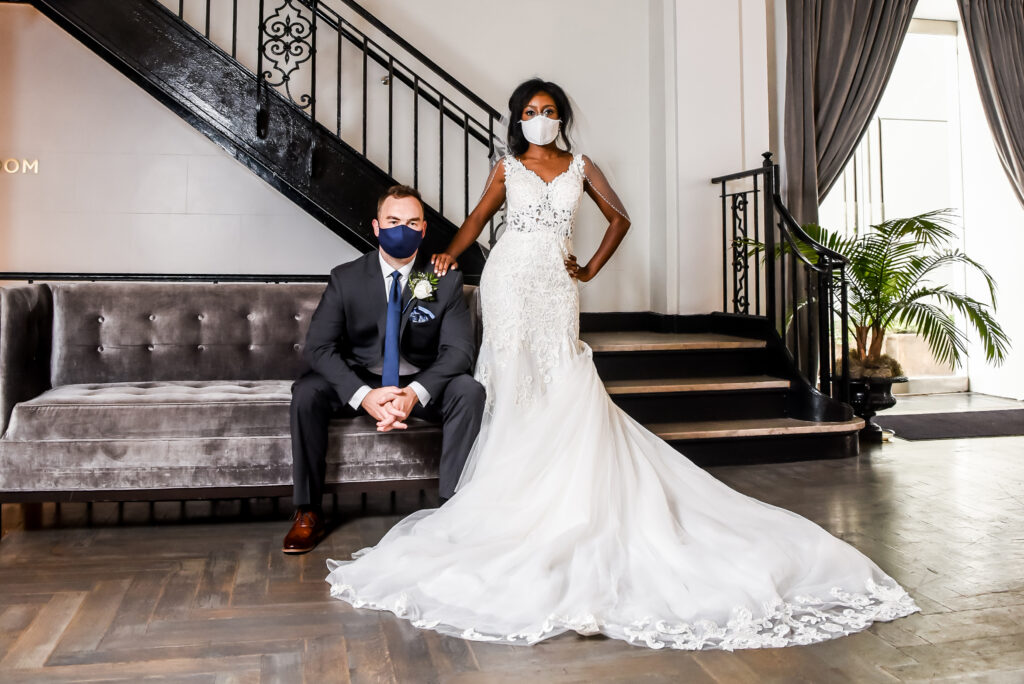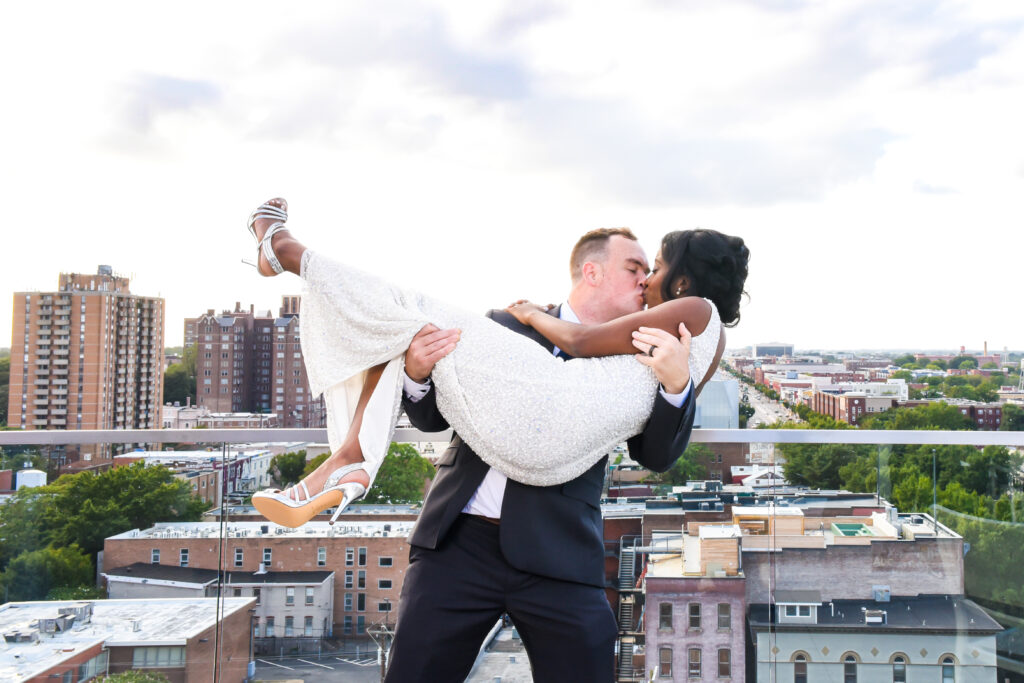 Sanya leaves fellow brides planning their wedding during these unusual times with this thought: "A smaller wedding with close family is worth consideration when planning your big day! Initially, we planned for a much larger event but really enjoyed the intimacy and connection of our wedding."
Thank you for sharing your beautiful story with us! Congratulations to you both!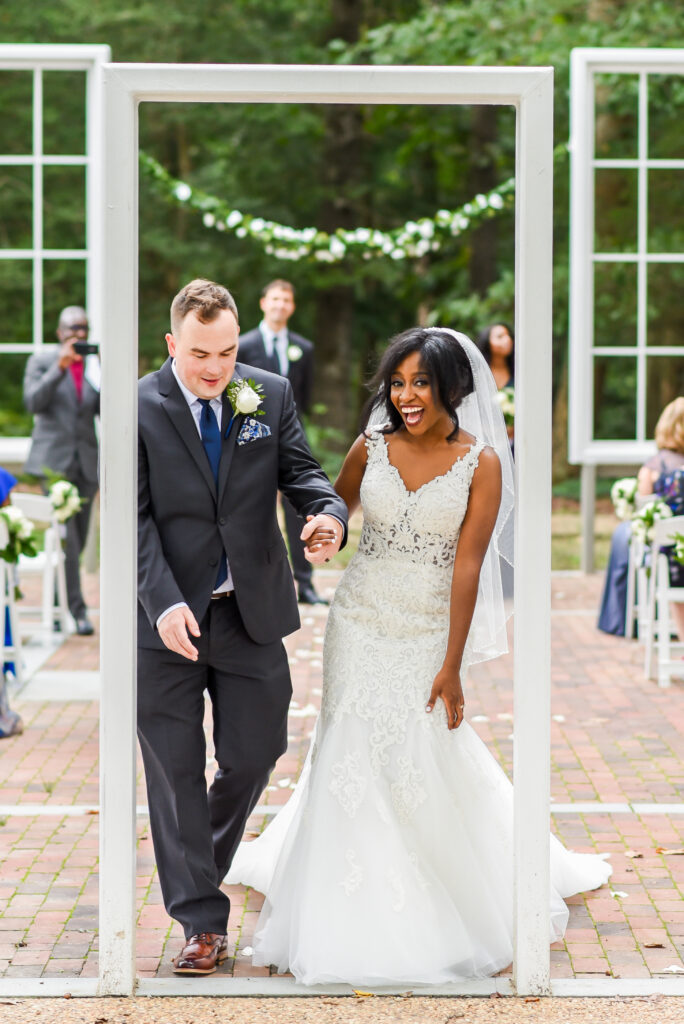 Vendor Credits
Venue(s): Historic Polegreen Church & Quirk Hotel
Photographer: Karen Gage
Officiant: Justin Morris
Gown: Essence of Australia
Reception Dress: ASOS
Shoes: Badgley Mischka
Hair + Makeup: Shameka Robinson
Bridesmaids dresses: David's Bridal
Formal wear: Men's Wearhouse
Rental equipment: Classic Party Rentals
Catering: Quirk Hotel
Music: Justin Morris
Cake: The Mixing Bowl
Honeymoon: Due to COVID, we couldn't make it to our initial destination of Portugal and opted for a domestic trip to a state we both have wanted to visit for some time— Maine! We drove up the day after our wedding and made the long drive more fun by ordering take out from several highly rated restaurants while we made our way up the East Coast. We stayed in a cute little place right in downtown Bar Harbor called Bar Harbor Manor and spent our time in the town hiking through Acadia and also sampling as many lobster rolls as we could. This proved to be one of our favorite trips and we would highly recommend Bar Harbor to any newlyweds.