Nestled in Hot Springs, Virginia, the Omni Homestead Resort is a perfect choice for a relaxing getaway before your big day. The resort has an array of activities for you and your bridal party, but their most popular attraction is, you guessed it, the hot springs!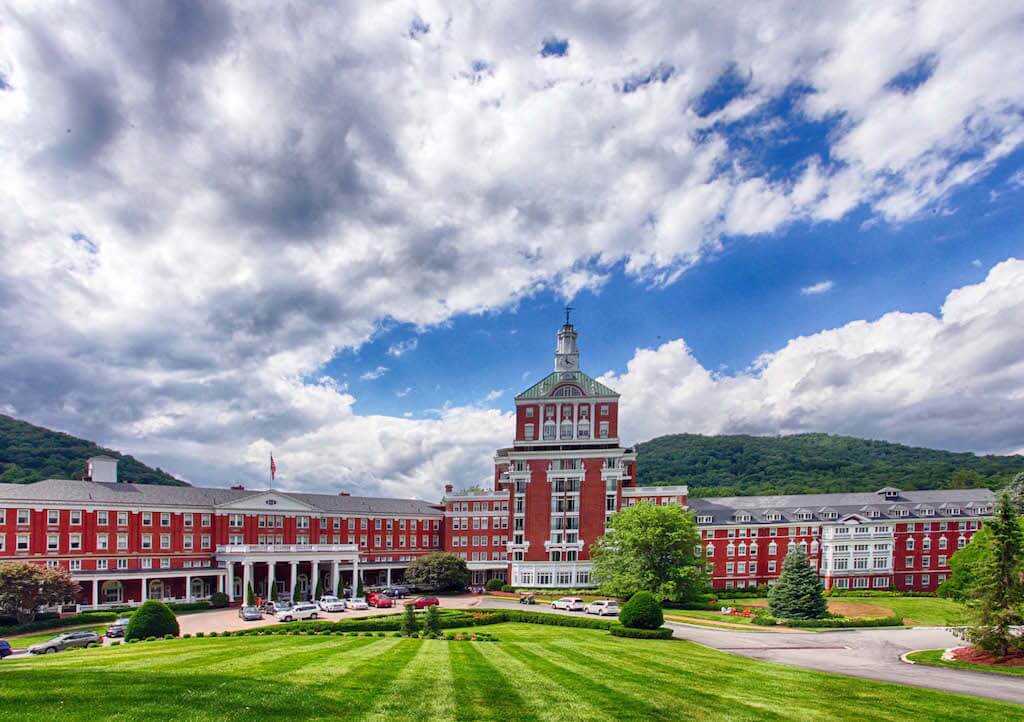 Resort Overview
The Omni Homestead Resort has been a trademark of the area since 1929. However, the rejuvenating powers of the warm springs were being used long before that. The first inhabitants of the area were Native Americans and later in 1764, militia members of the French and Indian War bought 300 acres that containing 7 natural mineral springs. In 2016, the resort celebrated 250th anniversary.
Today, the Homestead resort has rooms ranging from traditional style hotel rooms to two bedroom suites. It is almost guaranteed for you to find something to fit your needs. On property, you'll find hiking excursions, fishing, golf, and equestrian trail rides. In addition to outdoor excursion, the Homestead has indoor and outdoor swimming pools and a spa and fitness center.
There are 7 restaurants and dining options on property, ranging from bars and wine tastings to a four course dining experience in the main dining room. In addition, there are ten plus shops on property, carrying everything from golf apparel to children's toys and beyond.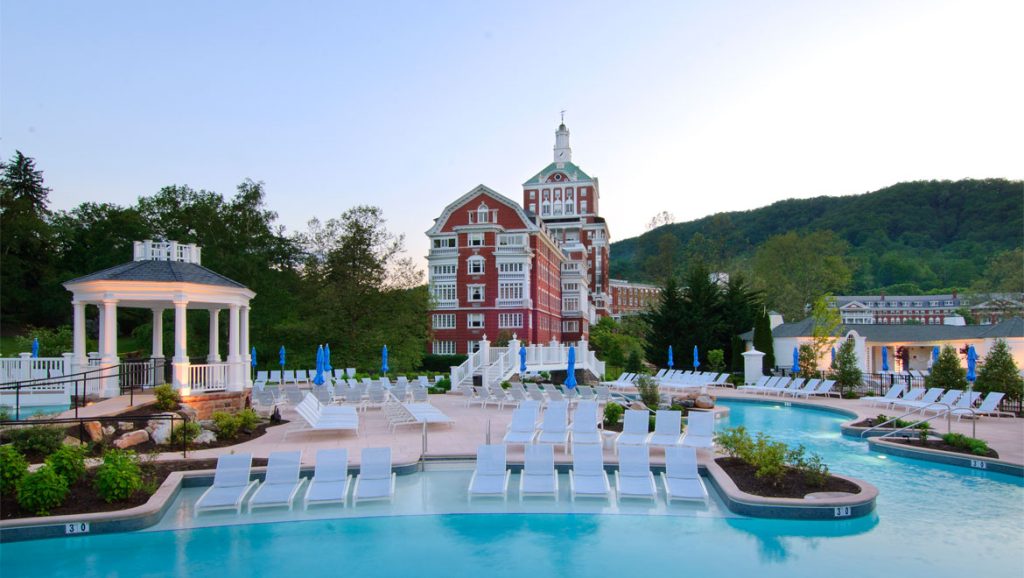 Sample Itinerary
Friday
Noon: Arrive at the Omni Homestead Resort. While check-in isn't until 4pm, if you arrive early bell services will hold your luggage. Until check in time, lounge by the pool
4 p.m.: Head to the lobby to officially check in and relax in your luxury guest room.
6 p.m.: After everyone has had the chance to relax, check out the accommodations, and get ready for dinner, go to Jefferson's restaurant in the main building. Reservations are recommended, so be sure to visit the website ahead of time to secure a table for your party.
8 p.m.: Before retiring after dinner, take some time to explore the beautiful resort. After returning to your room for the night, it would be a great time to have some traditional bachelorette party fun! Bring out the games and end the night with a lingerie shower for the bride.
Saturday
9 a.m.: Swing by Martha's Market, adjacent to the lobby, for grab-and-go coffee and pastries before checking out the various shops around the resort.
10:30 a.m.: Get your relaxation on with a 50 minute soak in the warm springs pools.
12 p.m.: Before continuing with your relaxation, grab some lunch from one of the on-site restaurants such as Woody's or Rubino's at the Cascades.
1 p.m.: Check in at the spa for your reservations. The spa offers a variety of face and body treatments in addition to an aqua thermal suite and a serenity garden.
3 p.m.: After your spa treatments end, walk to the Virginia Wine Experience to sample flights of Virginia wine.
4 p.m.: Return to your guest room and get ready for dinner!
5 p.m.: Check out the hot springs area and the attractions it has to offer! If music is your thing, look over the Garth Newel Music Center's schedule for upcoming events. Look into local restaurants for dinner, like Les Cochon d'Or.
8 p.m.: Continue the party at the lobby bar or retire early again and continue the bachelorette activities.
Sunday
9 a.m.: Visit the main dining room for the signature breakfast buffet.
11 a.m.: Check out
11:30 a.m.: Depart the Homestead Resort
Important Details
The resort sits 73 miles from the Roanoke-Blacksburg Regional Airport and 200 miles from the Dulles International Airport. Overnight valet parking is $30 per vehicle and transportation can be provided from the Roanoke Airport for an additional fee. Check out the Omni Homestead Resort's website for further details and seasonal offers.
If you are planning a wedding in Roanoke Virginia, Richmond Virginia, Fredericksburg/Northern Virginia, The Shenandoah Valley, Coastal Virginia or in Charlottesville/ Lynchburg Va. we can help with your wedding planning and ideas.