Sweet and Soirees hosts Pop Up Dinner
What is a pop up dinner?
A Pop up dinner is a supper party hosted in a temporary location such as a restaurant, factory, outdoor venue, or festival.
I had the pleasure of attending a pop up dinner hosted by Sweets and Soirees in Richmond, at The Broken Tulip, last night.
The purpose –  Sweets and Soirees was showcasing their catering talents with an 8 course tasting which included a main course.
And it was A-M-A-Z-I-N-G!
The appetizers included an assortment of fresh mozzarella, olives, house made  dips including, guacamole, spinach dip, hummus, and barbecue pork with slaw, and did I mention, this was just the appetizers?
Following the appetizers and drinks, came the following 8  courses: Corn Bisque with lump crab-meat and cornbread croutons, chopped salad with feta, Three Cheese Macaroni, Shrimp and Grits ( possibly the best I have ever had)  and the main course Creamy Herb Chicken, Mashed Potatoes, and Fresh Green Beans.
The grand finale was the delectable dessert course that included a Banana Pudding Cupcake, Apple Cobbler, and Strawberry Shortcake.
The presentation was superb as was the wait staff.
We ate so much that we took to go boxes home to enjoy for later!
Hey Richmond foodies, there is a new catering company on the scene and they are GREAT!
Note: Sweets and Soirees is a full event company that also offers event planning, floral services, wedding cakes and of course- catering.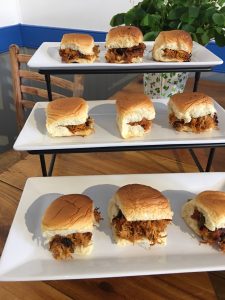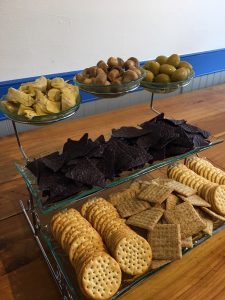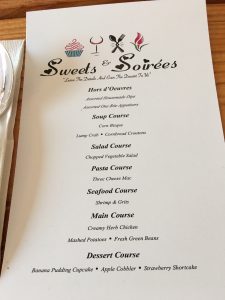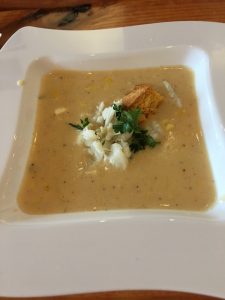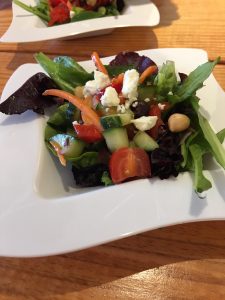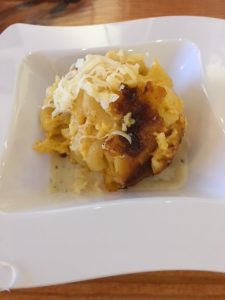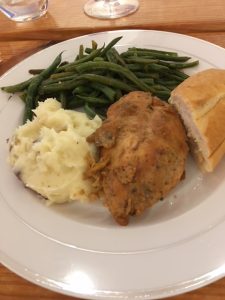 If you are planning a wedding in Roanoke Virginia, Richmond Virginia, Fredericksburg/Northern Virginia, The  Shenandoah Valley, Coastal Virginia or in Charlottesville Va, we can help with your wedding planning and ideas.