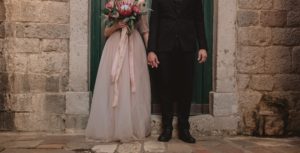 After gushing over the diamond ring, one of the first questions we ask a newly engaged fiancée is "what colors will the bridesmaids wear?!" As friends or maybe potential wedding party members, this is the first clue we get about the tone and style of the big day so we can start visualizing the celebration. Color is the most fundamental aspect of the idea board that connects the venue location, style of bridal gown, flowers, and attending ensemble wardrobe the bride has been dreaming of since she was a little girl. Color is the main ingredient that sets the stage for your perfect wedding.
Think like an artist using color to communicate a mood or a scene. Complimentary colors are opposite each other on the color wheel and contrast naturally, such as yellow and blue. Analogous colors are next to each other on the color wheel, like red, violet, and indigo, a color-blocking type of palette. Tertiary colors are in between shades, like teal and orange, that can be very striking in the right combinations. A Monochromatic color scheme would be all shades of the same color, like an array of pink tones without much contrast. These color relationships can all be used in visually powerful ways to pull off even the most eclectic bride's wildest dreams. If you are in search of an unconventional color palette to set your big day apart from the masses, here are a few ideas to bring new layers of the rainbow to your wedding brainstorm session.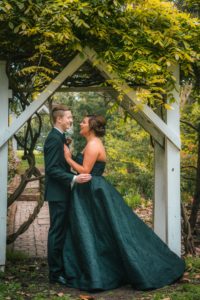 One way to change up your color scheme is to re-imagine a classic color in a new role of the wedding party. Many brides add the tradition of "something blue" to a meaningful aspect of the bridal ensemble. But instead of a garter, sapphire necklace or some intimate heirloom ribbon or tuft of velvet from Grandma, rethink the soothing powers of Blue Elegance and maybe make it the center of attention rather than a small detail. If blush pink is the tone you have dreamed of using but doesn't seem quite right to pack the punch you want, try using coral, the Pantone Color for weddings in 2019, even if your wedding isn't at the beach.
If the central theme to your dream wedding is seasonal, you can go with the accompanying traditional colors and still make the overall affect unique. Take the classic color scheme and re-imagine it in an updated way, possibly with muted tones or an analogous spectrum. For example, a spring wedding might normally be a pastel toned affair, but think of the deep blues, bright yellows and watermelon red you see everywhere when flowers bloom and create your own pairing, such as deep iris purple and bright leaf-green. Autumn weddings are usually full of rustic colors, but you can take those same cues and mix the classics with something unexpected. Deep red is a lush choice for an autumn wedding, but perhaps instead of pumpkin-tinted accents and décor you might want to look across the color wheel and pull an unexpected slate blue into your palette to make all those warm golds and reds really glow.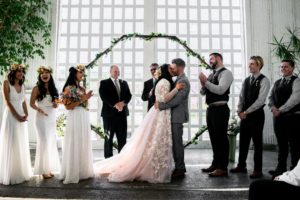 Let's talk about white. White is beautiful, and it's one of the only colors (yes, white is a color!) that people don't generally wear from head to toe in regular society, mostly due to the high likelihood of staining. That makes white special, and what day is more special than your wedding? But if wearing the traditional wedding color is not your thing, go ahead and own it. There are many gorgeous gowns that would look stunning on a bride that are every color BUT white, so choose boldly and leave the white for Memorial Day. Even better, switch it up and incorporate white in a modern throwback and have your bridesmaids wear white while you rock the color of your dream dress. A panel of ladies in white with the bride in a coordinating neutral or a bold hue has an even more powerful visual impact by flipping the script on what your audience is probably expecting! You can make a splash by choosing not to wear white, but don't feel like you have to outlaw white altogether.
Color is so central to a wedding, whether your style is classic or contemporary. There are so many colors and combinations of colors to choose from, each with their own nuances that give life to your wedding ideas. Trying to pin down the perfect color from thousands of shades of the rainbow can be overwhelming… take a deep breath and get excited at the options you have! From neutral to neon, there is nothing a 21st century Virginia wedding can't accommodate. You don't have to invent a new shade or pull some random Pantone swatches together in order to make an impression; if your colors pop and you find a memorable way to use them, you will end up just as enchanted as everyone in attendance.