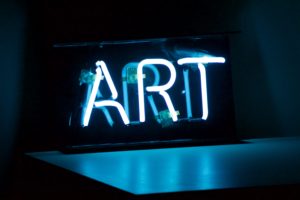 Love is art. People see it and it evokes awe, and silent musings of "How did they do that?" Each relationship is unique, a fractal made up of individual styles, past experiences, present fulfillment, future hopes. Every dynamic between marrying couples is unlike any other and takes dedication to get it to turn out right, just like a work of art.
Like an artist applying paint to a canvas or pressure to a mound of clay, your relationship and the marriage to come will take planning, ideation and effort, and the process is usually not what you anticipated! There is a creative spark that happens when people fall in love, and in the same way that we often lament that our love is beyond description, art often renders us speechless as well.
What better way to convey your unique devotion to each other than with an art gallery venue?! Art has an ability to transcend definition and give substance to things we can't quite express. Modern art is so powerful because it has broken free of the conventions that ruled artistic expression for centuries, and art can now be anything the artist says it is; ironically, love and marriage has undergone a similar metamorphosis. Now, love can be anything the lovers want it to be, sans traditional constraints and assigned meanings. Funny how art imitates life, eh? Or… does life imitate art?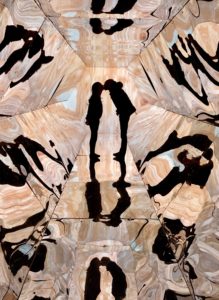 As autonomous and liberated as marriage is in 2019, there is freedom to make your wedding as formal and conventional or as eclectic and creative as you wish. An art gallery can be an exceptional venue to channel the ideals of modern art as a backdrop for your wedding celebration. Contemporary art gallery receptions in Virginia can even make your wedding easier; no need to decorate when there are paintings, sculptures and installations in every photo! Virginia has so much to offer (see: Four Reasons Why Coastal Virginia Should Host Your Wedding) with plenty of natural scenery outdoors to host weddings, but not everyone wants to depend on the weather to cooperate on the big day. Perhaps you are planning a winter wedding and need an indoor venue or just have a streak of artistic style you want to incorporate.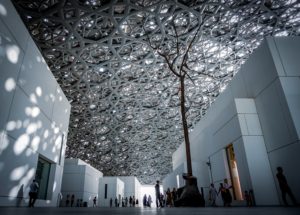 Architecture is art, too, and there is no shortage of spectacular churches in Virginia where you can have your wedding. You don't need a magnificent chapel or a breathtaking seascape to have an unforgettable wedding day; choosing a modern art gallery is an unexpected twist your guests will love. Even your cake can surprise your guests with an artistic theme, like this painterly wedding cake from one of our Roanoke vendors. Rather than relying on the stained glass of St. Luke's Church or the cultivated rose petals at the Botanical Gardens for your decor, consider the traditional media of paint, glass and photography in a modern art gallery.
Virginia Beach's Museum of Contemporary Art, MOCA for short, has a gorgeous wedding package with every detail included. This gallery is near the oceanfront and boasts a permanent collection of deliciously vibrant Dale Chihuly glass sculptures suspended in the Rodriguez Pavilion, a rainbow of abstracted glass forms so delicate they defy existence. There are revolving collections in the main galleries which are open for viewing during cocktail hour (leave the cocktails behind, please) and a magical atrium for dining and dancing with fairy-lit live ficus trees and a profusion of windows that, in the words of MOCA's marketing manager Kay Barbini, "give the feeling of being outdoors." Whether you are looking for a place to host your ceremony, a cocktail hour, your reception or the whole affair, MOCA has all the details in place to welcome you and your celebration. Parking, catering space, dressings rooms, sound system access and tables and chairs are all available to accommodate any event.
Art itself has its own language and can lend just the right ambiance to your theme. Weddings take a lot of planning, creativity, communication and teamwork. Give yourself a breather and walk through any art gallery in your corner of Virginia to take in some quiet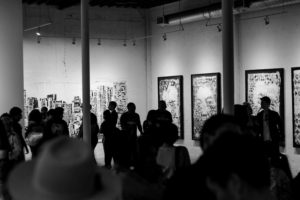 inspiration and let your senses wander. The Chrysler Museum in Norfolk has plenty of modern artworks to behold, and 1708 Gallery in Richmond offers an extensive collection as well. The Glen Allen Cultural Arts Center is another diverse venue with an art gallery on-site. Browse for unique décor cues or thematic elements that will showcase your artistic flair – you may see a sculpture that gives you an idea for a cake topper or a color combination that resonates with you. No matter where you live, you may find yourself in these cities hunting for the perfect wedding gown or acquiring some family heirlooms, so plan an art appreciation detour while you're there!
Every relationship, like the most articulate painting or expressive sculpture, starts out as raw materials and is worked over with time, attention, close study and surely a measure of love until the vision in the artist's mind comes to life. When you have found such a love, modern art is surely an apt surround for celebrating the abstract emotions that have joined two people in life, creating a new multi-media work as unique and undefinable as the two of you. Cheers to your gallery wedding, and the art of love.