A modern David vs Goliath battle between an event venue owner in Roanoke, Virginia and the Governor of Virginia for Constitutional Rights.
By Elisa Yu-Shan Lion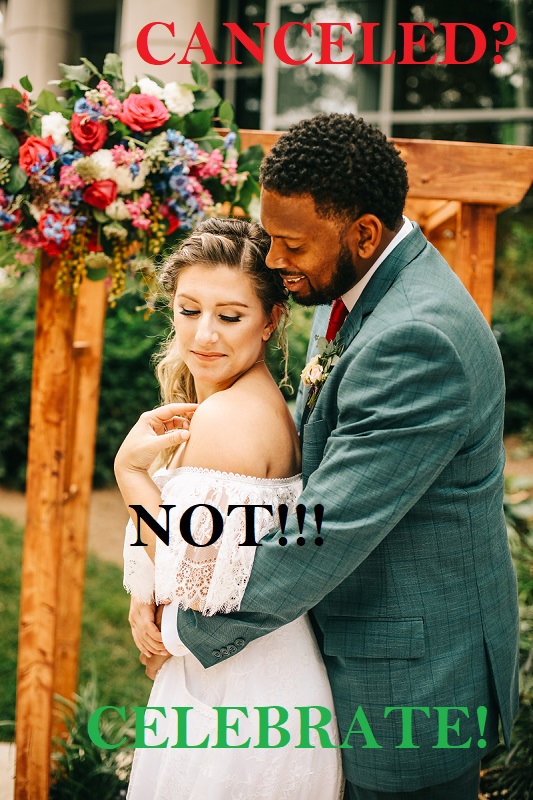 On the heels of our blogpost entry on March 8th we would like to share with you a particularly important story, a story that may very well be characterized as a modern battle between the little guy and the big guy, a story that carries the potential to ignite a chain reaction that could possibly benefit our whole industry (event industry). On March 4th, event-venue owner Isabelle Russell filed a lawsuit against the Governor.
Posting commentary on her social media Ms. Russell very aptly characterized her plight, Isabelle Russell vs Governor Northam: A modern David vs Goliath battle between and the Governor of Virginia for Constitutional Rights.
GOLIATH-Governor of Virginia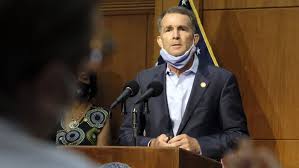 The current Covid-19 restrictions which continue to crush the wedding industry – were put in place by the head of our state, Ralph Northam. Executive Order 72, updated on February 24, 2021, states that ALL public and private events for in-person gatherings shall be no more than 10 people indoors and 25 people outdoors.  A "gathering" includes parties, celebrations and/or social events. This update to this executive order has created an extraordinary level of uncertainty that immobilizes not only the professional side of the equation in event planning, but it has also dealt a blow to celebrants all over our state. These measures have asphyxiated the joy of so many Virginians in celebrating traditional milestones, from births, baptisms, and weddings, to anniversaries, funerals and even our simple right enshrined in the 1st Amendment of the constitution, the right to peaceably assemble.
We believe it bears repeating that while the public and private gatherings are restricted, so called Entertainment Venues such as racetracks, speedways, amusement parks, zoos, entertainment and amusement businesses (include performing arts venues, sports venues, convention centers, theaters, museums, aquariums, fairs, carnivals, arcades, arts and crafts facilities, and more) prohibit private gatherings; allow a total number of patrons to 30% of the maximum occupancy load and not to exceed 1,000. For example, a wedding venue can host a concert on the property with up to 1000 people attending, but that same venue cannot have more than 25 people for a wedding.
Experience and established wedding professionals have proven we are capable of following CDC guidelines. In fact, our industry requires we follow detailed sanitation protocols. During June – November 2020, weddings resumed with no more than 250 in attendance and were successfully and safely conducted with all wedding professionals following the state's health and safety protocols. We executed two weddings in October 2020.  I can attest that all wedding couples, wedding professionals serving the weddings and guests were all cautious, and respectful of all protocols set forth. Also, quite importantly, the metrics and actual medical research concerning Covid19 are quite encouraging, indicating that the survivability rates are in the 99% for most of the population. Extra care and attention can and is absolutely recommended towards attendants in the older age brackets (above 70 yrs. Of age).
DAVID – The Event Industry CHAMP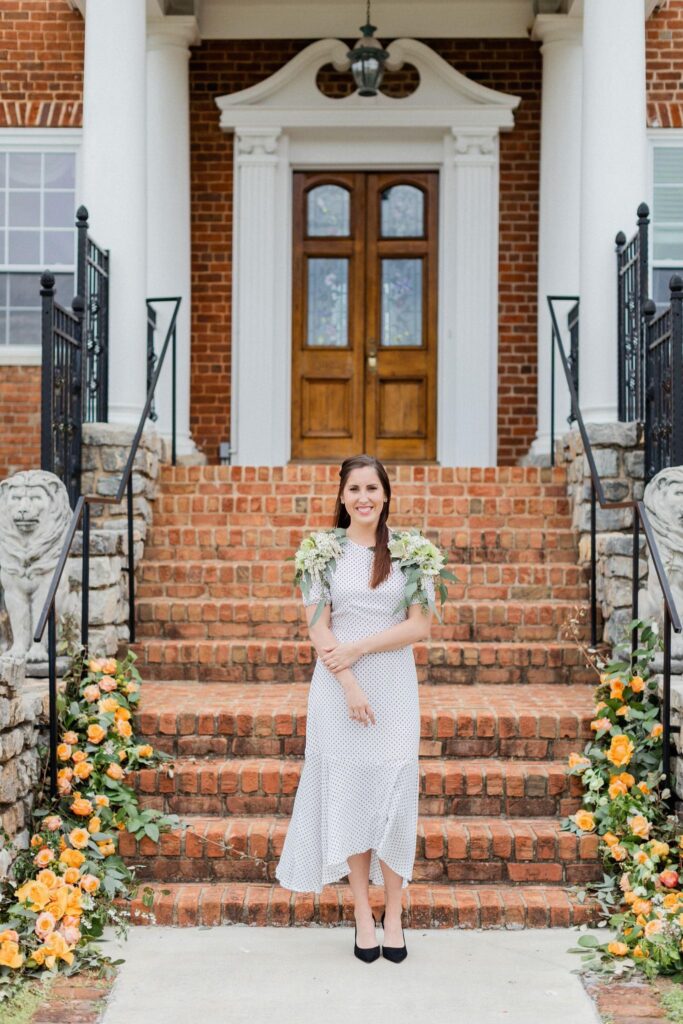 Isabelle Russell is a mid-west girl and furry mom (dog mom) who is passionate about weddings. She was born in Michigan; went to college in Chicago, majoring in Interior Design, and shortly after moved to Virginia with her husband (for his job). Isabelle entered the event industry through the floral design door. She established herself in the wedding industry through her Event Planning & Designing business – Garden Rose Events & Design. Owning an event venue (a dream for many Event Planners – including myself) was a natural fit for her; one where she can share her God given gifts and talents with all her couples. In 2018, she stumbled across a bed and breakfast listing. She immediately fell in love with the place. After partnering with a family member, she became the new owner of Belle Garden Estate (venue).
Isabelle's Interview by ABC News: https://wset.com/news/local/wedding-venue-files-lawsuit-against-governor
GOLIATH CHALLENGES DAVID
All event industry professionals in the wedding arena were hopeful for the start of the 2021 Wedding Season, after Covid-19 nearly wiped the industry in 2020. The Governor's decision to open other industries while continuing to shut down the wedding & event industry was the pivotal point that let Isabelle know it was time for the next step.
Witnessing her couples' emotional roller coaster, her income slashed, other fellow venue owners and event industry professionals losing their dreams, their properties and closing their businesses, ignited a fire in Isabelle and a need to do more and somehow reduce or eliminate the uncertainty. She decided to file a lawsuit against Governor Northam for constitutional rights.
THE SLINGSHOT
Isabelle, retained the services of Timothy V. Anderson from Anderson & Associates, PC.
Understandably so, since the lawsuit was filed, Isabelle's life has become laser focused on it. Sadly, there have been a handful of event industry professionals that have misconstrued the purpose of the lawsuit. For this reason, we have clarified at length the grounds on which she is basing her argument. The event planning industry, a three billion dollar a year industry, is not being fairly categorized and treated when it comes to operability and freedom to provide their services.  
THE ROCK
Isabelle's lawsuit has the potential of being the proverbial shot across the bow. This is a lawsuit that if won, it will prevent the Event Industry from being shut down in the future. Many have pondered the significance of the lawsuit, the motives Isabelle had to file the lawsuit and what the Go Fund Me funds will be used for. I want to set the record straight. Isabelle's lawsuit is a lawsuit for constitutional rights and not for monetary gain. As a matter of fact, to file the lawsuit, Isabelle had to retain the services of an experienced lawyer to file and build the case. To secure the services of Tim Anderson, Isabelle Russell had to disburse at minimum $25,000 – you read that right– $25,000 USD out of her pocket. If the case goes to trial, costs can rise upwards of $40,000. The purpose of the Go Fund Me page is to raise funds to cover the costs of the lawsuit.
The Go Fund Me Page: https://www.gofundme.com/f/funds-for-lawsuit-against-gov-northam
Should Isabelle raise more funds than those needed for legal fees, Isabelle will organize a GIVEAWAY to award a couple a wedding anywhere in the state of Virginia.
Many professionals in the event industry, business partners, and colleagues (even BRIDES!) have come together to help Isabelle. Many feel the overt discrimination of their industry and take offense by both Governor Northam's reply and demeanor when asked in this video from WDBJ7, about weddings. You can clearly see Governor Northam make a light joke about weddings and laughs in minute 12 with 25 seconds pf the video. https://www.wdbj7.com/video/2021/03/09/governor-northam-covid-briefing/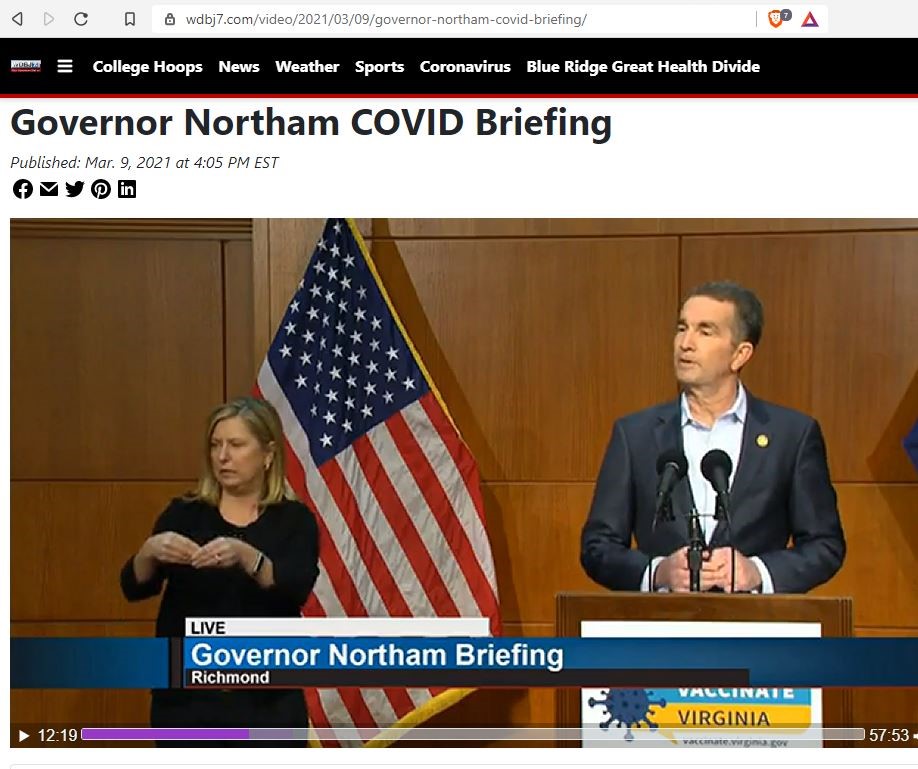 In the same video, Governor Northam argues that the nature of weddings allows COVID-19 to easily spread. In jest, he faults natural and spontaneous actions between families as a spreader pathway. He includes the activities of consuming food and beverage during these celebratory events. Isn't this the same thing that occurs in restaurants when you gather in smaller groups? Do not people dance, sing, and consume food and drinks at concerts?  After a deflating set of comments, Governor Northam proceeds to advise that if case trends continue to improve, then those restrictions will be eased. At no point during the interview is there any mention of the devastating, negative repercussions his measures have inflicted in celebrants and professionals alike. At no point during the interview was there any demonstration of in-depth knowledge of the industry and the structured and regimented platform that it works from. The wedding industry is not a joke. Here in Virginia, this industry generates over 3 billion dollars a year in revenue and provides income and jobs for the many wedding professionals who offer wedding services.  This income is these professional's livelihoods, which allows them to take care of themselves and their families just as any job does.
MORE DETAILS
Isabelle is suing for our individual rights under the U.S. Constitution. The lawsuit cites the 1st Amendment and the 14th Amendment of The Constitution. The 1st Amendment focuses on the right to assemble – we are being restricted to assemble peacefully at our own properties. The 14th Amendment focuses on equality – we are being discriminated against.
You can access The Constitution of the United States in this link from the National Archives:
https://www.archives.gov/founding-docs/constitution
1st Amendment of the Constitution Of The United States Of America
Congress shall make no law respecting an establishment of religion or prohibiting the free exercise thereof; or abridging the freedom of speech, or of the press; or the right of the people peaceably to assemble, and to petition the Government for a redress of grievances.
In simple terms, the 1st Amendment protects several of our basic freedoms: freedom of religion, freedom of speech, freedom of the press, the right to assemble, and the right to petition the government. 
14th Amendment of the Constitution Of The United States Of America
SECTION 1 (of 4 sections)
All persons born or naturalized in the United States and subject to the jurisdiction thereof, are citizens of the United States and of the State wherein they reside. No State shall make or enforce any law which shall abridge the privileges or immunities of citizens of the United States; nor shall any State deprive any person of life, liberty, or property, without due process of law; nor deny to any person within its jurisdiction the equal protection of the laws.
In simple terms, the 14th Amendment of the Constitution of the United States grants U.S. citizens (by birth – born in the U.S. or born to a U.S. citizen) and naturalized citizens (by choice – immigrated and chose to be U.S. citizens) "equal protection of the laws" (awarded the rights given to U.S. citizens by the Constitution).
=====================================
The lawsuit was delivered to Governor Northam's office on Friday, March 5, 2021. The case hearing is scheduled for March 24 via Zoom.
=====================================
CALL TO ACTION:
DONATE: All money donated to the Go Fund Me Page is purely going to this suit's legal fees.
TAKE ACTION: Call or email Governor Northam. Make your voices heard!
BRING AWARENESS: Share this situation with others who are not in the Event Industry.
Related lawsuits for constitutional rights, by the Catholic Church:
https://www.ncronline.org/news/coronavirus/california-priest-wins-court-fight-against-pandemic-limits-churches
https://www.law.com/newyorklawjournal/2020/10/14/just-not-fair-cardinal-dolan-addresses-brooklyn-catholic-churches-lawsuit-against-cuomos-covid-19-order/?slreturn=20210210222901 
https://www.npr.org/local/305/2020/12/15/946720447/archdiocese-of-washington-sues-d-c-over-c-o-v-i-d-19-gathering-restrictions-in-churches