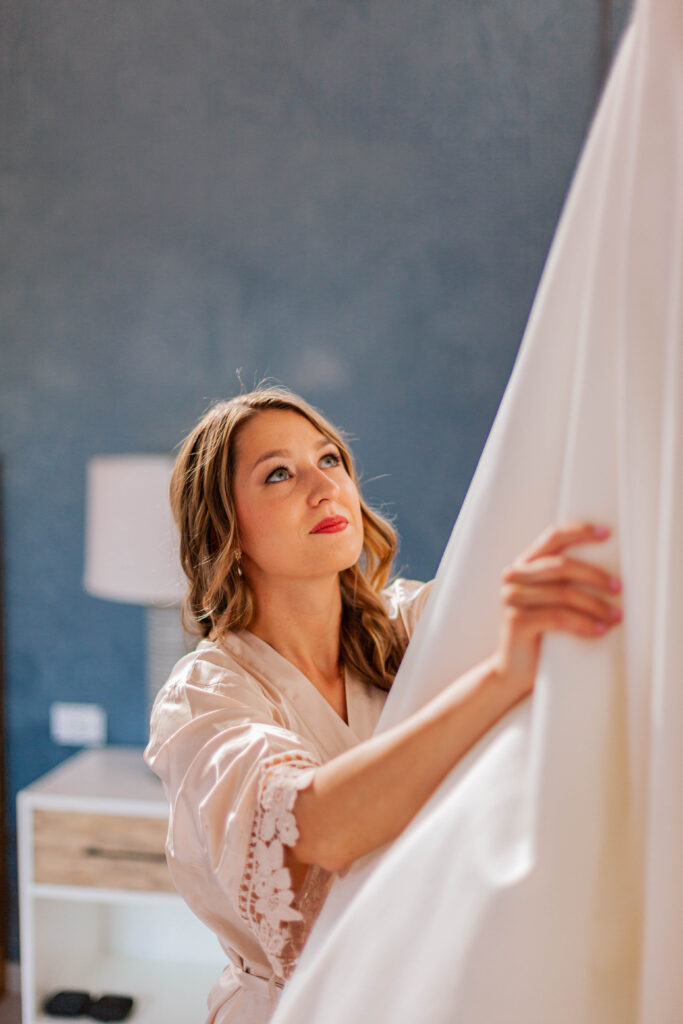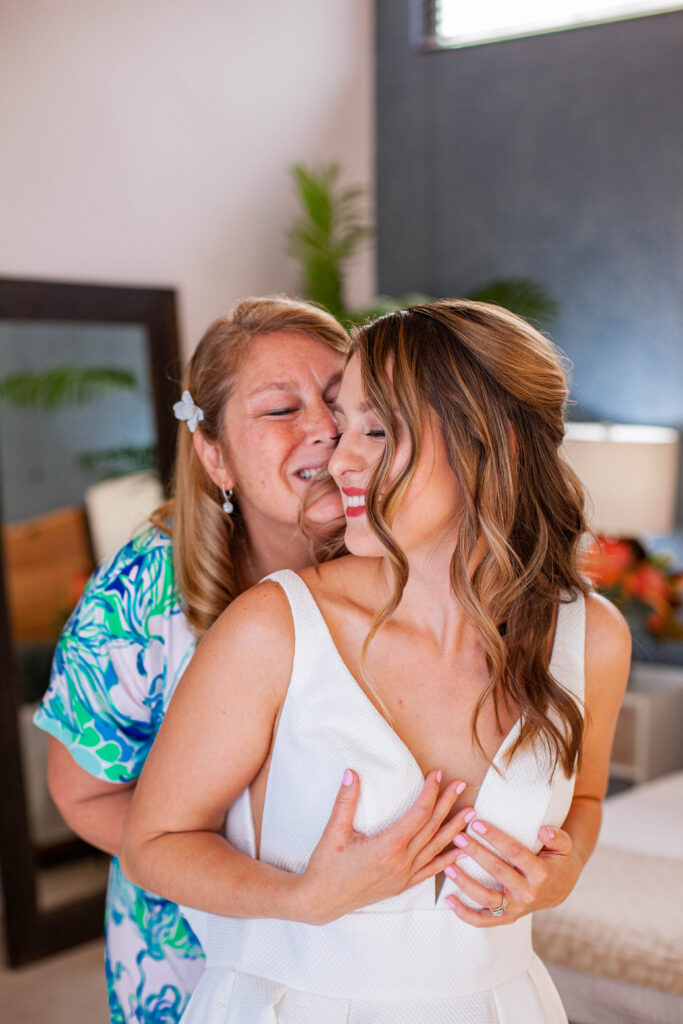 This week's Virginia weddings tale takes us from Christopher Newport University to Costa Rica, with the happy couple finally saying their "I dos" during the pandemic on the Costa Rican coast.
Alexis shares, "Tyler, and I met at Christopher Newport University (our Aluma Mater) where we both pursued a degree in Political Science!"
Their earliest dating experiences helped to establish their life as a couple: "As a couple we have always been avid concert goers! We just love live music; the tunes and the overall giddy atmosphere really makes each experience special. A couple years ago, shortly after we began dating, we were able to see one of our favorite bands play— Grouplove. We sang and danced till we couldn't any longer. At the end of the night, we both confessed that we had fallen in love with one another for the very first time. To say that it was an incredibly memorable night would be an understatement.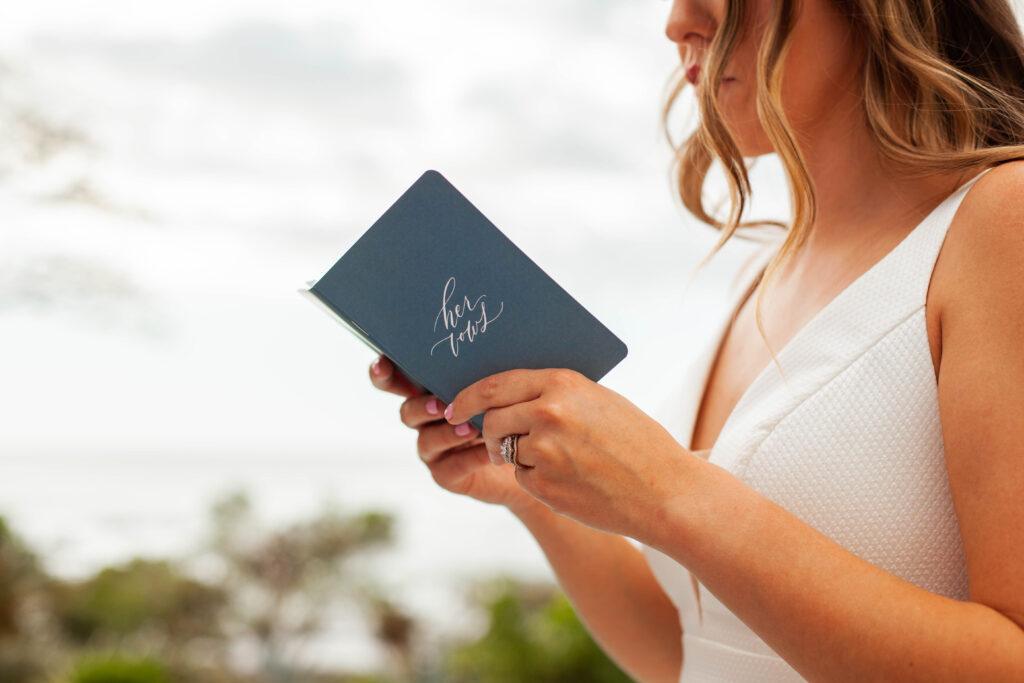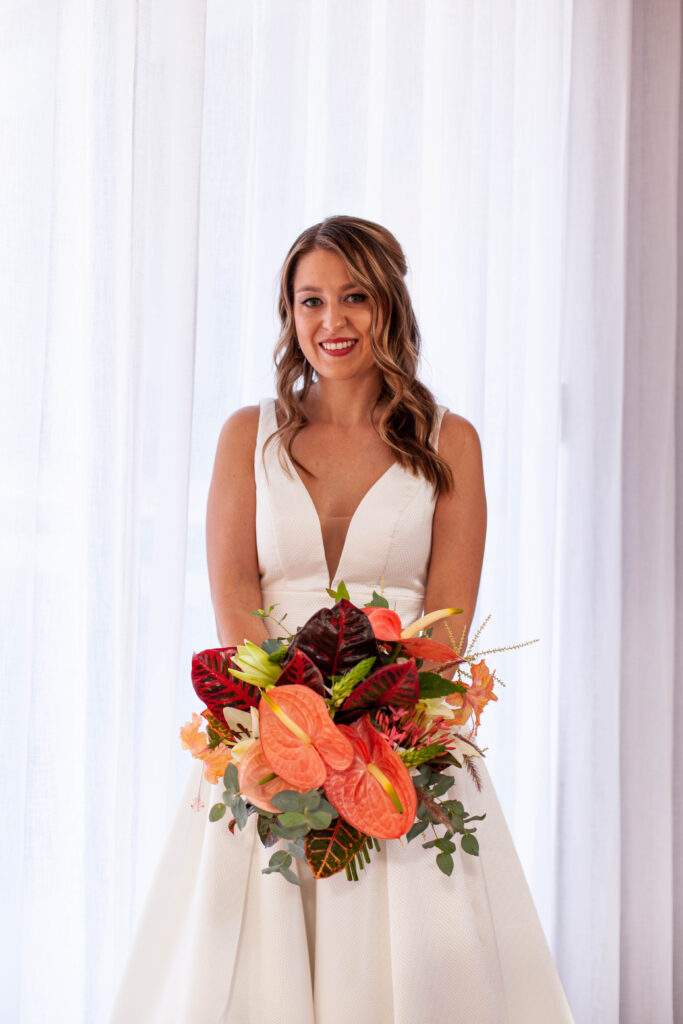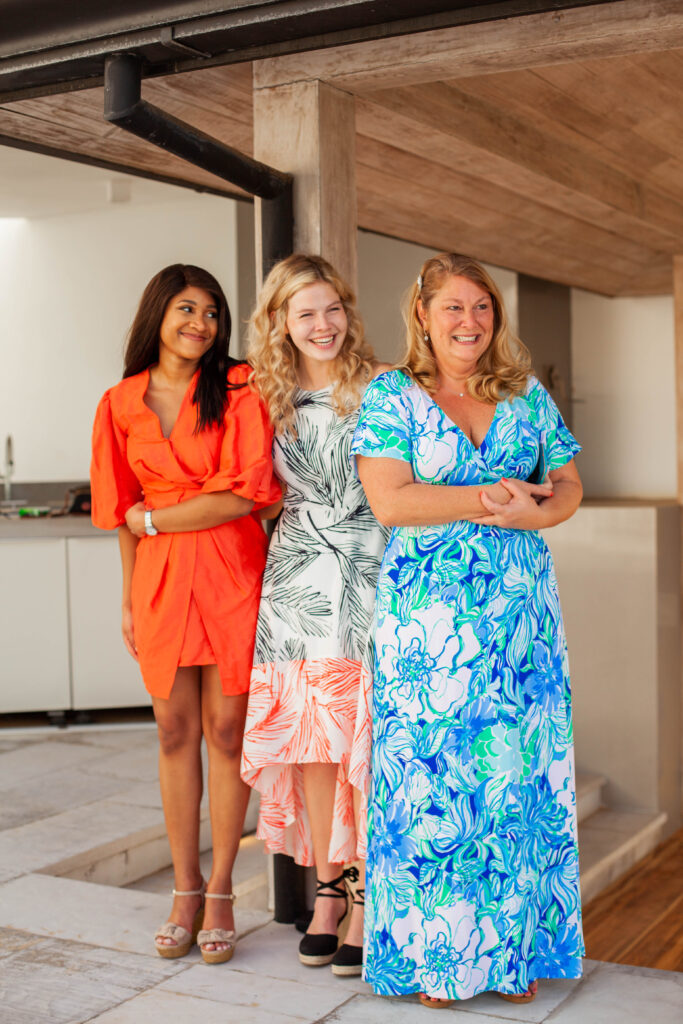 "Tyler proposed at Lewis Ginter Botanical Gardens in Richmond, VA on a beautiful sunny spring afternoon in late March of 2019. Tyler chose to propose at Lewis Ginter because they held a special significance to Alexis, who had spent years volunteering there. It's also an extremely scenic venue. The most humorous part about the entire today took place right after Alexis said 'YES!' to marrying him. He slipped the ring on her finger, stood up from being down on one knee, and shouted 'No take backs!'"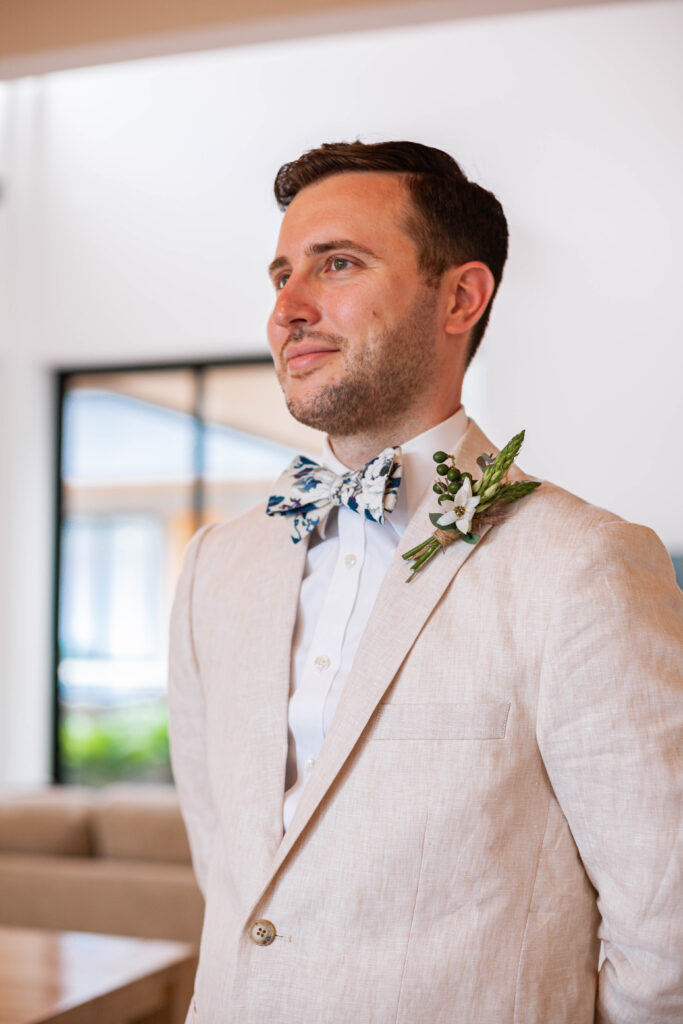 The Scoop
Bride: Alexis, 25, Program Manager in the School of Business, Virginia Commonwealth University
Groom: Tyler, 31, Management Analyst, U.S. Government Contractor – State Department
Wedding date: 01/21/2021
Number of guests: 6 (including Alexis & Tyler)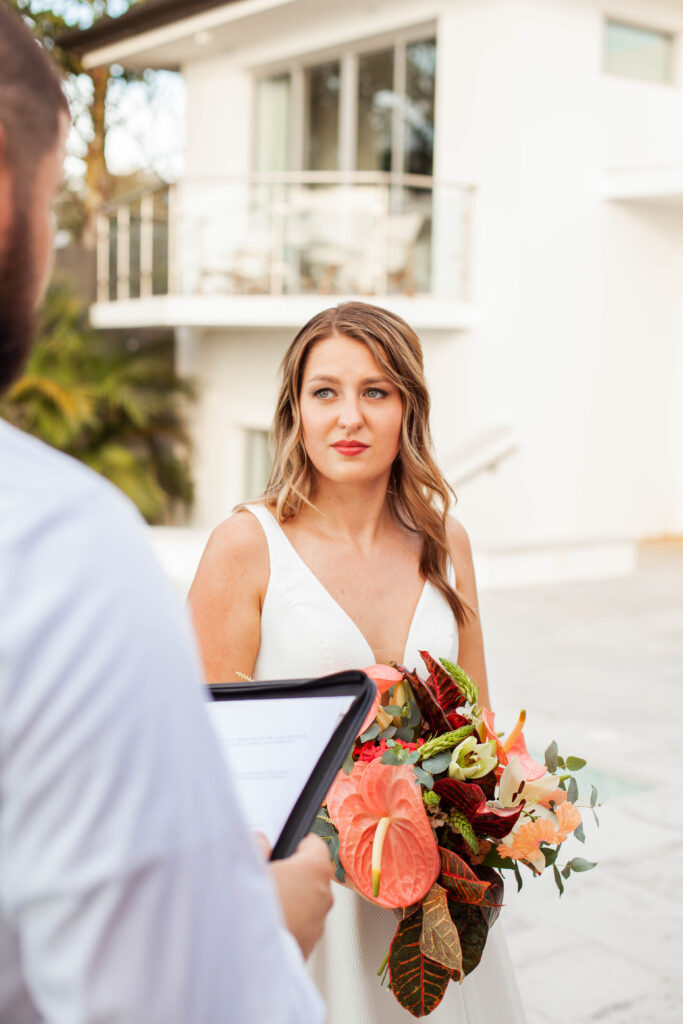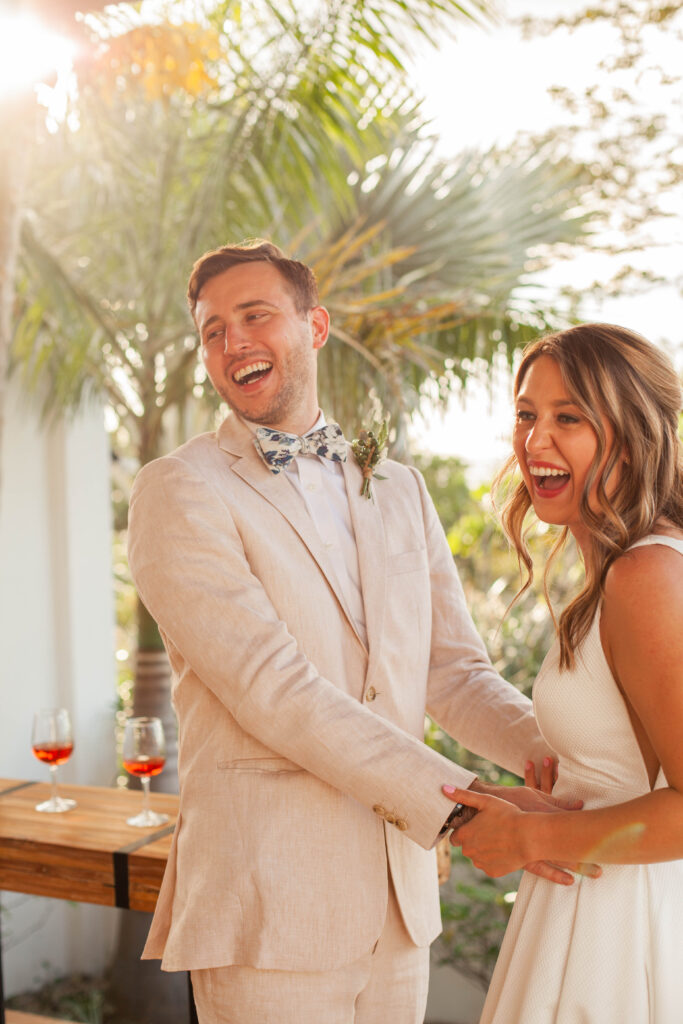 "Originally, Tyler and I had planned to get married in the Fall of 2020 in a garden courtyard in Richmond, VA. Unfortunately, because of COVID, we had to postpone to ensure the safety of our friends and family. Because of the pandemic, we decided not to pick another date for the wedding until we knew it could actually take place. So, you can say we were at a standstill of sorts. One evening in early January, Tyler half-jokingly stated that we should just elope. After all, we love to travel/adventure together. We knew we wanted to begin our lives together somewhere special but had never really played around with the idea of being married outside the continental U.S. That night we began to consider the idea. We love warm weather, being near the water, and the overall vibes of the tropics. Thus, Costa Rica seemed to be an easy choice. It just so happened that they also had very low COVID rates, so we felt it was safe to make the journey. It was the best decision we have ever made!"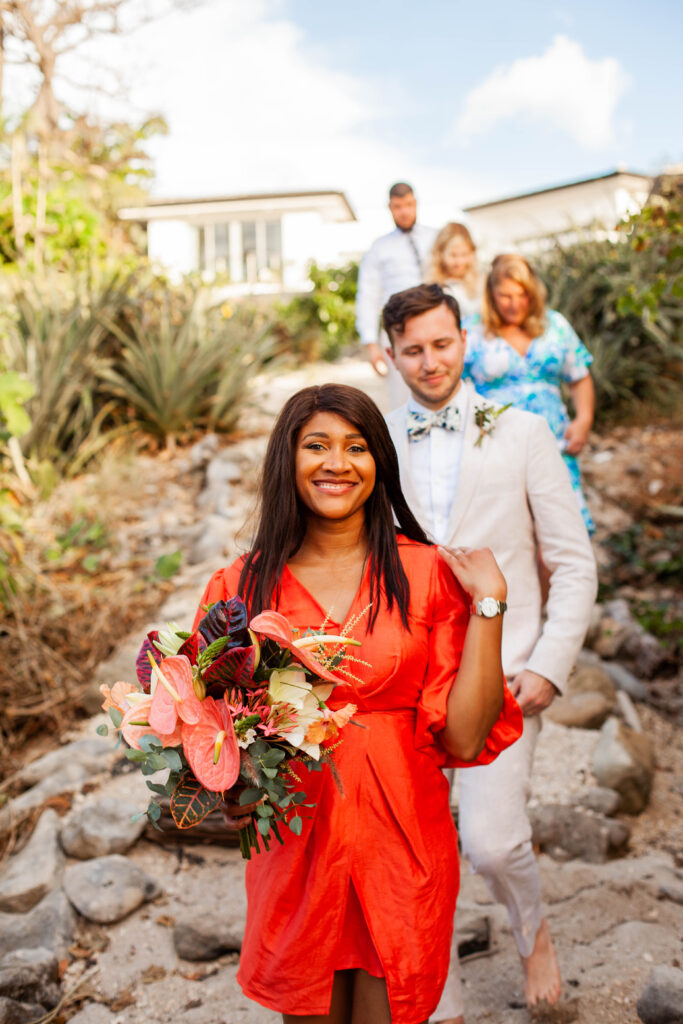 "We knew the decision to elope, instead of hosting a traditional wedding in the U.S., might seem odd to others given all the time, energy, and money we had already invested into our State-side plan. But, when we sat down and really thought about it, we decided a destination wedding was really more "us" then the original wedding plan we had put together. Our elopement was entirely us and about what we wanted, not necessarily what our families wanted for us. I feel lucky because few have the opportunity to craft a wedding that has no element of it that is really for someone else. There was little pomp and circumstance to our ceremony. No "décor", dancing, or cake. Just us, our vows, our closest friends, and the beautiful Costa Rican pacific coast. It was simple and elegant. It was perfect for us. And after it was all said and done, we all headed to a local eatery for tacos and margaritas."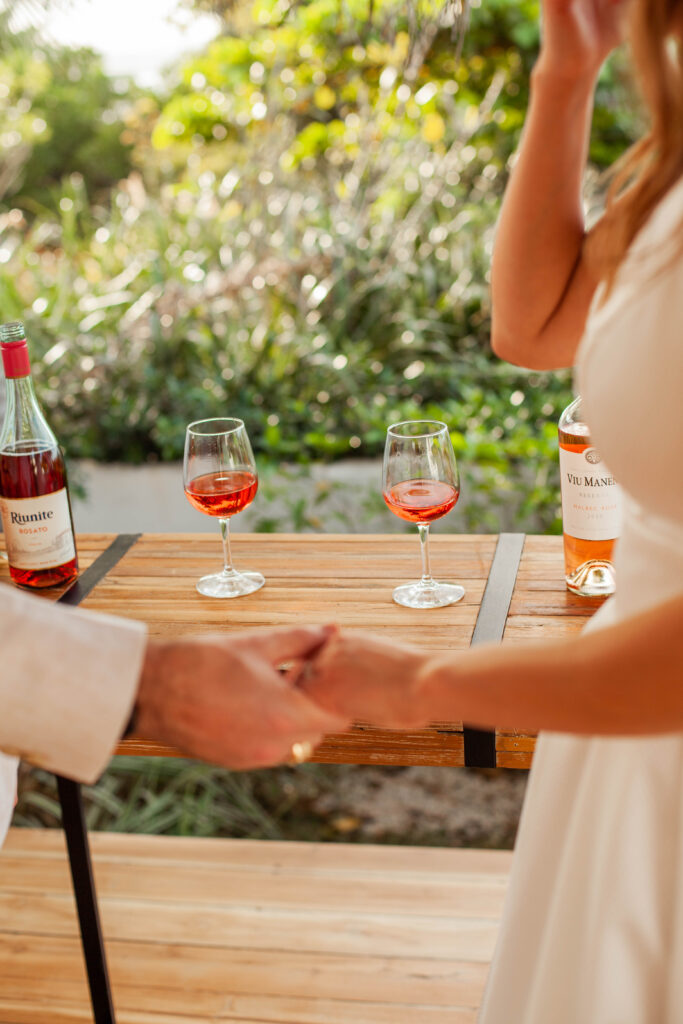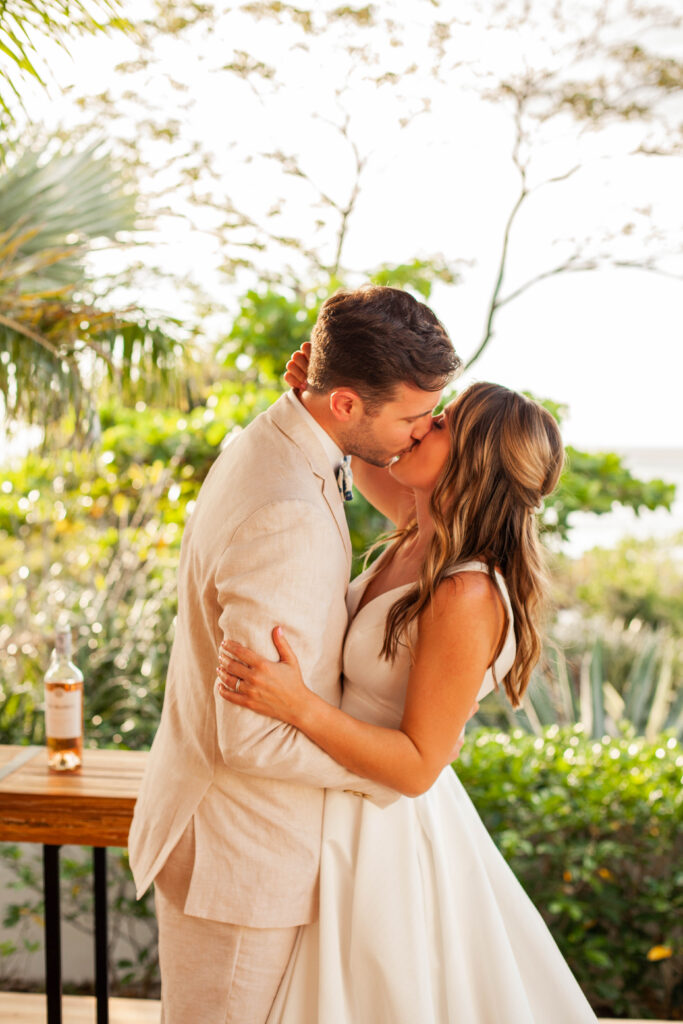 "Alexis wore a diamond weave ivory Essence of Australia ballgown. Much of the crinoline had been taken out to make the dress a bit lighter given that the average temperature in Costa Rica in January is 86 degrees Fahrenheit. Tyler wore a custom made Hockerty linen suit and white button down. Alexis wore her engagement ring in addition to custom made pearl and gold earrings purchased off of Etsy and floral hair pins from Olive and Piper. Both the earrings and hair pins were purchased from woman run companies! Tyler wore his masonic ring on his right hand, as his commitment to fraternal life is something that he values heavily. And he wore the wedding gift Alexis purchased for him, a watch from Avi-8, a company based in England. We both wore Soludos espadrilles. Alexis wore ivory wedges and Tyler wore flat gray loafers."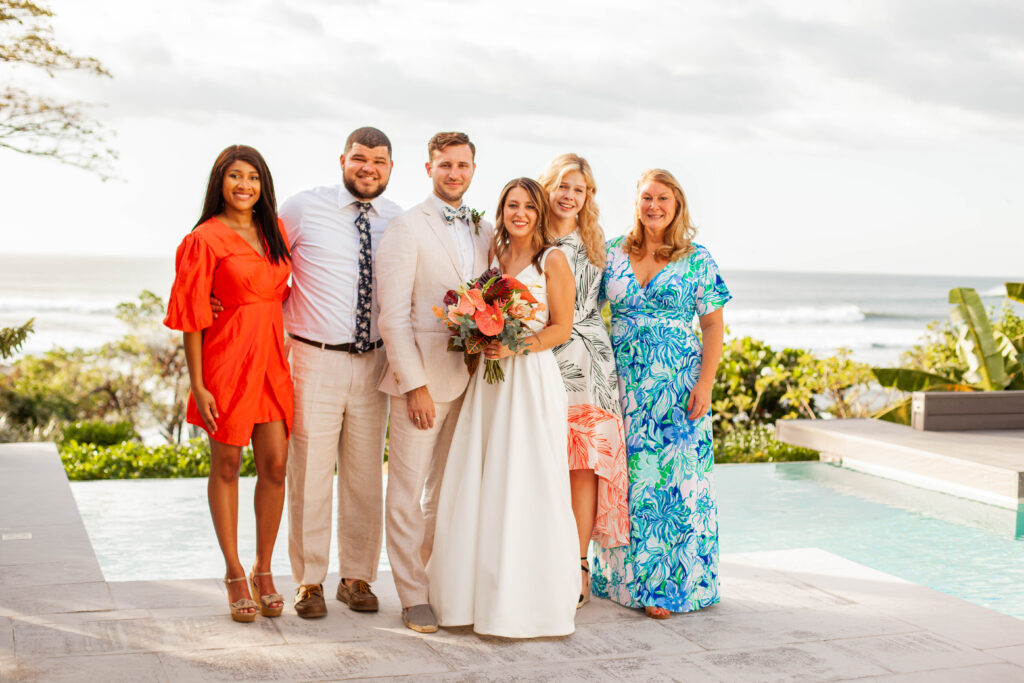 "Technically, we didn't have a color palette because we didn't have décor, however we did help choose the colors for our bouquet and boutonniere. We wanted our florals to be bright, bold, and tropical in type. We wanted the ocean and sunset scenery to be the most important décor. Nature did great on its own in providing all we wanted and needed!"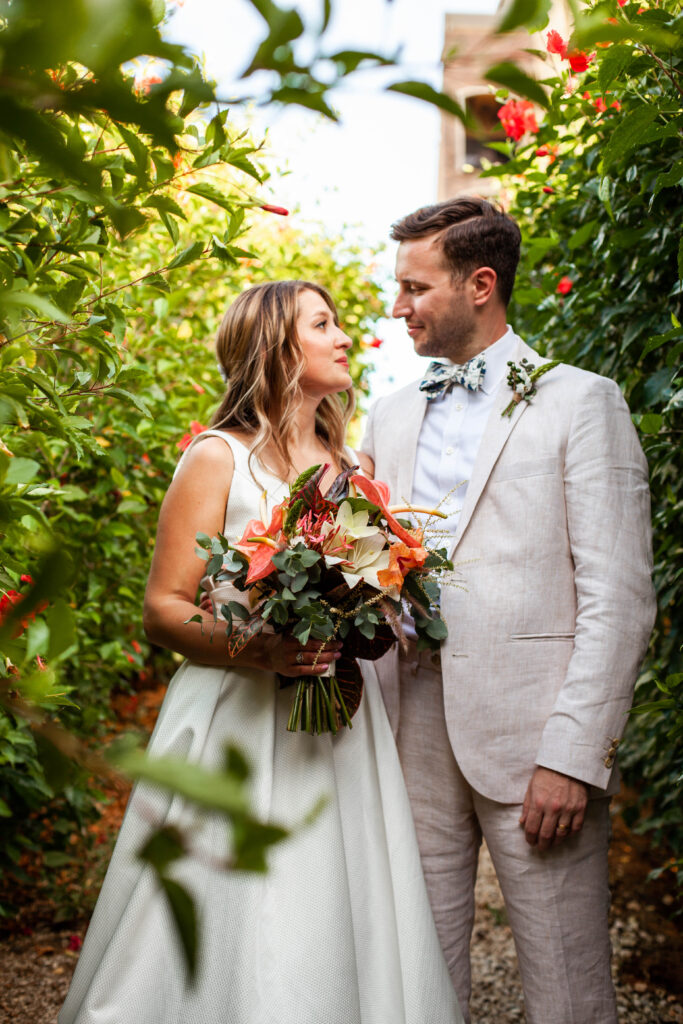 "We got married in a private villa overlooking the Pacific Ocean. We chose the spot because of how beautiful the surrounding water, plants, and landscape was. That being said, we also very much love the sounds and smells associated with the ocean, so it was a win-win all the way around. The best part…it was free! We reached out to the owners of the villa, who weren't currently staying there at the time, and they were so excited for us that they let us conduct our ceremony on site for absolutely nothing! Lucky doesn't even begin to describe it!"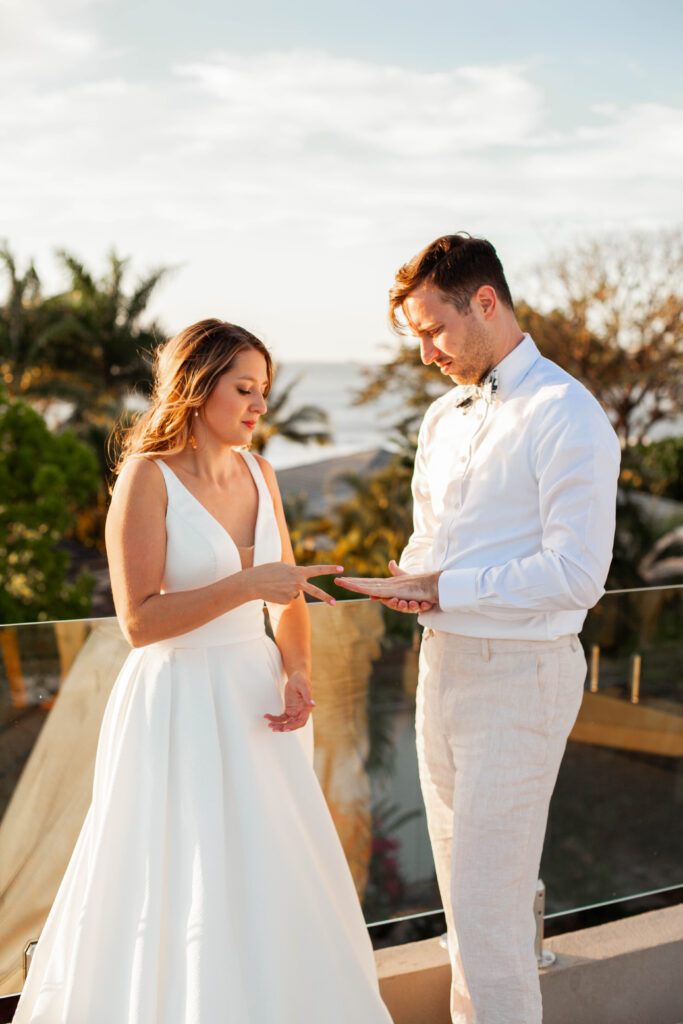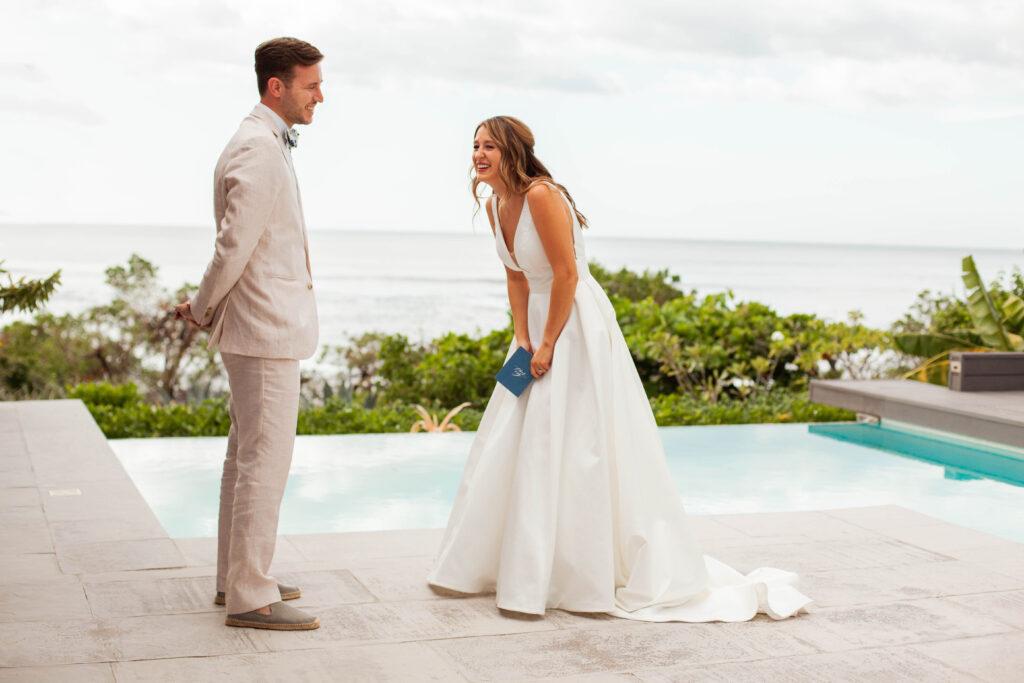 "Alexis's mother, Cori Spain, was in attendance. Alexis and Cori are incredibly close and she couldn't picture getting married without her present. Our best friends, Kambria Lannetti, David Rogerson, and Genelle Rogerson were also in attendance. Kambria is Alexis's best friend, mentor, and sorority big sister (ALAM)! She is a positive, uplifting, and supportive human being. David, Tyler's best friend since childhood, served as our officient. He is one of the kindest individuals you will ever meet. His wife Genelle, who is also a close friend of both of ours, also accompanied us to Costa Rica."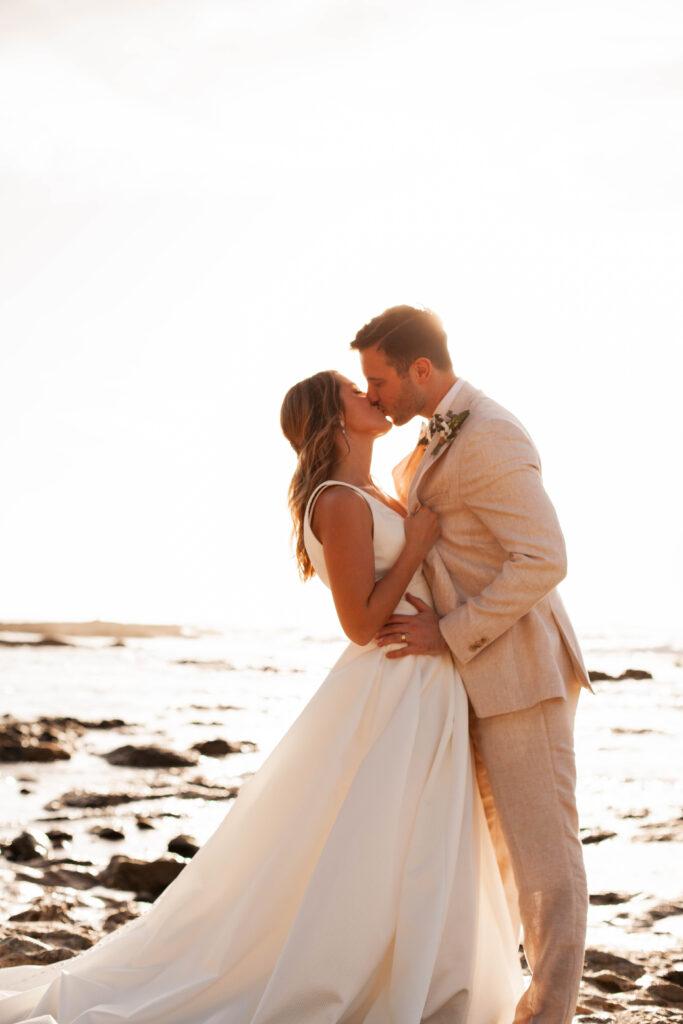 "We didn't have any special inspiration for the day. Honestly, the event was entirely made up of elements we wanted to be a part of our special day. The one thing we focused on was making sure the day was a perfect representation of us and what we wanted for our future together. Nothing more, nothing less. We didn't have any décor per say, we allowed the beauty of Costa Rica act as our décor. We didn't want a ton of throw away wedding items."
"Traveling with your wedding dress as a carry-on item on a plane is possible, but really is a hassle. Considered having it shipped to your venue early or pack it as a checked bag. Trust me, it's worth it. Also, make sure to stay in communication with your venders throughout the entire process up to the wedding day. Don't just book vendors and hope they show up/perform the service. It will help put you at ease the day of!"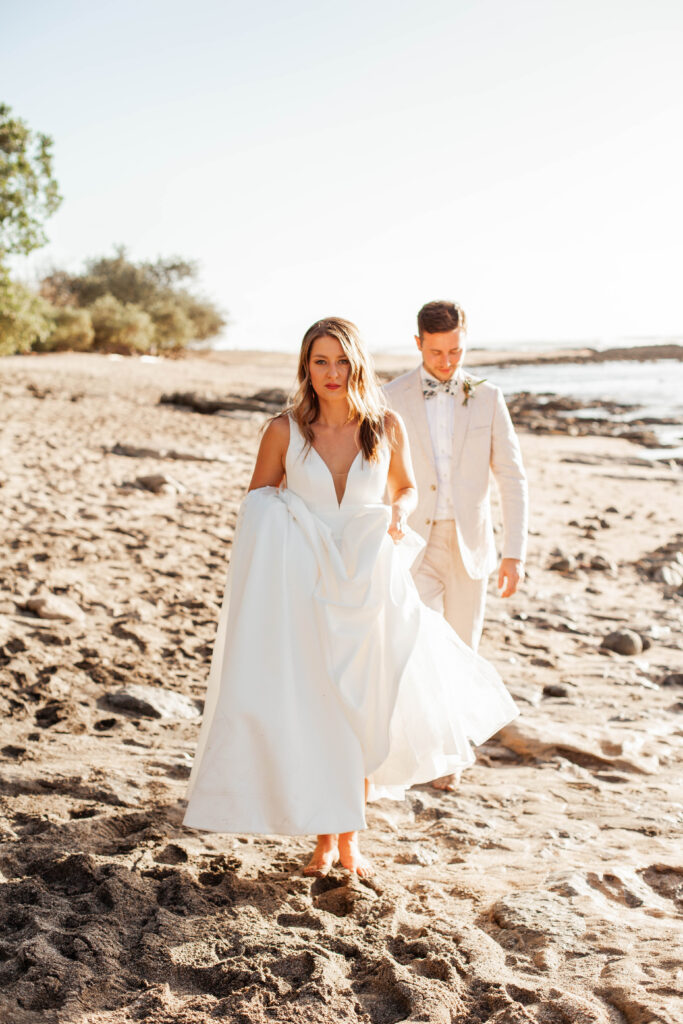 Alexis adds this advice for others planning their wedding during these uncertain times: "We 100% encourage couples to consider eloping. Although there might be a bit of upfront stress in planning a destination wedding, the day of the wedding really can be easy and stress free. The fewer people in attendance, the more intimate the occasion feels. Choose yourselves and put your marriage first. Remember, a wedding is one day, the marriage is forever. Ensure that you are making the day you begin that forever about you and your other half."
Congratulations to you both!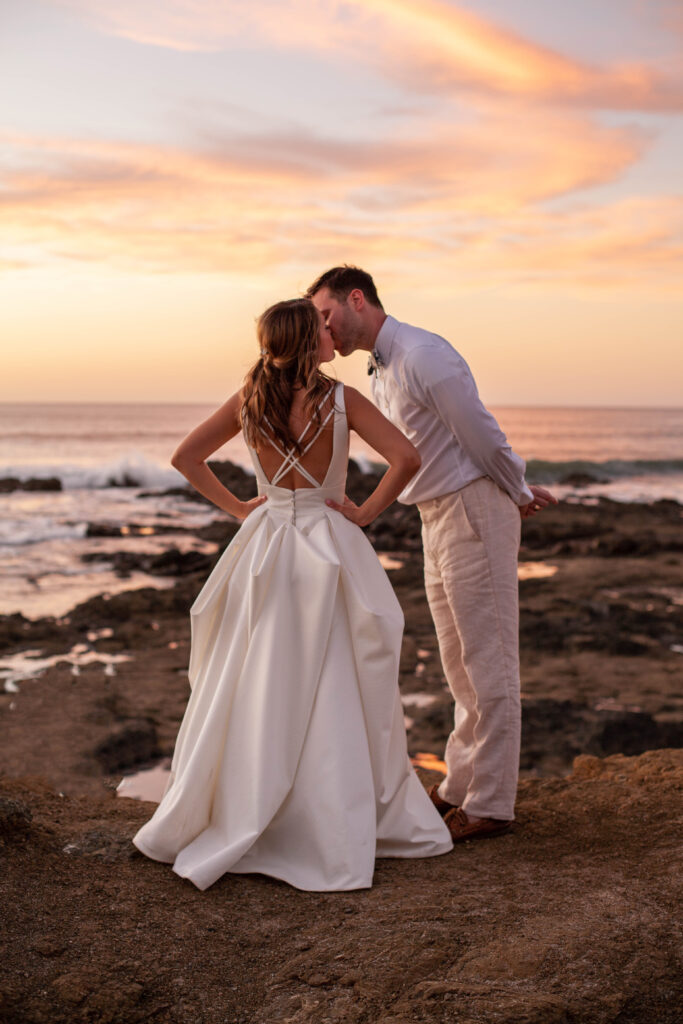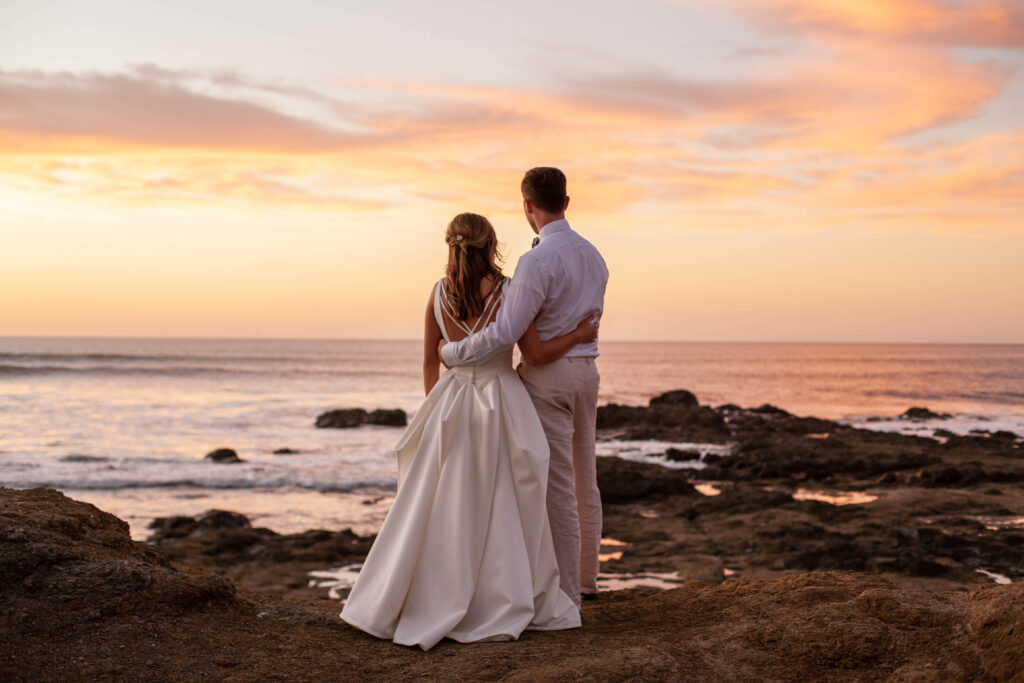 Vendor Credits:
Venue: Private Villa in Tamarindo, Costa Rica
Photographer: Shade Souc
Officiant: David Rogerson
Gown: Essence of Australia from Tiffany's Bridal
Shoes: Mallorca 4" Wedge from Soludos
Hair: Crystal Tavares
Makeup: Tricia Espinoza
Groom's wear: Custom Cream Linen Suit from Hockerty
Flowers: Eventos Artesanos
Music: M83 – Outro (wedding song)
Honeymoon: We have had to postpone our honeymoon until we are able to get vaccinated! We will likely be traveling to the beautiful Amalfi Coast however!