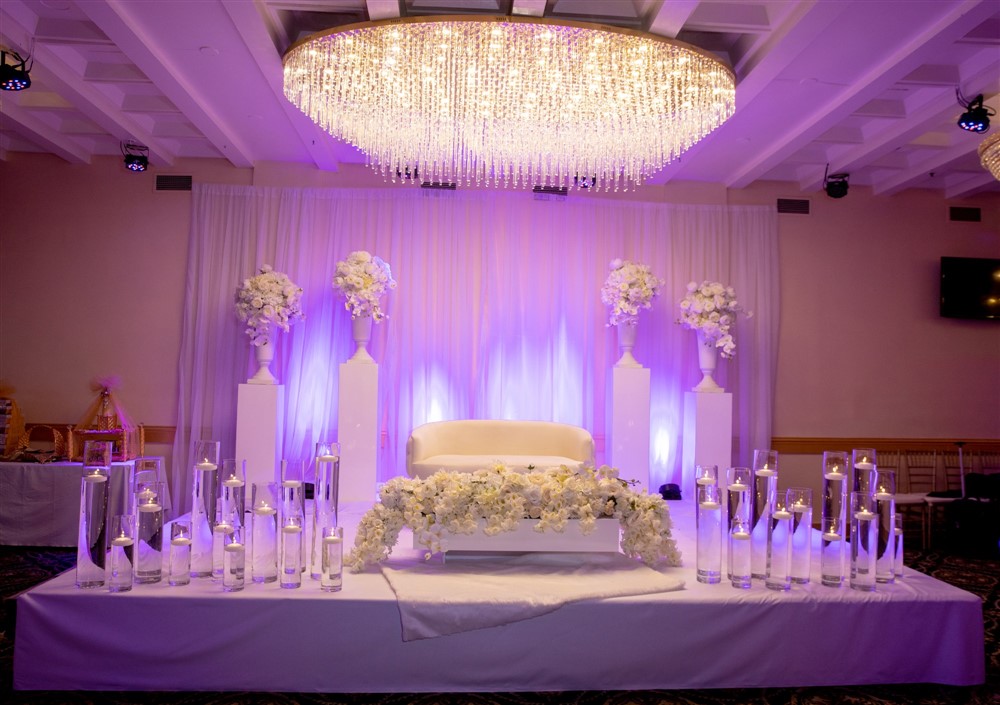 "We are most alive when we're in love." — John Updike
In the Afghan culture, the engagement of a couple is a large, stunning, and exciting affair with a special order of events.
"Proposals in our culture are really different from the basic American proposal. When a man and a woman want to get married in Afghan Culture, the guy has to send [his] family members over to the girl's family for a marriage proposal. This is called the Khazgari. This…happened in our case as it is a part of our traditions. A.K. sent his mother and family over to my parents' home a few times to ask for my hand in marriage. After a few attempts, my parents agreed on the proposal of binding our love together. My family had invited his family over with preparation of sweets to give to them. The sweets/chocolates represent that the girl's side of the family has accepted their proposal. After this acceptance, the main part of our wedding journey started, at least from my side! My family and I had to organize an engagement party for everyone to celebrate with our immediate friends and family."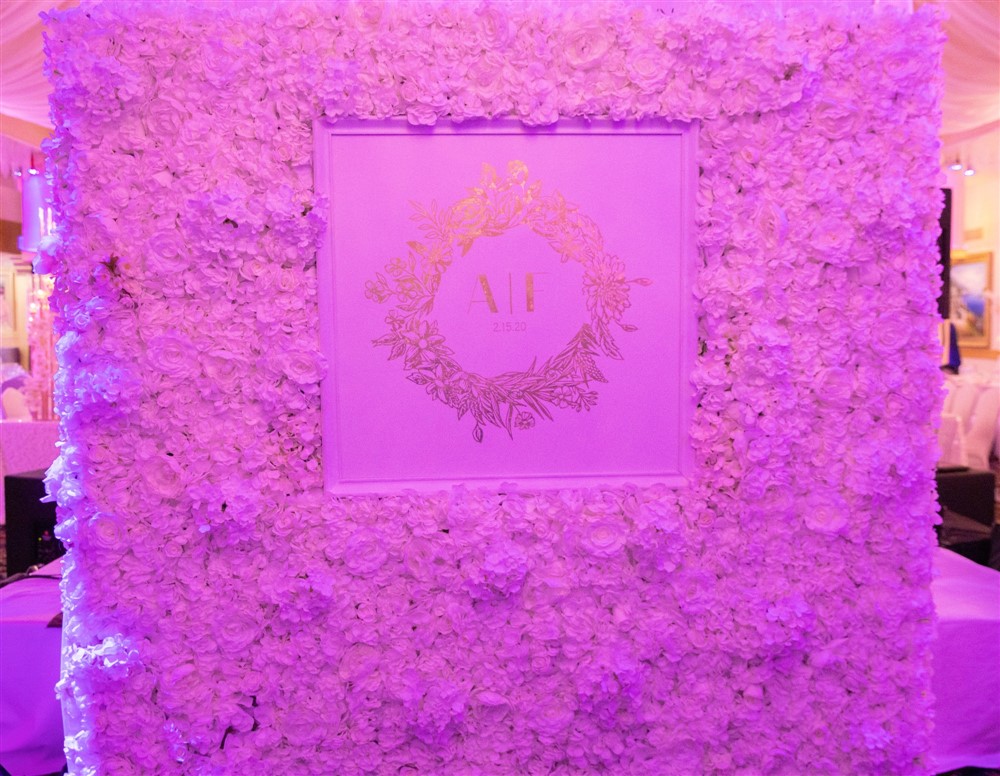 The Scoop:
Bride: Frouzan Wahidi, Interior designer
Groom: Mohammad Akhgar "A.K." Haidari, Appliance Technician
Engagement Date: February 15, 2020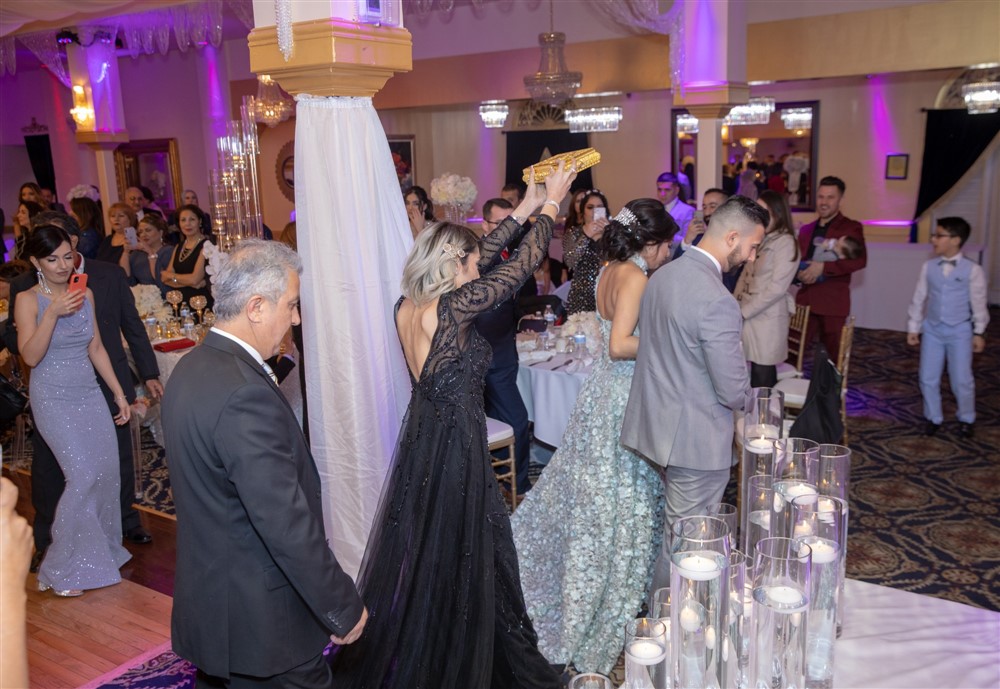 First, the bride and groom make a grand entrance with the Quran held over their heads. The bride then sits the groom's left so that she is closer to his heart – a sign of love and devotion to one another.
Next, the Half Nikkah is performed. This is a religious Islamic marriage ceremony in which a marriage contract is agreed upon. This is traditionally held in private with a gathering of the couple's immediate family. The ceremony is led by the mullah, an Islamic clergyman.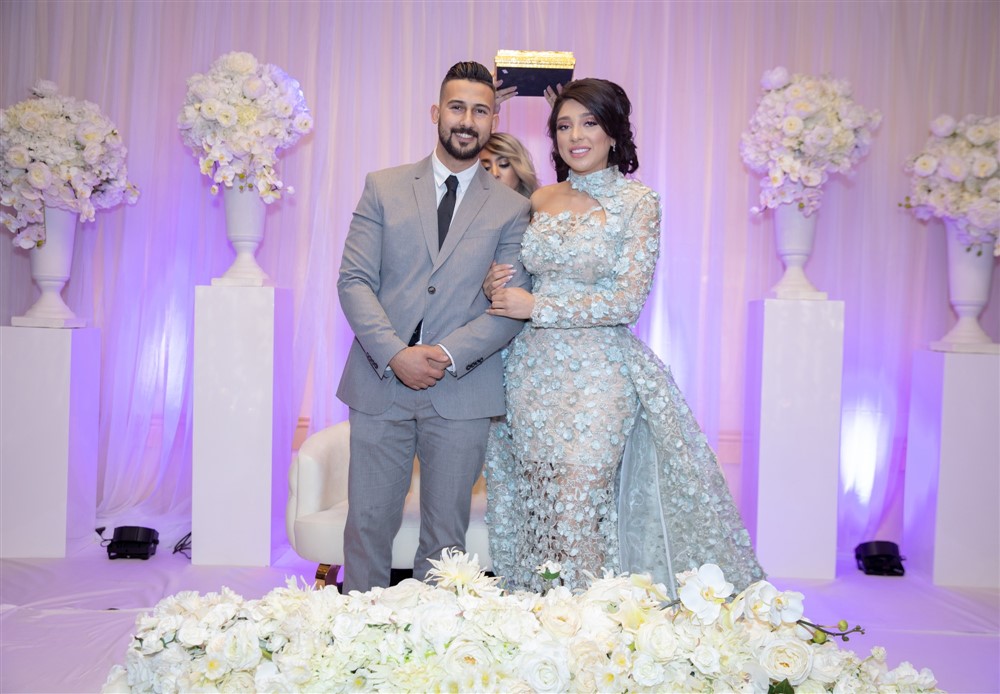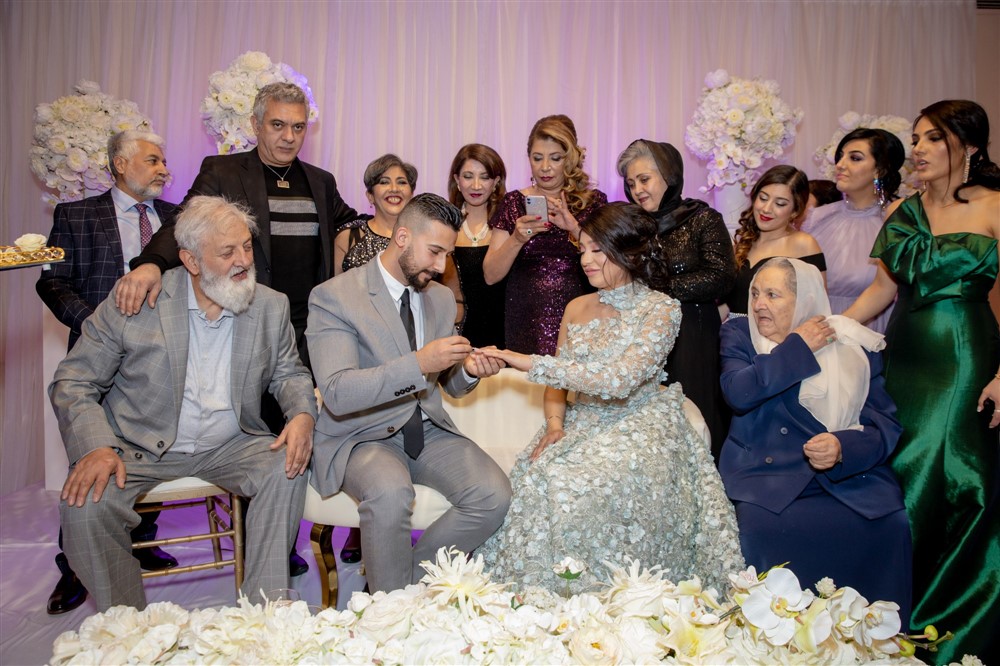 Then the feast begins! About an hour after the bride and groom enter, dinner is served. This stunning meal is an assortment of authentic Afghan food, including Shohla e Goshtee, varieties of rice called palou and chalou, kabobs like chaplee kebab, teka kebab, kebeb e chopan, shaami kebab, and mantu aushak with authentic Afghan bread (naan). Dessert is served then, featuring firnee, sheer brenj (which is rice pudding), and the gooey honey-pastry, baklava with seasonal fruits.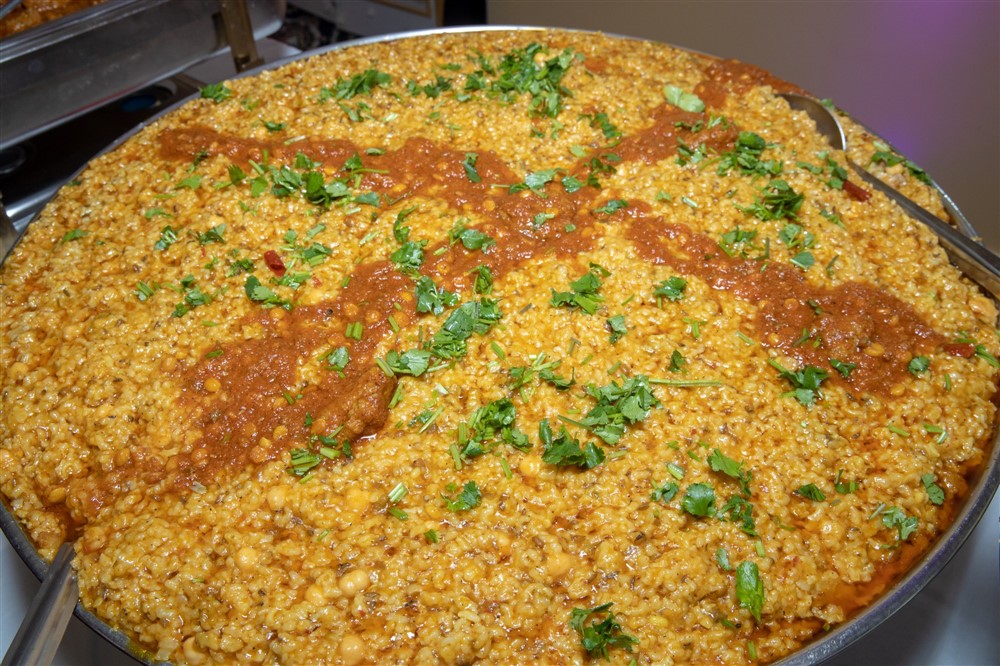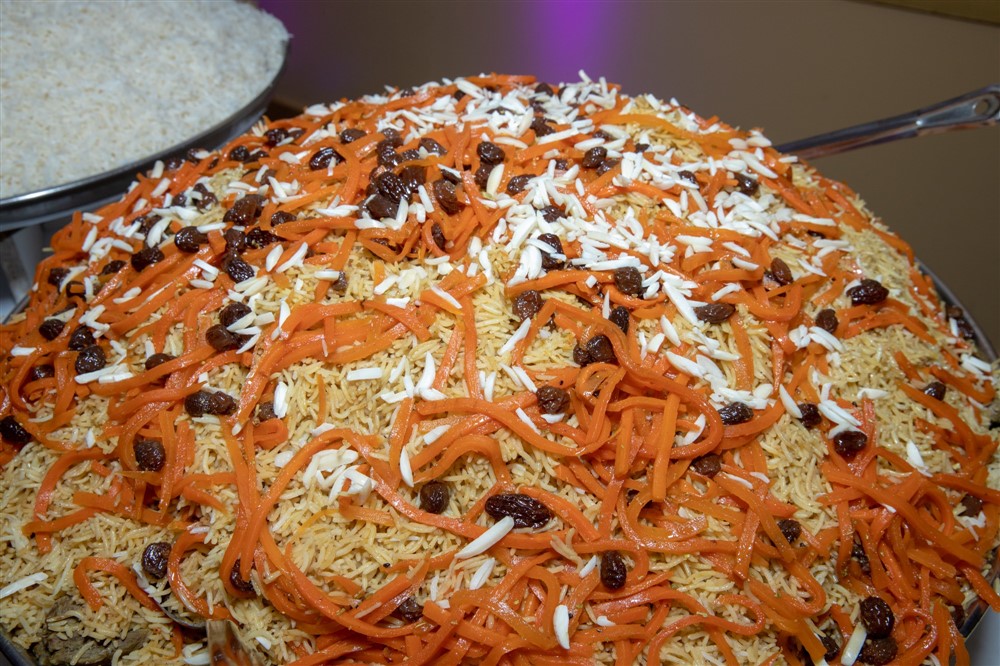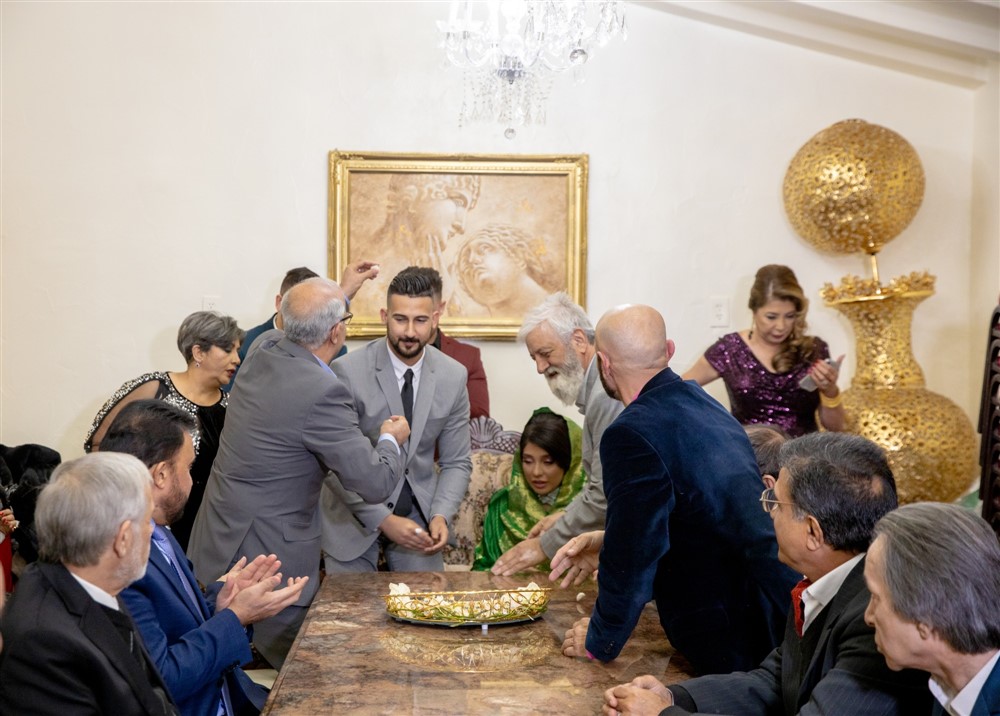 After this meal, Shirnee and gifts from the groom's side are given. The engagement is called Shirnee Khoree, which literally means sweet eating, so traditionally, the groom's family brings sweets (goash-e-feel), jewelry, clothing, and other gifts for the bride's family. The bride's family in return prepares and organizes the meal and celebration.
After gifts are exchanged, the groom presents the bride with her engagement ring.
And then the couple shares their first dance.
After this special moment, the Attan takes place. The Attan is the national dance for the Pashtun peoples in Afghanistan – their traditional dance. This is the cousin's couple for the dance. This special dance was once a religious dance involving circles danced around the fire – often thought of as the dance of warriors around the fire as performed before going off to war. This tradition in relation to war was lost during the Islamic period. In modern Afghan weddings, it is performed only once.
The dancing continues on as everyone present "dances the night away."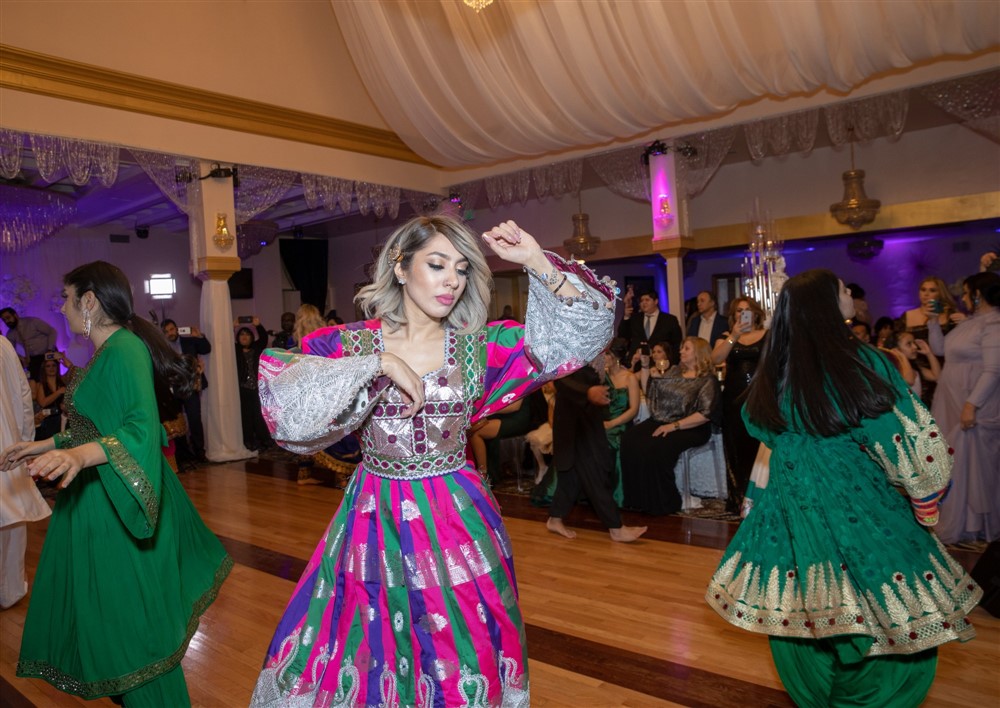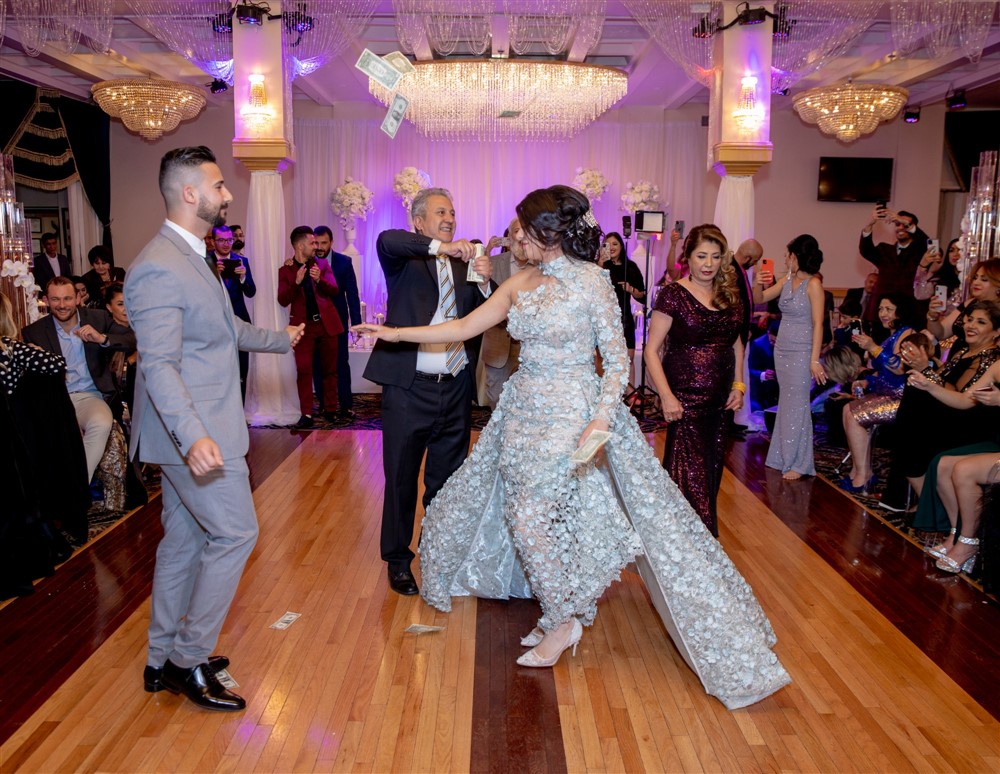 "Engagement planning from a middle eastern culture is practically a mini wedding. You've got the books, the checklists, hair and makeup teams, designers (gown and aesthetic design for the venue), as well as photographer and videographer."
The celebration has all the details of a smaller wedding event, with everything from eye lash extensions to photographers, videographers, music, and a pre-event spa day.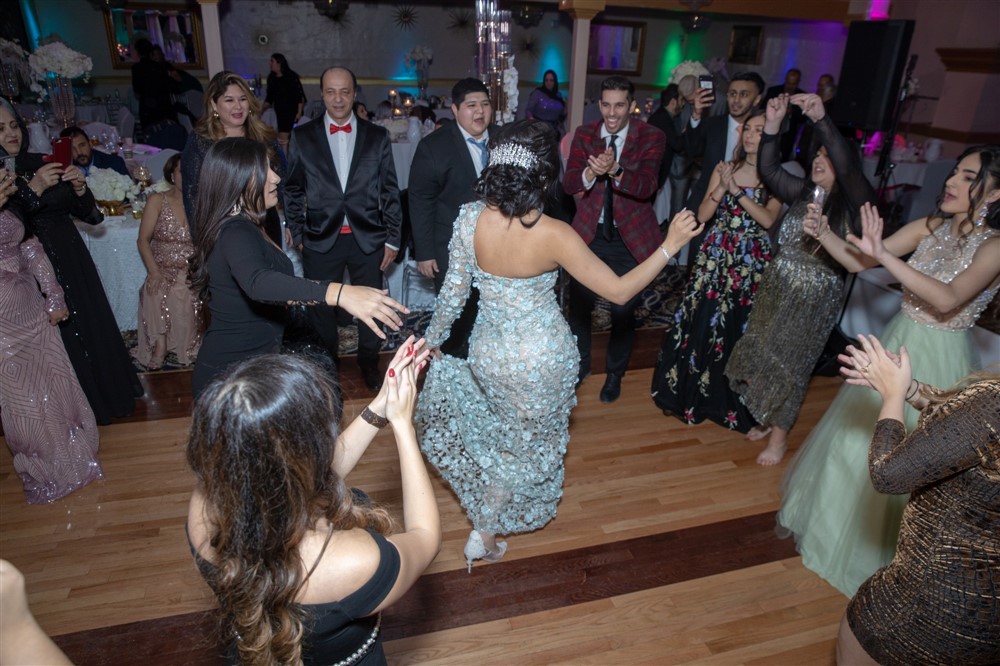 "I was blessed to find out I was able to go look for my ring with A.K. We went to the most amazing jeweler in New York City!" Frouzan had known of this jeweler for as long as she could remember. "It was my dream to go there and pick out a ring. We made our plans to go visit and the moment I walked in I was so nervous and excited to be there! I went straight into my appointment with Gabby who helped me decide the look I want to go for."
Frouzan delighted in custom designing her engagement ring. A.K. told me to pick whichever carat size shape and color my heart desired…My heart was set on the pear shape until I saw it with the setting. I immediately realized the emerald cut was the one of my dreams. Creating my custom ring was such a magical experience."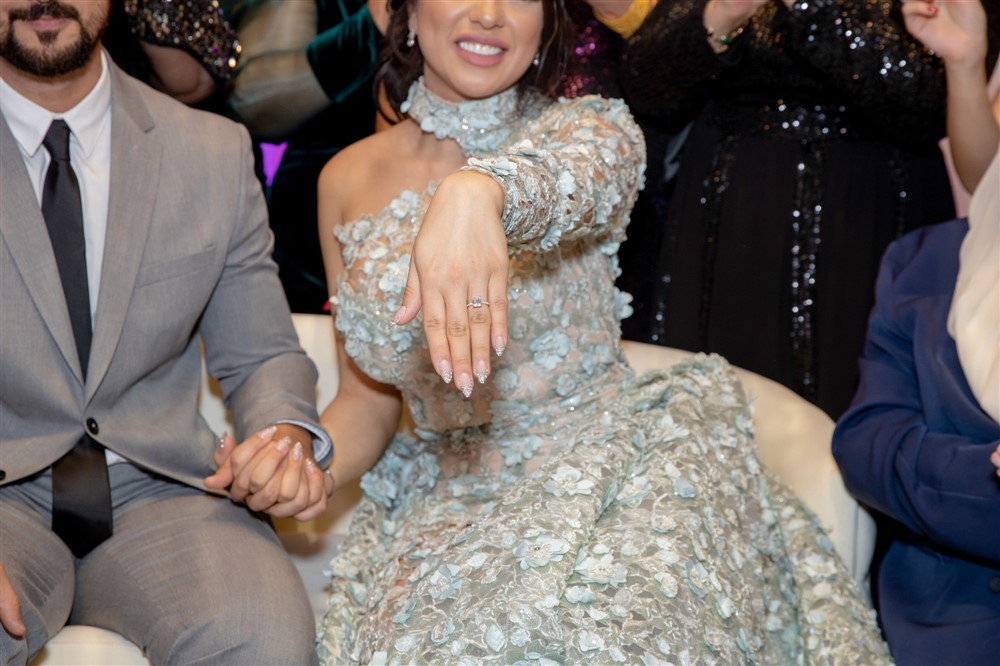 "The days got closer to our engagement where we also had our Nikkah. The day-of was so surreal. Waking up, getting my coffee and bagel,  waiting for my hair and makeup team to arrive. Moving forward after 5 hours of getting ready putting on my custom designer gown putting on my shoes and sitting in the car with A.K. to go for our photoshoot."
The couple shot their engagement photos at the National Arboretum.
"It was such a beautiful experience shooting with the man of my dreams. Even though it was freezing and windy, we still made the best of it together."
From the photoshoot and a quick bite nearby, they arrived at their venue. "…Seeing the beautiful decor all put together was also an amazing feeling. Quickly preparing to get ready for the Nikkah and a night of dancing with all our friends and family. Of course, we couldn't do any of this without our hookah sessions when we felt very stressed by being the center of attention. The night flew by so fast it was like a big weight off our shoulders but in the end we felt like it wasn't long enough."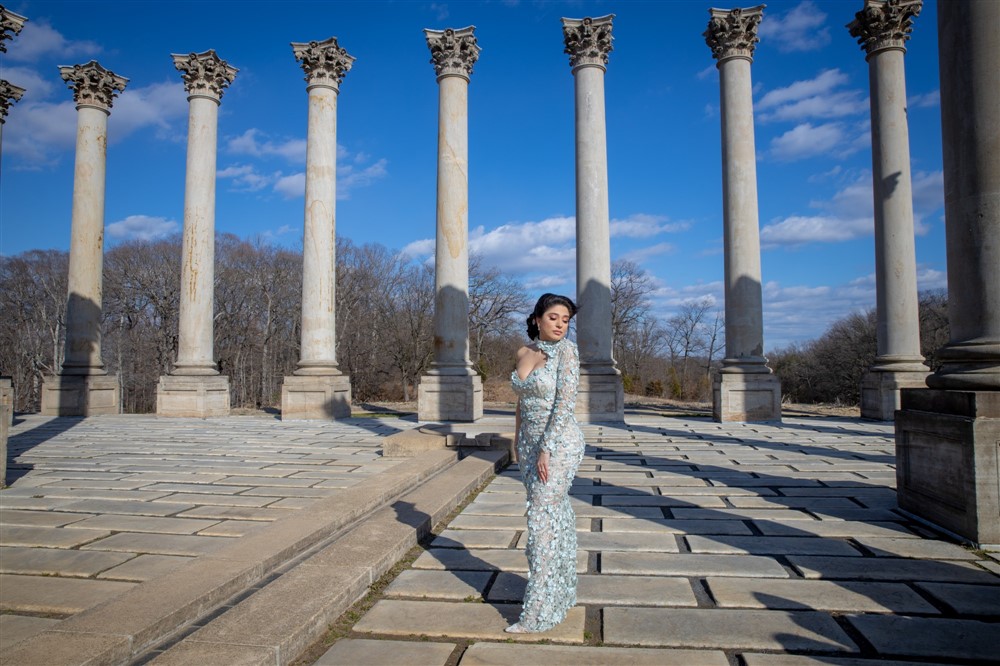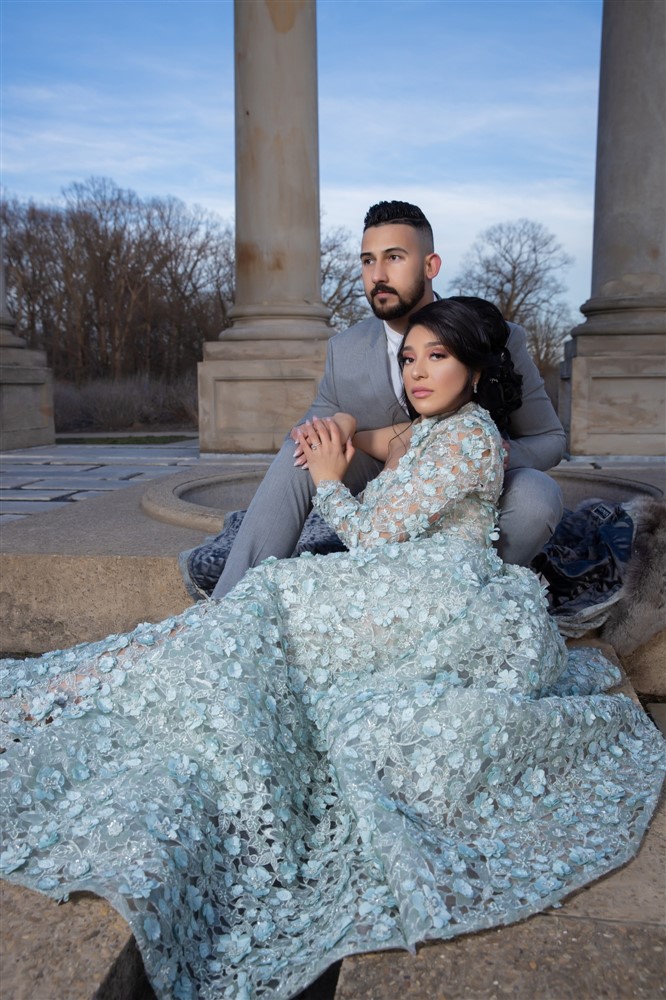 "Elisa mentioned to me not to cry when I was stressed out not to feel sad about anything but to enjoy the night because it goes by so quickly and it's our moment. I am so thankful to have had her there by my side helping with everything the entire night."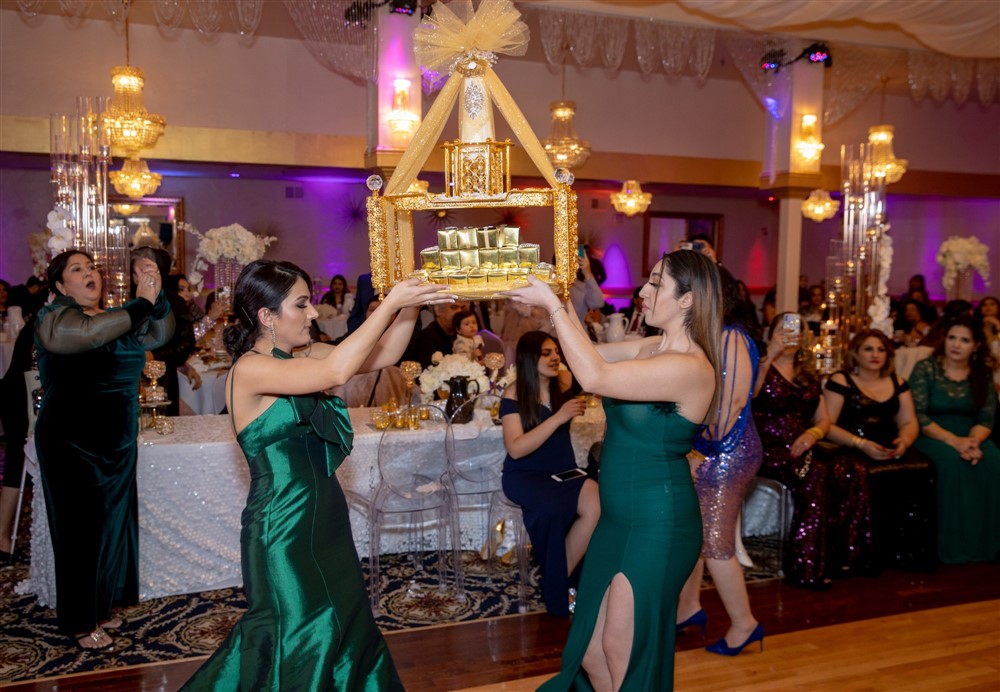 The couple is planning their wedding celebrations to come, with "something spectacular in comparison to our wonderful engagement thrown by my mother and father Rubeena Wahidi and Khalil Jahn Wahidi to whom I am most thankful for giving us that time to spend with our families and friends was a night to always remember."
Congratulations to you both on your engagement! Thank you for sharing your wonderful story with us.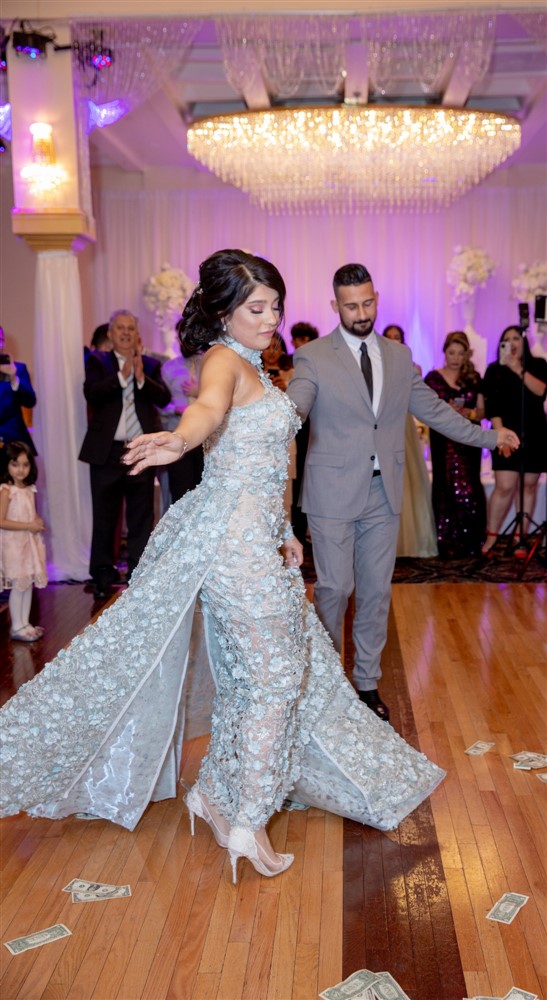 Vendor Credits:
Venue: Dunya Banquet Hall, Alexandria, VA, 703-212-8511
Photography and Videography: Babar Romail
Event Coordinator: Elisa Yu-Shan Lion at Exceptional Events by Elisa, Tyson's Corner, VA, 703-752-6287, eyushan@exceptionaleventsbyelisa.com
Event Coordinator: Tasha Wells at All for You Events and Designs, Washington, DC, 202-550-2166
Gown Designer: Dona Matoshi
Engagement Decor: Nadine DeLeone at Enchanting Designs LLC
Hair and Makeup: Marina at Zara's Touch
Nails: Vera from Ellada Studio and Spa
Shoes: Victoria Pump – Vince Camuto
Bridal Accessories: Almoss Elegance