By Rita Pike
This wedding is also featured in the current spring issue of Virginia Bride.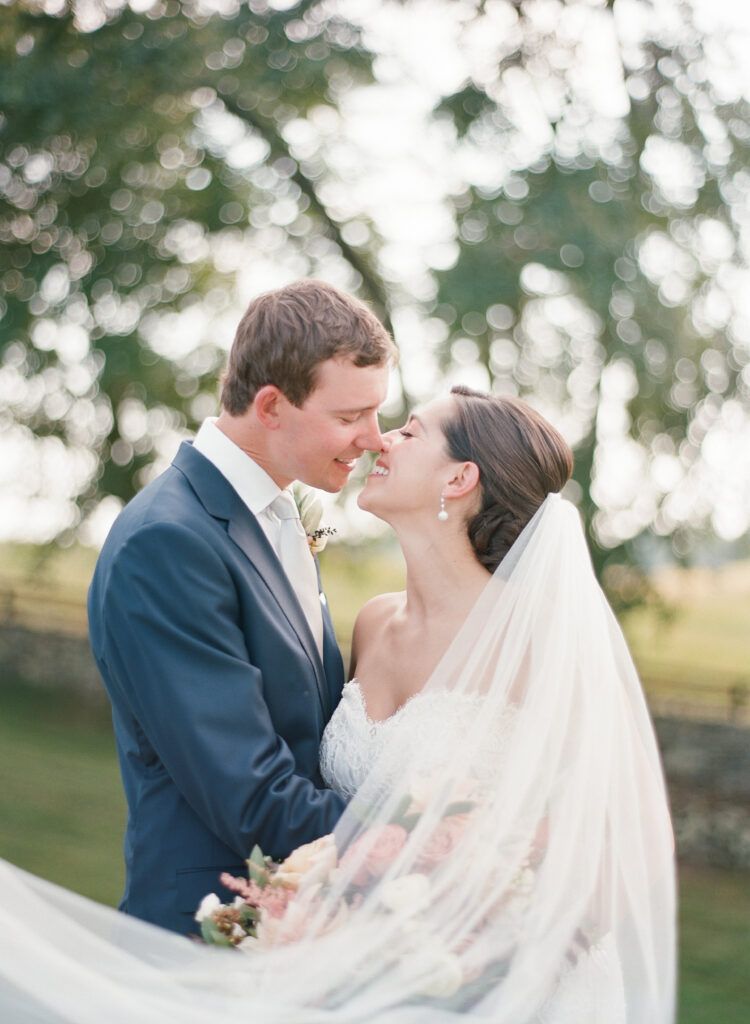 BRIDE: Alexandra "Allie" Anne Epstein, 27, Physical Therapist and Clinical Director at Lone Peak Performance in Big Sky, MT
GROOM: Andrew "Drew" Joseph Poalino, 29, staff at Yellowstone Club in Big Sky, MT
DATE: September 21, 2019
LOCATION: Northern Virginia
NUMBER OF GUESTS: 172
Allie and Drew met at the University of Vermont in Burlington, Vermont, in April 2011, through mutual friends. On their first date, they enjoyed a long walk along Lake Champlain and dined at Ken's Pizza on Church Street.
The outdoors has always been a big part of their relationship, so after they had summitted the Grand Teton in Jackson Hole, WY, Drew tapped Allie on the shoulder and dropped to one knee. As they gazed out on the sunny, crystal-clear day, he said, "Will you–" and after the wind died down, she shouted "Yes!"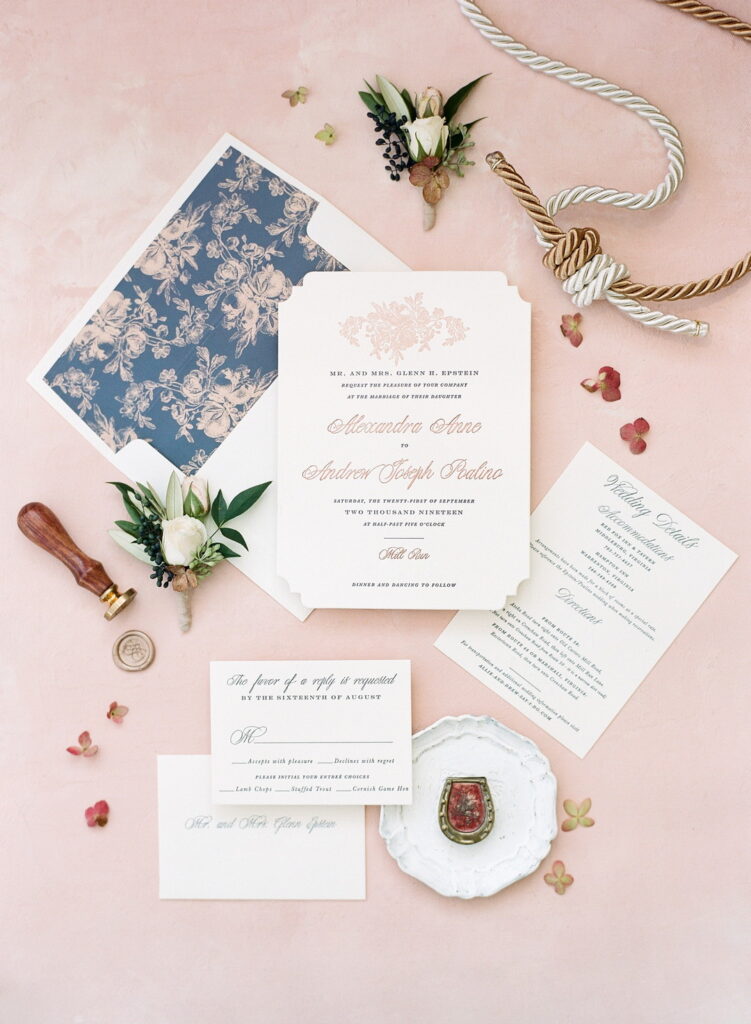 Allie and Drew both knew that wanted a home wedding on her parents' farm back in Virginia, so they planned an intimate, outdoor experience for their family and guests. They mapped out the location for the ceremony, cocktail hour, and reception on the farm, created their basic wedding day timeline, and realized how massive an undertaking this would be, even for their intimate wedding.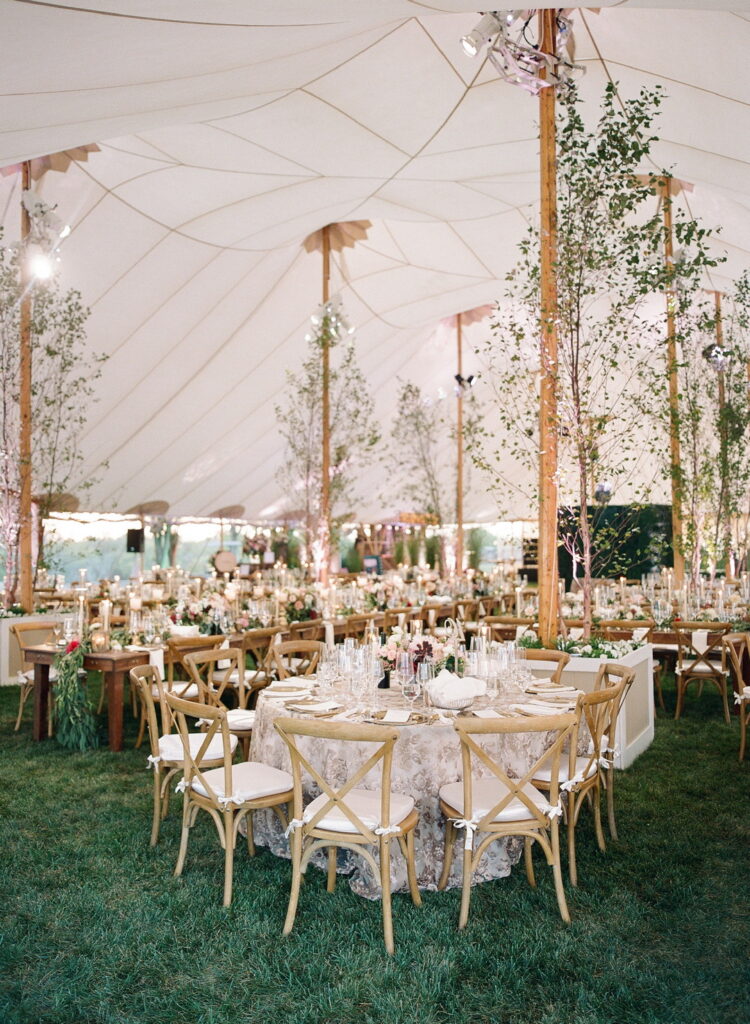 Because of this, they reached out to a local couple – Jess Rich, producer with Destination Middleburg and Rom Gorman, Executive Creative Director of Group Inc Outdoors – for help. "They were so key in helping us map out the day, and make our vision actually come to life in a very organized, step by step process over the course of many months."
The wedding was set for the end of September and Allie had visions of a romantic outdoor wedding with a stunning but whimsical feel. "Once I chose my dress complete with lace details, the colors of cinnamon rose, light pink, ivory, sage, and navy just clicked."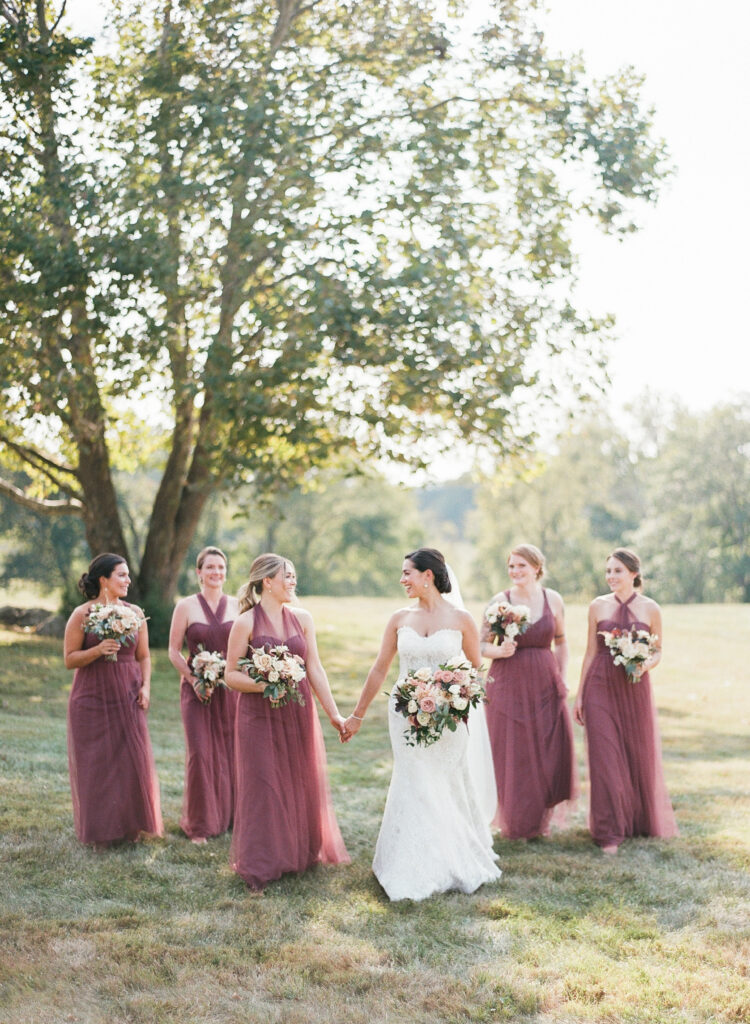 Allie and Drew live in Montana and love being in the mountains and out on the water fly fishing; they tied these themes into their special day. Because they met in Vermont, they also drew in elements of that beautiful state through custom jewelry for the bridesmaids, Vermont Maple Syrup escort cards, and a Ben & Jerry's ice cream bar for their dessert station.
Allie wore a customized Augusta Jones strapless, fishtail-style lace gown named the "Marsha," and chose a matching cathedral veil from Elegance by Roya. "On the underside of my dress lining my mother sewed in three monogrammed swatches of fabric, one each from my grandmothers' wedding dresses and one from my Mom's wedding dress."
Allie wore a pair of Jimmy Choo Lancer 85 ivory shoes, customized with her maiden name initials in blue for her special "something blue" that day. For something borrowed, Allie wore her mother's diamond, drop pearl earrings.
The five bridesmaids wore Cinnamon Rose dresses from Annabelle from Jenny Yoo, each dress convertible to match everyone's desired neckline and unique style, while the groom and groomsmen wore navy blue suits that were "semi-customized" as needed to fit each guy. The groom also wore antique cufflinks from Highcliffe that were fishing flies, a gift from the bride.
Allie grew up foxhunting and riding horses with her family, so she wanted to include these magnificent animals in their special day. They did portraits with the horses, and then Allie arrived at the ceremony in a horse-drawn carriage with her dad.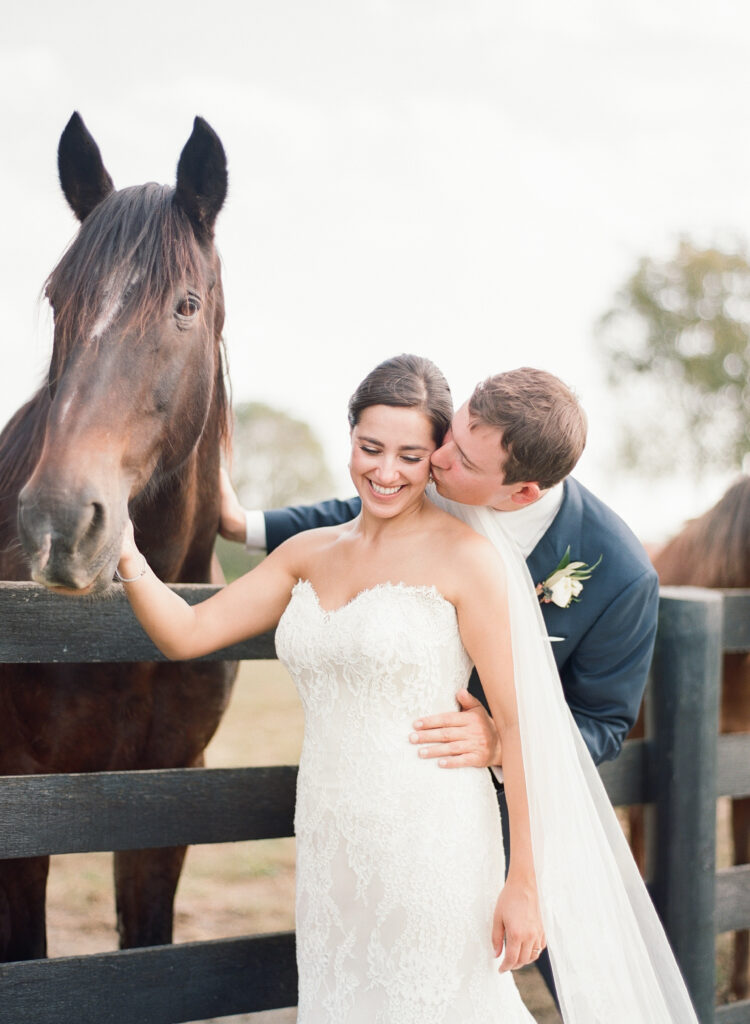 "Right as we were finishing up bridal portraits with the horses, I felt a pop in the top of the zipper of my dress. Drew checked it for me because I knew something wasn't right. Turns out the hook and eye clasp broke. My heart stopped because I knew we were getting close to the ceremony start time and my strapless dress was slipping down. My best friend Kate, one of my bridesmaids, is an Ophthalmologist Surgical Resident and sewed me in my dress with white dental floss. I look back now and laugh because she did such a great job, I danced the entire night away and had zero issues with anymore dress mishaps. That dress was going nowhere!"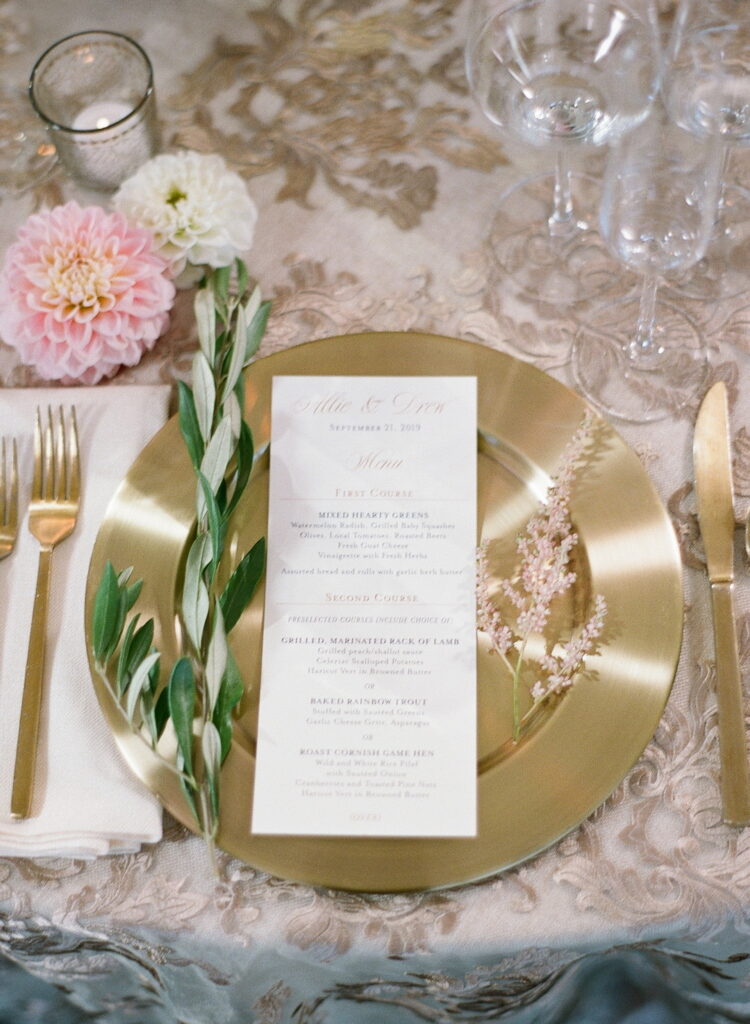 Behind the house on the family farm, there is an overlook that sees into Ashby Gap in the Blue Ridge Mountains. "In keeping with a southern tradition to ward off bad weather, my parents buried a bottle of bourbon upside down on the ceremony site exactly 30 days before the wedding! And it worked!" It rained a few miles away before the ceremony, so the clouds were beginning to part as the ceremony began, giving the perfect, most incredible lighting for the ceremony.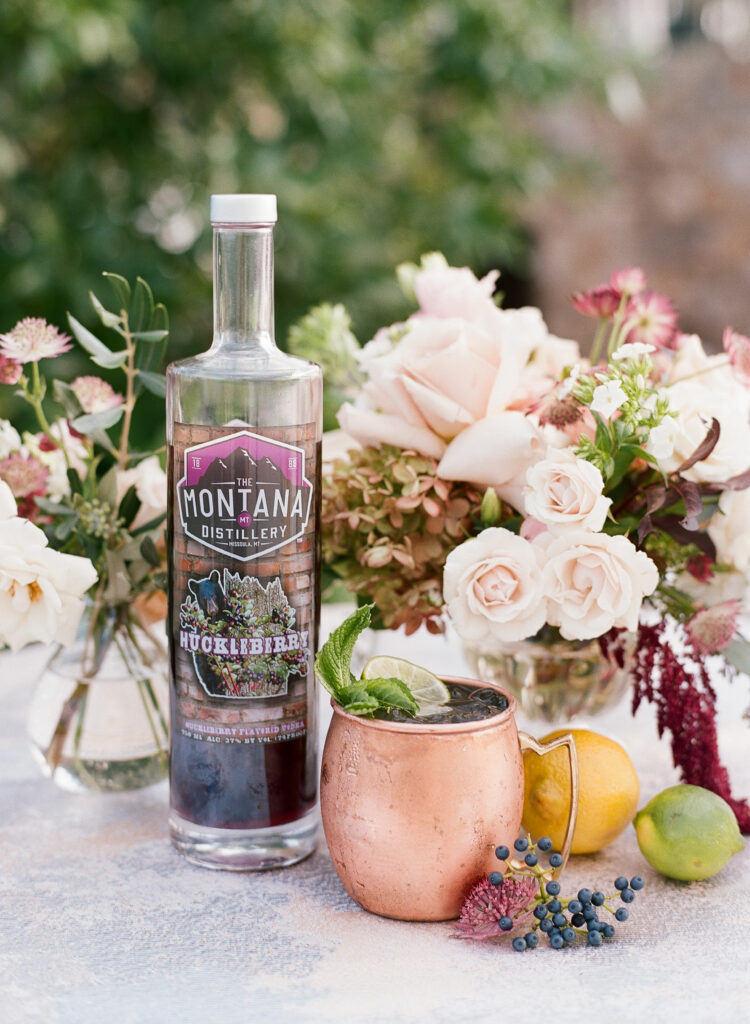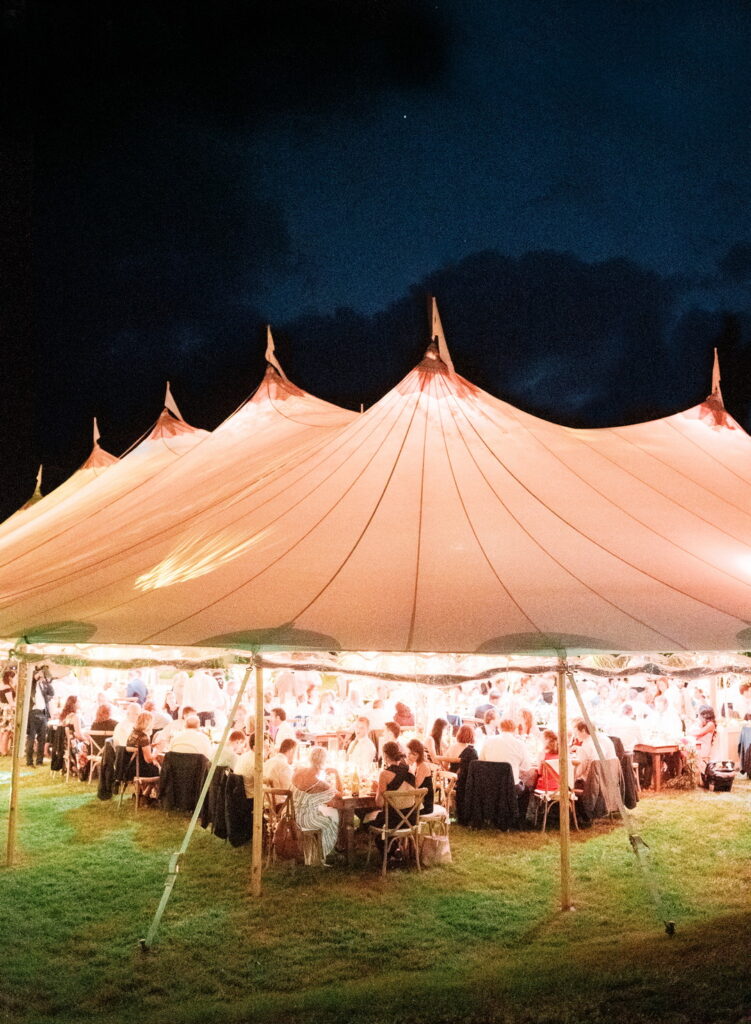 Congratulations, Allie and Drew!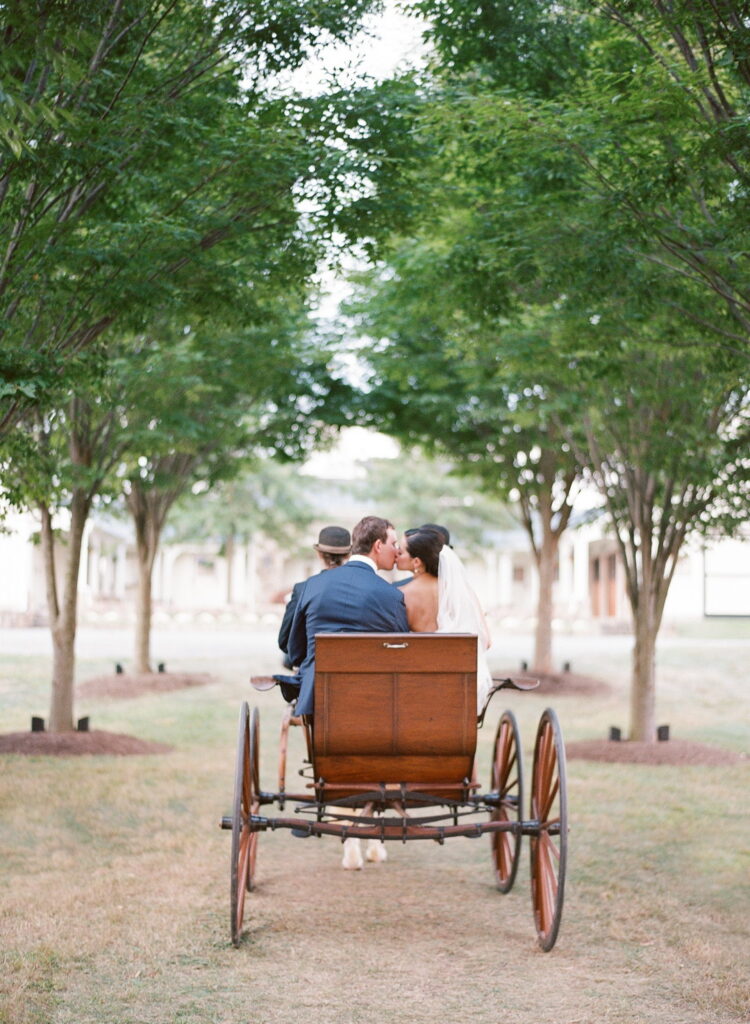 CREDITS
CEREMONY+RECEPTION SITE: Parents' home in Northern Virginia
PHOTOGRAPHY: Audra Wrisley Photography, 804-690-8145
VIDEOGRAPHY: Birchfields, birchfields.org
CONSULTANT: Tom Gorman & Jessica Rich at Group Inc Outdoors, 703-727-4637
OFFICIANT: Michael E. Hoffman (Bride's Godfather)
GOWN + VEIL: Gown by Augusta Jones from Elegance by Roya, 703-838-9282
SHOES: Jimmy Choo custom
HAIR + MAKEUP: Iva Bella Salon, James Cornwell, 540-216-3653
BRIDESMAID DRESSES: Jenny Yoo, New York, NY
FORMALWEAR: Suit Supply
RINGS: Susie Saltzman
HAIR COMBS: Twigs & Honey
INVITATIONS: Bella Figura, 646-257-4788
FLOWERS: Holly Heider Chapple, 703-777-8227
RENTAL EQUIPMENT: Sperry Tent, Capital Party Rentals, 703-661-8290 & Something Vintage, 202-596-8445
CATERING + CAKE: Karen Harper Fuog, 540-338-2817
CEREMONY MUSIC: Atoka String Quartet, 703-853-5899
RECEPTION MUSIC: Kustom Made, East Coast Entertainment, 855-323-4386
BRIDESMAIDS GIFTS: Gosia Meyer Jewelry, gosiameyerjewelry.com
FAVORS: Mount Mansfield Maple Products, 802-497-1671
ACCOMMODATIONS – The Red Fox Inn & Tavern, 540-687-9765 & Hampton Inn, Warrenton, VA
HONEYMOON: Camper Reparadise, outdoorsy.com/rv-rental/salt-lake-city_ut/2017_mercedes_sprinter_68939-listing
If you are planning a wedding in Roanoke Virginia, Richmond Virginia, Fredericksburg/Northern Virginia, The  Shenandoah Valley, Coastal Virginia or in Charlottesville/ Lynchburg Va. we can help with your wedding planning and ideas.