Virginia Bride features weddings weekly here on the blog. Being featured in the blog does not necessarily mean they are featured in the print magazine.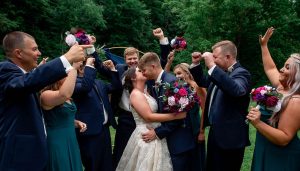 INTRODUCTIONS
Bride: Alyssa Dickerson, 24, Teacher, 8th grade, Pulaski County Public Schools
Groom: Samuel Inge, 27, Math Teacher, Football and Baseball Coach, Montgomery County Public Schools
Date: June 24th, 2023
Location: Buckeye Farm, Newport, Virginia
Guests: 85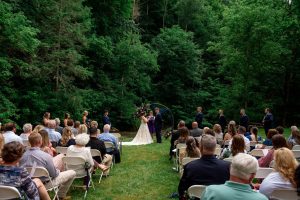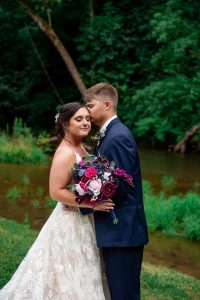 LOVE STORY
Sam and Alyssa, two teachers swipe right on Tinder romance begins, or does it?
In the fall of 2019, Alyssa's Mother, Stacey, and Brother, Wyatt, attended a back-to-school event at Christiansburg High School, to meet Wyatt's 9th grade algebra teacher and football and baseball coach, Sam Inge. Stacey returned home from the school event and immediately told Alyssa that she could not concentrate on the Algebra syllabus discussion because she had a vision from God that Alyssa would marry, Sam, the math teacher/baseball coach.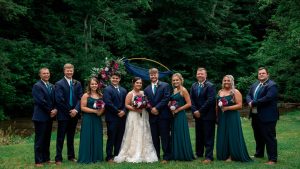 For the next year, Alyssa, Stacey, and Wyatt joked that eventually, Alyssa would marry Sam. For the rest of 2019 and early 2020, Alyssa encountered Sam at school events, but romance did not blossom at that time. Unfortunately, the pandemic halted more personal interactions. However, fate still loomed, and two Tinder swipes later, in August of 2020, they found each other. Alyssa swiped right and was immediately matched with Sam, which meant Sam had swiped first.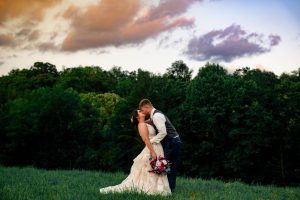 Sam and Alyssa went on their first date, two days later. They had planned to have ice cream on their first date because their first-ever conversation on Tinder, was about ice cream. When Sam and Alyssa found the ice shop closed, they decided on an impromptu Mexican restaurant date and a car ride through the town of Christiansburg, Virginia, and the rest is history. Only a few months afterward their first date, Sam said I love you and Alyssa followed immediately with I love you too.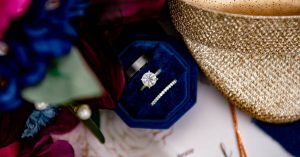 Sam proposed on April 1, 2022, on April Fools Day. Alyssa said "I should say no since it's April Fools" but then said "Yes"! Sam proposed to Alyssa in their home. Sam later told Alyssa, that he thought it was the perfect spot because they had their first kiss in their home, it was where they began their relationship, and he wanted to add another memory to their home.
When I asked Sam what she loved most about Alyssa, he told me. "I love how much she loves her "people". "I love the way she smiles and looks at me". "She always makes me feel special".
When I asked Alyssa what she loved most about Sam, she told me. "I love how hard-working he is". "He has a big heart and would do anything for anyone". " I love his patience." "He is the calm to my storm".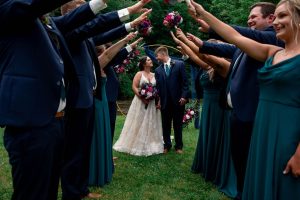 THEME AND COLOR PALETTE
Sam and Alyssa's wedding theme was romantic, enchanting, and whimsical. Alyssa wanted their wedding day to be the epitome of love. She wanted to add lots of personal touches and to be surrounded by all the special people in their lives. Alyssa created personalized wedding invitations using Truly Engaging for Save The Date & Zazzle for the Wedding. Alyssa used Pinterest to help create her vision for the rich, dark, romantic jewel-toned color palette, with a touch of burgundy, which was used throughout the ceremony site and reception area. A few of her other personal touches included candle sticks, flowers, and books.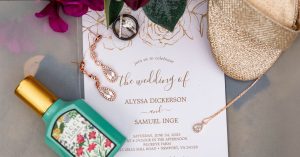 WEDDING ATTIRE DETAILS
Bride and Bridesmaids
Alyssa said yes to the dress at Chantilly Lace, in Blacksburg Virginia. Her gown was a champagne, spaghetti strapped, V-neck, transparent corset bodice with embroidered roses all over the entire dress. She wore golden glittered block heels and rose gold jewelry. The bridesmaids wore teal, jewel-colored, spaghetti-strapped dresses from David's Bridal.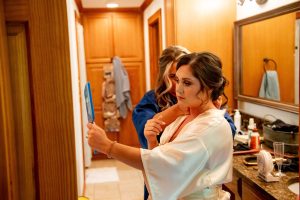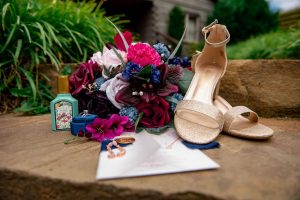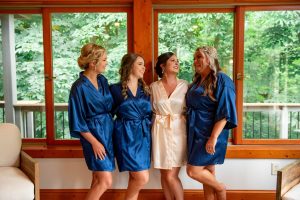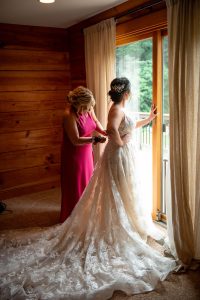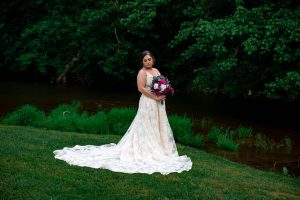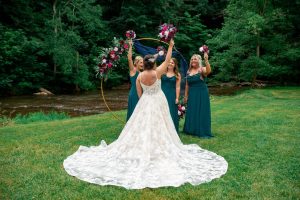 Wedding Florals
Alyssa's Mother, Stacey designed and created the wedding bouquet, along with the bridesmaid's bouquets. Stacey also designed and created the flowers placed on the wedding arbor.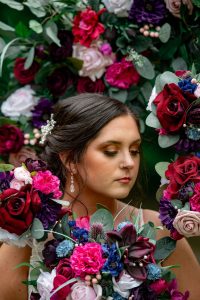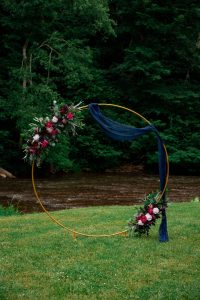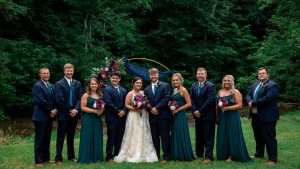 Groom and Groomsmen
Sam and his groomsmen wore navy blue suits, white shirts, and teal silk ties from Garrett's Inc. Radford, Virginia. Sam wore his great-grandfather's tie clip.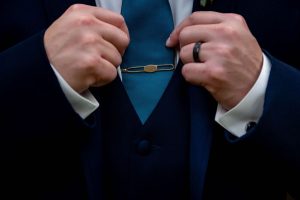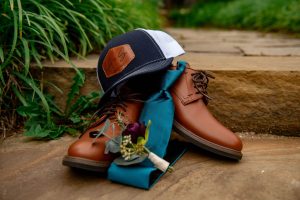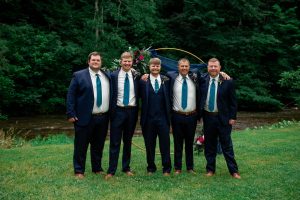 VENUE
Sam and Alyssa fell in love with Buckeye Farm because of the creek that runs through the venue. When first touring the venue, they imagined their ceremony with the water flowing behind them, while they said their vows and the beautiful greenery of the mountains surrounding them and their guest, as they were proclaimed as Mr. & Mrs. Inge.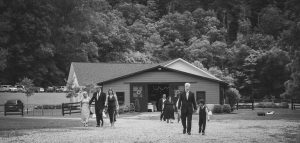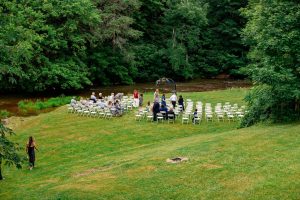 CEREMONY
Being dog lovers, Sam and Alyssa included their dog, Colbie, in the wedding ceremony. Colbie was escorted down the aisle with the best man, the groom's brother, Coleman. Colbie wore a special collar that was ivory with a rose gold buckle that was engraved with her name.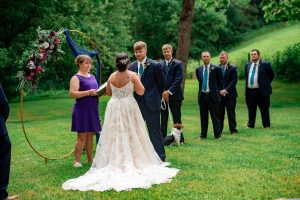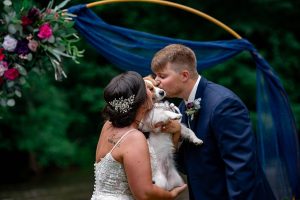 Sam and Alyssa included a "ring-warming" as a part of their ceremony. Before exchanging wedding bands, they invited their family to forever "warm" their wedding bands. They requested their family join them at the ceremony site, surround them, hold their wedding bands in their hands, and then pass the rings from one family member to the next. While each member held the rings, they "warmed" the rings and sent well wishes, prayers, and love for Sam and Alyssa's married life together. The couple felt inviting the family to "warm" and bless their rings was a memorable way for them to be connected with their family.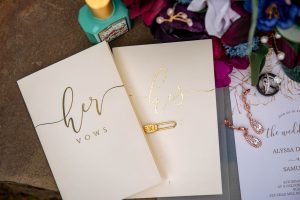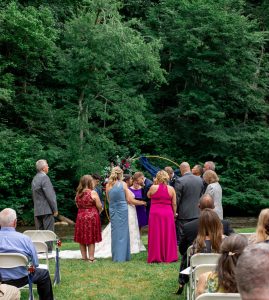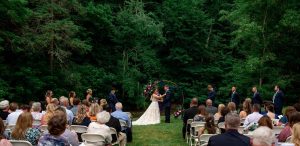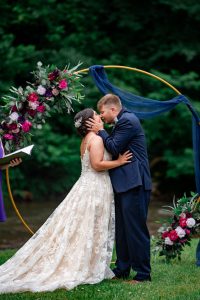 RECEPTION
Being a baseball coach, Sam wanted to make the entrance to their wedding reception very personal and unique, so he and Alyssa designed a baseball-themed entrance. The reception became a baseball game and as the wedding party entered the reception, they were announced as the "team". The wedding party carried baseball bats and the DJ announced them using typical baseball lingo like "batting 3rd for the Inge wedding party is …". As Sam and Alyssa, entered, they were announced, as rounding out the batting lineup "batting 9th". After they entered, Sam and Alyssa, did a little handshake and then proceeded to enjoy their first dance…with the baseball team cheering them on.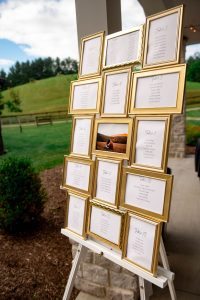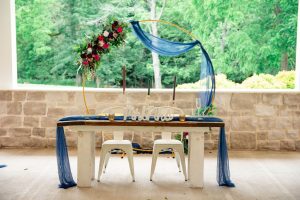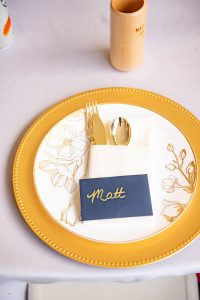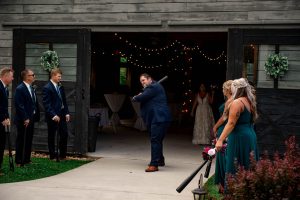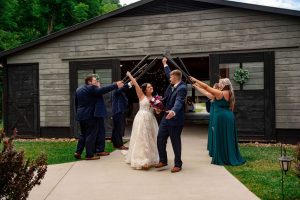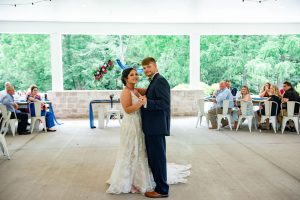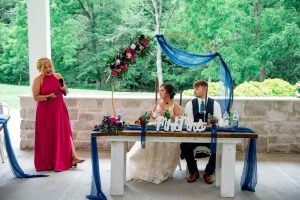 DESSERT
Sam and Alyssa broke from tradition and did not serve cake. Because their first-ever conversation was about ice cream, Sam and Alyssa decided they would have ice cream, as dessert instead of cake. Taking it a step further, Sam and Alyssa actually served the ice cream to each guest, allowing them time to greet each guest, and also start their marriage with an act of service.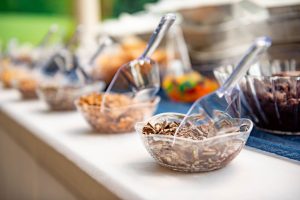 FAVORS
Sam and Alyssa gave their guests Virginia lottery scratch-off tickets as favors. They added a penny and card, to the ticket, with a loving note that read either "I hope you get lucky tonight!" or "For richer or for poorer- but hopefully richer!"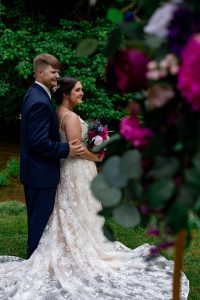 HONEYMOON
Sam and Alyssa honeymooned at the Dreams Dominicus, an all-inclusive resort in the Dominican Republic.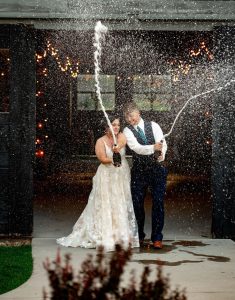 ADVICE TO ENGAGED COUPLES
Sam and Alyssa offer this advice to couples: always be your partner's best friend, and build your life with love, patience, kindness, and understanding.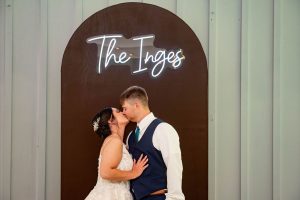 VENDORS
Venue: Buckeye Farm, Newport Virginia – @buckeyefarm
Photographer: Kassie Reese Photography – @kreese_photography
Day of Planner: Hailey Flood Roanoke Wedding Planner – @roanokeweddingplanner
Officiant: Holly Meyer, Pastor & Angie Hoff, Licensed Officiant
Gown: Chantilly Lace, Blacksburg Virginia – @chantillylacebridals
Shoes: Amazon
Hair: Miranda Jones, Owner of Gussied Up Salon – @gussiedup19
Makeup: Bride. She is also a hairstylist. Alyssa at Inside Out Salon – @alyssa.hairby
Bridesmaids' Dresses: David's Bridal
Formal wear: Garrett's Inc. Radford, Virginia
Invitations: Truly Engaging & Zazzle – @truly.engaging @zazzle
Flowers: Designed and Created by the Bride's Mother
Rental Equipment: Aztec Rentals – @Aztec_rental
Catering: Mission BBQ, Christiansburg, Virginia – @misionbbq
DJ: DJ Rick Pruett – @djrickpruett
Dessert: Kroger – @krogerco
Favors: Virginia Lottery Tickets – @virginialottery
Social Media Online Dating: @tinder
Honeymoon: Dreams Dominicus, an all-inclusive resort in the Dominican Republic
If you are planning a wedding in Roanoke Virginia, Richmond Virginia, Fredericksburg/Northern Virginia, The Shenandoah Valley, Coastal Virginia or in Charlottesville/ Lynchburg Va. we can help with your wedding planning and ideas.