A featured wedding in the current fall | winter issue of Virginia Bride.
THE FACTS:
THE BRIDE: Holly Drews, 31, Teacher at Fairfax County Public Schools
THE GROOM: Ethan Brown, 31, Region Manager at Ruppert Landscape
THE DATE: November 6, 2021
THE LOCATION: Historic Rosemont Springs, Berryville, VA
THE NUMBER OF GUESTS: 175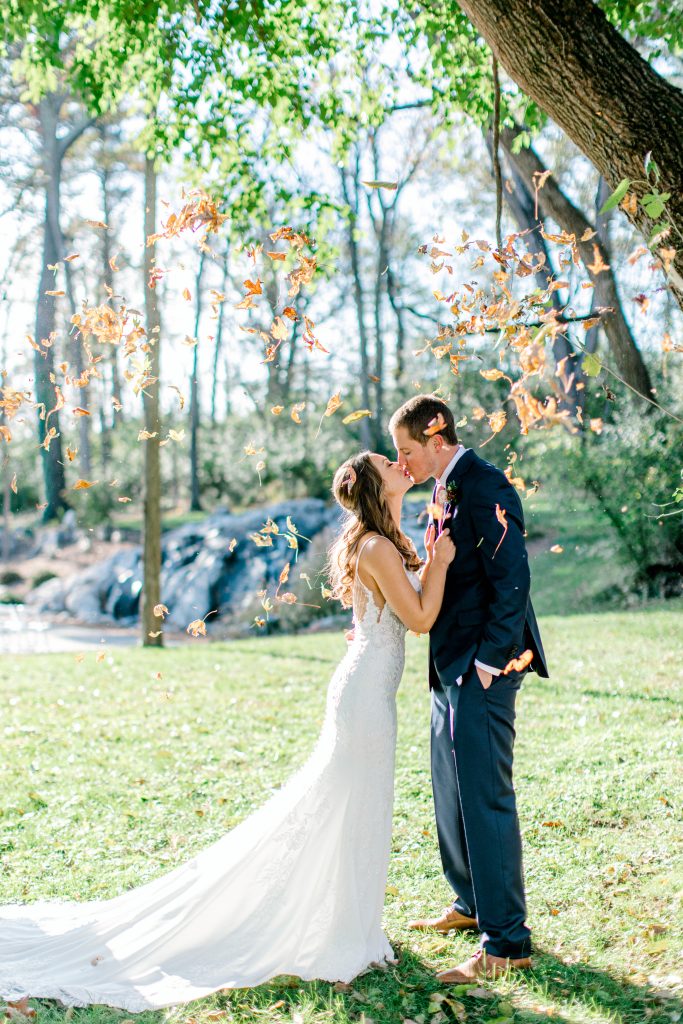 Holly and Ethan met while Holly was in college and visiting friends at Virginia Tech. Holly said, "At a party, Ethan and I were partners across the table for a game. It was a fairly quick first encounter, but I think he was pretty fascinated with my skills in the game we were playing. I say that because two years later, Ethan graduated and moved to Northern Virginia. He remembered meeting me and reached out to a mutual friend to see if I still lived in the area. He later asked me to dinner, and we had our first date at Uncle Julio's. We've been together ever since!"
After a romantic, family-oriented proposal, the couple started planning their beautiful wedding. Holly said, "Other than a 30-day-out coordinator, I did most of the planning with help from my mom and mother-in-law. They both were extremely helpful throughout the whole planning process. They helped to find vendors, attended meetings with us, and helped me to make final decisions, all while being so supportive of our wedding day vision."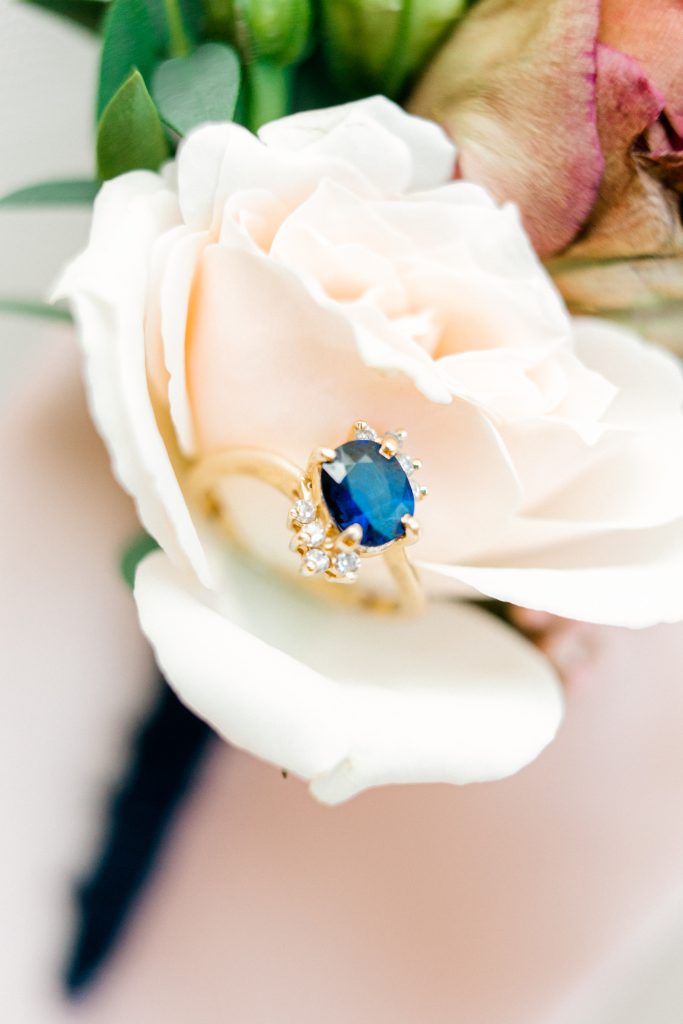 For their wedding, the couple chose an autumn palette. Holly said, "We have great appreciation for the outdoors and wanted this reflected in our colors and theme: calm, romantic, and warm, just as the beautiful fall season." This vision was evident in the rings chosen by the bride and groom. "My engagement ring, wedding band, and diamond necklace I wear every day are all rose gold." Holly explained that the interior of Ethan's wedding ring was rose gold as well.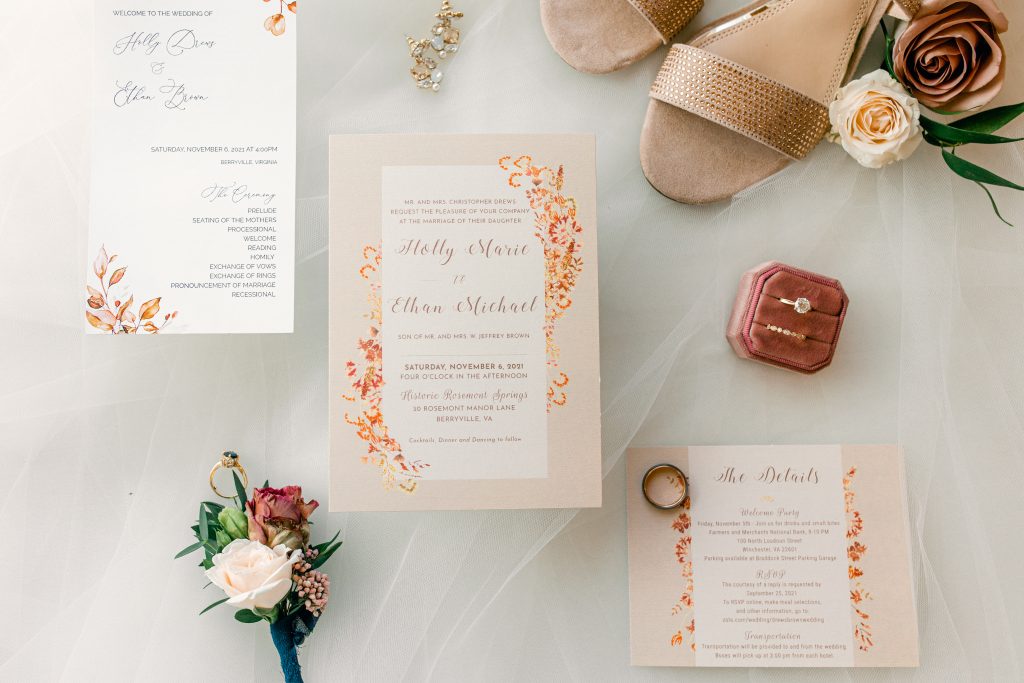 Holly wore an Essence of Australia sheath dress with slight fit-and-flare, ivory, sheer lace detail, and soft crepe. The dress had a V-neckline, shoestring straps, and a low and open back framed with sheer panels and fabric-covered buttons continuing down to the end of the scalloped train with a lace finish. The dress was purchased from Ellie's Bridal Boutique in Alexandria, Virginia. Holly's nude block heels with crisscross straps and rose gold rhinestones complemented the look.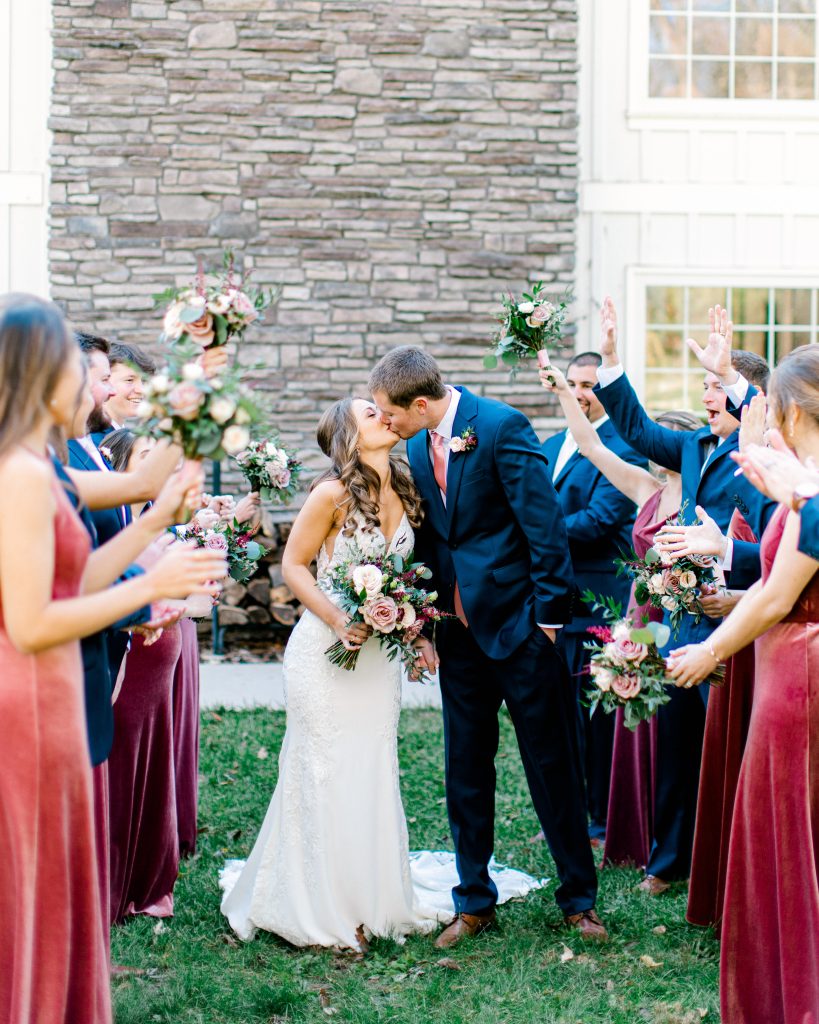 The couple held their ceremony on the stone terrace in front of a 10-foot waterfall and private, wooded area right outside of our barn venue. Holly said, "We had a cinnamon fir rectangular arbor decorated with dusty rose, cinnamon rose, and ivory florals and greenery. Chairs along the aisle were decorated with ferns and ivory ribbon, designed and created by my mom. Two large urns filled with gorgeous bouquets sat at the top of our aisle. Our welcome sign was crafted on a large gold frame and lined with greenery. One of our vendors, a harpist, Tula Ruggiero, played romantic songs as guests arrived."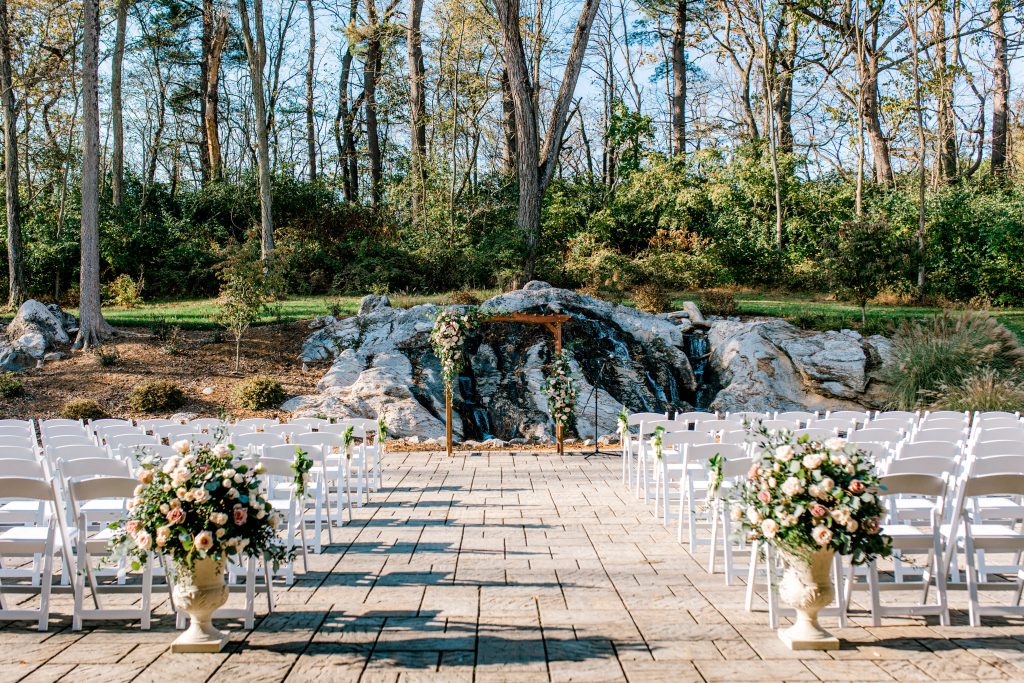 Holly's Aunt Maka read excerpts from "The Bridge Across Forever" by Richard Bach and "The Promise" by Heather Berry, along with the opening lines of "The Water is Wide" by Karla Bonoff. Holly noted, "Ethan and I wrote our own vows and shared them at our ceremony. We wanted this to be a private and unique experience, so we asked our harpist to play a song for our guests to enjoy as we read our vows privately to one another."
Holly and Ethan wanted beautiful, simple, and natural décor for their special day. Holly wrote, "The centerpieces on the tables were created with simple greenery and a variety of lanterns and candleholders that were white and gold or rose gold. It was most important that all of the tables glowed with candlelight. The venue had enormous, gorgeous crystal chandeliers that (almost) stole the show!"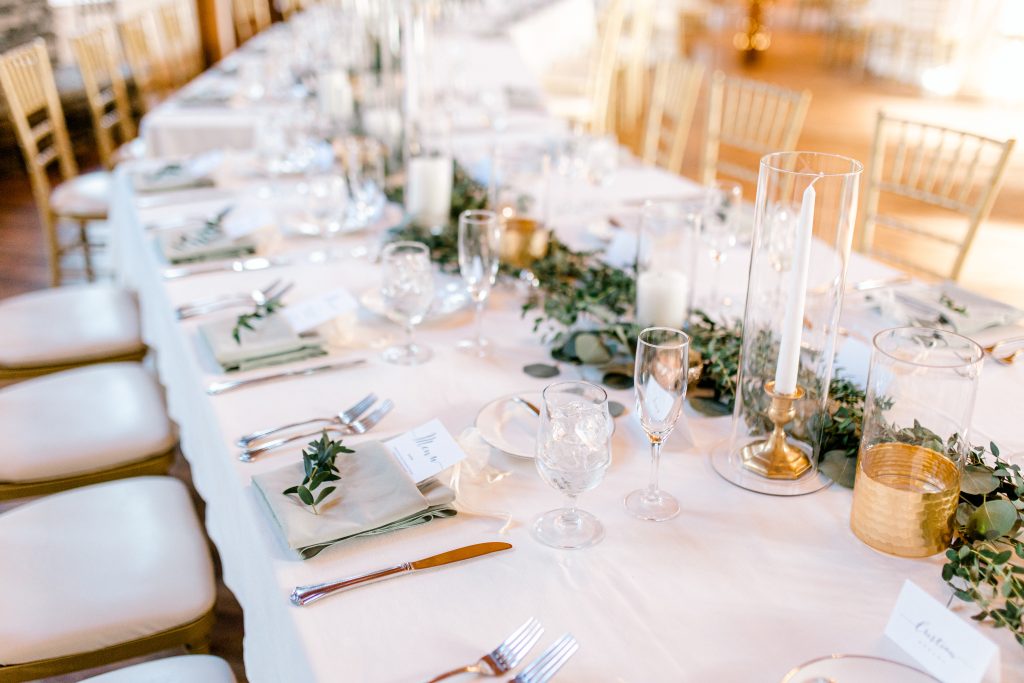 The cocktail hour was held on the covered stone terrace. Holly wrote, "It was directly behind our ceremony space. Our signature drinks included the "Nala Berry," named after our dog, Nala, and included a festive fall splash of cranberry alongside the bride's favorite spirits. Our other signature drink, the "Appley Ever After," included another popular fall taste of apple cider blended with the groom's favorite spirits. During cocktail hour, we had our guest book out for guests to sign and photograph themselves with a Polaroid camera."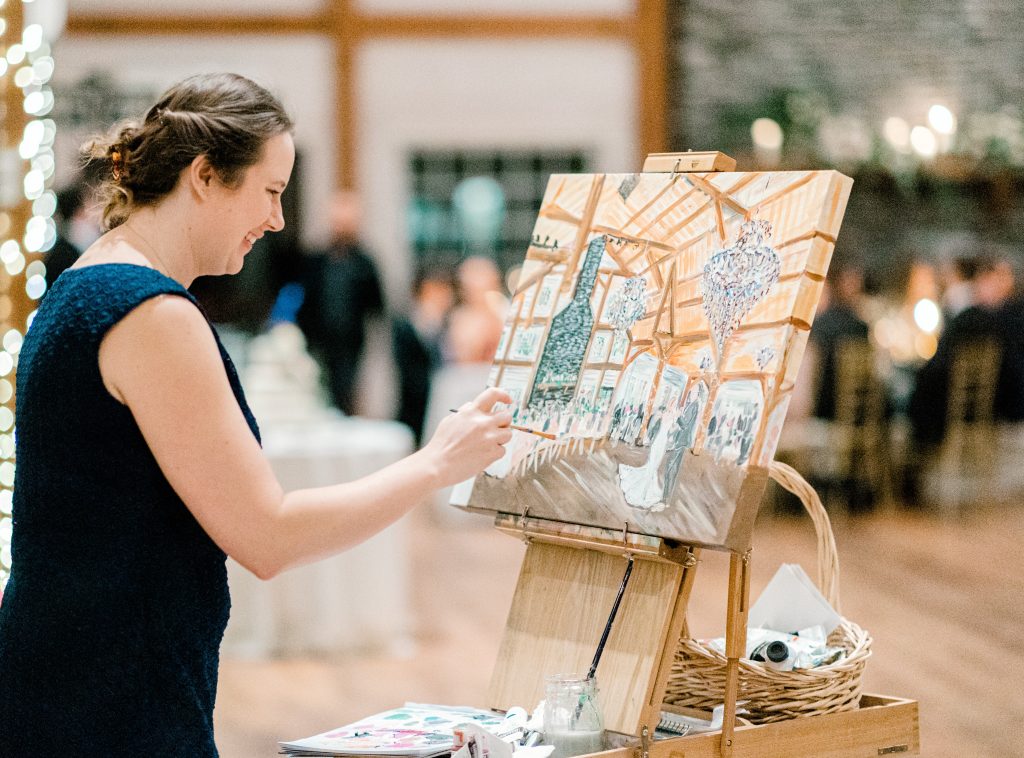 Holly and Ethan served hors d'oeuvres during the cocktail hour, including mini Chesapeake crab cakes, orzo mac and cheese tots, and sea scallops wrapped in bacon and bruschetta de Roma. Holly said, "Our reception meal included a farm salad, country rolls, and a choice of a plated entrée: beef with roasted potatoes and grilled vegetables, filet of salmon with mashed potatoes and green beans, rosemary roast chicken with rice pilaf and harvest vegetables, or butternut squash ravioli with asparagus. Champagne was served for toasts, and an open bar was available all evening. Our guests enjoyed a slice of our delicious snickerdoodle wedding cake for dessert. And, to top it all off, late-night pizza was delivered an hour before our reception ended."
During the celebration, the bride's father gave a heartfelt welcome speech. Holly said, "It filled the room with smiles, laughter, and happy tears. After we recommended keeping it to two minutes long, he acknowledged the two-minute mark jokingly and proceeded for five more.
Holly's father brought props, including the bride's childhood stuffed animal and a note the bride wrote to him one year for Father's Day. Holly wrote, "The groom's two brothers spoke, including memories of their childhood and sharing best wishes for the future. The bride's maid of honor and two matrons of honor planned a wonderful joint speech that kept us laughing and full of more happy tears."
After the celebration, Holly and Ethan honeymooned in the Maldives. Holly said, "We stayed at Emerald Maldives Resort & Spa in an overwater bungalow. It was a magical ten days."
Holly and Ethan offer these thoughts to other couples planning their big days. "Try not to take everything so seriously. As perfect as you want the day to be, as much time as you spend making decisions, talking with vendors, and thinking of little details, remember that you're marrying the love of your life. That is what's most important. Your day will be perfect no matter what."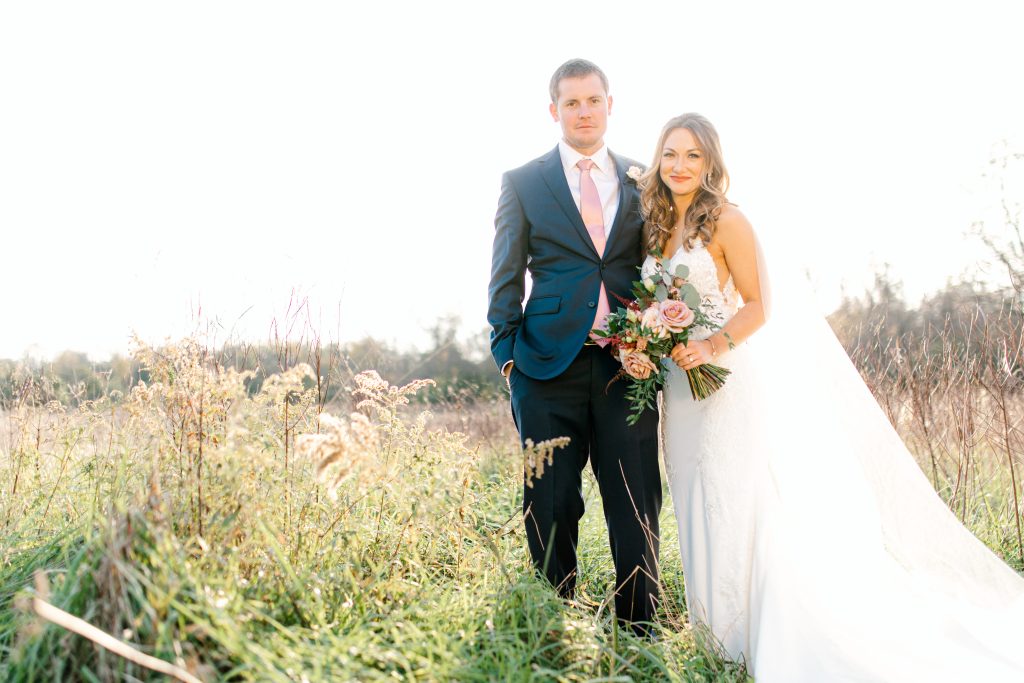 INGREDIENTS LIST:
CEREMONY SITE- Historic Rosemont Springs, 540-955-2834, Berryville, VA
RECEPTION SITE- Historic Rosemont Springs, 540-955-2834, Berryville, VA
PHOTOGRAPHY- Kim Johnson Photography, 703-268-3254, Richmond, VA
VIDEOGRAPHY- TLIC Media, 301-478-8767, Hagerstown, MD
CONSULTANT- Jacob Genda, Historic Rosemont Springs, Berryville, VA
OFFICIANT- Tim Ward, 703-729-5100, Ashburn, VA
GOWN— Designer: Essence of Australia, Bought at Ellie's Bridal Boutique, Alexandria, VA
VEIL- Etsy Shop
SHOES- Kelly & Katie
HAIR- Priscilla Eckl, Sterling, VA
MAKEUP- Behind the Veil Beauty, 443-650-8345, MD
BRIDESMAID DRESSES- Jenny Yoo, purchased from Bella Bridesmaids
FORMALWEAR- Groom and groomsmen- Jos. A. Banks
INVITATIONS- Zola
FLOWERS- The Rosy Posy, 571-208-0277, Manassas, VA
RENTAL EQUIPMENT- Historic Rosemont Springs
CATERING- Celebrations Catering, 703-450-6666, Bluemont, VA
MUSIC Ceremony and Reception- Ceremony: Tula Ruggiero, harpist, 304-582-0469, Reception: Bryan
George Music, 202-345-6695, Washington, D.C.
CAKE- The Cake Boutique, 540-664-5605, Winchester, VA
FAVORS- French Marigold seed packets put together by mother of the bride, Jeanine Drews.
LIVE PAINTING- Sara Haddox, sincerelysarahstudios.com, Norfolk, VA
TRANSPORTATION- Point to Point Limousines, 703-771-8100, Leesburg, VA
ACCOMMODATIONS- The George Washington, 540-431-2498, Winchester, VA
HONEYMOON- Emerald Maldives Resort & Spa, Fasmendhoo Island, Maldives
If you are planning a wedding in Roanoke Virginia, Richmond Virginia, Fredericksburg/Northern Virginia, The Shenandoah Valley, Coastal Virginia or in Charlottesville/ Lynchburg Va. we can help with your wedding planning and ideas.