By Rita Pike
This wedding is featured in the fall 2021 issue of Virginia Bride
BRIDE: Kandis Nicole Wallace, 28, Marketing Manager at the University of Maryland College Park
GROOM: Jason Anthony Fuller, 31, Assistant Producer for National Public Radio
DATE: November 15, 2019
LOCATION: John Marshall Ballrooms, Richmond, VA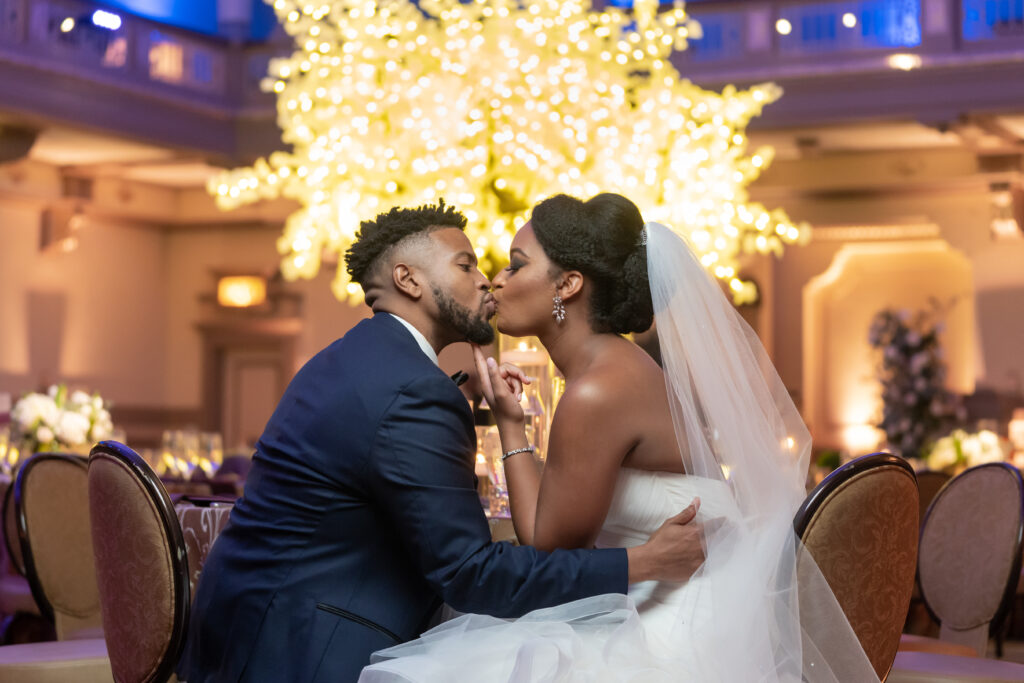 NUMBER OF GUESTS: 185
Kandis and Jason met at a Fourth of July cookout hosted by Kandis' parents in Richmond. "I live in Maryland and brought a friend with me to attend. When we arrived in Richmond, my friend asked me if she could invite another friend over to my parent's house who lived in the area and was looking for a cookout to attend. He arrived and made a great impression on my family. Even though he was in graduate school at VCU, we continued to keep in touch after the event. Eventually, we began traveling back and forth between Maryland to Richmond every weekend to see each other until he graduated and moved up to Maryland.
Three years later, their dating relationship grew full circle when Jason proposed at the same annual cookout hosted by Kandis' parents. "He made a touching speech about how special I've been to him over the years before getting on one knee and proposing. We both cried during the proposal. It also caught me and most of the other cookout guests by surprise!"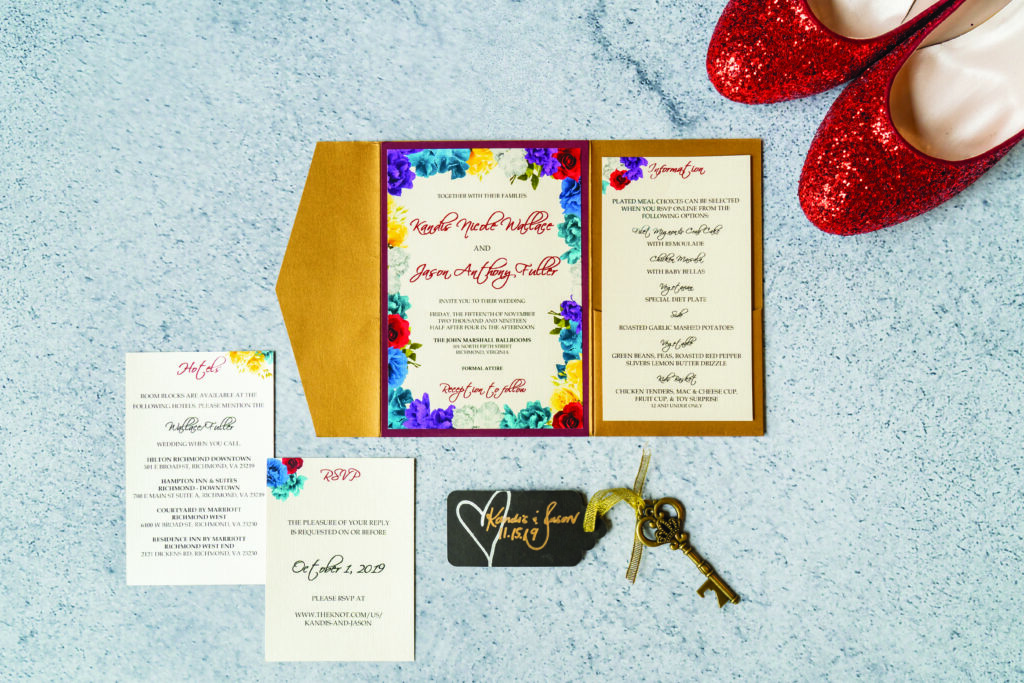 When the time came for their special day, the couple hired a planner for their large wedding. "Since Jason and I lived out of state, we wanted to work with someone who was well-connected in the Richmond area and could help keep me organized. We started planning the wedding 16 months ahead of time. I was extremely tired in the days leading up to the wedding, but the day itself turned out to be incredibly special."
Their wedding featured a gorgeous, formal enchanted garden theme. "I foresaw different ways I could incorporate colorful and creative elements when planning around this theme. I couldn't commit to a single color, so we went with a jewel tone color scheme, which would allow us to use vibrant fall colors like gold, wine red, and emerald green."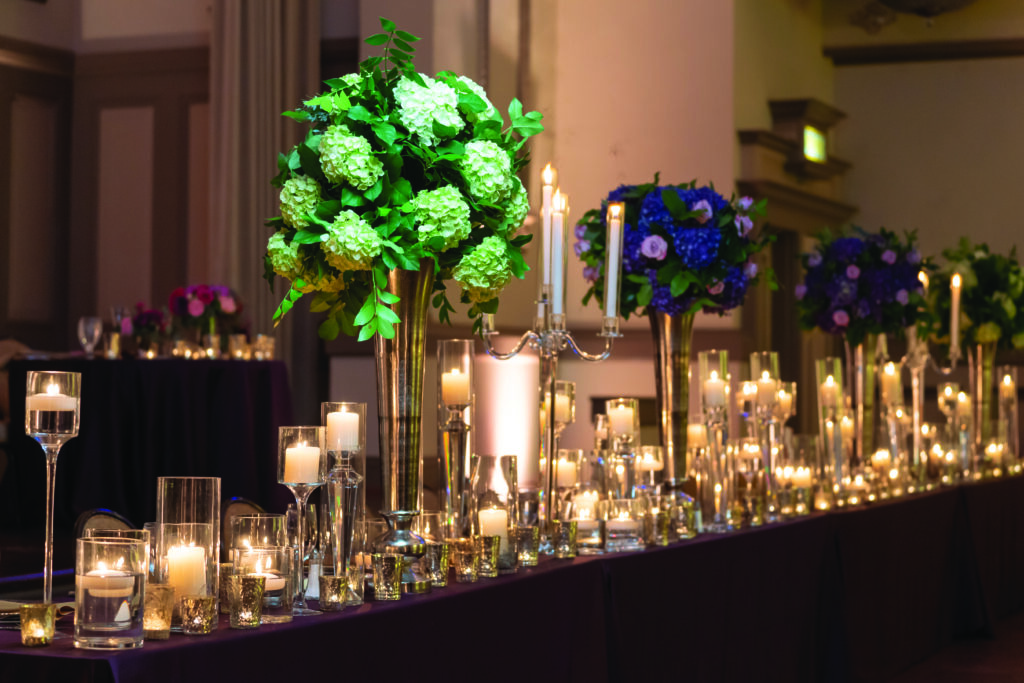 The big day came with Kandis wearing a "whimsical, strapless mermaid gown designed by Pronovias. It had a sweetheart neckline and a long, ruffled tulle train. I also wore a rose gold, floral headpiece and a Toni Federici pageant veil with rhinestones that covered my train. I also wore bright red t-strap heels and floral earrings to match my headpiece."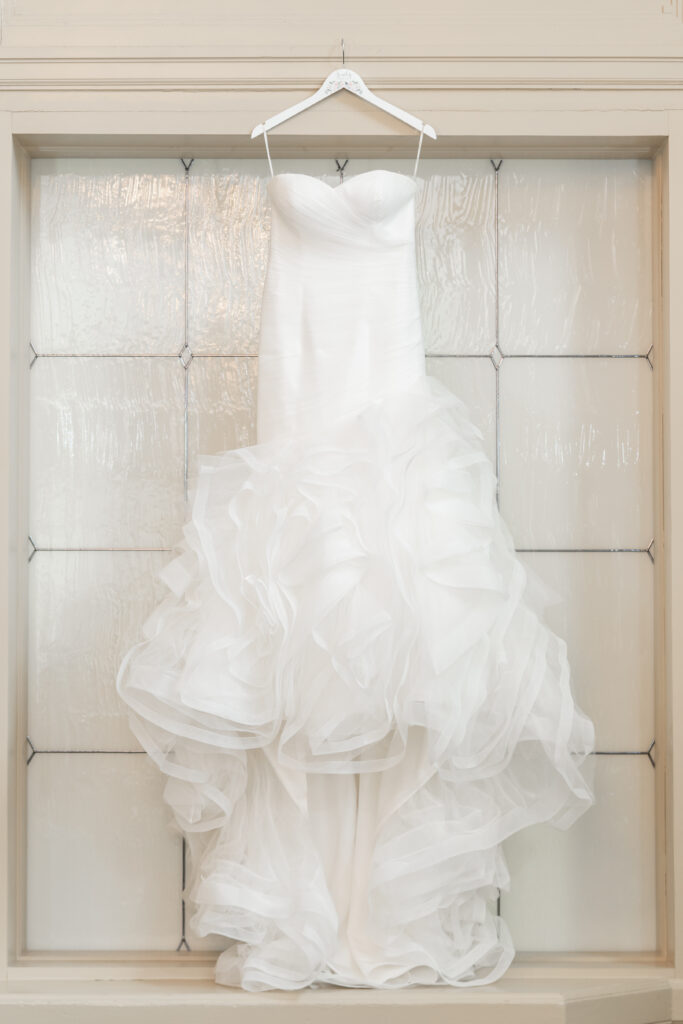 The bridesmaids and maid of honor wore matching strapless dresses from Christina Wu's Celebration collection. "Their dresses were claret red with sequins at the top and long tulle at the bottom. I gifted the bridesmaids their jewelry, which was a simple gold necklace and stud earring set."
Jason's groomsmen and best man wore black Calvin Klein tuxedos with ivory pocket squares and black suspenders, while the groom donned a custom, midnight blue tuxedo with black lapels, a white dress shirt, and black suspenders, all of which were by Ike Behar.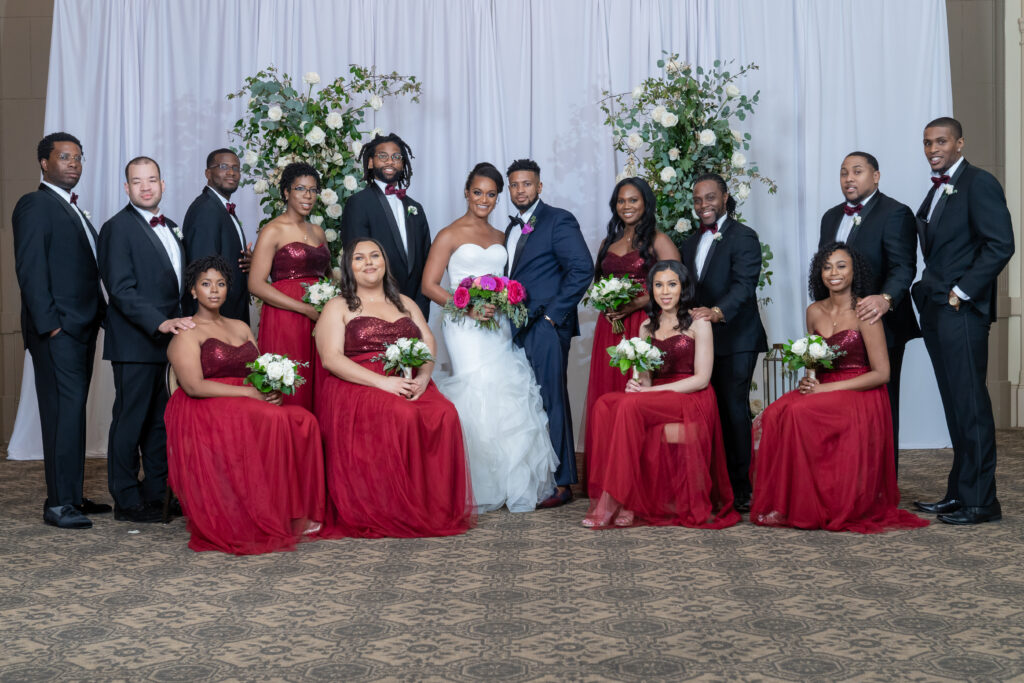 Every wedding needs incredible photos, so the couple searched for a photographer "who was excellent with lighting, had years of experience shooting weddings in the Richmond area. Our photographer Sean Dewitt was just that. We took bridal party photos in the Marshall Ballroom immediately after the ceremony while our guests were enjoying cocktail hour in the lobby. We also took additional photos during the reception to capture the mood and energy in the room."
Kandis and Jason wrote their vows, which lined up beautifully with their personalities. "Jason was very thoughtful, breaking down the exact number of days we had been together. I added elements of humor in my vows, helping the moment feel more comfortable and personal. Jason and I decided to jump the broom to acknowledge African American history and culture during the ceremony. It was very important to me for the broom to look fabulous, so my coworker, maid of honor, and I bedazzled the broom with a ribbon made of glitter, effervescent rhinestones, a large bow, and silver letters that read 'Forever Fuller.'"
For the music, Jason's family friend played neo-soul songs on her violin during the ceremony, "over a music bed provided by our DJ. Processional music included Find Your Way by Kem, Giving You the Best of Me by Anthony Hamilton, Forever by Jason Nelson, and For Real by Amel Larrieux. I walked down the aisle to Childish Gambino's cover of So Into You. We left the ceremony to Let's Stay Together by Al Green."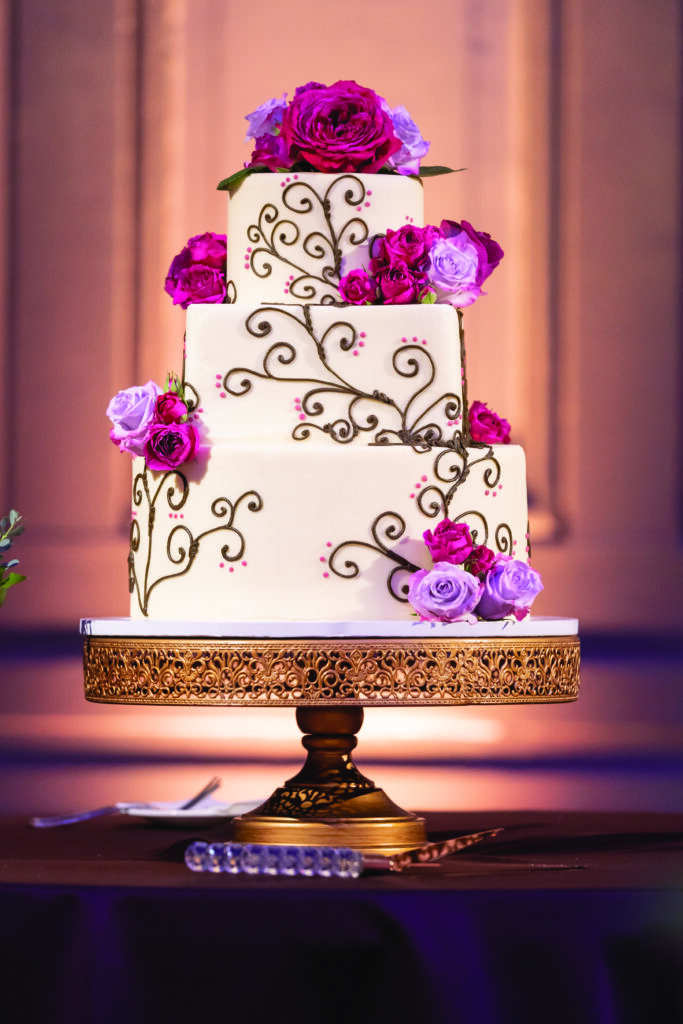 For the cocktail hour, guests gathered in the lobby of the venue and enjoyed mac and cheese bites, skewered beef kabobs, and wonton wrapped ginger shrimp. The signature cocktail for Kandis and Jason was called "Sweet Devotion Potion," a blue margarita. "Our photo booth vendor also allowed guests to take photos of themselves during cocktail hours using a selfie mirror."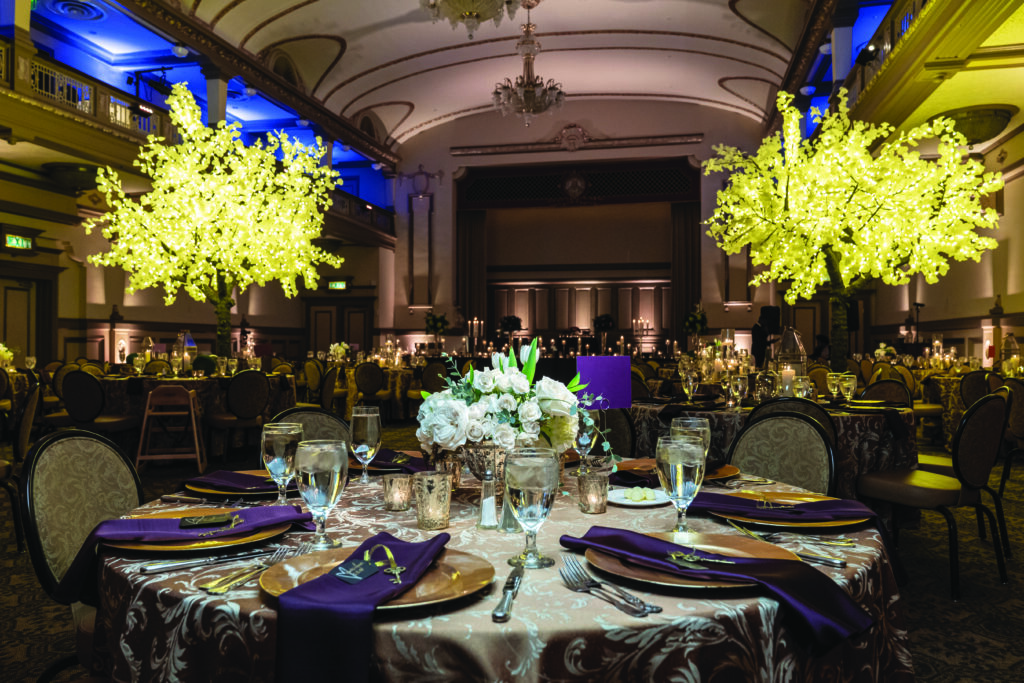 Kandis gives these words of advice for fellow brides planning their big days: "Remember to balance your life when planning your wedding. I'm a Type-A planner by nature, and I lost a lot of sleep at night because I was consumed with hammering out every single detail. Eat, sleep, meditate, and breathe. The big day is going to turn out great because when the day is over, you'll be married to your life partner. If something doesn't go as planned, you'll likely laugh about it later."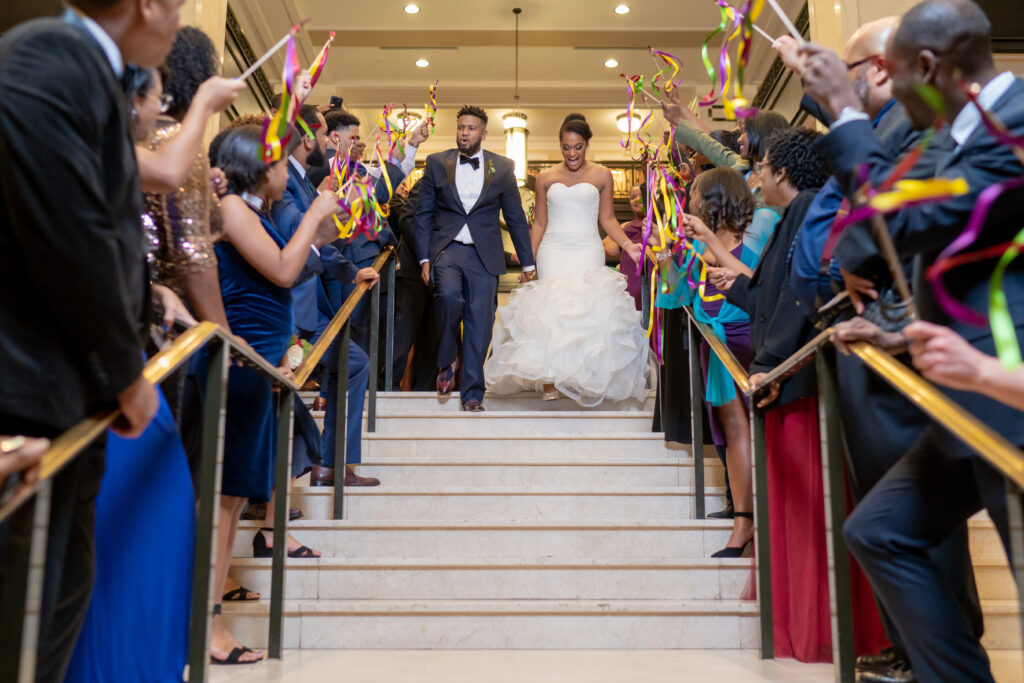 CREDITS
CEREMONY AND RECEPTION SITE: John Marshall Ballrooms, Richmond, VA, 804.775.2355
PHOTOGRAPHY: Sean DeWitt Photography, Glen Allen, VA, 804.687.9091
VIDEOGRAPHY: Ginger Topham Hudgins, Richmond / Charlottesville / Washington, D.C., 804.370.6385
CONSULTANT: Pearl Thomas of Rubies and Pearls, LLC, Richmond, VA, 804.690.6799
OFFICIANT: Rev. Eric Nelson of New Mt. Sinai Missionary Baptist Church, Detroit, MI, 313.345.4177
GOWN: Pronovias Mildred from Love Couture Bridal, Potomac, MD, 301.610.5683
VEIL: Toni Federici pageant veil from Love Couture Bridal, Potomac, MD, 301.610.5683
SHOES: Pleaser Shoes, pleasershoes.com
HAIR: Jessica Penn of Salon J'Adore, Richmond, VA, 804.617.3268
MAKEUP: Regan Wolfrey, Richmond, VA, 804.464.3657
BRIDESMAID DRESSES: Posh & Curvy Bridal Frederick, MD, 301.810.5443
FORMALWEAR: Men's Wearhouse, Nationwide, 877.986.9669
INVITATIONS: Ruby Thomas Dolce of Rubies and Pearls, LLC, Odessa, FL, 434.409.1668
FLOWERS: The Flower Guy Bron, Richmond, VA, 804.223.2350
RENTAL EQUIPMENT: Classic Party Rentals, Richmond, VA, 804.743.7980
CATERING: John Marshall Ballrooms, Richmond, VA, 804.775.2355
DJ: Chubb E. Swagg, Washington, DC, 310.948.0947 (personal cell*)
MC: Chris Afoakwah, 202.375.3094
ENTERTAINMENT: MMG Photobooth, Richmond, VA, 804.214.6693
WEDDING CAKE: Pearl's Bake Shoppe, Richmond, VA, 804.285.2253
CUPCAKES: Frostings, Glen Allen, VA, 804.360.2712
FAVORS: Amazon.com
ACCOMMODATIONS: Hilton Richmond Downtown, 804.344.4300, & Courtyard by Marriott Richmond West, 804.282.1881
HONEYMOON: Beaches Turks and Caicos, 1.888.232.2437
What to submit your wedding?
Email publisher@vabridemagazine.com with four photos for your wedding and a brief description with the details of the wedding.