By Rita Pike
Featured in the fall 2021 print issue of Virginia Bride Magazine
BRIDE: Katie Hall, 26, Sales Account Manager for technology company Snagajob.com
GROOM: Jeffrey Gray, 27, Hardscaping Contractor & Designer, Business Owner at Outdoor Vision at Jeff Gray
DATE: October 24, 2020
LOCATION: The Historic Post Office in Hampton, VA
NUMBER OF GUESTS: 120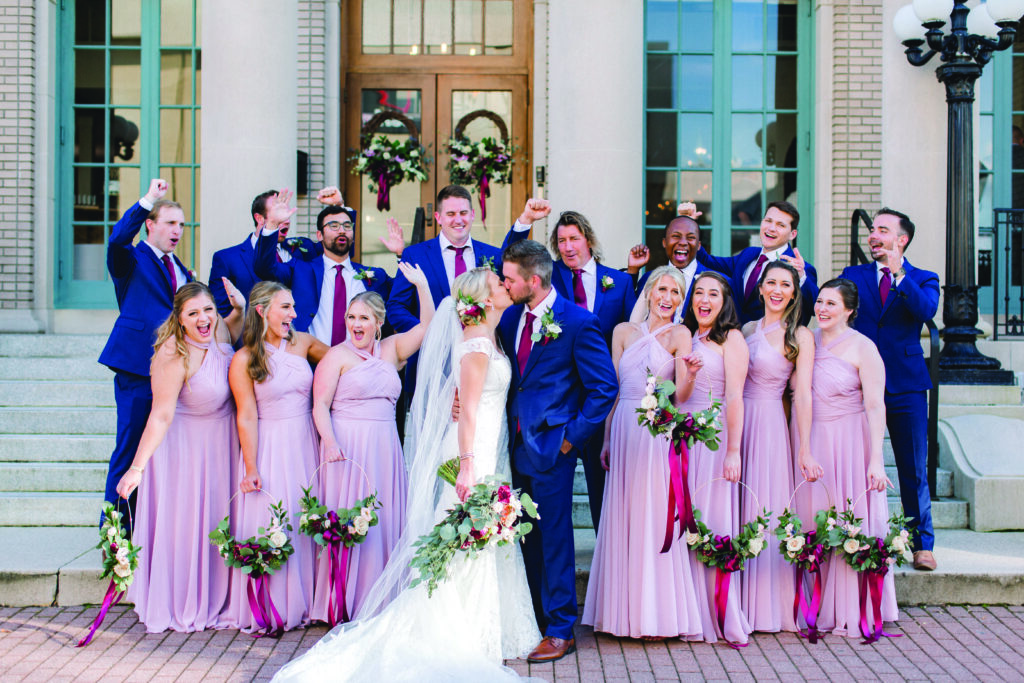 Katie and Jeffrey met in 2016 at a popular bar, "Manhattan," close to Christopher Newport University's campus. A roommate of Jeffrey and his girlfriend, a sorority sister of Katie, introduced the pair. Two politely interacted but went on with their nights. But Jeffrey could only think of seeing her again. He invited Katie to a nearby event. "I could tell what a true gentlemen Jeffrey was (not to mention charming). I decided to trust my intuition and get to know him." Soon, the couple was inseparable.
In 2017, close to the spot where the couple met, Jeffrey dropped to one knee while they were out. "What are you doing? Get up!" Katie urged, surprised at the events. But this was planned – and close by her family and a few close friends were hiding in their cars watching, ready to celebrate. "It was the sweetest surprise. Jeffrey did an amazing job planning an incredible evening with a celebratory dinner at a nearby restaurant, Schlesinger's Steakhouse, right after I answered the easiest question of my life."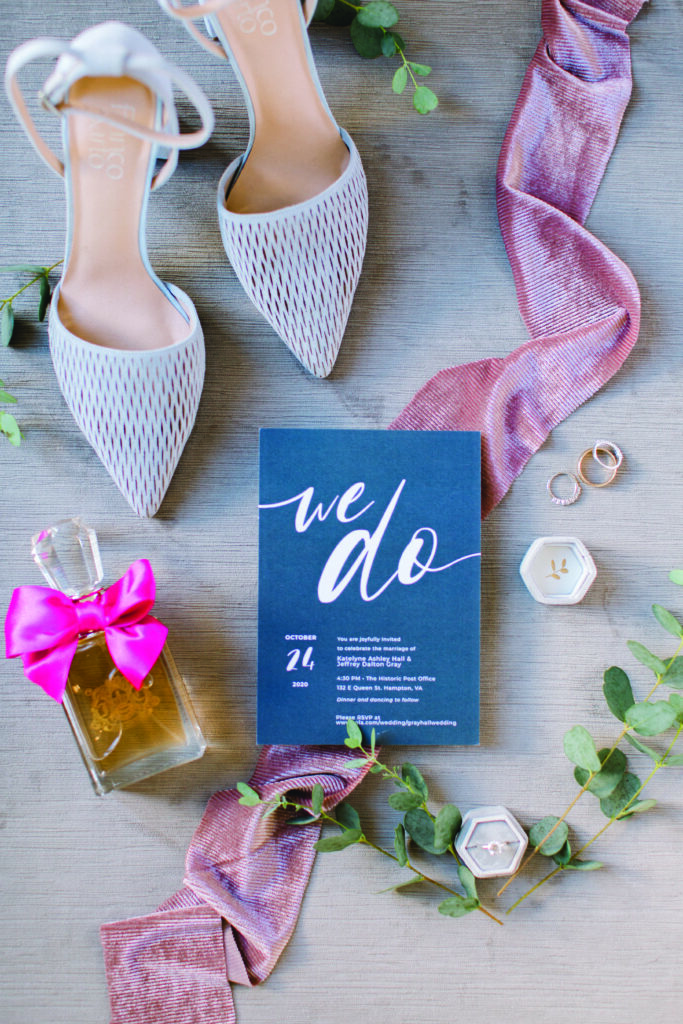 For their big day, Katie hired Shelby White Events. "With a full time job, I knew I wouldn't be able to devote as much attention as I wanted to my wedding planning. Hiring a wedding planner was one of the best decisions I made and allowed me to relax and enjoy this very special season. Shelby is the epitome of grace, style, and elegance. Her organizational skills and meticulous attention to detail are unmatched; she was born for this! Something I will treasure for the rest of my life is when she prayed over me with my bridesmaids before walking down the aisle. Not only did I have the best wedding planner on the peninsula, but I also gained a lifelong friendship!"
Katie's gown had to be flattering and timeless. "The girls at Blush Bridal in Newport News really listened to my vision and hand selected each gown with my personal style in mind. I chose a Maggie Sottero, mermaid-style ivory gown, and I could not have been happier with it. My grandma cried when she saw the dress on, and I knew from that moment this was the one. The lace was unlike anything I had ever seen before, and the train was long and elegant; just what I was looking for!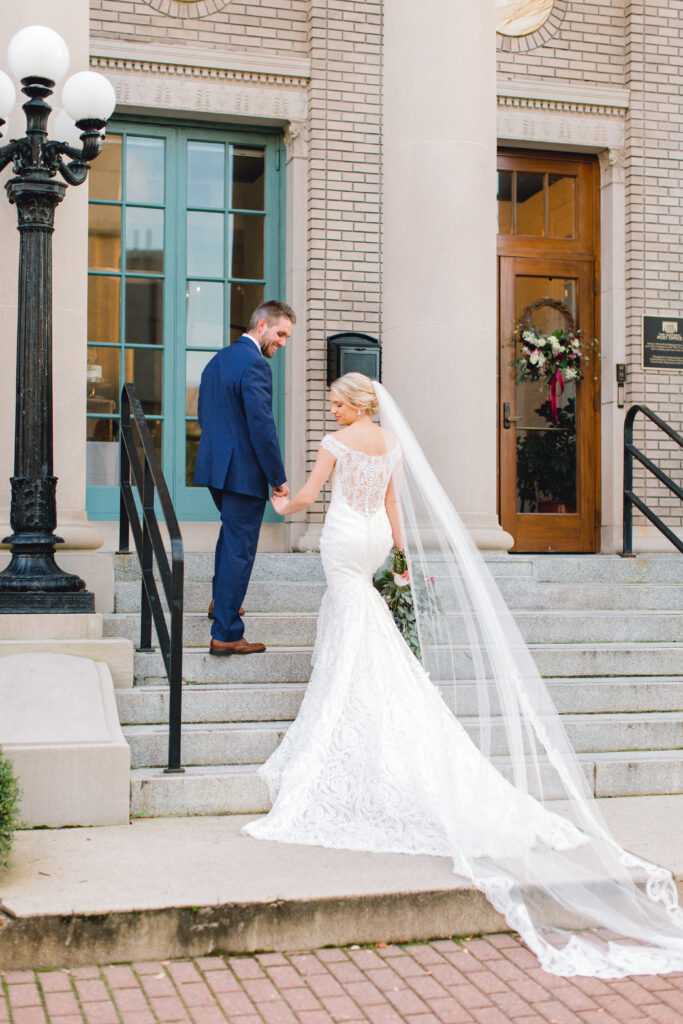 "I had my cathedral-length veil custom-made to match the exact lace on the dress. It took a few months to arrive to Blush, but it was well worth the wait. I wore light blue Vince Camuto heels and David Yurman cable bracelets (Jeffrey gifted me one the day of our wedding. What a sweet surprise!), with a matching ring on my right hand. My earrings were Olive + Piper 'Porter Cluster Studs' which made a statement, along with my hair piece (which replicated my bouquet) by my amazing florists, Jeff's Flowers."
The bridesmaids wore dusty mauve "Frose" dresses from Brideside, in the "Shonda" style. "Personally, I love the traditional uniformed, consistent look of everyone having the same style and color. I took their flowers into consideration when picking out their dress color. For example, I knew they were going to have a pop of merlot, and their dress color contrasted with their gold hoop bouquet wonderfully."
The men wore navy Tommy Hilfiger suits in a modern fit, with a merlot tie and boutonniere.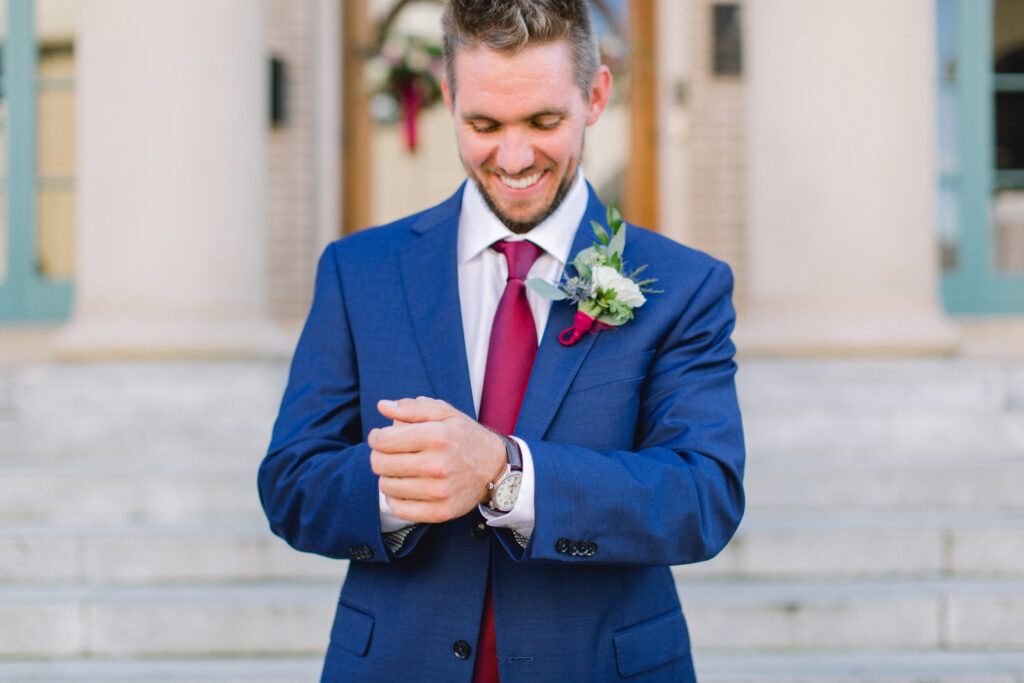 "A Christian ceremony was incredibly important to us. One of my very dear friends, Karalee, read Colossians 3:12-17, which simply states what we, as Christians, should strive to emulate and keep Christ first in everything we do. It was an important reminder that God comes first in our marriage. On the cross that Jeffrey built, our florist made a beautiful floral cluster with accentuating greenery that made it that much perfect! During our ceremony, we lit the unity candles. This represented three candles: one that represents the bride, one that represents the groom, and one that represents our covenant marriage under God and joining as one."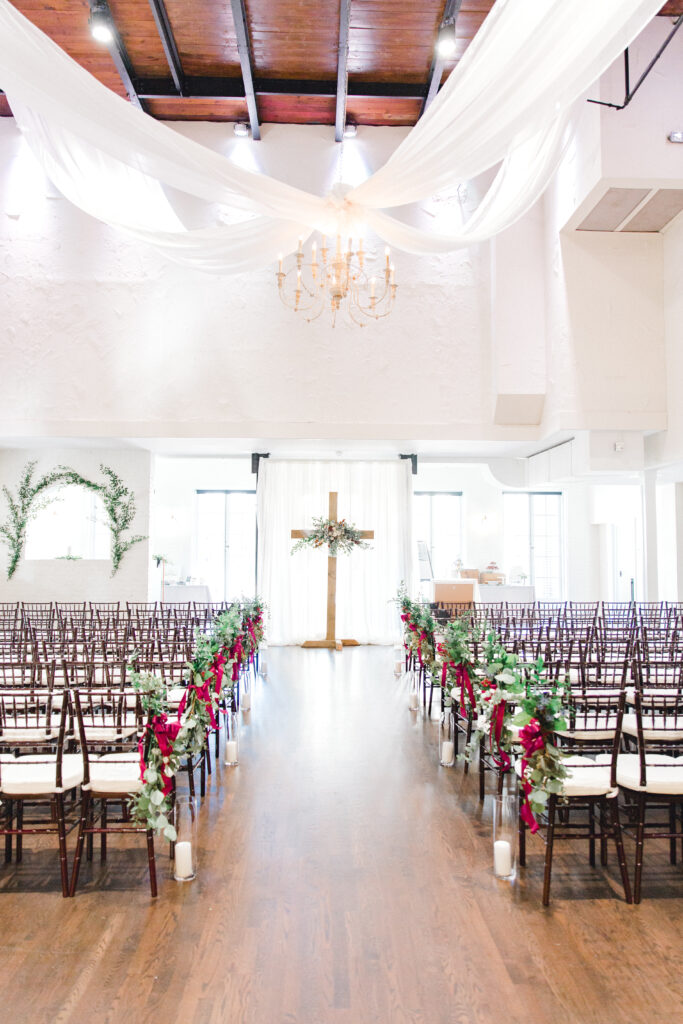 Katie and Jeffrey served a delicious spread from Mission BBQ, including salad, pulled pork and pulled chicken, brisket, mac 'n cheese, baked beans, green beans, and cornbread, with a variety of desserts. They enjoyed a vanilla cake with naked vanilla bean frosting, along with cake pops and mini shooters of strawberry shortcake, banana pudding, and French silk brownies.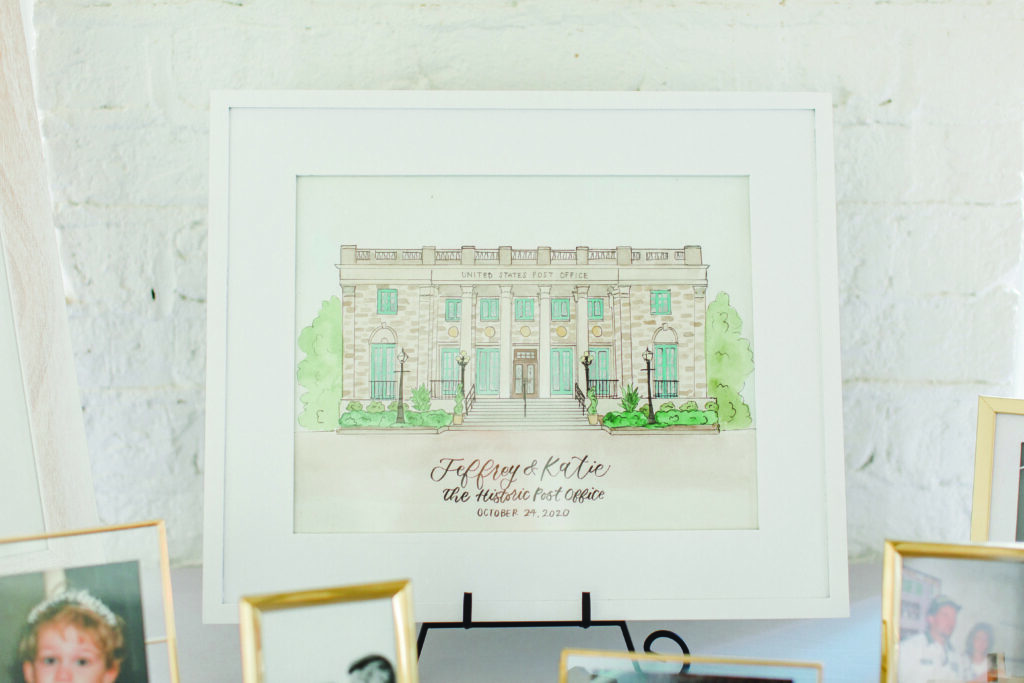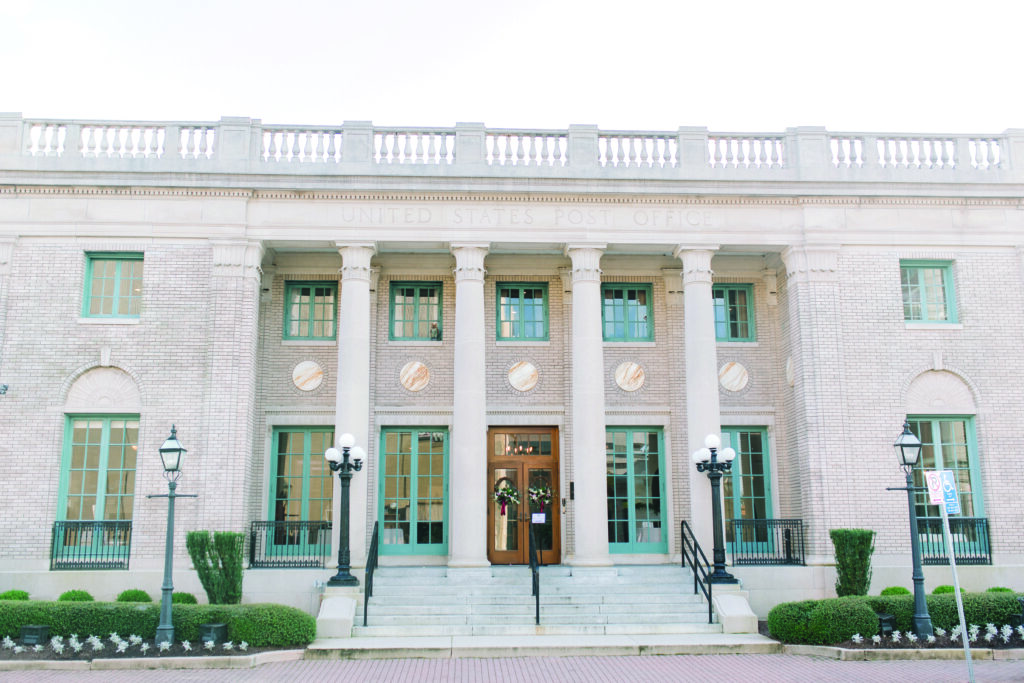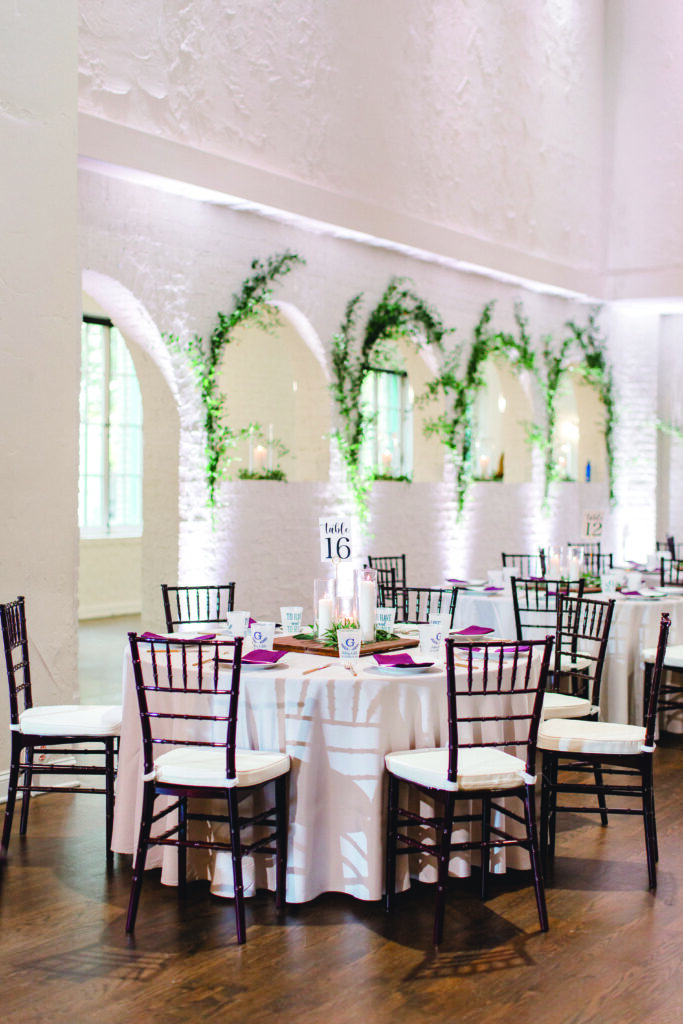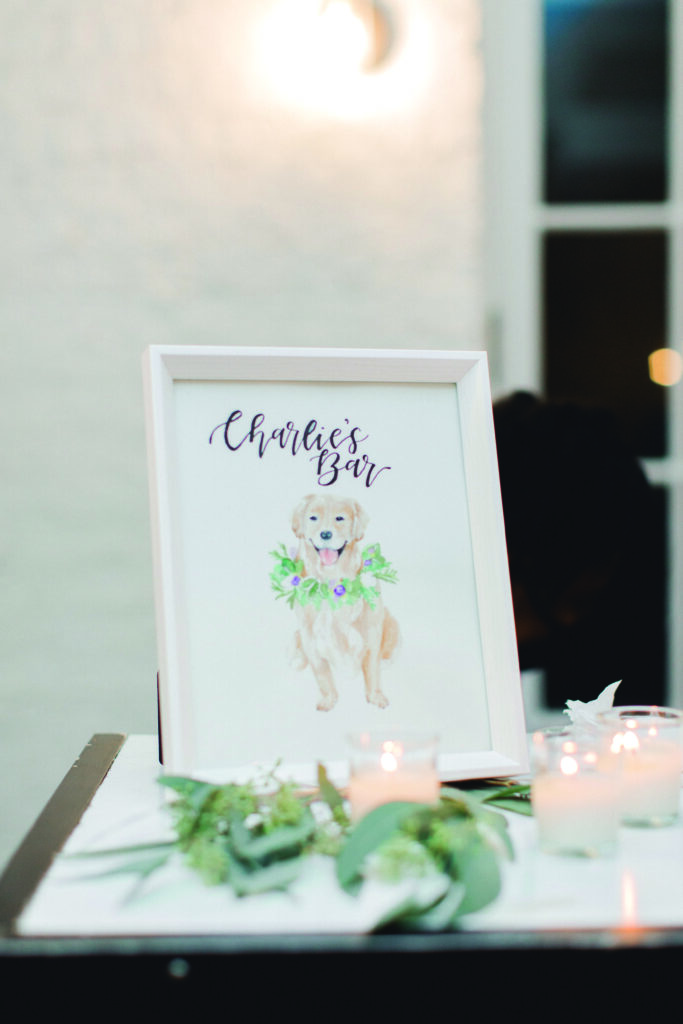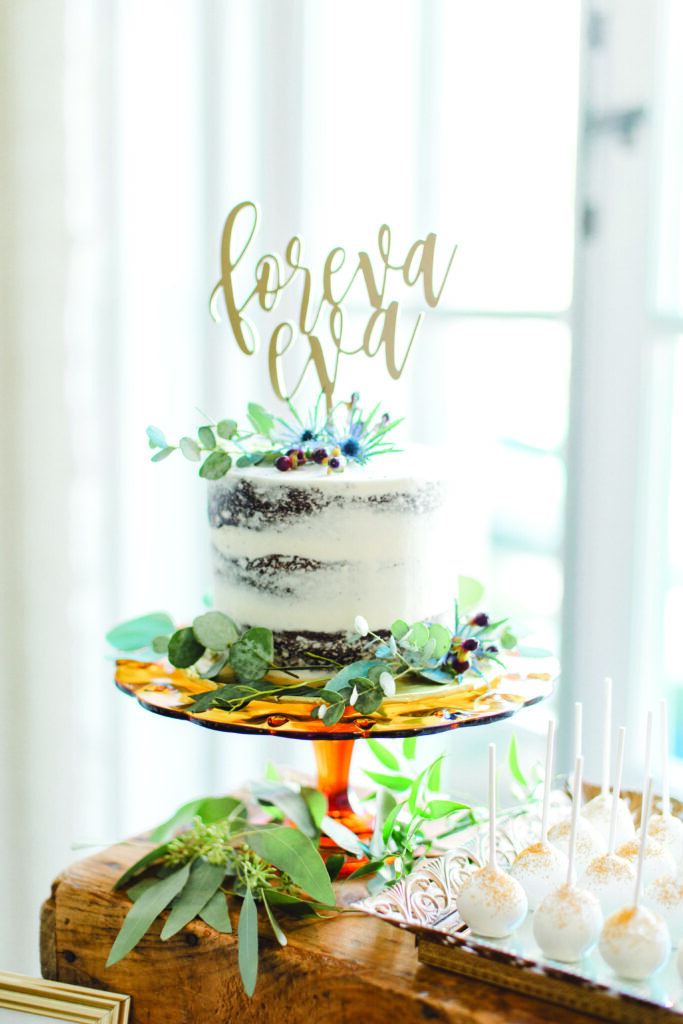 For a unique twist on the exit, they chose foam, LED sticks instead of sparklers.
Katie says, "I know everyone says this but enjoy the wedding day and hold on to all the feelings and emotions that day brings. Take mental pictures in your mind and soak it all in!"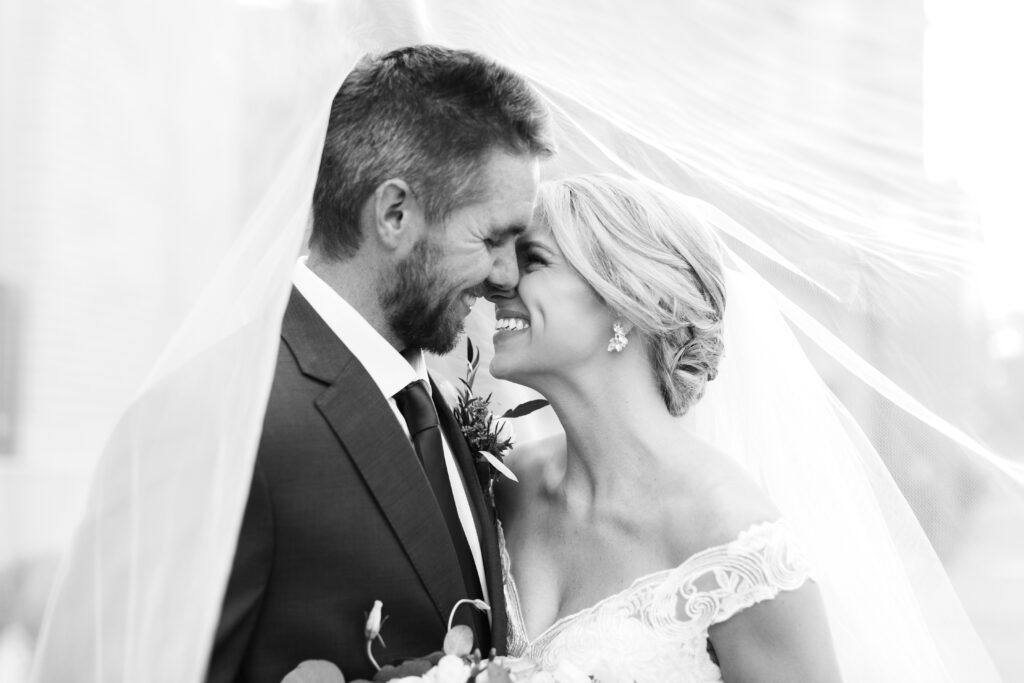 CREDITS
CEREMONY AND RECEPTION SITE: The Historic Post Office in Hampton, VA, 757.848.3885
PHOTOGRAPHY: Paige Ryan Photography in Richmond / Williamsburg / Virginia Beach, 757.724.0555
VIDEOGRAPHY: Nix Films, LLC. in Richmond / Williamsburg / Virginia Beach, 757.358.0690
CONSULTANT: Shelby White Events in Richmond / Williamsburg / Virginia Beach, 757.818.4766
OFFICIANT: Pete Bowell, Pastor at HOPE Church in Richmond, VA, 804.514.9013
GOWN: Maggie Sottero from Blush Bridal in Newport News, VA, 757.595.7797
VEIL: Custom cathedral veil made with exact lace from Maggie Sottero dress from Blush Bridal in Newport News, VA, 757.595.7797
SHOES: Vince Camuto
HAIR: Amanda Moore, Triplett with Style by Design in York County, VA, 757.591.0283
MAKEUP: Janiqua Davis, owner of BeatFreakJD in Washington D.C., 619.647.9419
BRIDESMAID DRESSES: Brideside.com
FORMALWEAR: Men's Wearhouse in Newport News, VA
INVITATIONS: Zola.com
FLOWERS: Jeff's Flowers, in Newport News, VA, 800.577.5333
RENTAL EQUIPMENT: Stage Right Lighting in Virginia Beach, VA
CATERING: Mission BBQ in Hampton, VA, 757.847.5506
MUSIC: Chris Rice, owner of Music Makes You Happy Entertainment in Suffolk VA, 757.544.9727
CAKE: Sinful Treats, Hampton VA, 757.637.7069
FAVORS: Frosted cups from totallypromotional.com
ACCOMMODATIONS: The Hampton Marina Hotel, in Hampton VA, 757.727.9700
HONEYMOON: The Historic Cavalier Hotel and Beach Club in Virginia Beach, VA, 757.425.8555