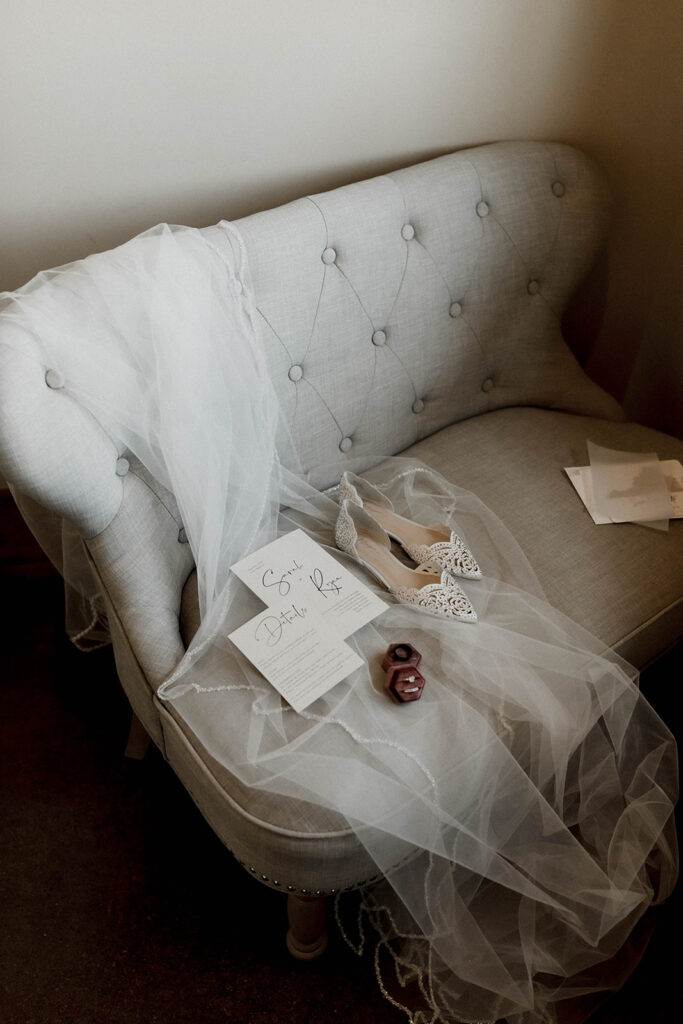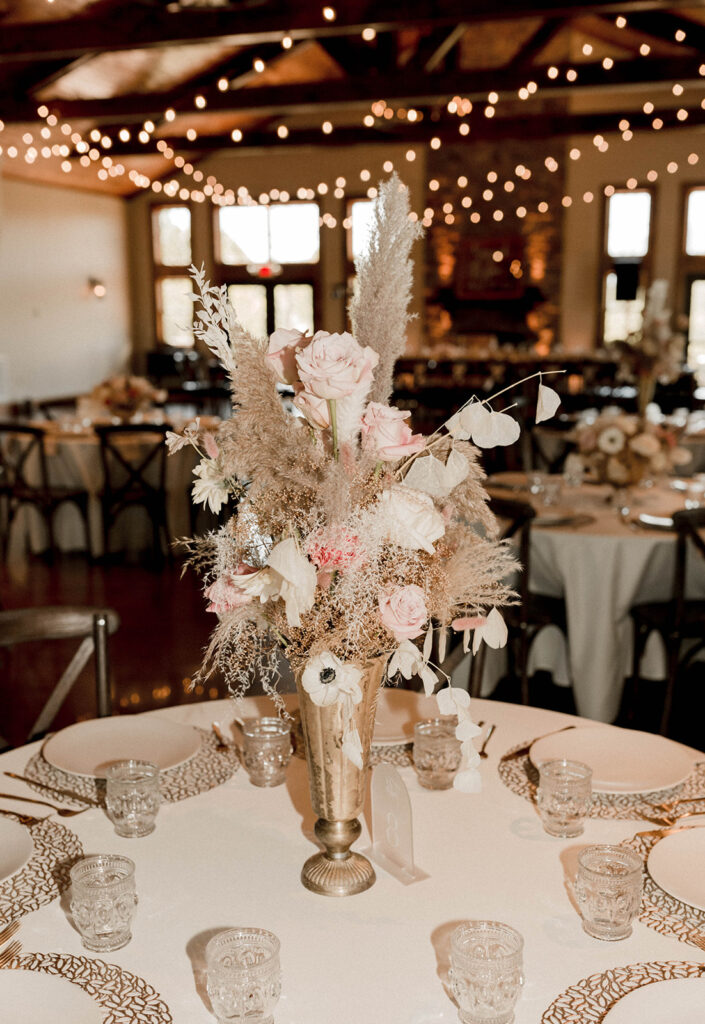 This week's real Virginia weddings tale comes to us from a couple who met in the third grade! "It was my first year at a new school and we ended up in the same class. Throughout school, we shared the same friend group and we were very good friends all throughout middle school, high school, and even during college, we stayed friends. Fast forward to when we were in our mid-twenties, we realized maybe there was something more there and took a chance by going on a date to dinner together. From then on, we began dating and dated for 3 years before he proposed."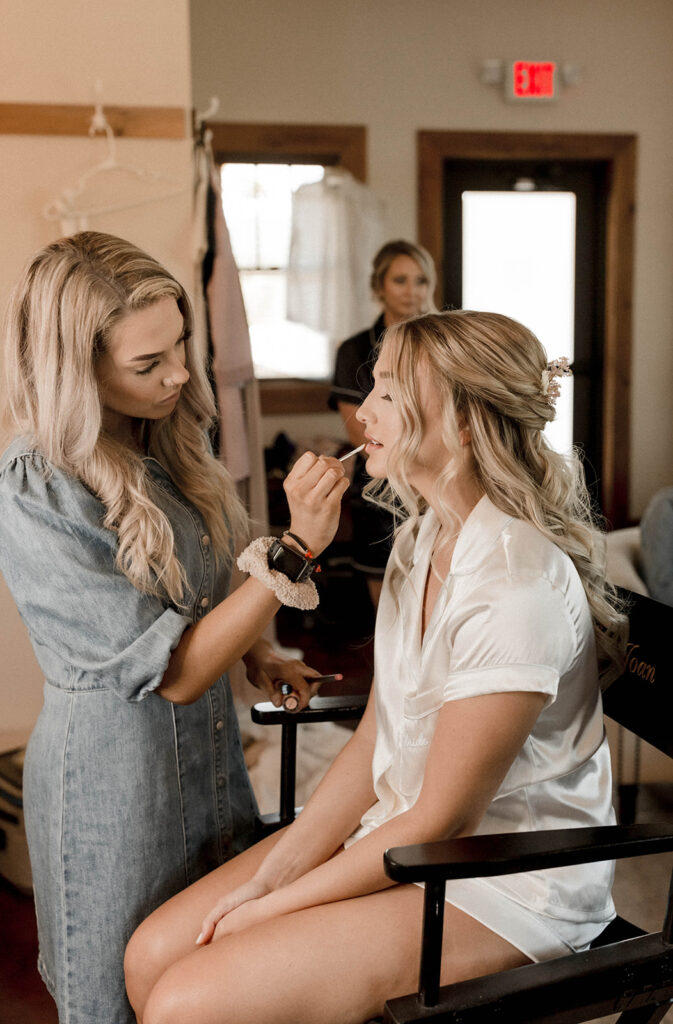 "Our first official date was to a local restaurant near our hometown, and I think we were both a little bit nervous because we had been friends for so long we weren't sure how taking that step towards something else would go. However, we ended up sitting at the restaurant talking for hours. Our relationship came very easily after that first night. I think there is something to be said about us already knowing each other so well but, even with that beginning to date there was still so much to learn about each other."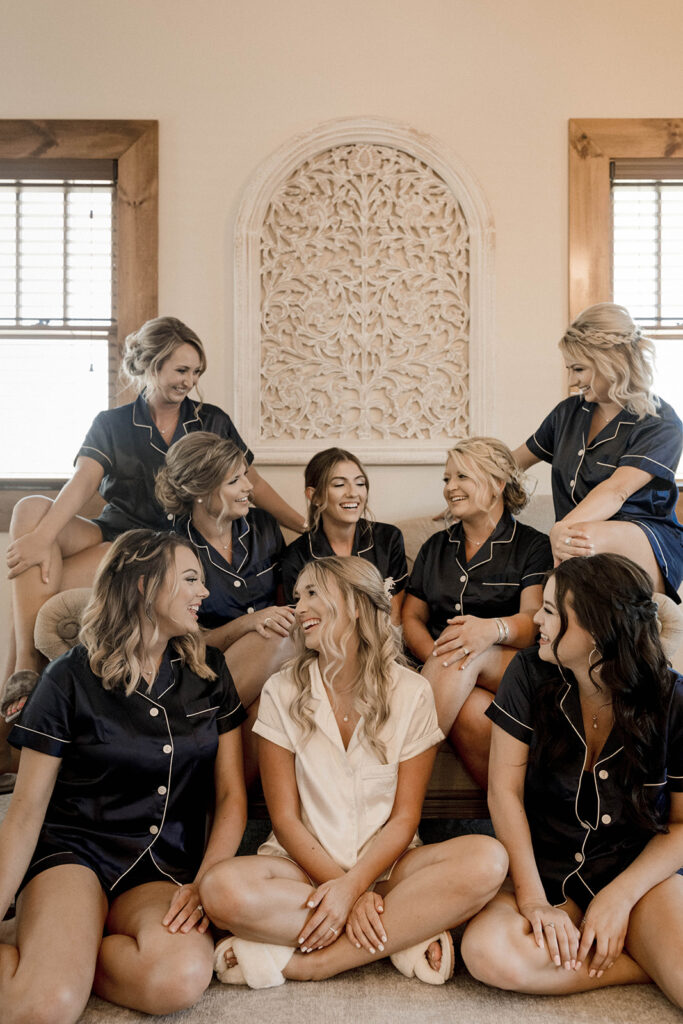 The Scoop
Bride: Sarah, 27 at time of the wedding: 28 now, Patient Access Manager for Atlantic Vision Partners (vision provider company)
Groom: Ryan, 28, Crane Operating Specialist for W O Grubb Crane Company
Wedding date: May 8th 2021
Number of guests: 100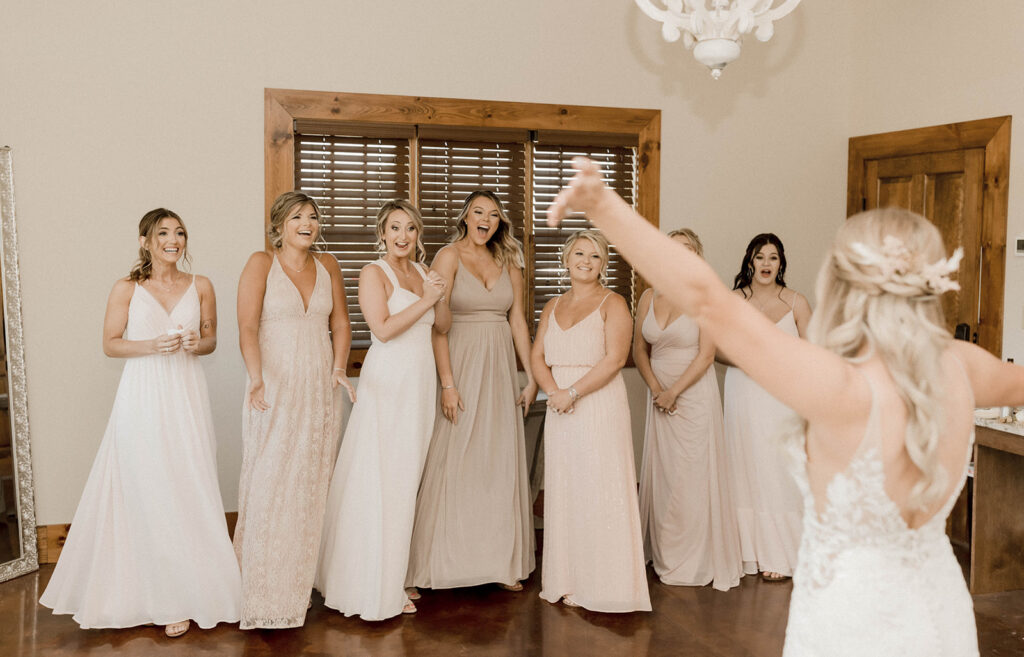 Sarah says, "One thing I love about our wedding is that we chose to get married in the Lynchburg, VA Area which is about 2 hours from our home. We were nervous our friends and family wouldn't all make the trip when we initially began planning, but we started hearing from friends and family how they were all making a long weekend out of the trip or staying in unique mountain settings and it made us so happy to hear that everyone was making our wedding weekend a getaway for themselves as well. We also had ice-cream cookie sandwiches served out of the "Rookies" food truck, a local cookie shop and the ice cream they serve is also locally made in Virginia, which we loved rather than the traditional wedding cake. The dessert was a big hit with everyone."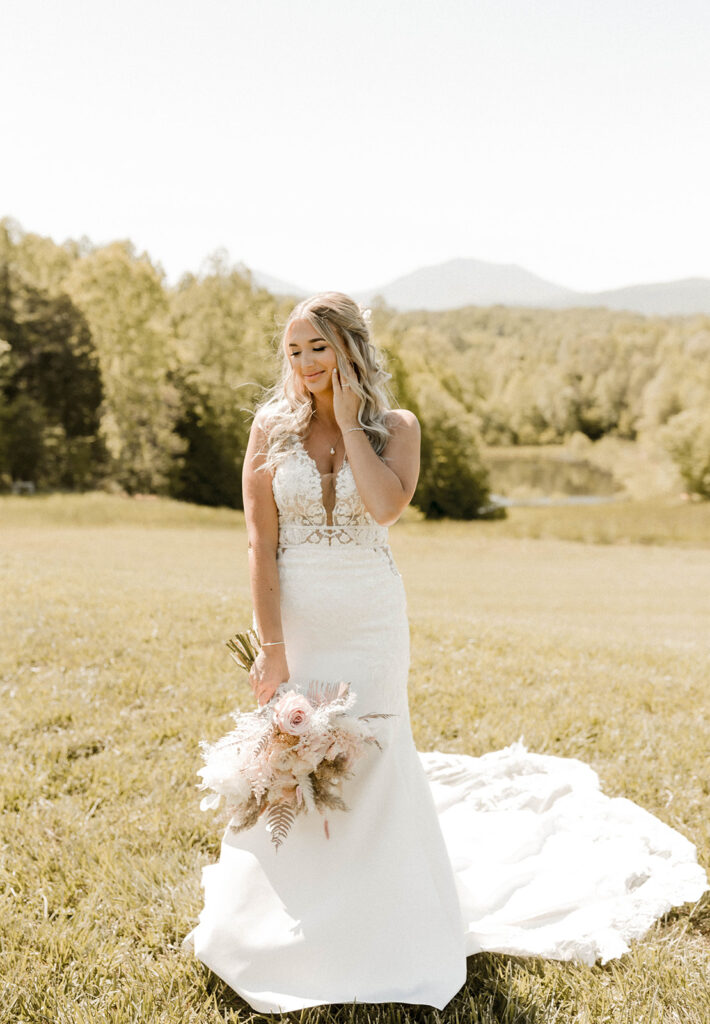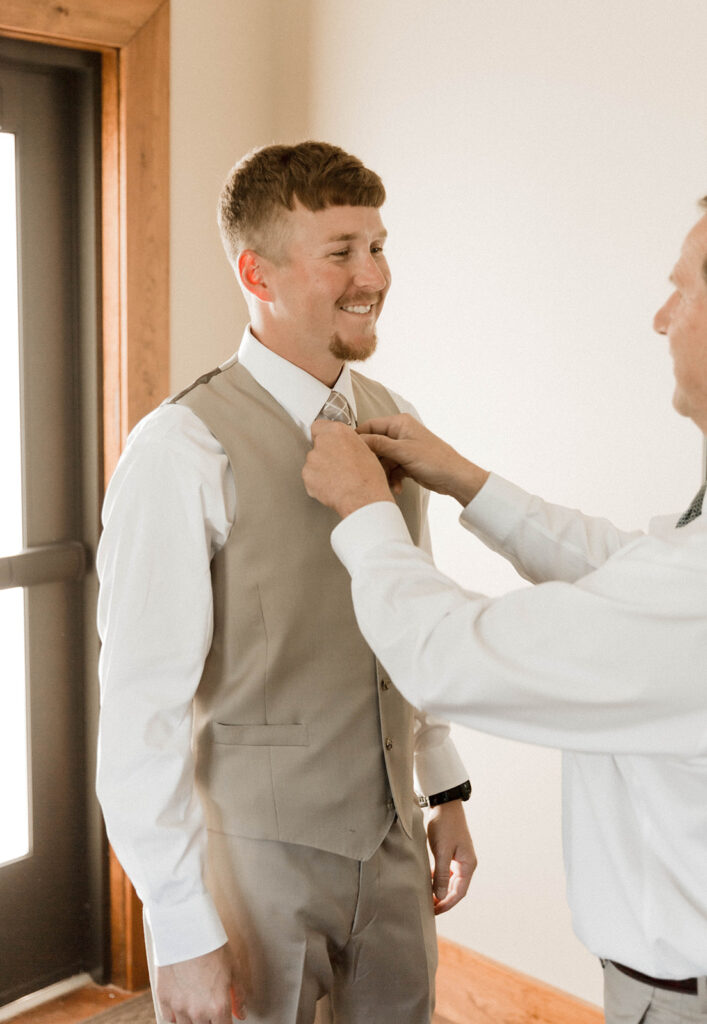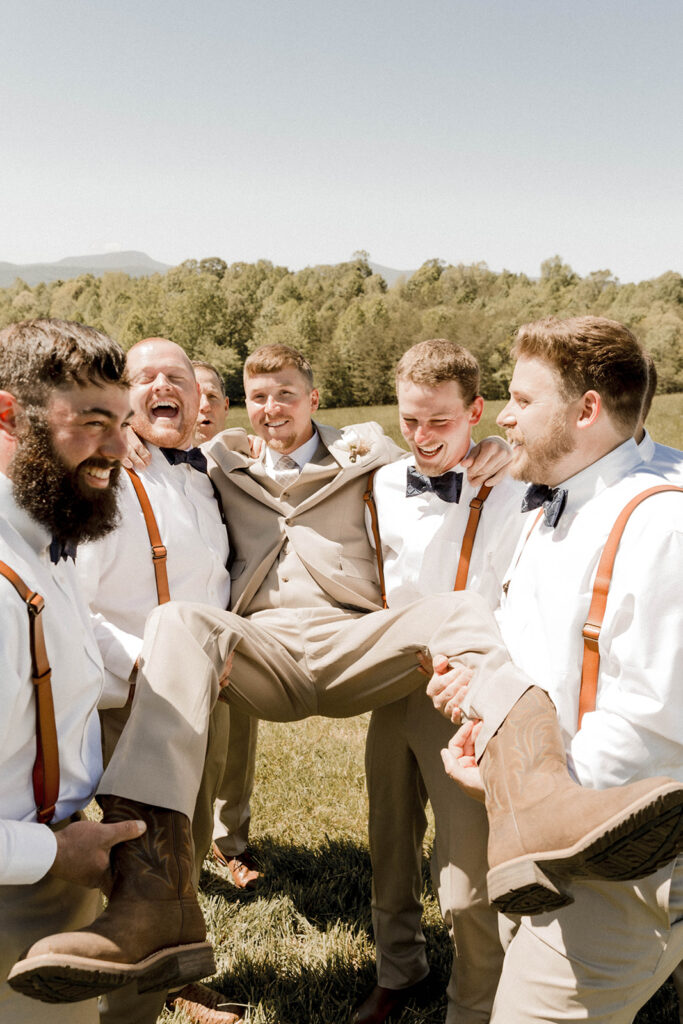 Sarah purchased her dress at Studio I Do Bridal in Virginia Beach. "I knew when I tried it on that it just felt right. I remember trying on so many varieties of dresses but I kept coming back to this one dress that was everything I envisioned wearing on our wedding day. The dress was form-fitting with laced-floral detailing from the straps all the way down to the midsection. It featured a European-style top, and the back was open and scooped down into a buttoned detail all the way down.
"The feature that really sold me was also the train. I knew I wanted a long train and this one lived up to that vision. The train had laced floral that matched the top of the dress. One special touch I added was my Matron of Honor got married the previous year and she gifted me her veil to wear and now we've started a tradition of our family members or friends who get married next, the veil is gifted over to them. We took a picture of both of us wrapped in the veil and it's one of my favorite pictures of the day.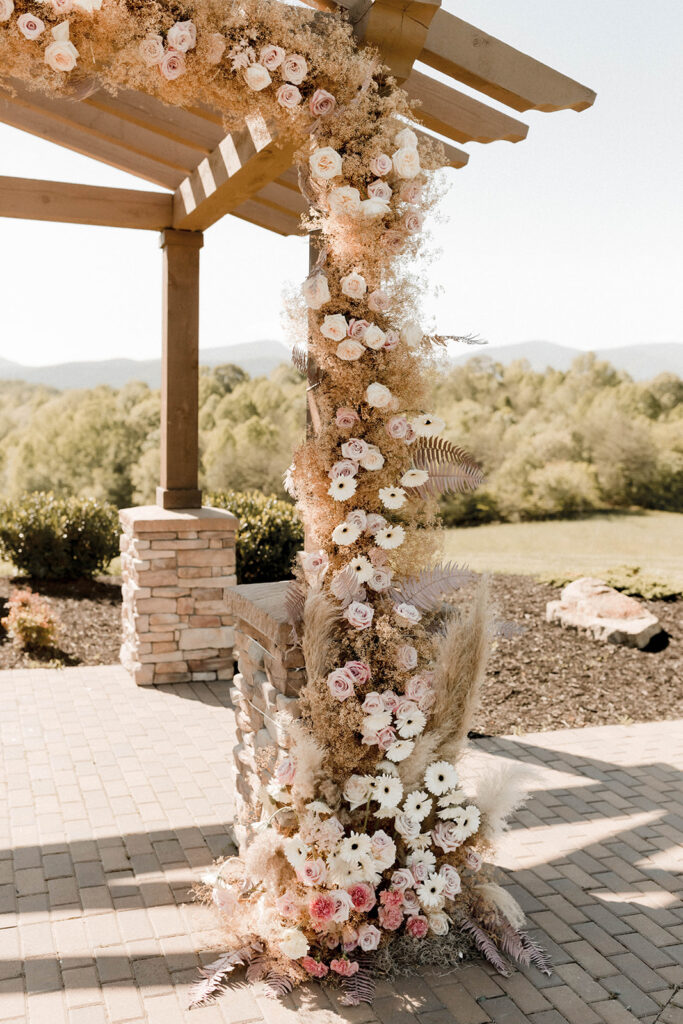 "I also had two pieces of sentimental jewelry included on my wedding day. The necklace I wore was a single pearl necklace, which my grandmother gifted to me a couple of weeks before the wedding. She was an important part of my wedding planning process, and she spent a couple of days traveling and touring venues with us when we began our planning process. Lastly, my brother and I are very close, and I wanted to make sure to do a first look with my dad and have my brother included as well. When I did my first look my brother surprised me with a bracelet to wear at the wedding. It was one of my favorite moments of the day and a true surprise and memory I will hold onto to forever."
Sarah wanted a mix and match bridesmaids pairing. "I decided to go with an assortment of colors within the same color family. My Maid of Honor wore a lace-floral dress and it was purchased from Lulu's. My Matron of Honor wore a sequin dress purchased from Show me your MuMu. The rest of the bridesmaids picked a style they like from Azazie in the color selected for them. The colors are Rose Petal, Taupe, Blushing Pink, Vintage Rose, and Rose Quartz."
For the colors, you'll notice a lot of neutrals. Sarah says she's a neutrals-kind of gal. "I wanted to pick a color palette that still had some color included but also kept along the theme of a neutral vibe overall. I also knew I wanted to do something a little bit different and do an all floral + dried floral wedding so, I wanted to make sure I picked colors that complimented that choice."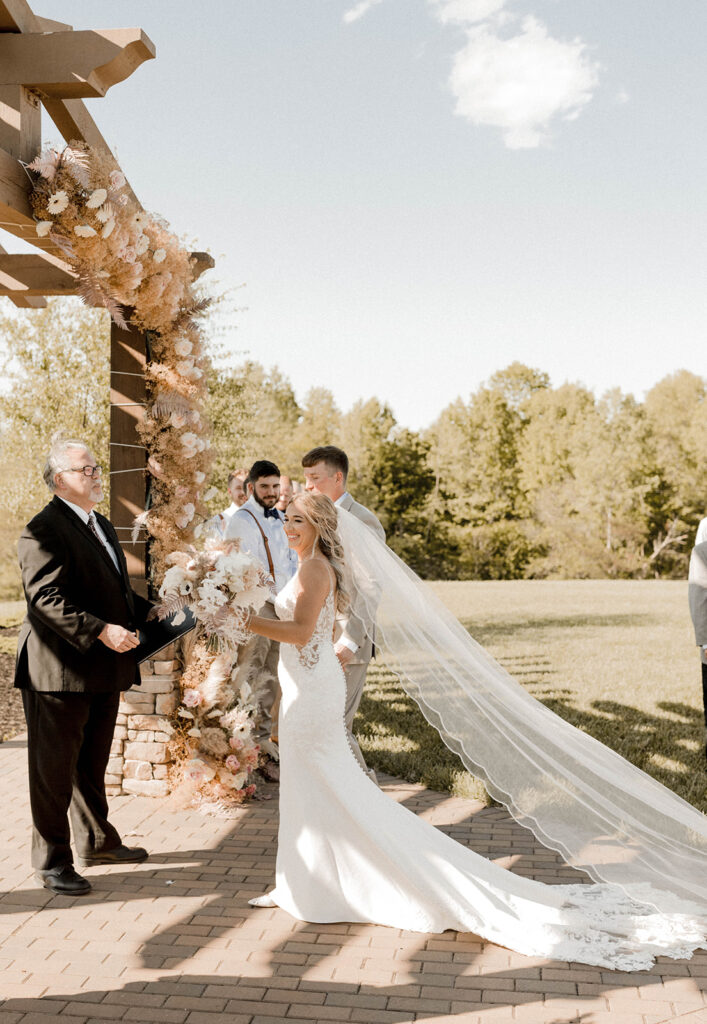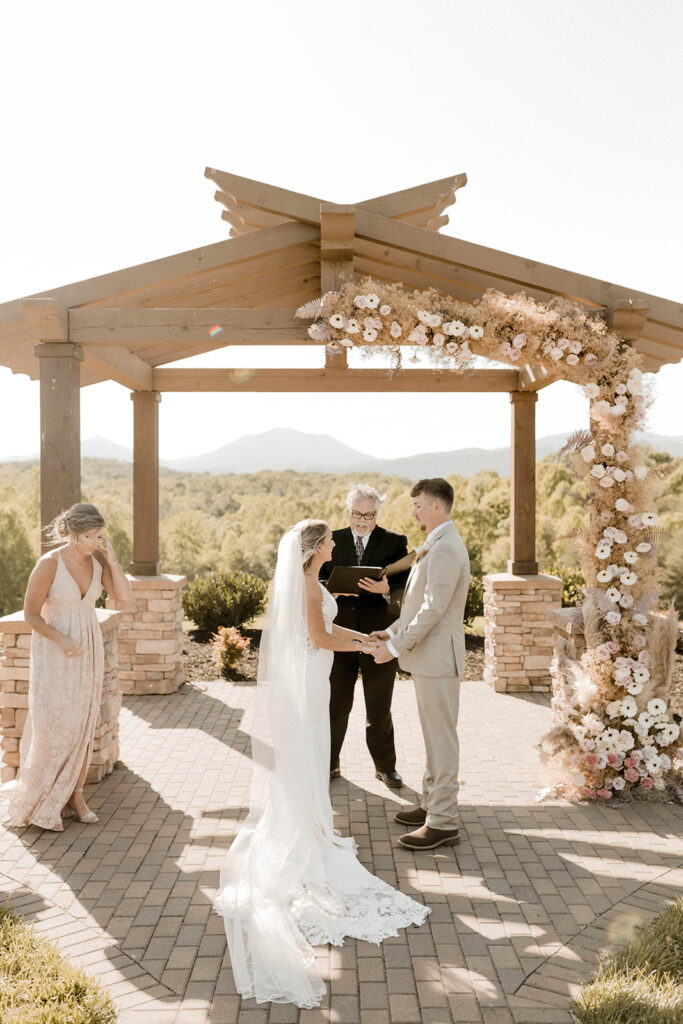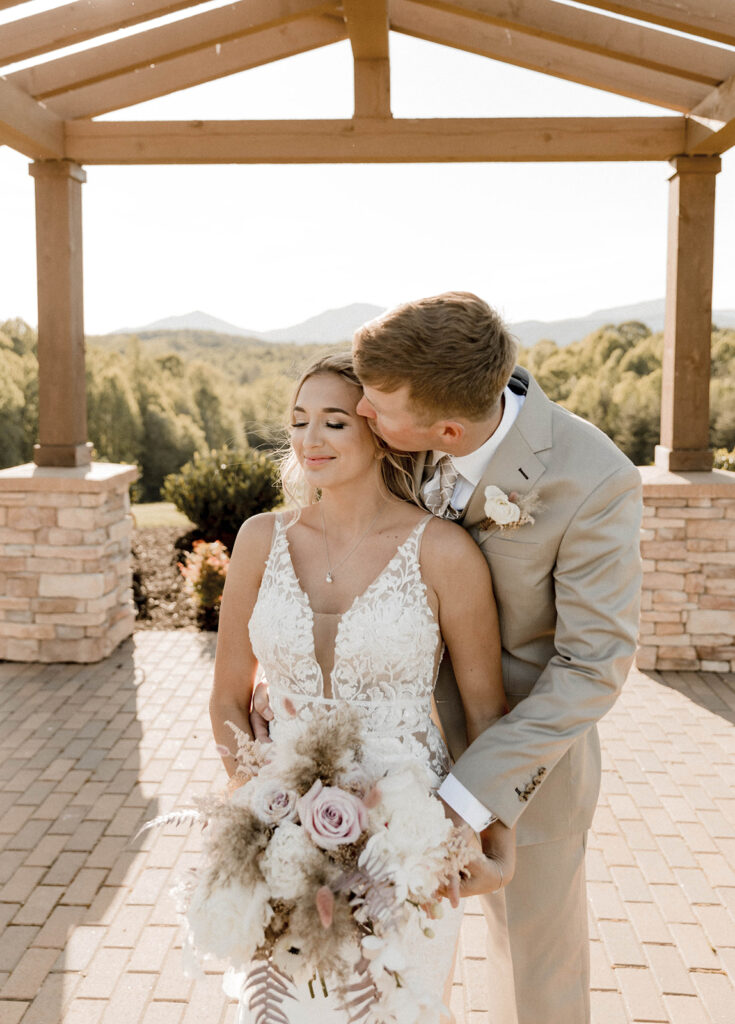 "When we began discussing venues and where we would like our wedding, we knew we wanted to do a mini-escape for our wedding weekend. We start talking about options and decided a mountain wedding was perfect. When we first began planning, we were set on a Fall wedding date. However, I knew that Glass Hill was my dream venue (the views are unmatched) my mom and I made the trip one evening to tour the venue and I instantly fell in love, I knew no other venue was going to compare to Glass Hill for us. I was saddened to hear they didn't have any Fall dates that worked for us. I continued touring other venues but, I found myself continuing to think about Glass Hill and how it just felt like the right venue for us. So, we changed directions and learned they had one Saturday left in May. We booked Glass Hill and planned our dream wedding in 8 months just because we loved the venue and how welcoming the family that owns the venue was!"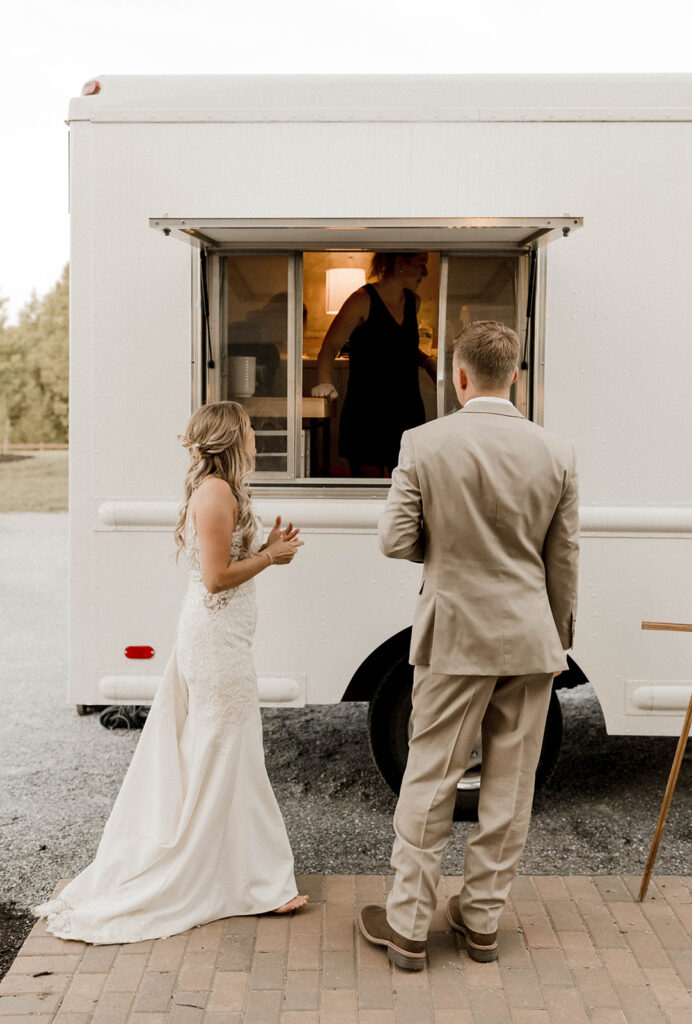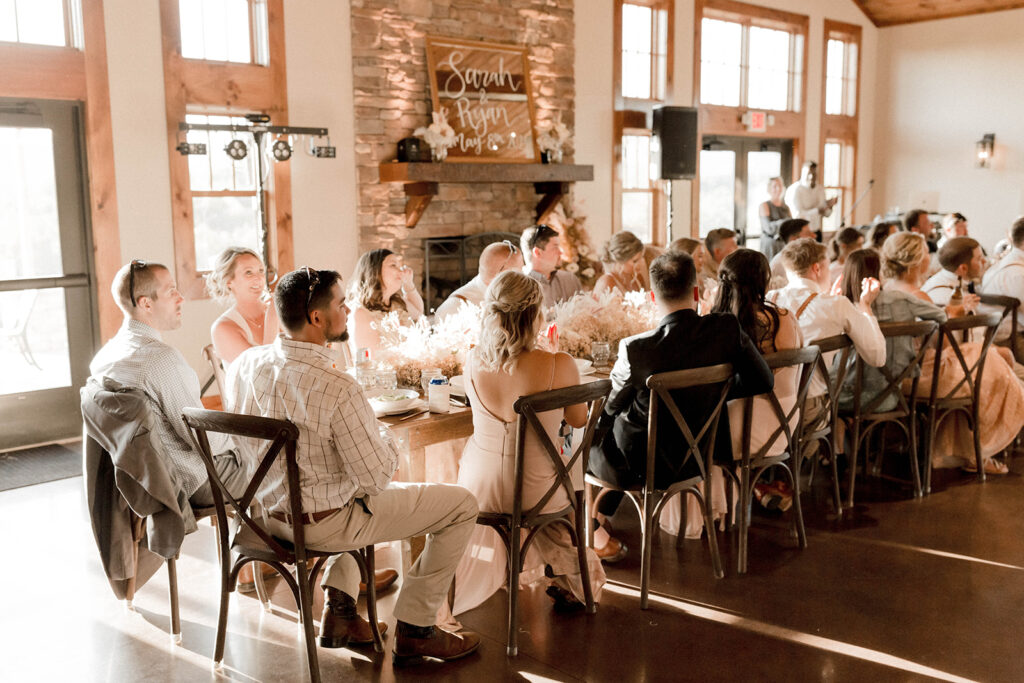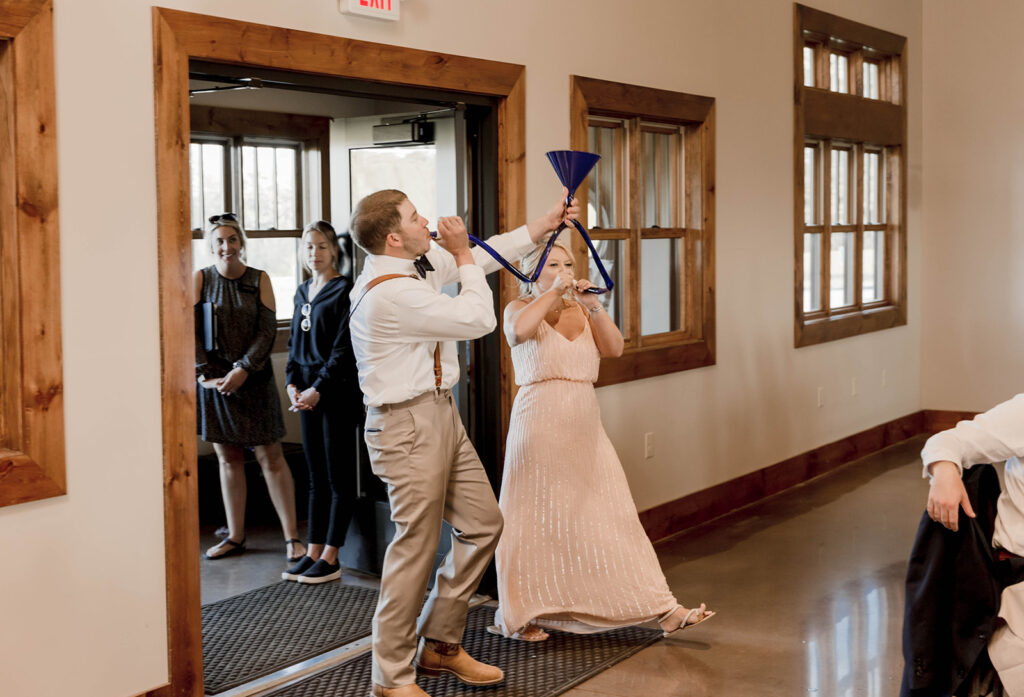 "All of our guests were special to us! However, a few notable guests were our grandparents of course, they hold such a special place in our hearts, and having them present for our special day meant the world to us. We also had a few guests travel from afar to celebrate with us. Ryan's great-uncle Thomas is a special person to both of us. He helped our dream of building our first home come true in a special location in our hometown and we are very thankful and happy that he was able to see our relationship come full circle. We also have our ring-bearer, Finley Mullins. Finn is my cousin but, also my God-Son. He and I have a special bond because, when he was first born a babysat him often and his mom (my aunt) Dayna, has always been more of a big sister to me than an aunt. She and I have always been super close and that close relationship spread to her son Finn when he was born. He was also adorable in his suit for the wedding and took his job very seriously."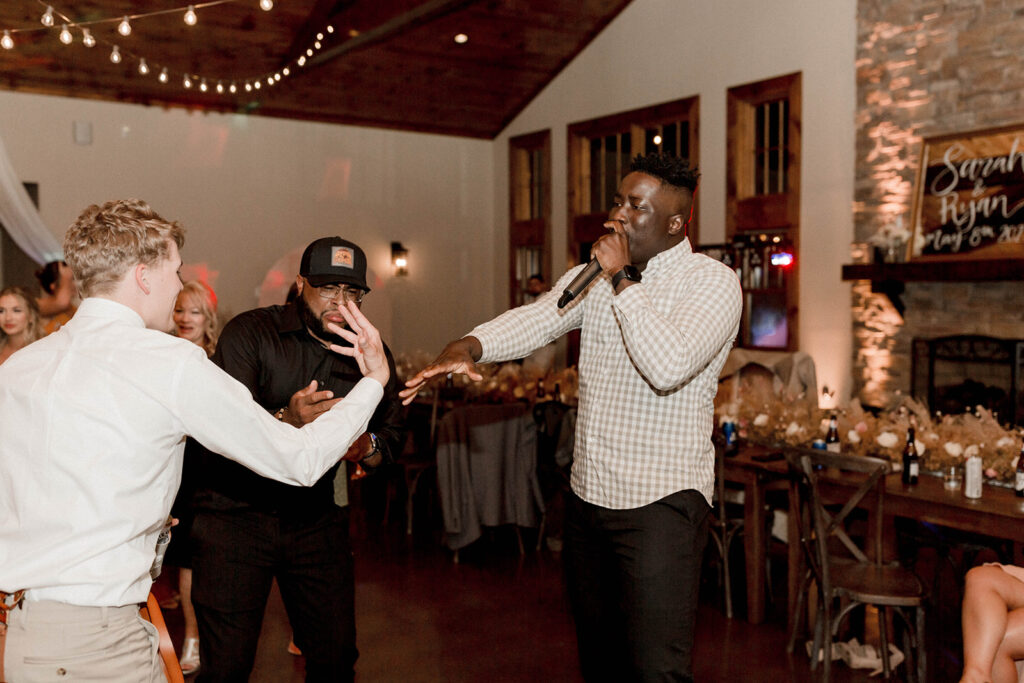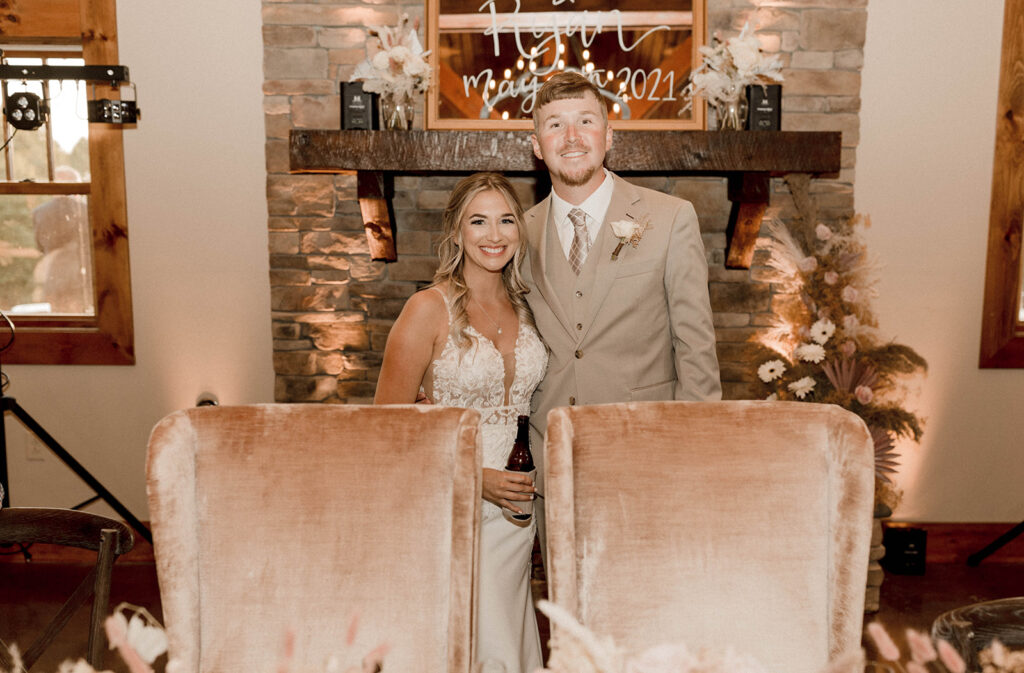 "Our style for the wedding would be a mountain-modern boho style. I knew I wanted to incorporate the pampas grass and dried florals into the day. Our florist also mixed the dried florals with fresh flowers and it created a beautiful combination. I knew I wanted the florals to be my main decoration and the focal point."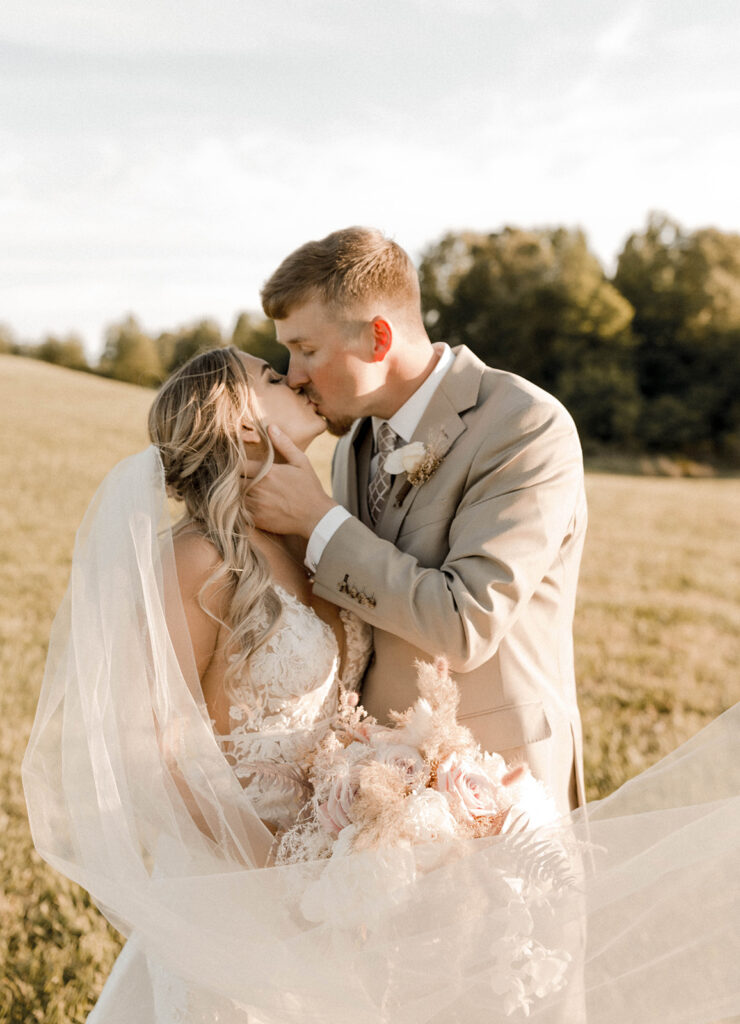 "My only word of advice would be to soak it all up! Enjoy every wedding festivity to the fullest and when planning gets tiring or overwhelming try to take a step back and remember why you're planning this wedding. It's to celebrate you and your fiance's love for one another with everyone else you both love. Make a goal to finish all wedding planning a couple of weeks before the big day so, the week of the wedding you can relax and enjoy the week with your fiancé and the wedding party. It goes so fast so, try to be present in the day!"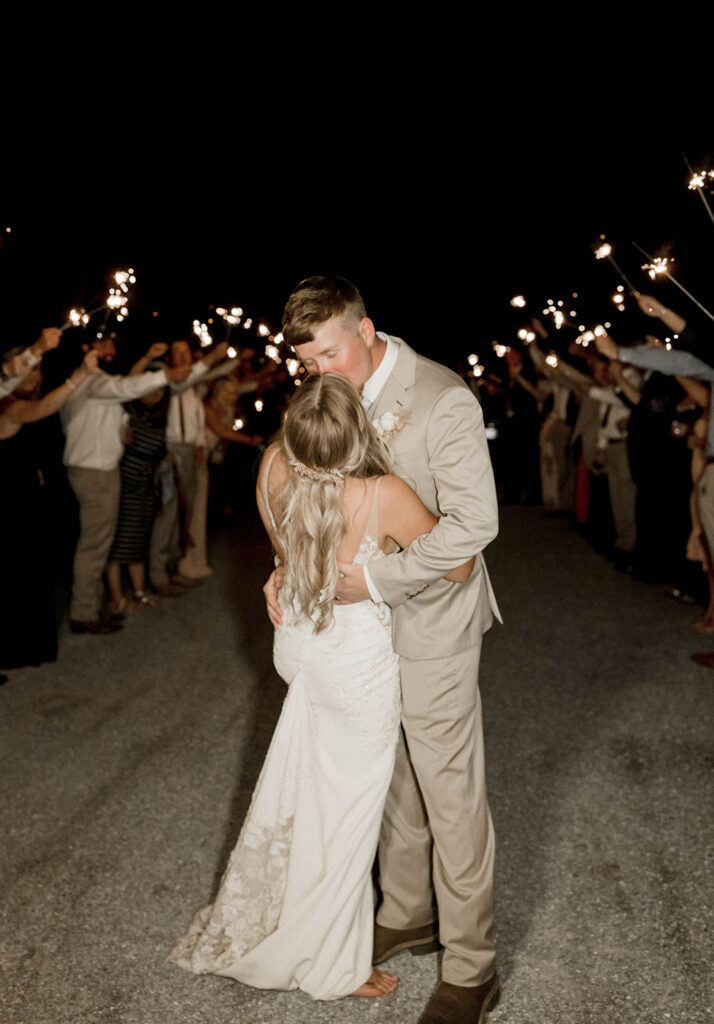 Vendor Credits
Venue: Glass Hill Venue, Goode, VA.
Photographer: Mackenzie Alexa Photography, Chattanooga, TN
Consultant & Day of Planner: A Little Party Events, Katie Lester Lynchburg, VA.
Officiant: Casey Anderson, Lynchburg, VA.
Gown: Studio I Do Bridals, Virginia Beach and Roanoke, VA.
Veil: Studio I Do Bridals, Virginia Beach and Roanoke, VA. (Gifted from the Matron of Honor, Kasey Baker. She wore it on her wedding day a year prior)
Hair: Flawless on Site, Danielle Cooke Virginia Beach, VA.
Makeup: Hayley Joan Makeup Artistry LLC, Richmond, VA.
Maid of Honor dress: LuLu's
Matron of Honor dress: Show Me Your MuMu
Bridesmaids: Azazie
Formal wear: Jos A. Banks
Invitations: Minted
Flowers: The Grateful Gardenia, Elon, VA.
Rental equipment: Happily Ever After Event Rentals Lynchburg, VA – Rented: Bride and Groom reception chair, seating chart, Welcome sign, decorative tables, outdoor bar, and outdoor seating section.
Dinnerware rentals: Festive Fare Rentals Charlottesville, VA
Catering: Pumpernickel Pickle Catering
DJ: DJ Obehi, Lynchburg, VA.
Dessert truck: Rookies Lynchburg, VA.
Favors: Sip Hip Hooray
Lighting: Castle Studios Productions
Photobooth: Sanders Family Photo Booth
Bartending: Tabby Bartending Lynchburg, VA.
Honeymoon: We went to the Grand Solmar Resort at Lands End, Cabo San Lucas, MX.