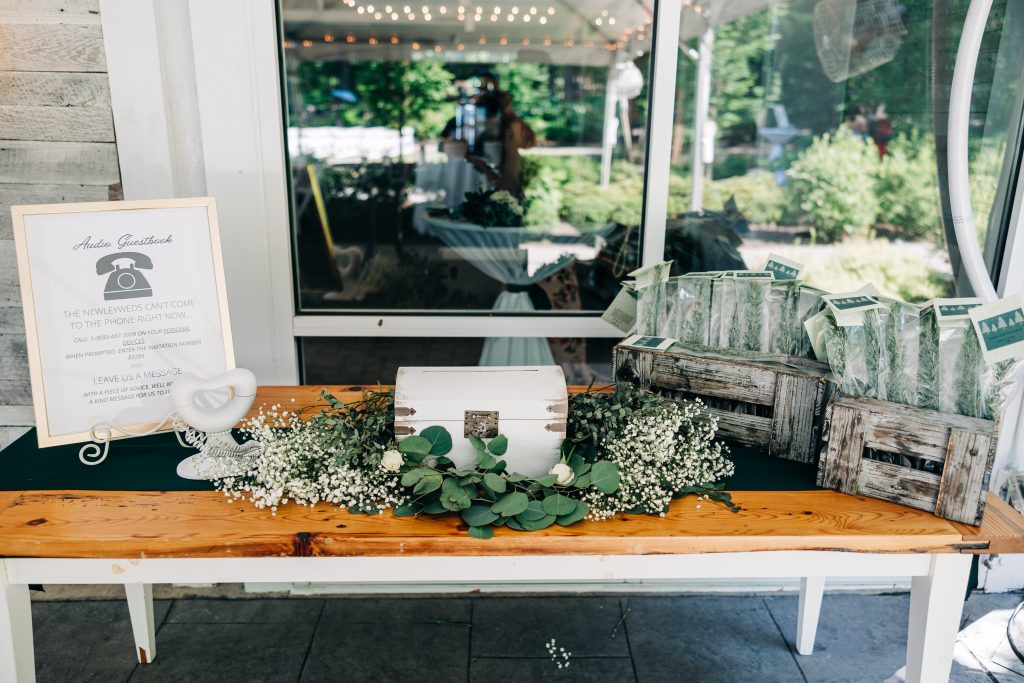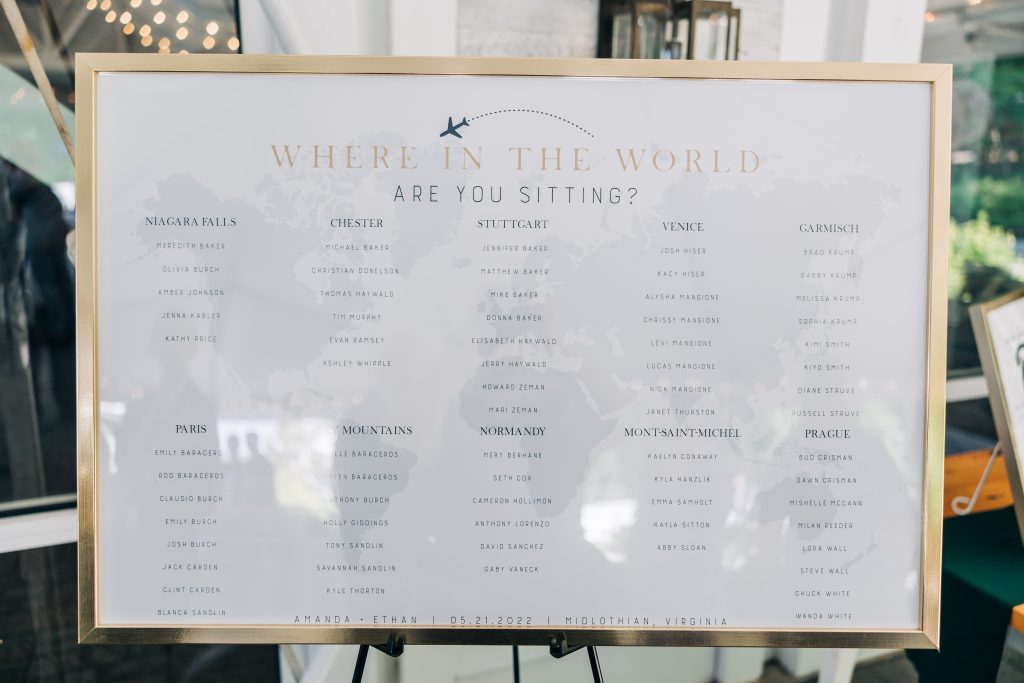 Our real Virginia weddings story this week tells us of the real-life high-school-to-sweetheart's tale of Amanda and Ethan. In Amanda's words, their story:
"During Amanda's freshman year of High School and Ethan's sophomore year, Ethan's family was stationed in Virginia with the United States Airforce. This led to them moving into the house across the street from Amanda's childhood home. In an effort to welcome the new neighbors, Amanda brought a tray of brownies over to Ethan's house. Ethan opened the door to greet her. After, they would walk home from the bus stop together every day after school and even ended up sitting next to one another in trigonometry. While Amanda had a huge crush on Ethan, Ethan was reluctant to hangout outside of school and didn't show much interest in her. After a year, Ethan's family had to move to Colorado and Amanda and Ethan did not speak for a year. It wasn't until Ethan decided to join the Army after high school and come visit Virginia to say goodbye to close friends and family that Amanda and Ethan meet up for what was supposed to be the last time. Instead, after going on a date, Ethan decided to move to Virginia to attend college and pursue his love. He then joined the Army after college with his life partner by his side."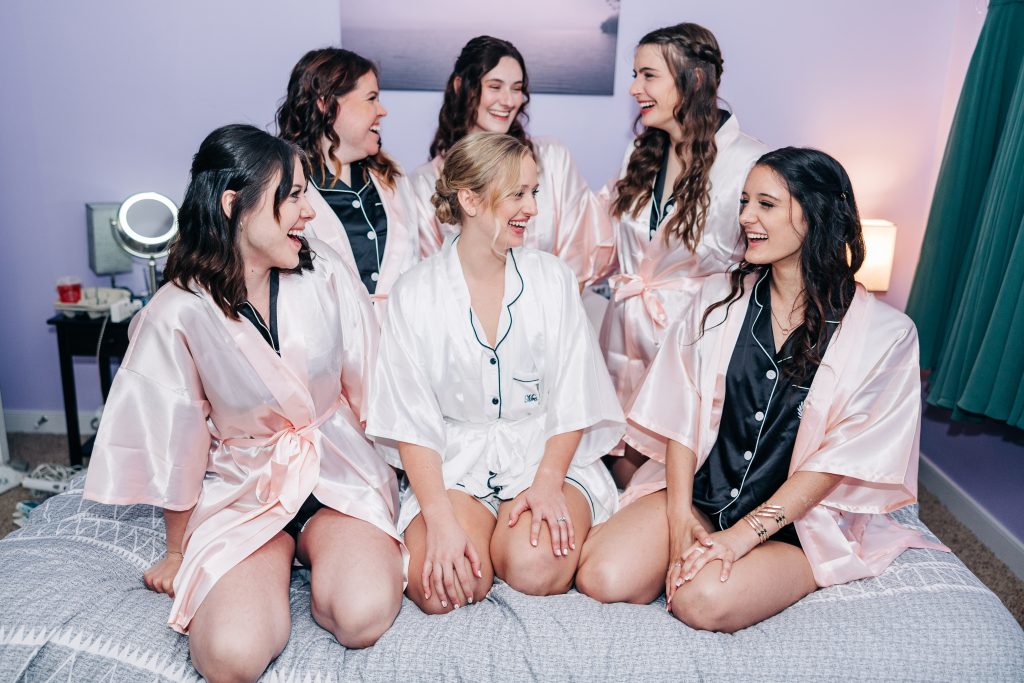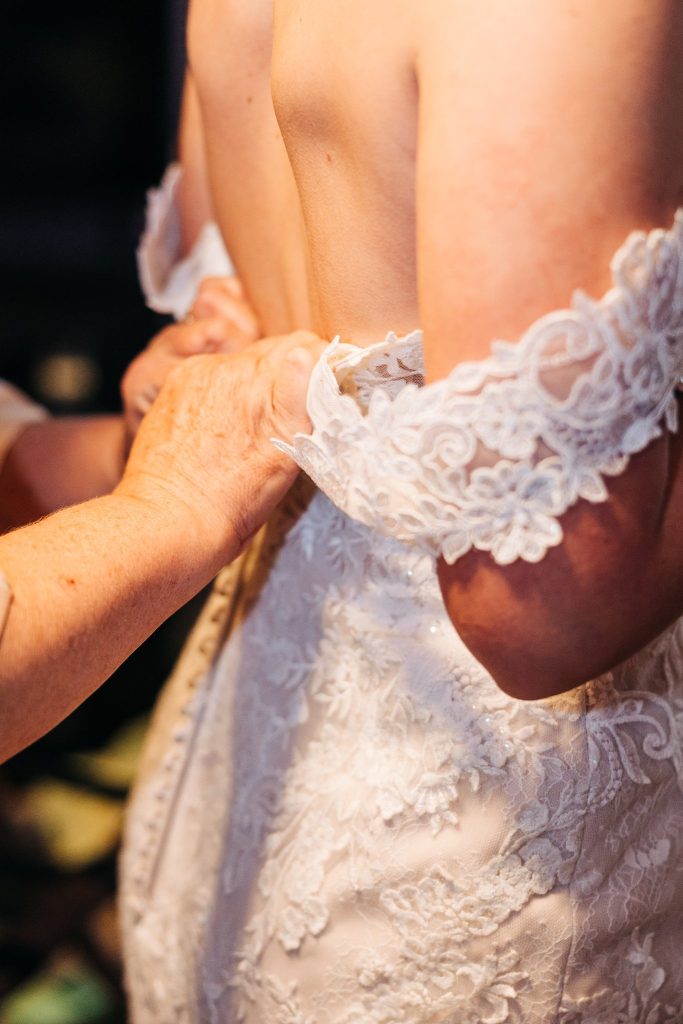 "Their first date was bowling in Amanda's hometown, followed by dinner at a local mom and pop shop. After having been separated for quite some time due to Ethan's family moving to the other side of the country, the date was remarkably smooth. It was as if nothing had changed from those early high school days. The couple was able to laugh and play around throughout the date. It was a perfect night."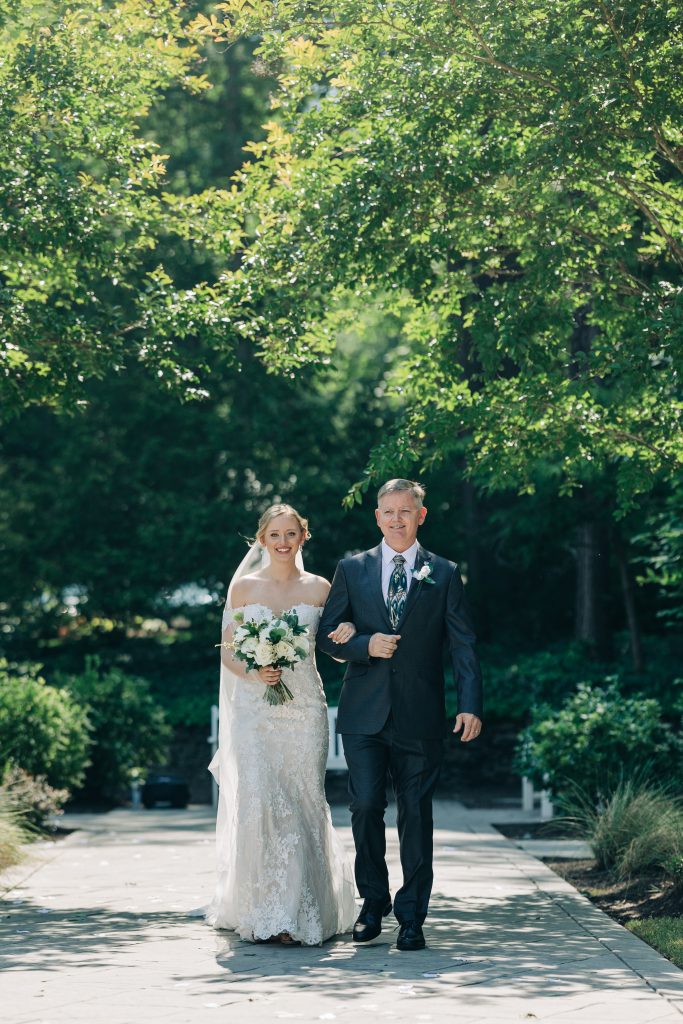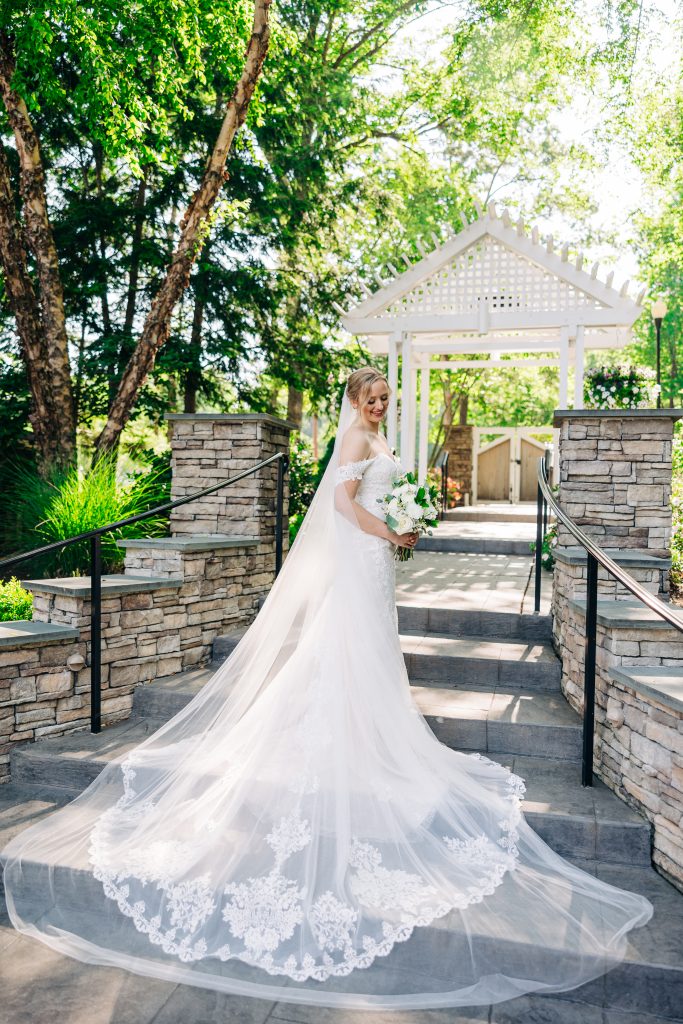 The Scoop
Bride: Amanda, 21, Masters Student
Groom: Ethan, 22, U.S. Army Transportation Officer
Wedding date: 5/21/2022
Number of guests: 65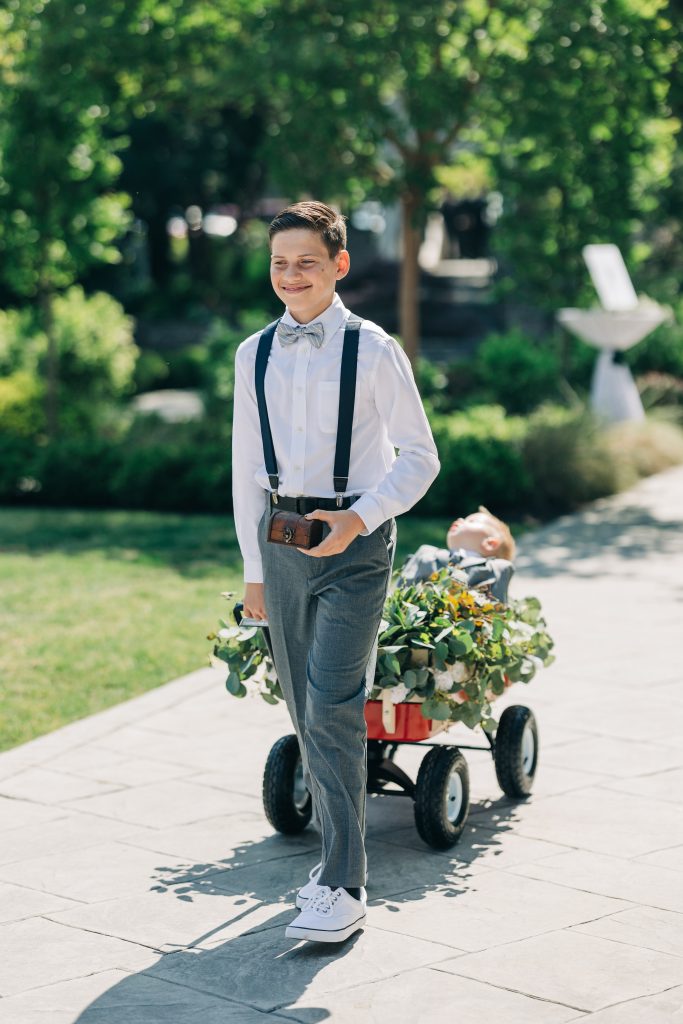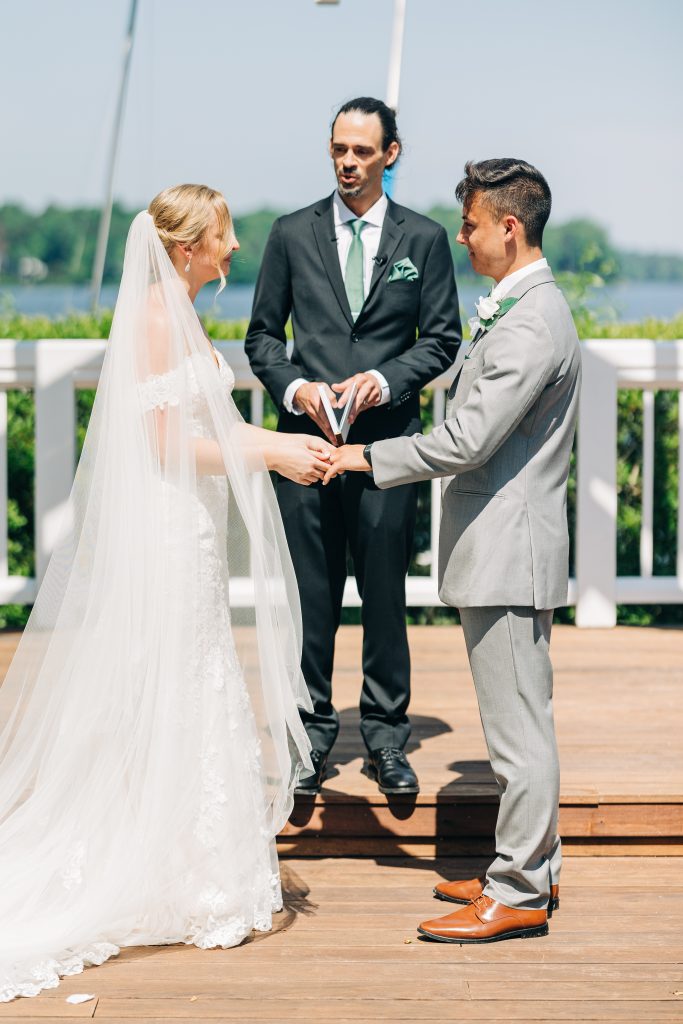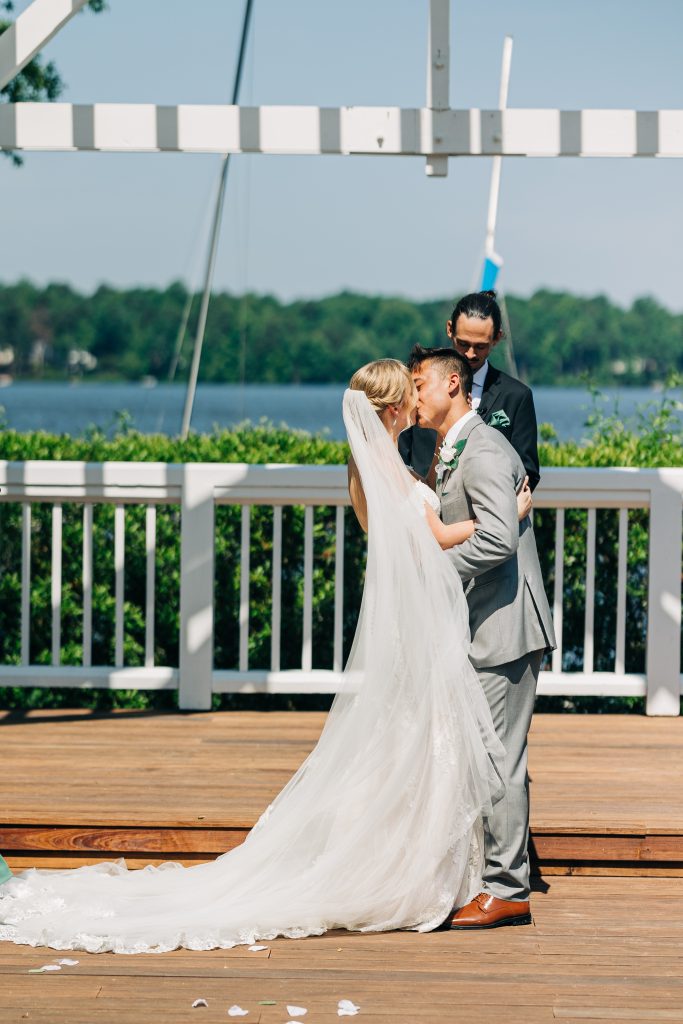 "Because of Amanda's college background in environmental studies, she was aware of the large amount of carbon excess that is created during weddings. In an effort to prevent this phenomenon at her own wedding, Amanda and Ethan limited the number of single use items that were available throughout the night. Every detail of the wedding was thought out in its entirety regarding how this could be repurposed in their own home after the wedding, instead of throwing it away. In addition to a minimalist wedding, the couple also gave small trees as favors with the words 'watch our love grow.' These trees were heavily researched in order to ensure they could be planted around the country with little to no problems and could easily be taken on plane rides home with guests. Another unique aspect of the wedding was that the couple used pictures of their travels from around the world as table numbers. Travel is a huge part of both of their lives, and they wanted their travels together to be implemented throughout the big day. Centerpieces for the bridesmaids' and groomsmen's tables included these images of where the couple got engaged (Niagara Falls) and where they met (Chester, Virginia), in order to show the significance of those two tables. Finally, Amanda's oldest brother, Joshua Hiser, was the officiant of the wedding. Her brother plays a massive role in both of their lives and has been an advocate for her education and wellbeing since the day she was born. Josh also took in and accepted Ethan from the beginning, bonding over their love of education and real world events."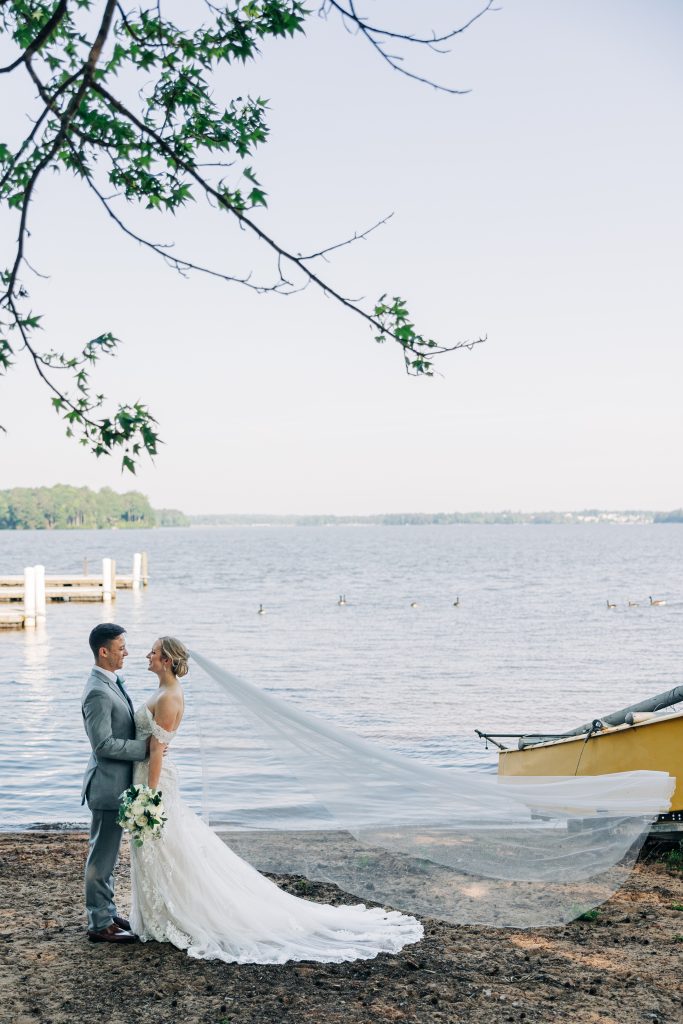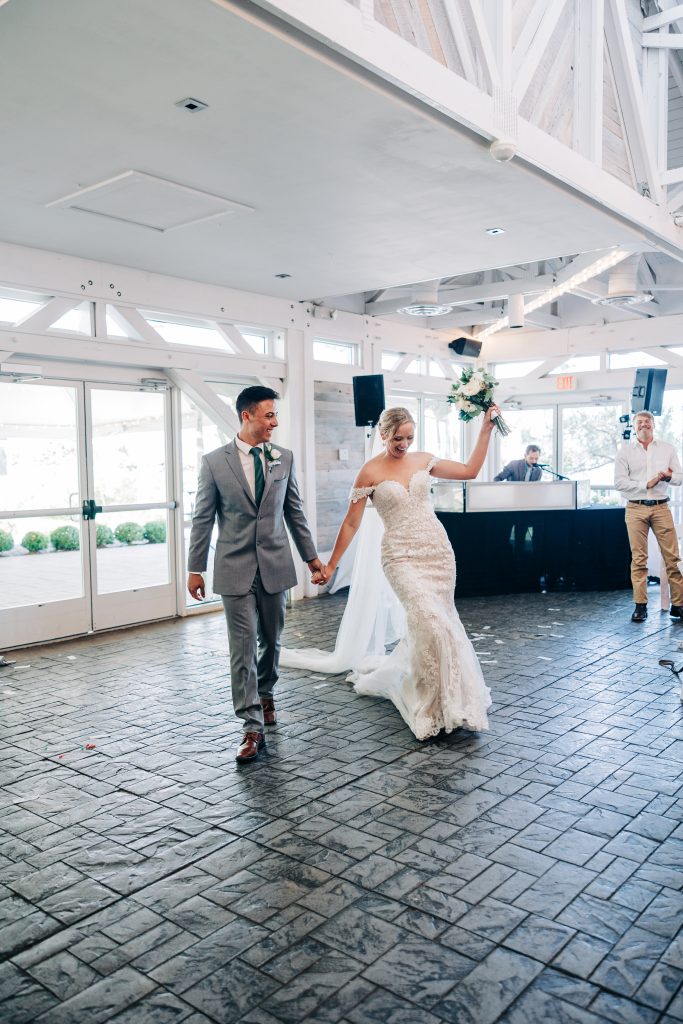 "Amanda's dress was a fit and flare with removable off the shoulder sleeves. The under-layer of her dress was a light champagne with white lace carefully placed on top. The champagne color made the white lace pop. Her jewelry (pearl earrings) was given to her by her late grandmother, with special instructions to only wear them on her wedding day. Her wedding garter was given to her by her mother-in-law, who had worn the piece at her own wedding, as well as her mother before her. It was a touching and extra special piece of the wedding day. Amanda's flowers were also paid for by her childhood neighbor, Meg Carden. This was a touching and special part of her wedding day because Meg was like a second mother to the bride and took her in as her own daughter when the bride was a child."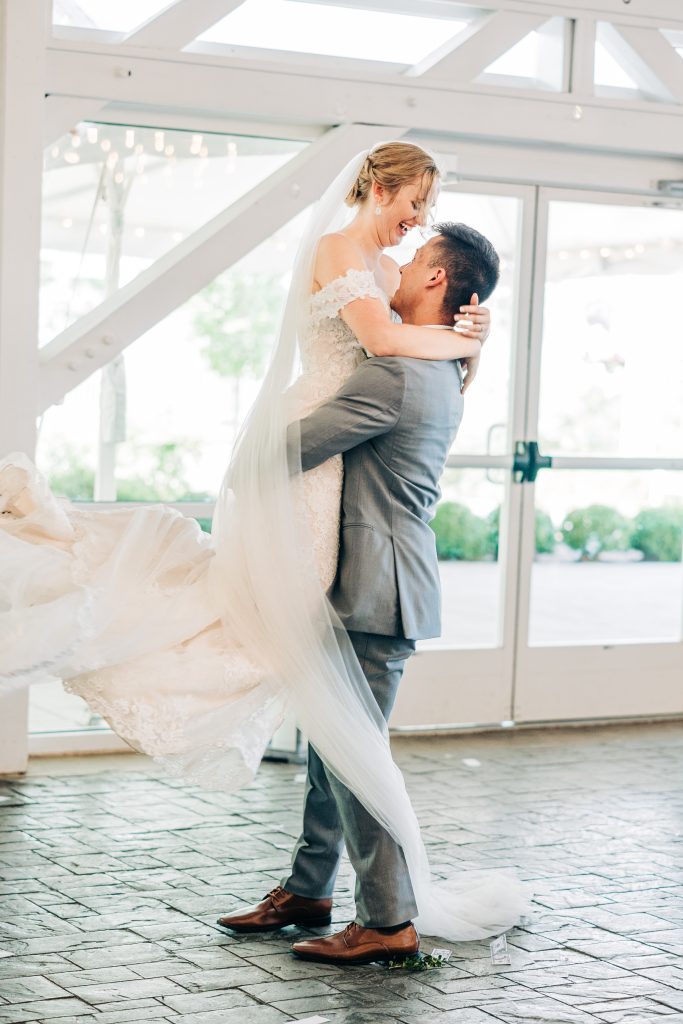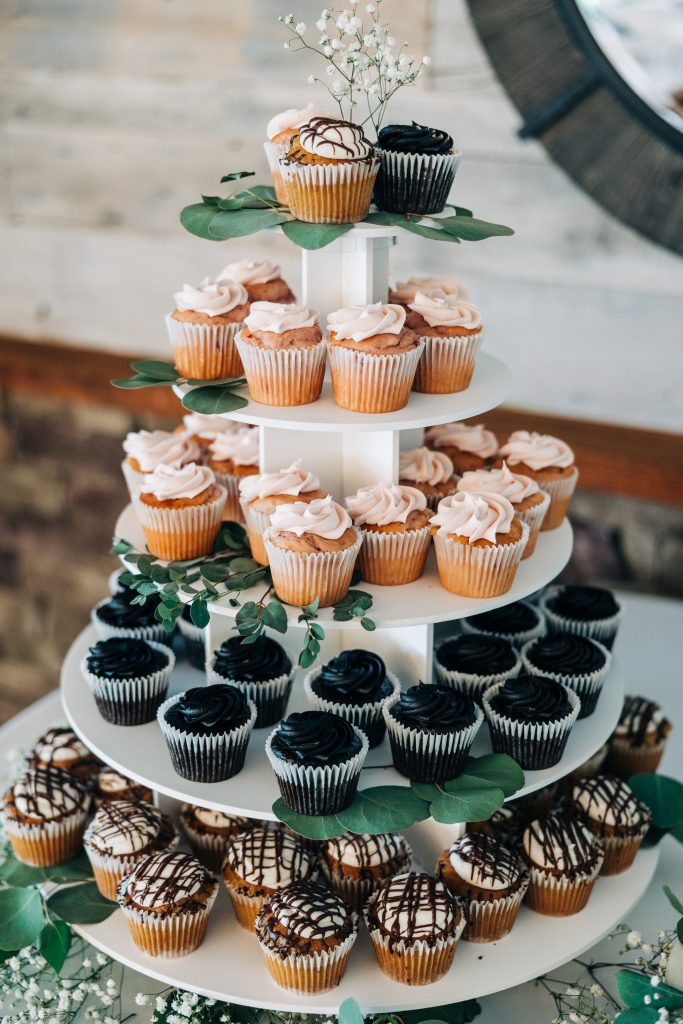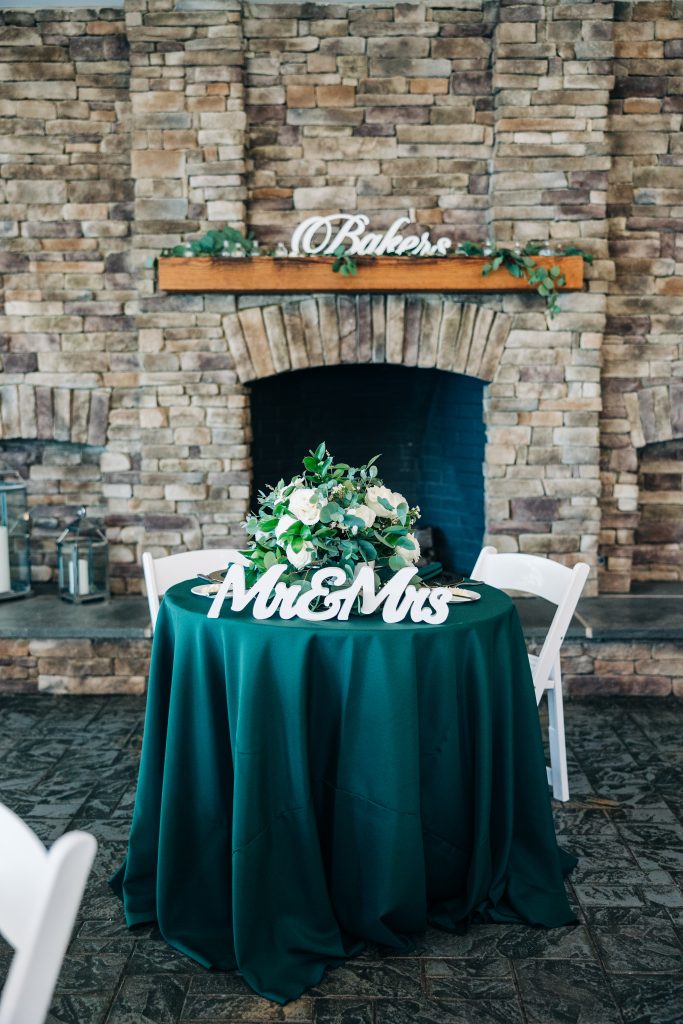 "The venue had a unique draw for Amanda and Ethan because of her childhoods spent on the lake. Amanda would go visit her beloved Aunt in Michigan every summer, spending the days in the sun, wake surfing, waterskiing, and spending quality family time. Ethan also had a strong connection to lakes due to his family's lake house in Minnesota lovingly named 'Happy Camp.' The boathouse at Sunday Park brought a feeling of closeness and comfort with their waterfront location. After the reception, the bride jumped into the lake at the Boathouse, as a celebration of their marriage."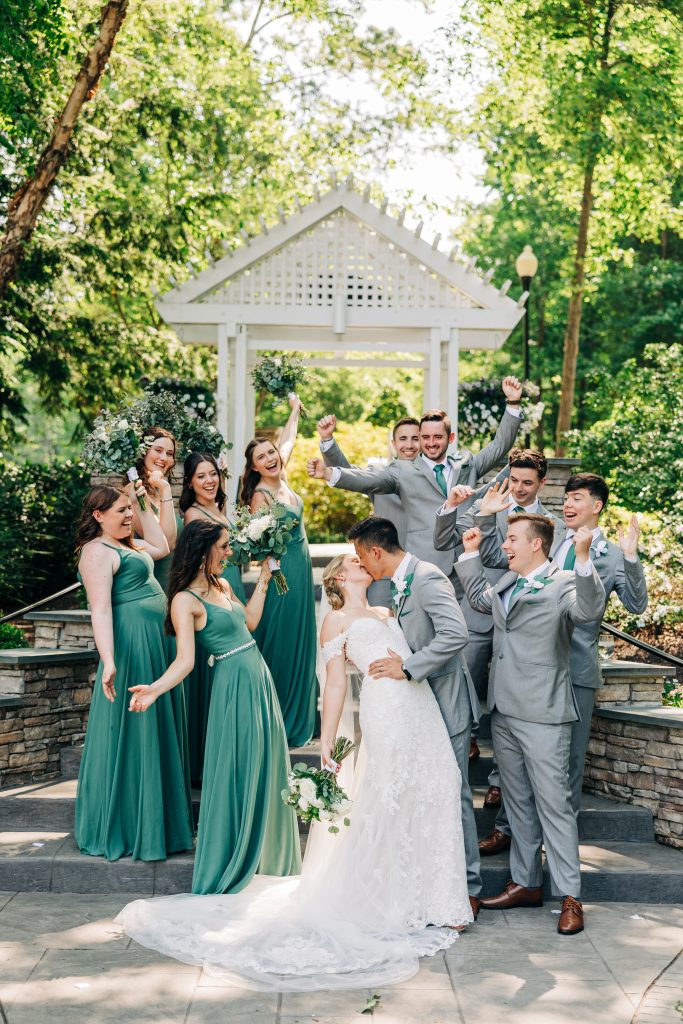 "The best advice I could give to readers is always continue to have fun and be adventurous together. While life is unpredictable, having the perfect partner makes all the difference."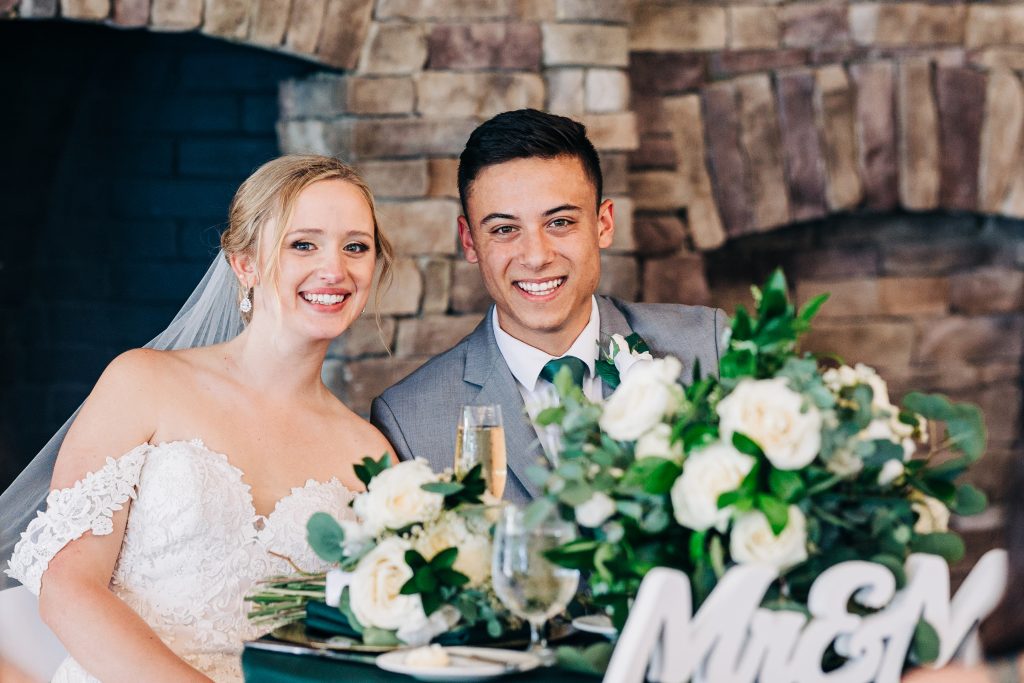 Vendors List
Venue: Boathouse at Sunday Park
Photographer: Kylie Hinson
Day of planner: Chanae Joyner from Boathouse at Sunday Park
Officiant: Joshua Hiser (Brother of the Bride)
Gown & Veil: Tiffany's Bridal
Shoes: I used old heels as my "something old"
Hair & Makeup: Lou Stevens
Bridesmaids' dresses: Azazie
Invitations: Snapfish
Flowers: DIY byFiftyFlowers
Rental equipment: Provided by theBoathouse at Sunday Park
Catering: Provided by theBoathouse at Sunday Park
Music: Rhythm of Love
Cake: Carytown Cupcakes
Favors: The GreenWorld Project
Where did you go for your honeymoon? Ethan had to leave for further Army training, so our honeymoon to Hawaii was postponed.