Monica and Christian share their Virginia weddings story this week.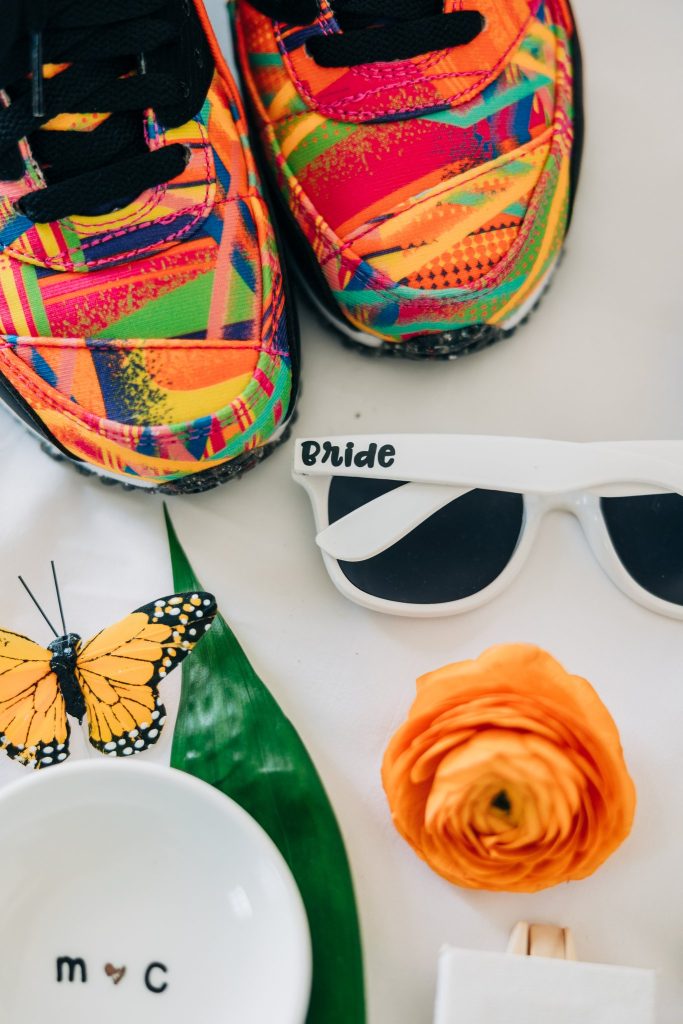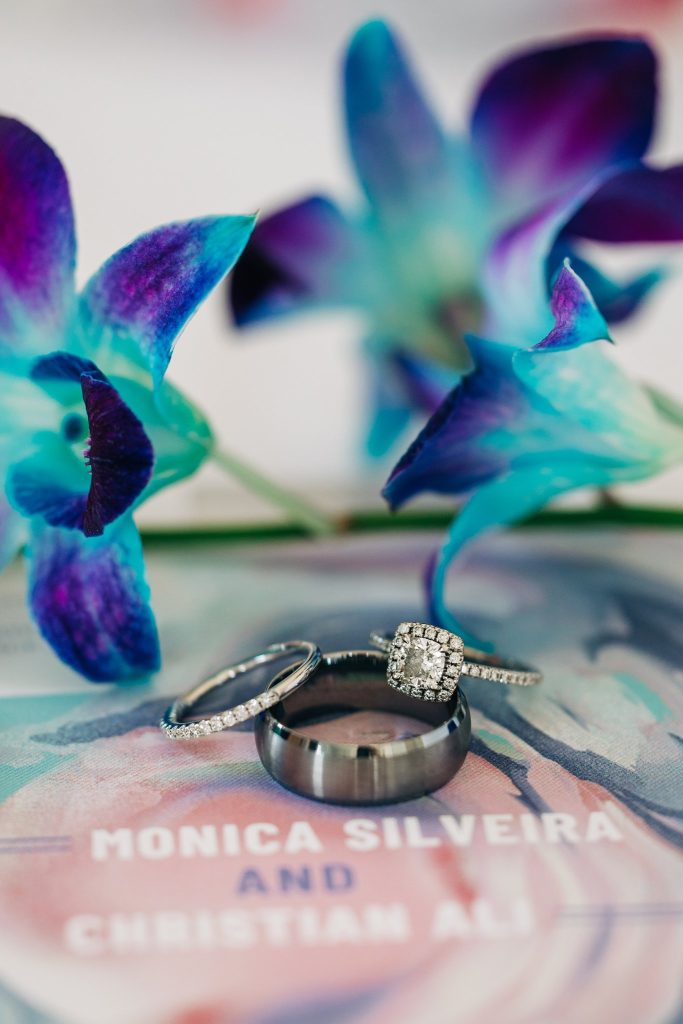 "Christian and I met on Tinder on April 15, 2018. We had both been on the rollercoaster that is Northern VA dating apps for a while and knew what we were looking for. We both lived in Ballston, Arlington, VA and had each enabled a 1-mile radius on our settings. Nothing I was doing was working, so I remember my best friend told me to shake things up by swiping 'no' to the people I would usually match with and vice versa. Next thing I knew, I matched with Christian and he slid into my messages. We ended up meeting in person that very same day."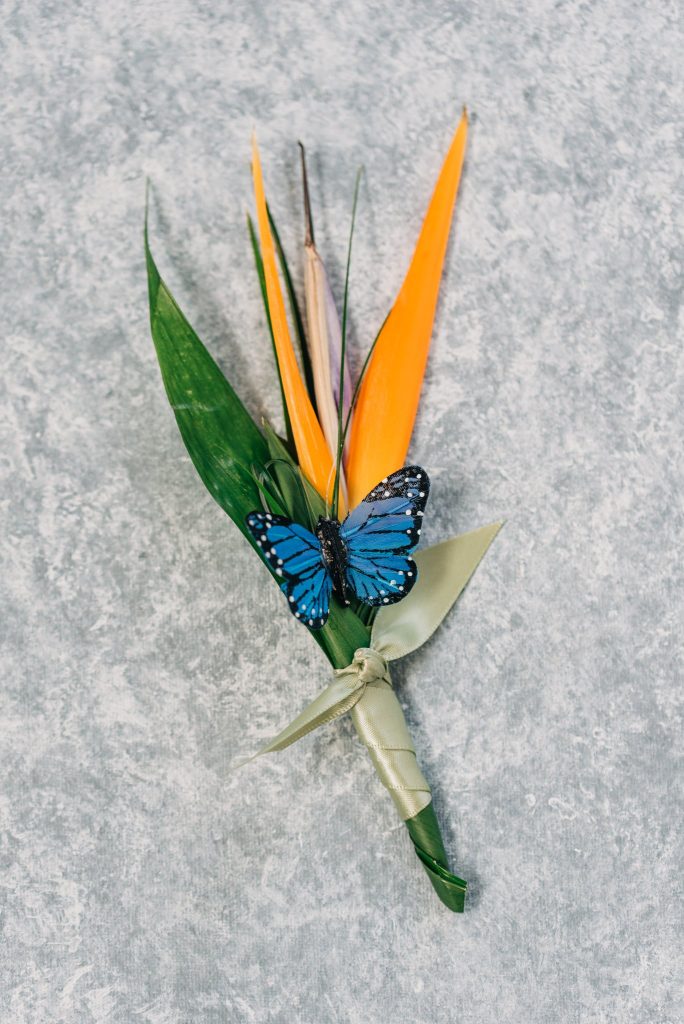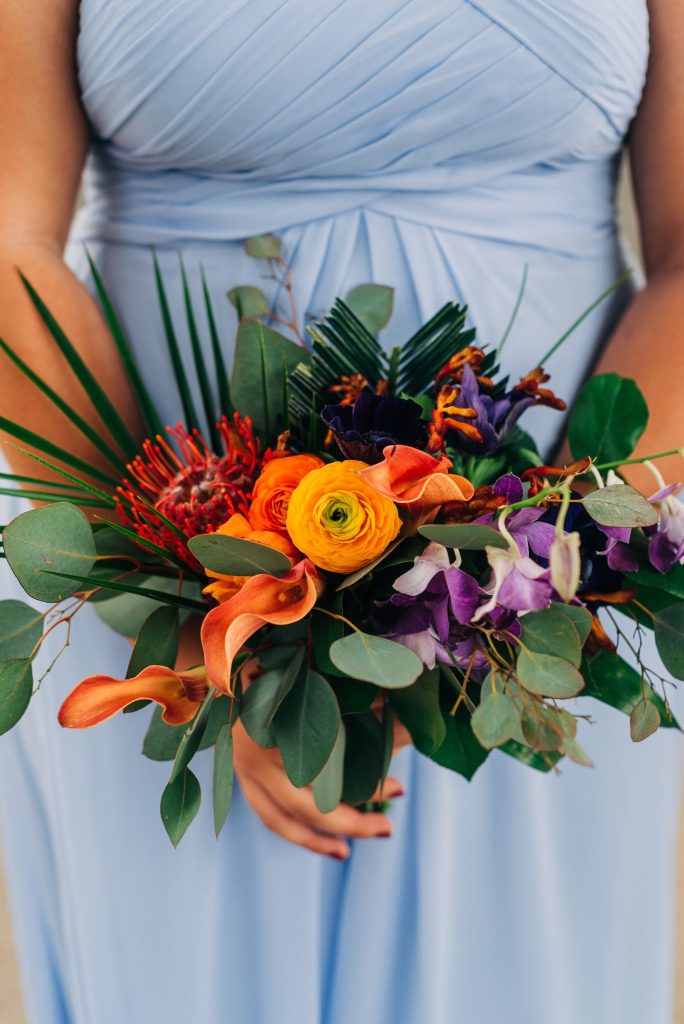 "Our first date was at Buffalo Wild Wings in Ballston, Arlington, VA. We both were able to walk there. I remember having those butterflies walking up to meet him, but he put me at ease right away with his charm and quick-witted sense of humor. We now joke about how we picked such a 'romantic' spot to meet. Later that year, Christian got me a longitude/latitude bracelet for Christmas containing the location of that Buffalo Wild Wings, which we always laugh about. We said 'I love you' for the first time after 3 months at Filomena in Georgetown. We knew then that we wanted to spend forever together. Christian proposed on Feb 17, 2021, in Key West, FL. Key West was a special place for Christian's parents before they passed because they got married there, and now it means a lot to us as well."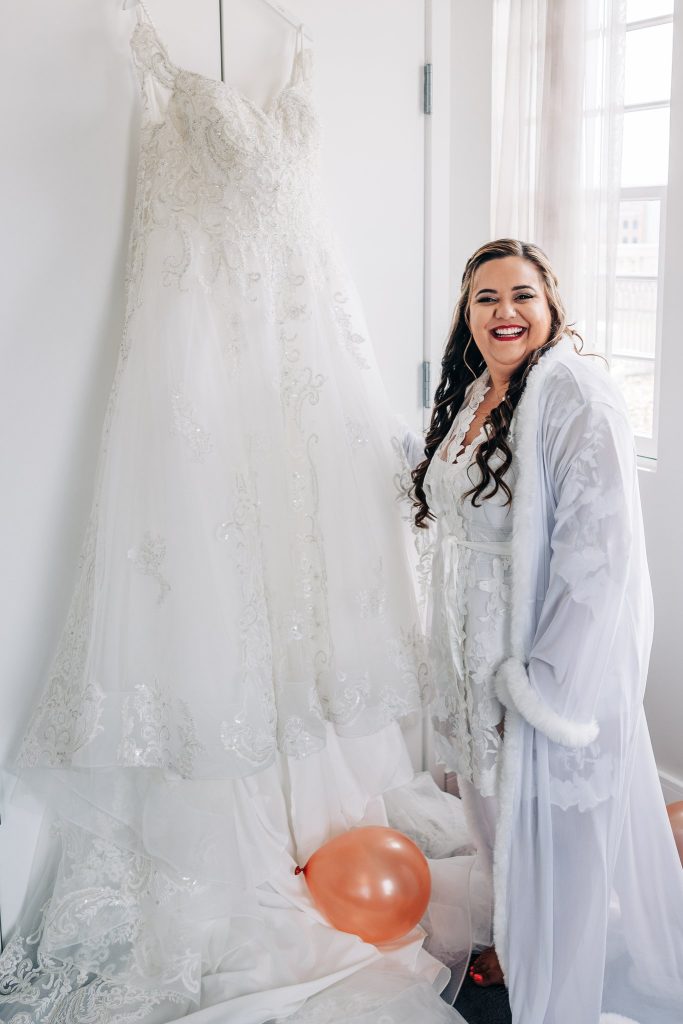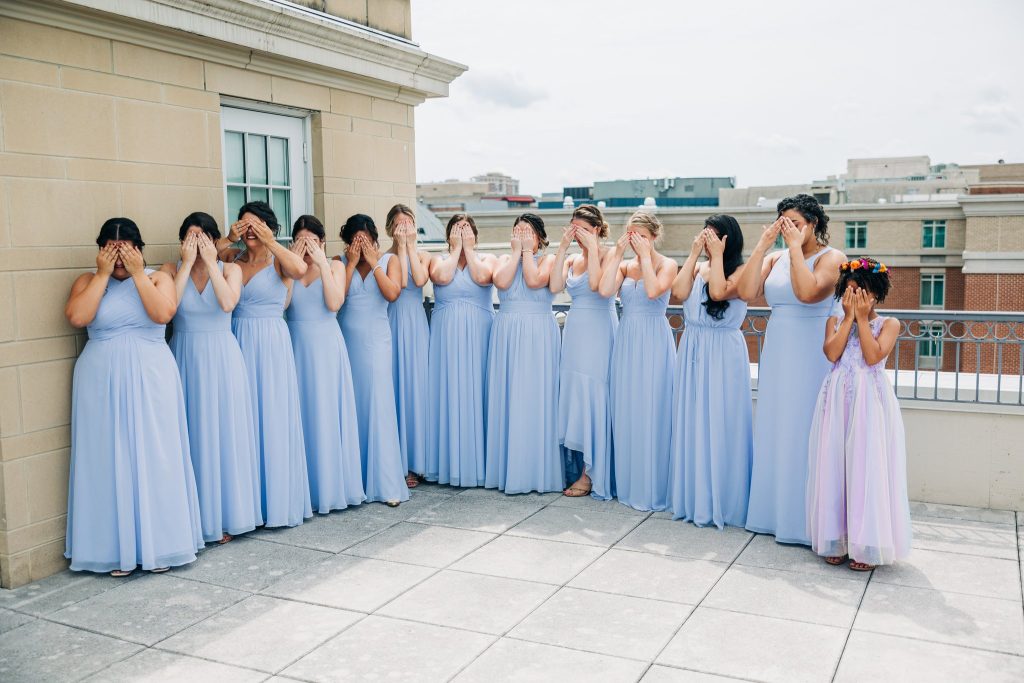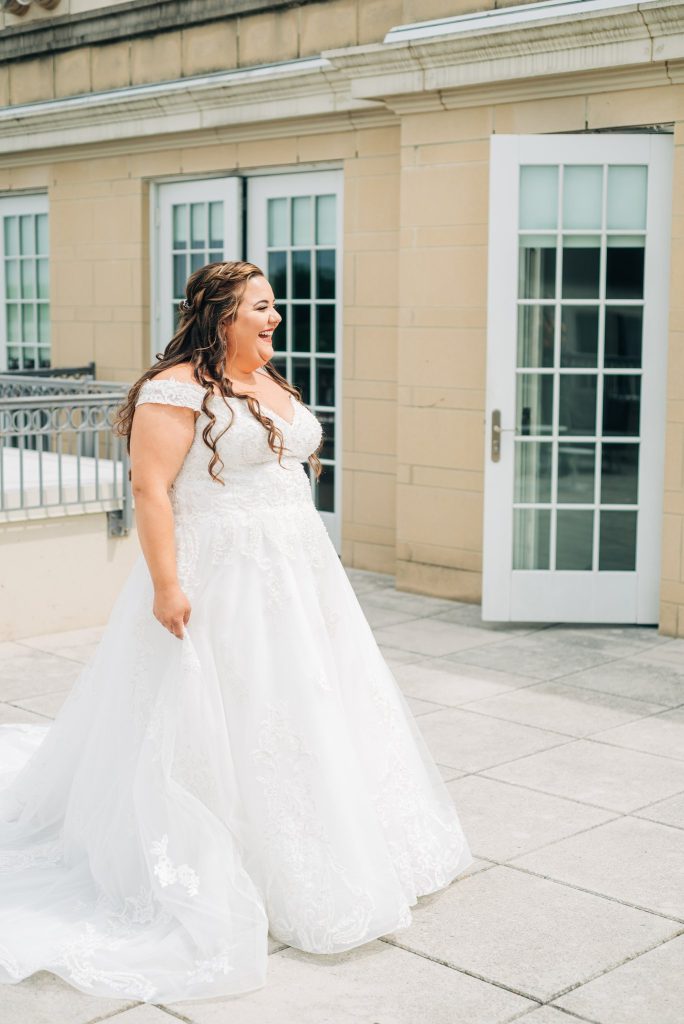 The Scoop
Bride: Monica, 32
Groom: Christian, 33
Wedding date: July 2, 2022
Number of guests: 85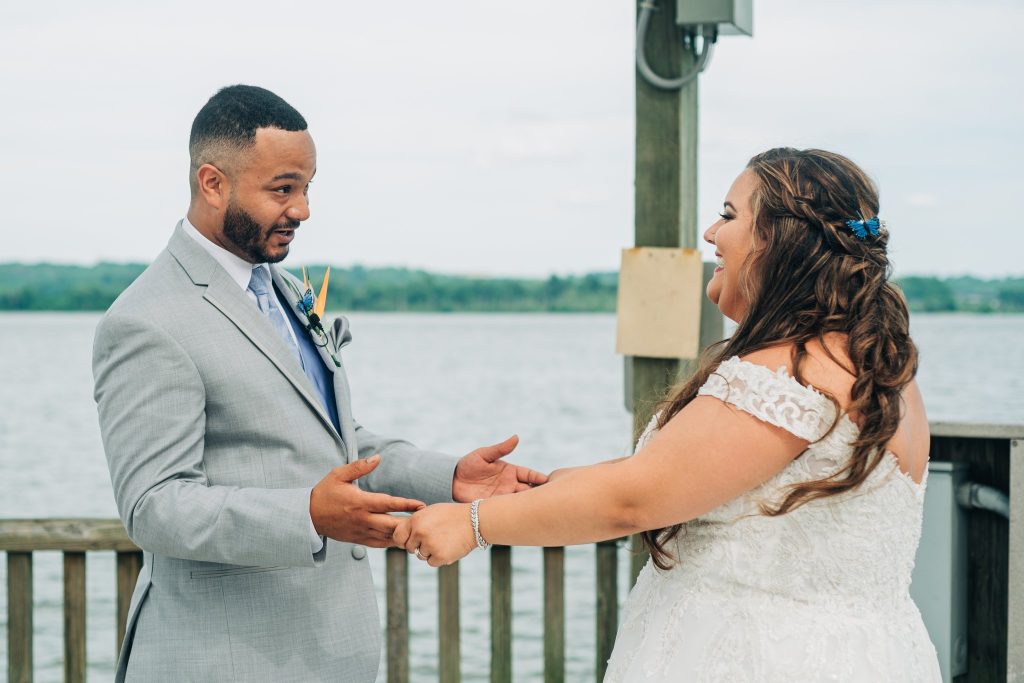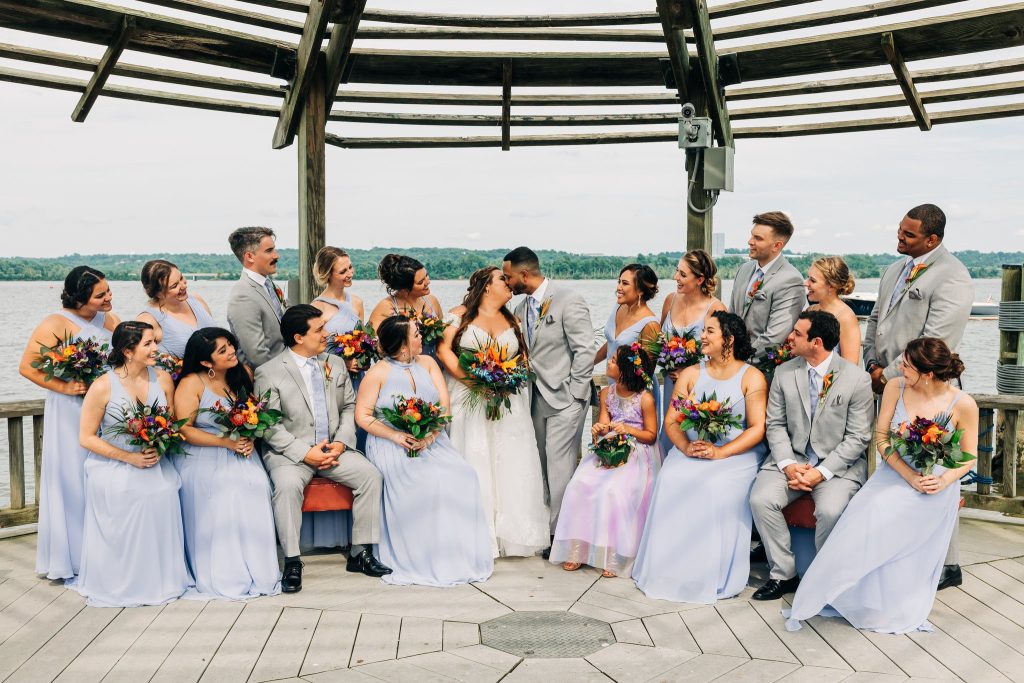 One of our favorite parts of our day was bringing our families from all over together. Our families have roots from Uruguay, Italy, the Amish and Mennonite communities, and the Black community, so having everyone together on one day was truly phenomenal. Our top must haves were good food, music, and an open bar, so we focused on those three things. We wanted to incorporate a diverse catering menu into our day, and so we had three more non-traditional meal stations consisting of a Southern Comfort station with chicken & waffles and shrimp & grits; a global dumpling bar station with variations from around the world including empanadas and lumpia; and a little Catalan/Spanish station as an ode to the honeymoon consisting of tapas and paella.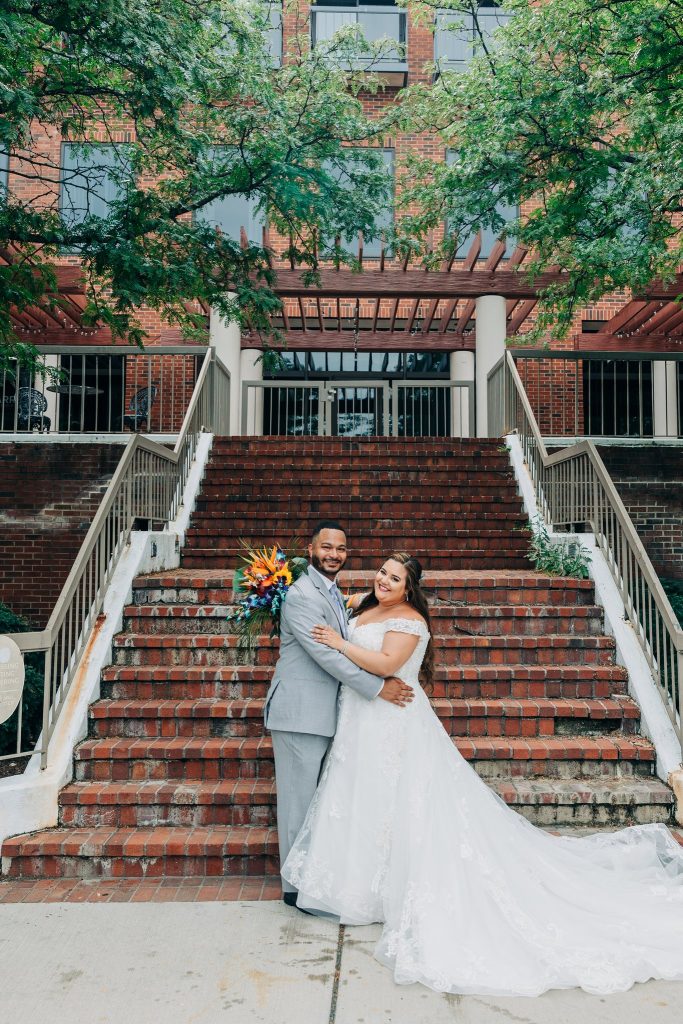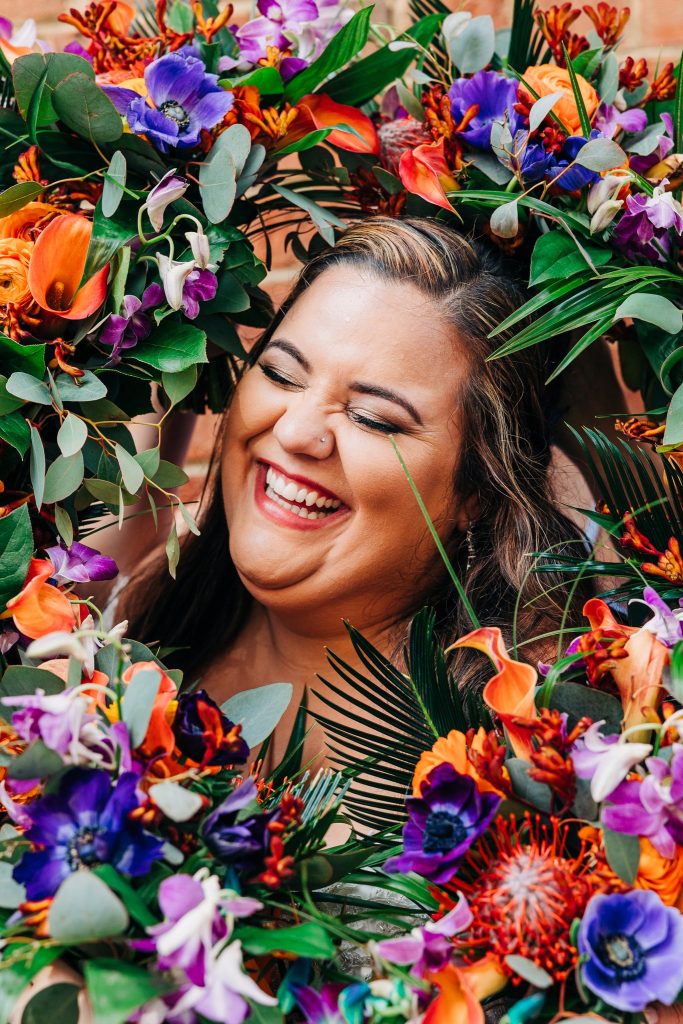 "The music was lit! First, for the ceremony, we had the men come out to X Gon' Give It To Ya by DMX, accompanied by Andrew Savoia on the cello since 'X' is Christian's nickname. Next, since I had 12 bridesmaids (ahem what! Yes 12), I wanted to give our guests a little entertainment as they walked down the aisle. So, my two younger sisters sang All of Me by John Legend as the bridal party entered. I walked in to Pachelbel's Canon in D, and we recessed to Levitating by Dua Lipa, all accompanied by Andrew on the cello. We entered the reception to Signed, Sealed Delivered, I'm Yours by Stevie Wonder, and our first dance was How Do I Live by LeAnn Rimes. From the moment speeches ended after dinner we had a dance party the rest of the night. DJ Dior really knows how to hype up the crowd. A favorite moment was when he played one of our favorites Pepas by Farruko and got everyone out of their seats."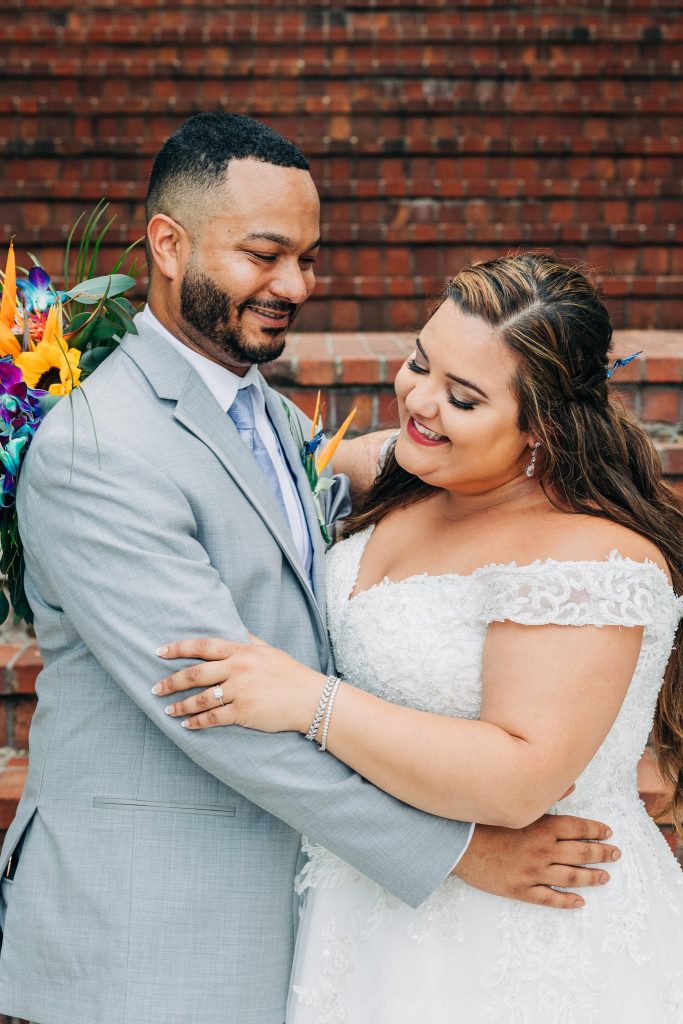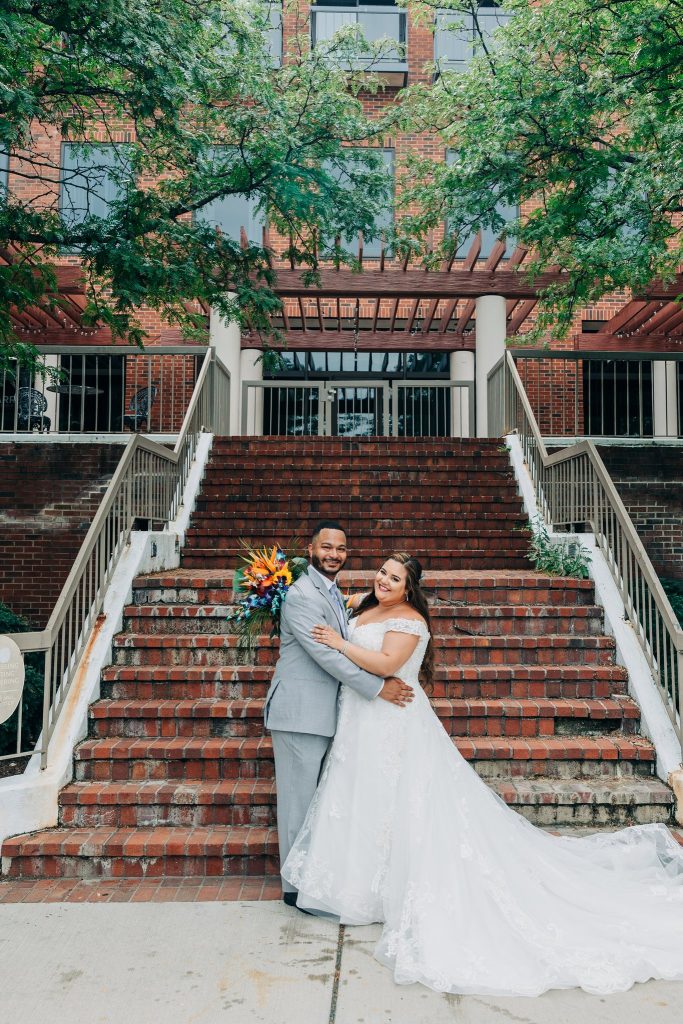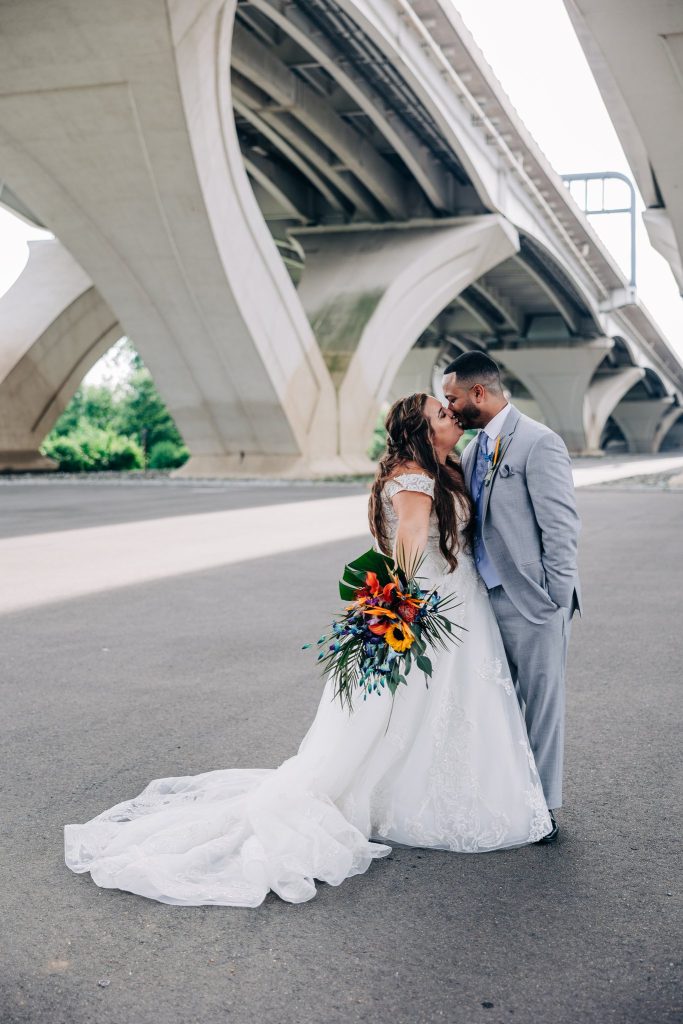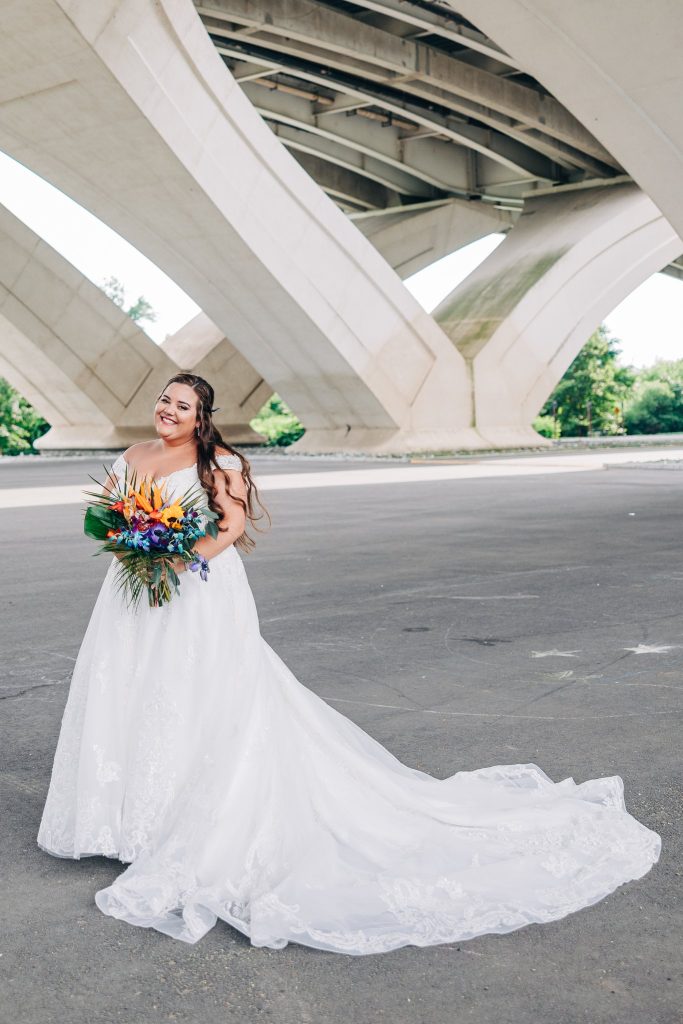 "My wedding dress made me feel like a princess on my special day. It was an Allure Couture ballgown wedding dress with a ton of bling. Some of my favorite details were the long train and buttons running down the length of the back of the dress. My veil was my special 'something borrowed' because my friends and I have a tradition of wearing the same veil on our special day. We jokingly call it the sisterhood of the traveling veil. Three of my friends had worn it prior to me, and I have already passed it on to another friend for her big day. I had a truly special moment with my now sister-in-law when she gave me one of her and Christian's mom's special rings to keep. She also provided my 'something blue' by having me borrow their mom's engagement ring to wear for the day which had a gorgeous blue stone. Both of Christian's parents have already passed, so we wanted to incorporate a little something to honor them. His dad loved sunflowers, so I had one sunflower in my bouquet for him, and his mom loved butterflies, so I had a butterfly on my bouquet and Christian had a butterfly on his boutonniere to honor her."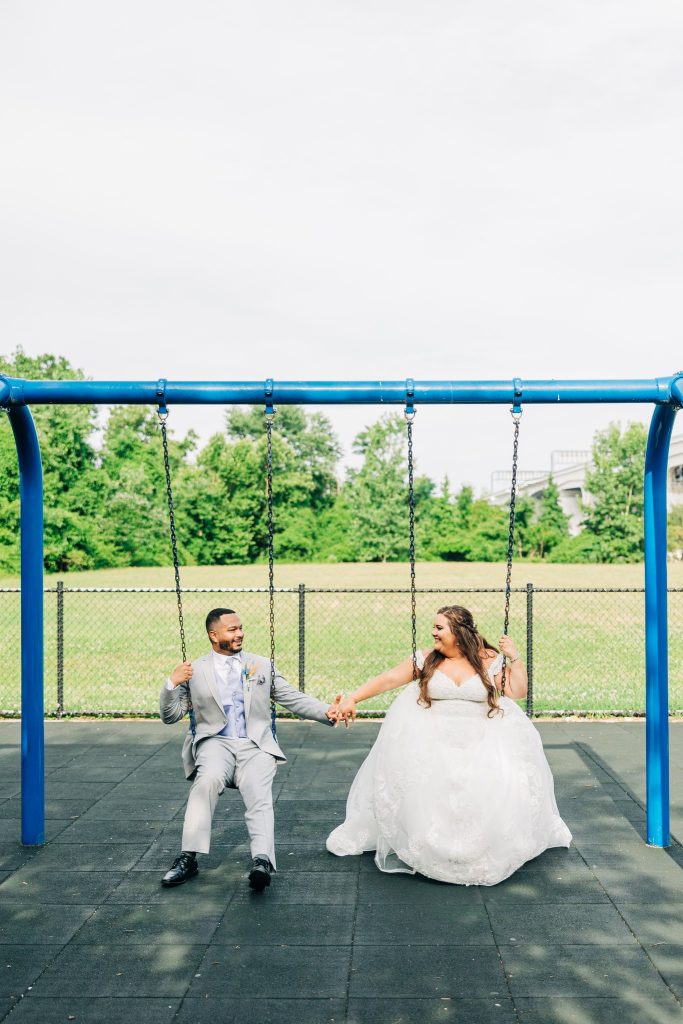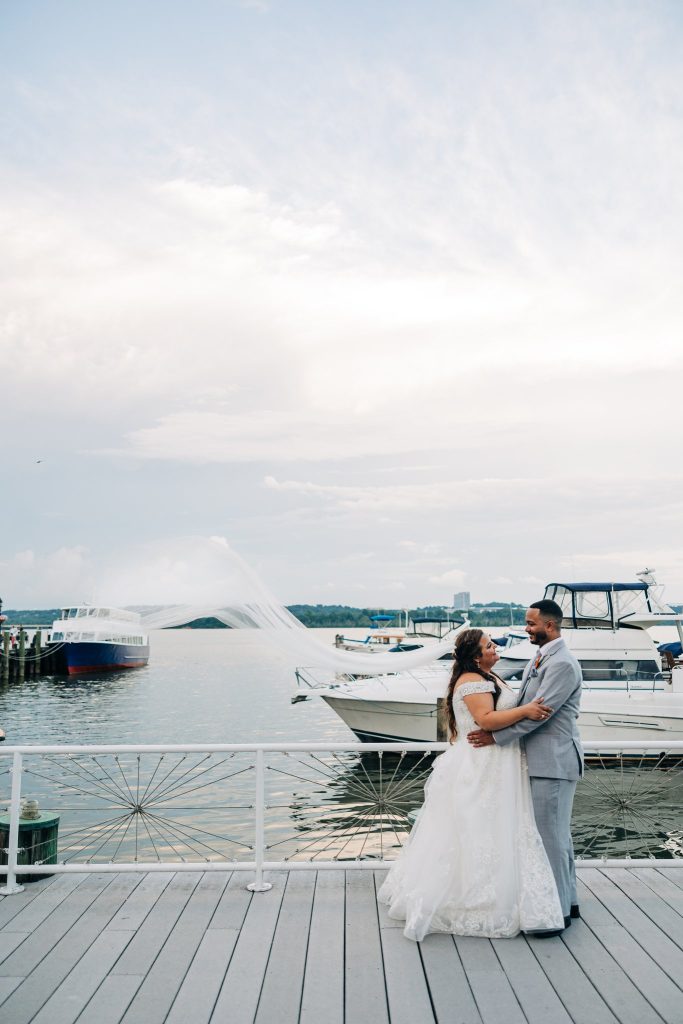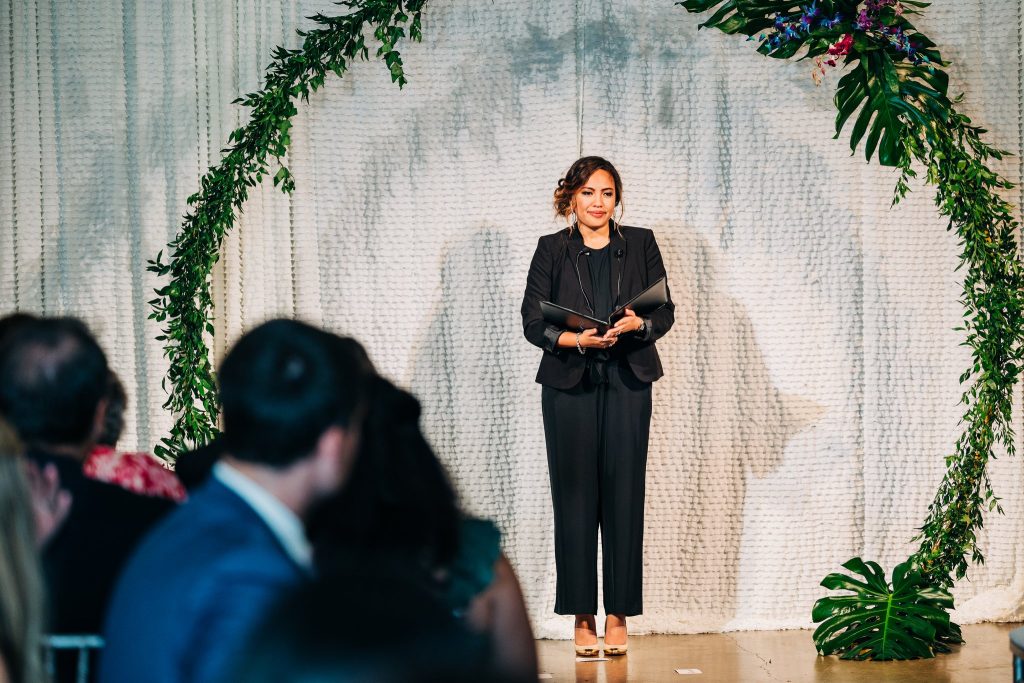 "My shoes were special to me because I chose to go a non-traditional route and wear Nikes down the aisle. I am a sneaker fan and have I mentioned I like color? So, I chose a stunning combo shoe that is super colorful and supports the Hispanic & Latino Community by celebrating its heritage and how important "familia" (or family) is to honor my dad who could not attend."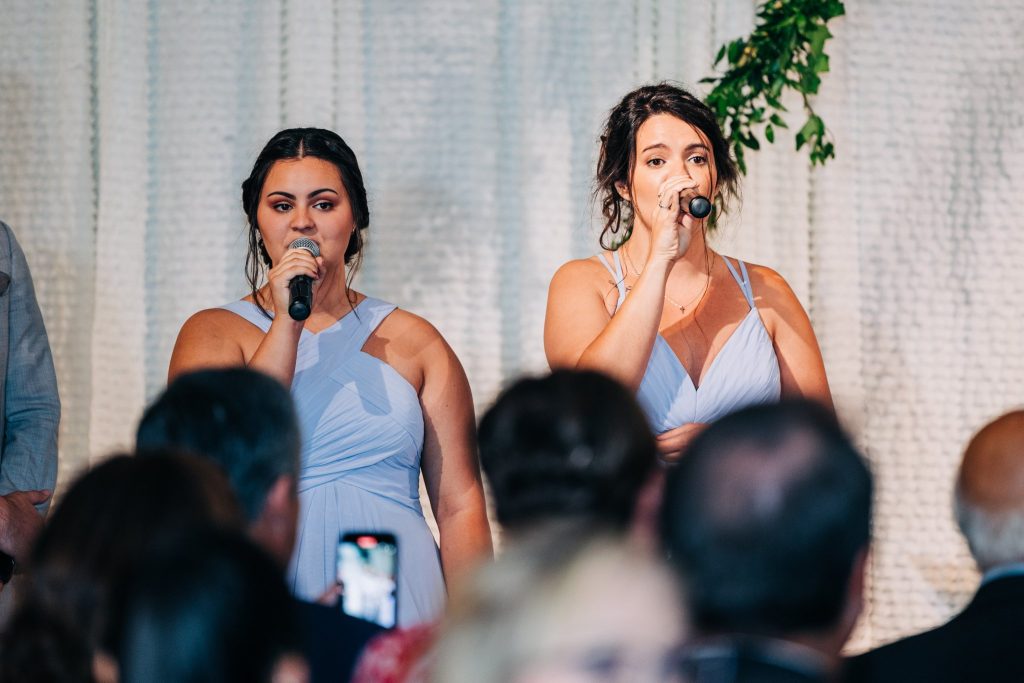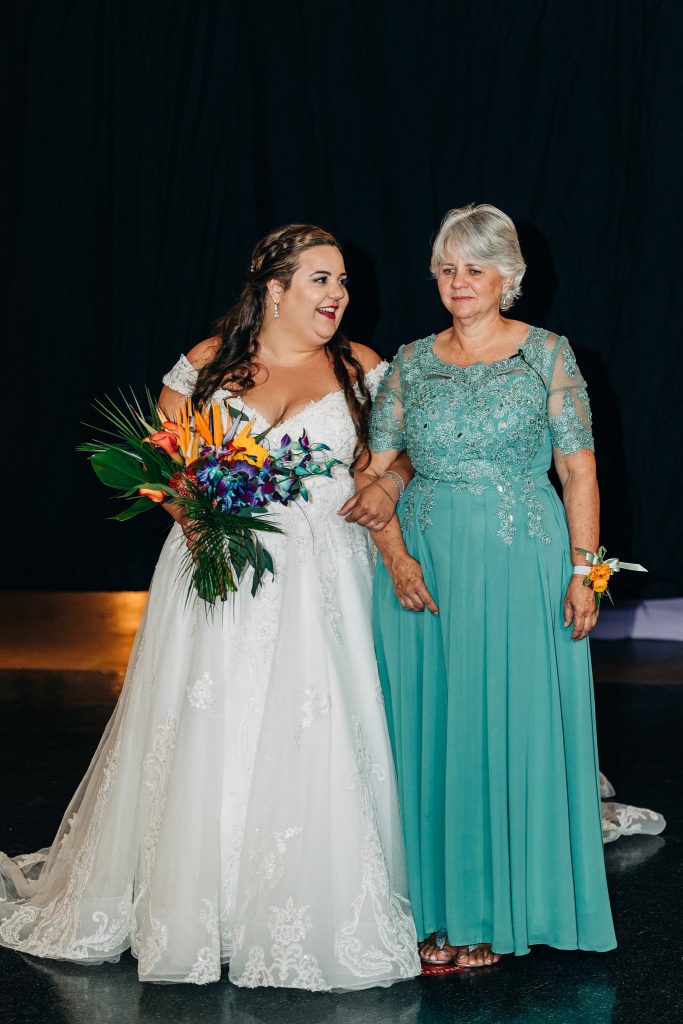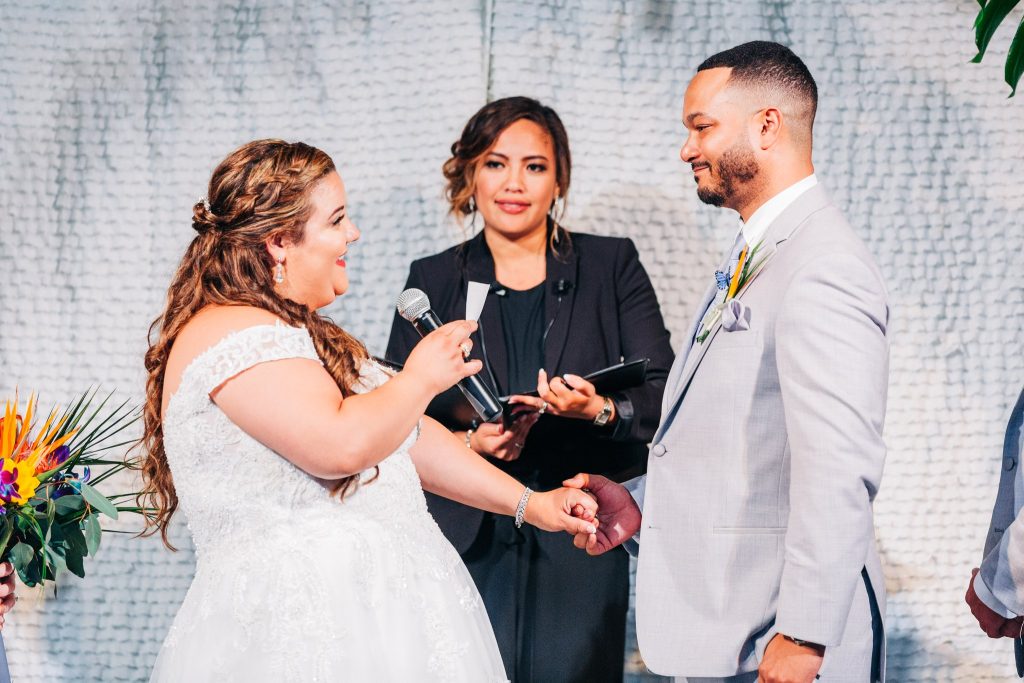 "The bridesmaids' dresses were lavender and came from Azazie. I wanted each of my girls to pick out their own style of dress which they felt beautiful and comfortable in, and I love how they all looked together."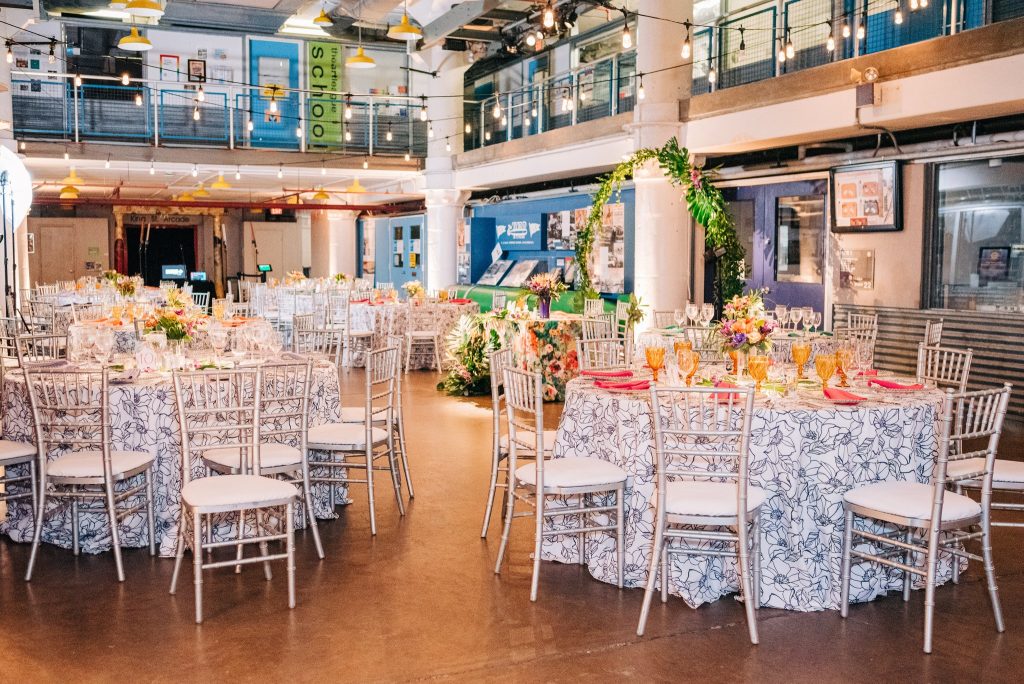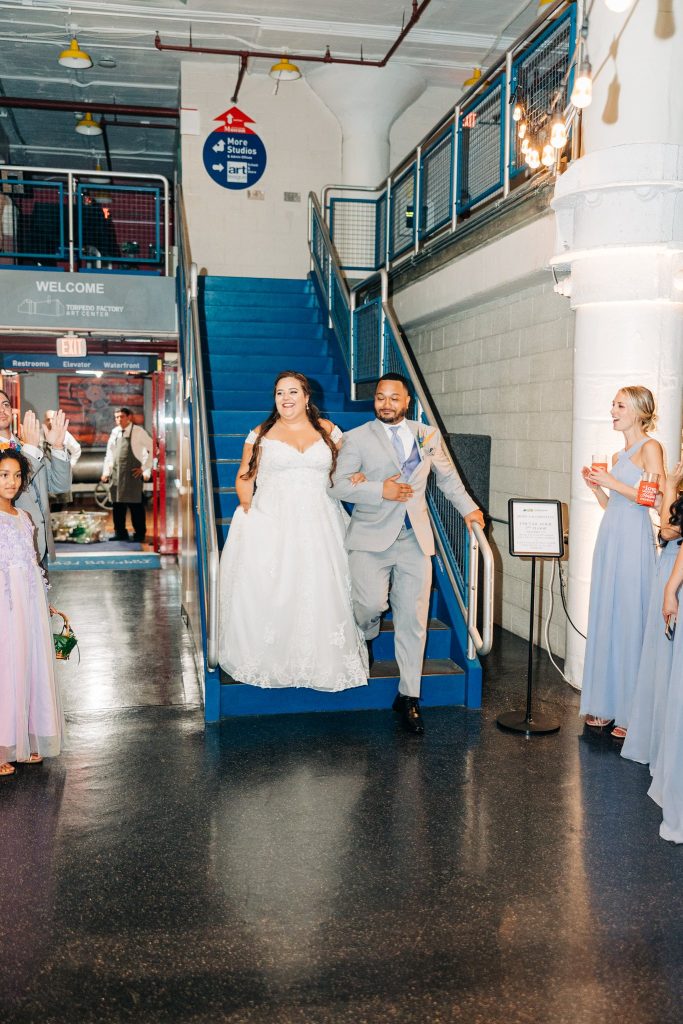 "Our color palette/theme was what you could describe as color pop/watercolor/vibrant/tropical. We have an appreciation for art and history which was a big reason we chose to have our wedding at The Torpedo Factory Art Center. We wanted to weave in artistic and colorful elements to our wedding without taking it over the top. One of our big inspirations was Andy Warhol and his work with black & white vs color contrasts. For example, we chose to have black and white linens on the tables with colorful napkin and floral accents to tie in the color pop and tropical themes. Our head table linen was inspired by our admiration for Monet and the watercolor look. We loved the fact that our venue had real torpedoes in it to tie in the historic aspect. The bird of paradise flower is my favorite because it reminds me of my time living in Costa Rica surrounded by colorful flowers and fauna. I am also a huge J Balvin fan. He is a Colombian artist who is now famous worldwide and is known to don crazy colored outfits and even colorful hair."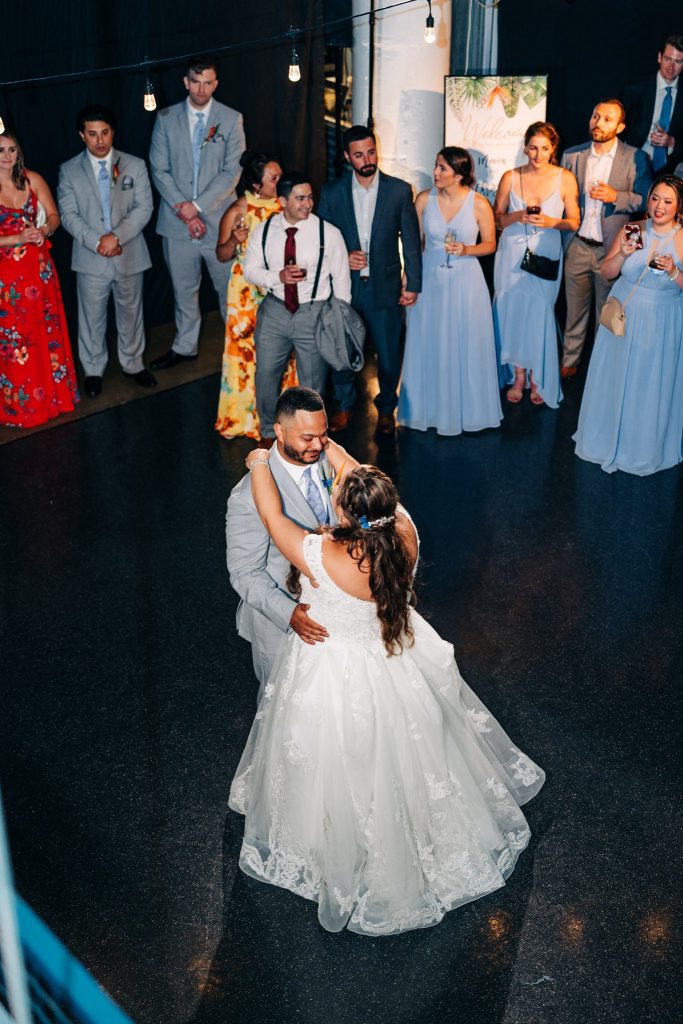 Monica leaves us with this advice: "When planning your wedding stay true to yourself and your fiancé and let everything else fall to the wind. At the end of the day, those who care about you will be there and that is what matters. Christian's parents had both passed at the time of our wedding and my dad was too sick to attend, so it truly put into perspective what is important, and that is to celebrate your marriage with your partner. Since my dad was too sick to attend the wedding, we decided to do a last-minute legal ceremony in his hospital room a few days prior on June 28th with just immediate family. It was one of the most special days and he cherished that until the day he passed on September 17."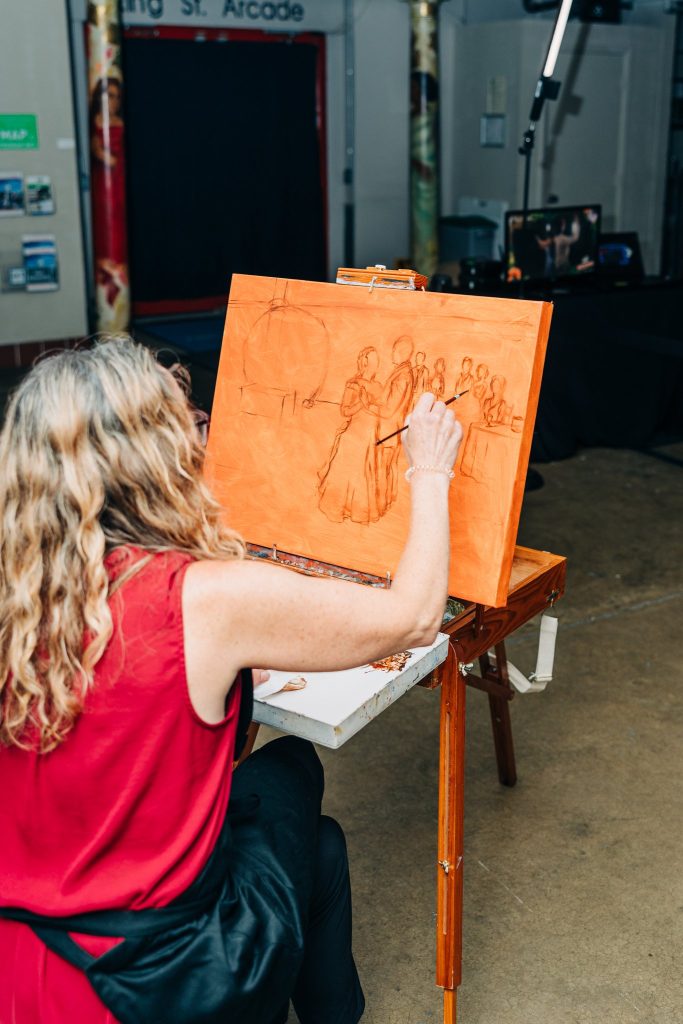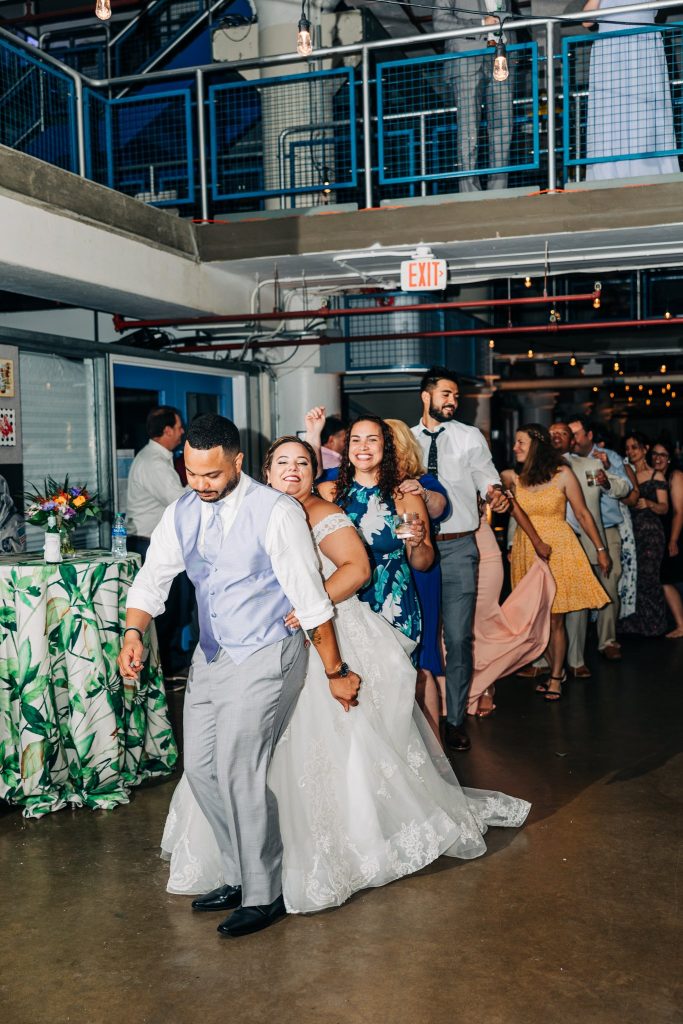 Vendors List
Wedding hashtag: #meanttobeali
Venue: Torpedo Factory Art Center, Alexandria, VA
Venue Coordinator: Deri Collingwood
Photographer: Kylie Hinson Photography
Videographer: Stephen James Films
Day of planner: Ali MacIntyre
Officiant: Nina Sabarre; friend of the couple
Gown: Allure Bridals at Vivid Bridal Boutique
Veil: Hand me down from friends
Shoes: Nike; Nike Air Max 90 X LHM (Latino Heritage Month)
Hair & Makeup: Kelsea Dayberry owner of Radiant Reflection
Bridesmaids' dresses: Azazie lavender
Formal wear: Men's Wearhouse
Invitations: Zola
Flowers: Sofia Marraffa; Sofia's Flower Designs
Live Wedding Painting: Sofia Marraffa; "I Do" on Canvas by Sofia Marraffa
Rental equipment: Select Event Group
Lighting: John Farr Lighting
Catering: Spilled Milk Catering by Amit Gulati
Cellist: Andrew Savoia
DJ: DJ Dior
Transportation: Chariots for Hire
360 Video Photo Booth: Extraordinary
Honeymoon: It was truly a dream honeymoon. We were gone for almost 3 weeks from July 4-July 23 and went to Barcelona, Madrid, and the Canary Islands. We enjoyed a mix of art, history, culture, and stunning beach views throughout our trip. In Madrid we got to experience their Andy Warhol exhibit and in the Canary Islands there were Birds of Paradise flowers everywhere which both felt serendipitous. I would be happy to share pictures and more details if interested. We stayed at: