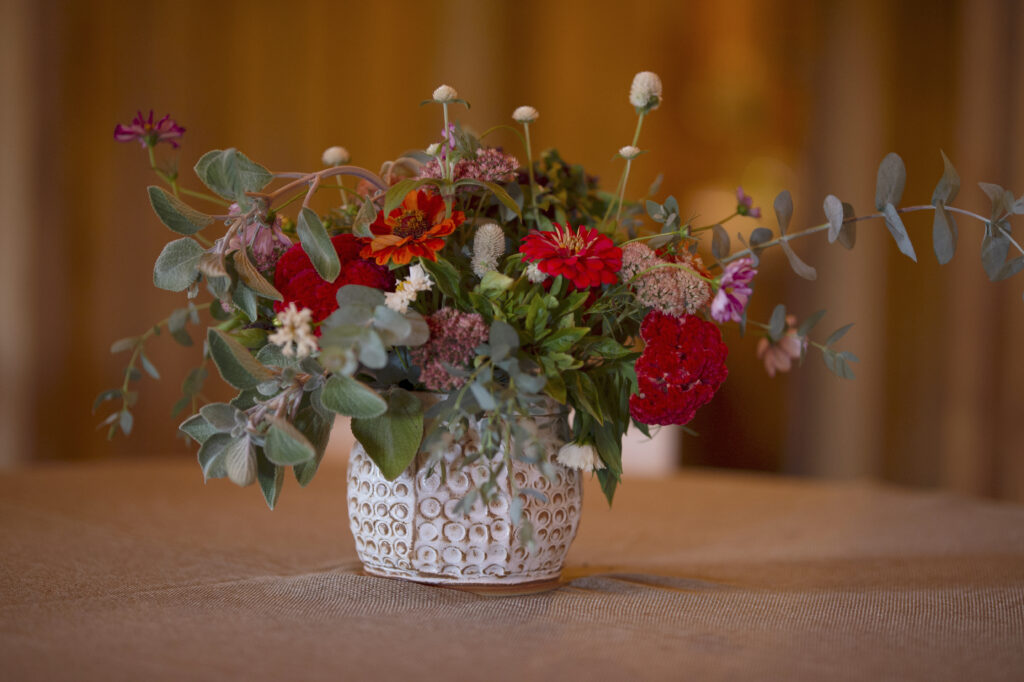 This week's real Virginia weddings love story reminds us that it's never too late to find true love!
Treva and Alan met at Billy's Barn, a dancer's bar and restaurant in Salem, VA. "We are both dancers. I started as a shagger; Alan started as a ballroom dancer. We had been friends and dancing partners for two years while dating other people."
But apparently, they forget exactly when their first date was – or what that date looked like! "Alan broke up with his out-of-state girlfriend and we started dating. We announced on a Facebook post that we were 'courting' two months after we started dating while celebrating Valentine's Day at one of our favorite restaurants."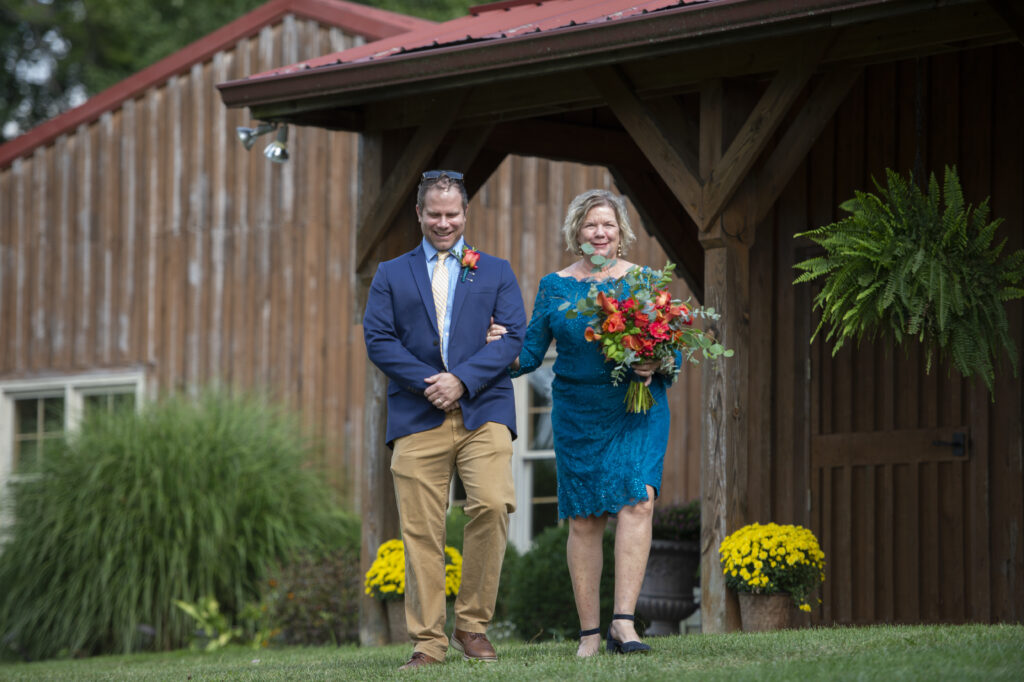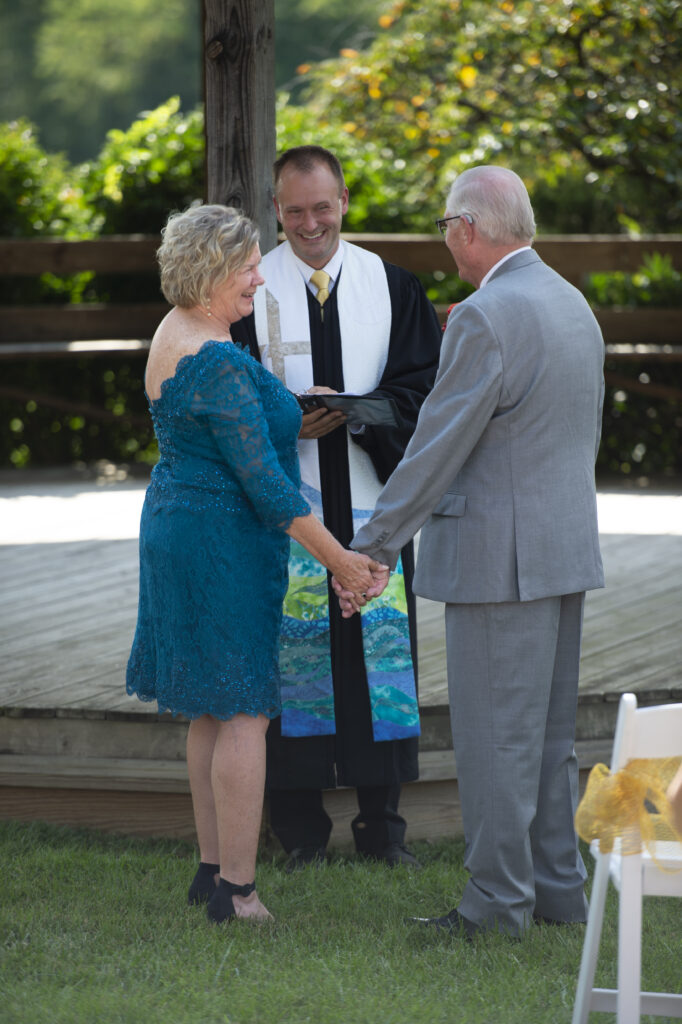 The Scoop
Bride: Treva, 70, President of TJ Carter Consulting
Groom: Alan, 72, Retired industrial arts teacher
Wedding Date: September 11, 2021
Number of guests: 130 invited from all over U.S. 90 responded yes. 4 canceled at the last minute due to Covid travel fears.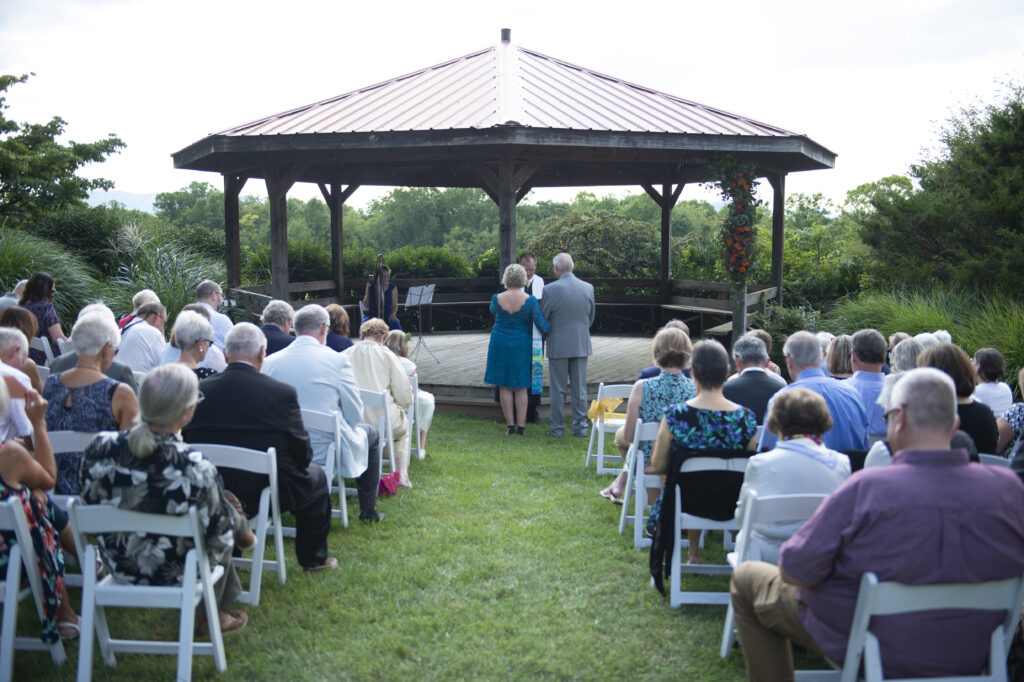 We asked them what made their wedding unique. "It was special because we are baby boomers! I'm 70 and was divorced for over 30 years. Alan is 72 and had been widowed for 5 years. We were old enough to design our wedding exactly the way we wanted it. Since we started planning it before the Covid vaccines came out, we knew we wanted a venue where our guests could be outside and inside. And we also decided to make Covid vaccinations mandatory. A few invitees decided not to attend because of that. The venue size restriction also required us to really think about each person we wanted to invite. We regretted not being able to invite all our friends and family, but just couldn't because of Covid."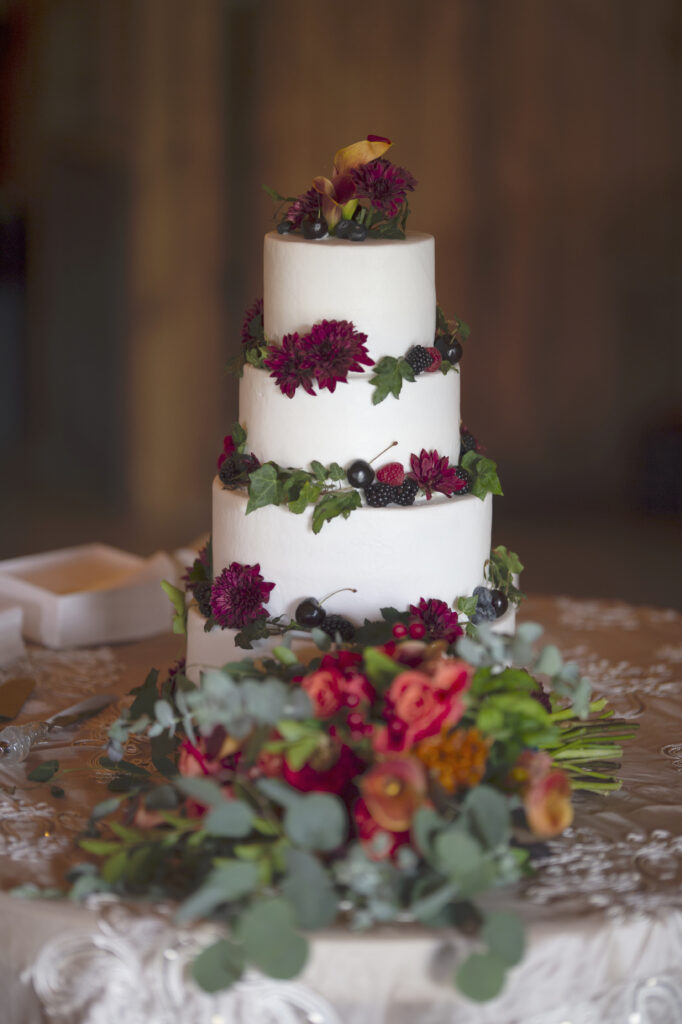 Treva's dress was, in her words, "one of the hardest things to find. I started out looking for a cream tea-length dress but couldn't find one that looked good on me. Three months and 9 stores later, I found a knee-length dress in teal, which happens to be my favorite color! I took the chance that it would look good with the red-based flowers I wanted. One of my florist friends said it was a bold combination, but I loved it and we got lots of compliments!"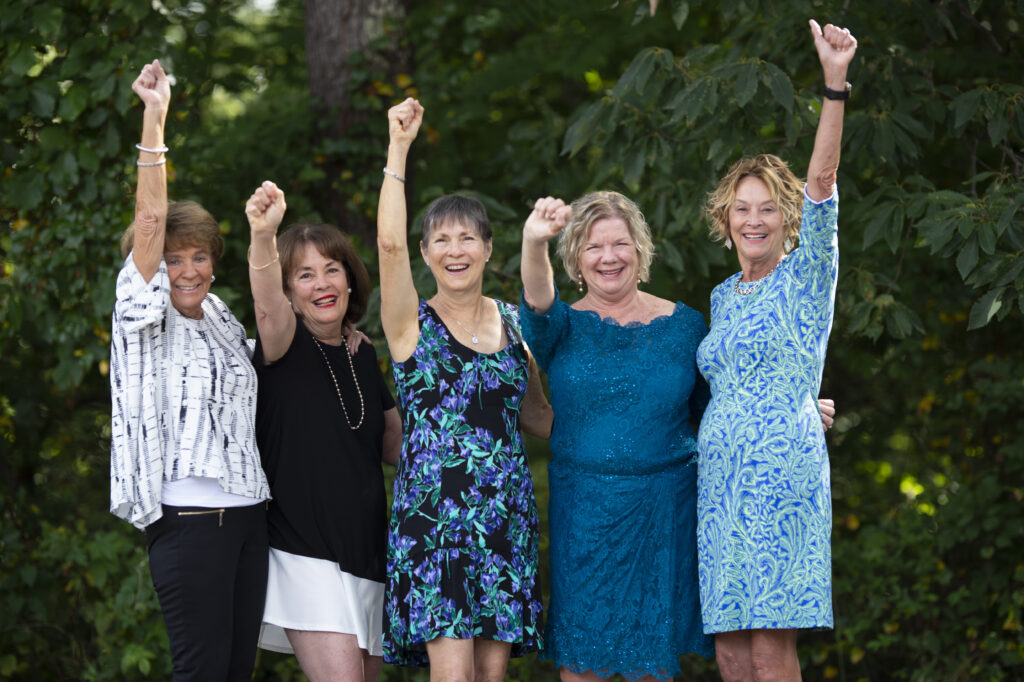 "We thought bridesmaids were inappropriate at our ages, so Alan's granddaughter was our junior bridesmaid, and our two grandsons were ring bearers. They had a great time, especially our junior bridesmaid."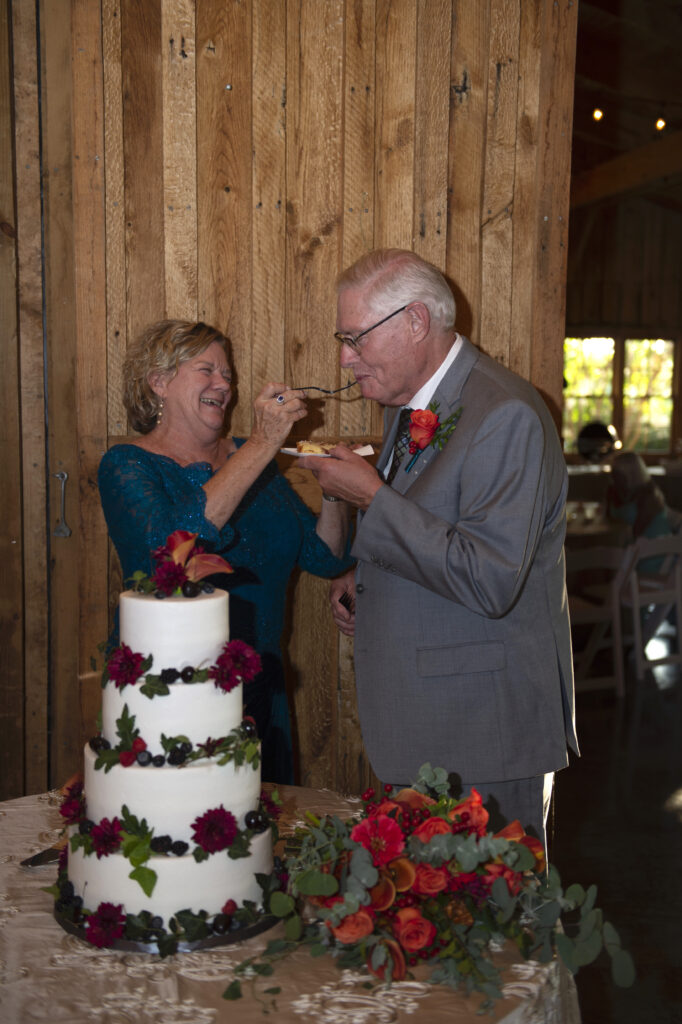 "We wanted bright flowers because the inside of the Boxtree Lodge had wood paneling walls. I picked red, salmon, orange, and cream flowers for the tables, bouquet, gazebo, and cake. Those colors looked good with the various table vases which were made over the years by my son Ben. Many of our guests were familiar with Ben and his work, which made the table vases special."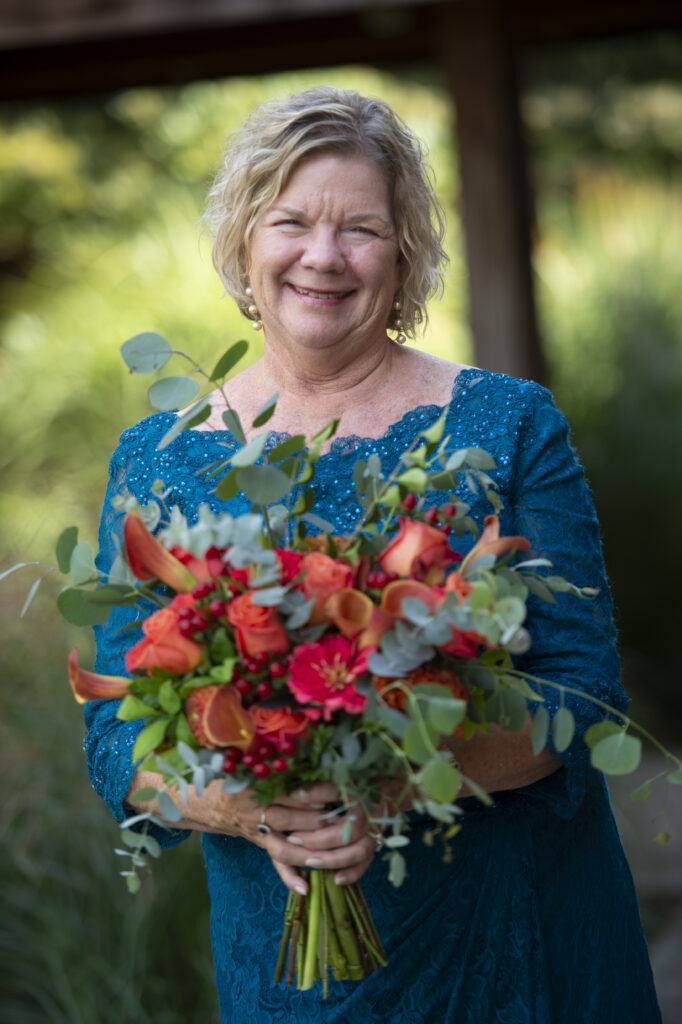 "The Boxtree Lodge was a large, simple, wooden building that was nicely situated in the middle of a spacious farm outside of Vinton, Virginia. It was big enough to hold 12 round dining tables for eight guests each, as well as the serving tables, cake and gift tables, and a small dance floor for our dancing friends. It also had a large stone patio in the back and a long front porch that looked down to the wedding gazebo, for those people who preferred to be outside for Covid safety."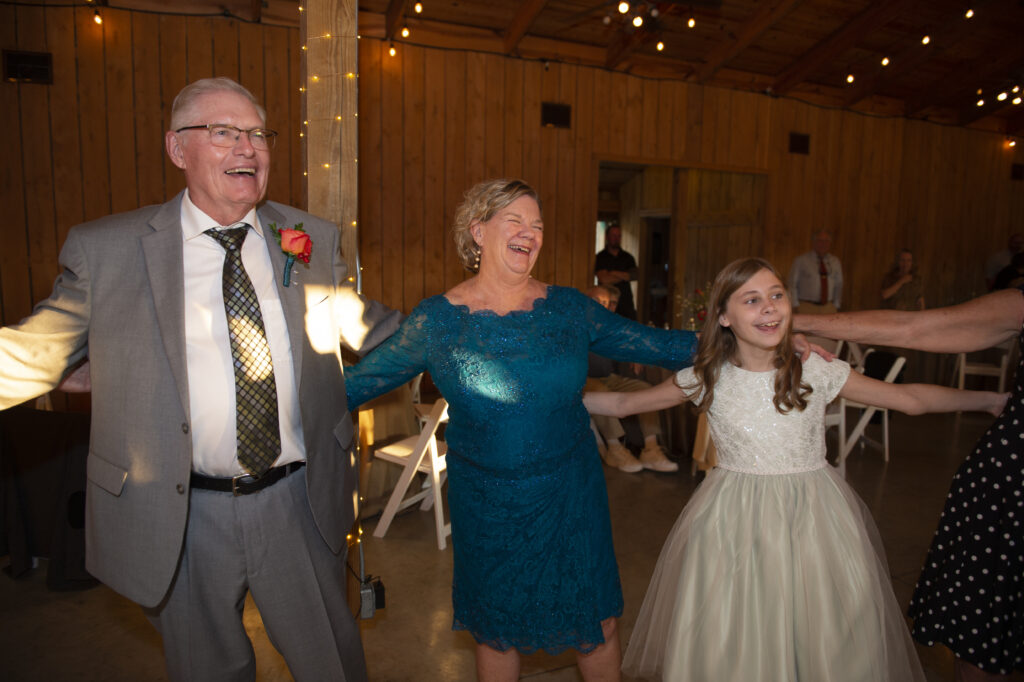 "We were pleased to have close friends and relatives from all over the eastern U.S., from Michigan to Florida. Circles of friends included old friends (back to elementary school), dancing friends, our poker group, and neighbors from Alan's home state of Michigan. I was especially happy that my 91-year-old mother and two dear family friends in their nineties could join us."
"We were inspired that Covid didn't prevent us from hosting a safe, fun wedding. We were also inspired that marriage as baby boomers was a possibility and a joy for us!"
"The wedding style and feel was natural, full of excellent food, music, and happy guests. One of the caterers told us that it was one of the happiest receptions he had seen. I think our friends and family were very happy that we had fallen in love at this time of our lives, and it showed on everyone's faces."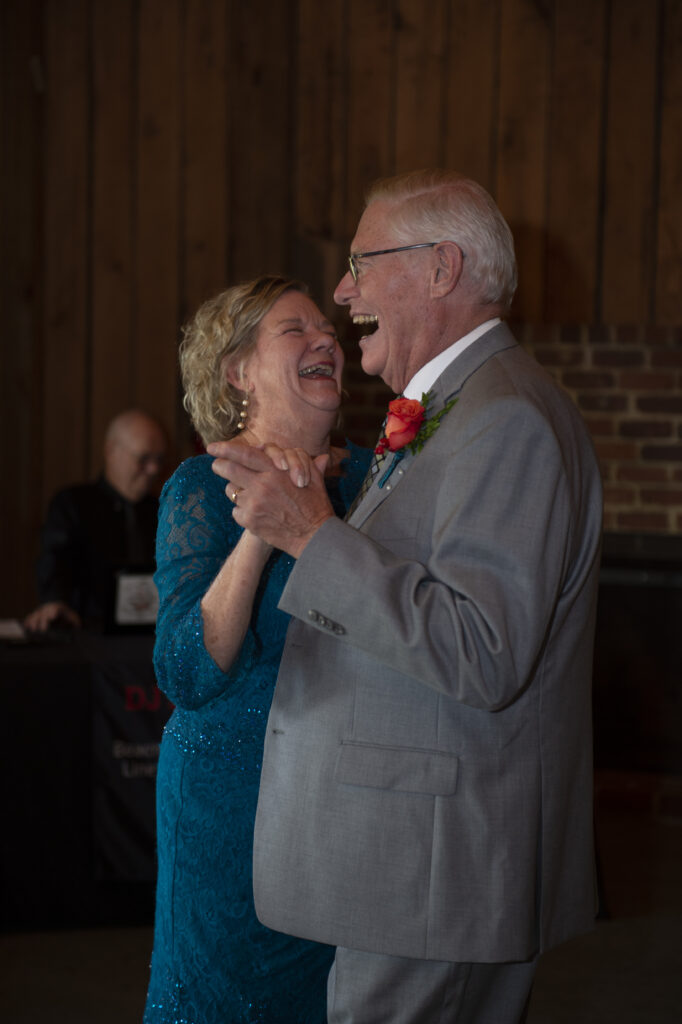 Treva leaves us with these thoughts of encouragement and advice. "It took a year to plan our wedding during the pandemic. We didn't let the fact that the only September date at our venue of choice was September 11, and no one seemed to mind. We did most things many months before the wedding, but I should have looked for a florist and a photographer sooner than four months out. We were glad that we mailed invitations in early June and required RSVPs six weeks before the wedding. We felt good about updating our wills and making a prenuptial agreement before we became officially engaged since we both had children and grandchildren. We had as much fun at this second wedding as we did at our first weddings decades ago! Don't be afraid if you are really in love."
Vendor Credits
Venue: Boxtree Lodge at Glenburn Farms, 540-890-9152, Vinton VA
Photographer: Jeff Colquhoun Photography, 540-556-5180, Roanoke VA, jeffcolquhounphotography.com
Consultant & Day of Planner: TJ Carter Consulting, 540-819-2128, Salem VA, @trevaj2,
tjcarterconsulting.com (bride)
Officiant: Rev. Andrew Whaley, Raleigh Court Presbyterian Church, 540-343-5541, Roanoke VA
Bride's Dress: Patina Bridal & Formals, 540-776-1636, Roanoke VA, patinaformals.com
Shoes: Cobbler's Wife, 540-400-6589, Roanoke VA, @thecobblerswife
Hair: Lisa Fisher Styling at Plaza 101, 540-330-5405, Roanoke VA
Makeup: Treva (bride)
Junior Bridesmaid Dress: Sweet Kids through Amazon
Groom's Suit: Joseph A. Bank, 540-776-3243, Roanoke VA, josbank.com
Invitations: shutterfly.com
Flowers: Sarah's Petals, 540-793-0466, Fincastle VA, sarahspetals.com
Rental Equipment: Included with venue
Catering: Schaals Catering & Events, 540-819-1483, Roanoke VA, schaalsevents.com
Harpist: Chloe Benner Scales, 202-285-6946, Salem VA, @twoscalesmusic
DJ: Jim Skinner, 540-562-1096, Roanoke VA
Cake: Casey's Cakes LLC, 540-427-5538, Roanoke VA, caseyscakes.com
Favors: None except for gift bags for out-of-towners who stayed at hotel
Honeymoon: Pine Knoll Shores, North Carolina