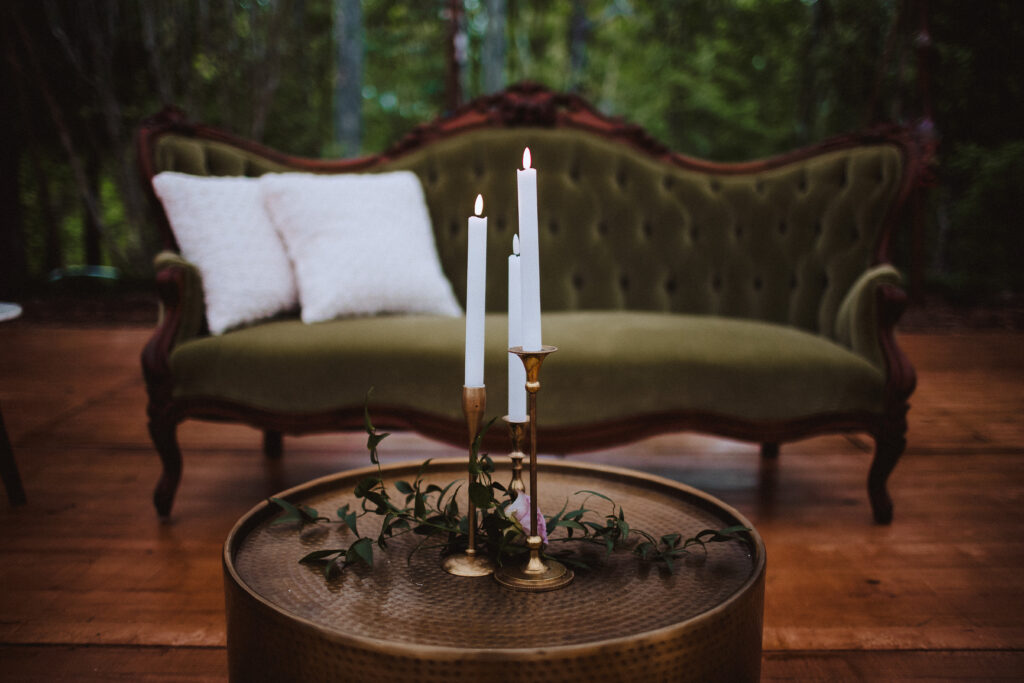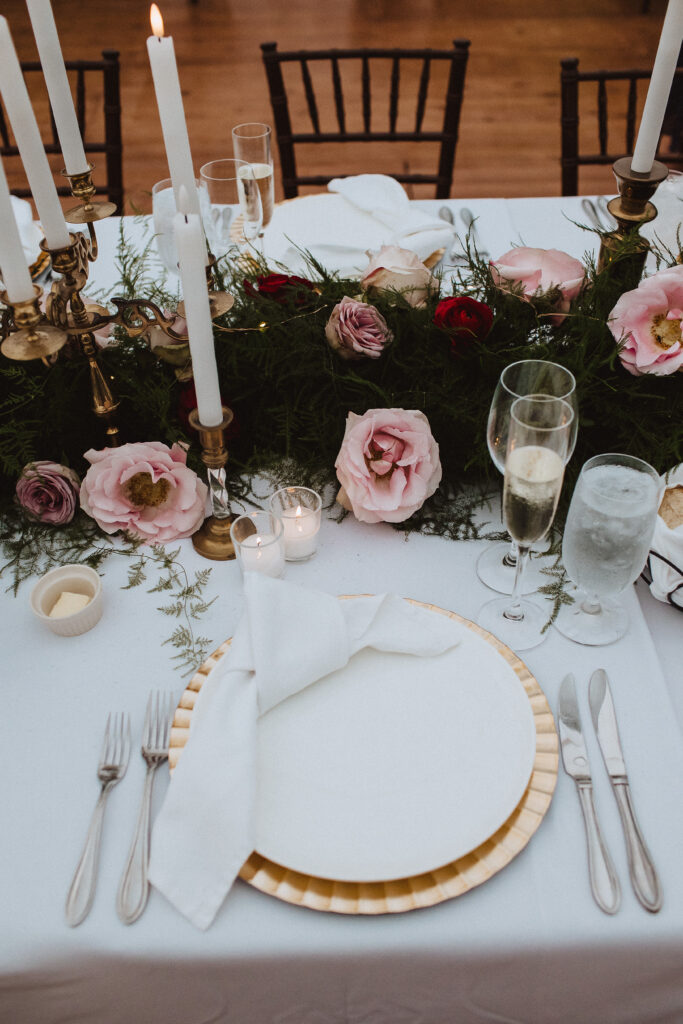 This week, our Virginia weddings tale begins in Texas at Rice University, where Abbey and Danny met. Abbey says, "I manage all of the global programs at the business school and Danny was getting his MBA. We had a course planned for Brazil in May 2018 and Danny kept finding excuses to come to my office to ask questions about that course.
"Completely oblivious to the situation at hand, we traveled to Brazil together and I didn't think twice about our interactions. Danny continued to subtlety pursue me throughout Sao Paulo and Rio de Janeiro but being that I did not usually engage with students in that way – nothing really came of it. Once we arrived back in Houston, he spent the summer convincing me he wasn't just a student and that we were meant to be together. He talked me into a first date – and the rest is history!"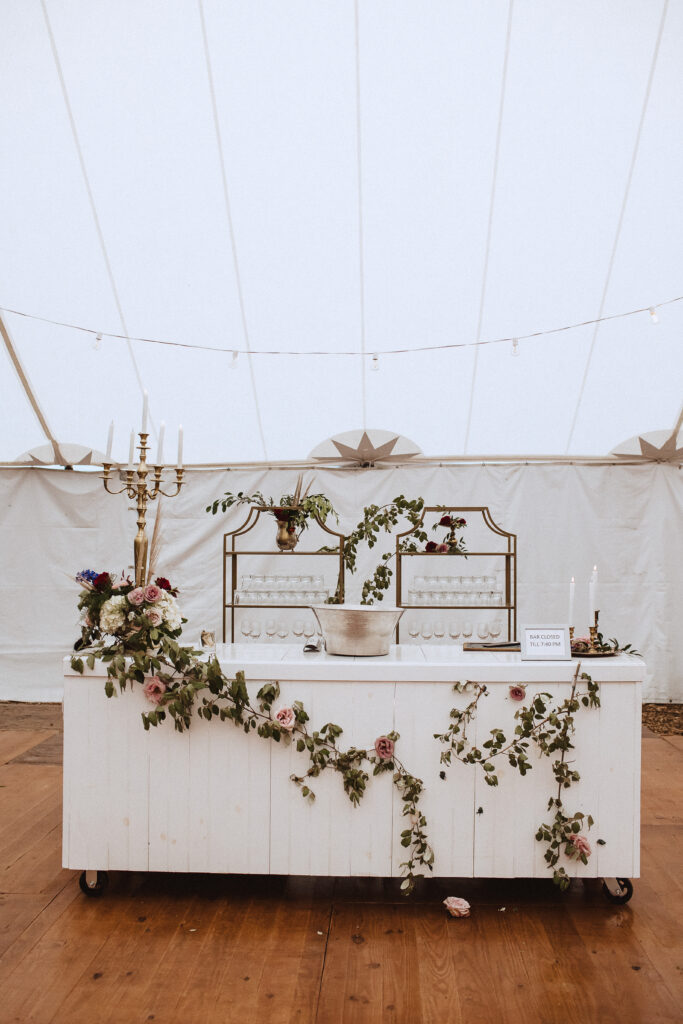 For their first date, Abbey tells us that Danny was doing an internship in Dallas at the time. "So he had planned a date for Saturday night in Houston so that he could drive down. He ended up getting off work early that Friday, so he asked me if I would be interested in going out once he got into Houston. So, I was completely thrown off and unprepared! We ended up going to a wine bar, since it was well past dinnertime. We sat at the bar (which is our favorite thing to do) and drank wine and talked the night away. It was perfect! We shared our first kiss on my front porch later that evening."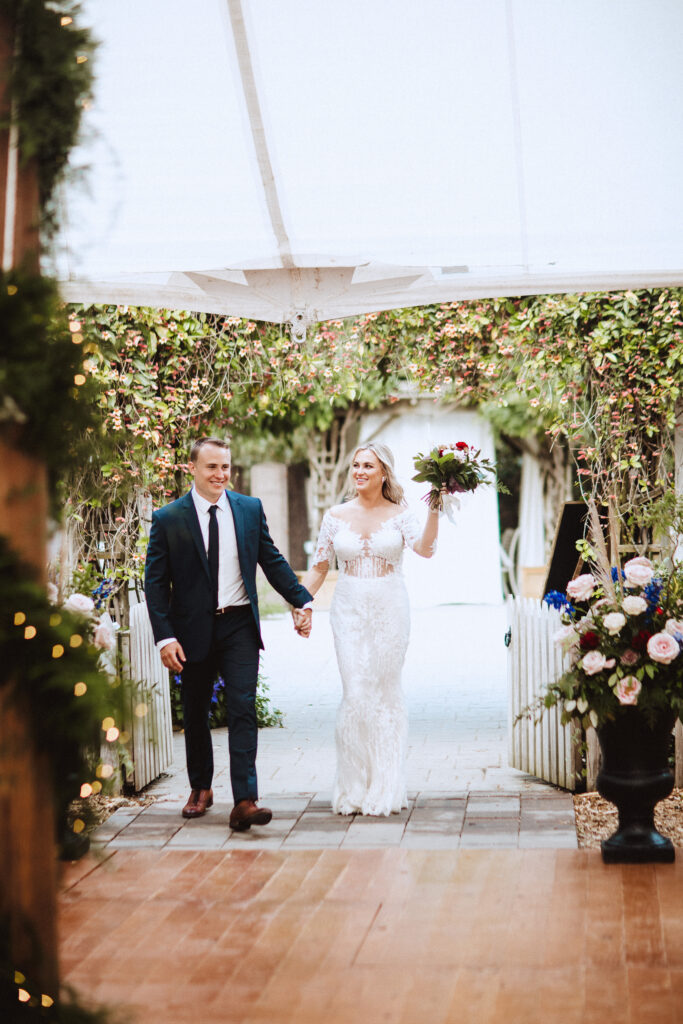 The Scoop
Bride: Abbey, 32, Director, Global Programs & Experiential Learning, Rice Business – Rice University
Groom: Danny, 31, Sr. Associate, J.P. Morgan Chase
Wedding date: Monday, May 3, 2021
Number of guests: 50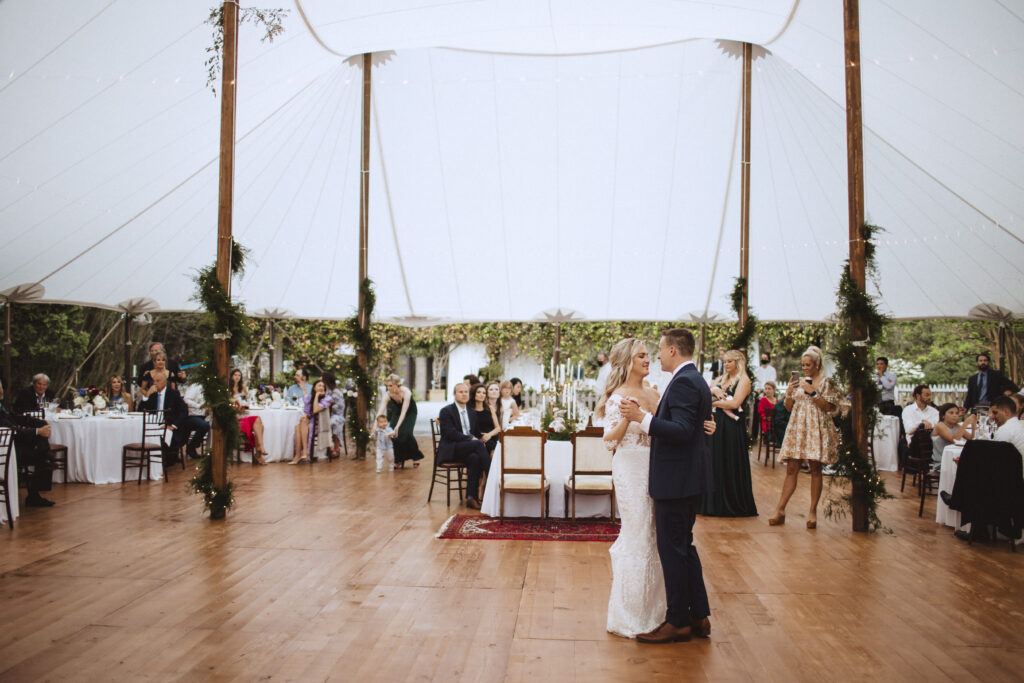 For their wedding day, Abbey and Danny had a full weekend of fun events for their guests. "We started the weekend in Wintergreen Resort up in the mountains and had a James Bond themed murder mystery party. Danny's father cooked for the entire party (40+ people). Most of the guests stayed in a house within the resort. On Saturday we showed the group the Charlottesville wine country. We all got a spot and did a picnic and spent the day at King Family Vineyards and ended the night with dinner at Bold Rock Cidery to watch the sunset.
"Sunday the guys golfed, the girls went the eat lunch at Pippin Hill and then we spent time by the pool and had a bags tournament up at our venue. All of our guests stayed at the Clifton Inn so it helped us to all be extremely close by the day of the wedding!"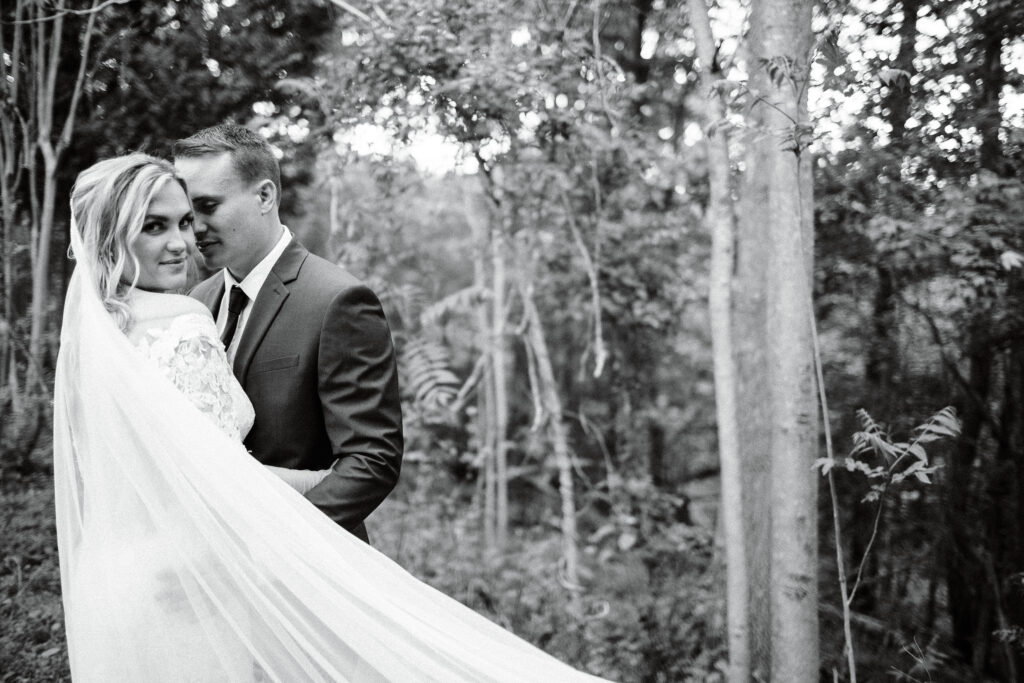 On their big day, they "had a ton of Texans visiting Virginia for the first time so it was really fun to see Danny's family introduce so many new traditions and special things about Virginia to my Texan friends and family."
For their ceremony, they asked a very special person to officiate. "Viki Bale is the mother of my two best friends growing up (twins named Ben and Brian). Viki always played the role of a second mother to me and we have been so close throughout our lives. When Danny came into the picture, she took him in as her own. She wrote the script for the ceremony, we read our own vows and she created a unique exchange of the rings for us. It made for the most special ceremony ever!"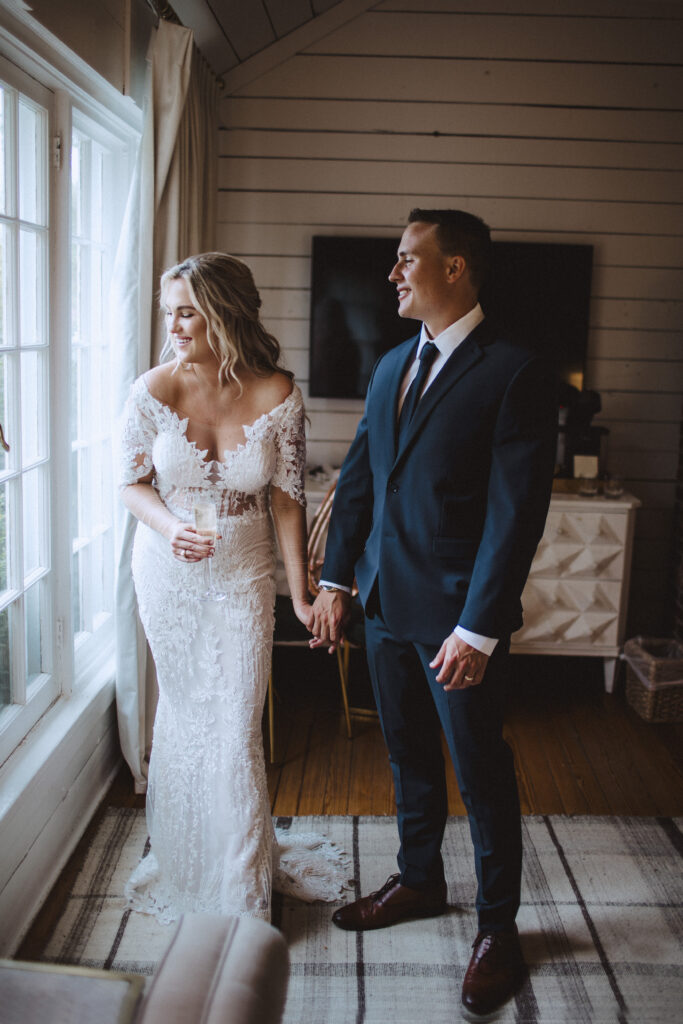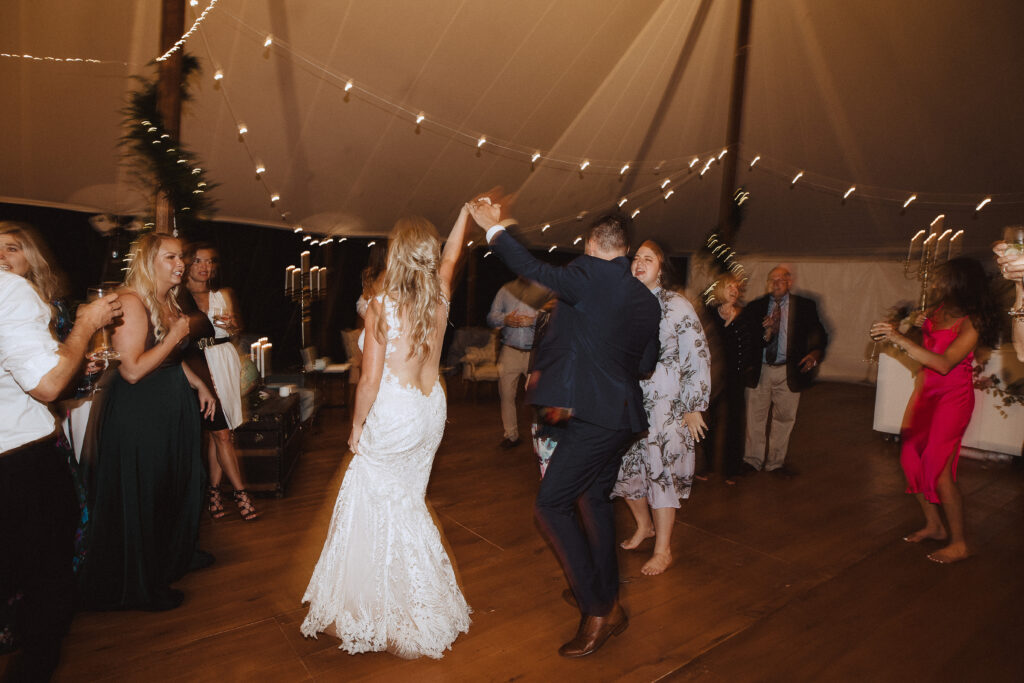 For a special touch for the weekend, they purposefully planned an intimate wedding of 50 people, who were all able to stay at the Inn together. "I wanted everyone to be able to spend as much time together as possible. The Clifton provides an option for everyone to stay together on site. The Clifton is also a spectacular experience for everyone who had not ever been to Virginia. I knew the venue would work to perfect the tiniest details and create an unforgettable wedding. Additionally, it gives us an excuse to come back and stay to relive our wedding!"
Abbey's dress was custom made by designers Naama & Anat Haute Couture. The gown has "French lace and hand-crafted beading over a blush underlay. There was a full illusion low back. I worked with Naama to create my dream dress from scratch!"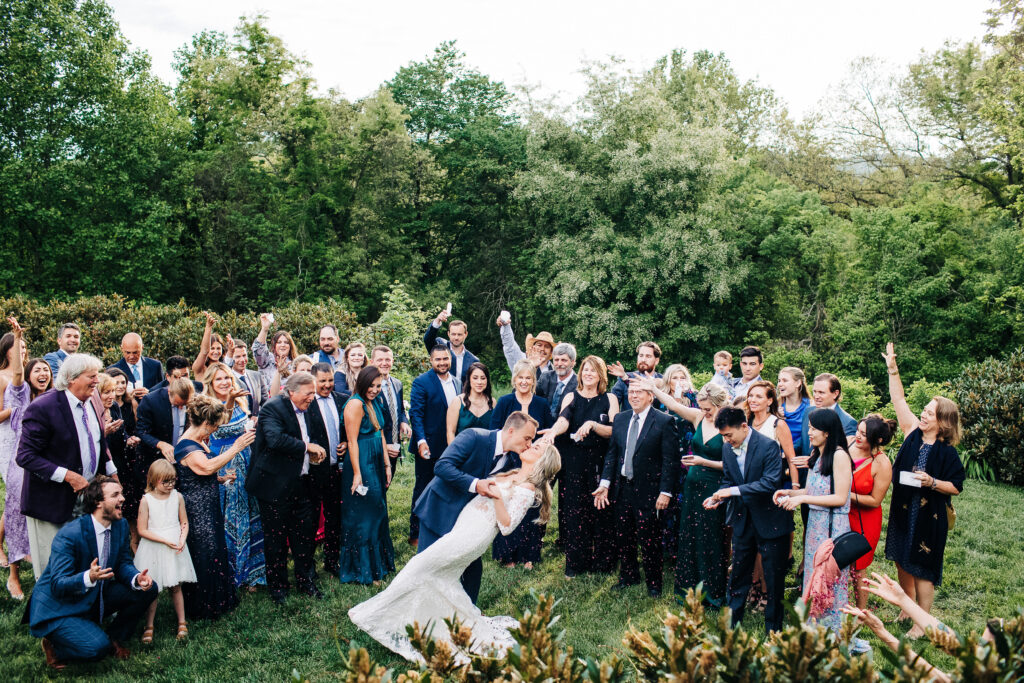 "My colors really developed out of my vision of creating a 1920's vintage Gatsby speak easy vibe. Through this, the darker greens, maroons and blush tones came about. My bridesmaids wore Emerald Green silk dresses. They were able to choose their dress from anywhere, but everyone ended up purchasing them from Lulus online boutique. We liked that best because you can easily order, try on and return what didn't work!"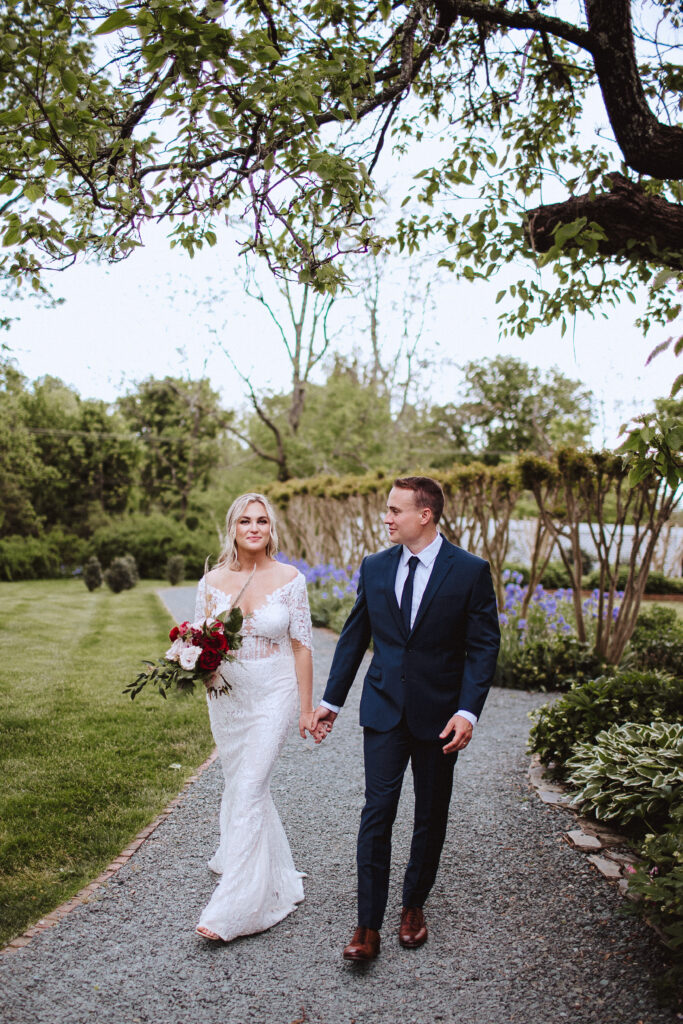 As the planning the big day, Abbey says, "I have to give all of this credit to my fabulous wedding planner. When I first started expressing my vision for the wedding, she created this brilliant concept of the 'Gatsby Garden Gala' and that could not have described it any better! I wanted the wedding to feel less like a traditional wedding and more like an elegant party. People really needed to let loose after the year we all had! I also wanted the vibe of an elegant candle lit speakeasy. Thanks to Mia with Little Acorn Events, she pulled that together for us beyond what we even envisioned or imagined."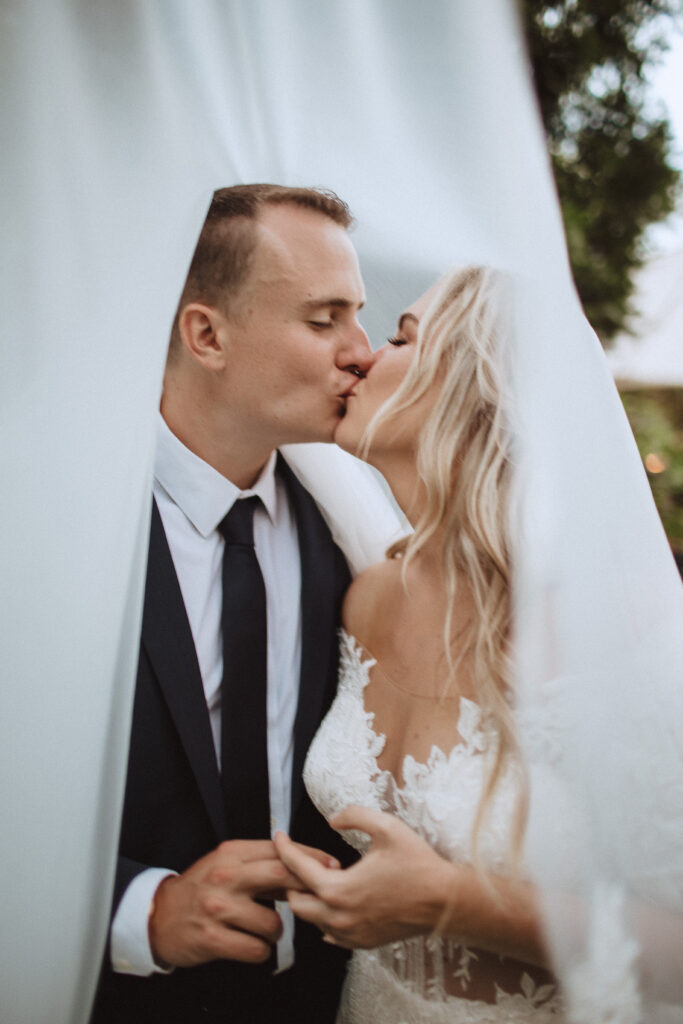 Abbey's advice to fellow brides planning their big day: "Finding vendors, especially a planner, who really takes the time to understand you and your vision will make all of the difference. I work in event planning and management but having an outside perspective who takes the time to help you bring your vision to reality is so important. This helps to let you and your groom enjoy the moment. So, finding people you can entrust to take things on for you is the best advice. Giving your vendors the opportunity to run with things you also allow yourself to be surprised on the day of!"
She adds, "As cliché as it sounds, plan the wedding for you and your groom – not for your guests! They will enjoy themselves regardless, so make you and your future spouse the priority. And lastly, getting married outside of the normal Friday/Saturday allows you to pull together more events for your guests to engage with you and each other and it's usually much cheaper across the board!"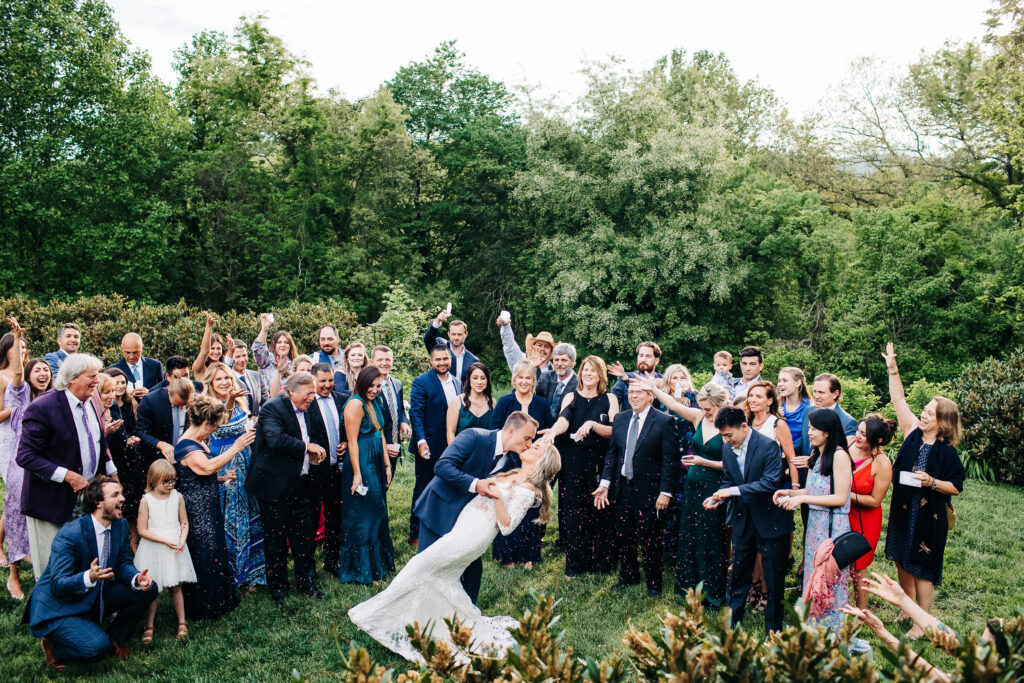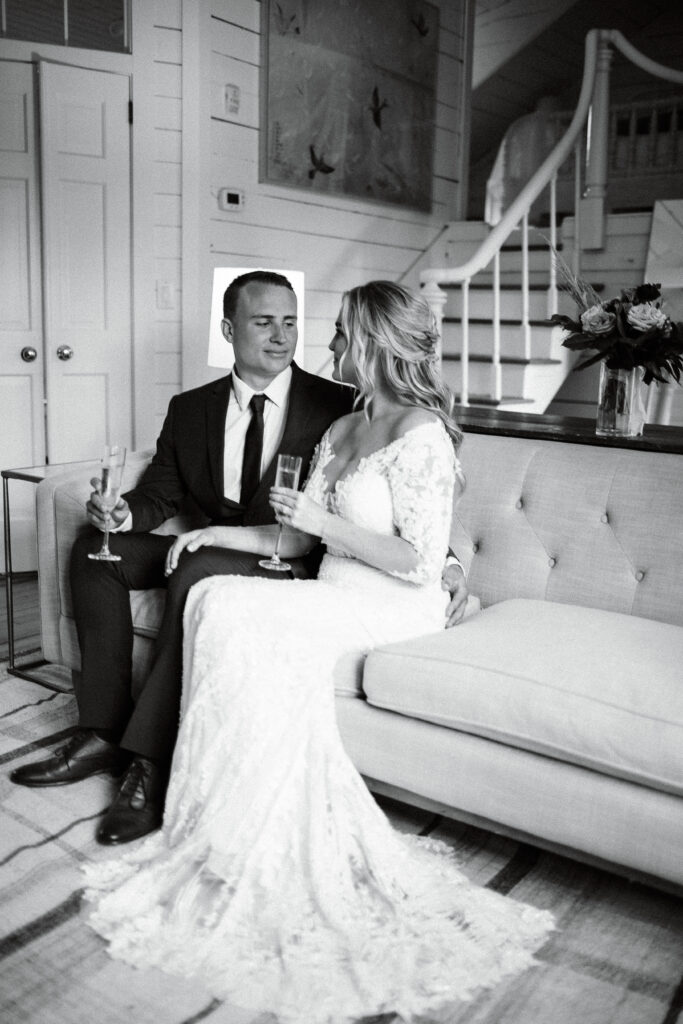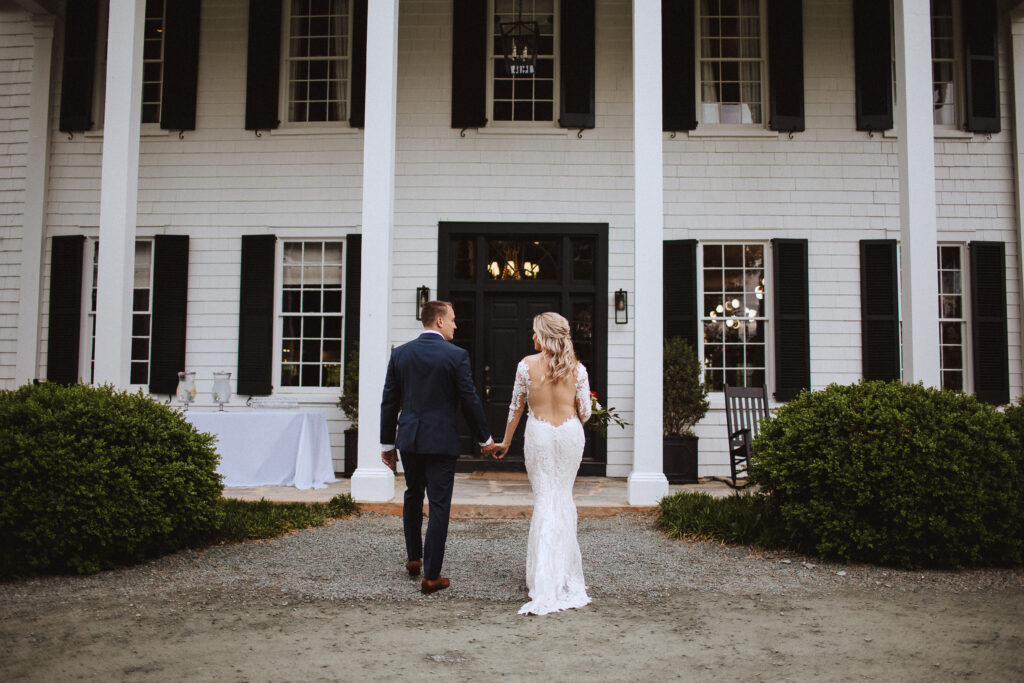 Vendor Credits:
Venue: The Clifton Inn
Photographer: Amber Lamphere, Amber Mae Photography
Wedding Planner: Mia Crump, Little Acorn Events
Officiant: Viki Bale
Gown: Blushing Bride Boutique via Naama & Anat Haute Couture
Shoes: Gianni Bini via Dillard's
Hair: Kelsea Dayberry, Radiant Reflection
Makeup: Meg Bryan, Captivating Complexion
Bridesmaids dresses: Lulus
Formal wear: Express
Flowers: Joseph Barragan & Robert Fraser IV, Riverwood Designs
Rental equipment: Valley Heirlooms
Catering: The Clifton Inn
Music: Charles Rasputin
Live Ceremony Streaming: DJ LoPlex
Honeymoon: We are headed to Hawaii (both Kaui and Maui) in September!