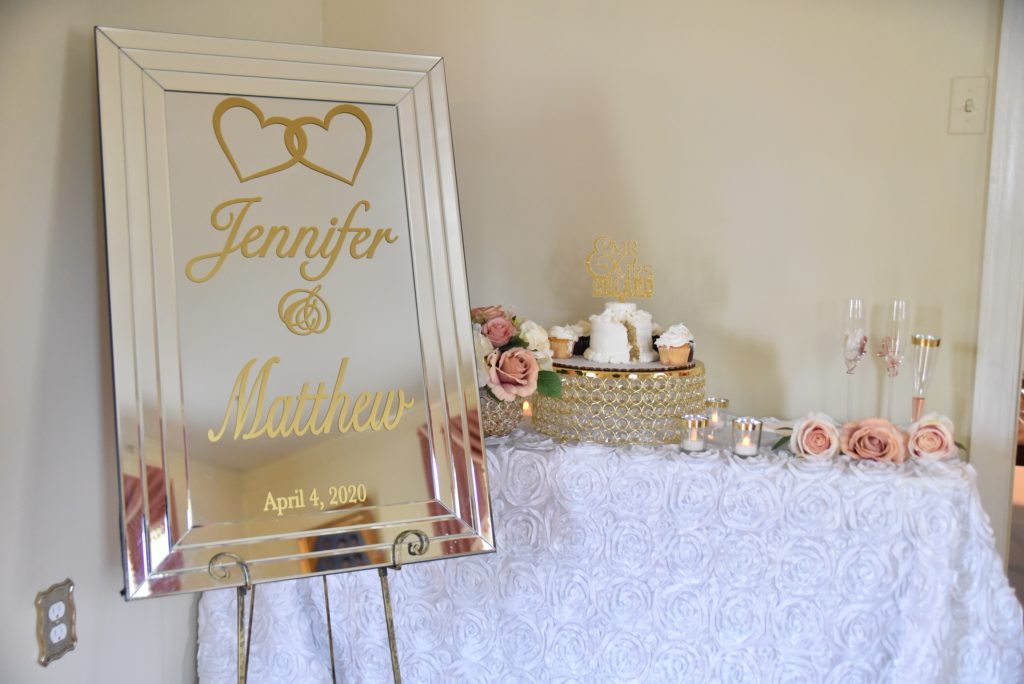 In 2007, Jennifer met up with her godmother and godbrother, along with some friends, at a small local Soul Food restaurant, Annabelle's Chicken & Waffles. They enjoyed the live band, The Krewe, and noshed on a delicious meal. After bandleader Matthew introduced the members of the band, Jennifer's godmother grabbed the pair while the band was on break, sensing the two should meet.
"We exchanged pleasantries and he went onto play the remainder of the show. At the end of the set, my godmother and I wrote our contact information in the guest book for alerts of shows/events the band was doing. We then left the restaurant. As I was pulling out of the parking lot, Matthew came running out of the restaurant and said he did not want me to leave without us exchanging information, as he would like to get to know me better. We exchanged numbers and the rest is history!"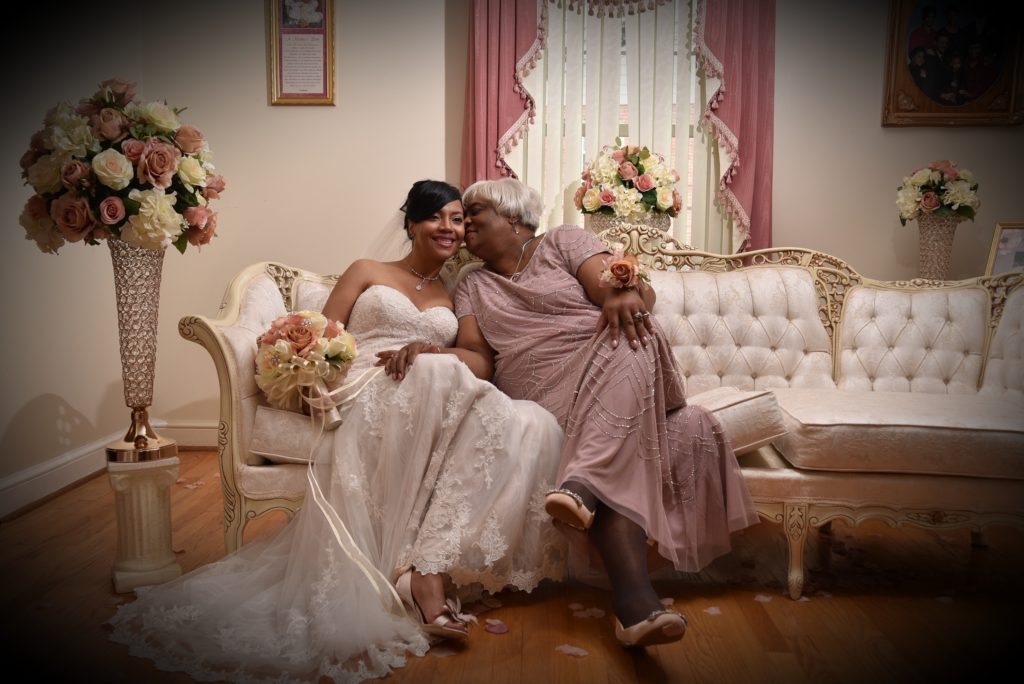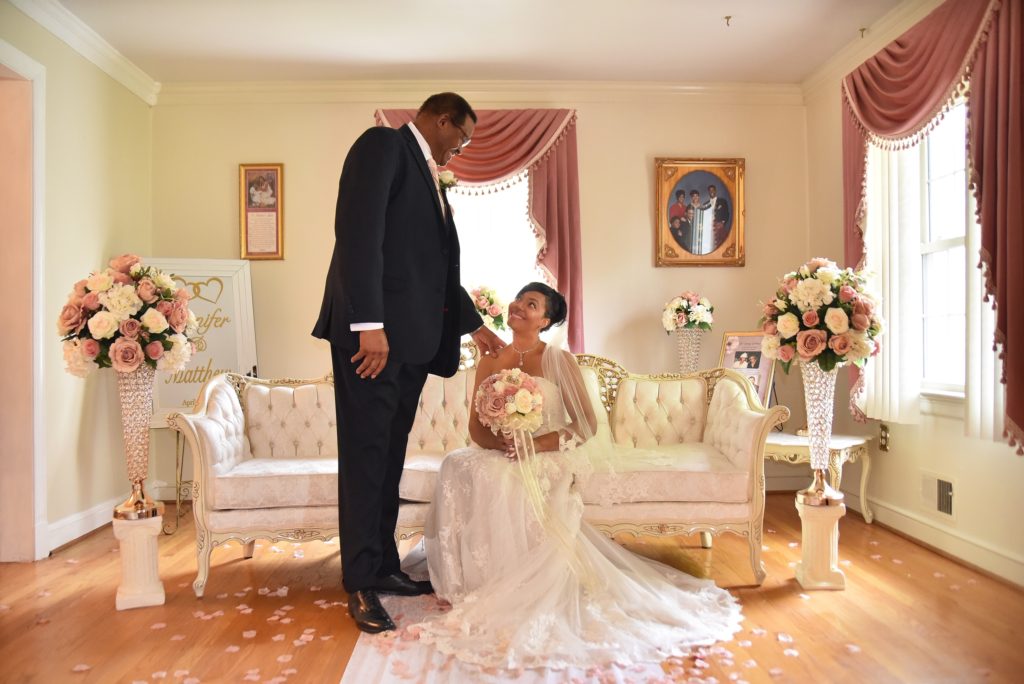 After years of knowing each other, dating, and even being broken up for a year, Jennifer and Matthew finally knew it was time to get married. They planned the wedding and then, as so many fellow brides and grooms have had happen, the pandemic hit.
But the couple decided to move forward with their special day. "We got married in the middle of a WORLDWIDE PANDEMIC! If that does not set us apart, I do not know what does. We were initially supposed to have 230 guests at our wedding (from New York, North Carolina, New Jersey, Maryland, etc.) but the pandemic changed everything. Based on the CDC guidelines, we could only have 10 people at our now intimate wedding ceremony."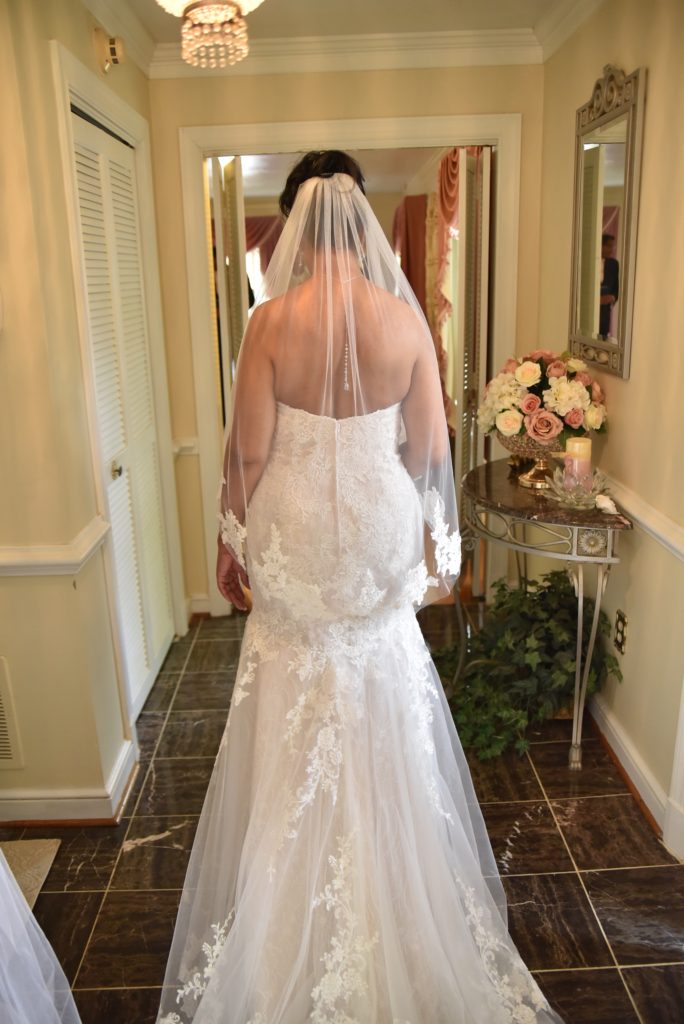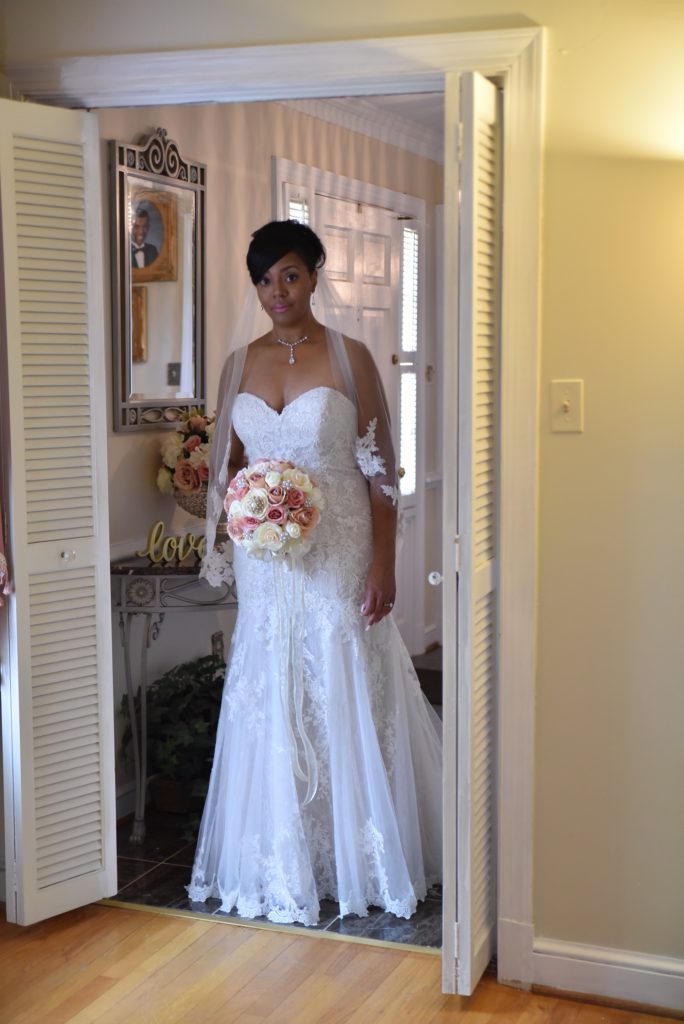 The Scoop:
Bride: Jennifer, 42, Probation Officer for the Department of Juvenile Justice
Groom: Matthew, 42, CDL Driver at BC Wood Products
Wedding date: April 4, 2020
Guests: Intended: 230. Actual, due to CDC guidelines, 10 guests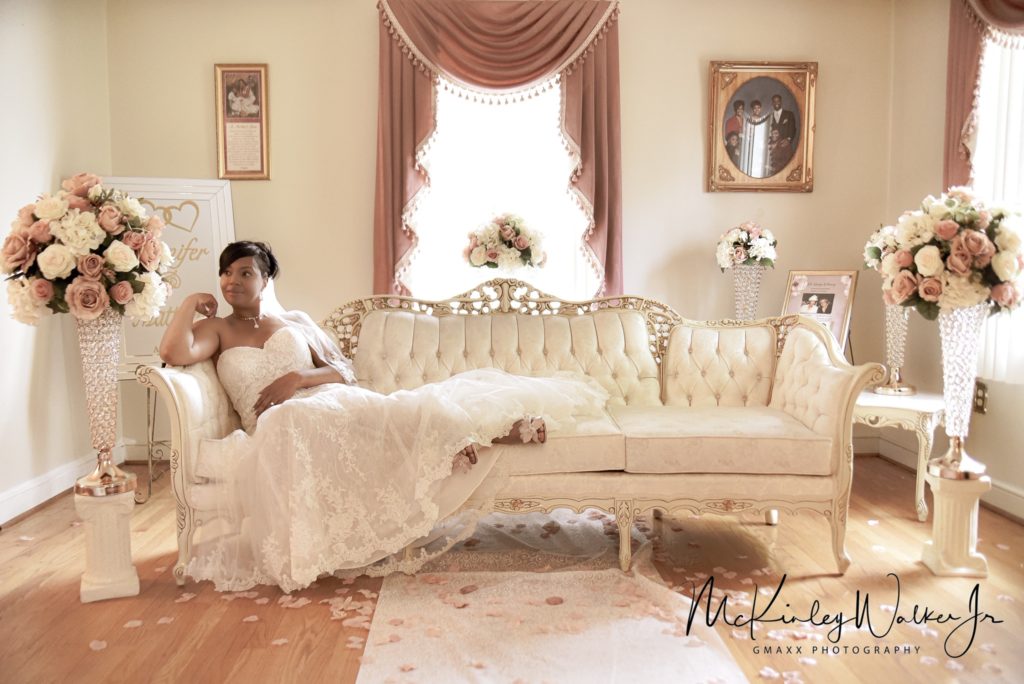 Jennifer's gorgeous gown is a selection from David's Bridal. The mermaid-style gown is ivory lace, romantically layered with Chantilly lace. The curve-hugging silhouette is covered in embroidered vine appliques with sparkling sequins covering the whole beautiful gown. The scalloped sweetheart neckline strapless dress has trailing appliques along the train.
The bride's bouquet was particularly special. It included her maternal grandmother's broach to help Jennifer feel her presence while walking down the makeshift aisle at her parent's home.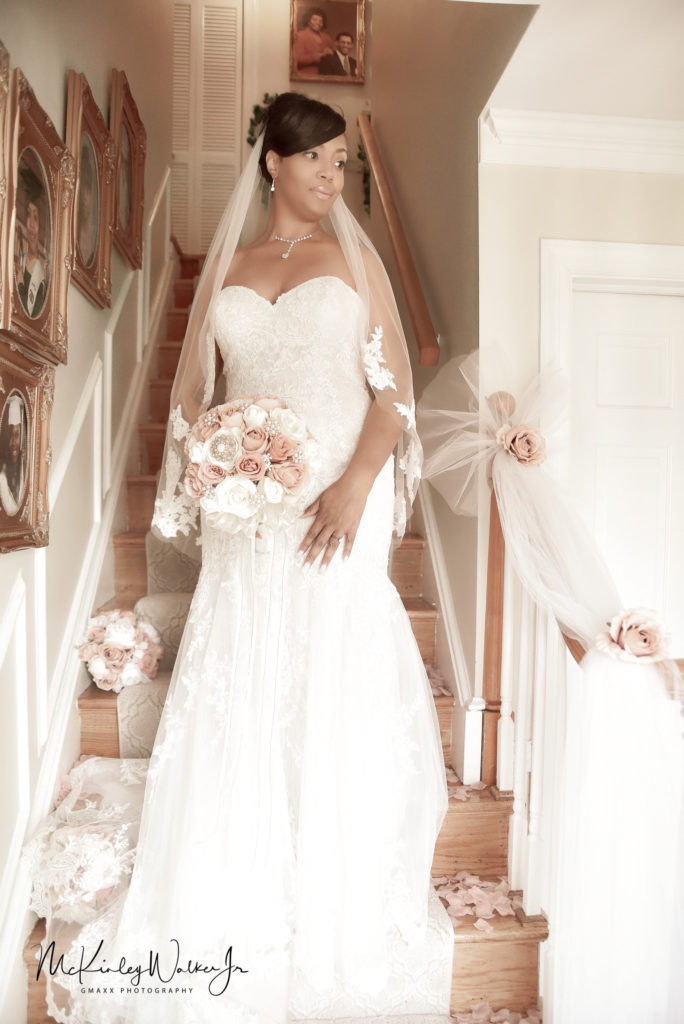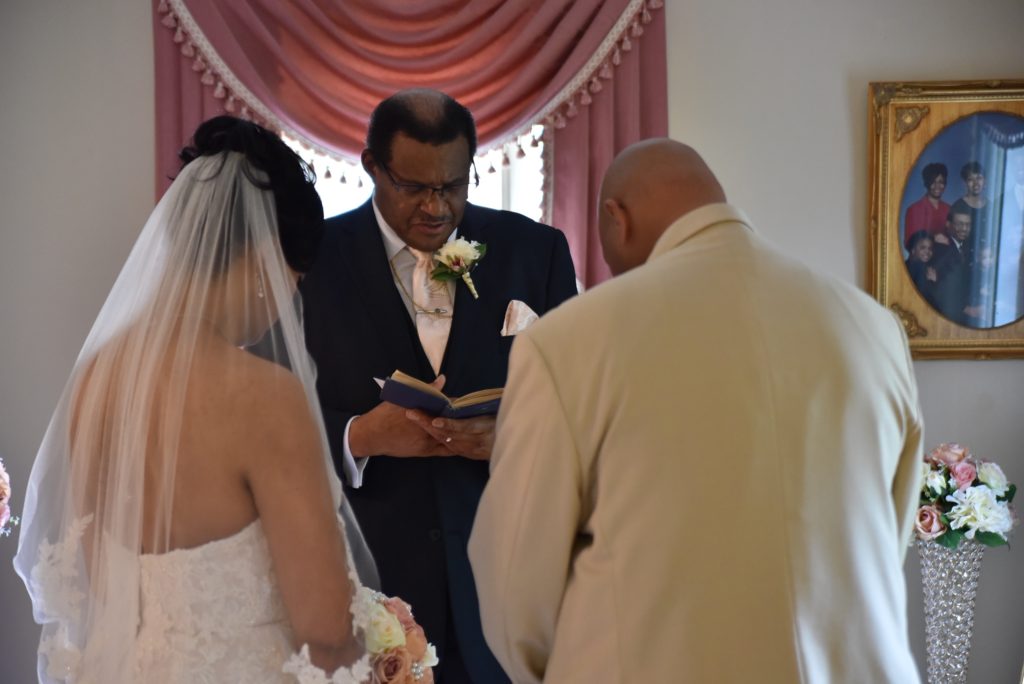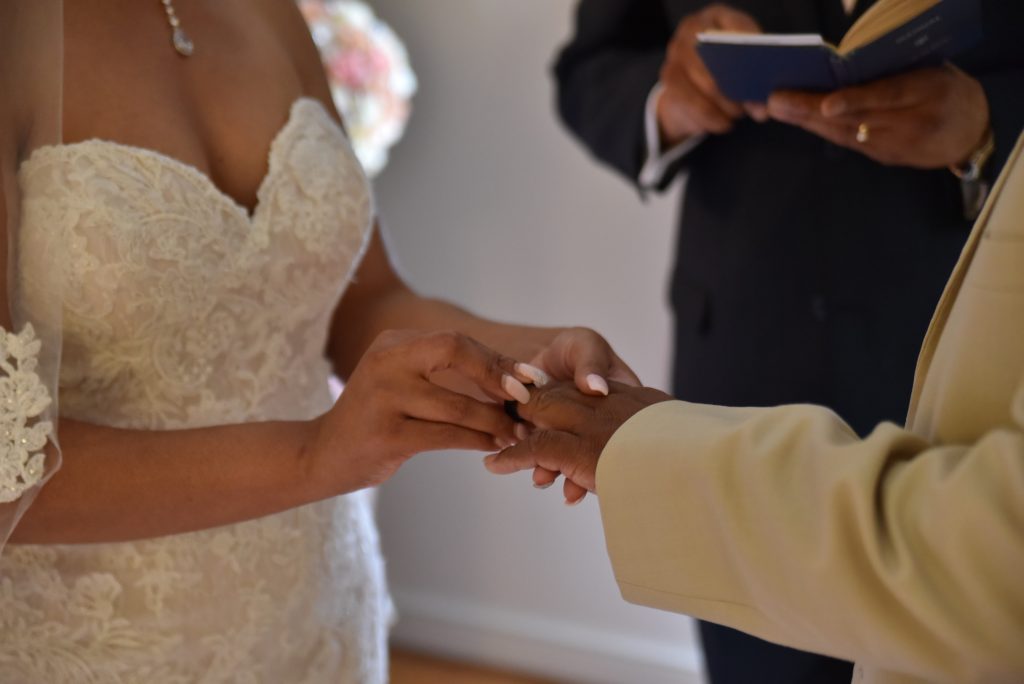 The matron of honor wore a dusty rose and champagne dress while the bridesmaids donned dusty rose dresses. "I thought that Dusty rose, ivory, gold, and deep mauve were beautiful spring colors, and with the way we wanted to design everything it would look so elegant."
The overall look and feel for the occasion was elegant, with an almost royal flair. The rosette tablecloths to gold-trimmed crystal candelabras elevated the antique-style couch of the living room, giving a glowing, bridal look to the family home.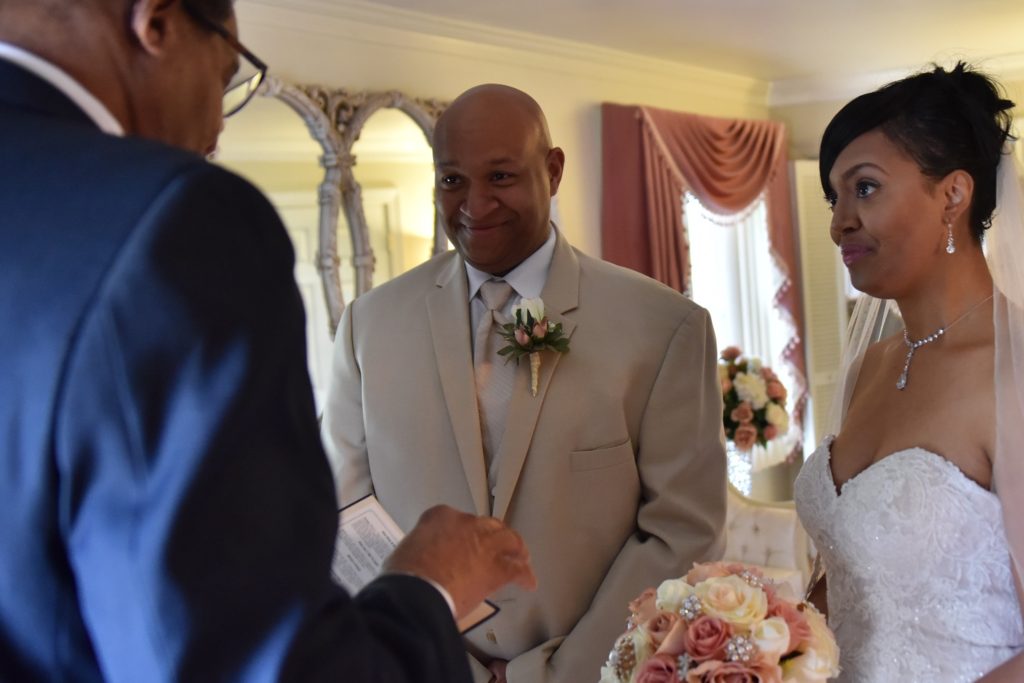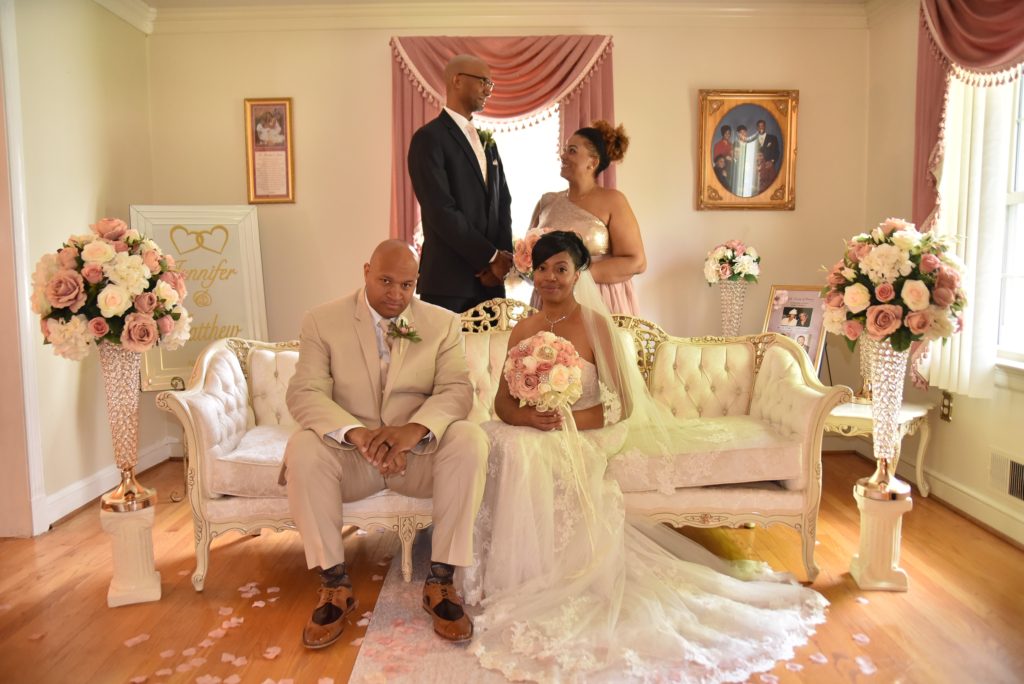 "Due to us not being able to have the wedding at the venue we chose, the venue where we actually got married is very special to me because it is my family's home. My parents have lived in this house for over 20 years. It's amazing how the colors in my parents' living room where our intimate wedding ceremony took place fit right in line with our colors for the wedding."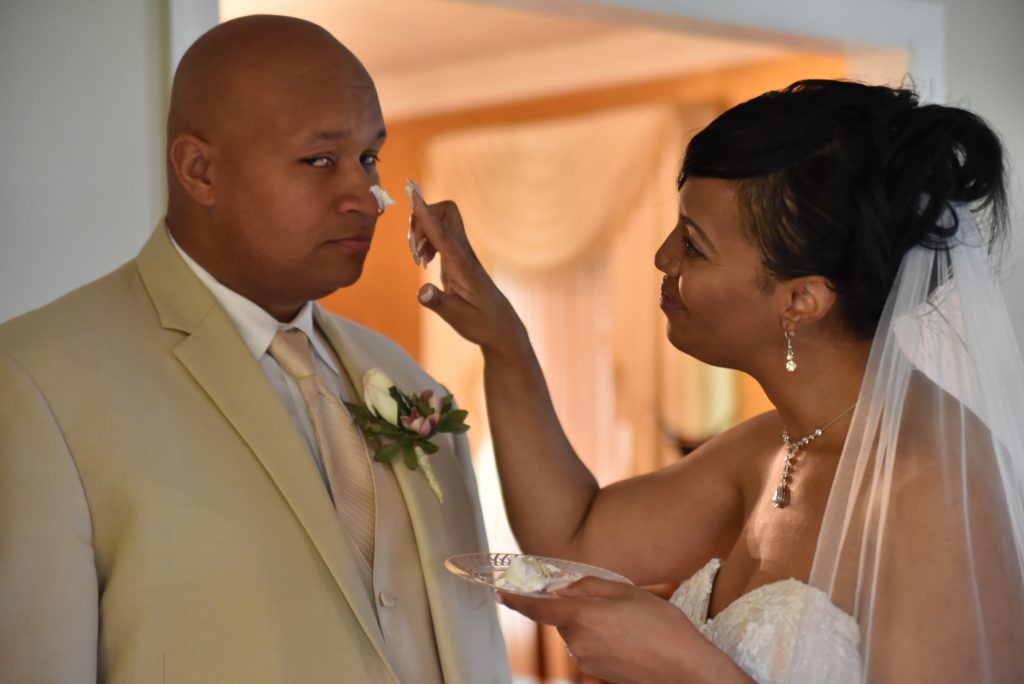 Matthew and Jennifer decided to move forward with their wedding, despite having to cut their guest list by over 200 people. They decided it was more important to be married now than wait for a big wedding ceremony. They will, however, celebrate with all of their intended guests at a later date. "Right now we are simply enjoying married life and I must say it is nothing like being quarantined newlyweds! My advice to people who may be dealing with having to postpone their special day due to the pandemic or any other reason is 'just do it.' Love does indeed prevail no matter the circumstance."
We are so happy for you both. Congratulations!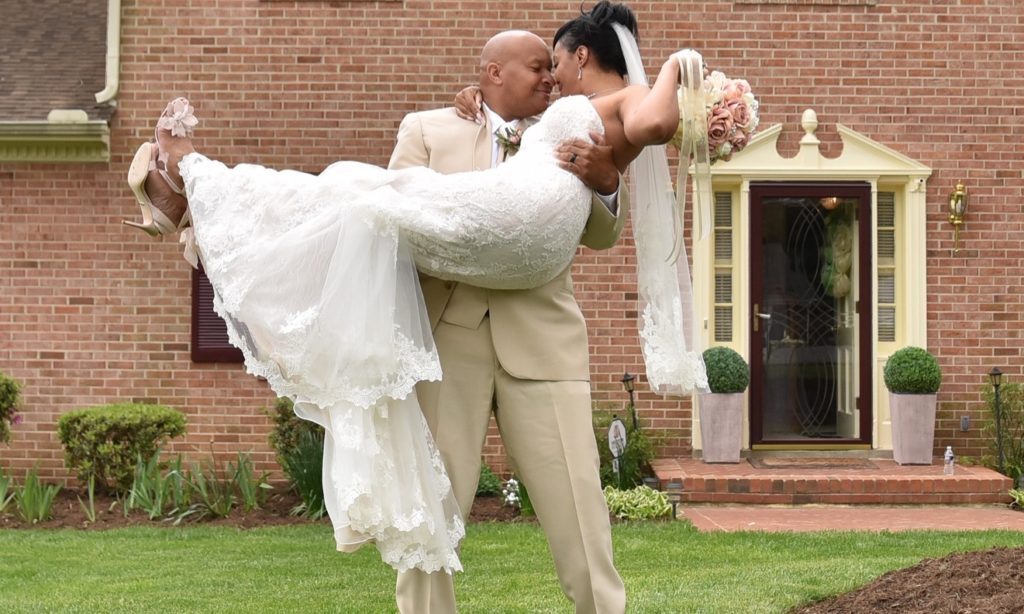 Vendor Credits:
Venue: Family home
Photographer: McKinley Walker, Jr at Gmaxx Photography,  Richmond, VA, 804-658-6311
Consultant: Leslie Harris of Intimate Arrangements, WEP
Day of planner: Angela Taylor of It's My Party, (804) 852-3171
Officiant: Bishop Maurice Nicholson – the bride's father, 804-873-2792
Gown: David's Bridal Collection
Veil: David's Bridal Collection
Shoes:  Badgley Mischka
Hair: Canyetta "Candy" Williams (Matron of Honor)
Makeup: Canyetta "Candy" Williams
Bridesmaids dresses: JJ's House
Formal wear: Hamburger's Rentals, Richmond, VA, 804-716-5464
Invitations: Ann's Bridal Bargains
Bride's Flowers, Boutonnieres, Corsages: US Silk Flowers
Matron of honor & bridesmaids' flowers: OWN Event & Wedding Planner, LLC
Rental equipment: Heavenly Creations Design Team & Hamburger Party Rentals
Catering: https://www.instagram.com/ellarays_kitchen/
Cake: Sugar Heads, Richmond, VA, 804-397-0994
Favors: Nice Price Favors
Transportation: Best Private Driver, LLC, 804-469-8266
Where did you go for your honeymoon? Postponed