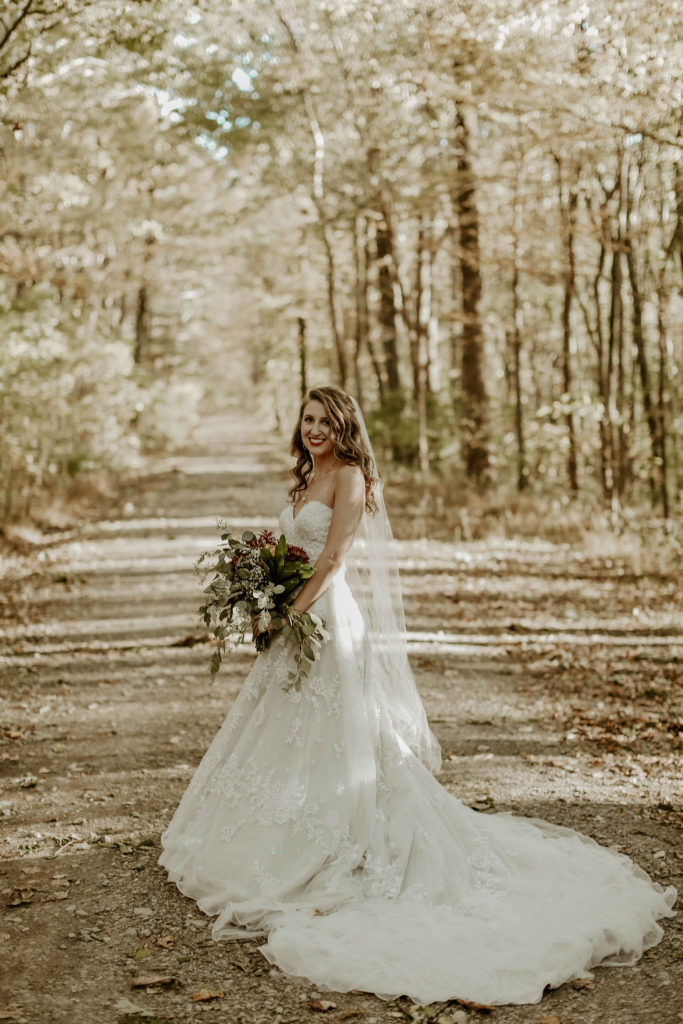 Kaitlyn and Joey met through Hannah Hofheinz, the talented photographer who did this incredible styled photo shoot for them. "Hannah and Joey grew up together and were best friends. She and I met and quickly became really close. She introduced me to Joey three days before he moved to upstate New York for a year-long Bible program. We started dating long distance a month later."
The new couple had their first official date when Joey drove twelve hours to surprise Kaitlyn and take her to a Harvest Hoedown fall dance. They got coffee the next day in Roanoke and watched the sunset at the Mill Mountain Star overlook. The poor guy had to drive back the very next morning.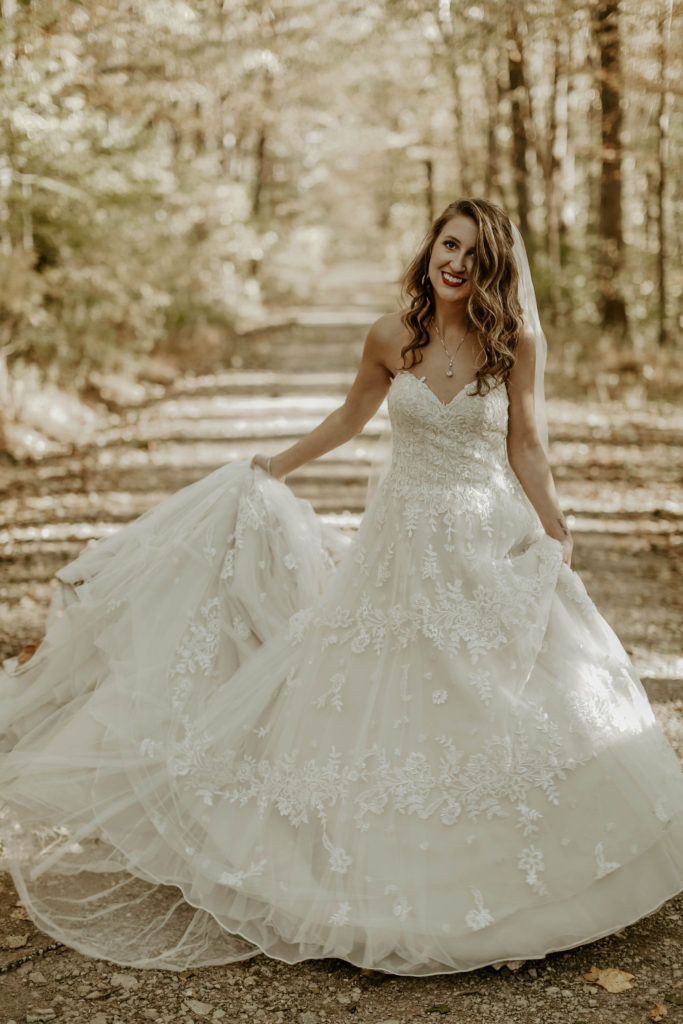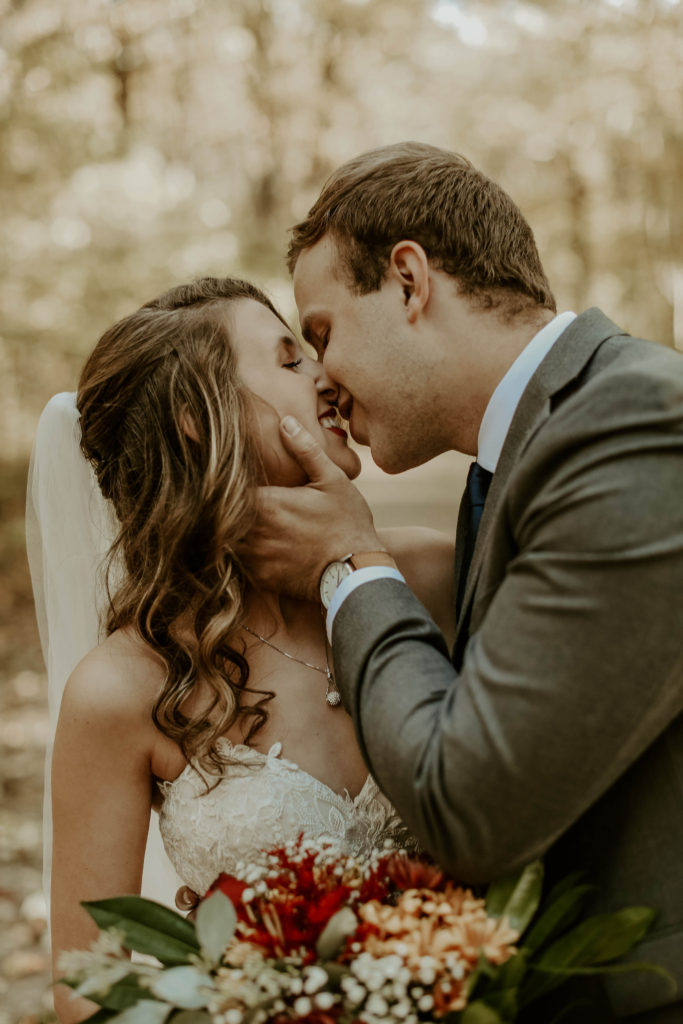 Kaitlyn and Joey wanted a very personalized wedding, so they invited their friends and family to help their craft their special day.
"Our wedding was unique because almost every element was created by friends and family. My husband is Italian and so his mom and aunts made homemade pasta sauce and brought some of his favorite foods from the most amazing Italian market in Long Island. My family is filled with incredible cooks and my parents made homemade bread, food, and desserts for days.
"A huge group of my bridesmaids and family friends helped make mini pies that we gave out as favors because it was so close to thanksgiving. My sister is an artist and made almost all of our decorations. We had as many out of town guests as we did local guests and people showed up from over five states. It really was so unique and personal to us."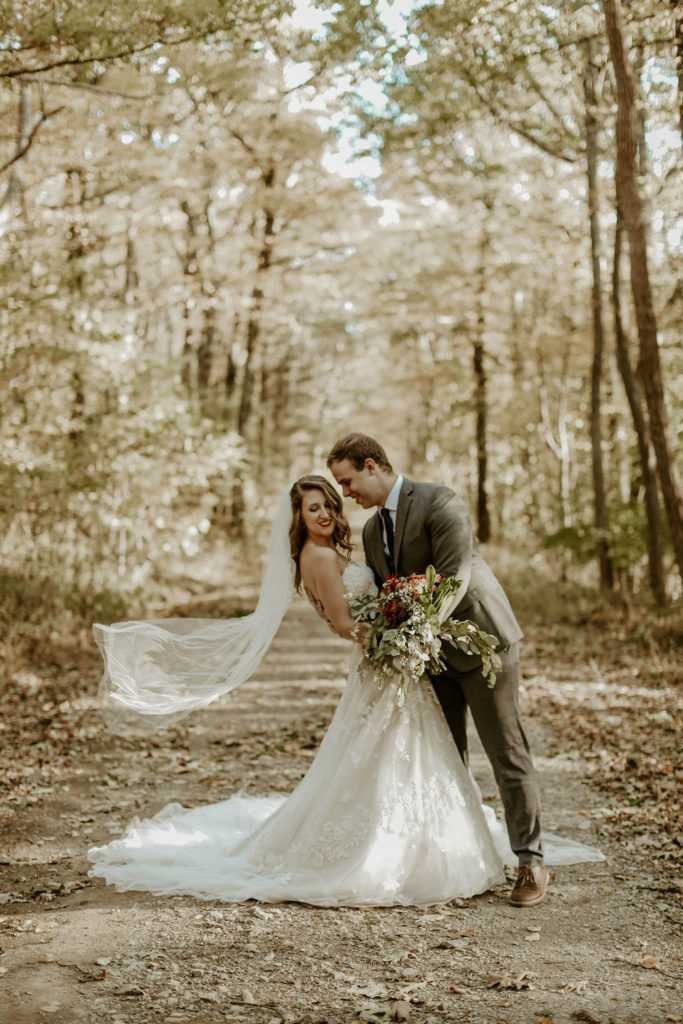 The Scoop
Bride: Kaitlyn, 22, Office Manager at Radford Baptist Church
Groom: Joey, 22, Machine Operator at Advance Machining Solutions
Wedding date: November 17, 2018
Number of guests: 215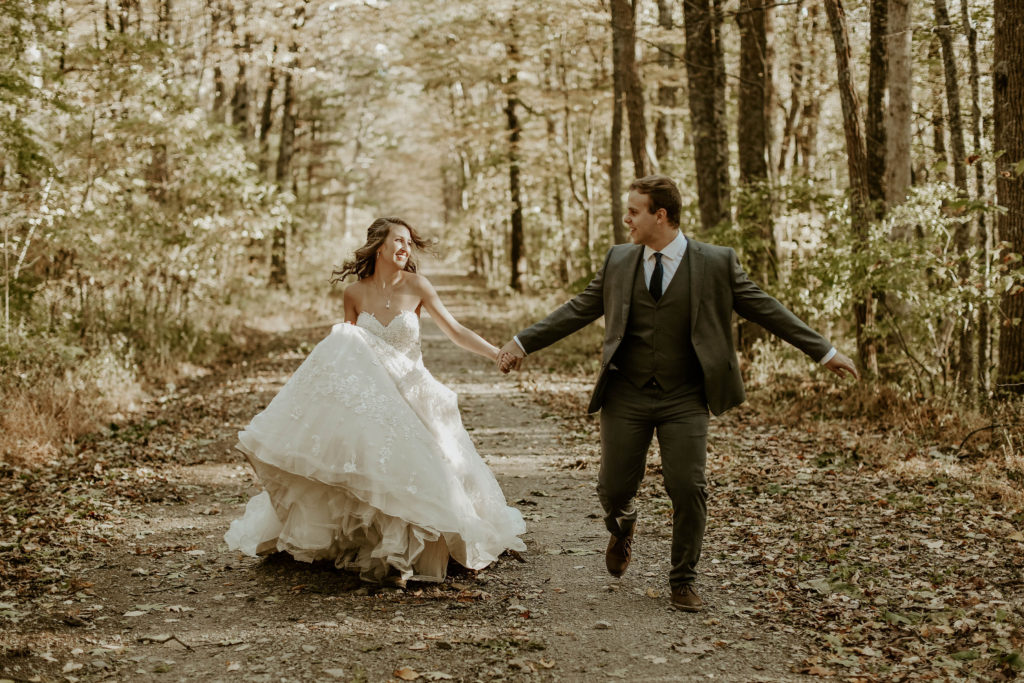 Kaitlyn had a whimsical but very traditional style wedding gown with lots of lace and softness in appearance and feel. "The layer underneath was not white so there was a lot of depth to the dress, I loved every part of it. My shoes were my something blue and I love wearing them now. My necklace was actually a gift from Joey, when you hold a light up to the back it projects 'I love you' in 200 languages.
"My favorite element of it all is actually my engagement ring and wedding band. Joey purchased my engagement ring and then his grandmother gave him her wedding band and his grandpa's band. They were a perfect match even through that wasn't planned at all. His grandmother unexpectedly passed away shortly after our wedding so it is really special to both of us. We both looked over during our ceremony and she let out the loudest happy cry, it was so sweet (and pretty funny too)."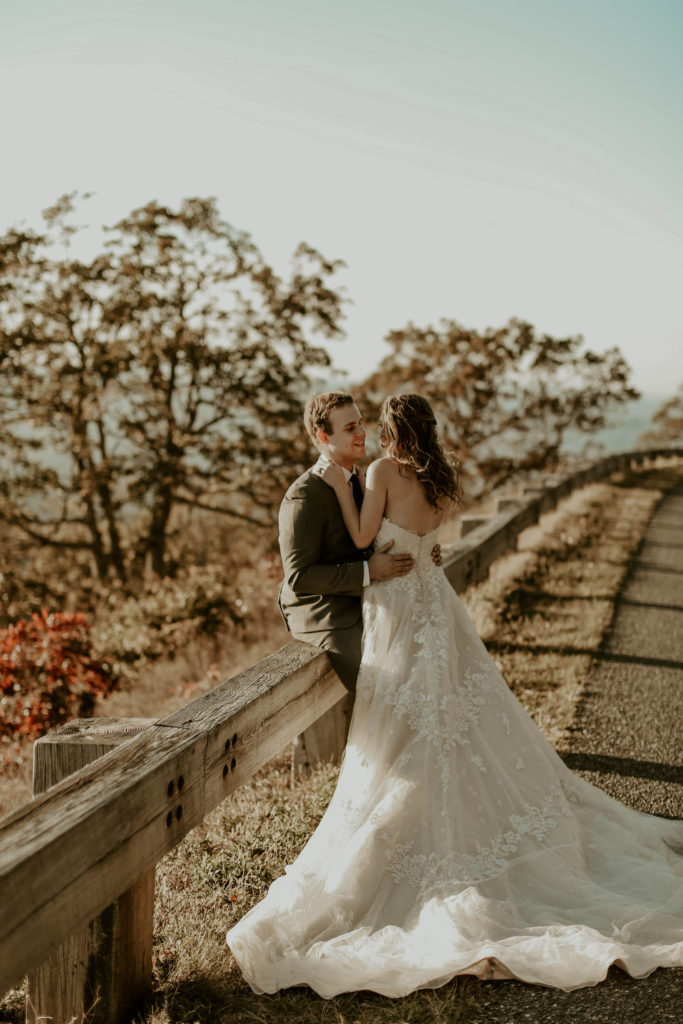 The couple had a large bridal party, so Kaitlyn chose two bridesmaids dresses, one in light blue and one in dark blue.
"We picked the colors because blue has always been my favorite color and because the colors reflected the Blue Ridge mountains which were really significant in our relationship. Joey and I love the mountains and spent most of our date nights on the Parkway or hiking."
Overall, the look and feel of their wedding was rustic and cozy, with timeless, classic, but relaxed elements. Kaitlyn's family is known for huge parties, so as they helped to take the reins, it felt like her childhood shindigs, "just with two hundred people and a big white dress."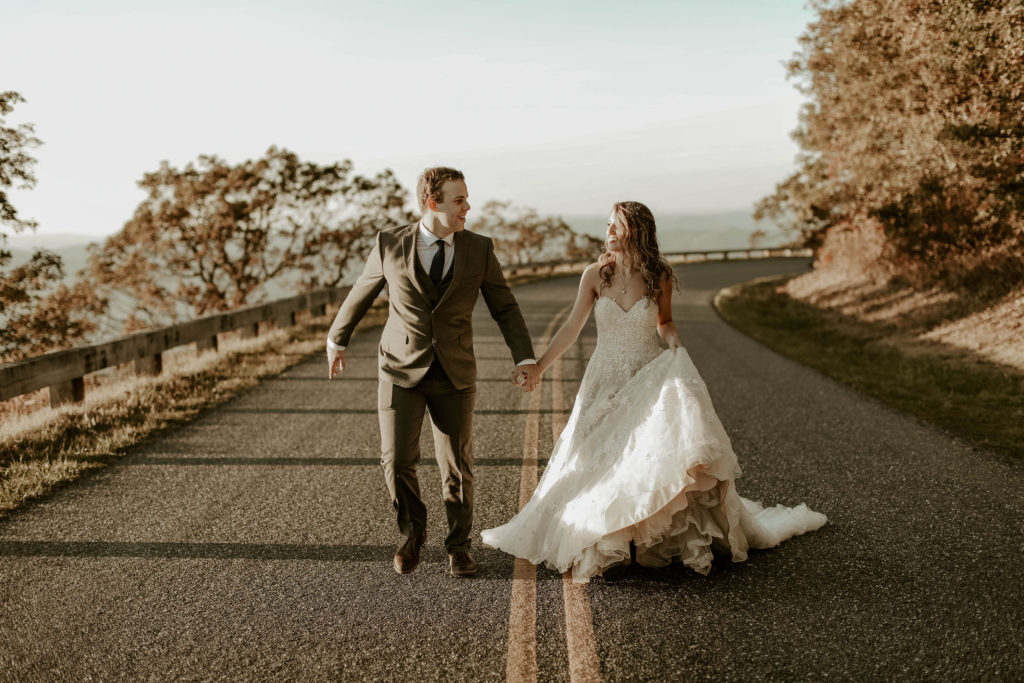 The couple was married at Radford Baptist Church, only about five feet from the spot where they were first introduced to each other. From there, they took the party to a lovely venue large enough to host their guests. Later on, they slipped away alone with friend and professional photographer, Hannah Hofheinz, for a special shoot along the Blue Ridge Parkway.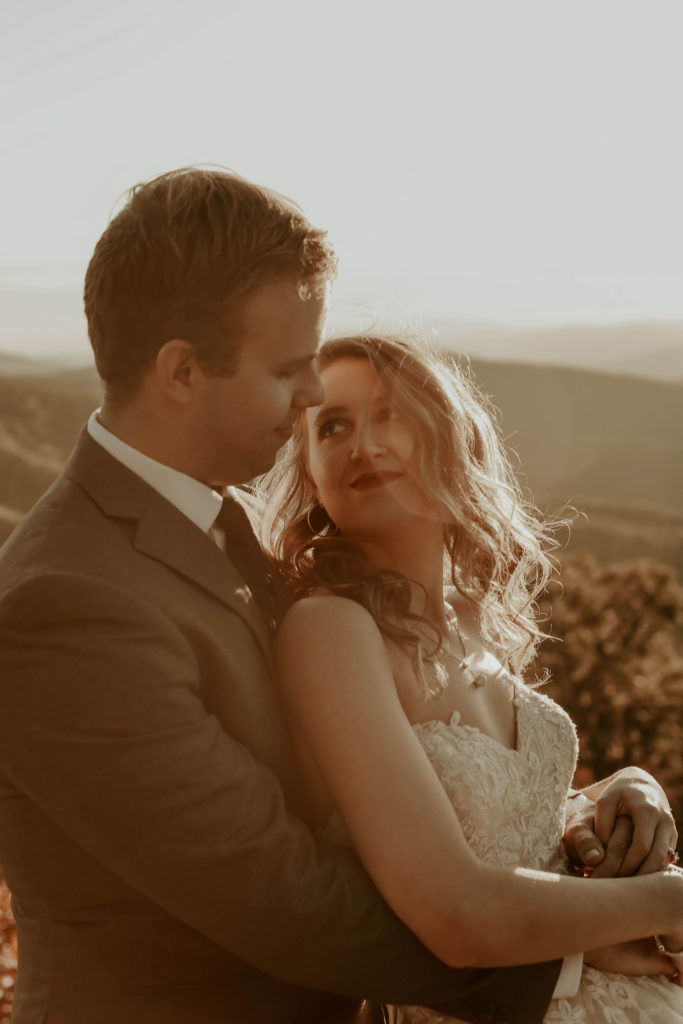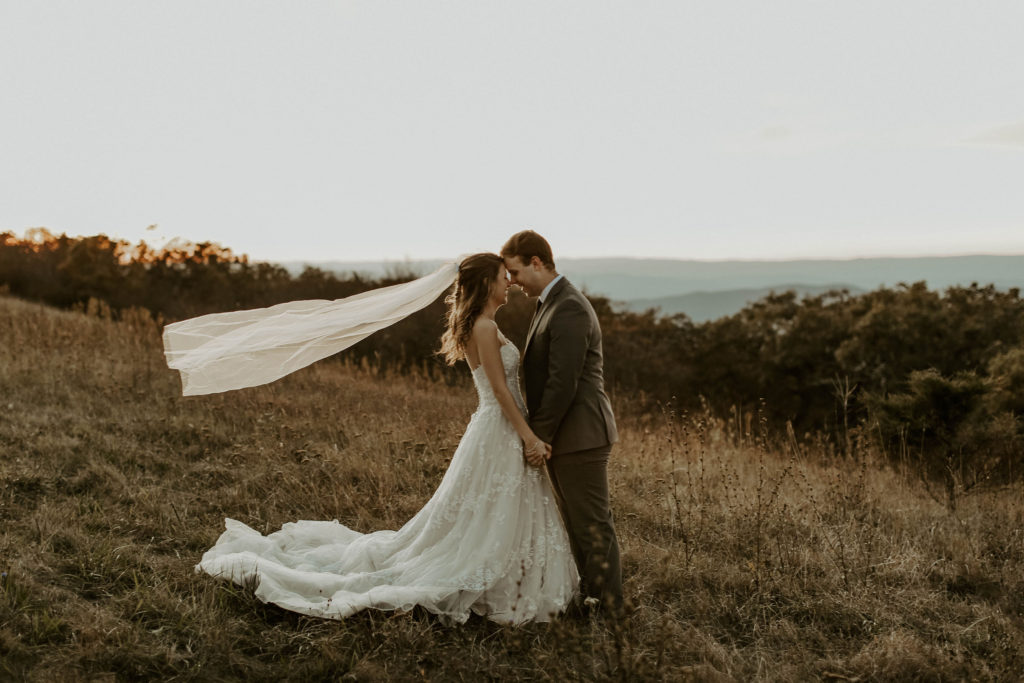 All of their guests were special and important to them. "We had so many friends from out of town which was amazing. The people were one of the most important part of our day. Having Joey's grandmother in from Long Island was so special. My great Aunt Ribby came in from PA, I was really close to her mother as a child and so it was like having a little piece of my Nana with me on my special day."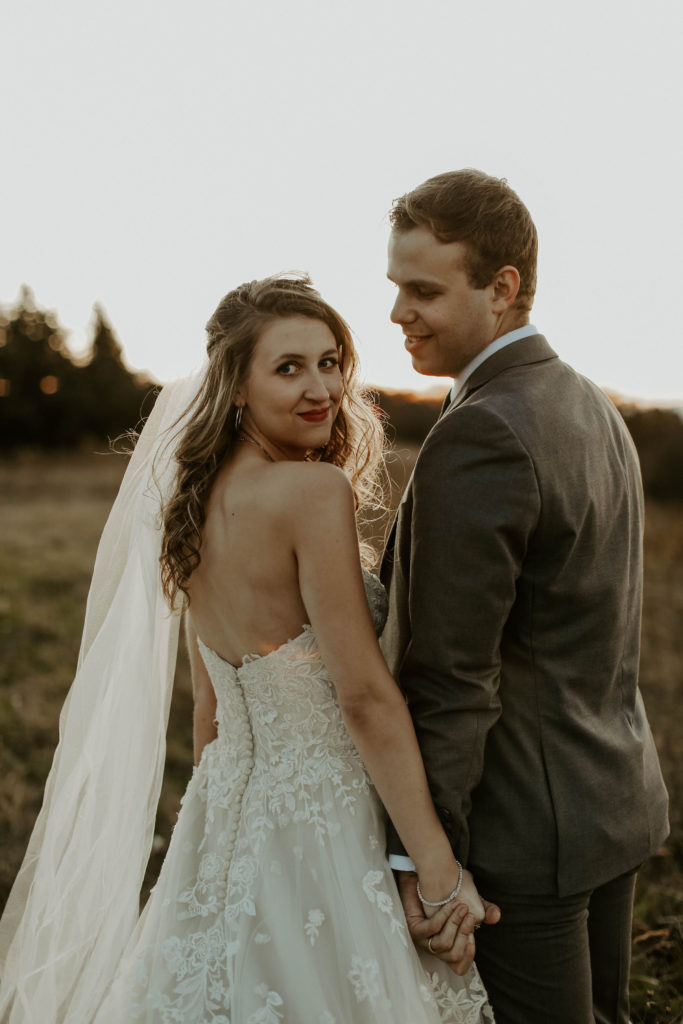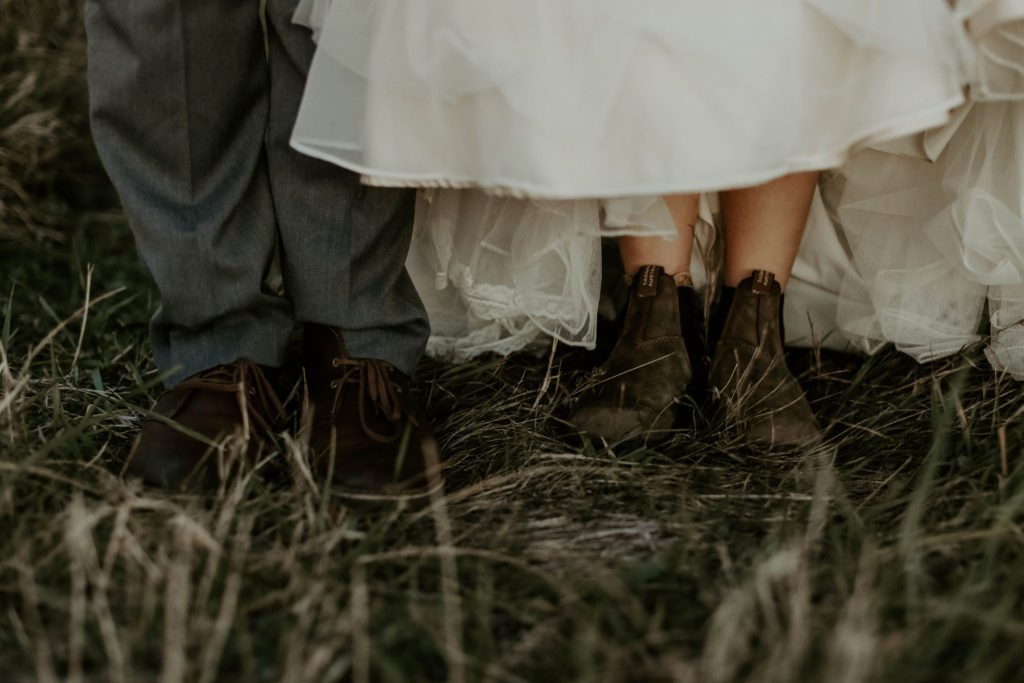 Kaitlyn offers this advice to brides as they plan their own special days.
"Enjoy your day and don't stress. Our wedding was about celebrating what the Lord was doing in our relationship and being surrounded by the most important people in our life. I am sure things weren't perfect but everything that mattered was perfect. The only other advice I would give is take ibuprofen at dinner and have someone pack you a slice of cheesecake for the road."
She then added, "Also I highly recommend scheduling a photoshoot after the wedding. It is a great opportunity to put your dress back on and get pictures in a location that means something to you but wasn't practical for the day. It also takes so much pressure off and it is so much fun."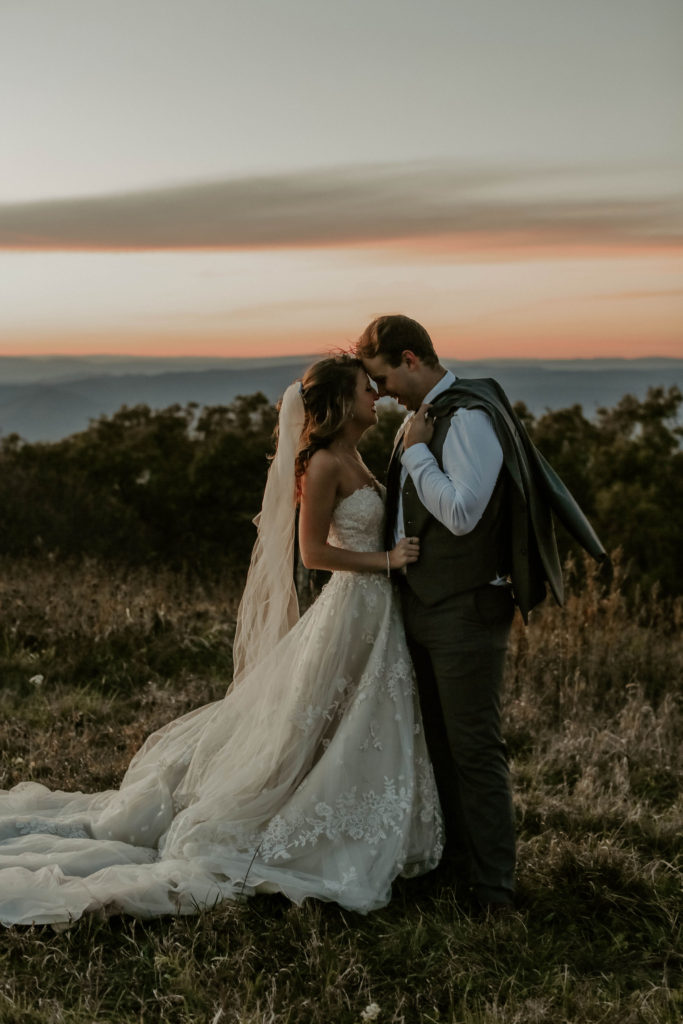 Vendor Credits:
Ceremony Venue: Radford Baptist Church, Moneta, VA, 540-297-5214
Reception Venue: The Woodland Place, Vinton, VA, 540-982-9759
Photoshoot Venue: Blue Ridge Parkway
Wedding Day Photographer: Caitlin Clark Photography, 540-352-8836
Engagement & Photoshoot: Hannah Lee Photography, 540-759-0325
Officiant: Karl Hofheinz, 540-580-2634
Gown: Ashley Grace Bridal, Lynchburg, VA, 434-534-3490
Veil & Gown Alterations: Mary Ellen, 303-845-0963
Hair & Makeup: Kim Simpson
Bridesmaids dresses: Azazie
Formal wear: Macy's
Ties: Azazie
Flowers: Sams
Catering: Family & friends
Music: Spotify playlist crafted by the bride & groom
Cake: Kaitlyn made her own cake the night before the wedding.
Favors: Homemade mini pies made by my bridal party, my family, and friends.
Honeymoon: Disney World. "All of the Christmas displays were up so it was pretty magical and required very little planning."