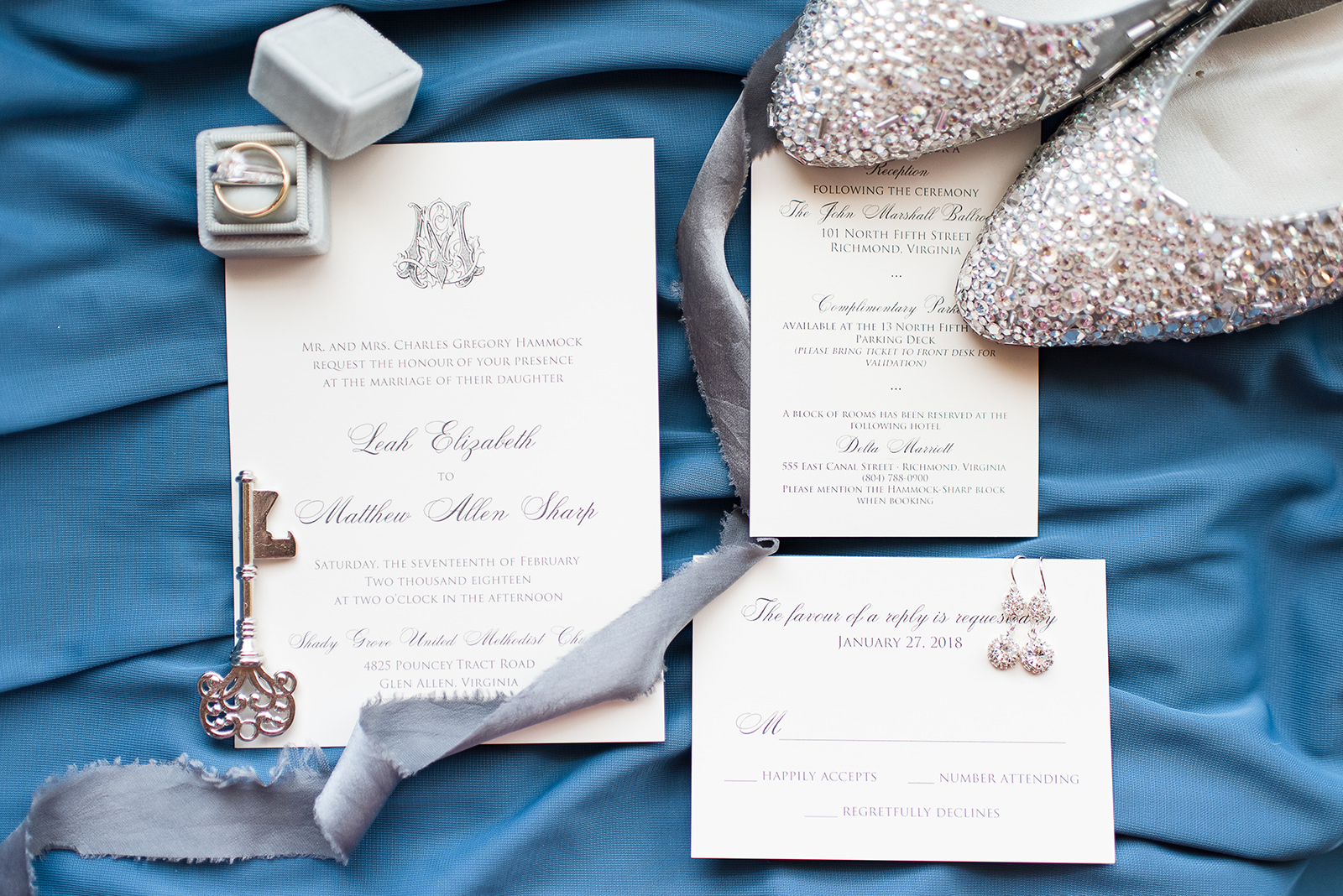 I love a girl who sets her eyes on something and makes it happen. That was the case for today's bride, Leah, who met her now husband in high school.
"I told his sister that I was going to marry her brother- she laughed & told me to get in line- 8 years later, it actually happened!" Leah recalled.
And we are so happy it did because their wedding this past February was gorgeous!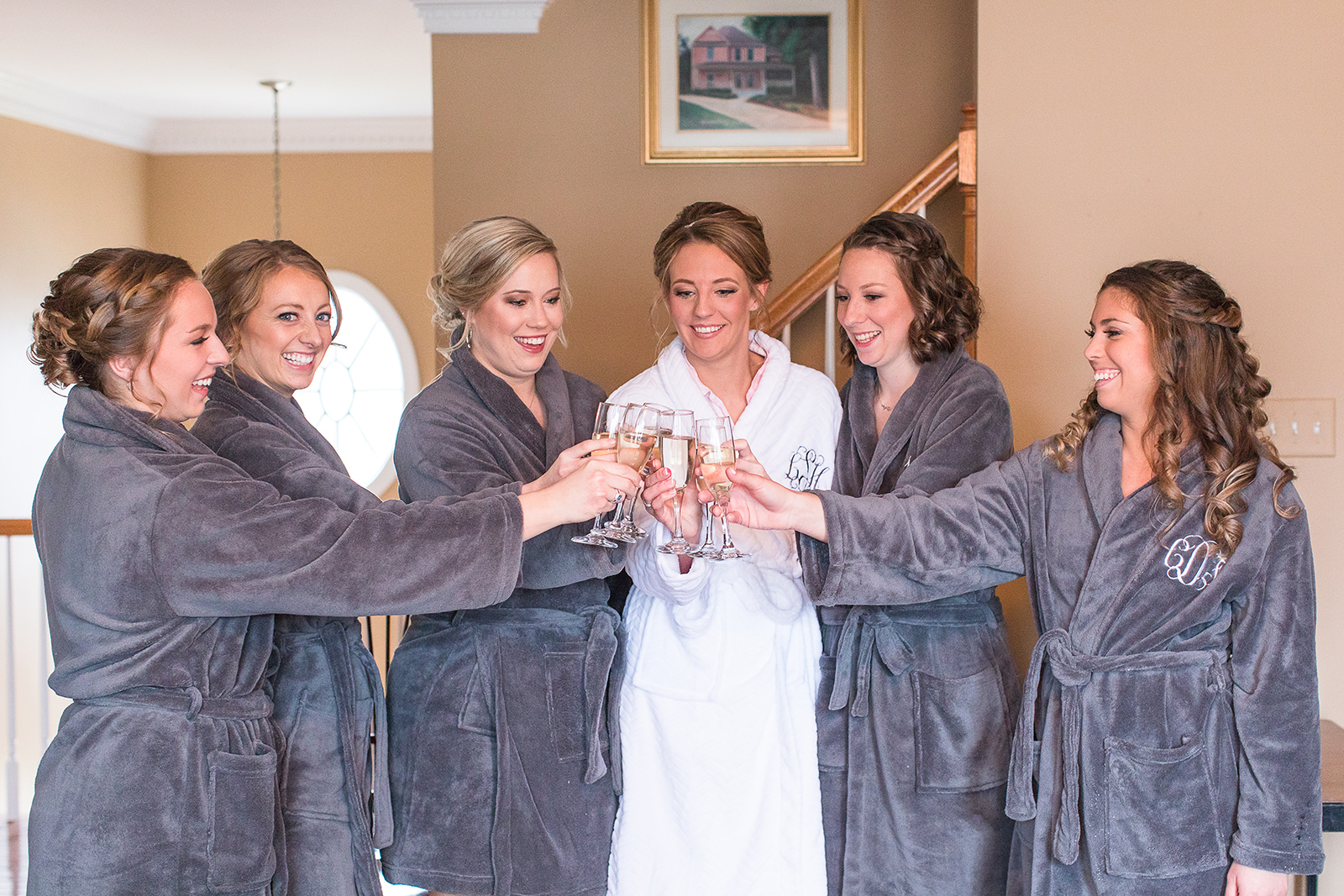 Leah and her best gals enjoyed champagne the morning of the big day while getting ready.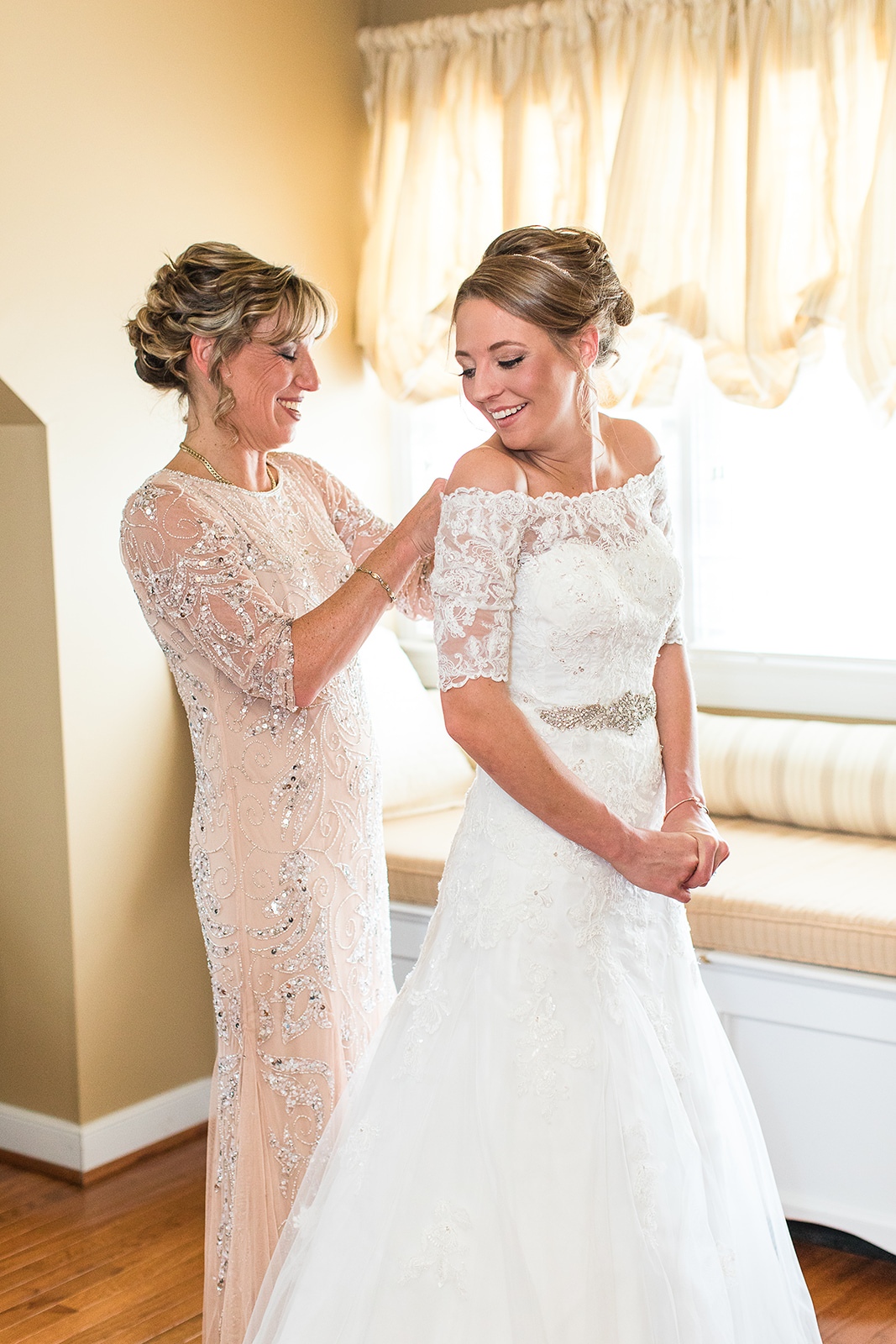 She wore a beautiful a lace off the shoulder gown that I am obsessed with! I love her mom's dress as well! The joy in their smiles is so special…probably thinking about how Matt's jaw was going to drop as she walked down the aisle ?.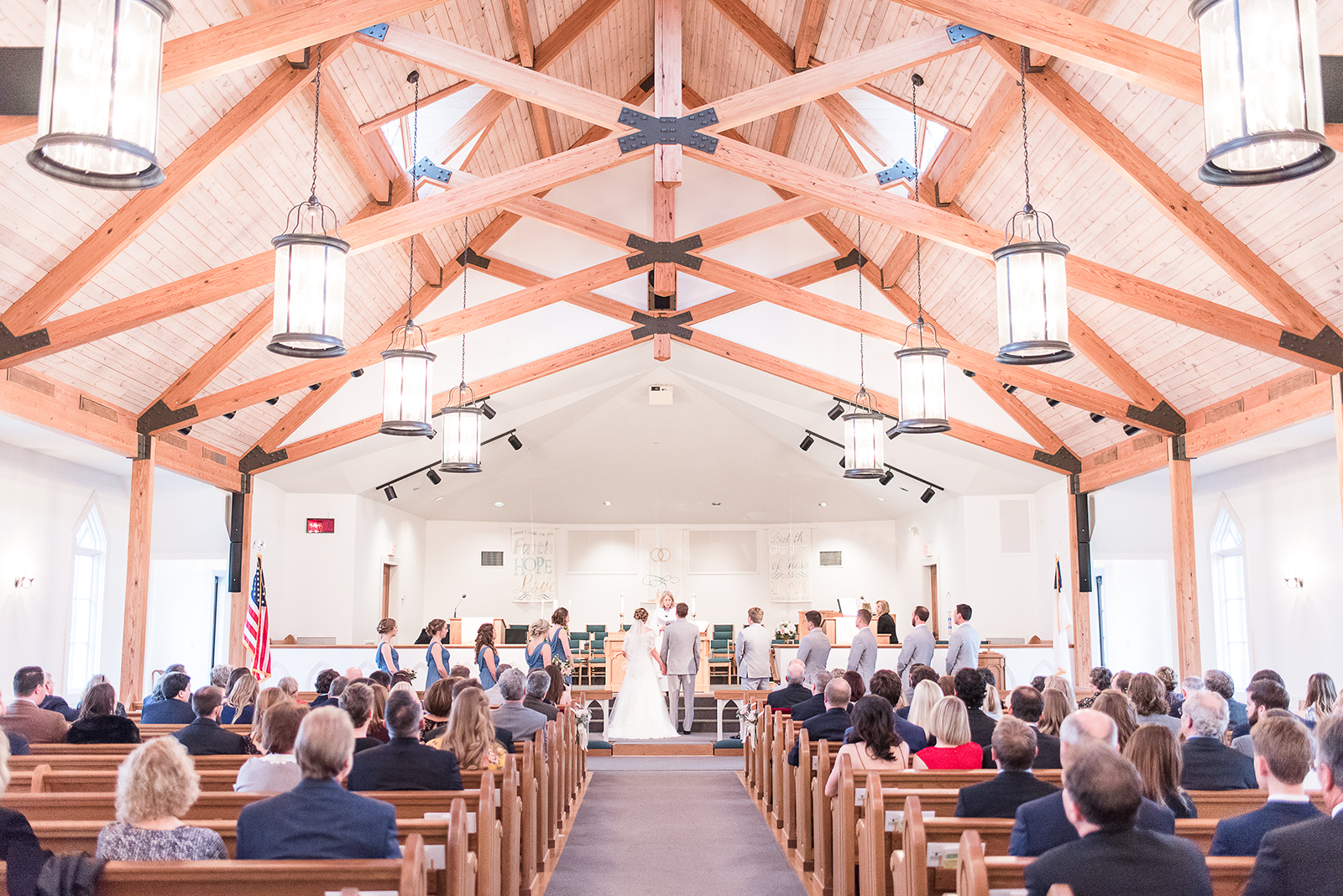 The ceremony took place inside the Shady Grove United Methodist Church.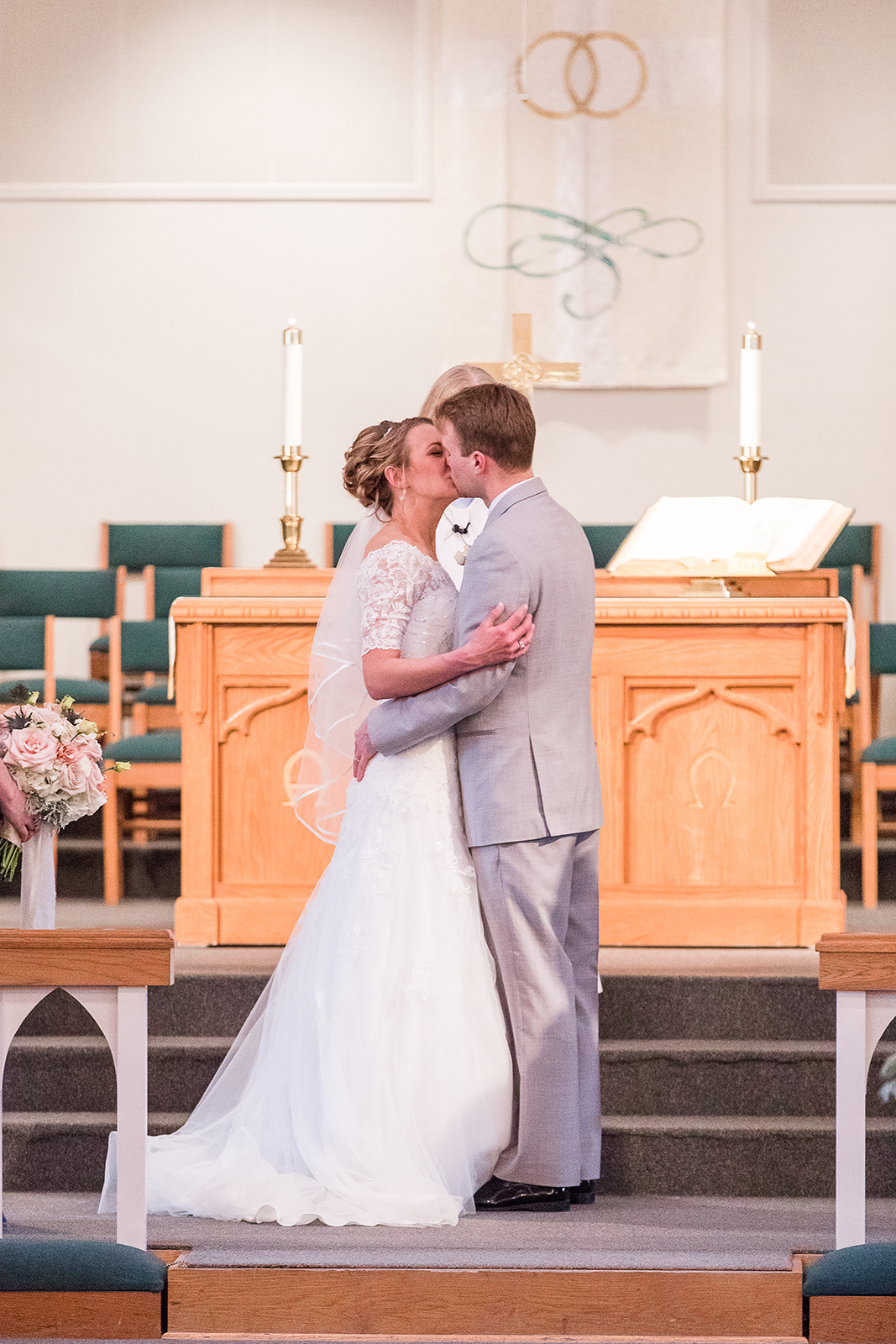 And with a kiss, Leah's prediction of marrying Matt over 6 years ago came true!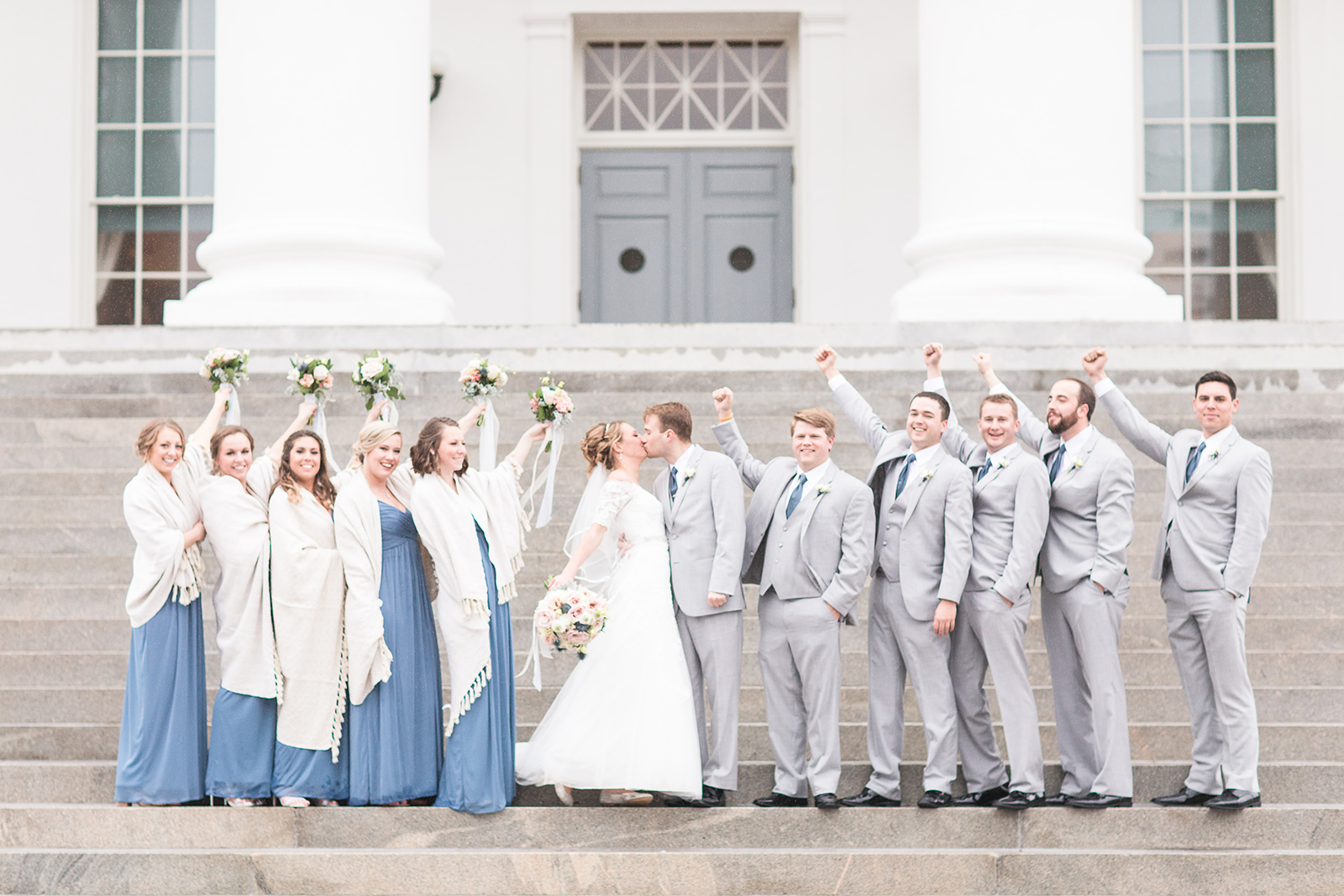 Everyone was pumped to see the pair wed! Gotta love a slate blue and grey color scheme ?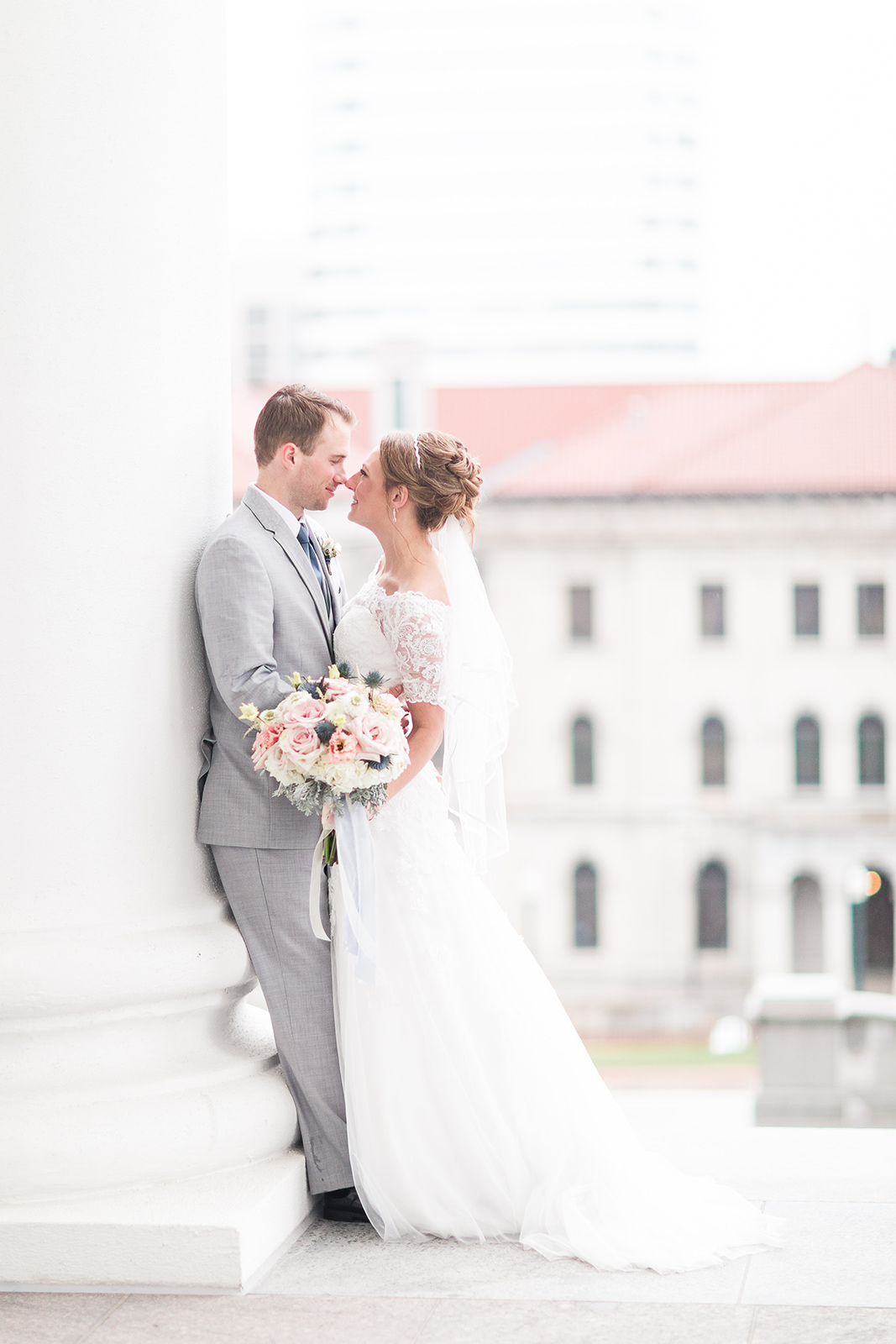 And just when you thought they couldn't be any cuter…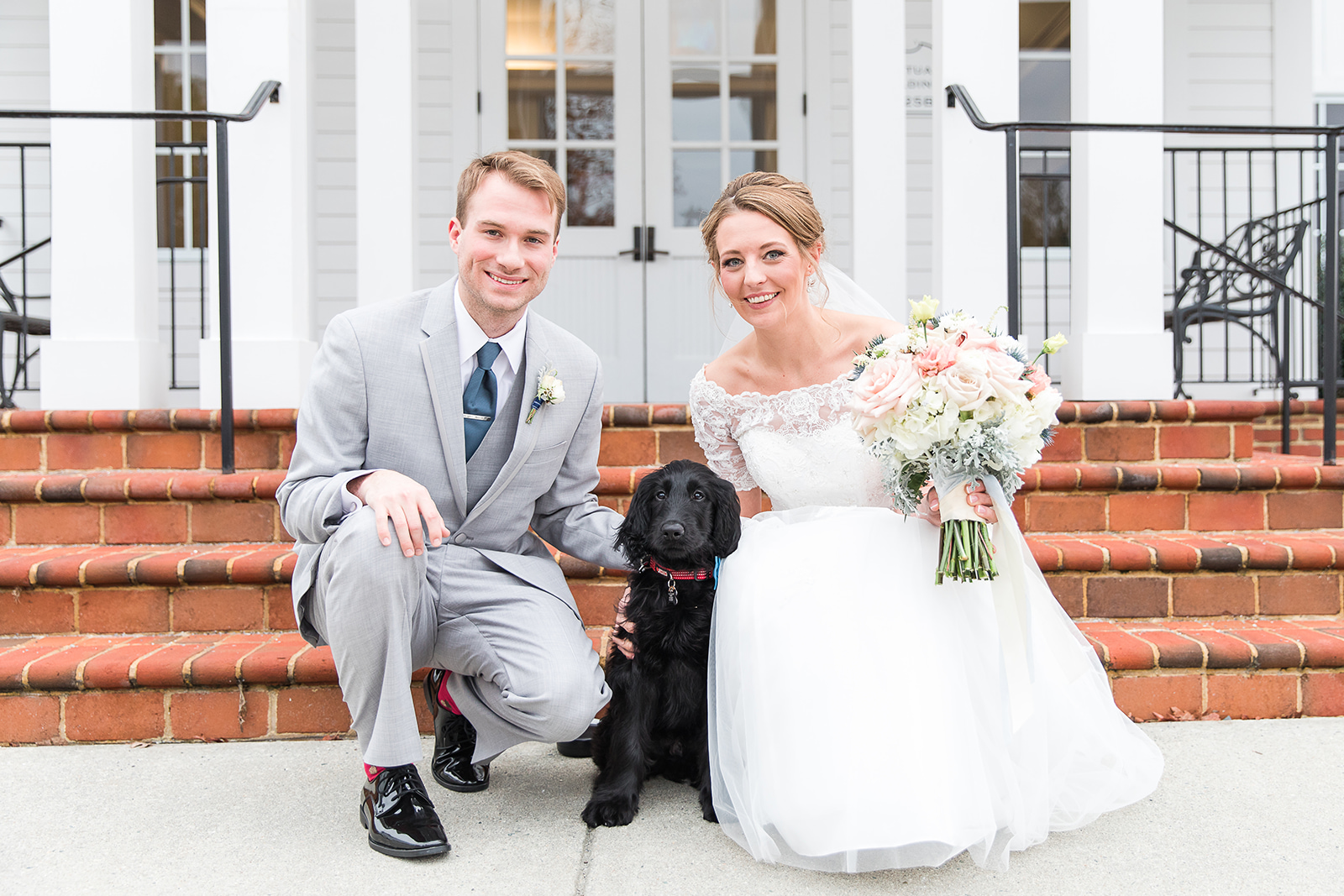 …Their golden doodle puppy joined them for a photo op!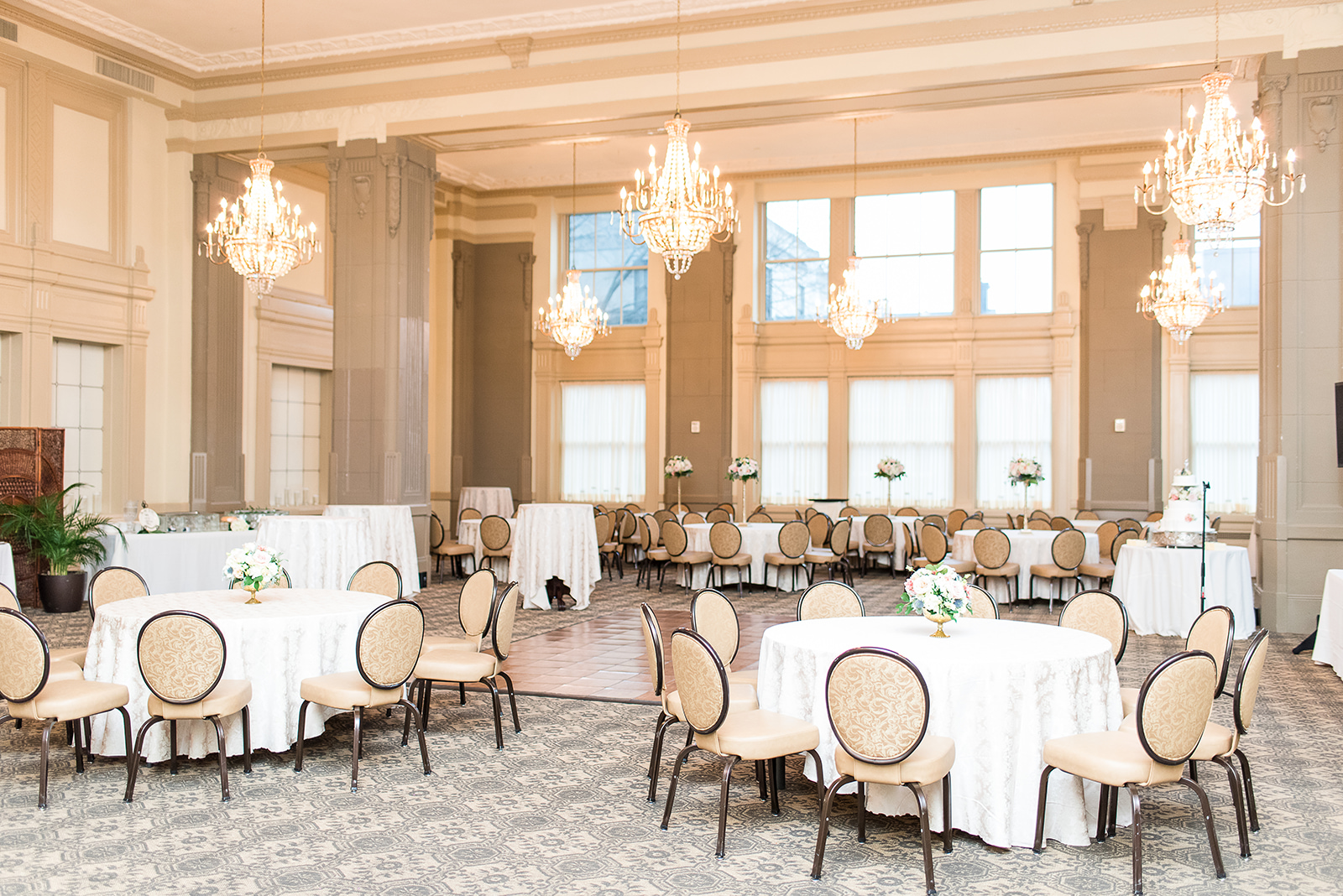 Their reception took place at the glamorous Marshall Ballroom at the Hotel John Marshall in Richmond, VA.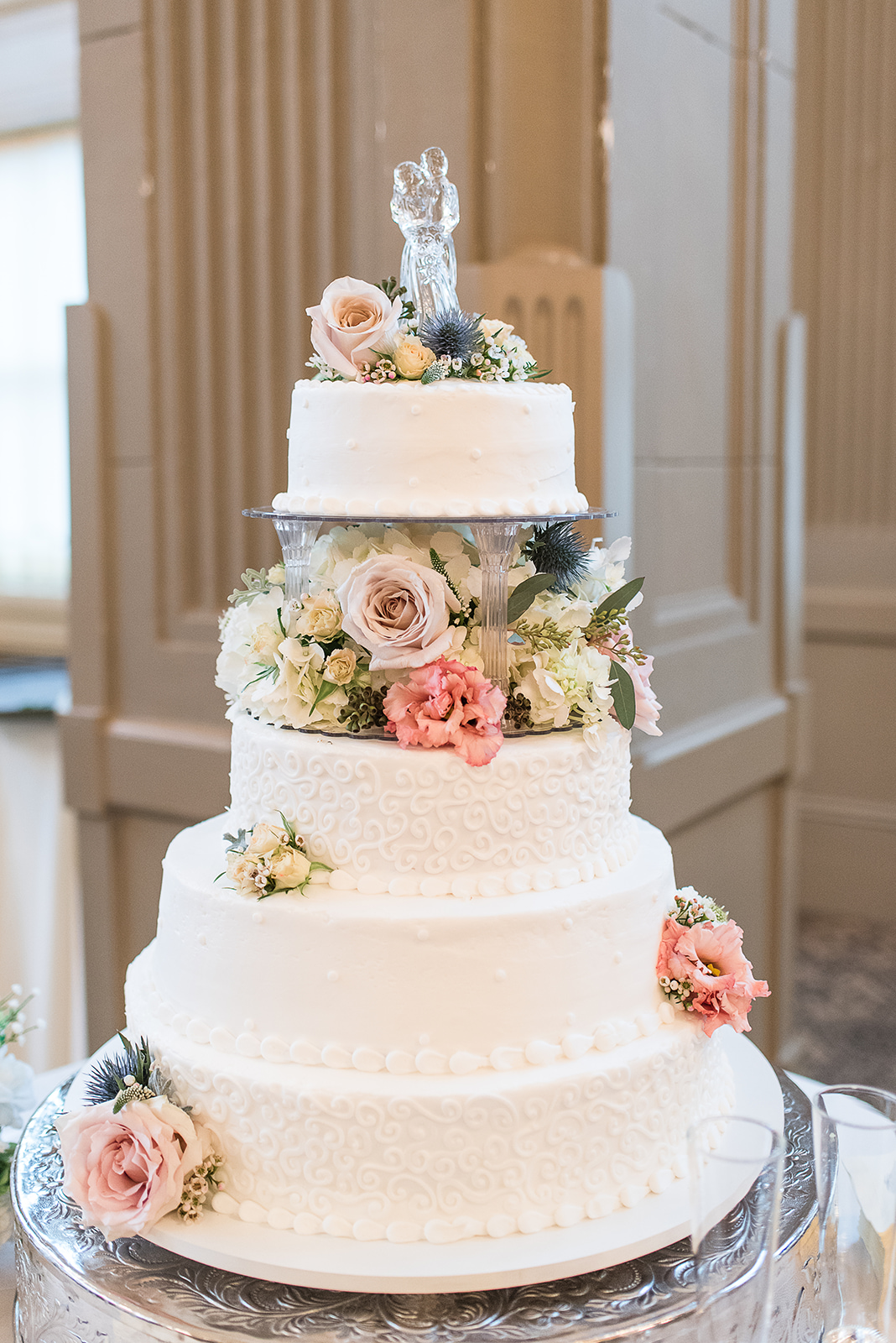 Would you look at their stunning cake?!
"My 'wow, I really just got married' moment happened when I saw it," said Leah.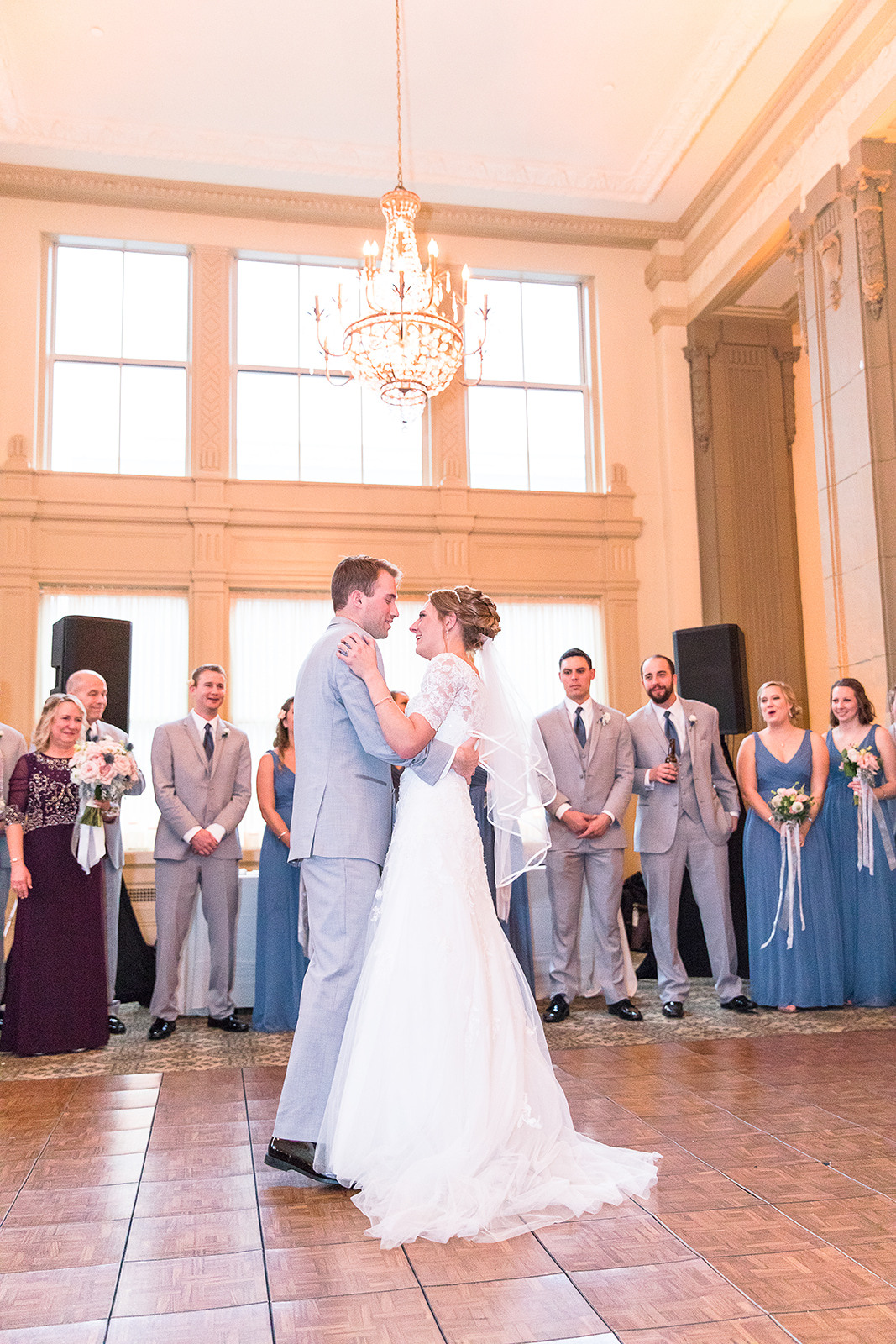 They danced, eventually got to eat some of the beautiful cake, and had an evening to remember.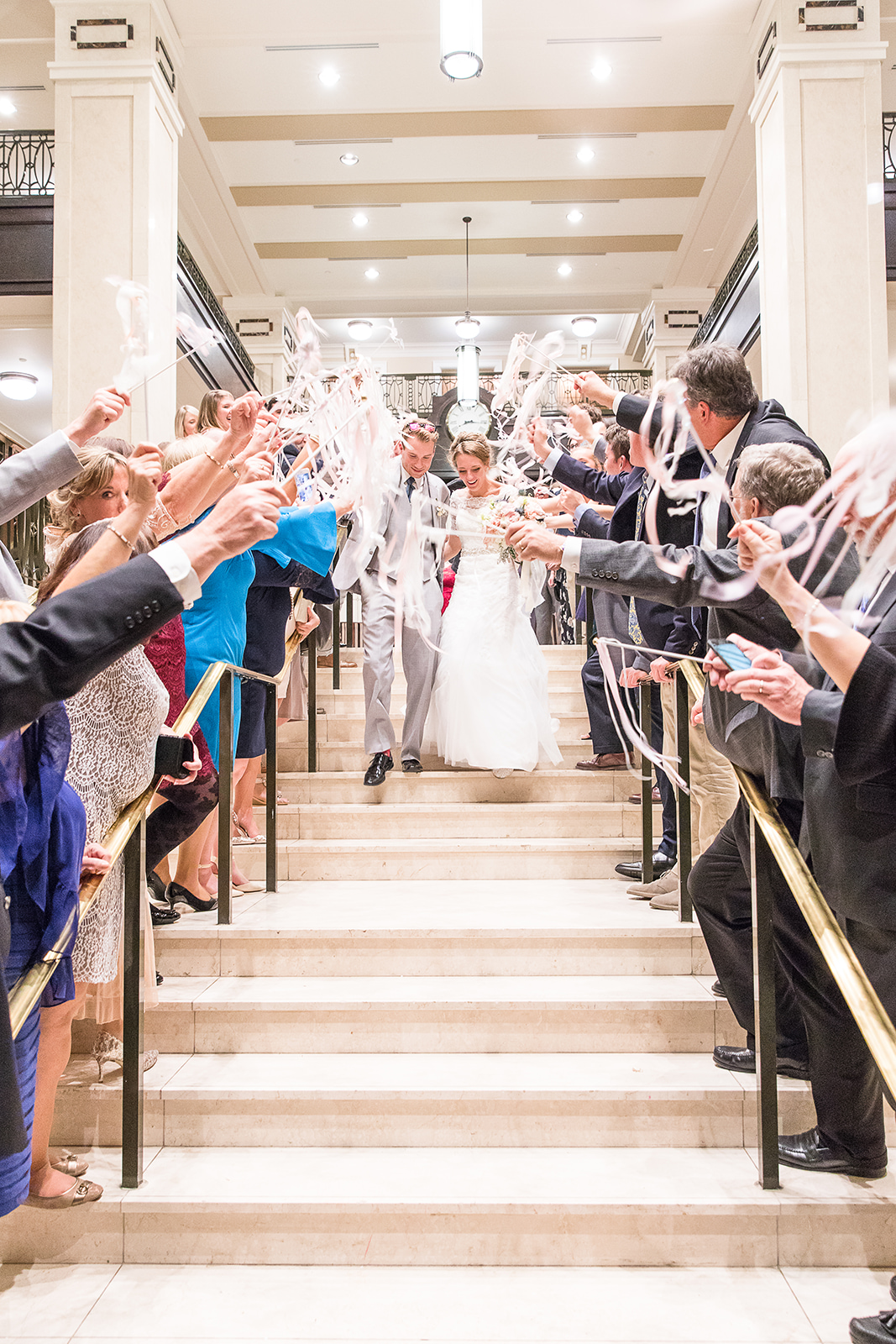 Congratulations Leah and Matt!
From the Bride:
What was your favorite detail from the day? "My two favorite details of the day were when our golden doodle puppy showed up for a picture at the church, and our cake. We impulsively decided to get a golden doodle puppy a month before the wedding. Our family was concerned about us getting a dog in the middle of wedding crunch time, but Jackson turned out to be the greatest decision ever! He helped alleviate pre-wedding stress, and he looked so darn cute in our pictures! Cake wise- I was just obsessed. Its height, the columns, flowers, crystal topper, and taste were exactly what I had dreamed of. My "wow, I really just got married" moment happened when I saw it."
What advice would you give to a bride to be? "On your wedding day, make a conscious effort to be present at the moment. Remind yourself to listen, observe and take it all in. It is really easy to get caught up in the emotions/excitement of the day and for it all to turn into a whirlwind. It truly is the best day ever and you want to make sure you remember as many moments as possible."
Photos by: Nicole Adele Photography
Planner: Elevated Events of Virginia | Jessica Adams
Day of Coordinator: Elevated Events of Virginia | Megan Byrne
Caterer: Homemades by Suzanne | Amy Loving
Cake: Williams Bakery
Music: Black Tie Entertainment | Chase Capo
Flowers: Black Creek Flowers | Erica Hutchison
Lighting: Black Tie Entertainment | Chase Capo
Hair/Makeup: Lou Stevens Glam Squad | Kaitlyn Pinney
Transportation: Winn Transportation
Videographer: Kailo Film | Gabrielle