Lisa and Steve met at work. "We met as professionals and really respected each other in that capacity. He thought I was the best in-house attorney he ever met and I likewise thought him the most talented financial professional I had ever encountered."
The couple became best friends, their relationship blossoming into what it is today: a partnership. "I don't know what I would consider our first date. Steve and I are best friends. His job moved to Kentucky where he worked during the week commuting to Norfolk to maintain a relationship with his two daughters. I was in Williamsburg and kept his dog. Our friendship simply grew from there."
At one point, Lisa broke her ankle and found herself in a challenging position. "My family is all remote and he worked remotely for a week until my sister could come from upstate New York. He sat in the hospital with me, had my house wired for the internet, bought a television. I never had those because I didn't want the distraction…I knew then he was a standup guy who would support a friend. When I was well enough to be wheeled around, he took me to dinner at Waypoint to celebrate both getting out and my birthday. He reserved a private space and had presents and roses. It was really amazing."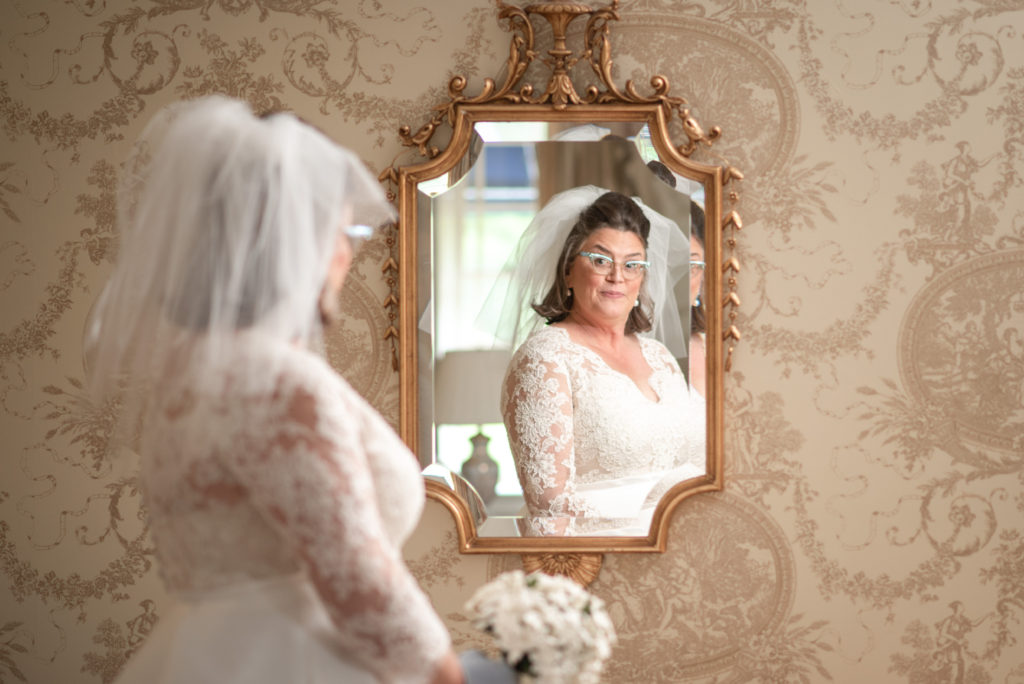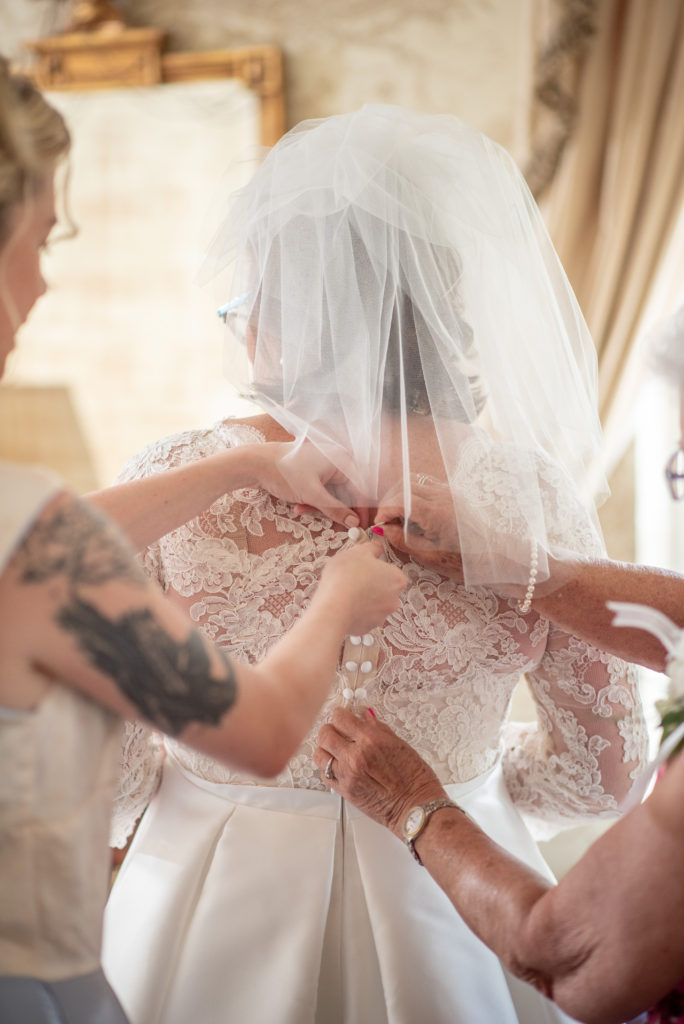 For Lisa and Steve's wedding, it was all about the theme.
"We're older and were both previously married but it was my first wedding. We had guests from all over the country and almost 100% attendance rate. Everyone was a dear friend and each invitation carefully considered. Steve and I both love mid-century modern, period movies, and shows like The Marvelous Mrs. Maisel, and Down With Love. We love the elegance of it. The Williamsburg Inn embodies all of that. They iconically hosted the Queen of England in 1957, so we treated our guests to a 5-course meal based on what they served the Queen [when she visited]."
Since Lisa and Steve didn't really want or need gifts, they asked their guests to embrace the theme and dress in period attire.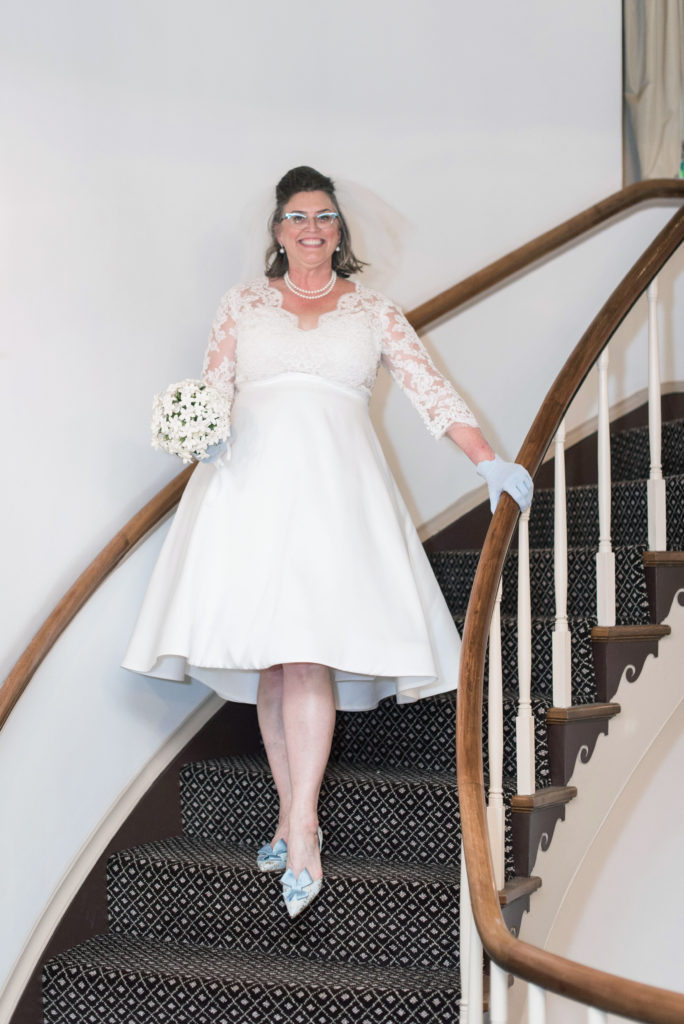 The Scoop
Bride: Lisa, 52, senior assistant attorney general, office of the attorney general
Groom: Steve, 48, Chief Financial Officer, Golding Foods
Wedding Date: July 7, 2019
Number of Guests: 78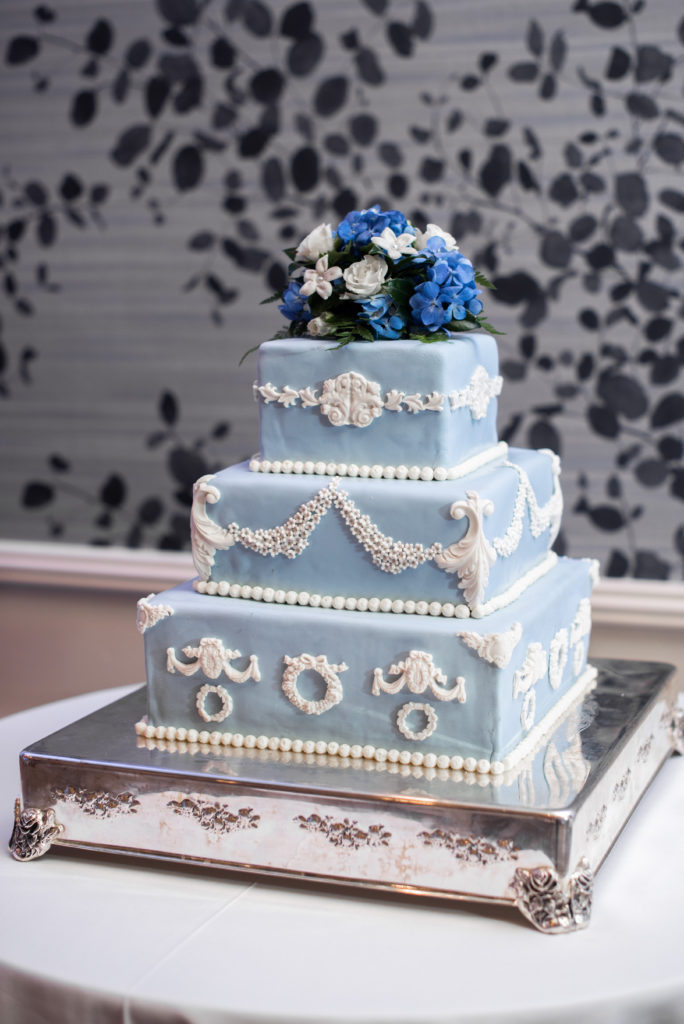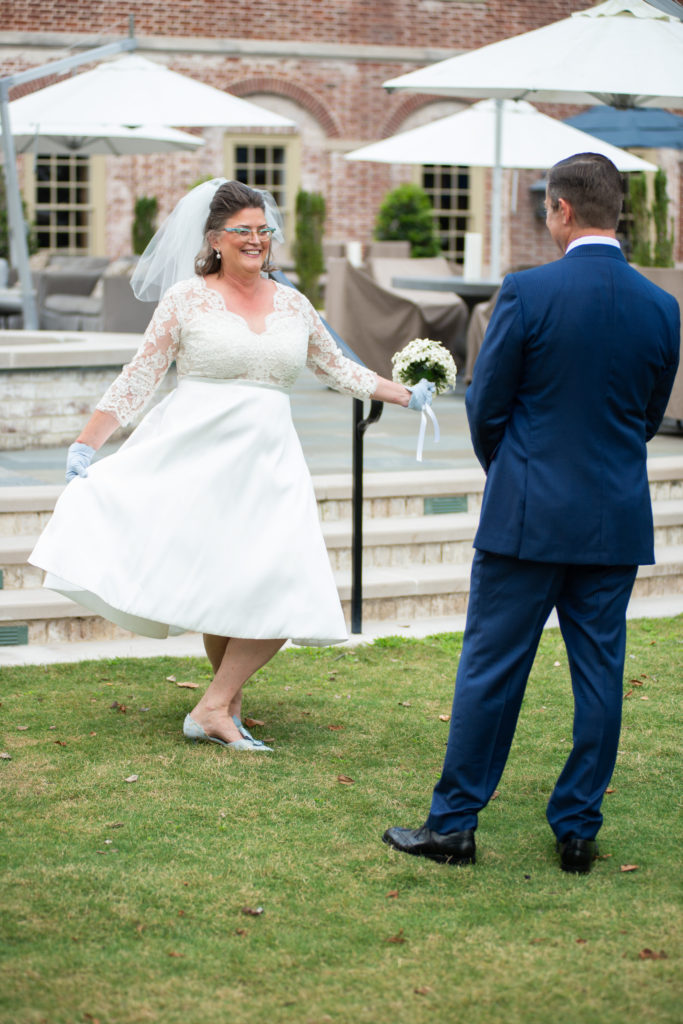 Lisa's beautiful 50s-esque gown was custom-made by Anne Barge at Annaliese Bridal in Richmond. The gown was made from Spanish lace in Atlanta, a fact that Lisa absolutely adores. "I had it cut mid-calf to embrace the period." Lisa also wore shoes with little blue bows on them – her literal something blue. Lisa's necklace was her something borrowed.
"My best girlfriend from law school who had supported Steve and me from the beginning became licensed to perform weddings. She lent me her pearls for the occasion. My earrings were my wedding gift from Steve – diamond and pearl drop earrings."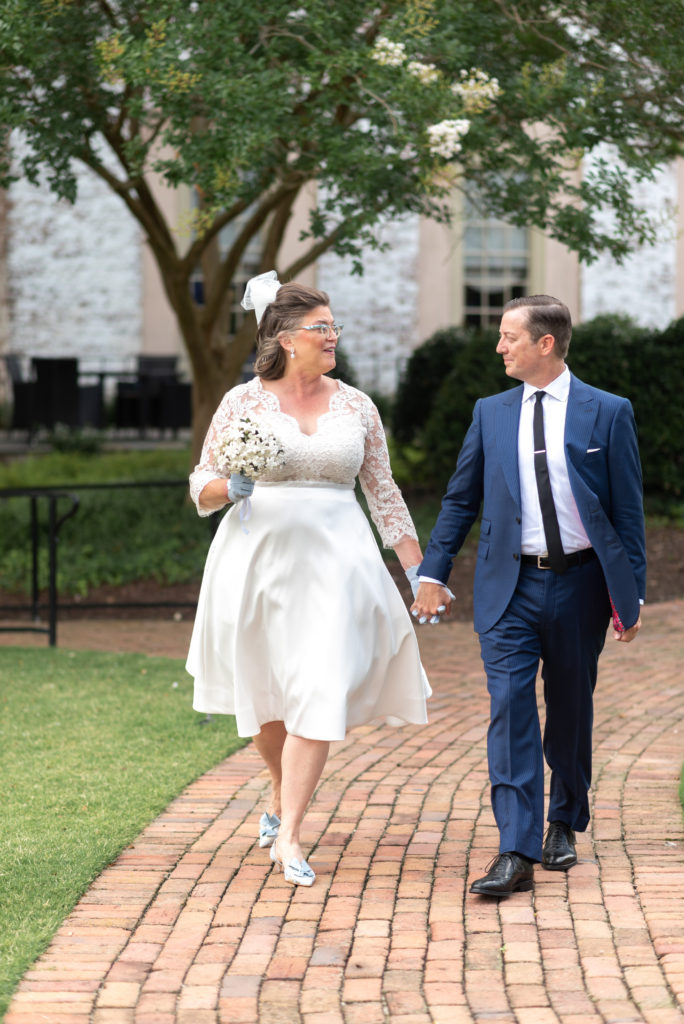 Lisa and Steve asked their three daughters and a niece to stand up for them. "I had the dresses made by a seamstress in Chesapeake. None would commit to straight or flared or a color. So, I went with what I consider quintessential 1950s pastels and a combination of both. The shoes were Rachel Simpson. She makes the most amazing period looking shoes. She just came out with a line of flats. I only wish she had them last year."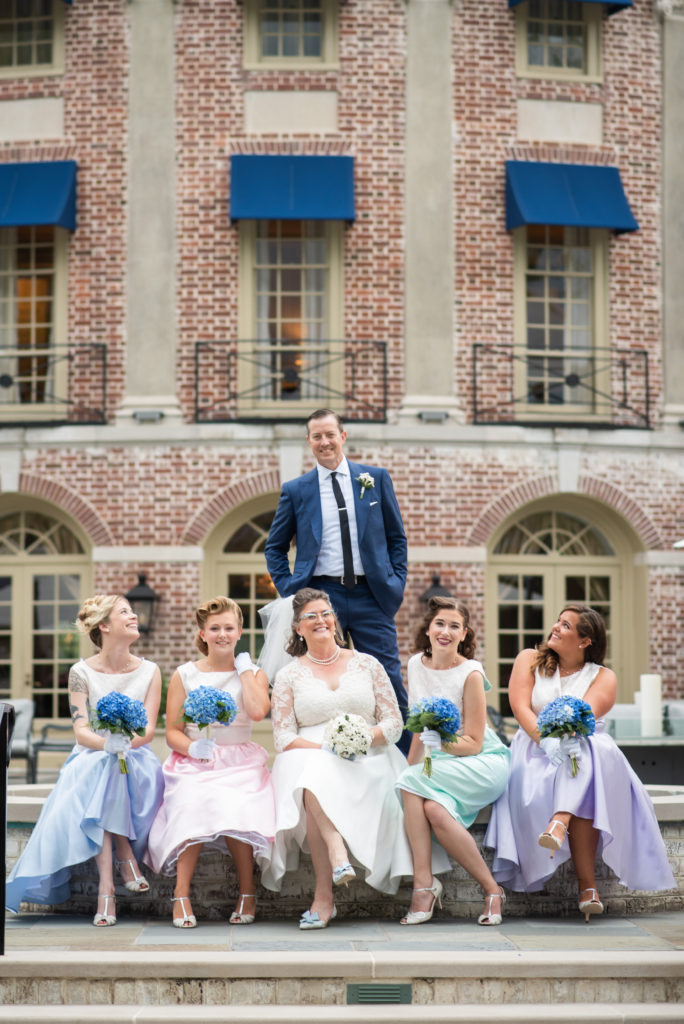 Lisa built the pastel scheme from memories of her childhood. "I love blue hydrangeas. They remind me of my grandmother Doris Lorraine Tomberlin who had a large blue hydrangea out her back door. That's at least how I remember it, it's been 40 years since her passing. So I built the pastels from there – shoes, Wedgewood blue cake, bouquets for bridesmaids, etc."
And the venue was chosen from Lisa's happy place. "I went to William and Mary [the nation's second oldest college] and live in Williamsburg. When things get rough I go to their Rockefeller bar for a cocktail – nothing bad can happen at the Williamsburg Inn. I celebrate the end and begging of things in that space. It's so beautiful and seriously from another time so given that and fitting with the period theme, our wedding could have only been held at the Inn."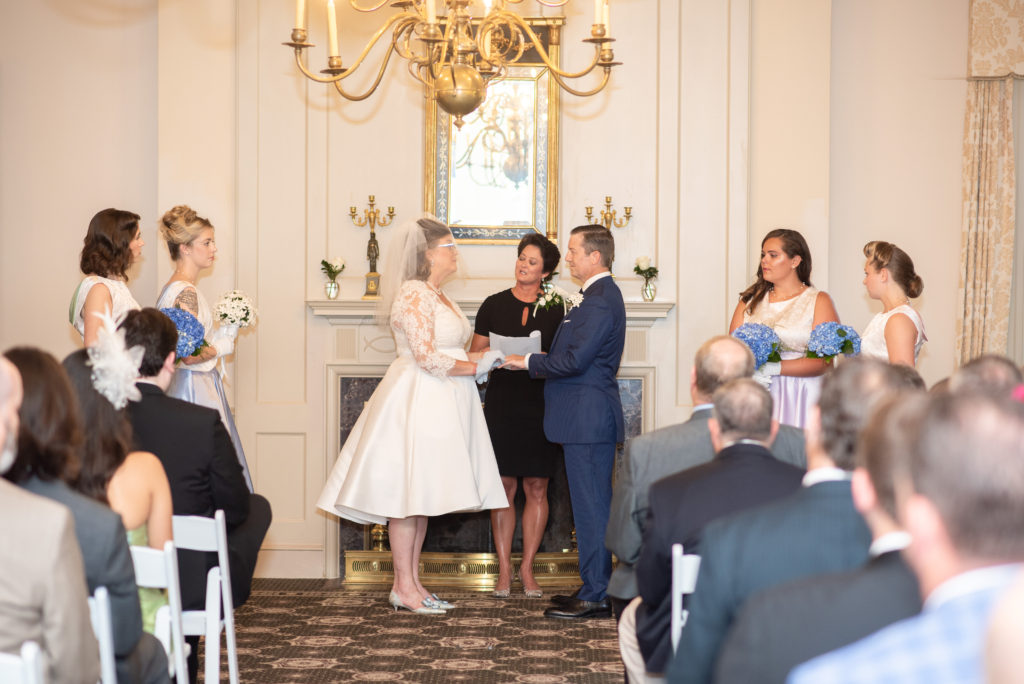 Every guest that Lisa and Steve invited is a precious friend or family member – no obligatory invites went out. "Steve had his aunts in attendance. All over 70 – dressed in costume! That was special. For Steve's mom to be able to come and have pictures with her siblings was extraordinarily special! My mom came from Florida. She likewise is in her 70s. I was able to give her the complimentary brides room at the Inn for the event and that was incredible! We had friends come from San Diego, San Francisco, Greenville, SC, NC, Colorado, sister from upstate New York and Florida and guests from all across Virginia. It was super. College, law school, and my 3-year rotating supper club friends. It was amazing."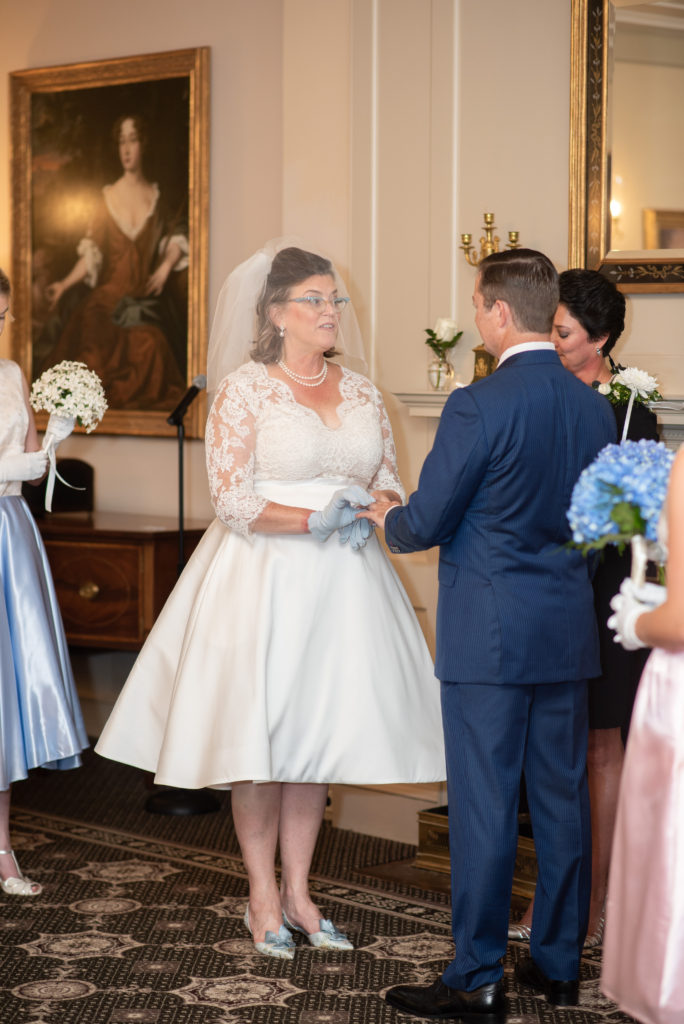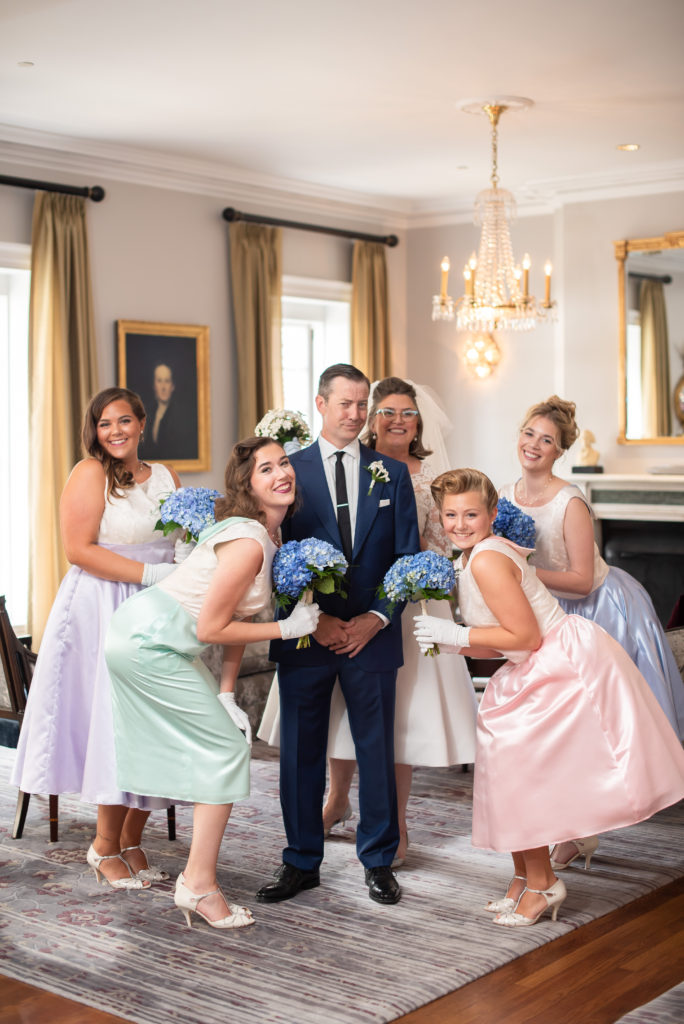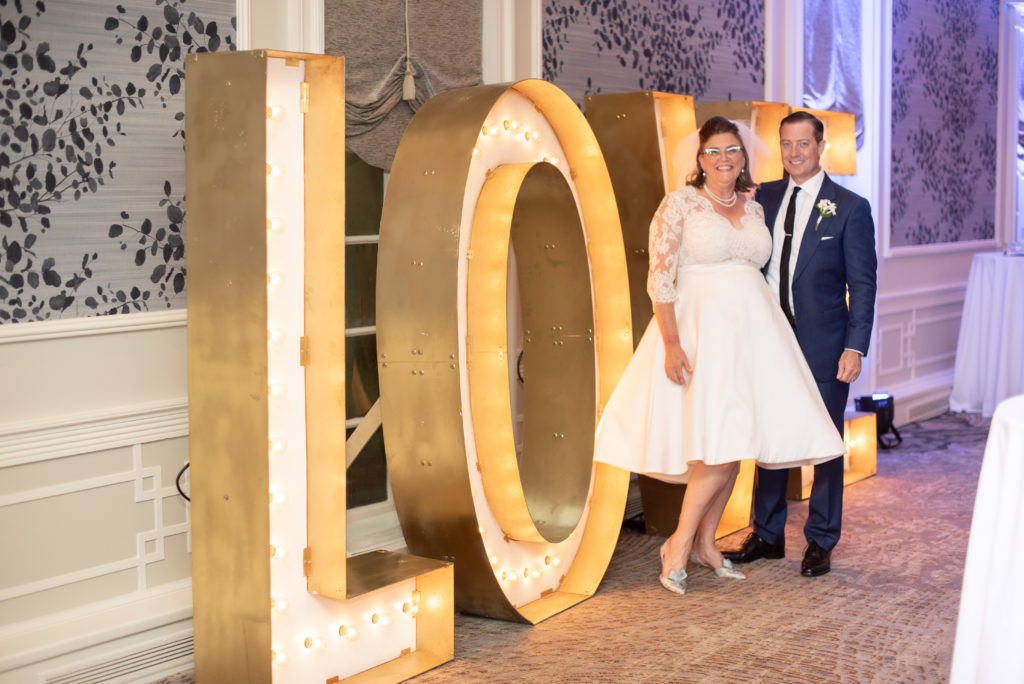 Lisa's advice for future brides rings true. "Invite people you love and make it about giving them an experience. The biggest compliment I received all night was from a business owner in NC. He said, 'I'm a details guy and most people go 95% and then lose heart. All night I kept waiting for that moment to not be all-in. Your event hit the mark all night 100%.' At the end of the day, the right shoe, right bouquet, champagne tower, adding the strings to the band, may be marginally more, but forgoing that detail isn't going to break your budget. Go the extra mile and detail and your guests will notice and remember."
Congratulations Lisa & Steve!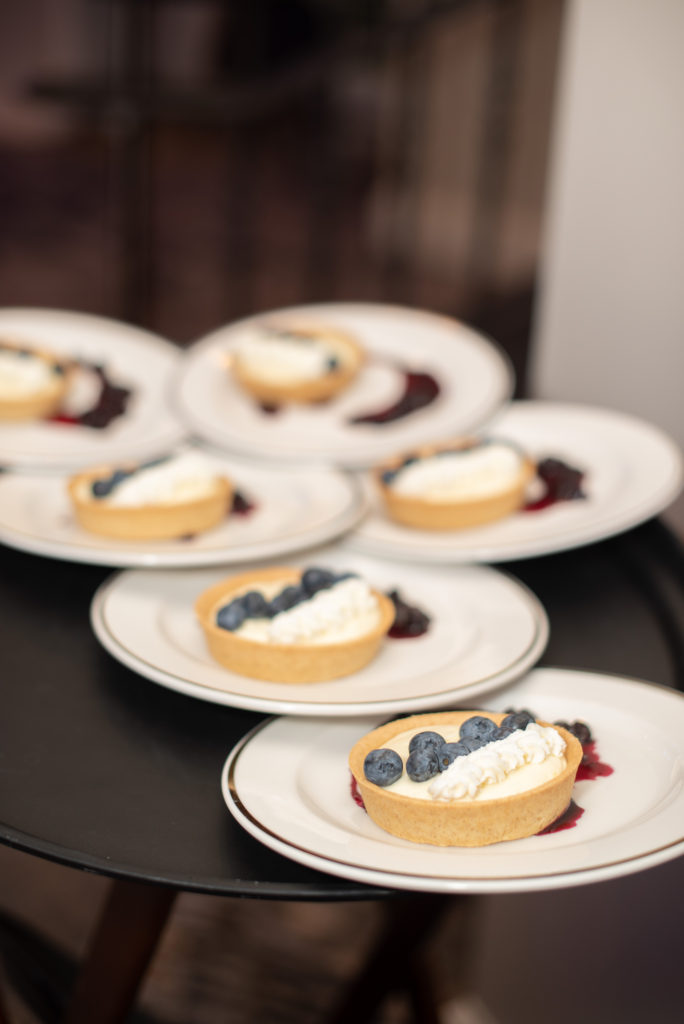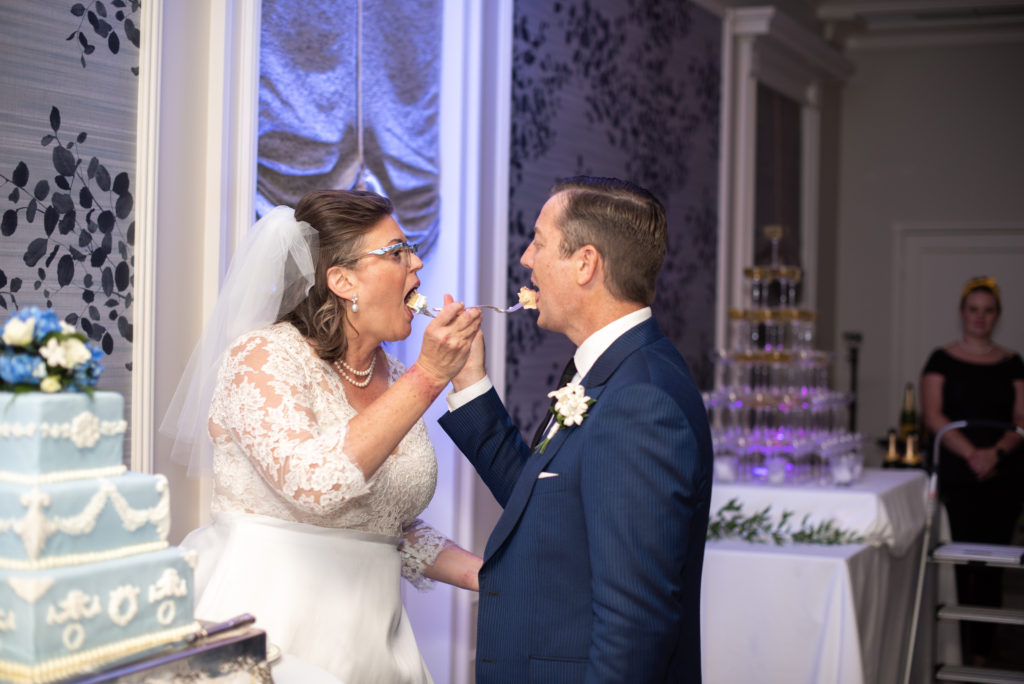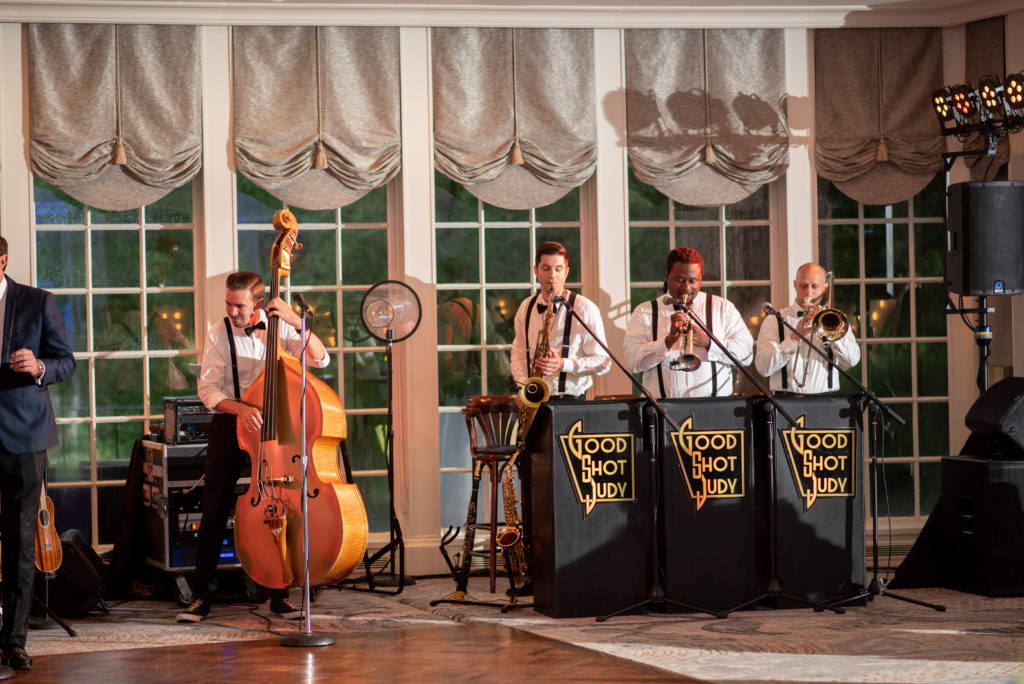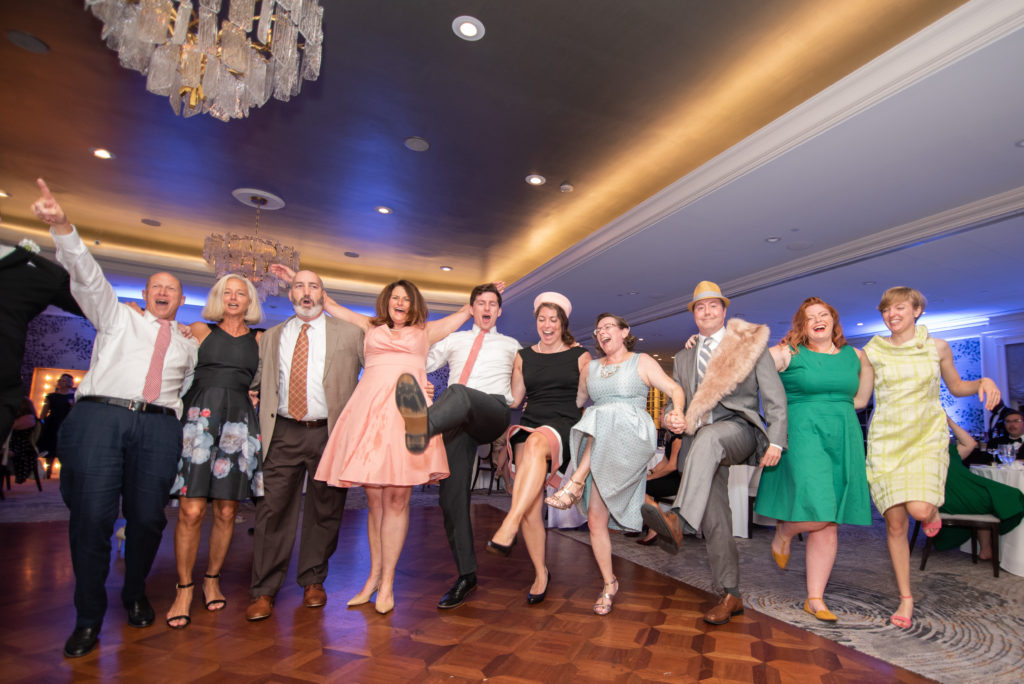 Vendor Credits
Venue(s): Williamsburg Inn, Colonial Williamsburg, VA, 855-231-7240
Photographer: Lindsey Lyons Photography, llyonsphotography@yahoo.com, 757-903-8762
Getting Ready Location for Groom: Providence Hall House, Williamsburg, VA
Officiant: Susan C. North
Customized Wedding Gown & Veil: Annalise Bridal, Richmond, VA
Bridesmaids' & Grooms Women's Dresses: Amazing Fit, Chesapeake, VA
Consultants: Sarah Daye And Yuani Valentine at Williamsburg Inn
Hair & Makeup: Salon Vivace
Groom's attire: Alton Lane, Richmond, VA
Bride's Shoes: Something Bleu
Attendants' shoes: Rachel Simpson
Flowers: Morrison's Flowers and Gifts, Williamsburg, VA
Williamsburg Inn Coordinator: Yauni Valentine, Williamsburg Inn, Colonial Williamsburg, VA, 855-231-7240
Wedding Coordinator and Day of Planner: Night and Daye Events
Entertainment: Good Shot Judy
Catering: Williamsburg Inn, Colonial Williamsburg, VA, 855-231-7240
Cake: Williamsburg Inn, Colonial Williamsburg, VA, 855-231-7240
Fife and Drum Core: Fife and Drum
Usher's Gifts (Tie Clips): Goodman & Sons
Invitations: Jacobson, Virginia Beach, VA
Favors: Virginia peanuts – chocolate & salted delivered to hotel rooms upon check-in. Nothing to take with you.
Honeymoon: Bali Indonesia