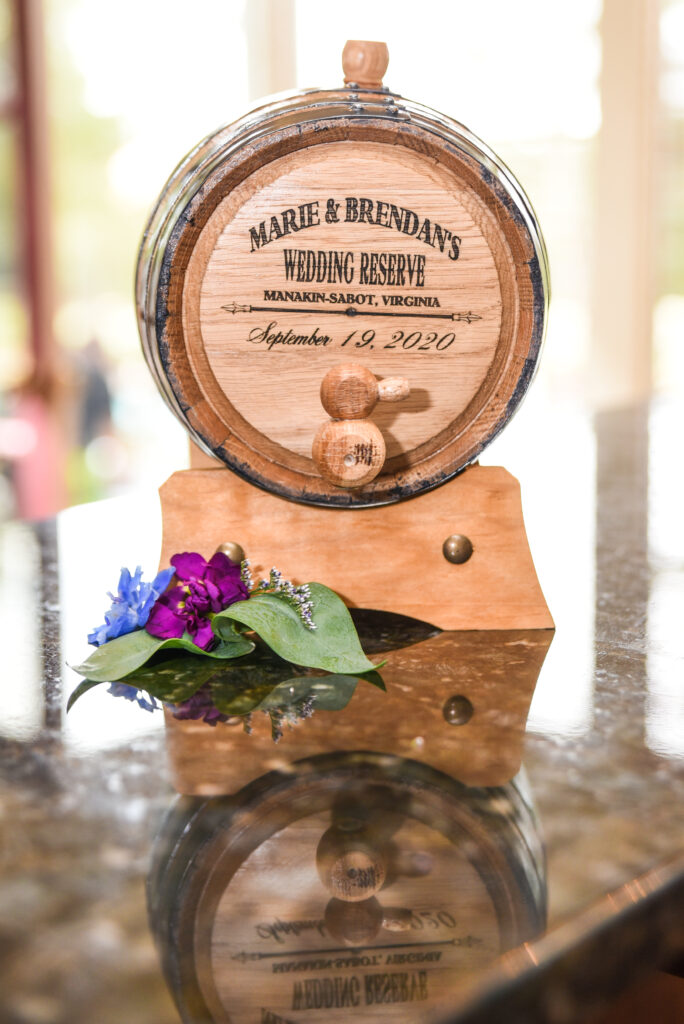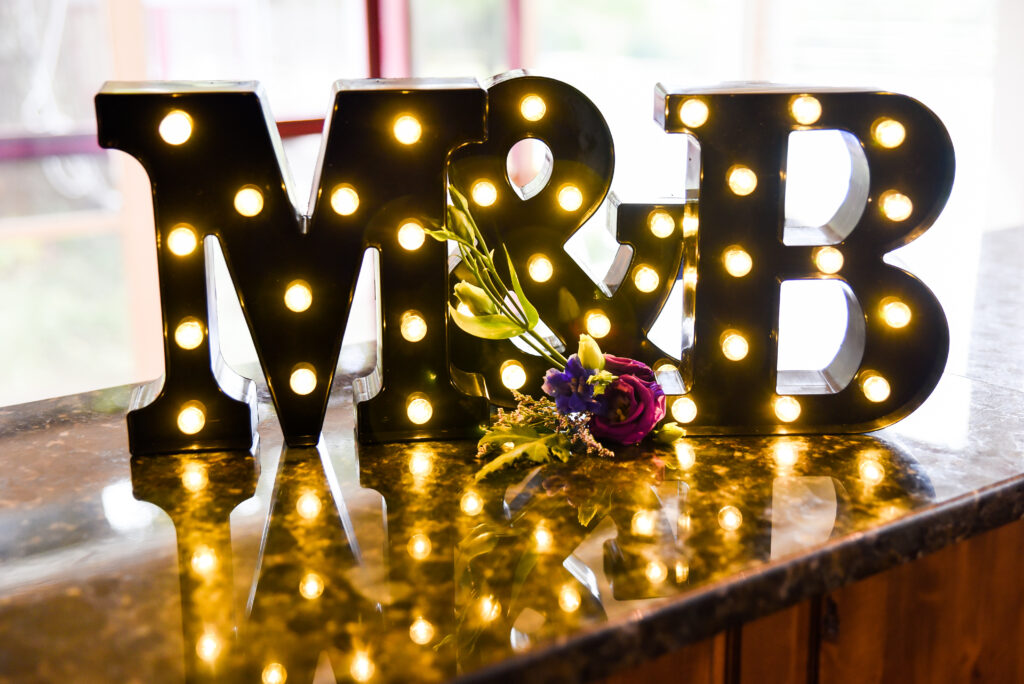 For this week's Virginia weddings, we're taking a look at the beautiful story of Marie and Brendan's love found in college.
Marie says, "We met freshman year of college on move-in day. My roommate was dating Brendan's friend and we met up to go watch a movie on the Drillfield. My first impression was not great, I honestly thought he was kind of a jerk! He shrugged me off when we were introduced and did not make an effort to continue a conversation or make eye contact. Little did I know, he just thought I was cute and felt super awkward. After a few weeks hanging out with him and his hallmates, Brendan mentioned to my roommate he thought I was cute. Of course, she told me and I was super shocked he noticed me like that! That night, my roommate found out I had never had my first kiss and asked Brendan what his thoughts were on being someone's first kiss. Next thing I know, we are watching a Hokie football game together on TV, talking non-stop, and kissing!
"When the game was over, I looked at Brendan and said "so, are you going to ask me out or what?" He tried to keep some of his pride and waited until the next day to ask me to dinner. We got all dressed up and he picked me up from my dorm room to head to dinner. As simple broke college students, we went to the nearby dining hall. He paid for my dinner with his meal plan and we talked for a long time! It was sweet, simple, and perfect."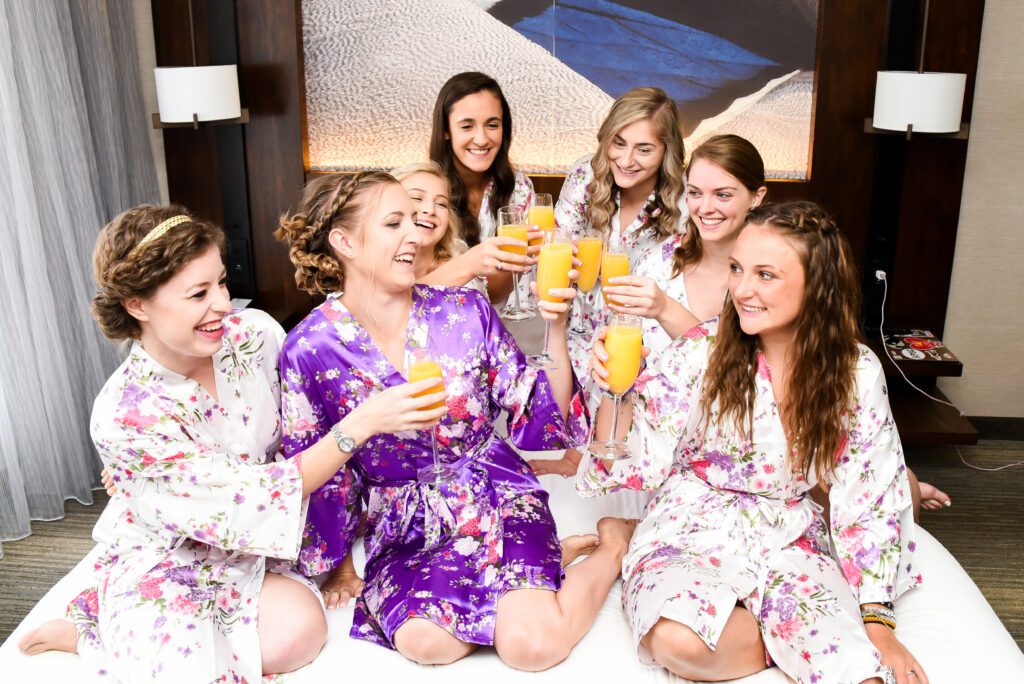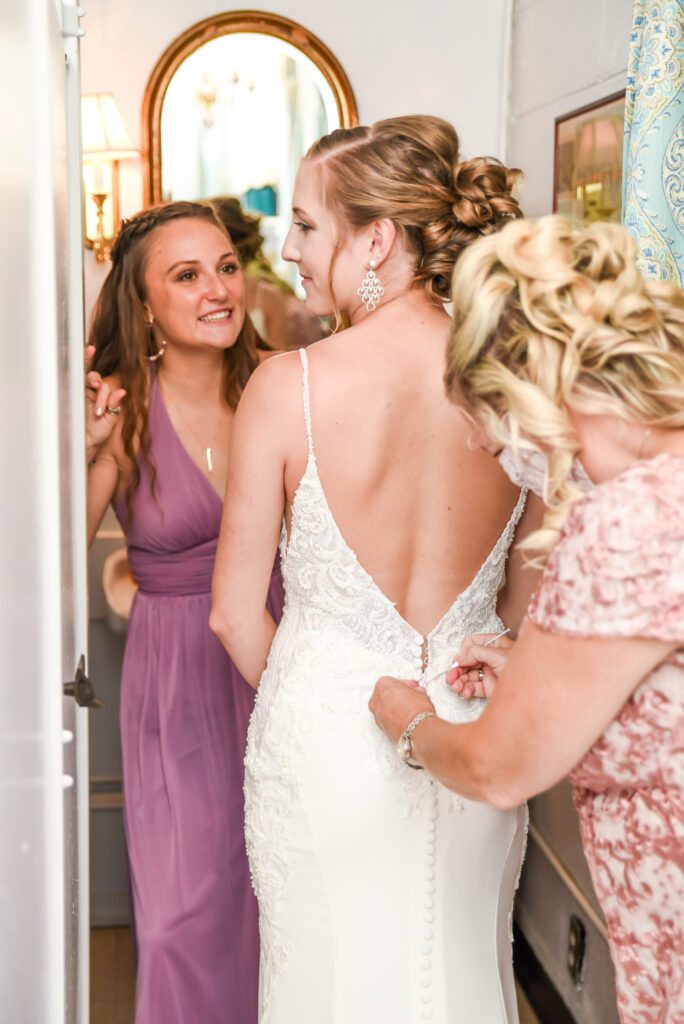 The couple wanted to make their wedding their own, rather than rely on traditions. "We didn't stick with tradition that felt stiff and unlike our relationship. As a pretty picky eater, I was able to make a menu that had finger foods I love – like chicken tenders! And since neither of us really likes cake, we settled on pie and it was delicious!"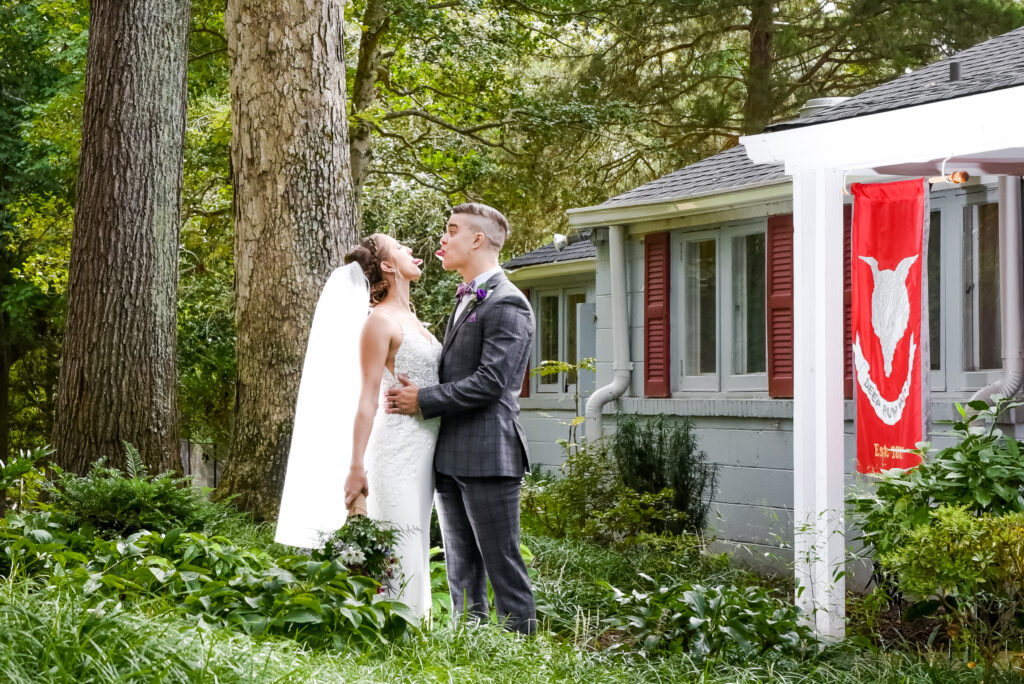 The Scoop
Bride: Marie Wight, 22, Client Service Representative, Betty Baugh's Animal Clinic
Groom: Brendan Wight, 22, Discover Technical Analyst, Federal Reserve Bank of Richmond
Wedding Date: September 19, 2020
Number of Guests: 100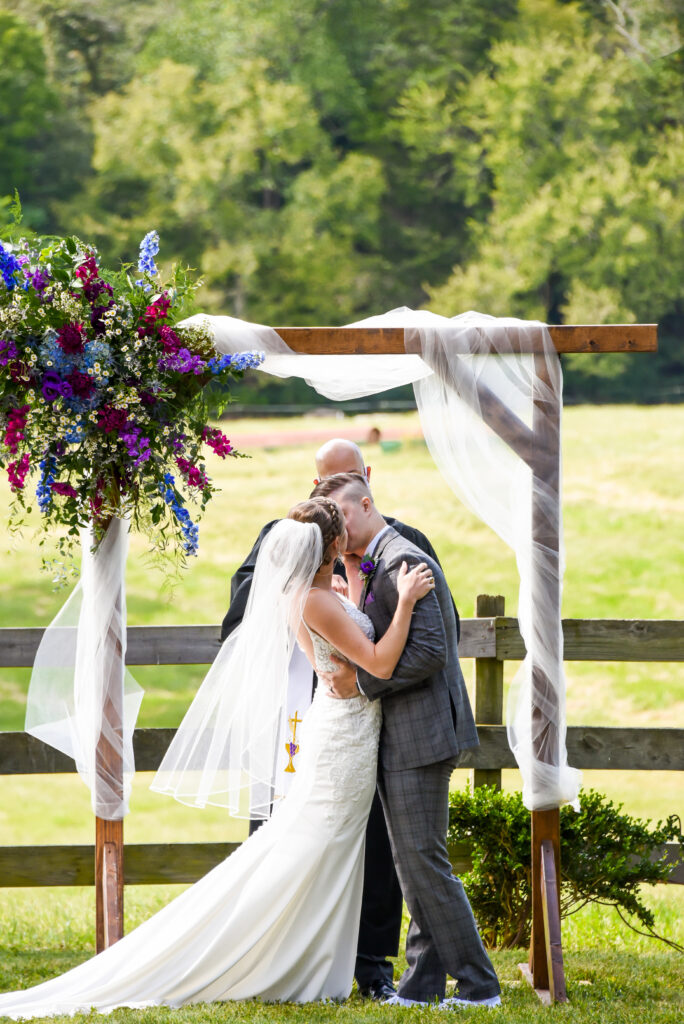 Marie wanted a gown that was both sexy and elegant. "The fit and flare dress had a bodice with the perfect mix of lace and beading. The bodice led into a simple body of the dress ending in beautiful lace edging on the train. I kept the footwear simple and wore converse with 'Bride' printed on the heel of my left shoe and '09.19.2020' on the heel of my right shoe. The only jewelry I wore wear some truly amazing chandelier earrings. As someone who does not wear much jewelry, I really wanted to find some eye-catching earrings. When I walked into the jewelry store, they caught my eye right when I stepped in the room. I knew they were perfect from the moment I saw them!"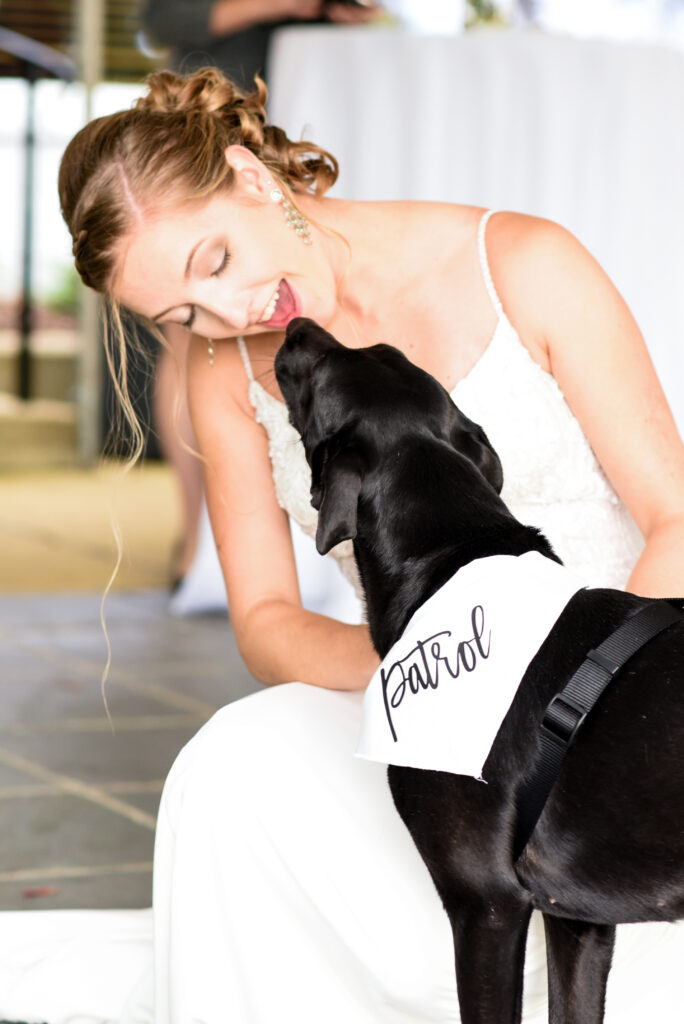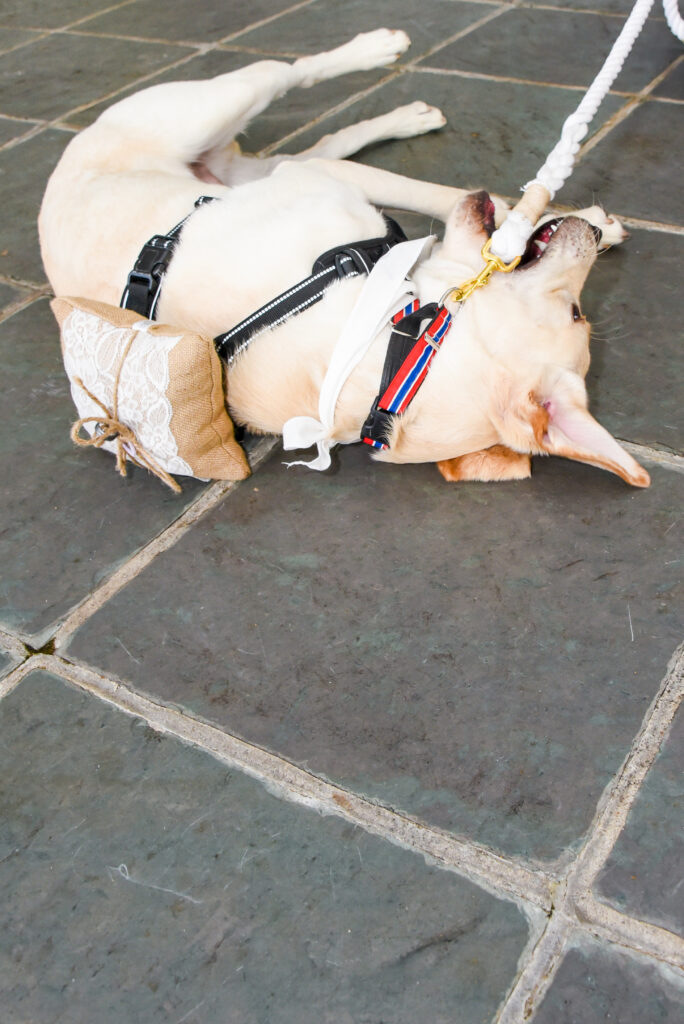 The bridesmaids wore dresses from Azazie in Wisteria. They each had dresses of the same length and color but chose their own style and neckline. As Marie says, "I love the color purple, it's as easy as that!" The wedding colors, including the gorgeous bridesmaids' gowns, were influenced by this love.
She also says that Pinterest came in handy for helping her choose details for their modern rustic wedding. "It was perfectly simple and featured my love for a rural setting with a hint of Brendan's modern style."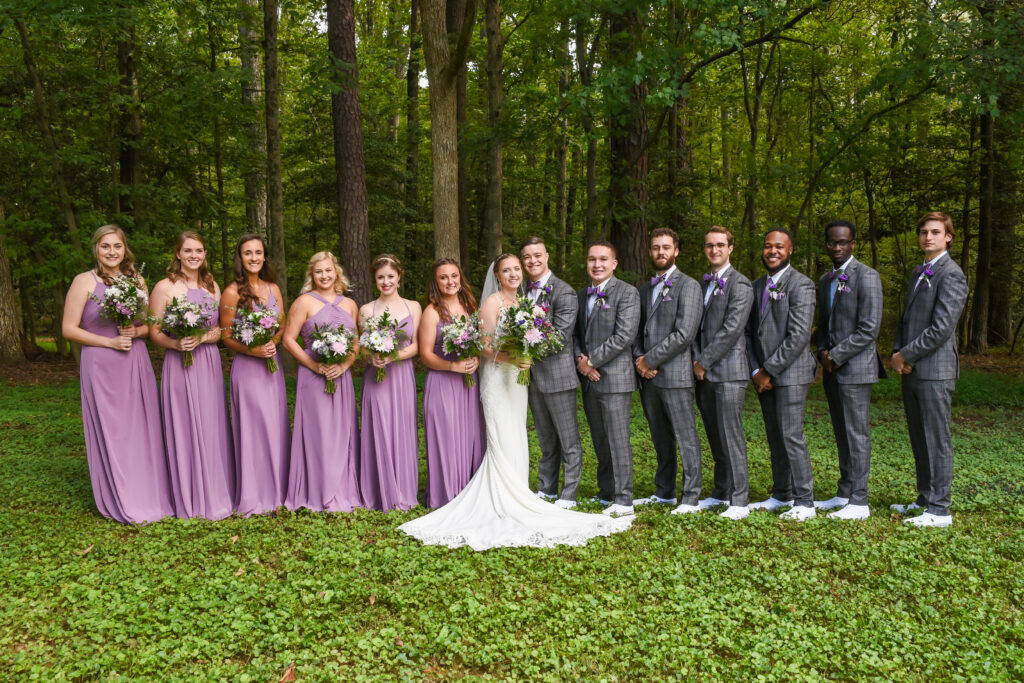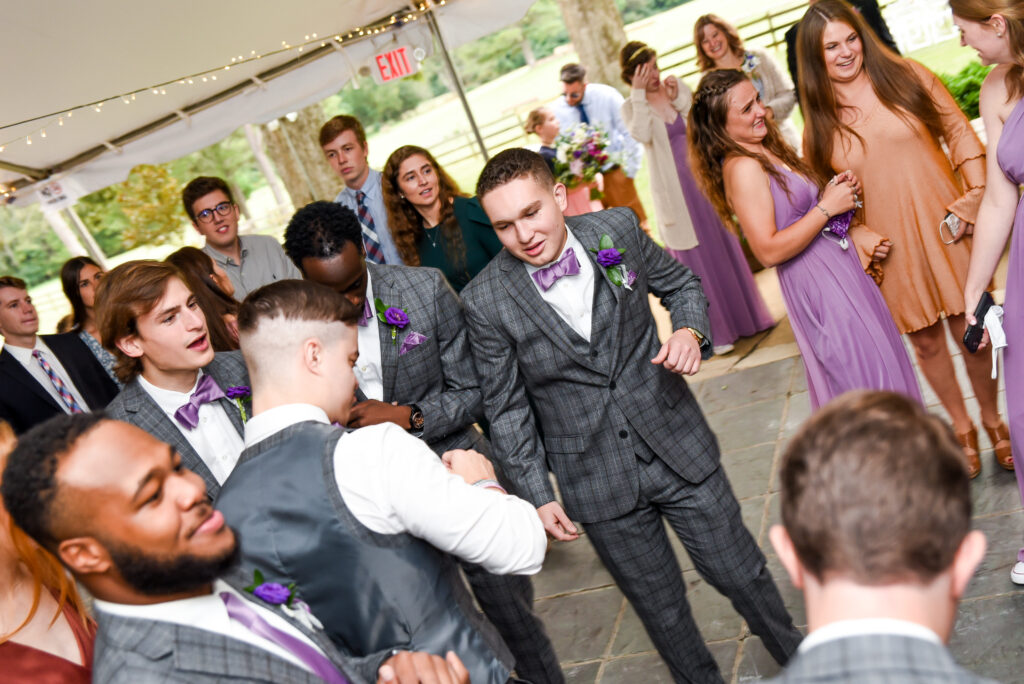 Marie says that the decision for their venue was easy to come to. "As an avid equestrian and former member of the Deep Run Hunt Pony Club, I have competed at Deep Run Hunt Club for many years. I have lots of amazing memories and made a ton of friends there. When we were searching for a venue that could accommodate outdoor and indoor activities while keeping with a more rural and rustic feel, it checked all the boxes."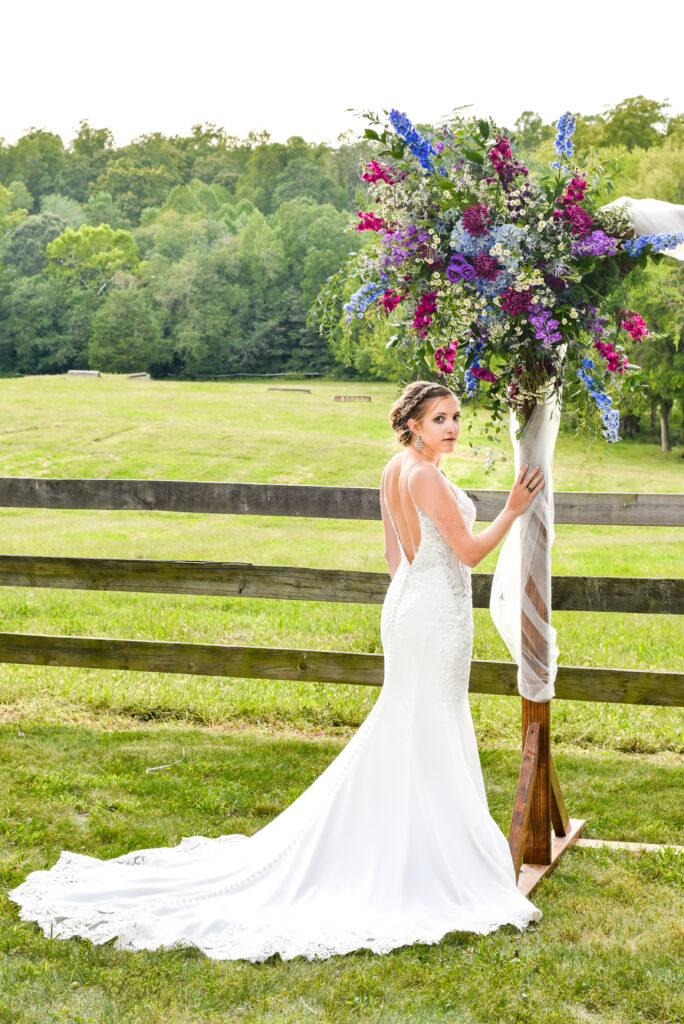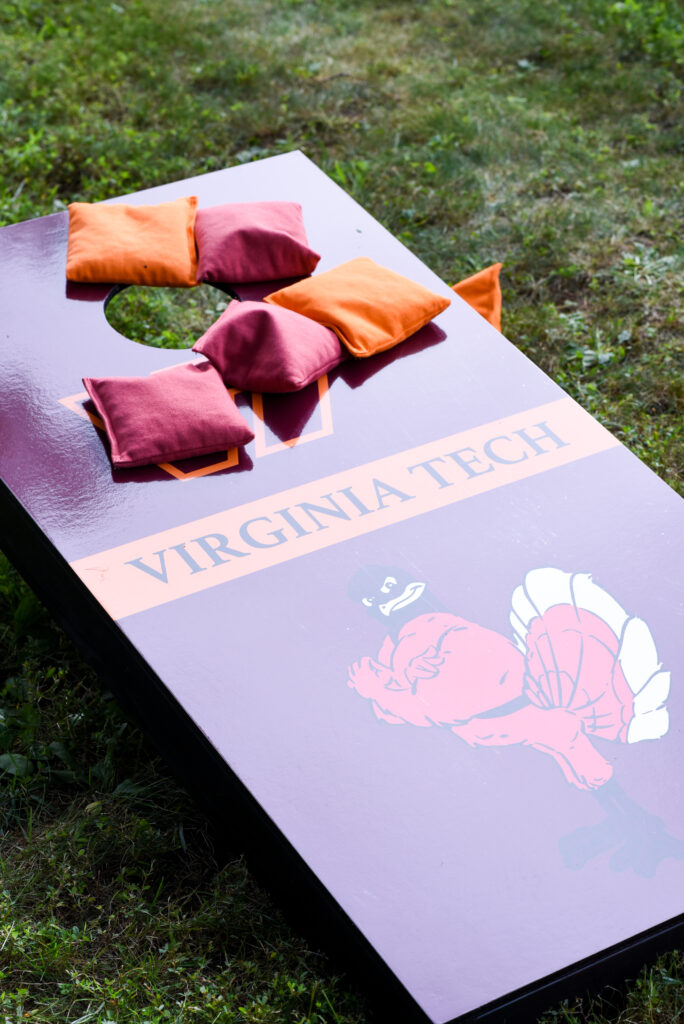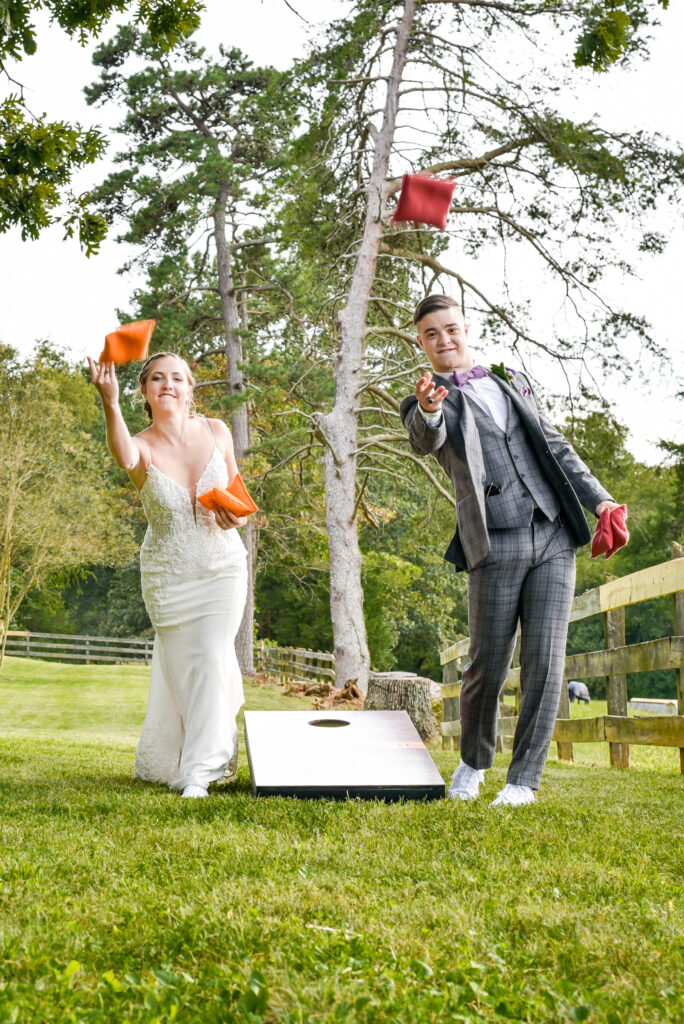 They had a few special guests for their big day.
"I think the special guests and superstars of the day were my dog and fur nephew. Valentine, my sweet black lab mix, served as our flower patrol… and Bucket, my sweet Goldador nephew, was the ring security. It was super awesome to have some animals in the wedding since we are both animal lovers."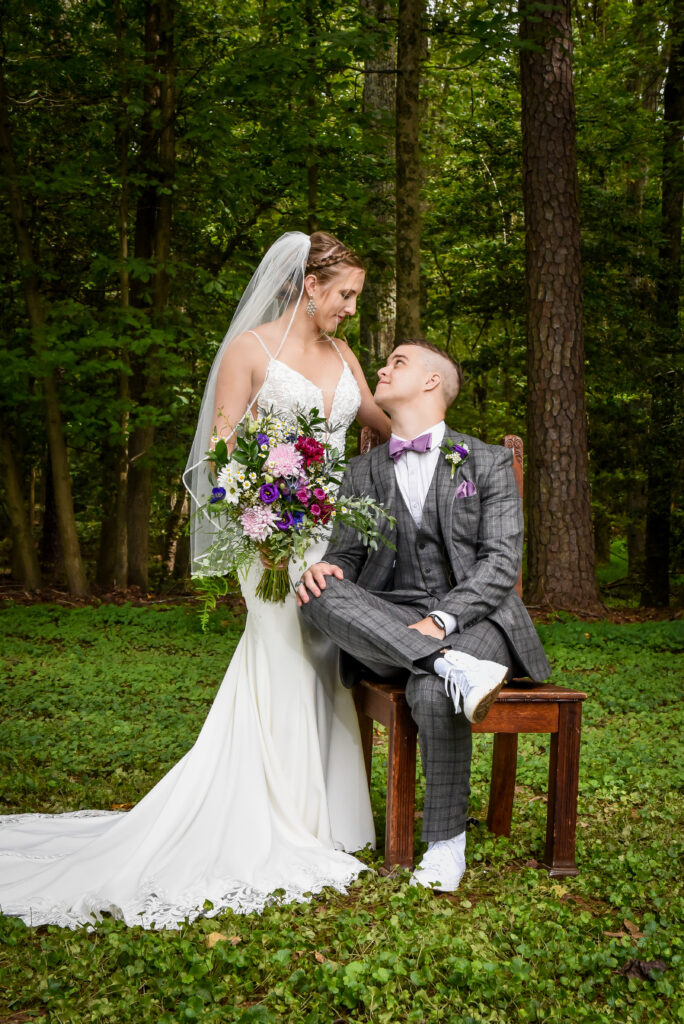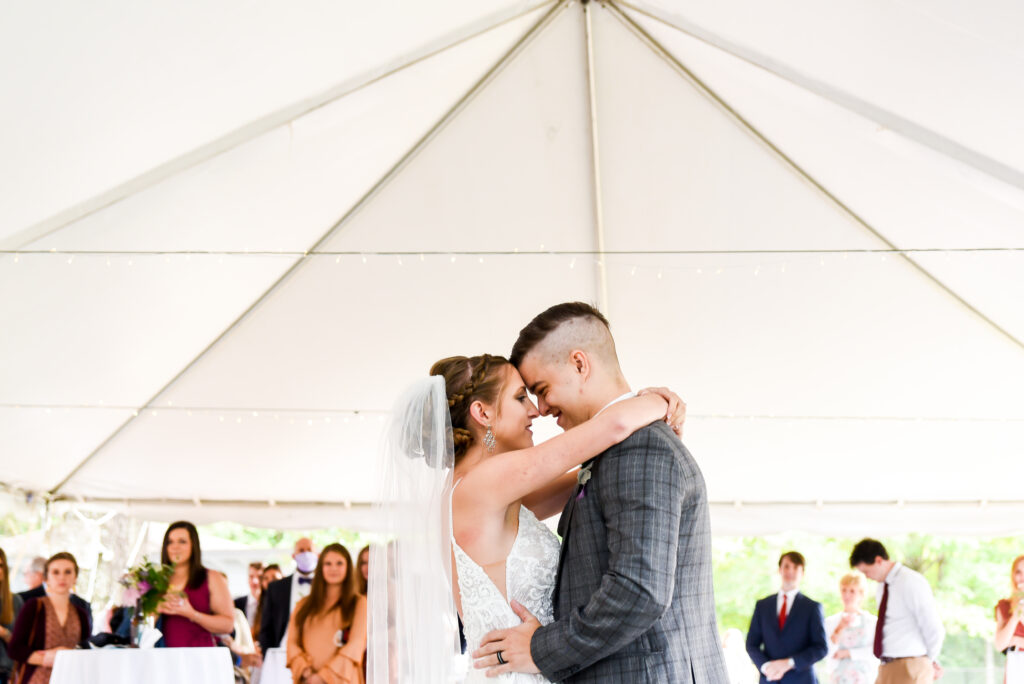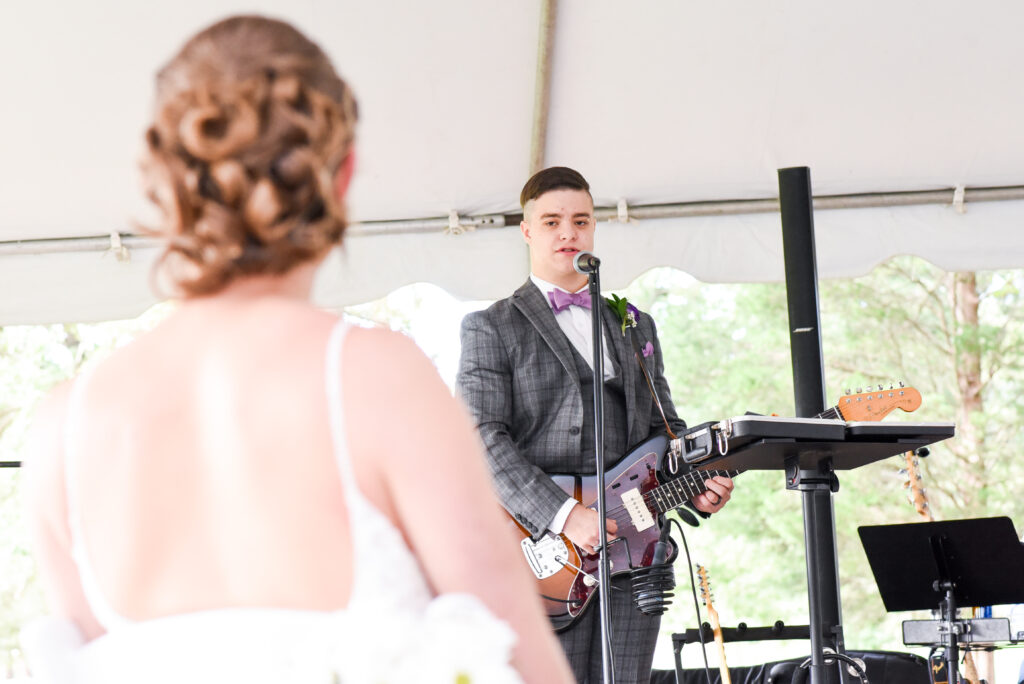 Finally, Marie offers advice for couples coming after them. "Don't let the hiccups get you down. I was super stressed about everything coming together nicely without a wedding planner to help and all of the COVID restrictions, but in the end, it was absolutely perfect. I didn't lift a finger the entire day due to our wonderful support system and amazing bridal party and everything fell right into place."
Congratulations to you both!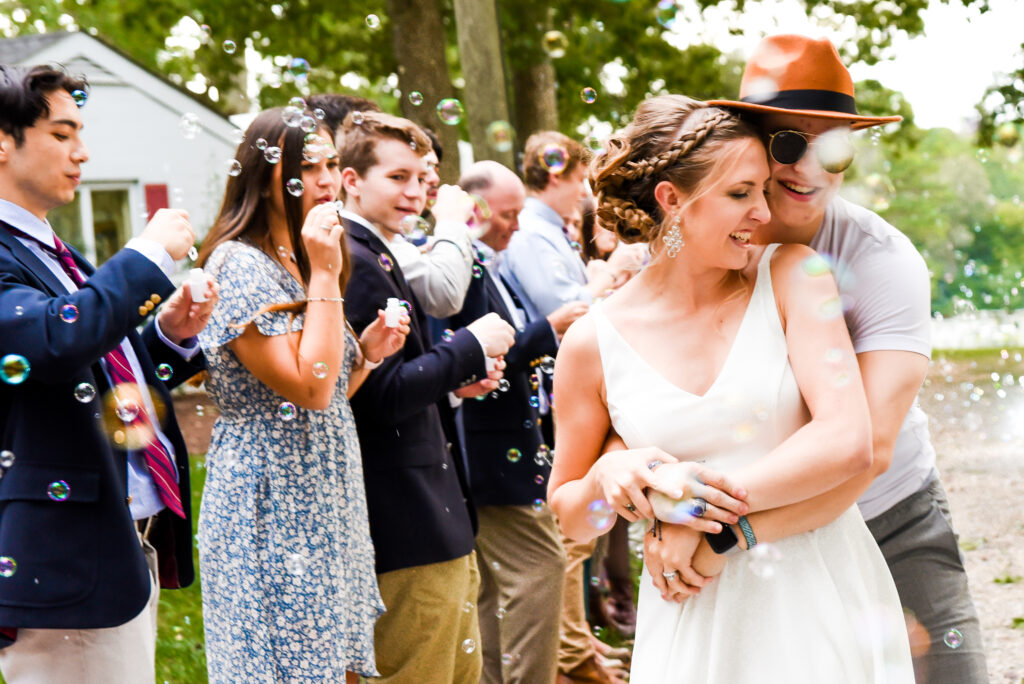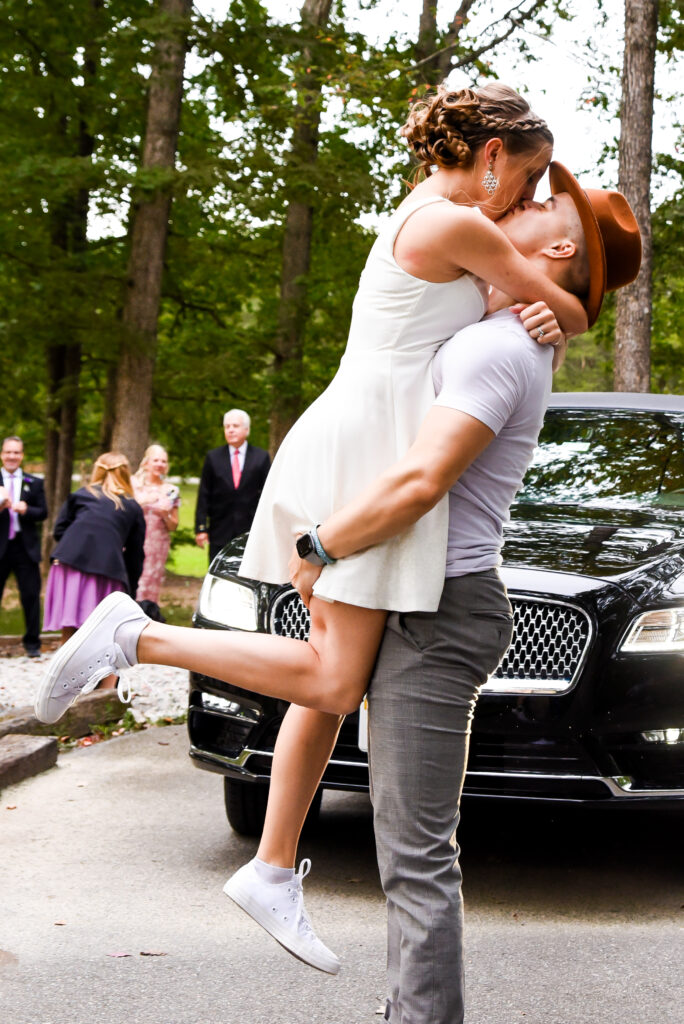 Vendor Credits
Venue(s): Deep Run Hunt Club, Manakin Sabot, VA, 804-784-5386
Photographer: Karen Gage Photography, Richmond, VA
Day of planner: Our wonderful friend Sara!
Officiant: Bret Gresham
Gown & Veil: Amanda's Touch Bridal, Waynesboro, VA, 540-221-4748
Shoes: Converse
Hair: Ivy Brotherton
Makeup: My wonderful bridesmaid and friend Taylor
Bridesmaids dresses: Azazie
Invitations: Zola
Flowers: Laura Marcantonio at Strange's Florist, Henrico, VA, 804-360-2800
Rental equipment: Karen Richardson at Commonwealth Event Company, 804-264-6621
Catering: Connie Cox at Creative Tastes Catering, 804-837-8401
Music: The Crain Brothers Band
Wedding Pie: Phyllis at The Mixing Bowl Bakery, 804-288-2712
Transportation: TNT Limousine, 804-965-0990Honeymoon: Hilton Head Island, South Carolina