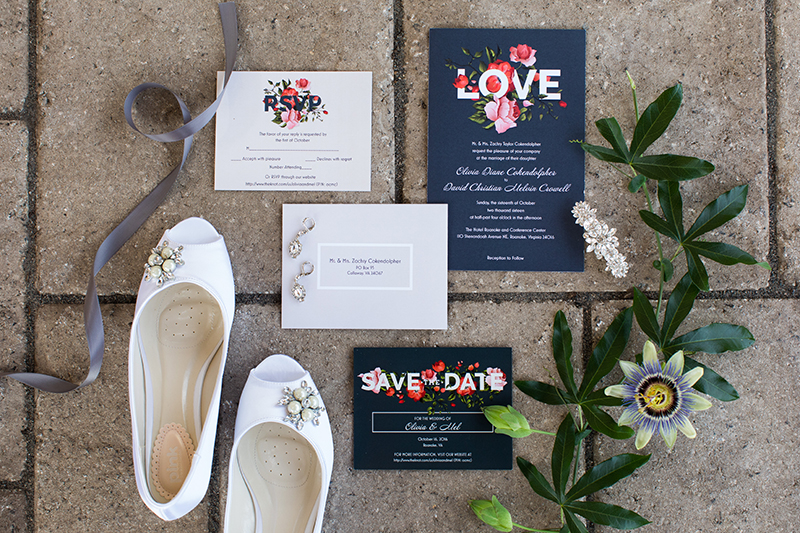 This past October Mel and Olivia were married at the Hotel Roanoke.
Olivia chose this gorgeous Amelia Sposa lace bodice ball gown for the big day. I absolutely love it…doesn't she look like a Barbie?!
Her 4 younger cousins stood by her side in champagne dresses. How cute are the younger one's flower crowns?!
The stage was set in the Garden Courtyard. The drapes, chiavari chairs, and trumpet vases on the alter gave the ceremony a regal feel.
Mel and Olivia met almost 4 years ago in a coffee shop when they both came to watch a mutual friend play music. The pair immediatly hit it off when they found out they both loved the same video game as kids. Soon after, they began dating and the rest was history.
Fighting back tears while smiling ear to ear, Olivia and Mel's eyes met as she glided down the aisle with her father by her side.
Soon after, they walked away hand-in-hand as man and wife!
And don't they make a beautiful couple!
Their reception took place inside the Crystal Ballroom and was filled with gold and marsala details.
They ate…
They danced…and lived happily ever after.
From the Bride:
What was your favorite detail from the day? "It's hard to say: by it would have to be being announced as husband and wife, having our first kiss and walking off together. But I loved everything! I was really impressed with my guests glow stick send off – they made all kinds of crazy glow creations to end that perfect night: our photoshoot was a blast – I love loved my photographer, Laura (Laura's Focus) and the food was delicious! I also had a blast hanging out with my bridesmaids: my younger cousins – ages 8,10,15,&18. All 3 of the younger ones cried! One while we were getting ready, one right before we were about to walk the aisle, and the third and youngest right after we were married. It was pretty cute."
What advice would you give to a bride to be? "I would advise other brides to soak in every little detail – because as is the cliche, the big day goes by really fast! I wish I had walked around and checked out all of the stations and decorations that I had worked so hard to plan out! The coordinator and my family did a great job setting everything up and bringing my vision to life – I just wished I had taken a little more time to see everything and everyone: I wasn't even able to speak to all of my guests! I would also adobe booking a honeymoon for more than a week if possible! That went by way too fast for me too – but it was absolutely magical."
Photos by: Laura's Focus Photography
Venue & Catering: Hotel Roanoke, Roanoke, Virginia
Wedding Coordinator: Simplicity Event & Wedding Planning
Florist: George's Flowers
Musicians: The Bloom Trio
Bride's Hair: Zee's Salon
Bridesmaid's Hair: Holly Fox, Bliss Studio
Makeup: Lash etc.
Officiant: Doug Hayes
Bridal Gown Designer: Amelia Sposa
Bridesmaid Dresses: JJ's House & Light in the Box
Shoes: Pink by David's Bridal
Suits: Men's Wearhouse
Rings: Zales
Stationary: Vistaprint
Virginia Bride Magazine features the best Virginia Weddings and Virginia Bridal Shows. Find it  all in one place. Check our blog posts regularly for the latest show information.